Regular dating sites can be a real minefield for people with autism.
But when it comes to hookup sites (like BeNaughty or Ashley Madison) or other regular dating sites (like Tinder or eHarmony), there has always been a wide range of choices – sadly, the same cannot be said about sites for people with autism.
But luckily, over the last few years, many new sites have sprung up that cater specifically to people on the autistic spectrum.
And in this article, we are going to look at the best of them.
OFL Top Recommendations based on 100,000+ Survey

"Serious Relationships"
"Discreet Hookups"
"Best Course for Men"
"Quick Flings"
"Normal Hookups"
"Our Quiz"
These 3 top-rated sites were selected based on:
Let's get started!
Best Dating Sites for Autism in Video Form
Audio (podcast) form for those of you on the go
The Best Dating Sites for Autism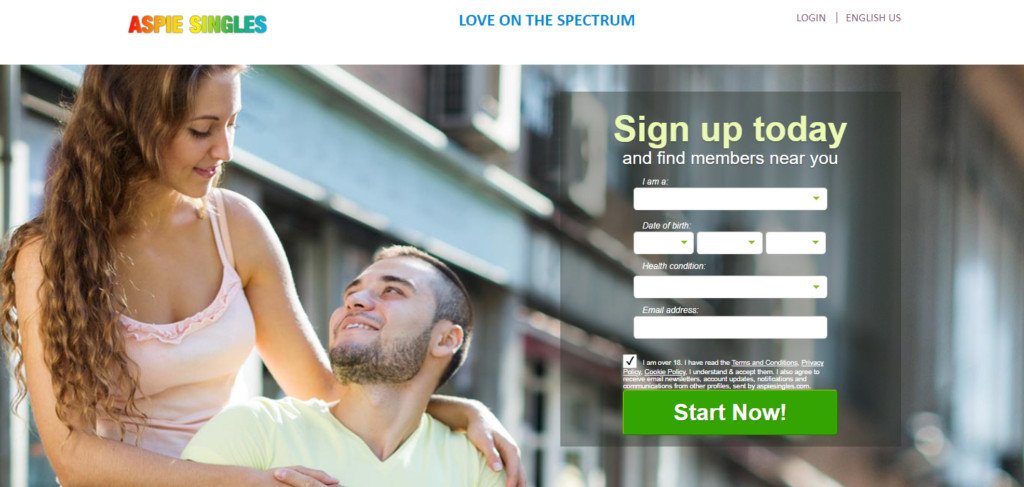 Signing up – 5/5
Making contact – 4/5
Profile quality – 5/5
Overall quality – 4/5
Low pricing structure
Easy sign-up procedure
You can trial the site before signing up for membership
A site primary for people who have Asperger's Syndrome, Aspie Singles is a breath of fresh air.
And it's not only people with autism that are welcome on the site, although they make up the bulk of the users.
Anybody can sign up, as the website says, "anyone that wishes to date a man with autism or a woman with autism is welcome."
OFL Top Recommendations based on 100,000+ Survey

"Serious Relationships"
"Discreet Hookups"
"Best Course for Men"
"Quick Flings"
"Normal Hookups"
"Our Quiz"
Of course, this isn't like a huge commercial dating site, so the numbers of users aren't going to be massive.
Finding any kind of details about how many members the site has, the gender ratio when it comes to users and user age ranges was impossible, however.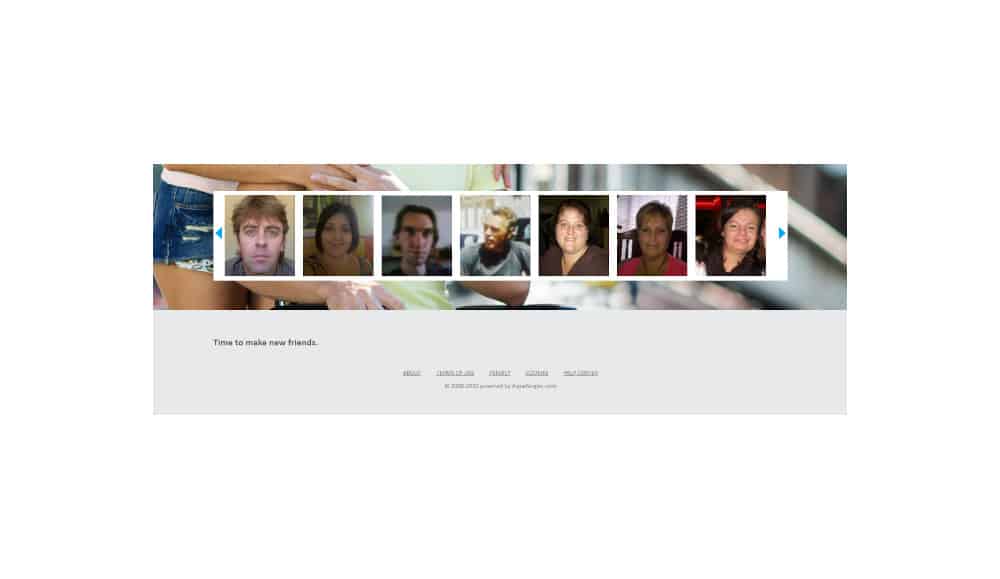 Ease of Use "mobile and desktop version"
From the moment you open the registration page for Aspie Singles, you immediately can feel the effort that's gone into it.
This is a real labor of love by a team that clearly wants to give people with autism a space where they can find someone special in their lives.
To start your journey here, you will undertake a lengthy registration process.
That's because it not only gets the basic details needed from a potential user, for example, a username, password, email address and screen name but also includes the completion of a full profile.
And the profile is comprehensive, starting with gender.
For that alone, users can choose from 10 different options.
Not only can you select your gender, but what you identify as, as well.
That's progressive and it's to be commended because not many commercial dating sites give these kinds of options.
The rest of the profile creation includes the regulars, for example, questions about appearance, lifestyle, habits, languages and what the user is looking for when it comes to a partner.
It's going to take at least 10 minutes to get the profile completed.
Once that's done, the site takes you through a run-down of how best to use it.
I love that because many people with autism might not ever have tried a dating site just because they feared they never would fit in.
Not only does Aspie Singles make you feel at ease but they guide you as well.
You can also choose a member payment plan if you'd like but we will cover that a little later.
The site itself is just as well-designed and welcoming as the registration page.
I am not going to go into too much detail but it's primarily navigated by just five menus, including a search engine.
Messaging is a paid-for feature but you can trial the site for a couple of days as well where you get all the member features for free to see what's on offer.
Aspie Singles also includes some brilliant blogs, a chat room and a forum.
Also, if you are a female user, you can message other users for free.
At the moment, Aspie Singles is only website based, there is no app.
The website is mobile-friendly, however.
While certain aspects of Aspie Singles can be used for free, you will need to consider membership to use the site effectively.
And one of the real plus points of Aspie Singles is that the prices are extremely cheap.
That's because those behind the site are serious about making sure that people with autism have a dating site that they can use without having to pay an arm and a leg.
When it comes to membership options, there are three to choose from.
Premium membership (with a free trial) – $2.50 per week
PRO 1 membership – $25 for the first year, $15 per year thereafter
PRO 2 membership – $10 upfront, then $5 per month thereafter
The free trial for Premium membership lasts for a week but overall, it's the package that makes the most sense to me, especially first up when you want to check out the site.
The thing is, you can cancel it at any time and then move onto the other, cheaper options of which PRO 1 is the cheapest.
Aspie Singles is extremely well priced.
It's an indication that the team behind the website is genuine about trying to provide the best dating site possible for people with autism.
1. Is Aspie Singles just for people with Asperger's Syndrome?
No, it's not.
It's aimed at anyone on the autism spectrum and they are welcome to join up and try the site out.
But it's also open to any other people who want to date people with autism.
2. What other extras does Aspie Singles offer to users?
Aspie Singles is primarily a site where people can meet new friends and look for others to date.
But it also offers a range of other key features to those who use it.
For example, there are blog posts covering a range of subjects that affect people with autism and there is a forum that you can participate in as well.
I just cannot stress enough how impressed I am with Aspie Singles.
From the signing up process to navigating the site, everything is so well done and a pleasure to use.
The team behind Aspie Singles have done amazing things here, that's for sure.
It's a site for anyone with autism who is looking for love, or perhaps to meet new friends, should use.
Their passion for what they do and what they want to achieve is definitely there for everyone to see as well.
This is a site that deserves to do well because if it does, those people with autism who are looking for love have a platform where they can make that dream come true.
And if that's not a worthwhile reason to champion Aspie Singles' success, then nothing is, right?
As for a rating, Aspie Singles gets 4.5 out of 5.
It deserves it.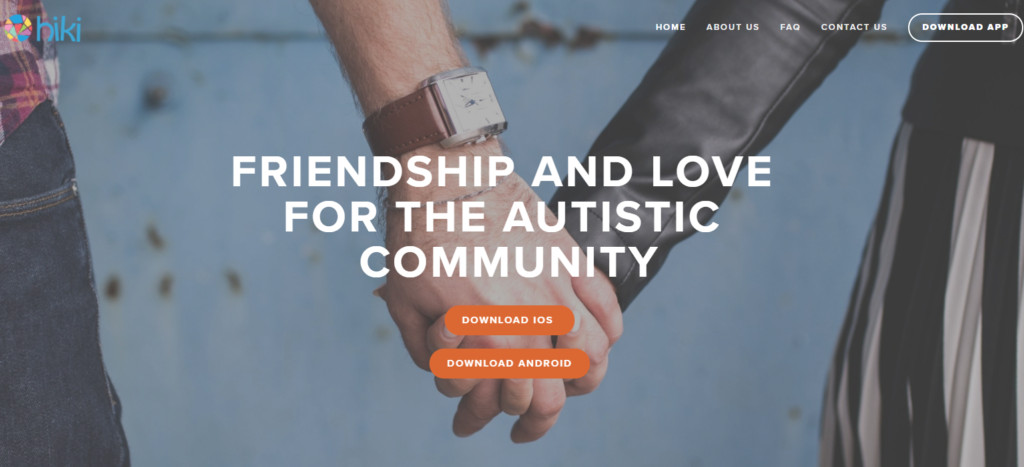 Signing up – 5/5
Making contact – 4/5
Profile quality – 4/5
Overall quality 4/5
A well-designed app that helps people with autism find love and friendship
Registration takes a few minutes and you are online in next-to-no-time
Very few fake profiles
The user base is small and if you live in a smaller city you might not find people near you
A site where people with autism can be themselves.
That's Hiki.
But what does Hiki actually mean?
It's a Hawaiian word that means "able" and it's the premise behind a dating and friendship website that's for anyone that's autistic.
As the team behind Hiki say: "We built Hiki because we believe that friends, family, community and love are the essence of joy.
And that everyone deserves to be happy."
Ultimately, Hiki is a space where people with autism don't feel like they need to try to be someone else to fit it, they can just be themselves in a safe space.
In terms of user numbers, well, it was not possible to get an idea of just how many people have signed up for Hiki, or a breakdown of age ranges of gender ratios.
But that's not important when it comes to a site like this.
It's more about the fact that it exists and gives people with autism the chance to find friends and even love.
That's what makes friendship and dating sites aimed at people with autism that much more special in my eyes.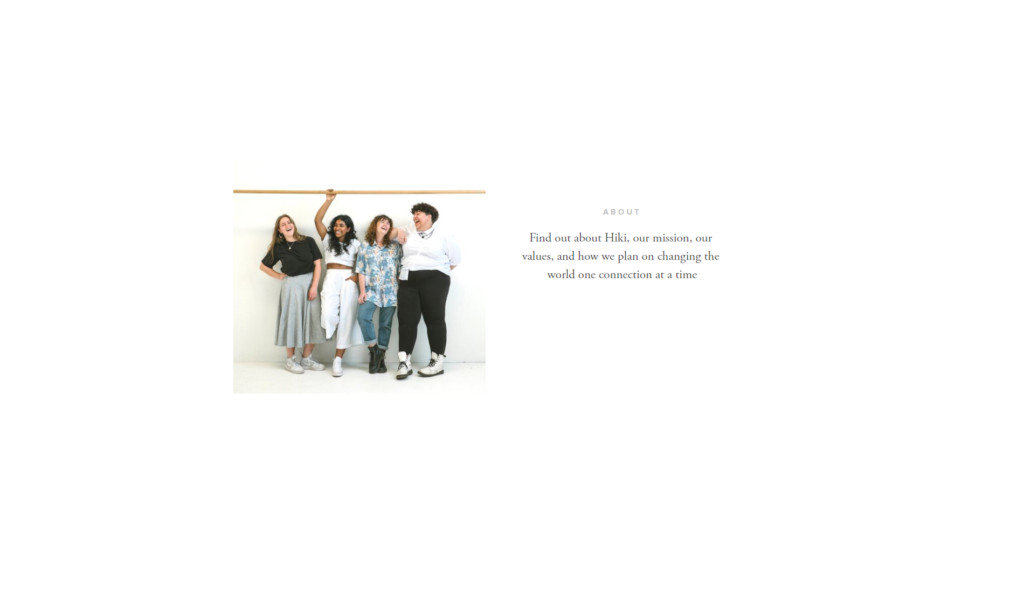 Ease of Use "mobile and desktop version"
Let's just start off by saying that Hiki is only available in app form.
It can be downloaded on both the Google Play store for Android devices as well as the IOS store for Apple devices.
To date, Hiki has been downloaded over 5 000 times on Google Play, so it certainly is an app that is becoming more popular as people find out about it.
After downloading the app, you have three ways to start the login process.
Use your phone number
Use your Facebook account
Use your Apple account
It's probably easiest to use your phone at which point you will receive an authorization text with a code so you can access the site.
From there, the registration process takes a few minutes, as you provide your name, email address, age, your gender (including non-binary), what you are looking for (friendship or love) and the gender you'd like to meet.
Last, you need to upload a photo, you cannot continue if you don't.
That's not the end as Hiki asks you a few questions before letting you access the site.
This includes a range of questions that are used on dating sites as well as others linked to autism.
I like the fact that Hiki gives dating tips (including safety tips) as soon as you registered and even before you can access the site for the first time.
App design is simple, yet effective and you navigate using four menus at the top of the screen that takes you to your profile, a roulette-style match-up game, messages and social networking style status update where you can make your own and see others.
So how do you chat with someone?
Well, it all comes down to finding someone you like using the roulette-style matchup game.
By clicking the heart, you indicate that you'd like to get to know them more as a friend while clicking on the smiley face is for friendship.
Say you click on the heart and they do so in return, you can then message them.
But if they click on the smiley face, it's a friendship by default, but you can still message them of course.
Overall, this is an app that's simple to use but highly effective as well, whether you are autistic and want to meet new people from around the world, or if you've reached a point in your life where you want to find love.
The great thing about Hiki is that all of this is for free!
While Hiki is free, there are subscription options that bring a few more features for you.
Plus, it's nice to subscribe to a service like this, especially as those behind the site have built it for a specific target market like people with autism, right?
What makes that even easier is the fact that the subscription prices, much like Aspie Singles which we talked about earlier, are not expensive at all.
So let's take a look then.
You have three options for Hiki membership.
1-month – $15.00
3-months – $35.00
6-months – $70.00
As you can see, these are very competitive prices for an app that's well designed and let's be honest, is very niche.
Normally, in online dating, a very niche dating site means expensive membership, but that's not the case with Hiki.
1. Is Hiki LGBTQ friendly?
Yes, Hiki is LBGTQ friendly.
It includes a number of options to choose for your own gender as well as who you are looking for in your matchups.
2. Do I need to be diagnosed as autistic by a professional to join Hiki?
No, not at all.
Hiki doesn't require professional diagnosis at all and trusts users with their own self-diagnosis.
Just like Aspie Singles, I highly recommend Hiki as a dating or friendship app for people with autism.
It's a great platform for people just like you to form friendships and even find love.
Hiki can be used for free as well but membership is also well-priced.
On the whole, Hiki is an app that's got no frills.
And it doesn't need them.
What it provides is more than enough to help you meet other people with autism, either for friendship or dating, or perhaps both even.
It makes connecting with those people an easy and fun thing to do.
I am going to give Hiki 4.25 out of 5 and it's well deserved.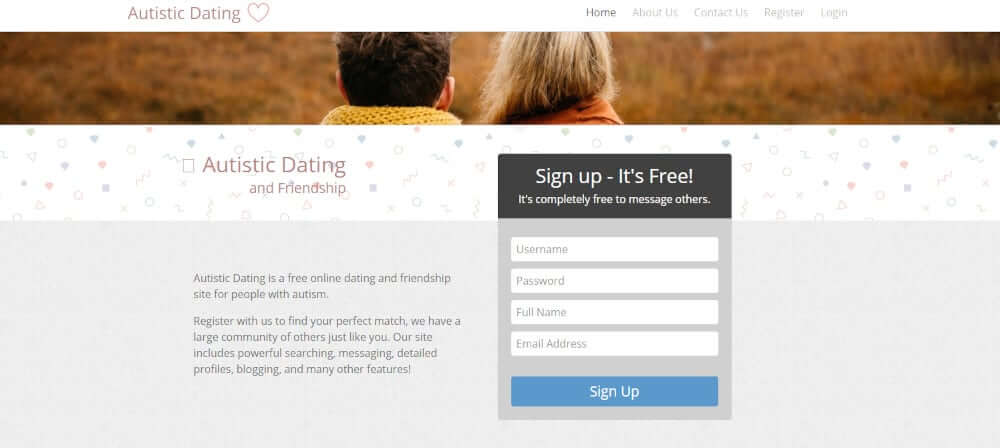 Signing up – 4/5
Making contact – 5/5
Profile quality – 4/5
Overall quality – 4/5
A site that offers loads of extra features like an activity wall as well as user blogs
Simple registration and a beautifully designed website makes Autistic Dating a joy to use
Includes a roulette-style matchmaker
This dating site is aimed at people with autism, not only those who are looking for love but those who want to meet new friends all around the world.
All users who sign up for the site are thoroughly checked to ensure that any suspicious profiles are removed.
In terms of user numbers and other demographic information, well, that's not something that's found on the site itself.
Extensive online research also turned up nothing.
Of courses, this is never going to be a site that has 100 000s of users.
But it is a site where you can meet people just like you.
Some of them want to chat, some of them want to become friends and others are searching for love.


Ease of Use "mobile and desktop version"
I was immediately drawn in by the Autistic Dating website.
The landing page looked so warm and inviting.
That's not only thanks to a clean, clear design that's not too busy but also the beautiful color combination used.
With a few shades of blue and clever use of open space, it actually reminds me a little of Facebook.
But what about the registration process?
Well, it's simple enough, that's for sure.
It starts with you first providing a username, password, name and email address.
Following that, you will need to fill in some details like your gender, the gender you are looking for, their age range, a brief description of yourself and a profile picture.
Note, Autism Dating just has basic genders to choose from, both for yourself and you match.
There aren't any LBGTQ options like Aspie Singles or Hiki has.
The final thing you will have to provide during the registration process is your location following which you will receive a confirmation email from Autistic Dating that you have to reply to.
On the whole, Autistic Dating has a whole lot more menus than Aspie Singles and Hiki but there are all self-explanatory.
The menus you use to navigate the site are all found down the left-hand side of the page and include links to your profile, messages, the search engine, a matchmaker tool, your friends and more.
You also have access to an activity wall as well as user blogs where you can write your own.
Finding people to talk to on Autistic Dating is simple enough.
You can either click on the profiles shown at the top of the screen or you can launch searches by yourself.
Another option is to make use of Matchmaker, a roulette-style game that presents you with profiles to either like or move on.
If you like them, they will receive a message that you have done so.
If they like you back, it's a matchup and worth getting into a conversation with them.
Before we get into talking about subscriptions, I just want to mention the activity wall.
It adds a social networking element to the site in the fact that you can see who has joined up the site as well as who has become friends with who.
It's a nice feature to look through from time to time.
So why would Autistic Dating have subscription fees when I've already said it was free.
Well, you can use the site for free, but if you'd like to sign up for a membership, there are a few added extras for you to use.
For example, you can see if someone has read your messages, or you can ask them to let you see their private photos.
You also get a priority rank when other members launch searches, there's an advance search feature and you can see who has favorited you.
You can also remove all the advertising on site.
And the price?
1-month – $8.00
3-months – $20.00 ($6.70 per month)
That's extremely cheap.
Some regular dating sites present features similar to those and then charge you over $30 dollars to use them!
1. What is Autistic Dating's matchmaker feature?
This is a roulette-style matchmaking system with a small difference.
Yes, you still vote users that are shown to you, either clicking on a heart if you like them or an X if you don't.
The difference comes in that instead of seeing just one photo of a user, you get to see a range of photos.
2. Can I message other users for free?
Yes, you can message other users for free.
In fact, if they reply, you can have a conversation with them.
Again, this is a top-notch dating site for people with autism.
Just like Aspie Singles and Hiki, it doesn't have the largest user base but that's to be expected.
It has some amazing extra features for members but if you'd like to use it for free, you can.
Autistic Dating is a site I'd recommend that you check out.
As for a rating, it gets 4.25 out of 5.