In today's online dating site review, we are taking a look at Dream-Singles.com.
This international dating site is no flash in the pan.
In fact, it's been helping millions of people find the matchups since 2003.
Dream Singles is a dating website that has both male and lady members who are looking for long-term relationships and life partners (like eHarmony or Tinder). If you are looking for casual hookups you should visit sites like BeNaughty or Ashley Madison.
OFL Top Recommendations based on 100,000+ Survey

"Serious Relationships"
"Discreet Hookups"
"Best Course for Men"
"Quick Flings"
"Normal Hookups"
"Our Quiz"
It is a niche dating site where you will find most of the males from the West and all of the females from Ukraine or Russia.
As we take an in-depth look at the Dream Singles website, were will evaluate and assess the following:
You can be sure that we will analyze this dating site in full to provide you with the critical information you need, thus helping you make the decision as to whether Dream Singles is for you or not.
Is your dating app giving you the best chance for success?
Make sure to take our online dating site/app quiz to find out.
It's a fact that people who follow our dating site suggestions have on average 2 extra dates per month.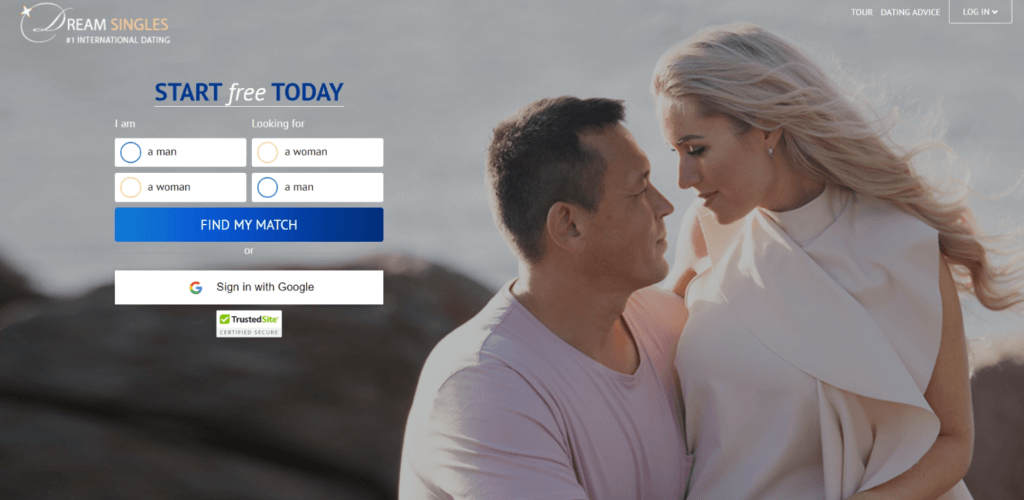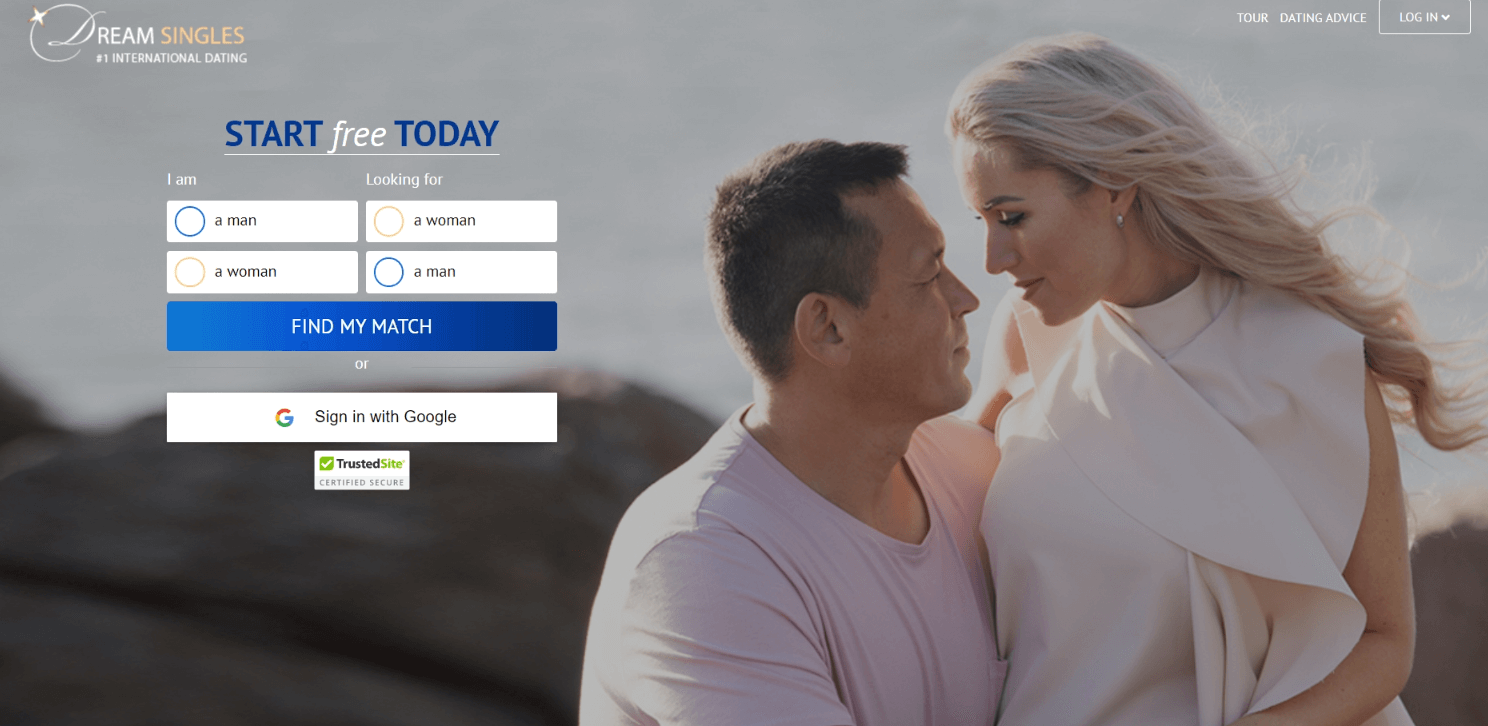 Ease of Use – 4/5
Effectiveness – 3/5
Key Features – 3/5
Pricing – 2/5
A massive user database of millions of users
Quick sign-up and registration
Easy to use website
Users can validate their profile for added safety
Confusing membership packages with both monthly options and the use of credits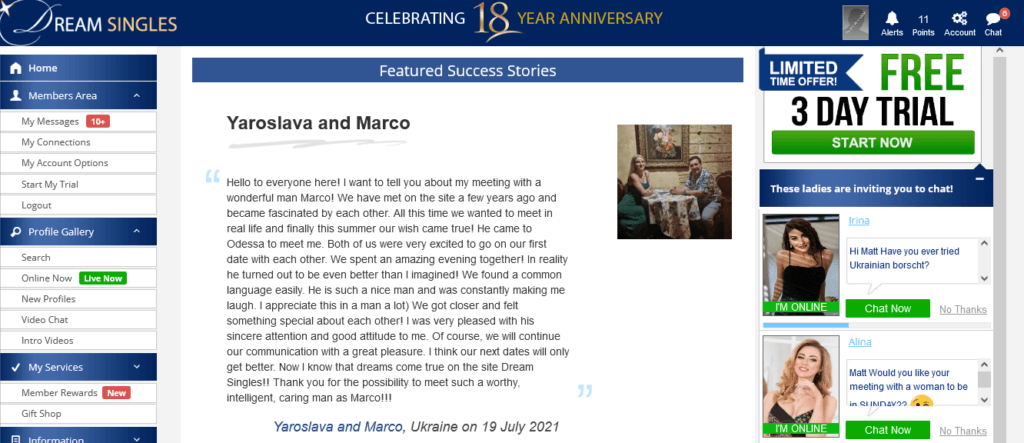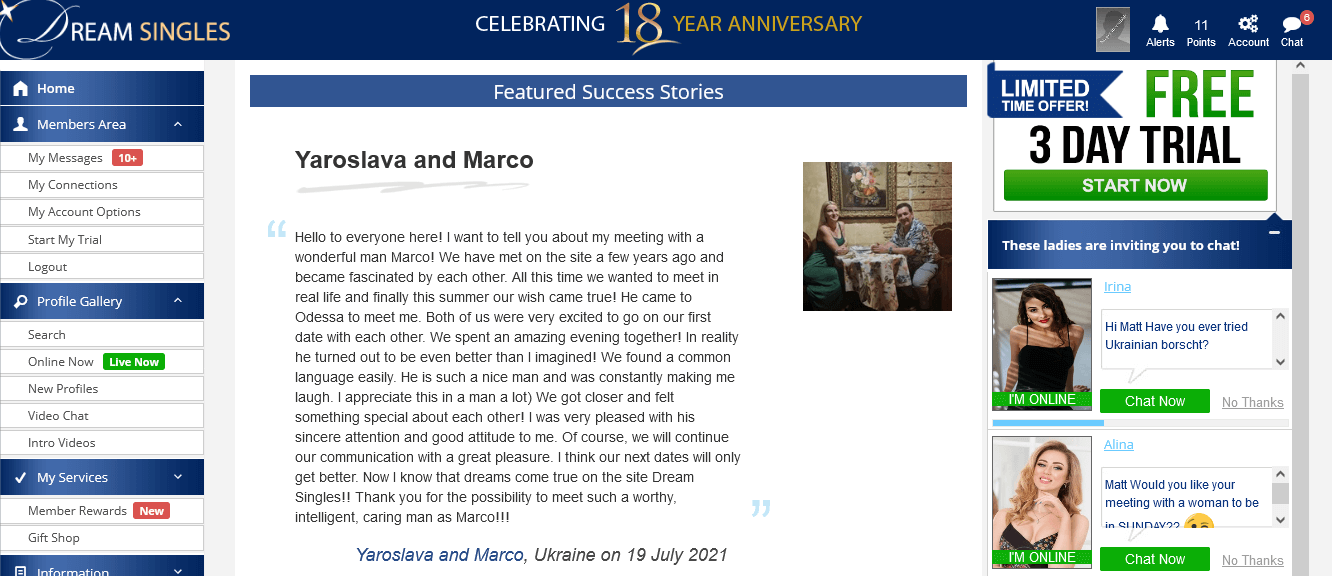 Who's It For/Demographics?
We've touched on this already in the introduction.
Dream-Singles sees two types of users.
First up, you have beautiful women mostly from Ukraine and Russia, from Kiev to Moscow and everywhere in between.
And then, you have the male contingent who come from the United States and other Western countries who want to meet them, especially with a dream relationship in mind.
OFL Top Recommendations based on 100,000+ Survey

"Serious Relationships"
"Discreet Hookups"
"Best Course for Men"
"Quick Flings"
"Normal Hookups"
"Our Quiz"
It's not the only website that operating in this manner and it won't be the last.
In fact, it has a sister site run by the same company called Dream-Marriage.
The thing is, with many of these sites, you'd struggle to find a positive review.
But a highlight of Dream Singles for me is the number of testimonials and success stories you can find about people who have found love on the site.
Not only that, but the site also includes anti-scam protection that many others don't.
But let's first dig a little deeper into the demographics behind the site, the numbers that make it tick, so to speak.
Here are some facts and figures about the site that show just how busy it is:
Over 3 million Americans have signed up for profiles on Dream Singles
100000 new users join each month
15000 users are active on the site each day
That's around 450 000 each month
3.7 million users have visited the site over half-a-year
Gender ratio and user age ranges
Far more women have signed up for profiles on this site than men.
That's not often the case when it comes to these kinds of niche dating sites.
In fact, the gender ratio sees almost nine women for every man on the site.
That means plenty of choice for the men and lots of competition for the women.
As for age ranges, well that's pretty equally spread in fact.
One thing that Dream Singles has in common with similar sites is that male users over 55 make up the biggest group of male users.
That's the case here, but they only contribute around 4% of the total user base.
On the other end of the scale in terms of age, 18-24-year-olds are the smallest group of users at just 2%.
When it comes to female users, around 21% of the user base is 55 or older.
This age group being the biggest on the site isn't something that you will often find on other niche dating sites like this one.
The biggest group is usually the 25-34-year-olds but on Dream Singles, they come in at around 19% of all users.
You will find female users well spread across all the age ranges, however.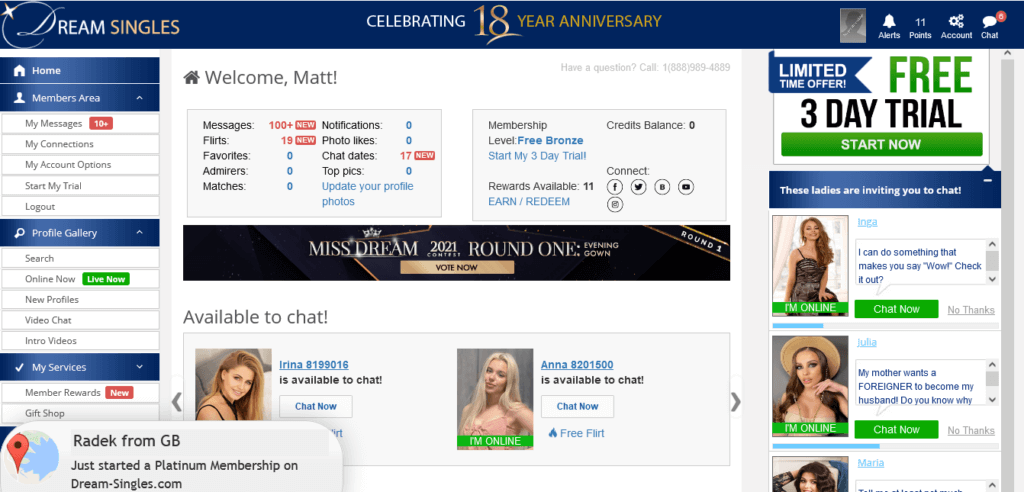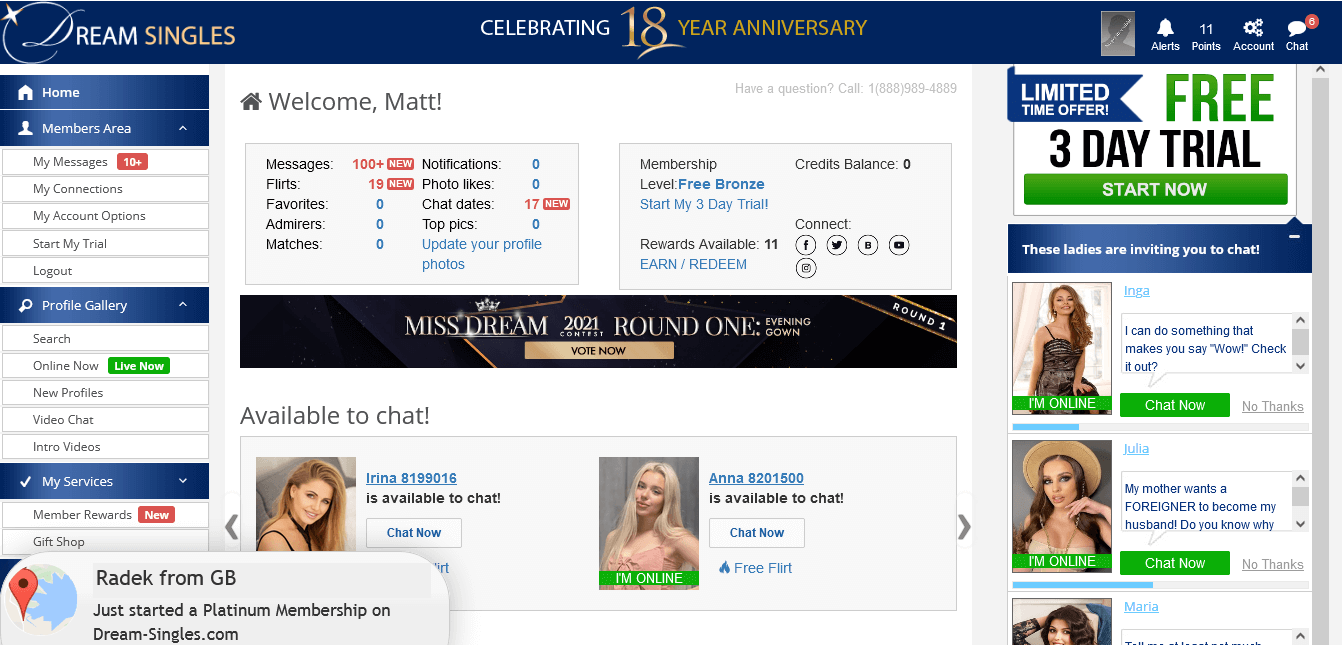 While Dream Singles does have an app, it's not very popular at all.
In fact, Google Play shows it has only been downloaded just over 1000 times.
Most users then are starting their profile through the Dream Singles website.
That process has a few options too.
You can either register as a user through the website or use your Google account if you'd like.
Regular registration requires the following information:
Your gender
The gender you'd like to meet (strangely enough there are LGBT options)
Valid email address
Password
Date of birth
Location
Dream Singles will have all new users create their profiles soon after they log in.
To do this, you must provide the following:
First name
Last name
Date of birth
Height
Weight
Eye and hair color
Occupation
Education
The type of relationship you want (marriage, serious, life partner, flirting, pen pal)
If you have children
An About Me section
That's it.
You'll be up and running on the site in under one minute, even with filling in your profile.
Navigating your way around Dream Singles
When you compare the overall look of Dream Singles to other similar niche datings sites, it's pretty different from most.
But in fact, all of these dating sites where men from the West can meet women from Slavic countries do have fairly unique designs.
For the most part, I can clarify that Dream Singles uses a modular look that puts the profiles of the women you will find here at the forefront.
From the start, your potential matches will be showing in the middle viewing frame.
On the left-hand side of that, you have access to several menus and on the right-hand side, you will see more potential matchups with ladies inviting you to chat.
But before we get into how the site works to provide you with real women for first dates, let's take about the menu system.
As I mentioned, the main menu system is found on the left-hand side of the screen and it's split into four distinct groups:
Members Area
Profile Gallery
My Services
Information
Members Area
In the Members Area there are five menus:
My Messages: Sent and received messages will appear here
My Connections: This is where you can see who admires your profile as well as your favorites. More importantly, your matches appear here too.
My Account Options: This gives you access to various account settings and you can view and edit your profile here too.
Start My Trial: You can become a member of Dream Singles and try out all the features with a three-day trial.
Profile Gallery
Search: You can launch your searches for love from here
Online Now: See users of the site that are currently online
New Profiles: Browse through profiles of users who have just joined the site
Video Chat: You can live chat with other users here
Intro Videos: View the intro videos of selected users here
I won't go into too much detail about the My Services or Information menu.
These include success stories, FAQs, Dating Tips, Dating Advice, Gift Shops, and more.
As I explored the site more, I found the overall design to be super effective and very easy to use.
For me, it's a real highlight of the site.
Your Dream Singles Profile
Yes, you filled in parts of your profile during the registration process but if you go to the My Account Options menu and edit your profile, there is more information that you can add.
It's not much either and but will provide some more insight into what you are all about.
These sections are:
My hobbies are
Ideal relationship
And that's it.
Just a few minutes and your profile is complete.
You will also receive 10 points (a form of currency on the site) if you do complete everything.
The point system is something we will cover a little later in this review.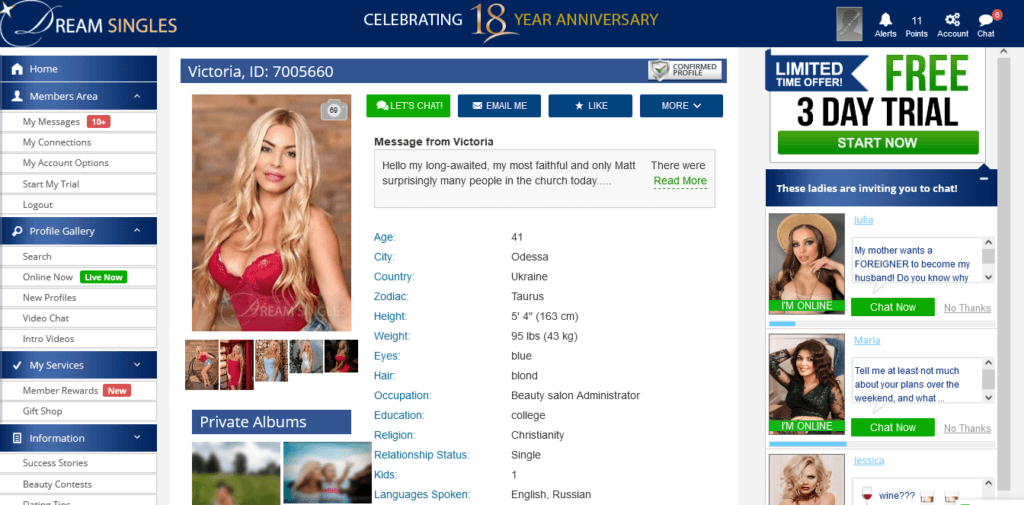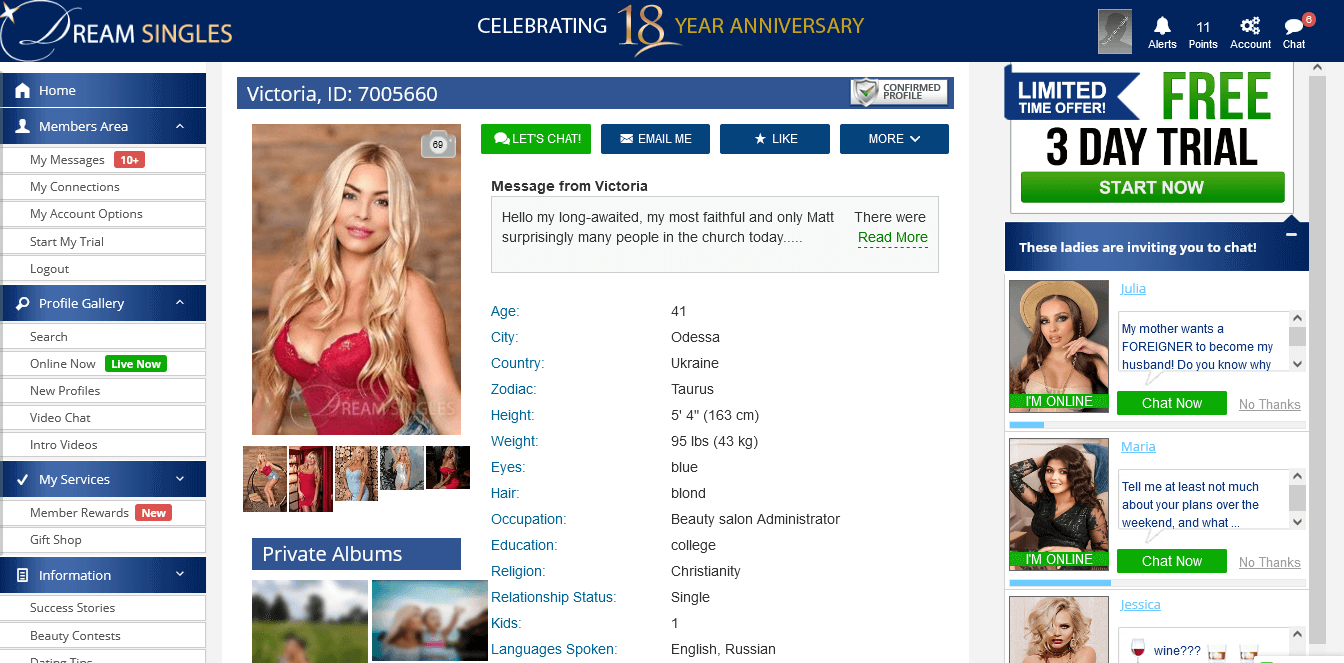 So by the time you've been on this site for five minutes, you would have received plenty of messages already.
I hadn't even uploaded a profile picture and I was bombarded with messages.
I must say, this always makes me very skeptical.
Are these real women or just automated messages that some of these kinds of sites use to get naive users to spend a lot of money?
But then I thought about it.
The user base here is huge and the male to female gender ratio is almost 9 to 1.
So it is plausible that through competition alone, women on the site are going to fire off messages to any new member in the hope of attracting attention and beating their rivals to the punch.
While you are free to follow up on these messages you receive, let's talk about how you can search for that perfect woman of your dreams.
Dream Singles certainly gives you a range of options in that regard.
For a start, you can click on the New Profiles menu to see who has joined the site recently.
And with 100000 users added each month, this shouldn't be an outlet you neglect.
You can easily see the users who are online with you as they can be accessed through their own specific menu.
If you click on the home menu, Dream Singles presents a roulette-style matchup game with a difference.
Instead of seeing one profile and either liking or skipping to the next, you now see two under a section called Your Top Daily Pics.
You can then choose which you prefer more as you go through various rounds of voting.
From this, you could find users you'd like to contact and note their site identity numbers.
From there, you can use the search engine on the site to find them.
Speaking of the search engine, I can reveal that it's the best way to find the exact kinds of matchups you are looking for.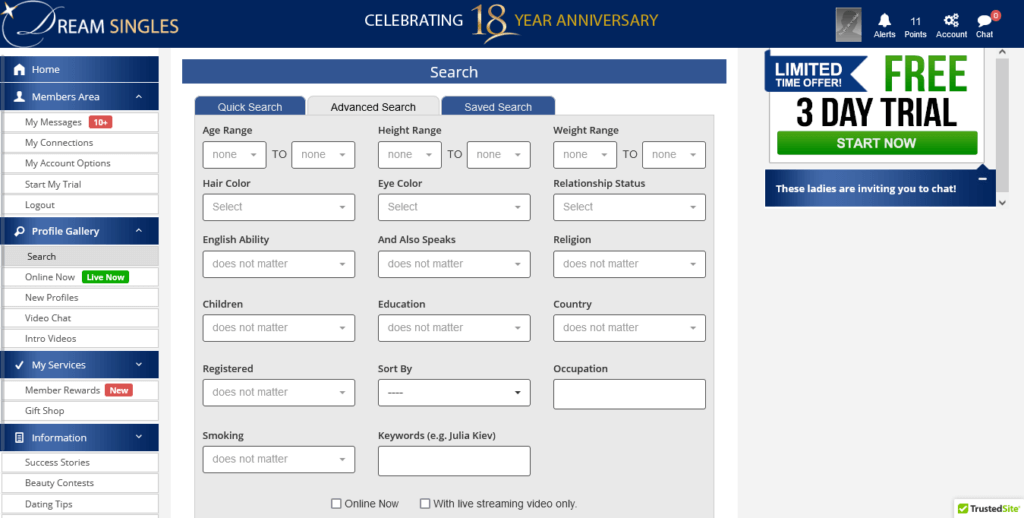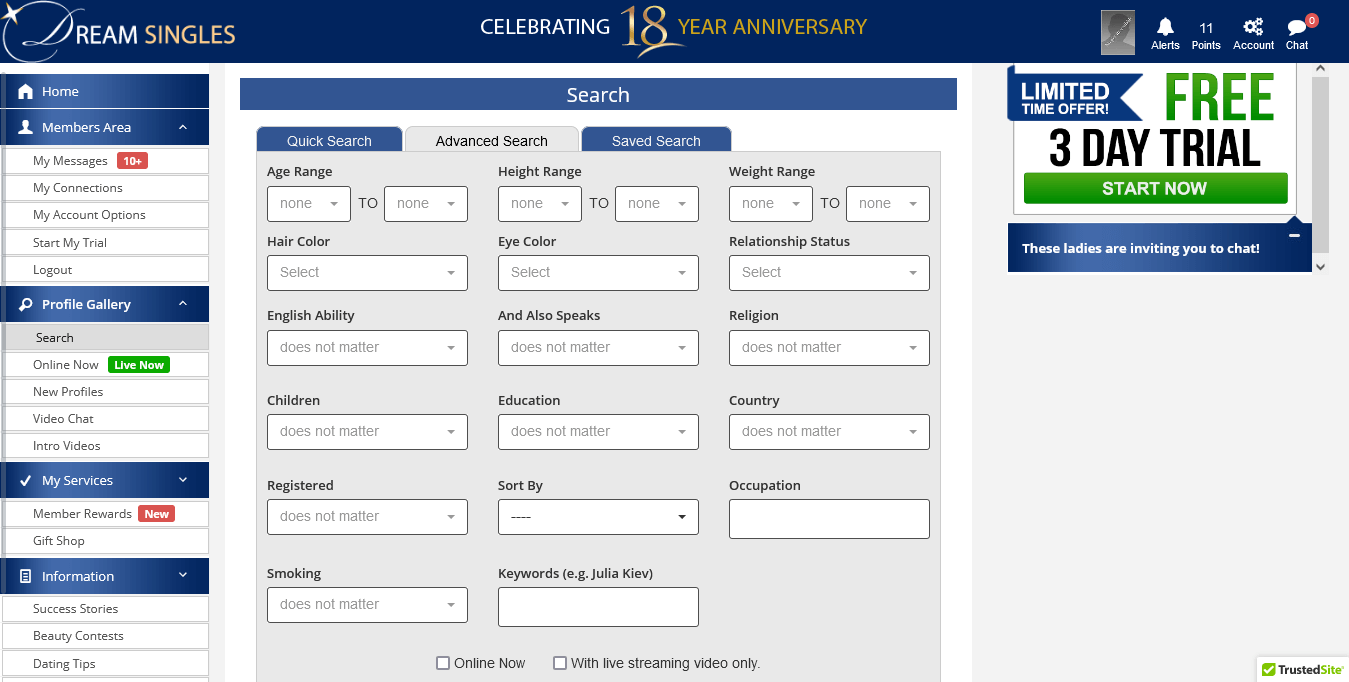 Searching for love on Dream Singles
There are two search engines available to users on the site: a quick search and an advanced search.
I can confirm that even as a regular user, you can make use of the advanced search engine which is excellent news.
Why?
Well, this isn't like a regular dating site.
Often there, you will find users who only fill in parts of their profiles.
That can render an advanced search engine that uses various profile parameters pretty useless.
But that's not the case here.
Because competition is so high between all the female members, they've all made sure that their profiles are complete.
So that allows you to use various parameters that you find non-negotiable and you can rest assured that you will get many returns to look through.
For the quick search, you can use three parameters:
Member ID number
Age range
Online now
For the advanced search you can search using the following parameters:
Age range
Height range
Weight range
Hair color
Eye color
Relationship status
English ability
Religion
Children
Country
When they registered as a user
Occupation
If they smoke
That's a lot of parameters that you can fiddle with, right?
Luckily, you can save your searches as well, which is more than useful.
Lastly, you can also search via keywords if you'd prefer.
This too can be a great way to change up your search routines and see what turns up.
Reaching out to others on the site
If you'd like to reply to a message you've received or reach out to others on the site, you can only do so if you start your three-day trial.
There is a catch, however, and one that I think, from my perspective, isn't necessary.
If you'd like to sign up for the three-day trial for free, you still need to provide your credit card details.
That just doesn't sit right with me.
You can send pre-generated flirt messages for free if you'd like, so at least there is a way to get in touch with someone.
Other than that, if you choose to become a member of the site, you can chat with them via an instant message system, send an email, video chat or even call them.
You will notice that the site will reward you with points that you can use for various member rewards.
For example, if you log in each day, you receive 1 point.
If you complete your profile in full, you get 10 points or verify your email for another 10 points.
These points can be converted to use on the site, but to be effective, you will still need to consider membership.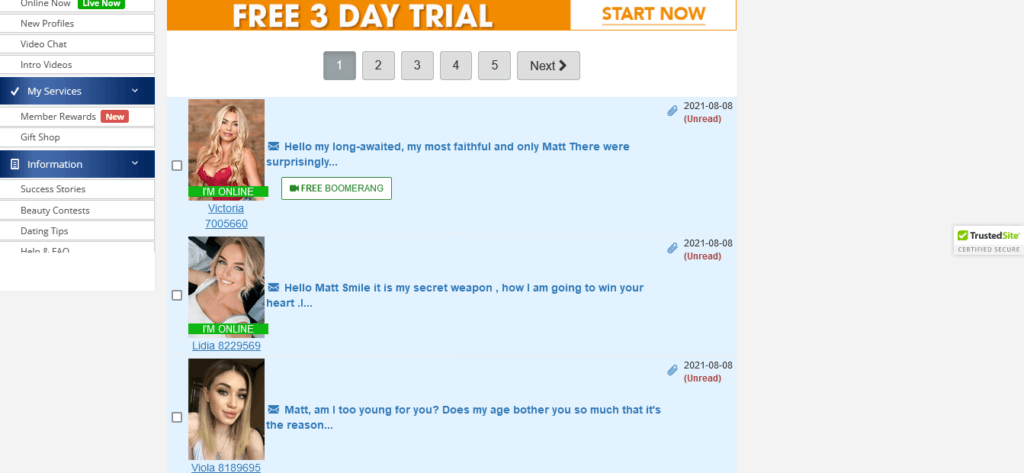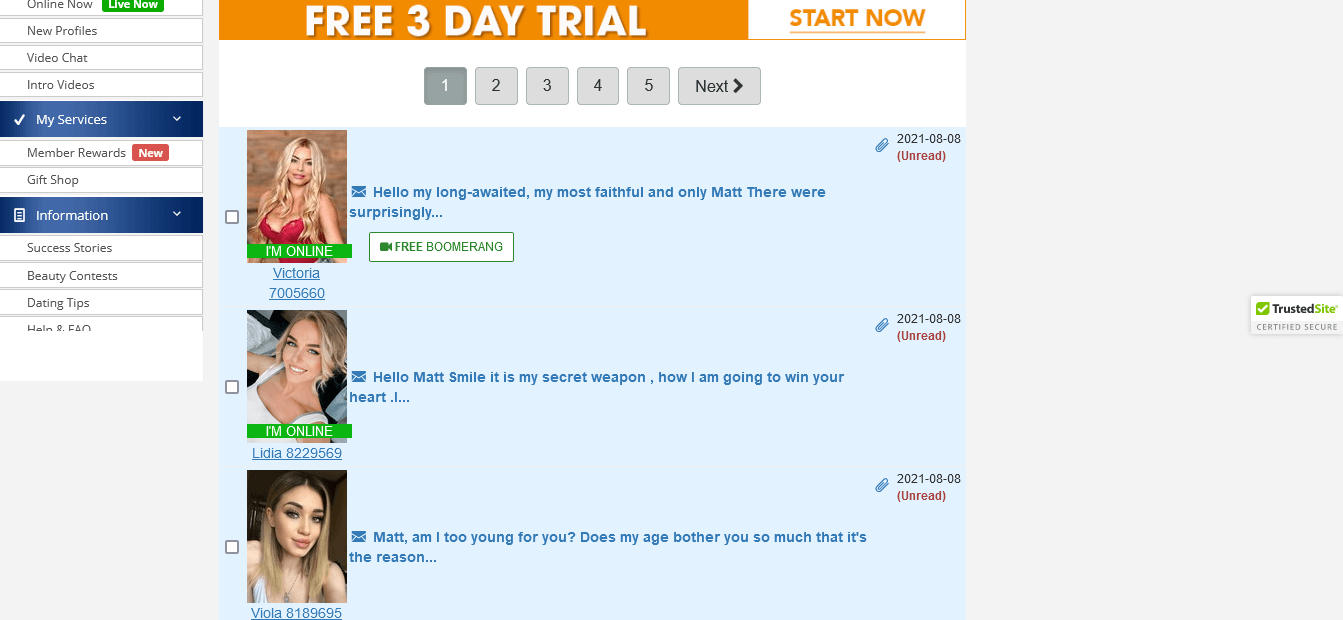 As a member of Dream Singles, there are many features that you will benefit from.
Here's a look at those which I think are most critical to your overall success on the site.
As I have already discussed, you'll get so many messages from others reaching out to you on the site.
Naturally, you'd want to message them back as well as those who you find during your searches.
Dream Singles includes an email system for messages as well as an instant chat option.
2. Video chatting and phone calls
Video chatting is also available to members.
Together with phone calls, this is the perfect way to move from sending emails or instant messaging to really getting to know someone a little better.
Note, however, this isn't unlimited.
Depending on the membership package you choose, you will get a discount on the credits needed to initiate these chats.
While non-paying users are allowed to send flirts, as a paying member, you can send more.
The amount does depend on which membership package you sign up for, however.
4. Send Introduction and follow up emails
Introduction emails form an important part of this dating site.
While you have to pay to send them using site credits, you will get a certain amount for free should depending on what membership package you take out.
For example, with Diamond membership, the top option on the site, you can send 100 introduction emails a month, as well as 50 follow-ups.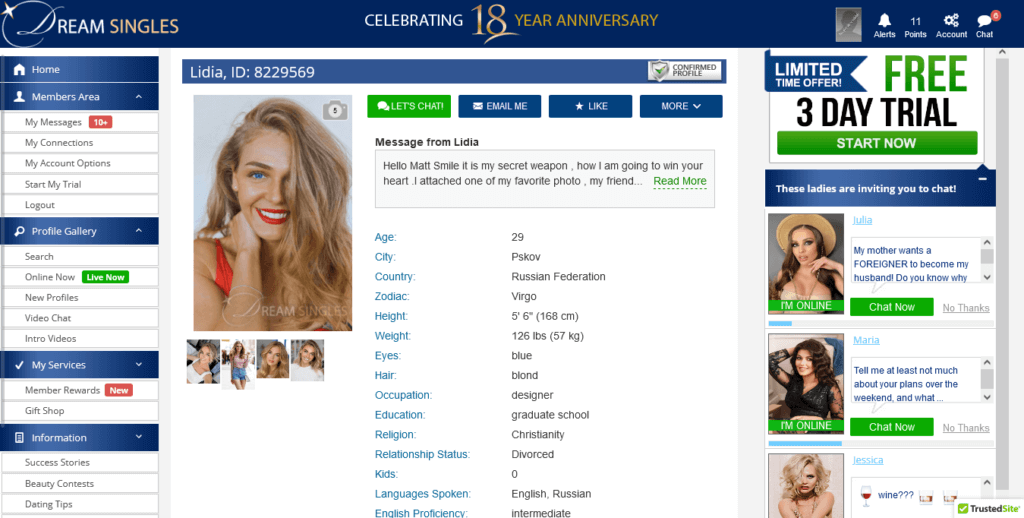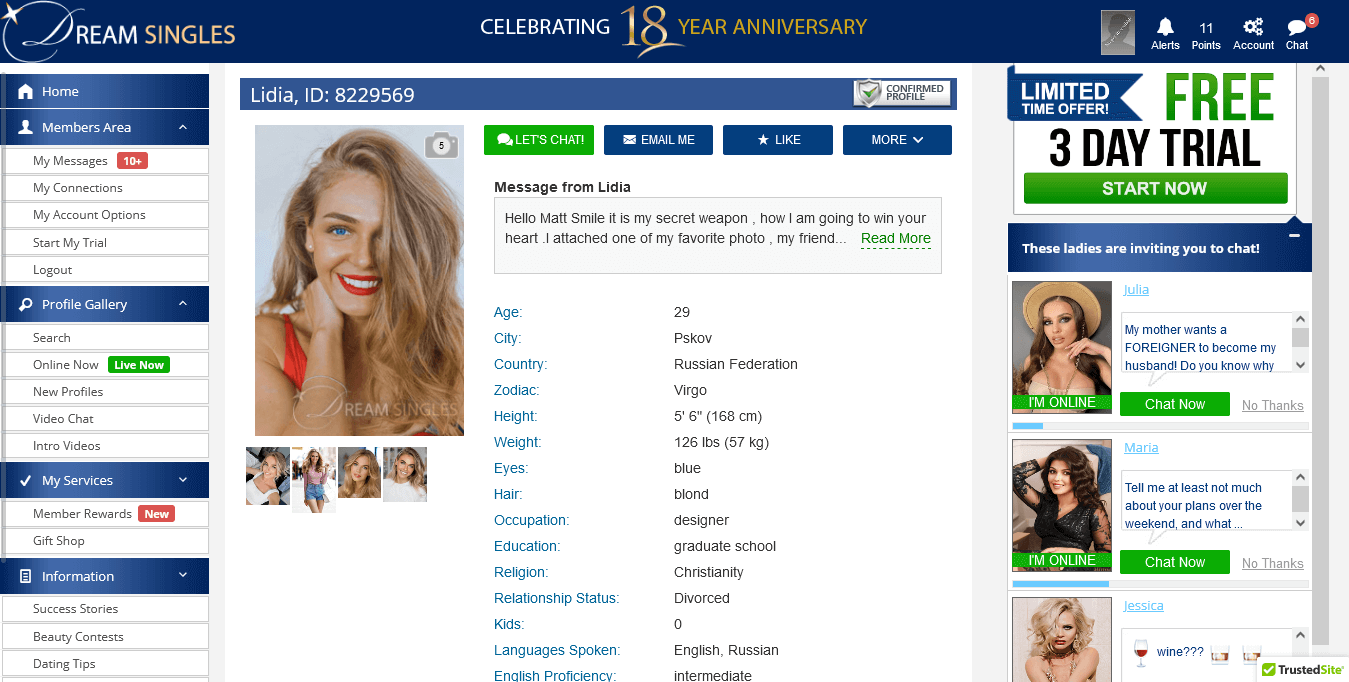 As a member of Dream Singles, you need to pay for whatever package you choose as well as buying credits to use various features, for example, video chatting or phone calls.
So let's first highlight the cost of the various membership packages, each of which offers varying benefits.
Silver membership: $9.99 per month (10 credits free*)
Gold membership: $29.99 per month (30 credits free*)
Platinum membership: $49.99 per month (50 credits free*)
Diamond membership: $99.99 per month (100 credits free*)
While Diamond membership gives you discounts on credits for phone calls and video chats as well as more follow-up and introductory emails, it is very expensive.
Remember, you still have to buy credits as well and cost as follows:
40 credits: $30
95 credits: $60
175 credits: $99
310 credits: $149
435 credits: $199
900 credits: $379
Both credits and monthly membership options can be paid for with your credit card.
* These credits are only awarded the first time you buy that specific membership package.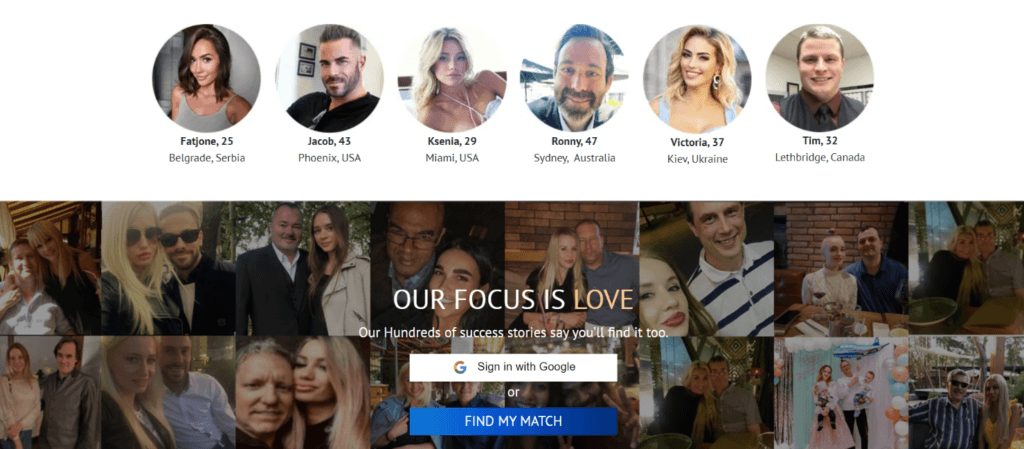 Conclusion and Overall Rating
That's it for our Dream Singles review.
To summarize, this is a legit site and from my experience many Ukrainian and Russian women looking for serious relationships here.
But despite the efforts to keep out scammers running fake profiles, on sites like this, you will always find that.
It's up to all users to pay due diligence and if someone starts asking your for money or real-life gifts, rather report them.
Dream Singles certainly has plenty going for it, but I just found the whole use of monthly membership and credits confusing.
Why use both systems when either works fine by themselves?
That said, it's up to each individual to work out which package they need and how many credits a month to make the site work for them.
That's not something we can advise on.
What Dream Singles does bring to the party is a massive user database and a slick run site that will help to find potential matchups.
But the pricing does hold it back I feel.
Today, it scores 3 out of 5.