Welcome to our article today which is a little different from the norm.
That's because we are not evaluating true datings sites or apps but instead sites that the people get together for any number of reasons.
Basically, people use sites like these to find like-minded people with similar interests.
It could be:
OFL Top Recommendations based on 100,000+ Survey

"Serious Relationships"
"Discreet Hookups"
"Best Course for Men"
"Quick Flings"
"Normal Hookups"
"Our Quiz"
Getting meetup groups together for physical activities or exercise
Hobbies
Social encounters
Learning
Finding new friends
And yes, even for singles meetups to meet new people, possibly for relationships
One of the most popular of these sites is Meetup.
Today's article, however, looks at other meetup websites, alternatives to Meetup itself.
While these aren't dating apps, we will be specifically looking at them with that aspect in mind, because people do use them for that reason.
To do that, we will look at:
So let's start researching and assessing these sites to see what it is that they offer.
Is your dating app giving you the best chance for success?
Make sure to take our online dating site/app quiz to find out.
It's a fact that people who follow our dating site suggestions have on average 2 extra dates per month.
Signing Up – 5/5
Making Contact – N/A
Profile Quality – 4/5
Overall Quality – 4/5
A social network site dedicated to help people host events
EventBrite can be used to find events specifically aimed at singles and dating
Includes both an Android and IOS app
It's free to register a profile on the site and sign up to attend events
The website was very slow at times and often timed out
So because this isn't strictly a dating site, where you can find relationships (like eHarmony or Tinder) or hookups (like BeNaughty or Ashley Madison), but instead almost a social network and one of the best alternatives for Meetup, there are no real records.
In other words, there is no user base or a gender ratio breakdown or even an idea of the age ranges of people who use the site.
And that's ok because, at the end of the day, it's the events for singles to meet that count.
Registering for an account on EventBrite can easily be done by using one of your social media accounts, like Google or Facebook.
You can register using your email address and by providing your name and password or download the Android or IOS app if you'd prefer.
Whatever you choose, just set your location and you are good to go.
EventBrite is a thoroughly modern website and I loved learning about it and exploring it.
From the outset, you can see the most popular events in and around your location by clicking on the tabs on the main screen.
These can be categorized easily into:
Online events
Events happening that day
Events happening that weekend
Free events
Music events
Food and drink events
Charity and events for various causes
If you wanting to find singles events in your area, the easiest way to do so is to search for them.
And to do that, you can click on the search bar you find at the top of the screen.
Now type in something like "singles" or "speed dating".
That will bring up events in and around your location that match the search term.
This is the simplest way to find events where you can meet new people with dating in mind.
For a less pressurized environment where you can still meet new people, search the term "social".
That will help bring up events where people meet up to socialize and meet new people but not necessarily with dating in mind.
If an event catches your eye, click on it for more details and RSVP if you are going to attend.
From there, you can go through the ticketing process to purchase yours, all through the site.
You can also apply various filters to your searches, for example, filter by:
Date
Price
Category
Format
Language
Currency
EventBrite is free to register for and use if you are just looking for events.
If you want to host an event, however, that's where the payment comes in and that's how the site sustains itself.
If you are looking for a Meetup alternative to meet other singles then EventBrite certainly fits the bill.
This is a website that will provide you with all the single events you need, especially in larger metropolitan areas.
Launch quick searches using dating-based keywords to help find the exact kind of event you are looking for.
If they fit the bill then register and pay for your ticket easily through the site or app.
While we can't rate it exactly as we do other regular dating sites, we can still give it some ratings in certain areas.
Overall, EventBrite scores a solid 4.25 out of 5.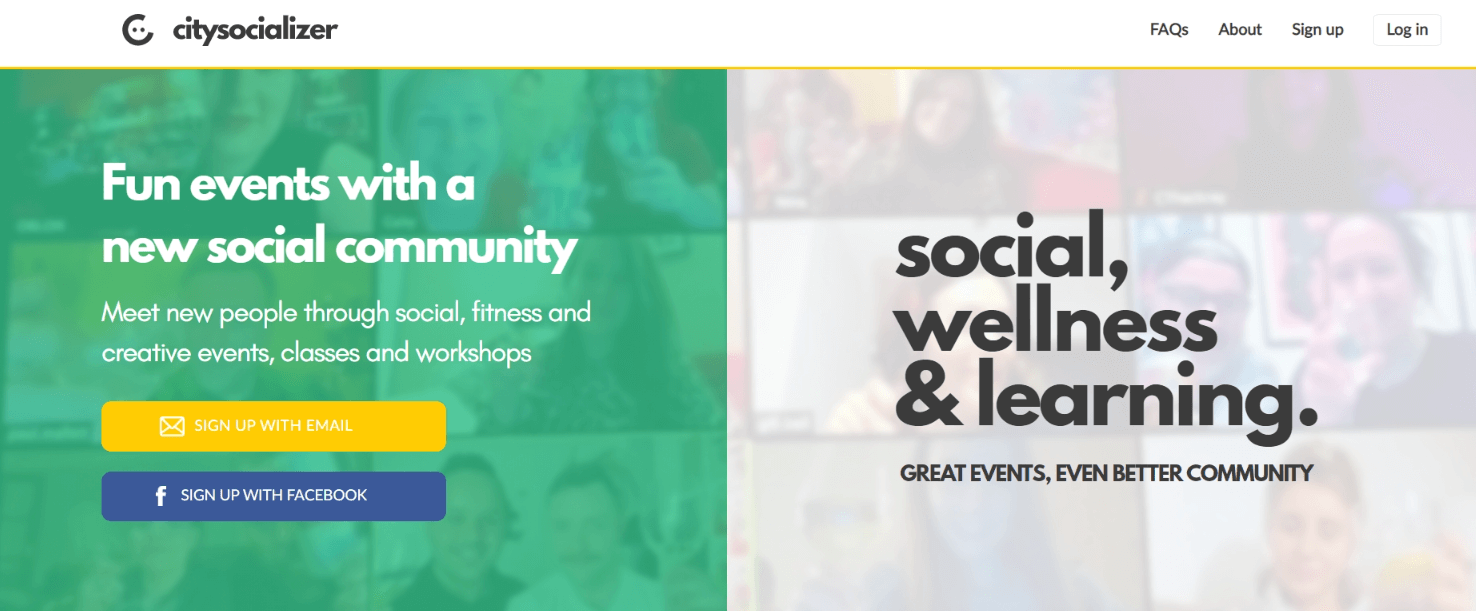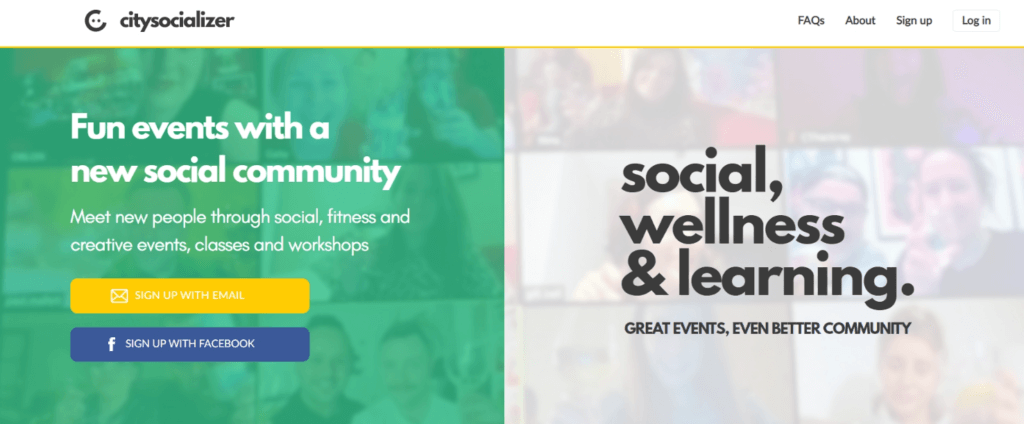 Signing Up – 5/5
Making Contact – 4/5
Profile Quality – 3/5
Overall Quality – 4/5
Users have full profiles
You can send friend requests
You can message other users
There is no mobile app for this Meetup.com alternative
It's not free
As this is not a dating site but one for events for everyone, from non-profit organizations to corporates to someone running a local yoga class, getting user numbers simply is impossible.
Ease of Use "mobile and desktop version"
To sign up for this alternative to Meetup, you can sign in with a social media account, Facebook in this case.
If not, you can use an email address as well to become a member of this social networking group for people who share common interests.
There is no iPhone or Android mobile app, however.
The sign-up process requires your name, email address, date of birth and password.
You are not done yet as you will need to build a profile for the site.
Start with adding a photo and then provide the following information:
What you do for a living
The country you live in
The reason you are using the site (for example, want more local friends)
You then get to personalize your profile by selecting tags that describe you, for example, party person, single or bisexual.
There are around 100 to choose from.
Next up, it's your friend preferences.
You can choose the gender, if they should be single, in a relationship or you don't care and an age range.
Now write a profile message or use the one the site auto-generates.
It really is a bit like a dating site registration in a way.
Once you've signed up, it's super simple to keep track of events in your city with the website algorithm using your location to show them to you.
But you also have the option to look for new acquaintances under the Find Friends menu.
And here CitySocializer is exactly like a dating site in the way that it presents potential new friends.
This takes the form of a roulette-style one-by-one presentation.
If you click on the X button you pass on them but if you click the checkmark, you will send a friend request.
Should they accept, then you can start communicating with each other through messaging.
When it comes to navigating the site, you will find a menu system on the left-hand side of the screen.
This gives you access to:
Your events
Messages and friend requests
Invites and social notifications
Your friends list
Without a doubt, this site similar to Meetup has everything you need to meet new people and make new friends.
And who knows what can come from that, right?
It is important to remember that messaging and seeing who sent you a friend request is not free, however.
If you want to send as many messages as you'd like, you will need the VIP package.
CitySocializer offers two monthly packages:
Socializer: $9.99 for 3 events per month for free and 30 messages
VIP: $11.99 for unlimted events and messaging
Obviously, the VIP is the winner here.
It's just $2 more and everything is unlimited.
There is no doubt that CitySocializer can be used to meet new people effectively.
While it might not be a totally free alternative to Meetup, it's extremely cheap and a site you should consider.
It scores 4 out of 5 as an overall rating.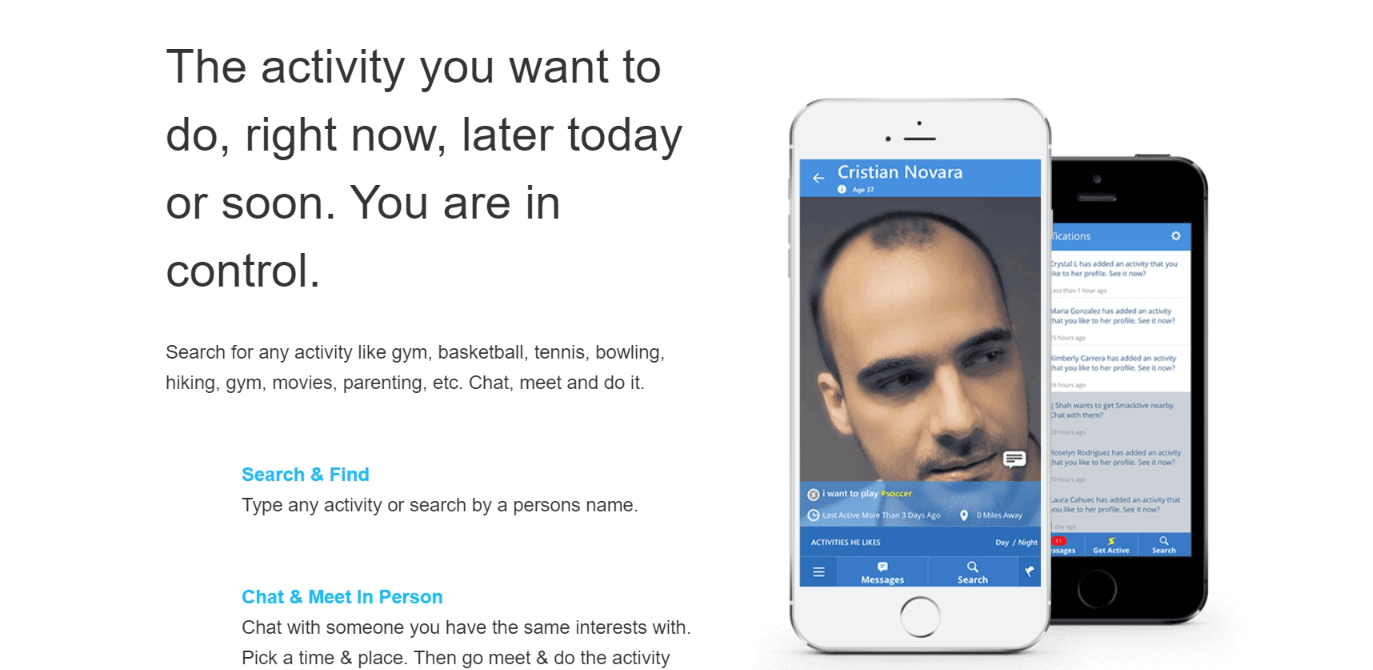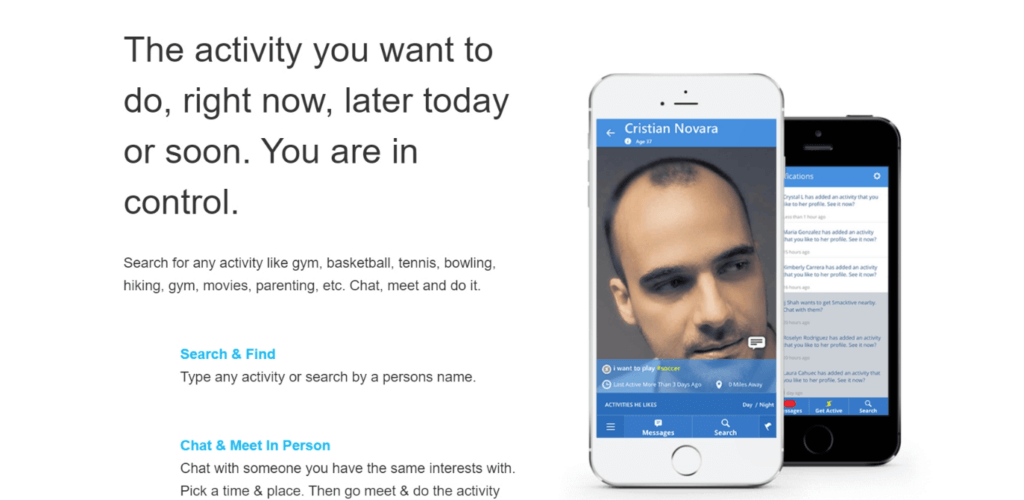 Signing Up – 5/5
Making Contact – 4/5
Profile Quality – 4/5
Overall Quality – 4/5
Meet like-minded people mainly for fitness activities
It's free
Following some intensive research, I was unable to find any indication of users numbers for SmackTive.
But you can rest assured, if you live in a big city in the United States, you are going to find events that you can join up with or people willing to be part of the event you are hosting.
Ease of Use "mobile and desktop version"
While it's not a website like Meetup, SmackTive is a mobile app that provides the same sort of functionality in app form.
With this app, it's mostly about meeting people to get healthy at the same time.
SmackTive really offers something different from other sites like meetup and is truly unique.
So what's it all about.
Well, SmackTive allows you to view events or post your own.
These events could be for two people or more, it's all up to you.
For example, perhaps you are looking for a running partner.
Well, post your run with details and people will reach out to you if they are interested.
Or you could simply use SmackTive to look for other people who are runners and join up with them instead.
It's a social networking app that's all about meeting new people largely based on physical activity.
You see, I told you it was unique.
Registering for a profile on SmackTive is easiest using your Facebook account.
Once you've done that, you can easily see:
People nearby
Events nearby
Find an event you'd like to join, message the person organizing it and then go along to it.
Or host your own.
It really is that simple
SmackTive is free to use.
You can sign up for a profile, post your own events or message others to join up with theirs and you won't have to pay a cent.
When it comes to Meetup competitors, SmackTive is very different.
And that's a good thing because it's operating in a very niche space.
Free to use and easy too, SmackTive is the perfect place to find like-minded people.
So if you love fitness and meeting new people, SmackTive is your go-to app.
It scores 4.25 out of 5.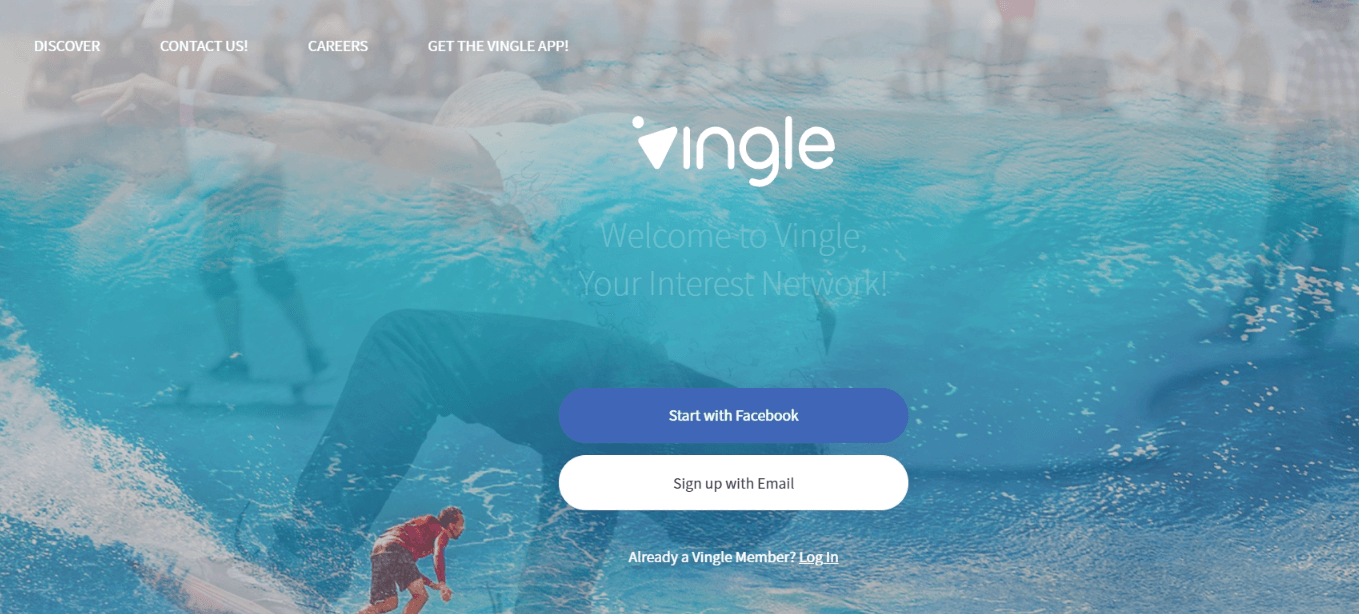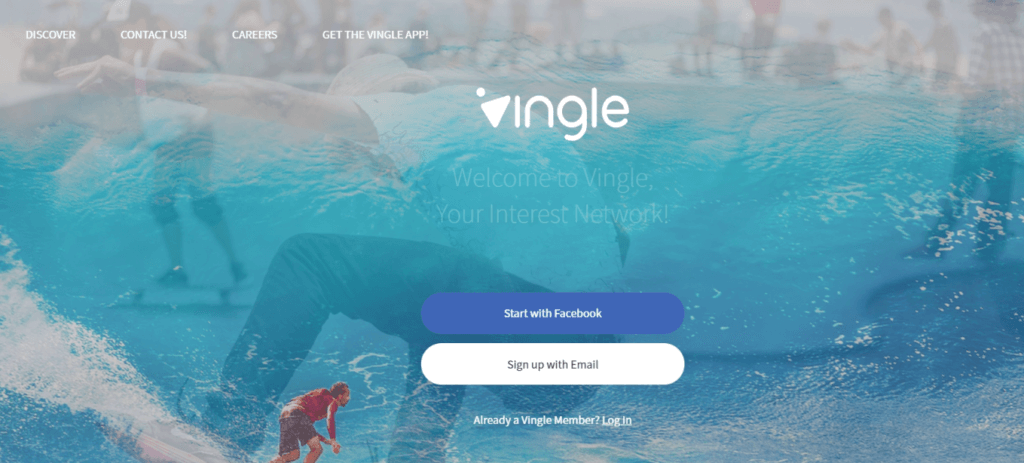 Signing Up – 5/5
Making Contact – 3/5
Profile Quality – 3/5
Overall Quality – 3/5
Have conversations with people who have similar interests
Both web and app based
The Vingle app take a little getting used to
Vingle is not as popular in the United States as some of the other websites like Meetup that we've featured so far.
It has more of a global appeal, however.
To date, Vingle has been downloaded over a million times on the Google Play Store and I am sure it has similar figures on the App Store too.
Ease of Use "mobile and desktop version"
You can register for Vingle either on the website or after downloading the app.
Start your profile on Vingle by using either your Facebook profile, Google or via an email address.
I downloaded the app and the next step was to give Vingle an idea of my interests.
You can do that in two ways.
Either swipe left or right on interests Vingle shows you or search for your own.
If you choose to swipe, remember it's right if you like the interest shown to you.
You can approve as many interests as you want and there are tons of them.
Vingle is very easy to use and has a simple menu system that you will find at the bottom of the screen.
These are:
Home: This takes you to the homepage where you will see articles, hashtags and other news on the interests that you selected when registering as a Vingle user. These are posted by other organisations and users of Vingle and if they interest you, you can follow them.
Search: Here Vingle will provide you with more interesting articles based on your interests as well as what you've read on the app. You can search for your own as well.
Chat bubble: Here you can find any messages that have been sent to you.
Bell Icon (Notification): Find all Vingle app notifications here.
Profile: You can change details of your Vingle profile here
So to meet people that share your interest you will need to go to the home page and then scroll through your interests at the top.
So let's say that one of your interests is cooking.
Click on the hashtag for that and a new secondary menu system will appear at the bottom of the screen.
Click on the "Talks" menu and you will find people talking about your specific interest.
You are free to click on these discussions and leave your own comments.
At any time, you can add more interests to your profile.
You are also free to start your own topics and have people comment on them.
Vingle is free to use.
You won't pay a cent to register for a Vingle profile and start your own topics or comment on others.
Vingle is very different from the other sites we have covered in this article.
It offers a platform for people who share various interests to not only chat about them but to follow each other on the platform.
While the chance of meeting singles for dating isn't as high as some of the other apps and websites we've covered, Vingle still has all the tools you need to do so.
You might just have to dig a little more.
Vingle gets a rating of 3.5 out of 5.
These are just some of the sites you can consider instead of Meetup.
​Some are startups while others are well-established but they aren't the only ones out there.
In fact, here are a few more you could try out including:
FourSquare
Meetin.org
OpenSports
GroupSpaces
WeWork