Age gap dating.
It's all about dating someone significantly older or younger than yourself, usually with a 20-year difference.
And it's a niche that you will find in online dating sites as well.
Sure, you can find someone where there is a 20-year age difference on regular dating apps like Tinder or eHarmony, or hook-up sites like BeNaughty or Ashley Madison.
OFL Top Recommendations based on 100,000+ Survey

"Serious Relationships"
"Discreet Hookups"
"Best Course for Men"
"Quick Flings"
"Normal Hookups"
"Our Quiz"
But why wouldn't you start a dating profile on a dating service geared specifically towards that?
In this review, I will evaluate the site in full and then reveal all the critical information you need to know about 20Dating in my findings.
You will find out the following from the information that I have collected:
That's just some of the critical details that this review will highlight.
Is your dating app giving you the best chance for success?
Make sure to take our online dating site/app quiz to find out.
It's a fact that people who follow our dating site suggestions have on average 2 extra dates per month.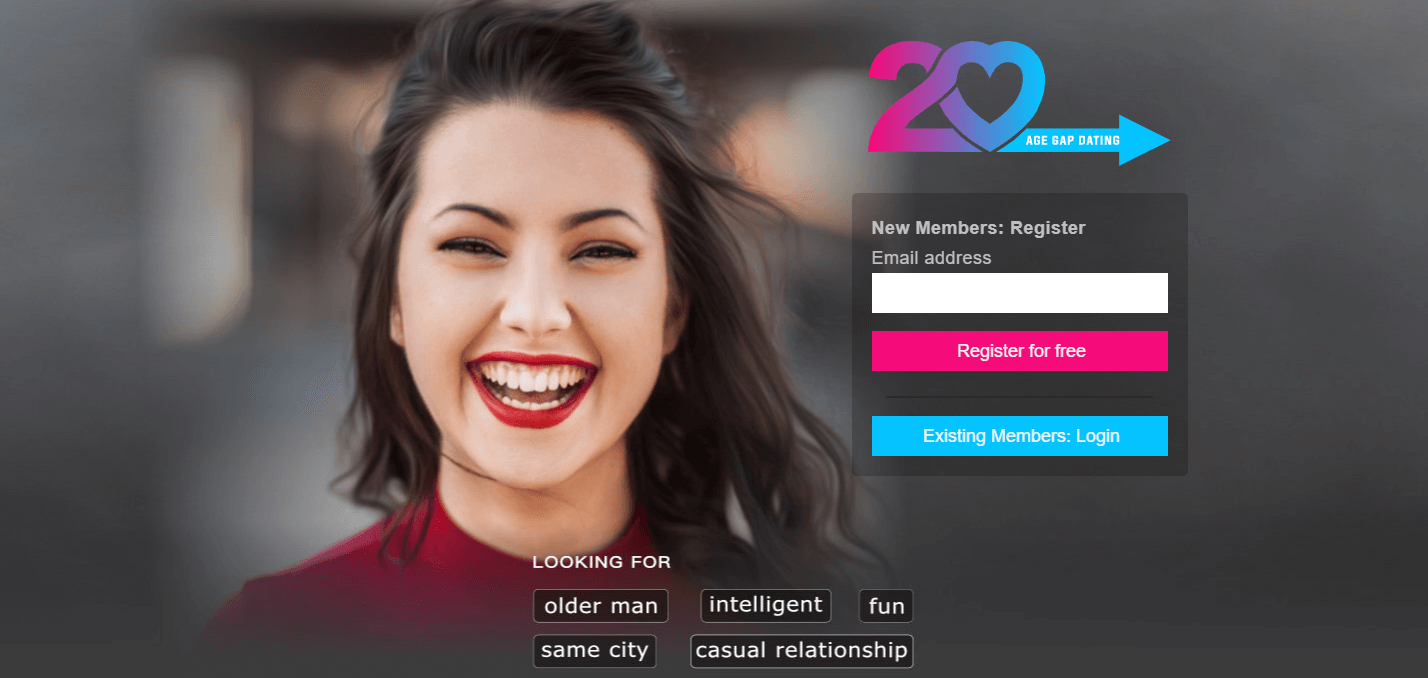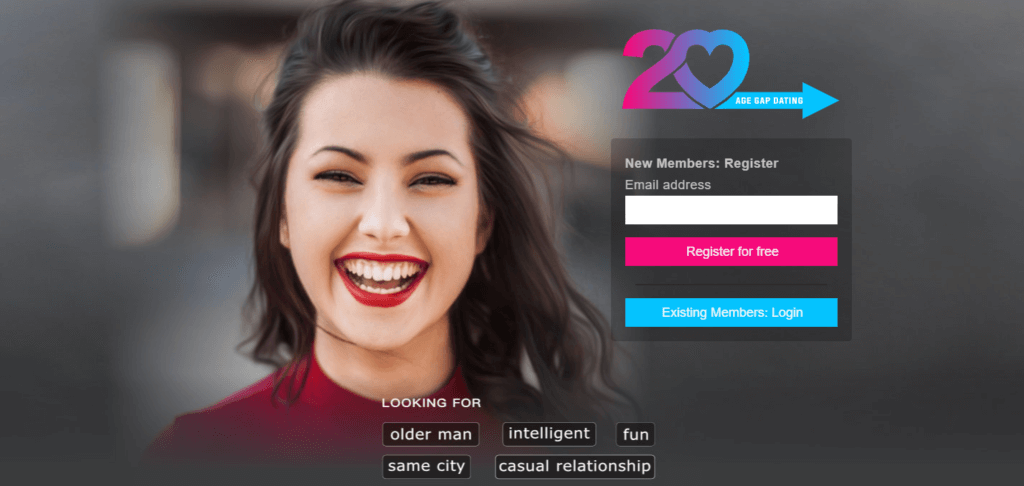 Ease of use – 3.5/5
Success rate – 3/5
Key features – 2/5
Price – 4/5
Profiles are completed during the registration process. This means no empty profiles while searching for a matchup
You can send a flirt message to all users that meet your criteria once you sign up as a way to announce yourself
Membership prices are very cheap
If you don't live in a large metropolitan area you might not find that many matchups
Key features aren't impressive at all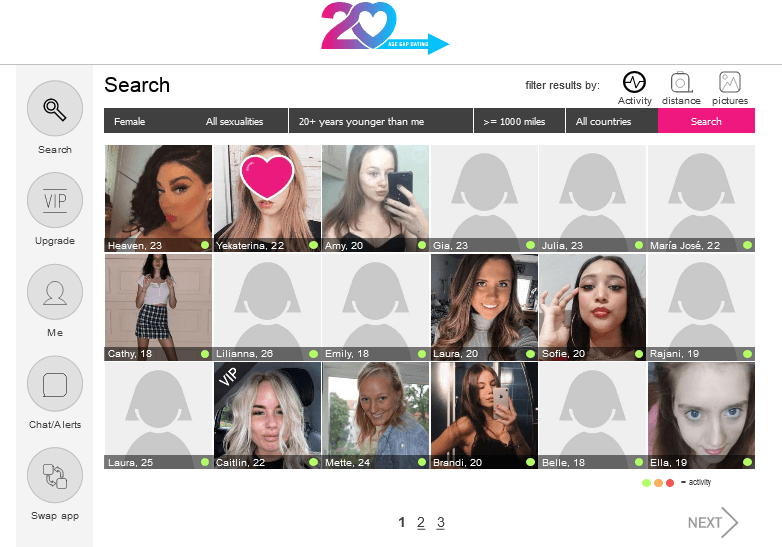 Who Is It For/Demographics?
Age gap dating isn't that new.
People have looked for a romantic partner that's significantly older or younger than them since the dating game began.
So on this site, you will find millennials, boomers and centennials among the registered users.
OFL Top Recommendations based on 100,000+ Survey

"Serious Relationships"
"Discreet Hookups"
"Best Course for Men"
"Quick Flings"
"Normal Hookups"
"Our Quiz"
As for relationships, well the pandemic has changed those dynamics a little.
Still, for the most part, people are looking for new friends to meet up with, long-term relationships in an attempt to find love and even hookups or casual dating.
A dating website like 20Dating is where they begin instead of a more commercial site like Zoosk, eHarmony, or even Grindr, depending on their sexual orientation.
While the total amount of users who have registered in the hope of finding a first date on the site isn't readily available, in my estimation, this site will have around 200000 to 300000 users.
I've based that amount on some of the other facts and figures I was able to determine during my research.
For example:
120000 users are based in the United States
Around 12000 users are online each week
That's close to 2000 each day and around 50000 each month
In analyzing those numbers, I can confirm that they are impressive when you keep in mind that this is a niche dating site.
And they generally have lower numbers than their more commercial counterparts.
Gender ratio and age range analysis
The gender ratio statistics indicate that men are more active on the site than women.
Here's the breakdown of those statistics:
66% of profiles are male
32% of profiles are female
2% of profiles are trans/non-binary
An analysis of the age ranges shows that two groups that are most prominent.
Exploring these groups shows just how the site operates in that 20 year age difference.
That's because the two most active groups are aged 20-30 years apart as most users are aged from 25-34 years old and then 55 and older.
Here's a full breakdown of the age groups as well as their percentage contribution to the overall membership.
25-34 year-olds (24% of all users of which 13% are male and 11% female)
55 and older (24% of all users of which 14% are male and 10% female)
35-44 year-olds (20% of all users of which 12% are males and 8% females)
45-54 year-olds (17% of all users of which 10% are males and 7% females)
18-24 year-olds (15% of all users of 9% are males and 6% females)
When comparing these figures with the overall idea behind the site, you can see how they fit in with what 20Dating is trying to achieve.
And that's simply helping those who love age gap dating to meet people in their preferred age range.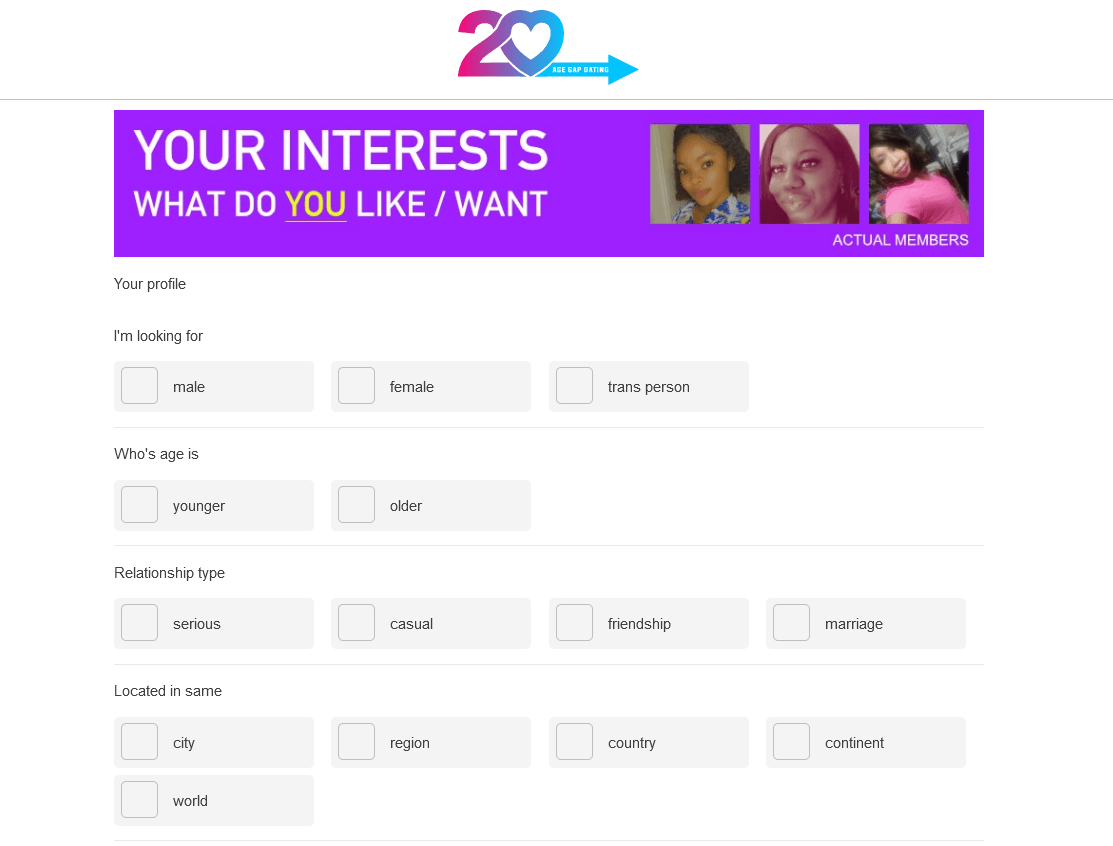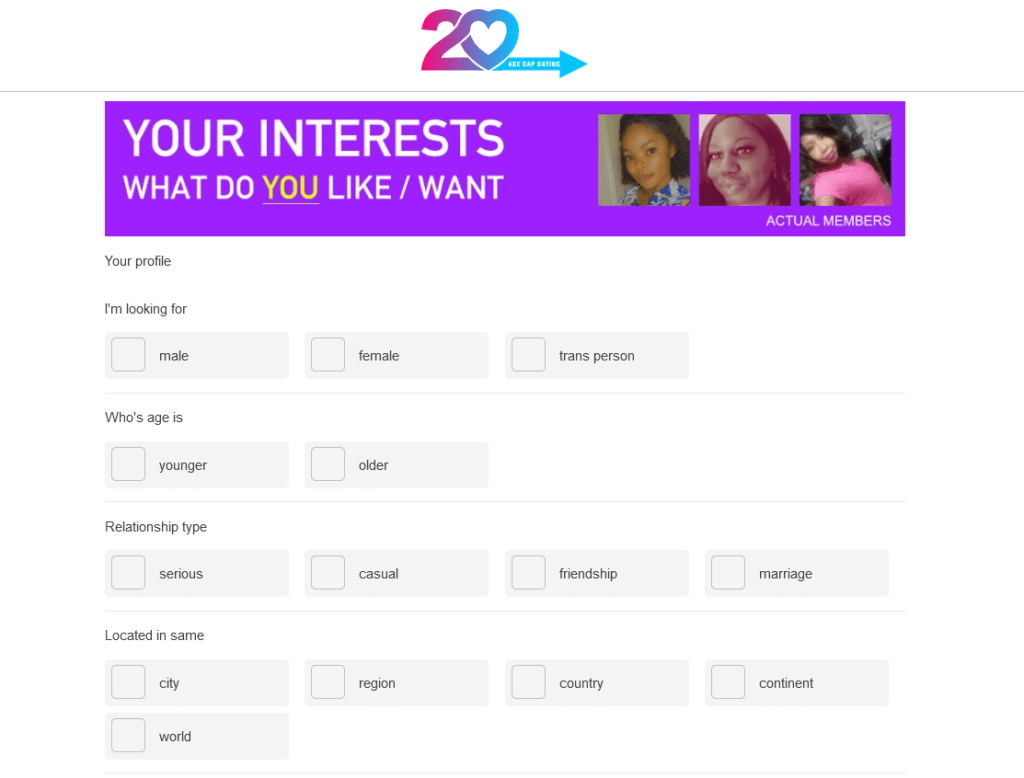 You won't ever swipe right on 20Dating.
In fact, there is no swiping at all because, at this point, 20Dating doesn't have an app.
So that means to register your profile you will have to do so from the home page.
But it is mobile-friendly, so you can still do it from your Android or Apple device if you'd prefer.
Registering as a user on 20Dating
Smiling faces greet you when you access the landing page for the first time.
And starting the registration process just needs:
Your email address
Your gender (with 22 different options)
The gender you would like to meet
Your sexual orientation (including nine different options)
Age
Password
Now just verify your email address by replying to a mail you will receive from 20Dating and you get access to the site for the first time.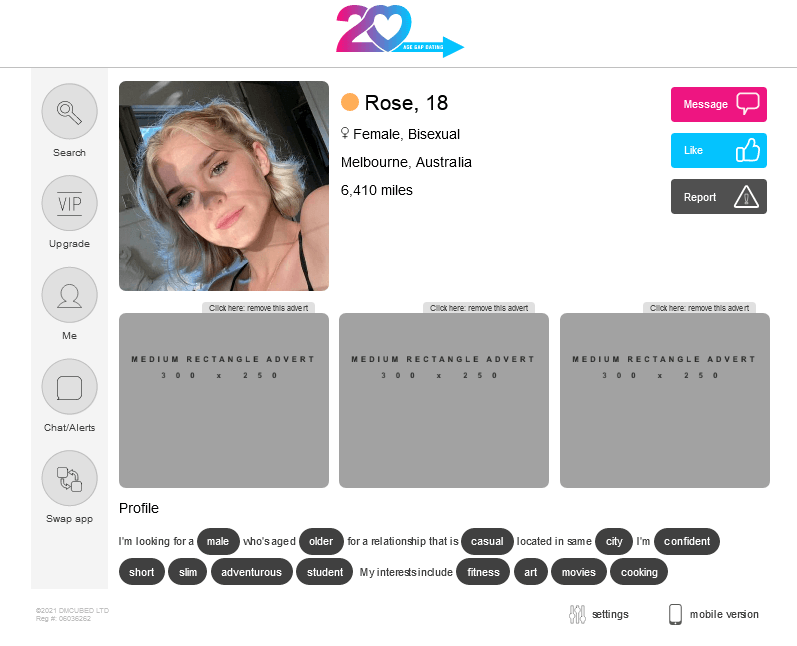 So the first thing you need to do is complete your profile.
To do that, you will provide your name and adjust some privacy settings, including if you want alerts sent to your mailbox.
What follows is a process where you have to answer a questionnaire.
They are:
The gender you are looking for
If they are to be older or younger than you
The relationship you want (a serious relationship, casual relationship, friendship and marriage)
Where your potential match should be located
Words to describe yourself (for example, confident or shy, short or tall, athletic or curvy. There are 22 to select from)
Your interests (25 to choose from covering a huge range)
The site then gives you a chance to send a flirt message.
This is an icebreaker that gets delivered to all the people who match your preferred parameters.
And you have 500 characters to get across what you are all about.
How it looks and finding your way around
Before we observe what the site has to offer and delve a little deeper into it, I just want to talk about the overall design.
20Dating is fairly unique.
I've not seen a dating website that looks similar to it.
And while there is nothing wrong with the design, I think it could be a little more refined.
At the end of the day, I guess it's how it performs and that's something we will get into a little later.
20Dating has a few menus to help you find your way around.
These are:
Search: This is pretty self-explanatory. You can launch your searches for a potential matchup here
VIP: This is where you will sign up for a membership on the site
Me: You can make changes to your profile here
Chat/Alerts: If you receive or send messages, you can keep track of them here
Swap app: This is a very interesting aspect of the site. It allows you to try out all the sister sites of 20Dating with a simple click of your mouse.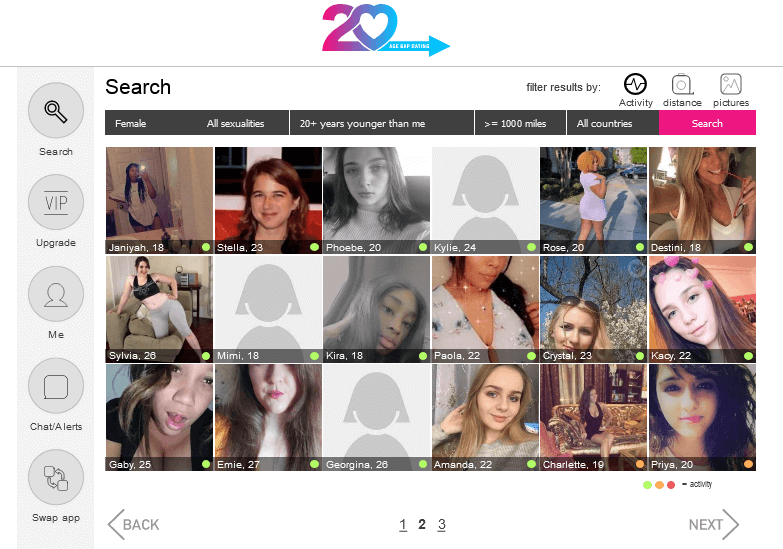 Now that we have explored the layout of the site and how you will navigate it, let's look at how it will help set you up from a compatibility point of view.
Because at the end of the day, you are either wanting to find someone that's older or younger than you by about 20 years.
That's what age gap dating is all about.
So how does the site do this?
What tools are at your disposal to help you find those people for a casual date or perhaps a long-term relationship?
Well, unlike many other dating sites, there are no matchups happening here.
But what does that mean?
Based on your age and location, many other dating sites will send matchups your way from the moment you use the site for the first time.
That's not the case with 20Dating.
So you are going to have to do all the work.
Searching for love on 20Date
So the only way to find a potential date on the site is by launching searches of your own.
But this is super simple to do.
To start, click on the Search menu.
There are only a few filters that you can change for your searches.
Although profiles include interests and words that each user picks to describe themselves, these can't be used in a search.
So what are the filters you can change then?
They are:
Gender
Sexual orientation
Age range (either 20 years older or younger than yourself)
Distance from your location (from 75 to over 1000 miles)
Within or outside of your country
And that's it.
There are no other search parameters for you to adjust.
For me, that's a major drawback.
For example, while filling in your profile, you are asked what type of relationship you are looking for.
That's a search filter that could have been added.
And there are more.
I think they've really missed a trick here.
As for the search returns, well they weren't that spectacular in my case.
Yes, there were several people nearby me, but I would have hoped for a little more.
That's probably got to do with the fact that I live in a fairly small town.
When searching further afield, there was a good range of search returns.
Ultimately, you've got to remember that this is a niche dating site that works in a very specific way.
You can only search for people 20 years older or younger than you (depending on your age).
So for that reason, it's obvious that search returns will turn up less than a more commercial dating site.
But if you live in a large city, there is no doubt in my mind that you will find some matchups to explore further.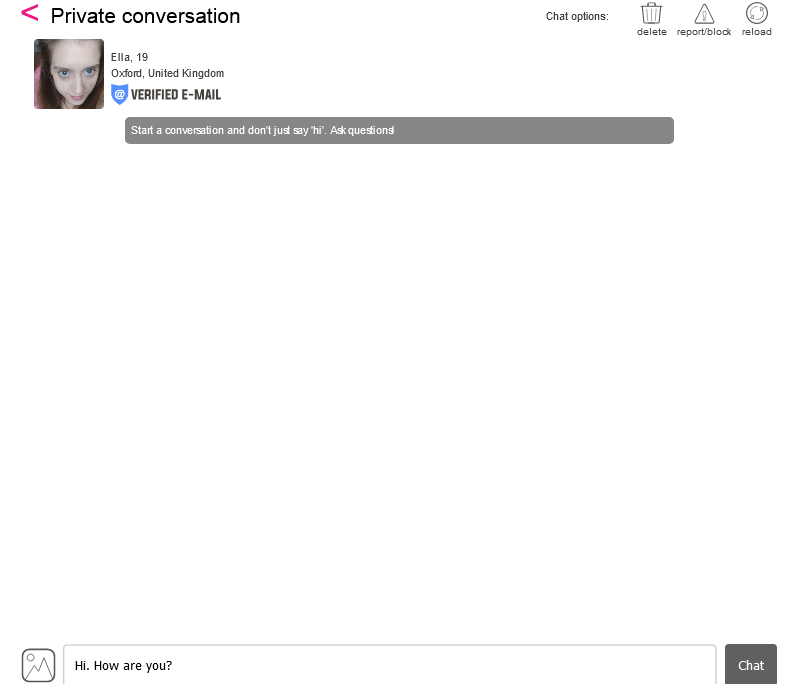 How do you contact other users?
As with most online dating sites, you are severely limited when it comes to reaching out to others.
But if you've used a dating site before, you probably know that, right?
Messaging is not often allowed for regular users.
Sometimes, on other dating platforms, you can reply if you get a message from a paying member but that's not the case on 20Dating at all.
The only thing you can do is send a like but that's it.
You can't even add someone to a favorites list.
It's very basic.
If you do click on the message icon on their profile, you are taken straight to the membership sign-up page.
Luckily, there is some good news in ways of trying the site out.
But I will get to that later in the review under the pricing section.
There is no doubt that 20Dating just gives you the bare bones when it comes to looking to meet people or trying to find a romantic partner.
But there is a membership option and we already know that messaging is one of the key features it brings to the table.
But what other features can you expect?
Well, there aren't that many, to be honest.
Should you sign up for membership of 20Dating, your profile will be boosted.
So when other users make a search and you fall in their parameters, you will be one of the first profiles seen in their search returns, along with other members, of course.
Profile boosting definitely can help to ensure that it's not only you trying to find a matchup but that the promotion of your profile leads to others reaching out to you as well.
Nothing more than a status symbol really, a VIP badge helps you stand out in the crowd.
It doesn't have any other extra advantages though.
I didn't find the advertising on the site too intrusive.
But it is there and you do notice it.
With membership, all the advertising from 20Dating is removed and you can browse without having to see what Google ads think you should be buying.
4. Priority approval for profile pictures
Whenever you change your profile picture on the site, it has to be approved by the admin team.
As a member, you are immediately pushed to the front of the list ahead of regular users so your profile photo will be approved quickly.
I am going to be honest here.
I don't believe there is anything really that spectacular when it comes to key features other than the fact that you can message others.
Profile boosting can work in your favor too but as for the rest, if there weren't there, it wouldn't really make a difference.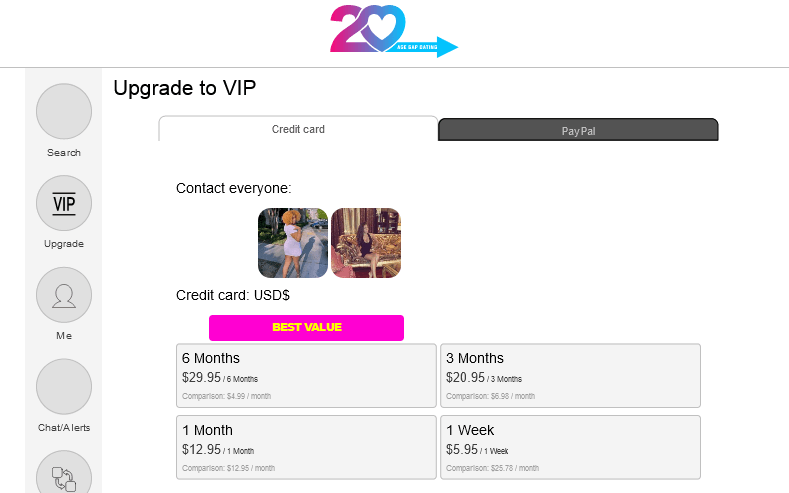 Now that we have an idea of what the key features are that the 20Dating has to offer, let's see the cost behind them.
Remember, without membership, you cannot communicate with other users, so how are you even going to make that first move?
Luckily, 20Dating membership is fairly cheap.
When you compare it with other dating sites, even new dating apps running specials to entice people to sign up, it's lower than many of them.
And you even have a one-week membership option to try out the site and then sign-up for longer membership with even more savings.
Here's the breakdown of the membership options and what they will cost:
1-week membership: $5.95
1-month membership: $12.95
3-month membership: $20.95
6-month membership: $29.95
It's on the extended memberships, like the three-month and six-month options that you really are going to save.
My advice would be to try out the site for a week and if you find potential matchups and like what you see, sign up for three-month membership.
It's the equivalent of $6.98 per month.
When you compare that with the features on offer, I think the pricing is perfect.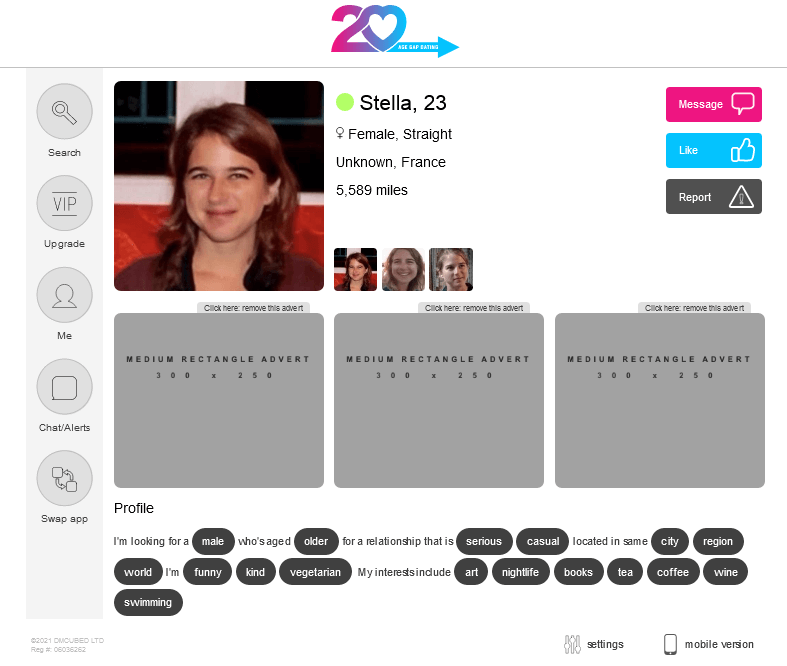 Conclusion and Overall Rating
To summarize we need to ask the question, is this one of the best dating apps/sites available for age dating?
Well, it's got potential that's for sure.
But there are many areas for improvement I feel.
For me, the main downside is the fact that the key features aren't that spectacular and the only real incentive to sign up for membership is for messaging.
But yes, there is a decent-sized user base here, so those living in larger cities should find matchups.
You've got nothing to lose in starting a profile because you won't have to spend a cent on membership to be able to tell if there are matchups worth exploring.
And if there are, the trial membership makes it easy to try the site for a week.
I do love the fact that you can use the Flirt message option as a way to introduce yourself to potential matchups and the overall ease of use of the site.
So let's give 20Dating a rating.
It gets 3.1 out of 5.
Our team at Onlineforlove first studied then tested every aspect of 20Dating and concluded that this is an age gap dating site that could well work for users in larger cities.
Our review approach included using the site for an extended period of time and then rating critical criteria as to how it operates as the review went on.
That overall evaluation was based on these important factors: price, ease-of-use, success rate, user population, and key features, amongst others.