So you tried regular dating sites like Bumble, Zoosk, OkCupid, eHarmony and others.
And while you've had success with long-term relationships (like eHarmony or Tinder), perhaps you want something a little more risque.
Many people turn to adult dating sites for no strings attached (NSA) casual dating (like BeNaughty or Ashley Madison).
Some people want threesomes, others gay hookups, some want to meet sugar daddies and others want to explore BDSM or fetishes.
OFL Top Recommendations based on 100,000+ Survey

"Serious Relationships"
"Discreet Hookups"
"Best Course for Men"
"Quick Flings"
"Normal Hookups"
"Our Quiz"
If you can think about a kink or erotic, there are sites that have you covered.
And in today's revue, we will evaluate some of the best hookup sites out there, judging them by:
We've collected information about them so you can decide which is the best hookup app or site for you.
So all you swingers, members of the LGBTQ community and those looking to spice up their sex lives, this review is a must-read.
Is your dating app giving you the best chance for success?
Make sure to take our online dating site/app quiz to find out.
It's a fact that people who follow our dating site suggestions have on average 2 extra dates per month.

Perhaps one of the most famous hookup websites of them all, Ashley Madison is a place where millions turn to for their discreet sexual encounters.
Signing Up – 4/5
Making Contact – 3.5/5
Profile Quality – 3.5/5
Overall Quality – 4/5
One of the biggest online dating apps with 70 million users
This is a free dating site for females
Offers a credit system
Communication options don't include video chat
Gender ratio is 70% men, 30% women
There's no doubt that when it comes to online dating sites of the hookup variety, Ashley Madison is one of the biggest.
Here's a quick breakdown of some demographics that help confirm this:
Around 70 million people have signed up as users on this dating website/app.
17 million users are from the United States
Each day around 15000 new users register on the site
Around 20000 users log in looking for casual encounters each day
That's 140000 a week and over half a million a month
Just analyze those numbers and I am sure you can see just why Ashley Madison is a site you should consider in your hookup quest.
One area for me that's worse than expected is the gender ratio.
OFL Top Recommendations based on 100,000+ Survey

"Serious Relationships"
"Discreet Hookups"
"Best Course for Men"
"Quick Flings"
"Normal Hookups"
"Our Quiz"
While men usually dominate on sites where serious relationships aren't the goal, on Ashley Madison, they make up around 70% of all users.
The largest group of users are between the ages of 25 and 34 years of age and they make up 27% of the user base.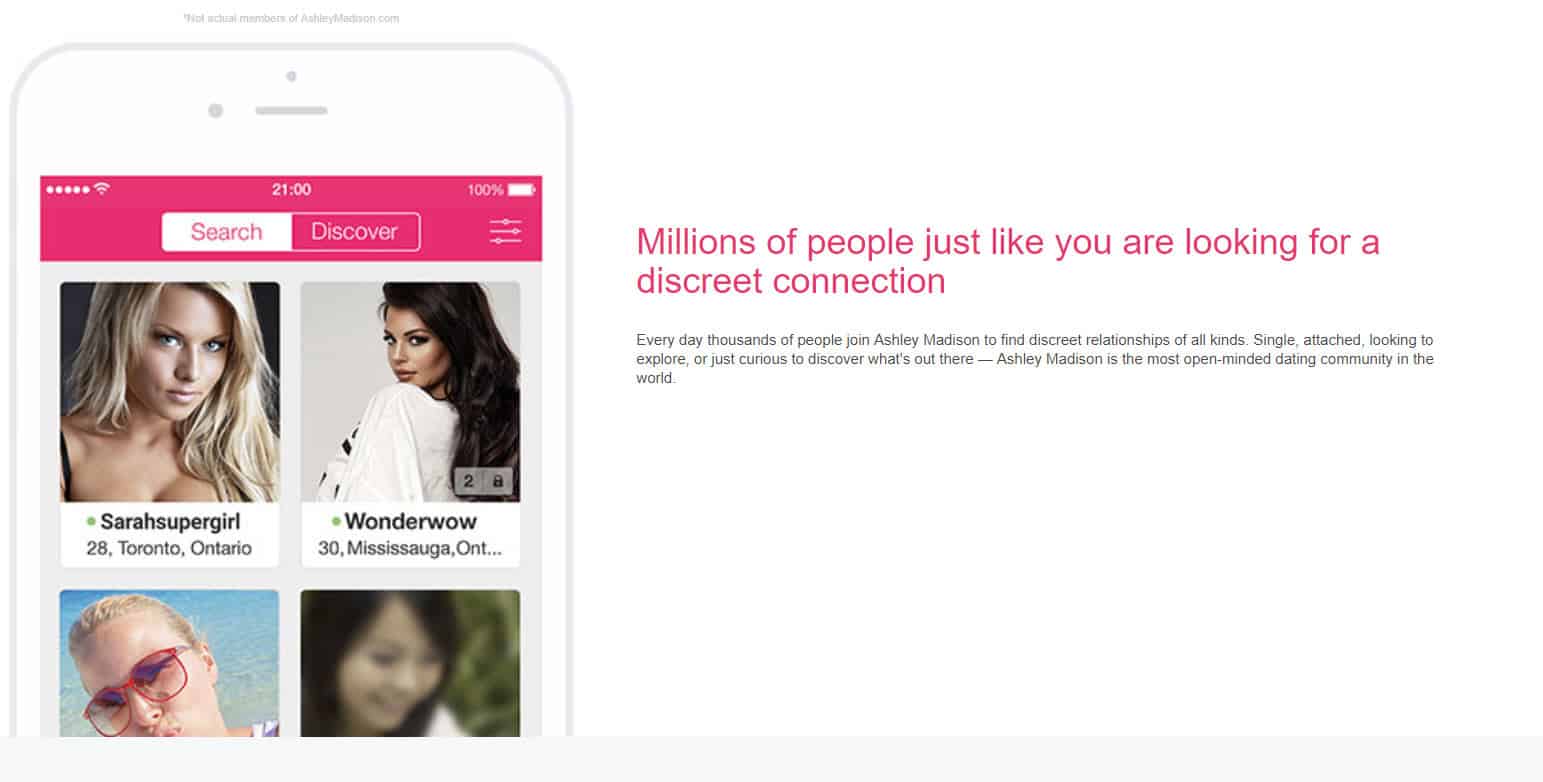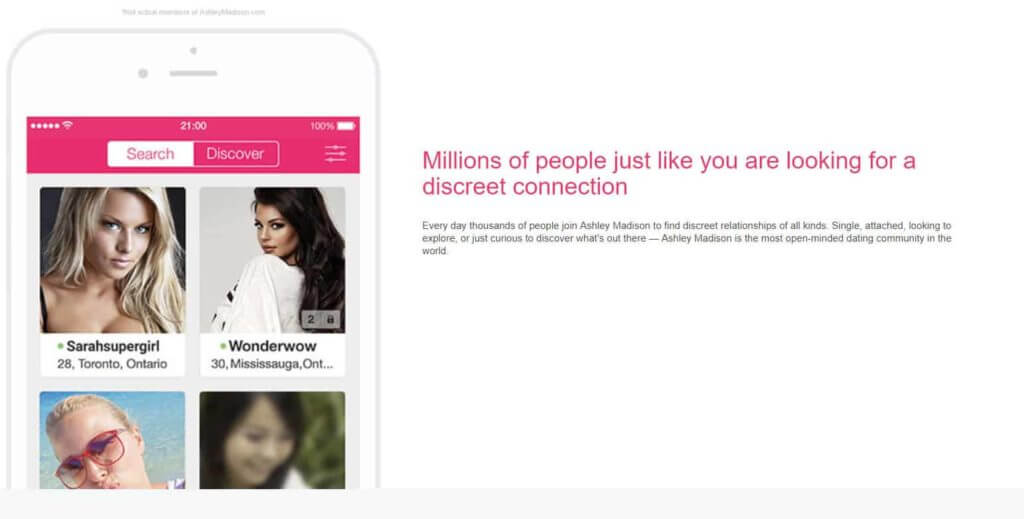 Ease of Use "mobile and desktop version"
An app for Android and IOS, social media sign-ins if you'd prefer to use the website and more, Ashley Madison makes registering a profile a fairly simple process.
All in all, it's going to take you around 10 minutes to complete and get online.
For those users who prefer to conduct their time on the site in absolute privacy, you can choose to blur out your profile picture.
Despite having that option, it's not something I would choose.
Dating sites are visual mediums and people work on instant attraction mostly.
That comes from your profile picture, doesn't it?
As for matchups, well there's swiping involved or you can use the search engine you will find on the app.
And yes, even as a regular user, the advanced search engine is available for everyone to use.
The matching system helps ensure the best compatibility when it comes to search returns and the fact that the user base is so large doesn't hurt those returns either.
You can search using various parameters which help users find exactly what they want for their potential hookup.
Note, however, that profiles on the site aren't packed with information like you might find on other pure dating sites.
But that's often the case on dating sites where casual encounters are the name of the game.
You aren't really interested in someone's hobbies or favorite food here, right?
And what about messaging?
Well, as a female you can send private messages to others for free.
Males, however, will need to pay if they want to make use of Ashley Madison effectively.
To do that, you will need to purchase credits.
As we've already indicated, this isn't a free hookup site for males.
And should you choose to pay to communicate with others, the site uses a credit system which is often popular on dating sex sites like this.
Here's confirmation of some basic costs of messaging:
Sending a message – 5 credits
Reading a message – 5 credits
Live chat rooms – A balance of 30 credits and then 50 credits per hour
Virtual gifts – Between 20 and 50 credits
Here's how much credits will cost:
100 credits -$59 ($0.59 per credit)
500 credits – $169 ($0.34 per credit)
1000 credits – $289 ($0.29 per credit)
Exclusive hookup site, exclusive pricing, right?
But if you looking for the best sex on a casual basis, you've got to pay.
Ashley Madison is clearly good at what it does.
It simply wouldn't have so many users if it wasn't good at what it does, right?
And yes, there have been scams in the past when it comes to user identity breaches, but the app has recovered and put measures in place to stop that from happening again.
It gets a strong 3.75 out of 5 as an overall rating and is worth checking out as an erotic website for affairs and hookups.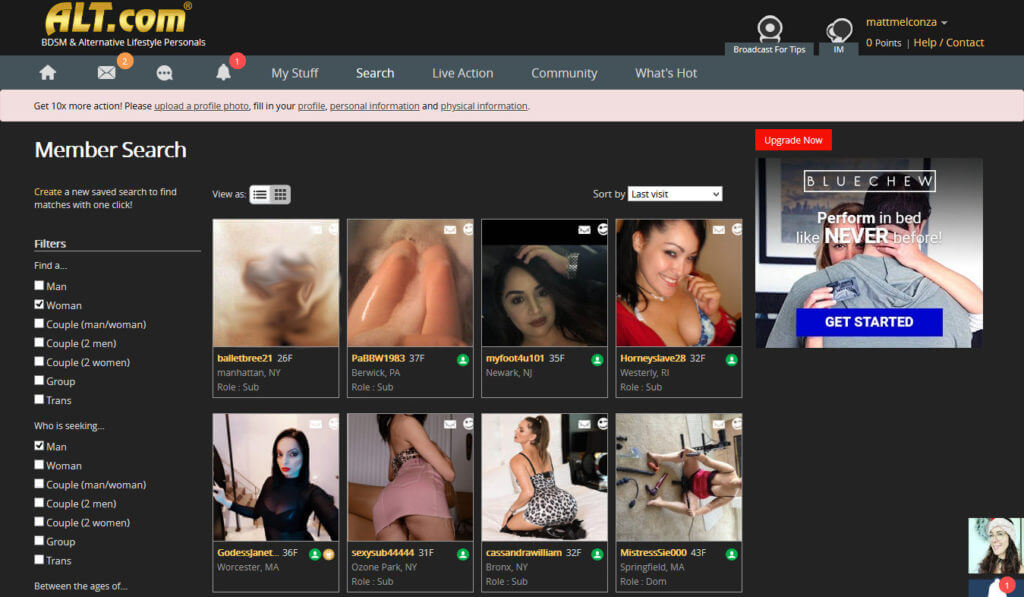 Erotic dating sites can offer something a little alternative, right?
And that's where Alt.com comes in.
This is where those who are into bondage and fetishes can register a profile to meet like-minded individuals.
Sites and apps like these offer many features over and above the dating side of things.
For example, members can not only watch webcams but broadcast their own shows.
Often, these kinds of sites will even host BDSM meet ups.
So it's not only a dating site but an alternative dating community in a way.
Let's look at what Alt.com can offer those with a kinky side.
Signing up – 3/5
Making contact – 3/5
Profile quality – 4/5
Overall quality – 4/5
A user base of millions found all over the globe
Excellent profile detail and search options
Many key features for paying members
You will find fake profiles
Only members can see the full profile information of others
As we've already mentioned, Alt.com caters to those who are looking for the kinky side of sex.
You'll find all manner of users here.
For example, those into BDSM make up a large percentage of users but if you can think of a kink, you can probably find it on Alt.com.
Here's a quick breakdown of demographics for you:
Around 10000 users are on the site each day
That's around 300000 each month
Close to half a million users are based in the United States
26% of all users are between the ages of 25 and 34 years old.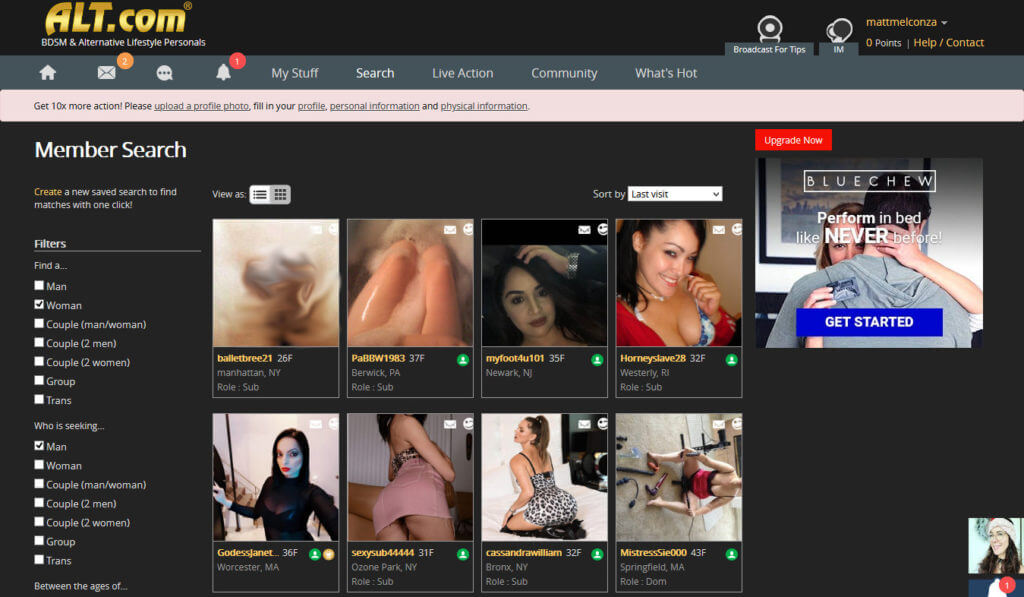 Ease of Use "mobile and desktop version"
There is no app for Alt.com so to use it, you are going to have to register via the website.
That process is simple enough and also totally LGBTQ-friendly as you can choose from a range of genders that fall under that banner.
I won't take you through the registration process because even if you are new to sites like this, you aren't going to have any problems at all.
While the site is a little busy and cluttered, you can easily find your way around through the menu system.
These are:
House icon (Home): No matter where you are on the site, clicking here returns you to this page.
Envelope icon (Messages): All messages can be accessed by clicking here
Bell icon (Notifications): The site will alert you to important notifications here
My Stuff: Here you have access to your profile, you can upload more photos, see who has viewed and more.
Search: Conduct searches for potential matchups here
Live-action: If live cams are your thing, you will find plenty here
Community: Community features include blogs and forums
The easiest way to look for potential matchups is by using the search engine that Alt.com provides.
It's decent too, allowing you to use various parameters.
For example, on the gender alone, it's not just male and female.
You can even search for couples, groups and transgender options.
Thanks to the comprehensive profiles on the site, you can also search using numerous parameters:
Here are just some of the parameters you can change:
If they have photos or videos
Their ethnicity
Their sexual orientation
Their body type
Various appearance parameters (hair and eye color, height, hair length)
How they swing
And more
The problem comes in when people don't fill in their profiles comprehensively.
That means parameter searches will only pick up the users that do.
But it's worthwhile experimenting and trying out different types of searches to see what works best for you.
When it comes to contacting someone that's taken your eye, you will have to become a member.
There is no form of free messaging on Alt.com.
There a two membership options on Alt.com.
Here's what they will cost you.
Silver membership
1-month membership – $19.95
3-month membership – $35.97 ($11.99 per month)
6-month membership – $99.97 ($8.33 per month)
Gold membership
1-month – $29.95
3-months – $59.97 ($19.99 per month)
6-months – $149.97 ($12.50 per month)
Obviously, if you are just interested in messaging, Silver membership will suffice.
But there are other key features available including: seeing the social network addresses of other users, get access to new user profiles first, profile boosting and more.
This is one of the most popular BDSM and kink sites online today so if you want to find a casual relationship in that vein, it makes sense to try it out.
For those who like to use dating apps on their mobile, you'd be a bit disappointed to know that Alt.com doesn't have one which is strange seeing it has over a million users.
But the website is simple to use if a little cluttered when it comes to the overall design.
Let's get onto Alt.com's rating then.
It scores 3.5 out of 5.

If it's an erotic hookup, no strings attached hookup you want, Adult Friend Finder's got you covered.
That's what it specializes in and with millions of users around the world, no matter where you stay, you will probably find someone to meet for a casual affair.
Signing Up – 3.5/5
Making Contact – 3/5
Profile Quality – 4/5
Overall Quality – 3.5/5
Over 80 million users worldwide
Get searching for a hookup in the matter of a few minutes
For couples as well
Over 80% of users are male
It's not the best-designed website you'll ever see
One of the main reasons why Adult Friend Finder makes our list is the fact that it has over 80 million users worldwide.
Now that's impressive.
Here are some more facts and figures about the site that are sure to impress you even more:
If you are based in the USA, you will find 50 million other users there too
Over 2 million users log into the site each month
Around 80% of users are male
Over half the users on the site are aged from 18 to 34.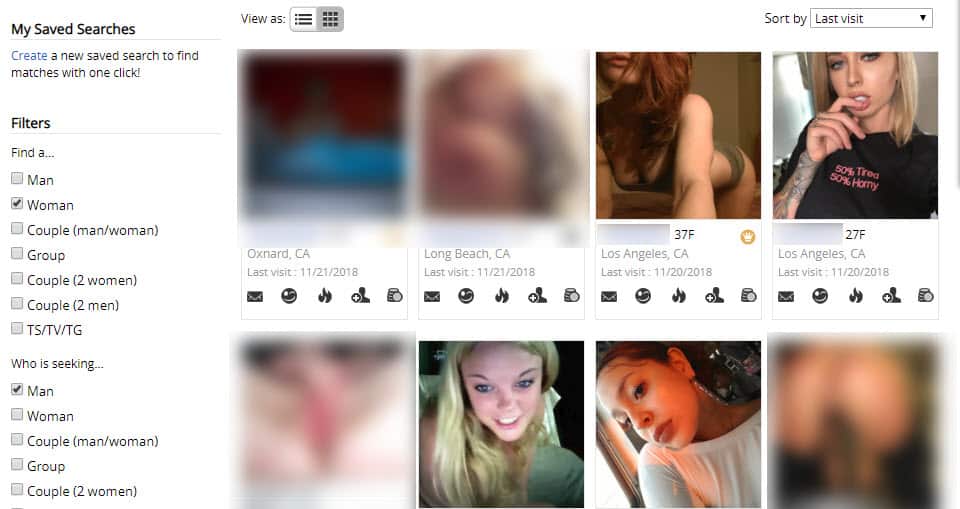 Ease of Use "mobile and desktop version"
The great thing about Adult Friend Finder is that it's for all, straight, gay and everything else.
No matter who you are, you can sign up for a profile here and find like-minded people looking for casual hookups.
These kinds of sites make registration super simple too, and while that's the case here too, you will need to provide information that will form part of your profile.
To be honest, this is one of the things I like about the site because even if other users are lazy, you can be guaranteed that at least some vital profile information will be available when you preview a potential match.
Other than sending you potential matchups based on the gender and age range you indicated during the registration process, you also have the opportunity to look for your own.
This includes advanced search filters as well, which includes the use of profile parameters.
But you can also view potential matches by seeing:
Users online
Users who have joined and who are near your location
The second option is worth checking out almost every day as new members get added to the site.
Membership, however, will be needed to get into contact with anyone.
That will bring other key features as well including:
Webcams for members
Various chatrooms
User blogs
Live streaming
Add friends
Here's the breakdown of what membership to Adult Friend Finder will cost you:
You have three options: a one-month, three months and 12-months membership package.
1-month: $39.99
3-month: $80.85 ($26.95 per month)
12-month: $239.40 ($19.95 per month)
In terms of pricing, the one-month membership package while not the most expensive but it's not that cheap either.
For what's on offer and the fact that there are over 80 million users, it's probably about right.
I would, however, look into signing up for three months which works out just under $27 per month which is an excellent price I feel.
Adult Friend Finder

Overall Rating
With 80 million users, it makes perfect sense to start a profile here and see the potential matches you can find near your location.
You can get online quickly as well and decide if Adult Friend Finder is the site for you or not.
But yes, it's got a lot going for it but you will find fake profiles here.
On a site like this, that's always going to happen, so just play things safe at all times.
As for an overall rating, it gets a 3.5 out of 5.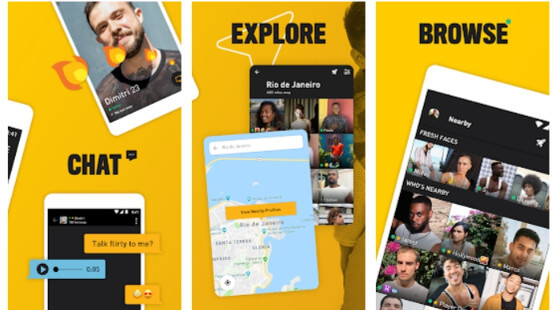 Grindr is a well-known dating app in the LGBTQ and while it's most notably associated with gay men, you will find many other users from that community, for example, trans women.
Signing Up – 4/5
Making Contact – 4/5
Profile Quality – 4/5
Overall Quality – 4/5
Around 30 million users have signed up for the app
Available for both Android and IOS handsets
Excellent user engagement
Free messaging
You'll find fake profiles here
We've already mentioned that around 30 million users have registered for Grindr but let's break down the demographics behind the site a little further.
Around 3 million users are based in the United States
Close to half a million users are active on the site each week
User base comes from 190 countries all over the globe
55% of users are between 18 and 34 years of age
Without a doubt, this is a busy LGBTQ site, that's for sure.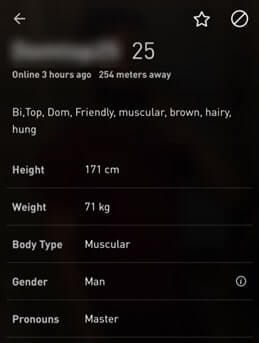 Ease of Use "mobile and desktop version"
Grindr has both an IOS and Android app, so to start your experience here, download it for your device and register as a user.
As with all dating apps, that's a super quick process and you will be online in a few minutes after having provided a few bits of information.
Once you've verified your email address and uploaded your photo, you are free to use the app.
Grindr works via location and provides you with potential matchups based on where you live as well as your preferred age range.
As a free user, you will only see up to 100 matches.
Grindr profiles include a sexual health section that can help you find the perfect matchup but it's not mandatory to fill it in.
If you wanting to be as safe as possible, this can help.
When you've found someone that you'd like to get to know better, you are free to send messages, even as a regular user.
Grindr does have membership options that provide some extra features.
Here are a few that are worth noting:
Instead of just 100 matches, paying members get 600
No advertising
You can join up to three LGBTQ tribes (free users can only be in one)
Grindr has two different membership options: Grinder Xtra and Grindr Unlimited.
Of course, the unlimited options provides you with all the key features the app has to offer.
Here's a breakdown of how much these options cost.
Grindr Xtra
1 month – $13.00
3 months = $28.20
12 months = $62.40
Grindr Unlimited
1 month – $41.40
3 months – $61.17
12 months – $176.46
If you are wanting to try out membership, the one-month Xtra option makes the most sense first up, even if it's just to unlock more matches than a regular user would have.
If you are looking for the best erotic dating site for gay men, look no further than Grindr.
With millions of users in over 190 countries, unless you are living in a remote jungle, you probably going to find matchups near your location.
It's also free to use, which is a bonus, right?
Of course, you might want more than 100 potential matchups to look through which is fine because the cost of membership is on par with other similar dating apps.
Grindr gets a rating of 4 out of 5.
Onlineforlove's review team looked for the best erotic dating sites to include in this article.
The ones we listed here were vigorously tested and reviewed over an extended period of time.
That review and evaluation process was based on various critical factors to help score each site with an overall rating.
That rating was based on the following factors: the registration process, making contact with others, how successful each site was in matchmaking, ease of use, key features and more.