Dating, in general, can be pretty challenging. Finding the one is never easy and especially for those who take their believes and values as the basis of a long-lasting relationship.
Luckily, there are a lot of websites made for Mormons that are designed to help LDS singles meet others with similar views and values.
We are going to look at some of these Best LDS Dating Sites, rating them based on:
Is your dating app giving you the best chance for success?
Make sure to take our online dating site/app quiz to find out.
It's a fact that people who follow our dating site suggestions have on average 2 extra dates per month.
Signing-up – 4/5
Making Contact – 5/5
Profile Quality – 5/5
Overall Rating – 4.8/5
The site has a clear exclusivity for Mormons
Questionnaire to help match similar personalities
It offers quick and precise access to the members' photo gallery
Every member has the chance to create a blog and broadcast
The site alerts you about potential matches
There might be a limited number of users
Many spam profiles are still on
The site graphics and interface are outdated
True LDS has been the first site created for Mormon people exclusively. Incorporated in Utah, it has managed to gather the most eligible singles within the State borders.
Most of its members are still women looking for a man.
Understandably, the site is less friendly to gay relationships due to religious restrictions.
The biggest age group on the website are those of 35 to 55 years of age. Most people in this age group are ready to find a partner for life and they are looking for something serious.
The site has been accepting people from all over the world lately, however, all members have to share the same values and religious views as Mormons.
True LDS is fairly easy and instinctive to navigate, as is the sign-up process.
You will, however, need to upload a clear photo of yourself for revision, as the website has had some problems with spammy profiles in the past.
The communication goes through chats and free emoticons.
Apart from the desktop version, there is an app as well. It doesn't offer anything different from the desktop version, but it is fast and easy to access.
OFL Top Recommendations based on 100,000+ Survey

"Serious Relationships"
"Discreet Hookups"
"Best Course for Men"
"Quick Flings"
"Normal Hookups"
"Our Quiz"
This is one of the most affordable LDS dating sites you can find online. The initial plan starts from as low as $16.99 per month.
The 3-month commitment may lower the monthly price to $12.32.
You may also buy a 6-month membership that can lower the monthly price even lower to just $8.99 per month.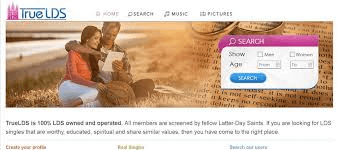 1. Is there a cancellation fee for the True LDS dating site?
There is no cancellation fee for members. You can resign anytime you like, but there is no refund for the time you have paid but not used.
2. How can you interact with other members?
There is an option to interact with other members through live chat, instant messages, pings, and emoticons.
3. Can a married person find a mate in true LDS?
There is no prohibition for married people on the True LDS dating site.
True LDS has been one of the best and first LDS dating sites with a 5-star rating. Most members can find their soul mates in just a few weeks from signing up.
The site is legitimate and gives everyone the time and care they need. It has given a chance to LDS dating free of charge for initial members.
Signing-up – 4/5
Making Contact – 4/5
Profile Quality – 4/5
Overall Rating – 4/5
The site offers you access to the largest Mormon community
Big number of users will leave you with plenty of options
You have fewer spam members knocking on your profile
It can connect to your Social Media and offer mobile features
You cannot join as a married person.
The majority of members on LDS Planet come from the United States and Canada.
The female-male user ratio is not really equal, but it is fairly close to that. With about 60% of guys and 40% of girls, both sexes will have chances of finding their person.
The main age group belongs to people from 35 to 45 years of age, and the other groups are pretty equal in the number of users.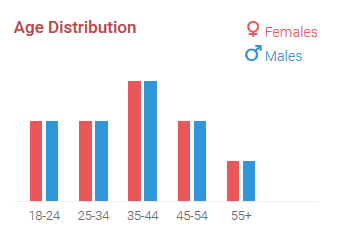 Another feature that is common to most members is that they are looking for long-term and meaningful relationships, no matter their age (like Tinder or eHarmony).
Unlike True LDS, LDS Planet isn't open for married couples, but it is open to homosexuals and encourages these relationships.
Truth be told, most of the members are heterosexual, so that doesn't leave a lot of options for homosexual people. Still, they are not banned from the site or looked down on.
As for the married people, they are looked down on if they are using the website to find a person to have an affair with. Planet LDS takes this very seriously, so much so that it might even come to administrators' knowledge if married people are trying to use the website for cheating (like BeNaughty or Ashley Madison).
The LDS Planed design is pretty simple and easy to navigate. It also has some free options, but as a free member, you will not have access to all of its services.
For example, as a free member, you will be able to search for other members and comment, and like photos, but it will not give you the option for live chat or unlimited messaging.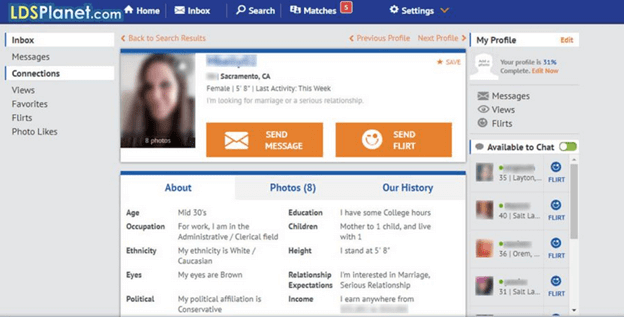 Another amazing feature of this website is that it supports no advertisements so there will be no boring or inappropriate ads popping up every time you log in to your profile.
The website design seems to follow Mormon beliefs with its simplicity and orderliness, so we are sure you will find your way around the site with no trouble whatsoever.
Sadly, though, there is no LDS Planet app, but the website is optimized well enough that you can open it from your phone browser and use it just as simply and easily as you would use an app or a desktop version.
LDS Planet belongs to the LDS dating sites that are most affordable for younger Mormons.
You have the chance to register as a free member, but all your services are limited until you buy your first paid plan.
The monthly fee comes up to $17. When you buy a 3-month membership, you will pay $37, which means that you will enjoy a 25% discount.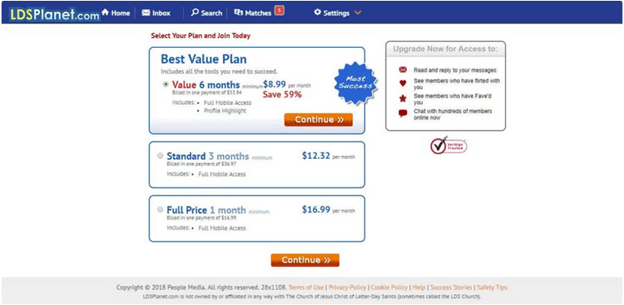 People who feel that this website is the right one for them can buy the 6-month plan that comes with a 50% discount, and the monthly fee comes up down to $9.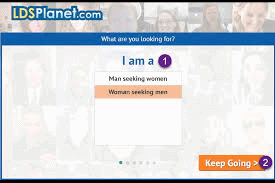 1. Does the free version offer communication on LDS Planet?
The free version will give you limited communication with the other members. You have the chance to ping some members but only with a daily limit and you will be able to like and comment on peoples' photos, but no live chat is available.
2. Is LDS Planet strict in checking the real profile pictures?
LDS Planet can be strict with a new profile and their uploaded pictures. Sadly, there is no mechanism to ban spammers completely.
This site has a great 4-star rating since it needs some improvements to its graphics and interface.
Most people who join this site as paid members have the chance to meet new eligible Mormon people in just a few days.
The discount option is always fantastic for people who know that they will enjoy the website and with 3 payment plans, you can choose the one that fits your needs best.
The global expansion of the site gives it a better reputation and more chances to have quality and legit services for all.
Signing-up – 4.5/5
Making Contact – 4/5
Profile Quality – 4/5
Overall Rating – 4.3/5
It gives you access to the Passion Networks Social Media
It has the biggest Mormons members database
Everyone can create their group if they wish to
It is the ideal dating site for younger Mormons
There are no profile legitimacy checks
As LDS Passion belongs to the Passion Network group, the members will have over 250 free dating websites to choose from. This means that they will not have to limit themselves to this site only, but they will surely enjoy it.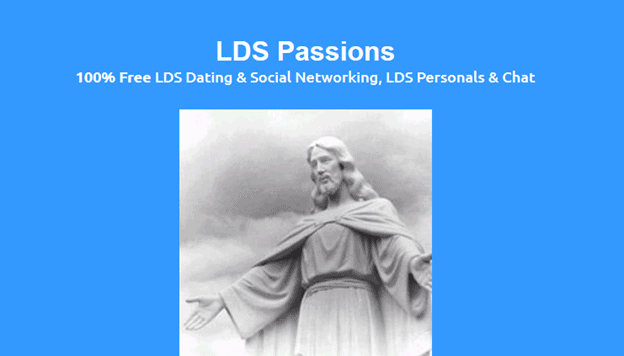 In terms of members' demographic makeup, over 60% of them are females. The male part of website users mostly belongs to the higher classes.
The biggest age group is the one between 25 and 45 years of age. Older users are the ones to visit the website more frequently.
There are no restrictions based on the members' sexual orientation. However, it is not a gay-friendly site per se, meaning that it doesn't encourage homosexual relationships.
Lately, we have seen a growing number of people who like the Mormon religion and lifestyle register on this free LDS dating site more and more.
Most LDS Passions members come from the United States, Canada, and Mexico. However, other European countries have recently entered its member pool.
Since Passion Network group is the leading group in online dating, it is no wonder that the website is nice and well-organized. Meaning that everyone will have an easy time finding their way through the website, even if they are not all that tech-savvy.
Most users use the site through their desktop or laptop computers, creating their free accounts, as there is no app yet.
An important step towards finding members with whom you can openly communicate would be to complete your profile and all the details.
Many people are reluctant to start a communication with someone who can't bother with their photo or main info as these profiles may seem like spammers.
Once you have your profile completed, it will be easy to start using the website's features.
You can check other peoples' profiles and check who is a good match for you or who is close to your location.
As we said before, the LDS Passion is the site that will charge its members no fees to stay active.
You only need to show administrators some real credentials about your profile pictures and details.
LDS Passion will never ask for a fee from its members since it has more ads than other websites and earns in this way too.
1. Can the LDS Passions administrators ban my access?
The administrators have the right to ban your access to LDS Passion if you have violated any part of the Terms and Conditions.
2. Is every LDS Passions member eligible to view my profile?
There is no way you can ban certain members from viewing your profile. All LDS Passions profiles are free for visitors to navigate through.
3. Do you expect only Mormons to register on LDS Passions?
The site has been made exclusively for Mormons. However, people from outside Utah who love the Mormons' lifestyle have managed to register and stay active on LDS Passions.
It is a 4-star rating free LDS dating site for Mormons and people close to that religious group.
The site is easy to navigate and offers an online tutor for people who have never registered before on dating sites.
It is completely free to allow more and more people to register and have increased chances to find their soul mate.
The site is legitimate enough, and every Mormon could create a profile to meet the person they will match perfectly.
Signing-up – 4/5
Making Contact – 4/5
Profile Quality – 4/5
Overall Rating – 4/5
Every profile goes through identity check
The number of fake profiles is minimal
Good value for the money
Access to groups and forums
Live chat for meeting new people
People outside of United States are not using this website
LDS Mingle is one of the favorite Mormon websites for people who live in the United States.
Sadly, this is the website for people from the United States only, so if you live anywhere else, you will have to look for another option.
The one thing that makes this website stand out is that every profile is checked so that the number of fake profiles is brought to a minimum.
The gender ratio on the website is 60% in favor of men, and 40% women. Still, this isn't a radical gap and both men and women will have a lot of fellow Mormons to choose from.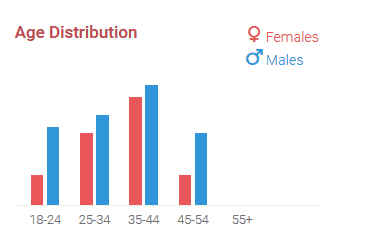 The biggest age group are people of 35 to 45 years of age who are looking for serious relationships, closely followed by young people from the age of 25 to 35.
Not all members are members of the church, but they are all Christians.
This is one of the websites that connect people based on their religion and values, so you will have to state your religion while creating a profile.
The design of the website is pretty minimalistic and it looks clean, with only the most important information on display.
This makes it easy to navigate, even for older people who might not be all that interested in technology.
Furthermore, important pieces of information are grouped, so even though profiles have a lot of info about each user, it isn't all packed, ugly, and untidy.
Sign up process is nothing to be afraid of either. You can connect your profile to your Facebook profile (this will take a little less time) or make it from scratch with your email.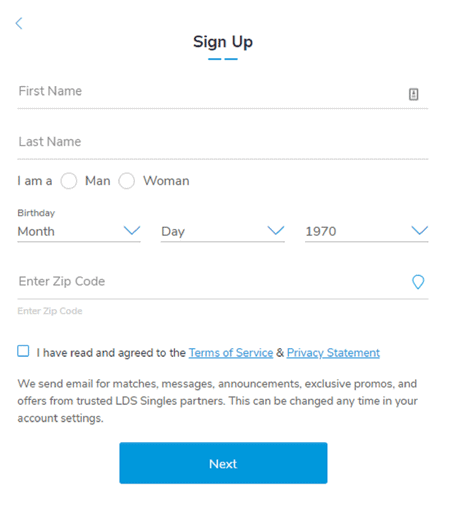 Either way, there will be a questionnaire you will have to fill out so that the website algorithm can get to know you better and provide suitable matches.
There is also a free app available for Android and iOS that is just as clean and simple as the desktop version of the website.
However, the app is quicker to access and the information about other people is easier to see as only 3-4 profiles are shown at a time.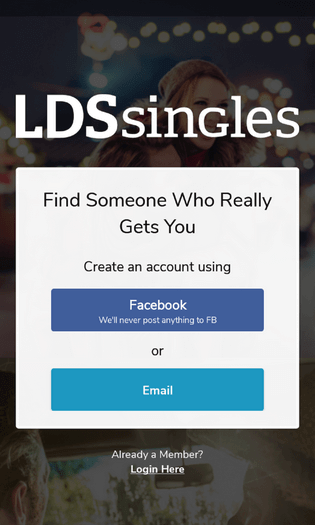 There are three different payment plans for members related to the level of commitment they want to have with the LDS Singles dating site.
The basic monthly membership costs $20 per month and is among the average of the dating sites.
The 3-month membership costs $15 per month, and the 6-month costs $10 per month, being the lowest you can find on LDS dating sites.
You always have the opportunity to stay a free member. However, you will not be able to contact other members through messages and live chat.
Every free member is entitled to some interaction with other members through thumbs-up and likes. But if you want a more personal approach, it would be necessary to have a paid membership.
1. Are you allowed to have two different profiles on LDS Singles?
There is no way you can maintain two different profiles on LDS Mingle. It would violate the Terms and Conditions, and administrators would erase both profiles. As we said, each profile goes through a check, so this would not pass unnoticed.
2. Does LDS Singles have a cancellation fee?
There is no cancellation fee for your membership on LDS Mingle. However, if you cancel before the time passed, you are entitled to no refund payments.
3. Do you need to pay more for a live chat on LDS Singles?
All services like live chat and instant messaging are included in the price of the paid membership. You have access to all without any additional payments.
LDS Singles is a pretty solid website for meeting fellow Mormons.
It is fairly easy to navigate in both desktop and mobile app versions and you will have all of the most important information shown in groups.
There are some free features, but if you want to send messages, see who likes you, and several more, you will have to have a paid plan.
Luckily, there are 3 plans to choose from, so there will be something for everyone.
Signing up – 4/5
Making Contact – 4/5
Profile Quality – 4/5
Overall Rating – 4/5
You are under no obligation to buy any plan
The website is safe to use and the number of fake profiles is minimal
The interface is intuitive and easy to use
You can block members
The design of the website is a tad outdated
LDS Pals is one of the oldest dating sites for Mormons and it has been up since 2001.
The creators of LDS Pals wanted this to be a website that anyone can use, no matter their location, so there are a lot of users from all over the globe.
As seems to be a trend in LDS dating sites, the biggest group of users fall into the 35 to 55 years of age group.
This is the dominant group, but younger Mormons can and do sign up and use the website as well.
LDS Pals is also open to members of all and any sexual orientation, so it is not meant only for straight people.
But due to the values that Mormons support, married people are not allowed to register and use the website.
Most of the "flirts" on the website end up in long-term relationships, which is exactly what most people are looking for.
Navigating through the LDS Pals dating site is a piece of cake.
Even though it might seem a little outdated, it is simple to use and there isn't a lot of unnecessary pieces of information.
All that you need to know is on display and you will find your way around the website with ease.
The main options and features are all displayed on the home page, and this is where you will search for other profiles.
As always, the better your profile is, the more chances you will have to match with someone. So don't be lazy!
There is no app for LDS Pals, but the website is optimized for smartphones as well, and you will be able to easily access the site on the go.
The website is completely free and you can use all of the options, like messaging and viewing other members' photos for free.
There is no registration fee to enter and use the LDS Pals services.
However, all members should accept cookies from the LDS Pals website and have ad-blocker disabled in their browser.
1. Would LDS Pals collect financial information for its members?
LDS Pals is completely free to use and there is no paid membership, even if you wanted to spend some money. So no, the website doesn't collect any financial information.
2. Can LDS Pals release members' personal details to third parties?
LDS Pals is one of the safest websites to use and your information will be completely protected and you can use the website without a single worry.
3. Is there a free flirt function on LDS pals?
All of the functions on LDS Pals are free, including the Flirt option, unlimited messages, and viewing other members' profiles.
LDS Pals is one of the oldest and safest Mormon websites there are and you can use it for free.
The design of the website might not be modern, but it is easy to navigate and use all the same.
The number of fake profiles and scammers is brought to a minimum, but you can still stumble upon a few fake profiles. No wonder all of the features being completely free.