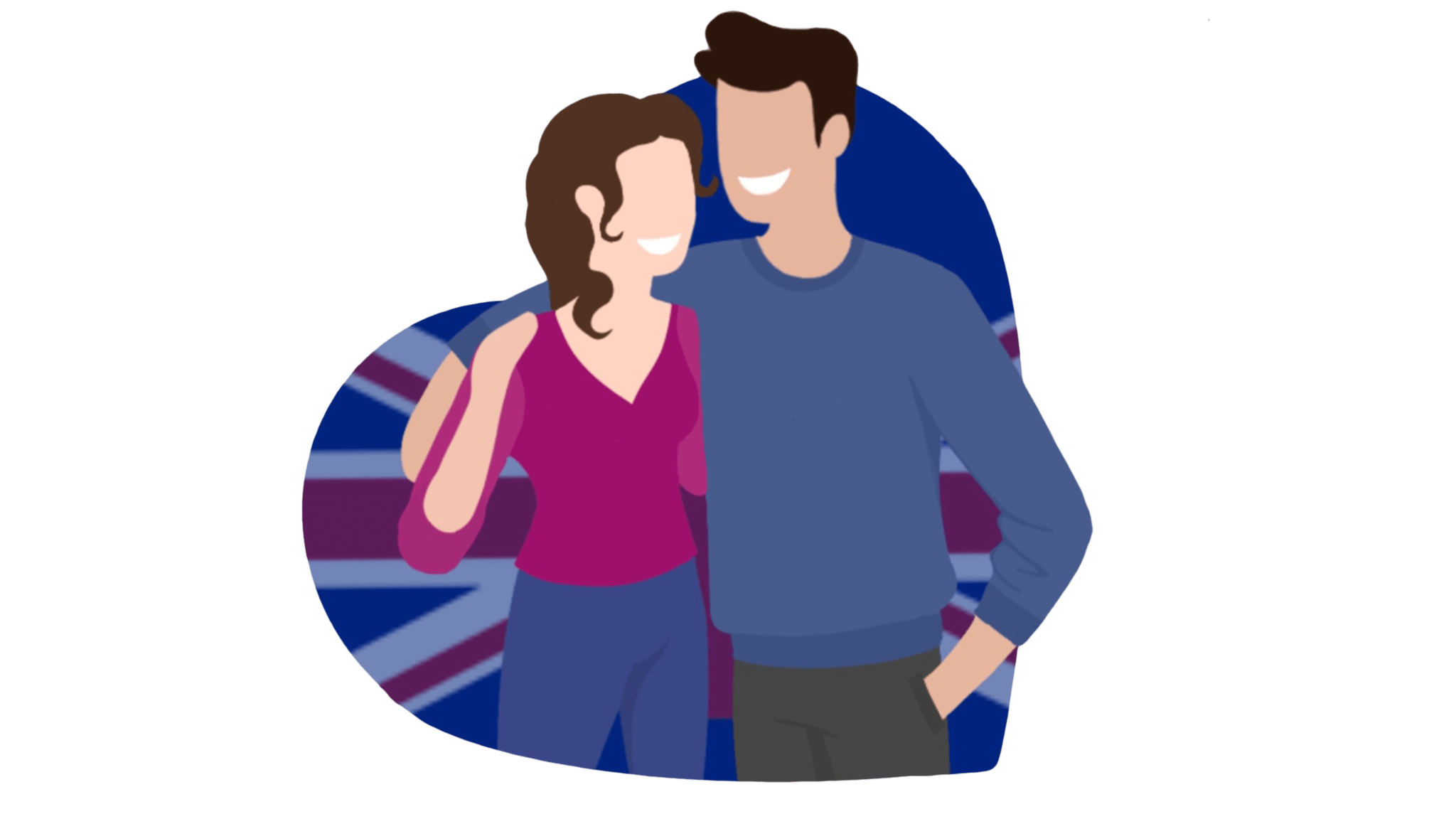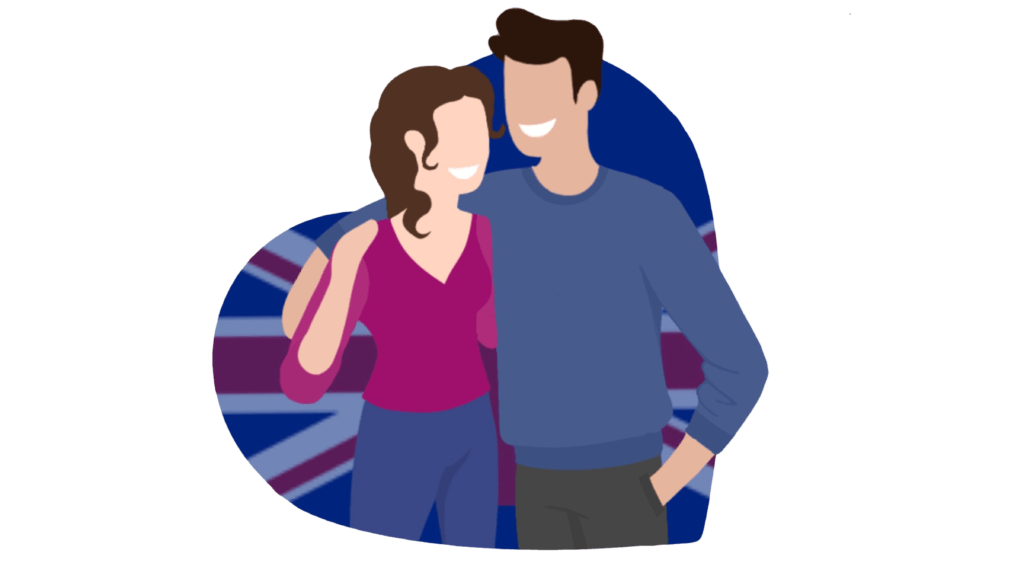 A small island in the Southern Pacific Ocean, New Zealand has a population of close to 5 million people.
That's around half of the population of New York City.
And New Zealanders often turn to online dating in their search for love.
They don't do this by signing up on just any regular dating/hookup site (like eHarmony, Tinder, BeNaughty, or even Ashley Madison) they stumble upon online.
OFL Top Recommendations based on 100,000+ Survey

"Serious Relationships"
"Discreet Hookups"
"Best Course for Men"
"Quick Flings"
"Normal Hookups"
"Our Quiz"
In fact, New Zealand has a number of dating sites dedicated to the small island nation alone.
So in this article, we are going to take a look at a few of them that you could consider should you be on the lookout for love in the island nation.
Each site is judged on a number of critical factors such as:
So let's begin then.
Is your dating app giving you the best chance for success?
Make sure to take our online dating site/app quiz to find out.
It's a fact that people who follow our dating site suggestions have on average 2 extra dates per month.
Best New Zealand Dating Sites in Video Form
Audio (podcast) form for those of you on the go
The Best New Zealand Dating Sites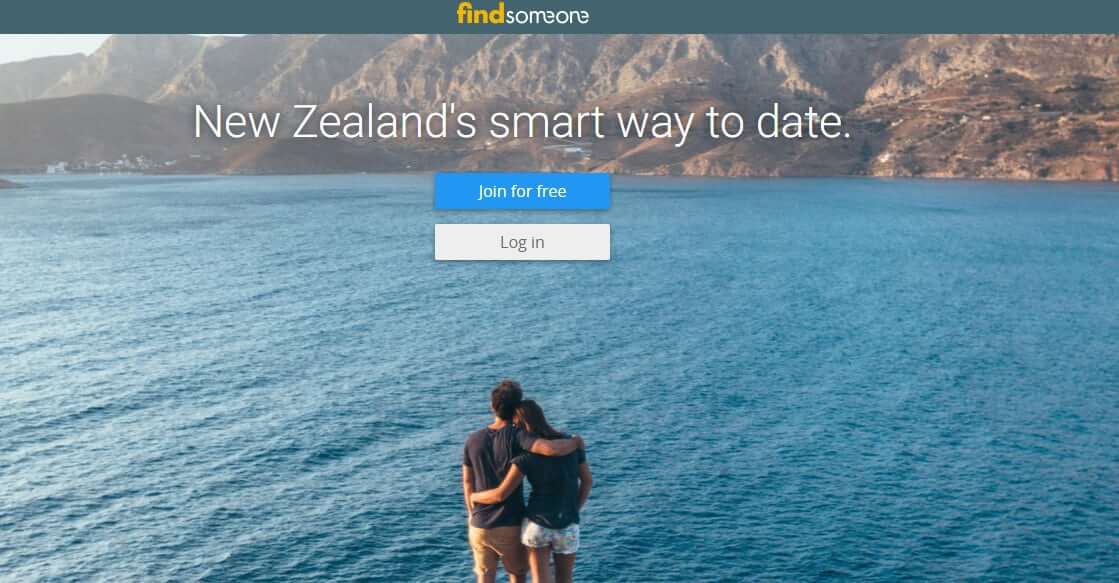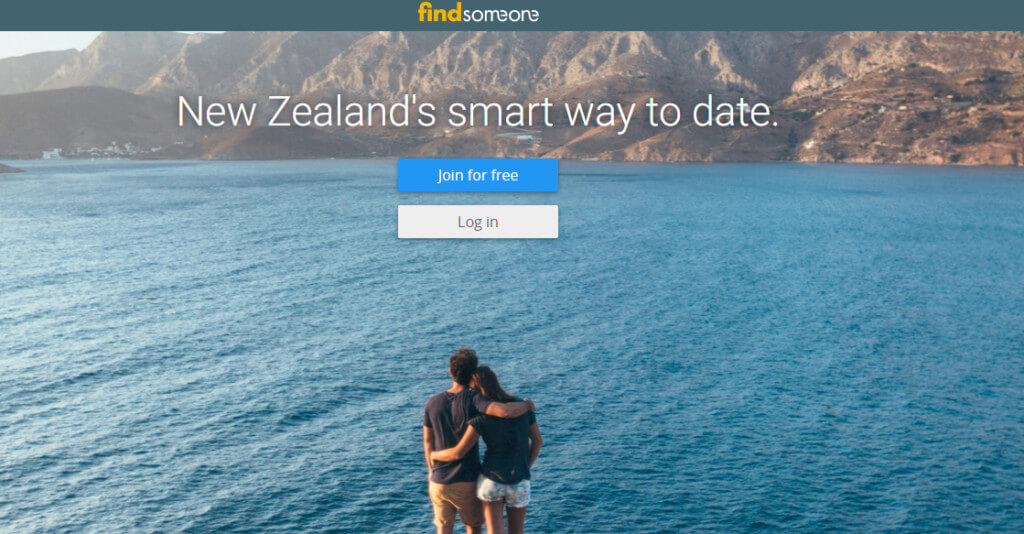 Signing up – 4/5
Making contact – 3/5
Profile quality – 4/5
Overall quality – 4/5
10% of New Zealand's population has a profile on Find Someone
Quick registration
Few fake profiles
The site provides you with matchups based on your profile
Messaging is behind a paywall
Often called the top dating site in New Zealand, Find Someone well over a decade of experience in helping New Zealanders find love.
Of course, it's not going to have the biggest user numbers like more commercial dating sites, especially due to the fact that New Zealand's population is so small.
OFL Top Recommendations based on 100,000+ Survey

"Serious Relationships"
"Discreet Hookups"
"Best Course for Men"
"Quick Flings"
"Normal Hookups"
"Our Quiz"
That said, around 10% of New Zealanders have made a profile on the site at some point or another.
That means Find Someone has around 515 000 users currently and around 140 000 of them are online each week.
The gender ratio makes for some interesting reading too because there are more females using the site than males but the difference isn't that big.
52% of users are female
48% of users are male
And age ranges?
Well, there are users across all of the age ranges.
Here's a breakdown:
25-34 year-olds (23% of the users of which 13% are female and 10% are male)
18-24 year-olds (22% of users of which 12% are female and 10% are male)
45-54 year-olds (21% of users of which 12% are female and 9% are male)
35-44 year-olds (19% of users of which 11% are female and 8% are male)
55 and older (15% of the users of which 8% are female and 7% are male)
From that, you can see that users are spread across all the ranges which is always nice to see on a dating site.
It just means that no matter what age you are, there are plenty of matchups for you.
Lastly, most of the members of this site are looking for heterosexual relationships but Find Someone does cater to gays and lesbians as well.

Ease of Use "mobile and desktop version"
So let's talk a little about registration as a user on Find Someone.
And you are going to have to do so through the website because at this point, Find Someone does not have an app.
Things aren't done differently down in New Zealand when it comes to registration.
It's a very familiar process like other dating sites around the world also use.
If you'd prefer, you can use your Facebook account to connect otherwise the information required includes a username, valid email address and password.
That's the initial information you have to supply but there is more.
This extra information helps to fill out parts of your profile as well.
Note, you cannot enter the site if you don't click on the link in the validation email that you will receive from Find Someone at the end of the registration process.
On entering the site, you still have to finish off your profile and upload a profile picture.
You are not forced to do so however and it's something you can come back to later if you'd prefer.
If you've used dating sites before, one of the first things you will notice about this New Zealand site is that the main menu system is on the left-hand side of the screen and not on the top as you find elsewhere.
This helps the site's modular design which I really like a lot.
While white space is dominant, splashes of color help to ensure that Find Someone isn't boring in its overall design.
Talking of menus, they are pretty standard and include:
Home
Inbox
Matches
Search
Favorites
Who viewed me
There is also a seperate menu system under "Community" which includes success stories, a message board and events.
So how do you go about finding potential matchups on Find Someone?
Well, first up, the site will provide you matches that you can view by clicking on the "Matches" tab.
Of course, you can use a parameter search as well and even free users can use the advance search.
You cannot contact anyone by sending a message although you can send a "smile" (up to 10 a day).
A "smile" is essentially a way of flirting with other users and showing that you are interested in them.
Also, you can also like other users' photos and even favorite them.
Effective communication on dating sites means sending messages to chat to those users you'd like to get to know better.
That's always built into the membership dating sites offer.
And that dynamic doesn't change at Find Something.
But other than messaging, what other features does membership bring and then, what's it going to cost you?
Well, the added features you can expect include:
Viewing all matches
Browse all user photos
Privacy options (you can choose who sees your profile)
See which users have viewed your profile
Attend member events and even organize your own
There's a few neat features there that's for sure, but nothing mind-blowing.
So what will they cost?
1-month membership: 29.95 NZD
3-months membership: 59.85 NZD (19.95 per month)
6-months membership: 89.70 NZD (14.95 per month)
Should you wish for more privacy, you can add the Privacy Plus option to each of these options.
It costs 4.95 NZD per month.
1. What is the "Privacy Plus" option that can be added to membership?
"Privacy Plus" give you full control over who can see your profile and contact you.
It also allows the browsing of other users' profiles incognito.
2. How can I delete my account when I am done using the Find Someone Dating site?
Some dating sites don't allow you to delete your account, just deactivate it.
That's not the case here.
To delete your account, all you need to do is click on "Account Settings" and then on the "Remove My Account" button.
What a refreshing dating site!
It's fun to find your way around Find Someone in your search for love.
The site has all the tools you need to find someone special from matchups that Find Someone provides for you, to searching for them yourself.
And while you will need a membership for effective communication, pricing is competitive, plus you get a few other key features to try out.
Today, for an overall rating, Find Someone scores 3.75 out of 5.

Signing up – 4/5
Making contact – 3/5
Profile quality – 5/5
Overall quality – 4/5
Around 500 000 users which are around 10% of New Zealand's population
Your profile must be completed before you feature in search returns
Membership is extremely cheap
Chat rooms aren't that active
The oldest dating site in New Zealand, NZDating has operated for over two decades and in that time, has helped so many people find their dream date and ultimately, their partner.
As for user numbers, NZDating is right up there with Find Someone in the number of people who have registered on the site.
That figure currently stands at around 500 000.
That's just because this site has operated for so much longer.
NZ Dating claims that no matter where you live in New Zealand, even if it's the more remote areas of the country, you should easily find potential matchups near your location.
There's a good spread across the board too when it comes to male and female profiles while all age groups are also represented on the site.
Let's now look into how you go about starting your own profile on NZDating.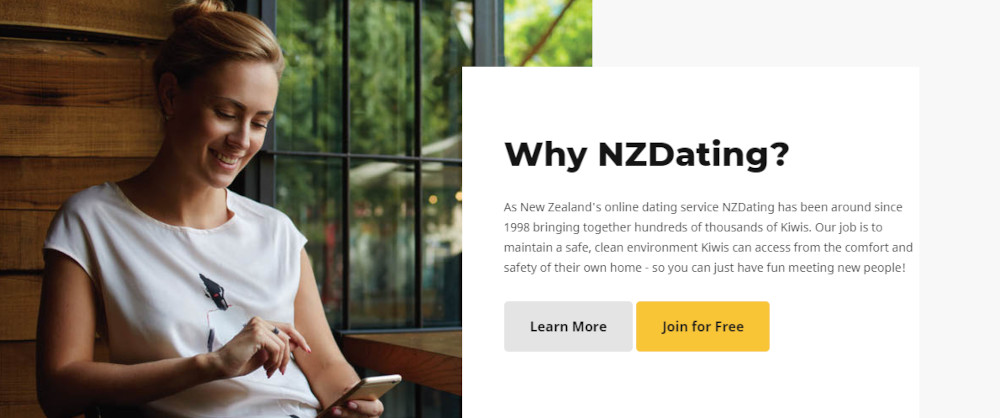 Ease of Use "mobile and desktop version"
From the moment I accessed the NZDating registration landing page, I was immediately impressed.
It's very professional looking and could easily pass as a global dating site with millions and millions of users.
Before you even start the process of signing up for a profile you can see how the quick search, as well as the advanced searches, work.
It's a nice touch too, a try before you buy scenario.
You can't click on the profiles, however.
The registration process is a little different on NZDating than you find on other sites.
First up you choose what best describes you, for example, "I am a male aged over 18 or over.
There are seven options here including for females, couples (straight, gay and lesbian) and transexual/transgender.
You will also need to provide the following information following that:
Username
First Name
Country
Postcode
Region
City/Town/Suburb
Reason for joining the site, e.g. relationship, friendship or adult encounters
The gender you want to meet
Email address
Date of birth
Password
And that's it, although you will need to verify your email address by inputting the code sent to your email address.
This serves as a verification that you are who you say you are.
Once you are online for the first time, you will immediately notice a warning that your "ad" is not fully enabled.
Basically, that means you need to complete your profile.
"Ad" is just a term used on the site which refers to it.
Completing it won't take long and I like the fact that you have to before you are listed in other user searches.
All the regular profile parameters are here, including those about your appearance, lifestyle, education, marital status, what you are looking for and more.
To navigate the site, you use menus at the top of the screen:
Home: Takes you back to the home screen
Who's online: Click this to see users that are online currently
Search: You can search for others here
Community: Access chat rooms, message boards, horoscopes, success stories and members events here
Email: Find all your messages that you've sent and received here
Profile: Edit your profile and adjust your account settings here
You can find potential matchups in a few ways.
First, you can see the matchups that NZDating provides to you.
These are based on your profile and even include a match percentage.
You can also launch a quick search and a full search with tons of extra parameters or you can use the "Swipe Match" roulette-style matchup game to find potential matchups.
Once you've found someone you'd like to speak to, as a free user, you can only send them a "smile".
If you'd like to message them, you will need to take out a Gold membership.
If you'd prefer to make use of an app, you are in luck as you can download the NZ Dating app on the Google Play store.
So what's the cost of Gold membership on the site and what does it bring you?
The cost breakdown is as follows:
1-month trial membership – 14.95 NZD
3-month membership – 27.95 NZD (9.31 NZD per month)
6-month membership – 39.95 NZD (6.65 NZD per month)
12-month membership – 59.95 NZD (4.99 NZD per month)
Other than messaging, Gold members can send friend requests, upload more photos as well as appear at the top of other user searches.
There are not lots of extras for members on NZ Dating but the membership is priced accordingly.
In fact, this site is cheap.
1. I haven't received my confirmation email from NZ Dating. What must I do?
Check your spam folder first.
If it's not there, click on this link to get it sent again.
2. Why doesn't my profile show up in other user searches?
Have you completed it properly?
You have to complete your profile in full before it will show up in any searches.
On the whole, this is an excellent dating site for New Zealanders, that's for sure.
Not only does it work for people who are straight, gay as well as transgender but it's built up an impressive user base as well.
It's not just a dating site either.
You use the chat rooms as well as the message boards and they are free to use.
You can also search for friends or just for hook ups if that's what you prefer.
In terms of design, this is a thoroughly modern-looking dating site that's simple to navigate and fun to use.
Today, I am giving NZ Dating a score of 4 out of 5.

Signing up – 4/5
Making contact – 4/5
Profile quality – N/A
Overall quality – 4/5
Exclusive matchups
Dedicated personal attention
If you are looking for something very different from regular, more commercial online dating sites, then Two's Company is sure to be a hit.
Billed as New Zealand's most selective dating service, this technically isn't an online dating site but it's well known and popular with executives or those that have little time to chase up a potential matchup on a dating site.
Since Two's Company started out in 2003, they have registered over 6 000 users.
With a 50/50 gender split, Two's Company's biggest user base is between the ages of 25-50 but they even have registered members in their late 70s.

Ease of Use "mobile and desktop version"
Ok, so we've already established that this is not a traditional online dating site.
There's no signing up online, filling out a profile and searching for potential matchups.
Everything is done face to face.
So if you are interested in joining the site, you would meet with a consultant from the Two's Company and go through an extensive interview so they can learn as much about you as possible.
Of course, everyone that makes use of Two's Company's services goes through this as it allows for the right people to be paired up with each other.
Once someone has been identified, usually after one to two weeks, an introduction is set up and it all goes from there.
Once the first date has taken place, Two's Company will schedule a follow-up appointment to see just how everything went.
So now you know how it works, what's the pricing structure.
You can probably guess that using the services of Two's Company doesn't come cheap.
And yes, you'd be right.
But this is an exclusive dating service that's give plenty of personal attention.
So here's a breakdown of the costs to sign up for the program:
This includes four introductions that have been carefully selected for each person.
You can purchase a further three introductions for 150 NZD if you wish to.
1. Can I put my membership on hold?
If you'd like to put your membership on hold and come back at a later point, that's certainly possible.
There is no timeline for your membership fee at all.
2. How long does it take before the first introduction takes place?
It doesn't take long at all.
Usually, the Two's Company matchmakers have found someone for you to meet within one to two weeks.
While Two's Company is not a traditional online dating site, it has plenty to offer and it's easy to see why over 6 000 people signed up to use their services.
Personal service, attention to detail and the fact that there are follow-ups after the initial date with a consultant help justify the pricing model used by Two's Company.
Without a doubt, for those who are looking for love but just don't have the time to pursue it themselves, using Two's Company makes complete sense.
It gets a rating of 4 out of 5.

Elite Singles New Zealand
Signing up – 4/5
Making contact – 3/5
Profile quality – 5/5
Overall quality – 4/5
Use a personality test to match people
Beautifully designed site
A dedicated New Zealand dating site
No month-to-month membership option
Pricey
Elite Singles is a world-renowned dating site with millions of users all over the globe.
It also runs a standalone site for New Zealanders.
Elite Singles New Zealand currently has over 300 000 users across the country and says that along with the Australian site, around 20 000 new members join each week.
Around 9 000 users are active on the site each week which is close to 40 000 each month.
The gender split is pretty much 50/50 while the 35-44 year-olds are the most active on-site and make up 28% of the users.
Here's a full breakdown of the age ranges found on Elite Singles New Zealand.
35-44-year-olds (28% of users of which 17% are female and 11% are male
25-34-year-olds (27% of users of which 9% are female and 18% are male)
45-54-year-olds (25% of users of which 16% are female and 9% are male)
55+ (12% of users of which 5% are female and 7% are male)
18-24-year-olds (8% of users of which 3% are female and 5% are male)
Ease of Use "mobile and desktop version"
Easy to use.
That's Elite Singles for you.
From signing up to finding your way around the website, Elite Singles makes everything so simple
This is one well-designed website that doesn't differ from its international sibling at all.
That means, during the registration process, you are subjected to a personality test.
The purpose of this is to help Elite Singles provide the best matchups for all users on the site.
Developed by psychologists, this test analyzes 29 different personality traits.
It's pretty in-depth and is going to take a fair amount of time to complete.
But in the long run, it's totally worth it.
Don't forget, you will need to complete regular profile parameters as well, for example, those pertaining to your appearance, lifestyle and more.
Once you've completed your profile, you can start to make us of the site.
Perhaps the best way of meeting potential matchups is by going through those matchups that Elite Single has found for you.
And while you can send smiles to these users, unless you take out membership on the site, you aren't going to be able to send them a message.
Elite Singles New Zealand Cost
As a paying member of Elite Single New Zealand, other than the ability to send and receive messages, there are other features available to you.
Members can:
See a detailed explanation of why they are matched with someone
See who visited their profile
Access to all user photos
Leave comments on user photos
I like the fact that you can see reasons why matchups take place but the best of the features is without a doubt messaging.
So how much does membership to the site cost?
Well, you have three options:
Premium Light – 3 Months – 179.85 NZD (59.95 NZD per month)
Premium Classic – 6 Months – 209.70 NZD (34.95 NZD per month)
Premium Comfort – 12 Months – 359.40 NZD (29.95 NZD per month)
Elite Singles New Zealand is not cheap, that's for sure, especially when you compare it to other online dating sites in New Zealand.
But it does that matchmaking algorithm based on a personality test in its favor and there is no doubt that it works very well.
I do think they lack a month-to-month payment option, however.
Many people when using a site for the first time, don't want to commit to a long membership, so that is unfortunate.
1. I like to keep my online security up to date on all sites. How do I change my password on Elite Singles?
If you'd like to change your password, it is simple enough.
Find the "My Account" tab and find all your details under there, like your username and password.
It's here that you can change it if you'd like to.
2. I've heard that registering for Elite Singles takes some time. Why is that?
Yes, it takes longer than most dating sites.
That's because you have to fill in a personality test when doing so.
This helps Elite Singles to provide you with the best possible matches, so it's well worth it in the long run.
Elite Singles is one of the top dating sites in the world and the New Zealand version draws on all of the unique features that the global site has.
Of course, the best of these is personality-based matchmaking which helps you find people that are best suited to you.
The site is brilliantly designed, easy to find your way around but if I have one gripe, it's the fact that there is not a one-month membership option.
As for a rating, Elite Singles New Zealand gets 4 out of 5.