Yes, even celebrities use dating sites.
And if you want to try your luck in meeting a celebrity online, you've got to know which sites are the best to try.
Though no artist has come out to say they've ever visited hookup sites like BeNaughty or Ashley Madison – yet, we know some have.
But that's a topic for another day.
OFL Top Recommendations based on 100,000+ Survey

"Serious Relationships"
"Discreet Hookups"
"Best Course for Men"
"Quick Flings"
"Normal Hookups"
"Our Quiz"
So in today's article, I am going to go through four dating sites that are confirmed to have celebrities that have used or are still using them.
Some are aimed at celebrities, while others are hugely popular and a place where celebrities look for love outside the glitz and glamour of their famous lifestyles.
In other words, they just want to mix in with the crowd.
We are going to give a rundown of these sites based on the following:
Let's dive right in!
Best Dating Sites For Celebrities in Video Form
Audio (podcast) form for those of you on the go
Best Dating Sites For Celebrities


Signing up – 4/5
Making contact – 4/5
Profile quality – 4/5
Overall quality – 4/5
The ultimate celeb dating app
Strict membership rules
Strict security measures
No fake profiles
You won't get to use Raya straight away, it has a waiting list
Only available on Apple handsets
Small user base
Raya is an exclusive dating app aimed at celebrities.
According to the tabloids, a number of Hollywood Elite have started profiles on Raya and use it to date celebrities.
We talking about people like Sharon Stone, Joe Jonas, Emma Watson, Tommy Lee, Drew Barrymore and more.
There are some heavy hitters from Hollywood there, that's for sure.
Finding numbers for Raya proved to be difficult, but luckily, not impossible.
Here's a breakdown:
Raya has around 5 000 members, most of which are found in the United States (which is to be expected)
Each week, around 2 000 members are active on Raya
Just from those numbers alone, you can see how exclusive Raya really is.
So what's the gender ratio like then?
Well, it's pretty evenly split in fact.
55% of the members of Raya are female
45% of the members of Raya are male
That's pretty interesting to me.
It's not often that a dating site has more female than male members, but I suppose Raya is different in all respects, right?
In terms of age ranges, Raya is most popular with members between the ages of 25-34 years old.
The next popular group is the 35-44-year-olds.
And the least amount of members on Raya in terms of age?
Well, that would be celebs who are 55 and older.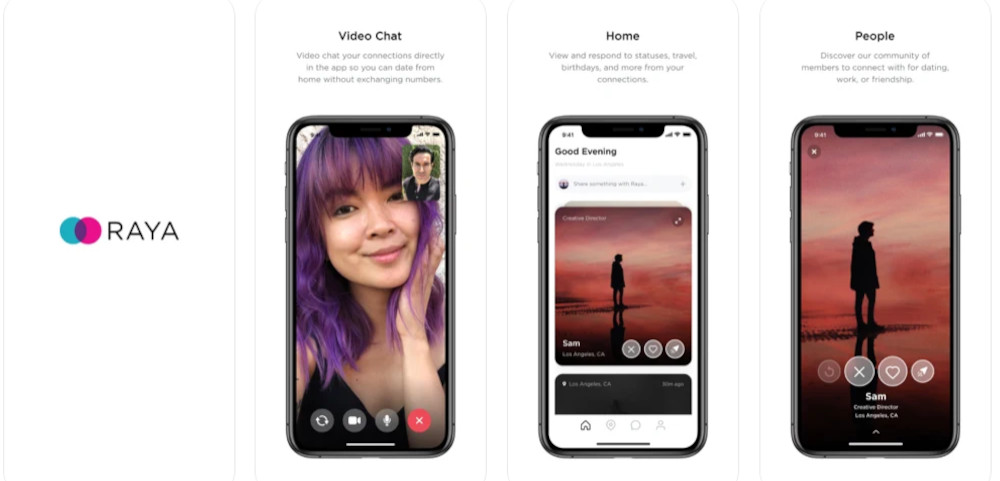 Ease of Use "mobile and desktop version"
Ok, so Raya doesn't have a desktop version.
There is only an app and it's only available on Apple handsets or other Apple devices.
That adds to the exclusivity a bit more, doesn't it?
But there's more.
You need an Instagram account as well.
So once you've downloaded it, it's time to start the vetting process which means you need to provide basic information about yourself as well as a photo.
You also stand more of a chance of getting the go-ahead to become a Raya member if you know someone else that already uses the app and they can refer you.
Once you've provided all that information, it becomes a waiting game for the Raya committee to approve or deny you.
If you are approved, you can start using the app straight away.
And Raya is very easy to use.
What it does is show you other Raya users that are near you by using your location.
From there, you pick someone you want to chat with and send them a message.
It's that simple really.
Raya has two modes as well: social and work.
If you are in work mode, you will only see other users who are too.
This is for networking mostly.
Of course, social is all about meeting up with someone and going on a date.
So you'd think an app that has a bunch of Hollywood celebs as its main users would cost a pretty penny to be part of, wouldn't you?
Well, things couldn't be further from the truth when it comes to Raya.
I was expecting the kind of prices that other dating sites charge for their services.
You know, anything from $25 to $40 for month-to-month usage.
Well, believe it or not, Raya only charges $9.99 per month.
Not only does that bring you the ability to meet up with Hollywood celebs and other young professionals but allows you to browse as many profiles as you'd like as well as send unlimited messages.
1. How long is the Raya waiting process before I know if I am a member or not?
It can take a long, long time.
Unless you have someone to refer you, or your Instagram account has thousands of followers (all of which will impress the approval committee), you are going to have to wait.
And there simply isn't a timeframe when it comes to Raya approvals.
2. What are my chances of actually becoming a member of Raya.
Raya is aimed at celebrities and professionals that are making it big in the world.
If you are one of those, then you stand a good chance of getting approval to make use of Raya.
If you are just a regular person, the chances of getting approved to use Raya are slim.
Raya is without a doubt the premium dating app for celebrities.
Whether regular people like us will get approved to use it, well, you just have try it yourself, right?
It's slick and it works well, that's for sure.
And for celebrities who just want to meet others to network or for those professionals who want to do the same, Raya can be used as a business connection as well.
I am going to give Raya a rating of 4 out of 5.
Signing up – 4/5
Making contact – 3/5
Profile quality – 4/5
Overall quality – 4/5
An exclusive dating app for professionals
A well-designed app that's easy to use
No fake profiles
You will have to wait to see if you have been accepted or not
Small membership base
Only 5 matches per day
The League is another dating site that may not be as exclusive as Raya, but it targets successful individuals in a variety of industries.
And I am sure that includes plenty of celebrities.
The League was established in 2015 and in a short time, it's grown significantly for such an exclusive dating site.
At present, The League boasts around 50 000 members, most of them coming from the United States.
And each day around 10 000 individuals log into the site in their search for love.
Much like Raya, the League has more female than male profiles but not by much,
The gender breakdown is as follows:
52% of members of The League are female
48% of members of The League are male
The biggest member age group is from 25-34 who make up around a third of all users on this dating platform.
They are followed by 18-24-year-olds, which I find interesting and 35-44-year-olds.
The smallest group of members is the 55 and older members who make up just 5% of the total membership.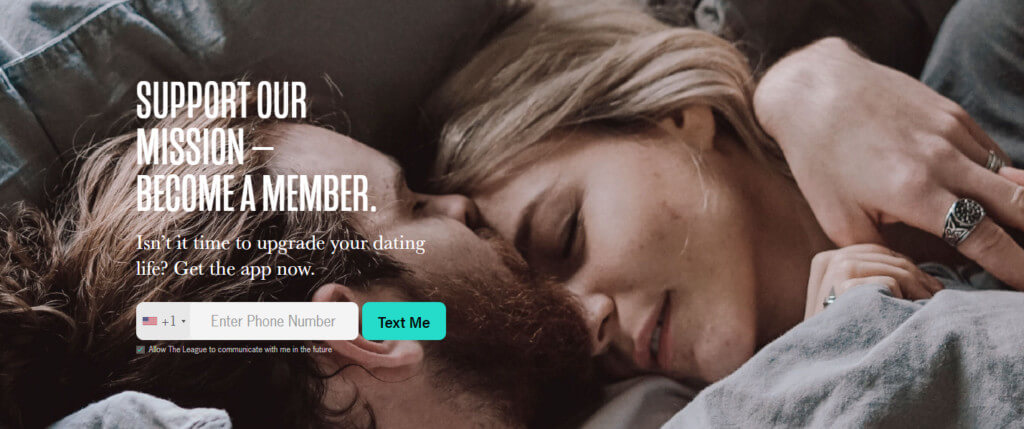 Ease of Use "mobile and desktop version"
Due to its exclusivity, The League does things very differently from other dating sites.
That's because, in the sign-up process, you HAVE to link your Facebook and LinkedIn profiles to help verify that you are who you say you are.
And believe it or not but the more friends you have on Facebook and the more LinkedIn connections you can boast with, the better your chances of gaining acceptance as a member of The League.
Or, you could simply bypass the need for a Facebook and LinkedIn account by paying a fee.
You still need approval, however, as that payment doesn't mean you automatically get in.
Currently, in the United States alone, there are around 100 000 people waiting to be approved for this exclusive dating site.
Once you've received approval, it's not difficult to get to know how the app works.
It's all pretty straightforward.
The thing is, you only get five matches per day and these are sent to you through the app.
Should you wish for more, you can purchase them using league tickets.
Other than a dating site, The League is also about networking.
And for this purpose, you can use the groups feature.
There are groups for a range of subjects, some fun and other serious but joining them is a great way to meet other like-minded individuals.
Navigating The League is done through an exclusive app.
For the most part, you will be going through matches in a roulette-style swiping system.
There is a catch, however.
If you don't like a person and you swipe left, they actually get downvoted in the popularity stakes.
The League app is available for free on both the Google Play Store and Apple iStore.
So what's it cost to become a member of this exclusive dating and networking app?
Well, it's pretty pricey, but I am sure you could have guessed that, right?
I suppose that's matching in with the fact that The League wants to brand itself with that exclusivity and one way to do that is by charging exorbitant membership fees.
So what are we talking about here?
1-month membership – $99.00
6-month membership – $199.00 ($33.17 per month)
12-month membership – $349.00 ($29.08 per month)
That month-to-month membership fee is steep.
But then again, The League is only really for people who wouldn't think that's too much.
In fact, to save money in the long-run, they would probably go for the extended packages.
Membership gives you the ability to contact other users, purchase League tickets (at an extra cost), customize your profile, get invited to exclusive get-togethers, and more.
1. Why does The League need connections to my social media accounts like Facebook?
The information that The League gains from your social media accounts, for example, your location, your interests, and your education all play a part in the matchup process.
2. Are my social media logins secure if I give The League permission to use them?
Yes, they are secure.
The League is an exclusive dating app and those behind it ensure that all your details, including those social media logins that you provide, are kept safe behind the necessary firewalls.
The League gets quite a bit of stick for the fact that it is such an exclusive dating site.
But it is certainly one where high powered individuals and I am sure some celebs use to help them find love in between their busy schedules.
This isn't a dating site that's easy to become a member of, however.
But that's can't stand in the way of the fact that for who it is aimed at, The League is a top dating site.
I am going to rate it 3.75 out of 5.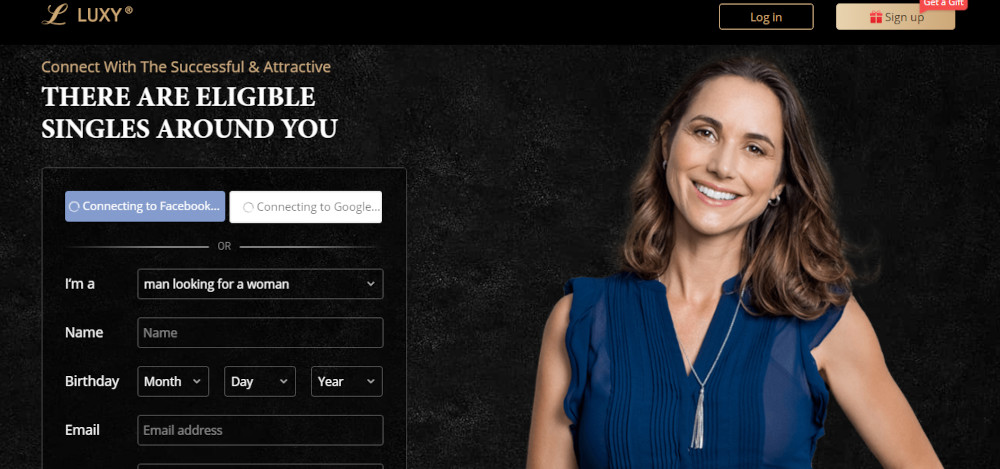 Signing up – 4/5
Making contact – 3/5
Profile quality – 4/5
Overall quality – 4/5
Luxy is known as Tinder for the wealthy
Luxy has no fake profiles
Celebrities form part of the Luxy user base
You need to earn over $200 000 a year to sign up
Other Luxy members have a say in the process to allow you to use the site or not
Tinder for wealthy people.
That's Luxy for you.
And it certainly has a fair share of the rich and famous and if rumors are to be believed, even some celebrities.
Luxy certainly isn't your average dating app, that's for sure.
But just how many people use an app like this?
Well, it was difficult to find overall user numbers but here's what I did find.
250 000 Luxy users are from the United States
Around 50 000 users are active on-site each week
That's 200 000 per month and about 7 000 each day
When it comes to a gender breakdown, Luxy has more female users than male users.
The ratio is even higher than Raya and The League as well.
60% of the users are female
40% of the users are male
The two biggest age group users of Luxy are from 25-34 and 35-44 years old.
They make up roughly 50% of all users.
The next biggest group is the 45-54-year-olds who make up another 24%.
The smallest group of users on-site are the 55 and older who make up 5% of the total users of Luxy.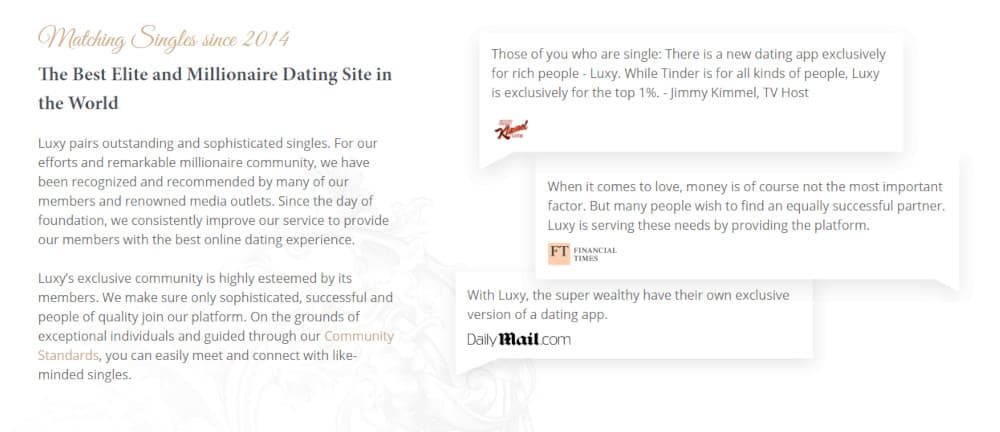 Ease of Use "mobile and desktop version"
Luxy has both a desktop and a mobile version and you can register for a profile on either of them.
The registration process is simple enough but there is a catch.
Once you've done your initial registration, make sure you choose a profile picture that the best you can possibly find.
That's because other members of Luxy have a say in whether you can become a member or not.
Yes, it becomes a bit of a popularity vote, hence the need for a stunning profile picture.
This vote takes over the course of a 24-hour period and so it's a bit of a waiting game.
Luckily, the time can be put to good use because Luxy allows you to complete your profile while you wait.
Luckily, that won't take you 24 hours!
There is also a personality test that you will need to take to help Luxy provide the right kind of matchups for you should you get approved.
After a 24 hour wait, you need a 50% approval rating from other members to be allowed to become a Luxy user.
Should not get that 50%, you are not allowed on site.
Let's talk now about the Luxy app.
It's available for both Apple devices as well as Android handsets and can be downloaded from the iOS store or Google Play.
A free download, the app is a great way to use Luxy and offers all the functionality that you get from the website as well.
You probably already know that Luxy isn't going to be the cheapest dating site around.
I mean, to sign up for the site, you need a $200 000 yearly income before you will even be considered.
So what membership options does Luxy have?
Well, there is a one-month, three-month and six-month option.
Here's a breakdown of the pricing:
1-month membership – $99.00
3-month membership – $239.99 ($79.99 per month)
6-month membership – $353.94 ($58.99 per month)
As you can see, to become a member of Luxy is not cheap at all.
But that membership does open a number of key features.
For example, you sort your searches that verified profiles with proof of income are shown first in your returns and you can message anyone.
Those that run Luxy know that their target market can afford to pay these high membership fees and that's why they are far higher than regular dating sites.
1. Do other Luxy members really have a say in if you can join the site or not?
Yes, they do.
All Luxy members can vote on your application and it's either a yes or no.
You need a 50% approval rating to become a member of Luxy.
2. How do I delete my Luxy account?
You can easily delete your Luxy account if you want to.
Go to the menu bar, click on "more" and then "settings".
Then find the "delete account" button and follow the instructions once you click on it.
You cannot retrieve your account again should you do this and if you want to use the site again, you will have to go through the voting process all over again.
Another dating site that's exclusive and certainly a little elitist, Luxy is the place where celebs would definitely hang out.
For all its exclusivity, however, it's a well-designed website and app that functions perfectly.
Tinder for wealthy people, it certainly is!
I am going to rate it 3.75 out of 5.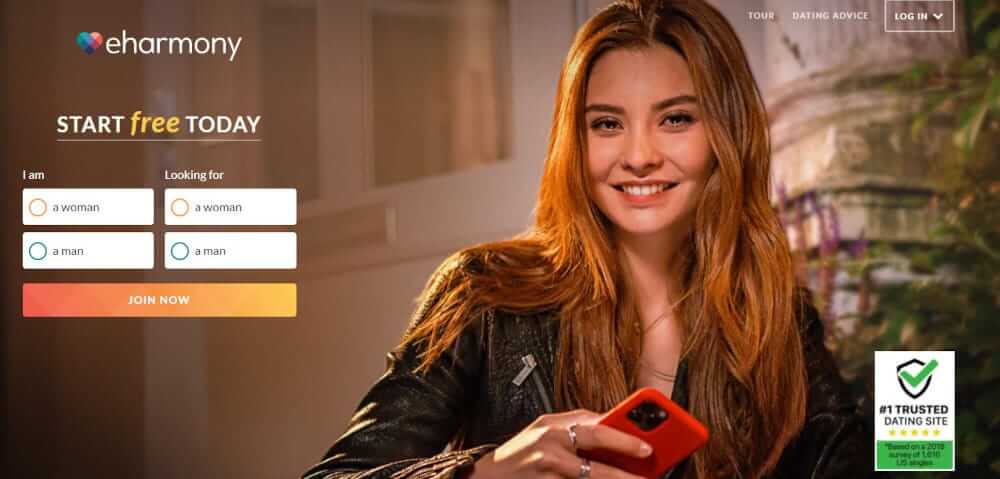 Signing up – 4/5
Making contact – 3/5
Profile quality – 4/5
Overall quality – 3.7/5
Long-term relationships are the main drive behind people with Harmony profiles
The site produces excellent matchups thanks to its match algorithm
You must complete your profile
If you don't like lengthy sign-up processes, eHarmony isn't for you
Profile parameters don't form part of the search process
Sometimes celebs just want to be normal.
And that even extends to their dating lives.
Many celebs have actually been quoted as saying that while they may use exclusive dating apps like Raya, they also make use of the regular ones, just like you and I do.
For example, Olympic swimmer Ryan Lochte and his wife Kayla Rae Reid met on Tinder.
Actor Chace Crawford told Now that he uses a number of regular dating sites.
And what could be better for a celebrity to use than eHarmony, especially if they are looking for long-term love, something the site specializes in.
With users from around 200 countries, there are over 60 million members on the site, 29 million in the United States alone.
As far as a gender breakdown on the site, well that's also another consideration as to why they might use it.
That's because the eHarmony gender ratio is:
57% of the profiles on-site are male
43% of the profiles on-site are female
That's pretty rare for them to be as close as this, particularly in a dating site with so many users.
Normally, males tend to dominate.
As for user age groups, those in the 25-34-year-old bracket make up around a third of eHarmony's users.
The 35-44 year-olds are the next biggest group and they contribute just under a third of all users on the site.

Ease of Use "mobile and desktop version"
The signing up process on eHarmony takes some time.
That's because the site demands a full, completed profile before a user can log in for the first time.
That's a good thing.
Far too many dating sites allow users to simply skip filling in their profiles and it's something that not many people do in full.
That really affects the ability to launch effective searches based on certain profile parameters as well as matching up algorithms.
All those problems disappear on eHarmony.
Once you've gained access to the site, Harmony provides some of the best matchups in the online dating business thanks to machine learning.
Note, however, eHarmony provides matches to their users.
Each day, every user on the site gets a new set of matches, so there certainly isn't a shortage of potential love interests for them to follow up on.
Of course, there's always a catch and that's the fact that for a user to contact a potential matchup, they need to become a member of the site.
Membership also means that you can view someone's picture.
That's not something that a regular user can do.
Only members of eHarmony can see profile pictures of other members and they also receive unlimited messaging.
In terms of an app, users who Apple devices or Android handsets can download free copies of the eHarmony app.
It functions in just the same way as the website and includes all the same features.
Best of all, the app is free.
Without a doubt, eHarmony is more expensive than many of its competitors.
But I believe it has more to offer than most of them.
While it is expensive, it does have some excellent features and users can try out the site with a three-day trial if they'd prefer to check everything out first.
Here's a breakdown of eHarmony's Premium subscriber offering:
6-month plan: $59.95 per month
12-month plan: $35.90 per month
24-month plan: $25.90 per month
When a user becomes a full paying member, they have access to numerous key features.
For example, there is unlimited messaging, anonymous browsing, the ability to see all photos of other users, see who views your profile, receive matches outside your preferred preferences, and more.
Certain aspects of eHarmony are indeed free.
For example, you can register for a profile, set it up and browse through the matches you receive from the site.
You cannot contact them effectively, however.
For that, you need a membership.
Yes.
This is a dating site that's been around for years and has over 60 million users.
Your personal safety, well that's in your control but your personal data and banking details are kept safe behind extensive security features and firewalls.
While somewhat pricey, eHarmony is exactly the type of dating site that celebrities would use when wanting to be part of the normal crowd.
That's because it has a lot going for it, for example, an extensive user base, machine learning matching algorithms and more.
In terms of a rating, I give Harmony 3.7 out of 5.