Turning 30 can be either pretty scary or lots of fun depending on what your mindset is – whether you are looking for a serious commitment or are still laid back and wish to date casually.
No matter what your goal is, meeting significant others or people for sex dates has never been easier thanks to online dating.
We'll review these sites based on:
OFL exclusive offers - Check all of them

"Serious Relationships"
"Discreet Hookups"
"Best Course"
"Quick Flings"
"Normal Hookups"
"Our Quiz"
Here are 5 of the best dating sites for 30s that cater to different needs and wishes.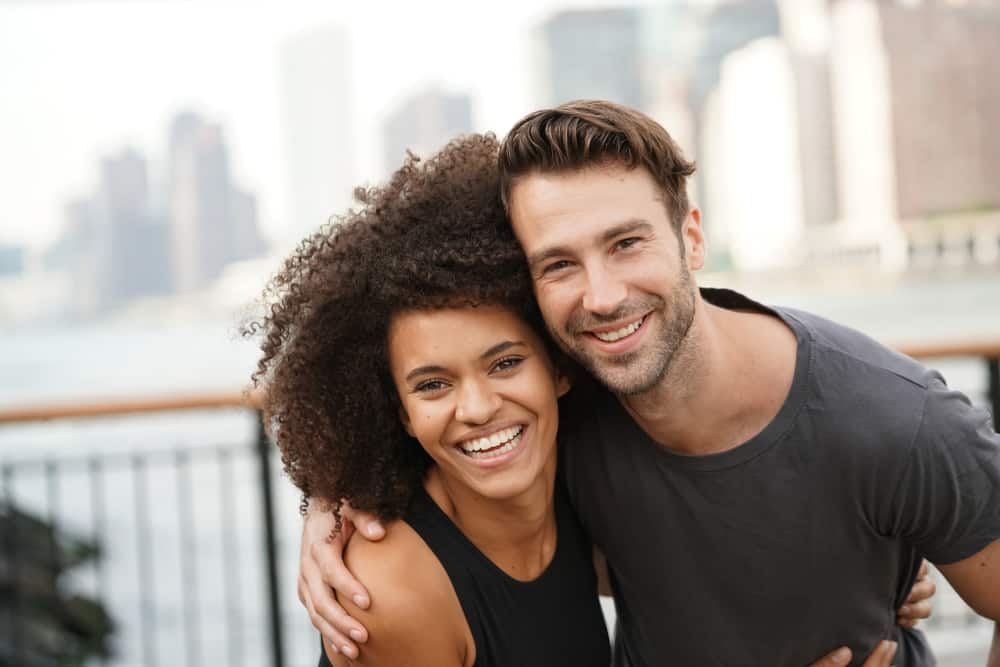 Is your dating app giving you the best chance for success?
Make sure to take our online dating site/app quiz to find out.
People who follow our dating site suggestions have on average 2 more dates per month.
OFL exclusive offers - Check all of them

"Serious Relationships"
"Discreet Hookups"
"Best Course"
"Quick Flings"
"Normal Hookups"
"Our Quiz"
Best Dating Sites for 30s in Video Form
Audio (podcast) form for those of you on the go

Signing up – 4.5/5
Making Contact – 4/5
Profile Quality – 3/5
Affiliate Program – 5/5
Overall Quality – 4.1/5
Huge dating network with 50+ million users
Present in 190+ countries
Perfect for hookups and casual dating
Easy and fun to use
The userbase is smaller in less urban areas
Often leads to compulsive use
Good old Tinder – there almost isn't a person who didn't give it a shot, let alone heard of it.
It is just everywhere and it is a universally good choice for online dating, that is unless you are looking for a very serious relationship.
Tinder is a network with very laidback people who want to have fun without much thinking and effort.
Thus, in case you prefer to have sex with no strings attached or date someone casually this might be your deal.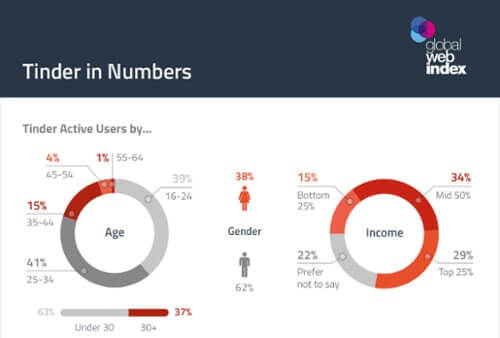 As you can see, the largest age group is comprised of people who are between 25 and 34 years old, at 41%, but there are also millions of older users, which means it is one of the best over 30 dating sites.
Tinder is the most popular dating app in the US, UK, and then Brazil.
As seen in the photo below, it is also much liked by many countries in Europe.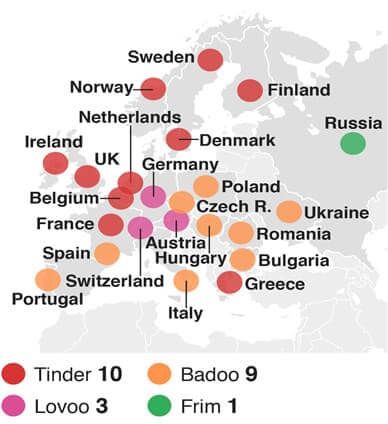 Ease of Use "mobile and desktop version"
If we were to ask people: "What is the easiest dating app to use?", we can bet that the majority would say Tinder, and not only because it is that popular, but because it is that simple, straightforward, and designed very well.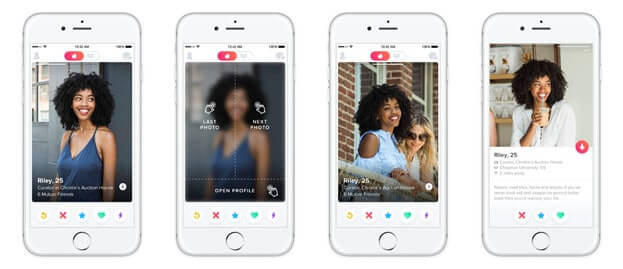 The whole point is in its swiping game, that made them pioneers in the dating field – if you like someone, swipe right, if you don't, swipe left.
In case someone likes you as well, which you can't see, unless you are a premium member, a match will be made, and only then you can start to chat. Pretty simple.
There is no way to search for people, except to adjust certain preferences, such as age group, gender, and preferred distance from your location and wait for the algorithm to do its work.
There many fun and interesting features to try out, such as Superlike that helps you show someone you like them, Rewind that allows you to go one profile back in case you swiped in the wrong direction, Tinder Boost to highlight your profile, and so on.
Tinder can be used both as the fully functional desktop version, however, the app that is available for both iPhones and Android phones is used primarily and is more fun.
Tinder has a fully functional free version, however, if you wish to enjoy certain perks such as those above-mentioned ones and several more, you will have to opt for one of the two premium versions – Tinder Gold and Tinder Plus.
Here are the prices: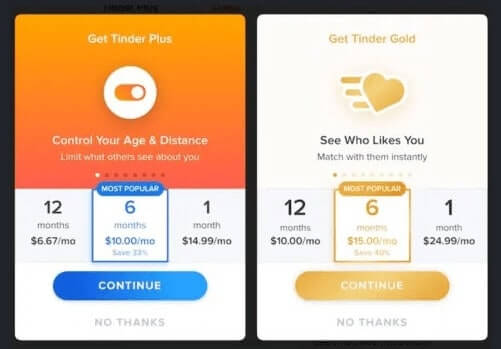 1. Can I get a refund?
Unfortunately, there is no way to get a refund, you will have to wait for your subscription to expire.
2. Is messaging on Tinder free?
It is, you can message someone as soon as you get matched. That is the only obstacle.
Tinder is fun, easy to use, modern, and most importantly – everywhere!
You can chat, exchange photos, and hook up easily, which makes it even more fun and perfect for over 30 singles who don't have serious intentions.

Signing up – 4/5
Making Contact – 3/5
Profile Quality – 4/5
Affiliate Program – 3/5
Overall Quality – 3.5/5
The majority of users look for serious relationships and even marriage
eHarmony uses machine learning and has a high-tech matching algorithm
Users get suggested matches every day
Members need to fill out profiles, so there aren't blank ones
It is pretty pricey compared to other dating sites
It takes more than 20 minutes to complete the registration form
eHarmony was founded way back in 2020, which means its mission to help create meaningful relationships has been in motion for 20 years now.
According to its data, eHarmony claims to be responsible for more than 600.000 marriages so far and 15 million matches every day!
There are around 66 million members from 200 countries around the globe, which means eHarmony members are present everywhere, with those who fall in the 25-34 age group being the most numerous ones.
The second-largest age group is 35-44 years old, which all suggests that users are more serious and in the pursuit of a serious relationship.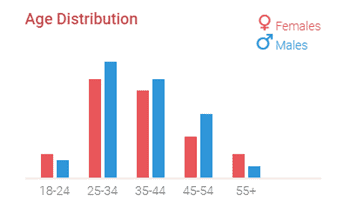 Ease of Use "mobile and desktop version"
If you opt for eHarmony, you will see that its registration process requires certain dedication, since it takes around 20 minutes to complete.
This, some would say, tedious step exists so the app and its algorithm can "meet" the user, and based on their lifestyle, activities, preferences, and personality suggest daily matches.
You will be asked to give your information, fill out questionnaires based on "What would you do if…" questions and personality tests that will show what you expect from your match.
eHarmony has been using an algorithm based on machine learning since 2018, meaning it relies on high technology to match people in the best way possible.
The catch is that there isn't a search function, and your suggestions and potential matches rely on science and technology solely.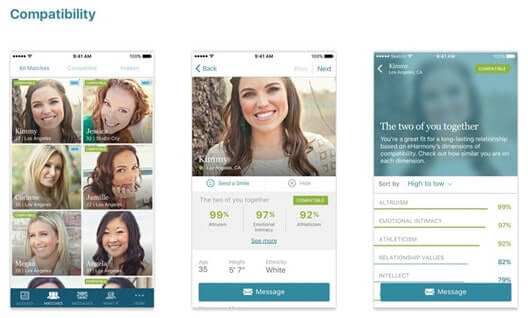 Suggested matches are made thanks to your and another member's compatibility that is calculated based on various criteria, such as emotional and physical intimacy, altruism, conscientiousness, extraversion, agreeableness, etc.
Unfortunately, free version member cannot message other members, but can only send 5 favorite site-generated questions that another person can answer if interested, and this is eHarmony's downfall.
Some of the features you will have a chance to enjoy here are sending automated questions to initiate a conversation, adding to favorites, What If feature that lets you access a list of members with whom you aren't compatible, video date, etc.
A big plus for eHarmony is the fact that it offers a free app for both IOS and Android operating systems and it can be downloaded for free.
Even though eHarmony has a free version, it doesn't offer a full experience, since messaging isn't available. Thus, many people opt for one of the two premium versions – Premium Plus and Premium Extra.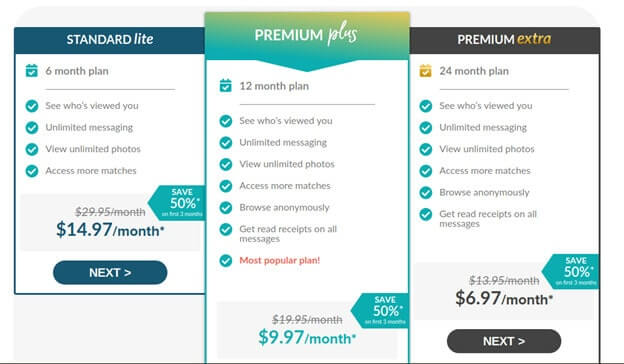 1. Is eHarmony for serious relationships only?
It isn't strictly for serious commitments only, as people can look for different arrangements, however, it was created for this purpose primarily and that is looked for mostly.
2. How can I report someone?
In case you feel like you should report someone due to their behavior or content, you can do this by going to their profile and clicking on the ellipsis on their profile photo and then click on "Report this Match".
eHarmony is the best dating site for the 30s in case you are looking for a serious relationship and a network of people who look for the same. It is user-friendly, equipped with high technology, and responsible for so many relationships and marriages that yours could be the one!

Signing up – 3/5
Making Contact – 4/5
Profile Quality – 3.5/5
Affiliate Program – 4/5
Overall Quality – 3.5/5
Women decide whether contact will be made
Women aren't bombarded with unwanted and often rude messages
There are BumbleBff and BumbleBizz – 2 other sections for friendships and business connections
Pretty even female to male ratio
Men are not able to message first
Women are given a short 24-hour time window to initiate contact
Bumble was created in 2014 by Whitney Wolfe who used to work for Tinder. After that role, she then decided to found a women-empowering dating app, where they will have the final say.
That is how the first app where women can message first only was born and it presents the perfect network where they don't have to deal with unwanted, rude, and explicit messages.
Today, 6 years later there are 22 million members and Bumble is the second most popular dating app in the US after Tinder.
As you can see the majority of users are between 25 and 34 and then 35 and 44 years old, which makes this app perfect for over 30 datings.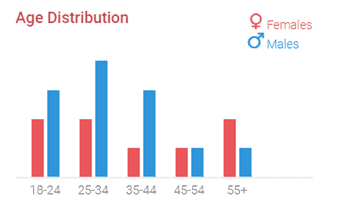 Ease of Use "mobile and desktop version"
Signing up for Bumble was made extremely easy since you can do it via your Facebook account, from which all your information is extracted. This way you don't have to waste even a second on this step.
However, many users don't wish to do it that way, so Bumble added another way or registering and that is via your phone number.
Bumble is similar to Tinder when it comes to user preferences that include gender, age group, and distance from your location, several advanced filters, and the fact that there also isn't a search function.
Bumble users are also suggested other members based on these criteria via the swiping game, however, once a match has been made, women can message first only and only for 24 hours.
Once they do this, it is up to men to decide whether they will answer and they are given 24 hours as well. After these two steps, unlimited communication without restrictions can happen.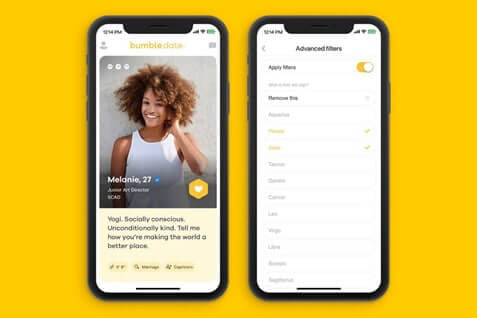 Bumble offers pretty interesting features, such as SuperSwipe to show someone you like them, BumbleBizz, a whole different section dedicated to creating business connections, BumbleBff the second separate section made for making friends, and so on.
Thanks to the two additional sections, Bumble is so much more than a simple dating network.
When it comes to the app version, Bumble is primarily used on phones, since most of the users like to have fun on the go, however, there is also the Bumble Web for desktop computers.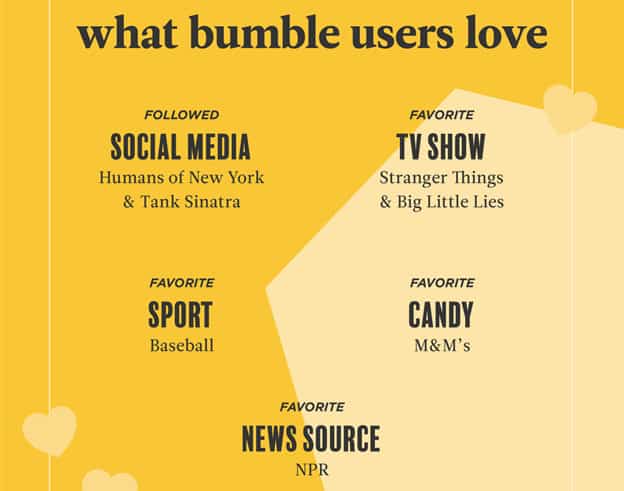 Just like other apps, Bumble offers both free and premium versions that differ in certain useful features, such as extending the 24-hour period for initiating contact, re-matching with a lost connection once that period passes, using SuperSwipe, etc. as part of the paid service.
The subscriptions are offered for 1 week, 1 month, 6 months of life.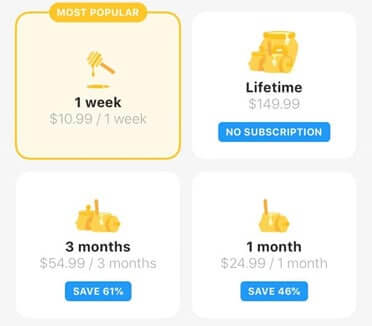 1. What is Bumble Hive?
Bumble Hive is the name for a series of events that are organized so users (Bumble dating, BumbleBizz, and BumbleBff) can gather and meet each other. They can use their Bumble profile as an entrance ticket.
2. I don't see to find Bumble on Google Play Store nor the App Store, what can I do?
Unfortunately, if that is the case Bumble, isn't available in your country.
If you wish to be part of this women-only-get-to-choose dating app and stop being bombarded with boring messages from other users, Bumble is most likely your deal.
It is made for both serious connections and hookups, so what you will get from it depends on your wishes and needs. This is why it belongs to the list of the best dating sites for over 30.

Signing up – 4/5
Making Contact – 4/5
Profile Quality – 5/5
Affiliate Program – 3/5
Overall Quality – 4/5
Made especially for young professionals who value education first
The very detailed personality test that evaluated 29 traits
Highly detailed profiles
Very responsive customer care team
Messaging isn't available without a premium version
A search option doesn't exist
If you've wondered what some of the best dating sites for 30 somethings are, then EliteSingles is one of the answers, especially if you belong to their target group.
This dating site is tailor-made for young professionals who put a high value on career, education, and professional lives and who look for the same or similar traits in their partners.
More than 80% of members have a university degree and the proof of how important many people find this is the fact that the network welcomes 65000 new members each week.
All together Elite Singles' user base has around 5 million members in the US alone where it is pretty popular, but there are also more than 200 nationalities present.
The majority of users belong to the "dating over 30" group, since they are mostly between 25 and 34 and 35 and 44 years old.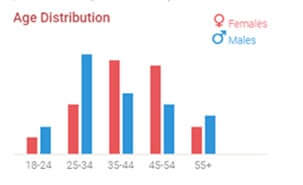 Ease of Use "mobile and desktop version"
Registering for Elite Singles is fun, but a bit lengthy and potentially tedious process since it takes around 20 minutes.
The reason for this is their special personality test developed by psychologists that analyze 29 personality traits based on your answers about your habits, plans, and characteristics.
Based on their results (which you can see and analyze), members receive 5-7 profiles as the best and most compatible matches.
Because of this algorithm, there isn't a search function.
Even though this is a very good way to get the best potential matches, there is a downfall and it is the fact that you can't message them without a premium version.
If you still want to join this network that comprises of many "30 singles" you will most likely be pleased with features, such as Wild Card that will offer 20 extra candidates every day, Have We Met feature that allows you to see profiles who weren't suggested to you because of one unfitting trait and several other ones.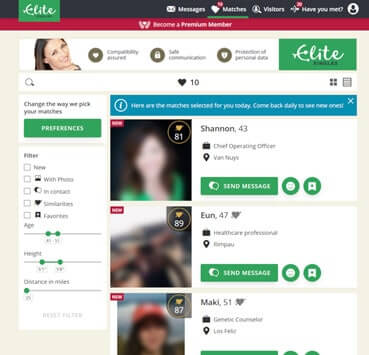 Elite Singles has a free version that offers basic services, such as registration, personality test, getting matches, etc, however, the user experience isn't complete without a paid membership that includes a detailed explanation of your test results, receiving more matches, see who viewed your profile and so on.
As you can see in the photo below, there are three versions of the paid service.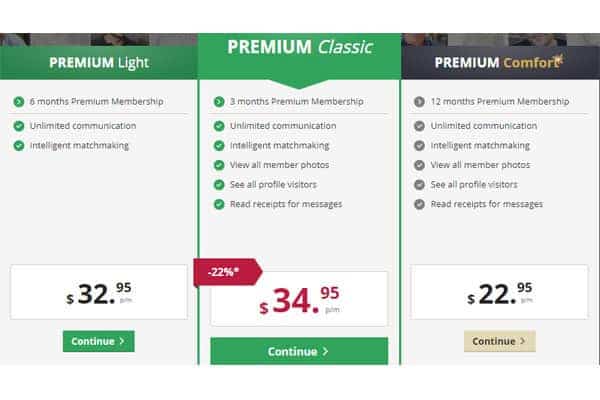 1. What is the personality test used for?
It is used to discover more information about your lifestyle, traits, interest, where you see yourself and other factors, and convert them into the test result based on which the algorithm shows the most fitting potential matches.
2. How do I delete my profile on Elite Singles?
In case you wish to permanently remove your account from the user base click, on the menu, then on "Account" and finally on "Delete My Account". After this step, all data including your messages will be deleted.
If you care deeply about your career and education and strong desire to meet someone similar who will understand and support you and your passion, then Elite Singles are your best bet when it comes to online dating with an overall grade of 4/5.

Signing up – 5/5
Making Contact – 5/5
Profile Quality – 4/5
Affiliate Program – 4/5
Overall Quality – 4.5/5
13 gender identifications are available
22 sexual orientation identifications are present
An extensive base of 4500 fun and interesting questions to answer in questionnaires
You can look for members and message them for free
Fake profiles are present
The algorithm matches people based on the attractiveness rating
As already mentioned, OkCupid is a highly liberal and progressive dating site that is all about openness and being who you are, no matter how "unconventional" that may be.
Thanks to their vision, there are 13 gender and 22 sexual orientation identifications that one may use to further show how they see themselves.
It caters to users who look for both heterosexual or same-sex serious relationships or hookups, which makes it one of the best dating sites for 30 year olds on the market.
It was created in 2004 but was completely rebranded in 2018 which brought millions of users to its new, modern, and fabulously designed version.
Today, 50+ million users, and most of them belong to the 25 to 34 age group, meaning that it could be very fitting to all of you reading this article.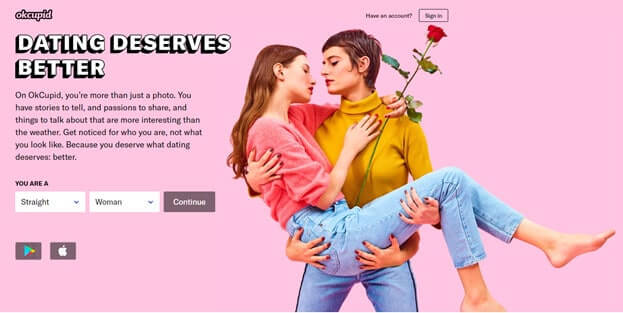 Ease of Use "mobile and desktop version"
The first step you will have to complete is to register and we are happy to say that this dating site features one of the best and most interesting sign-up processes.
It comprises of series of fun questions that inspire people to answer them, thanks to which OkCupid's algorithm will meet you very well.
Some of them are: "Would you rather go to a music festival or sporting event", or "The last show I binged is…", and many, many more.
Based on your answer the algorithm will find the best potential matches that will be shown during the swiping game similar to the Tinder's one.
However, users are also able to look for people manually, which is an amazing feature.
Other features you will see are Incognito mode that will let you be active and browse the network without being visible to other members, Double Take where members with high compatibility scores are shown, Profile boost that helps make your profile more visible, etc.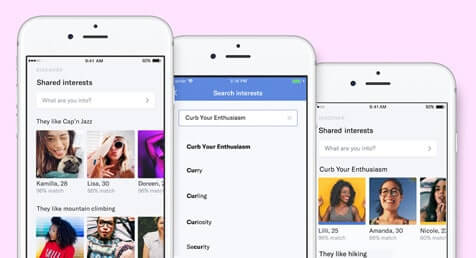 OkCupid is available both as a desktop and app version, and most of the users enjoy the experience on their phones. The app is available for all operating systems and can be downloaded for free.
OkCupid does offer a free version that allows a nice user-experience, however, to enjoy more features, such as Boosts, Incognito Mode, seeing who liked you, no ads, and much more, you will have to opt for one of the two premium memberships.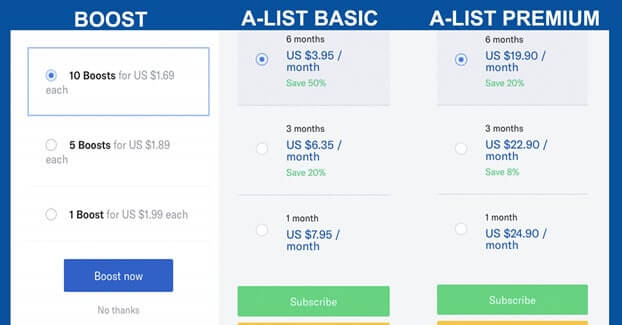 1. Does OkCupid membership renew automatically?
Yes, the membership is auto-renewed and you can change this in your Account Settings.
2. What is Double Take?
Double Take is a feature, that is, a section of the app that shows potential matches with a very high compatibility percentage in a roulette-style that is similar to swiping on Tinder.
OkCupid has a very high overall grade of 4.5/5 thanks to its amazing design, effective matching algorithm, liberalism, and huge user base that is an amazing choice for all of you singles in your 30s no matter what you are looking for.