Tinder is the most popular dating app today. Period!
Although the basic version of the app is quite popular already, Tinder has released two significant upgrades which are Tinder Plus Vs Tinder Gold.
In this article we are going to review Tinder Plus Vs Tinder Gold in the following categories:
OFL Top Recommendations based on 100,000+ Survey

"Serious Relationships"
"Discreet Hookups"
"Best Course for Men"
"Quick Flings"
"Normal Hookups"
"Our Quiz"
Let the review begin!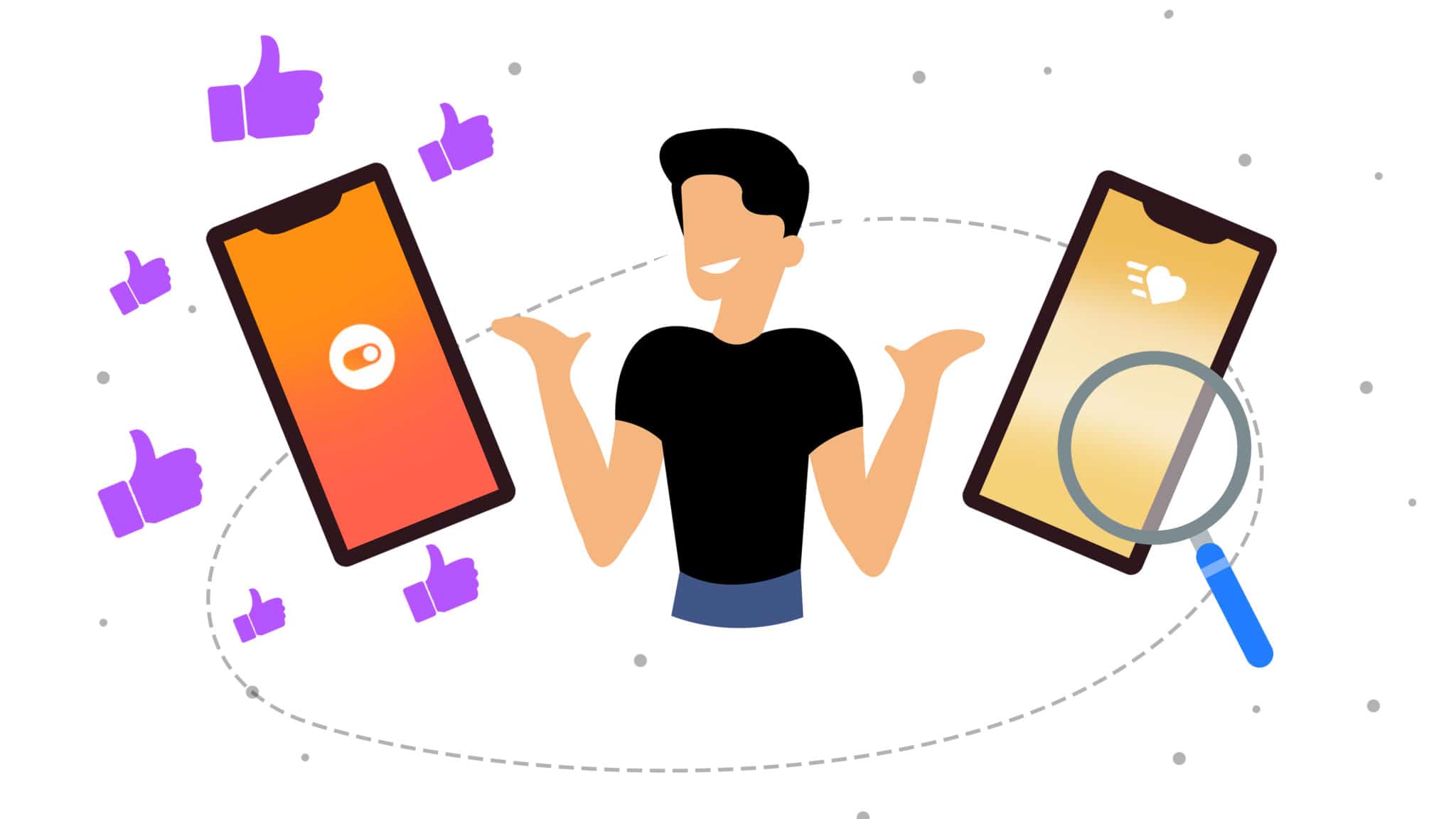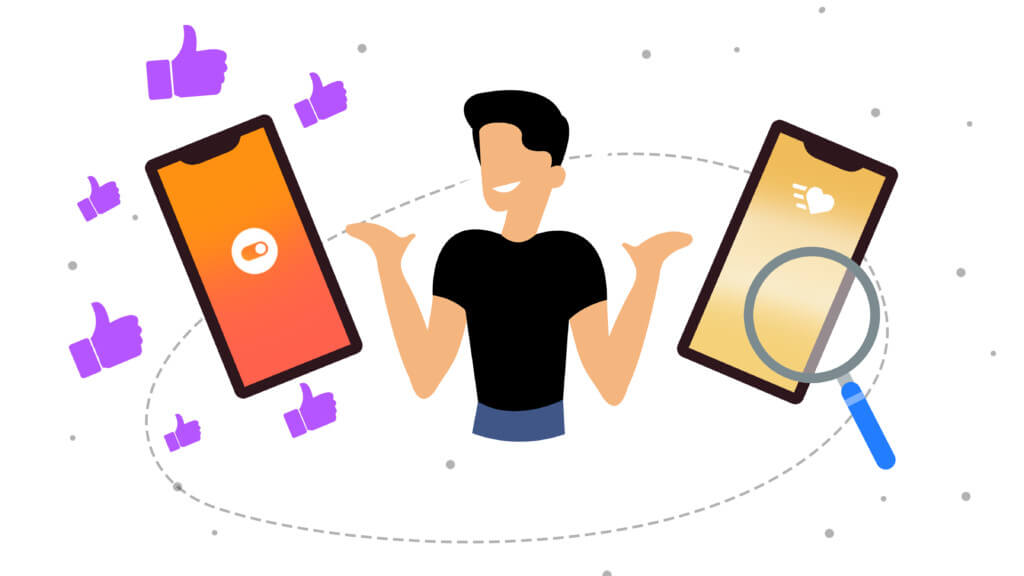 Living in the twenty-first century, you must be aware of Tinder's existence.
Nevertheless, let us briefly remind you that Tinder is a location-based app for dating and meeting people online.
But unlike other dating apps that are strictly for hookup (like BeNaughty or Ashley Madison) or only for people seeking serious relationships (like eHarmony), Tinder provides a platform for everyone.
The principle is fairly simple, you create a profile, add your personal details, your preferences, a short bio and a cool photo.
After this, the app starts showing the profiles of other people you might like.
When you swipe their profile on the left it means you don't like them, if you swipe on the right it means the opposite.
Being founded in 2012, Tinder soon started upgrading its basic version adding new features such as rewind and super likes.
These two were the predecessors of the first large upgrade Tinder made during 2015-2016, and that was Tinder Plus.
Since this was not enough, Tinder engaged in further upgrades and improvements and this is how their second major upgrade – Tinder Gold – came to life offering additional features in comparison to the first one.
OFL Top Recommendations based on 100,000+ Survey

"Serious Relationships"
"Discreet Hookups"
"Best Course for Men"
"Quick Flings"
"Normal Hookups"
"Our Quiz"
Now that we know this, let's deal with these two upgrades indicating their most relevant features.
Overview of Tinder Plus and Tinder Gold
We are already aware of the fact that we live in the era of the ever-lasting change; so, as said, Tinder has embraced the trend and has offered two Tinder premium to its users.
The two upgrades we are talking about are Tinder Plus and Tinder Gold.
Ever since Tinder presented the second upgrade, there has been a constant debate about which one is better – Tinder Plus or Tinder Gold.
To begin with, Tinder Plus was the first upgrade that Tinder came up with. It is a service you pay for which offers additional useful options and possibilities in contrast to the basic version.
Tinder Gold is an upgrade that came after Tinder Plus and it offers some extra novelties compared to both basic and Tinder Plus features.
It is up to users themselves to decide which of these tinder subscription they want to upgrade to, all based on the final outcome they want to reach.
For users who keep asking "is Tinder Plus worth it?, what does Tinder Gold do?" you will find your answers.
The point is, with Plus version you will get unlimited likes and the rewind option, while Tinder Gold will reveal to you who liked your profile even before you liked theirs.
Ease of Use / Site Navigation, Layout, and Design
Both Tinder Plus and Tinder Gold are easy to use.
If you are already using Tinder often enough, then you will have no trouble navigating through Plus or Gold.
All of the new options added in either of the upgrades are clearly visible and easy to manipulate with.
There is no need for you to bother or tap too many times to reach the option you need.
With Plus upgrade there will be no change in layout and design, it's just that these new features will be incorporated and will be easily accessible.
As for Tinder Gold, once you upgrade, there will be some slight changes.
The most notable one is that once you open the app it will immediately show to you top picks and people who already liked you.
Whatever the Tinder membership you decide to upgrade to, you should not face any major difficulties finding the option you need.
Popularity and Chances of Success
Tinder dating app is quite popular around the world and is available in over 40 languages distributed around 196 countries.
As per data taken from muchneeded.com, though relevant for 2018, Tinder has (i.e. had), 50 million users worldwide, while 10 million of these are active on a daily basis.
Altogether, this contributes to a total of 26 million daily matches.
Cool, ha?
Now, according to Wikipedia, at the end of Q2 2019 Tinder had 5.2 million paying subscribers, up 1.5 million from the year-ago quarter and up 503,000 from the first quarter of 2019.
These 5.2 million paying subscribers include the users of both Plus and Gold versions.
Compared to the number of total users this is not an insignificant number.
Now that we checked the numbers and realized how popular Tinder is, what are your chances to succeed when you upgrade to Tinder Plus Vs Tinder Gold?
Ok, so we have established that both upgrades have their perks.
So, does Tinder Plus work?
Tinder Plus will boost your chances of being visible to other users and it will make it possible to match with locals wherever you are.
The bolder ones of us will also make use of super likes and notify the other party that you super like them.
Inevitably, this will create a larger statistical opportunity for you to find a match (even matches) with Tinder Plus.
And what about the Gold one?
Tinder Gold took a step further, doing half the job for you by already telling you who likes you, so you can choose to swipe right any of these.
This will spare some time for you; namely, you will not have to swipe left and right, you will get the already made choice.
From the time point of view, this will speed up the process of finding a match.
Notably, both upgrades make a significant contribution to the possibility of finding a match.
However, if you are still unsuccessful, then you must be doing something wrong.
To reap the fruits of both Tinder Plus Vs Gold, your profile needs to be shipshape.
By this, we mean all of the aspects – photo, bio, the general mood of profile.
So, take care that your upgrade doesn't end up worthless just because your profile is not in the best form.
Main features: Tinder Plus Vs. Tinder Gold
In order for you to understand better the final outcome (i.e. the winner of the Tinder Gold Vs. Tinder Plus contest), we will now lay out some basics concerning both of the upgrades in questions.
So, to begin with, what it is that you get with Tinder Plus?
Well, here is our list of things you can do when you opt for the upgrade marked Plus.
Change your location. The Passport feature enables you to seemingly change your location, even if it's temporary. In this way, Tinder will show on your screen the people from the location you set as current so you can use the opportunity and find some "locals" to swipe right and start a conversation if they return the swipe.
Get an unlimited number of swipes. Contrary to the basic version where you get a limited number of swipes, you now get the possibility to swipe left and right all day long. This means you no longer have to worry or fear that you exhaust the allowed number of swipes.
Get additional super likes. These are great if you are a direct type of person who lets people know you like them straight away. However, the number of super likes that you get is limited so you can only use five of these per day. Still, you can purchase additional super likes if you feel the need to.
Get Tinder boosts. This is how your profile will get more prominent placement in the queues for all the users in your current area. It is possible to do this once a month for free and it lasts for 30 minutes. If you use it wisely, i.e. during Tinder prime time, your chances of finding a match rise significantly.
Limit your visibility. With this important feature, you can limit who can see your Tinder profile. From the privacy point of view, it is good to know that only the people you liked can see your profile.
Gain full control over age and distance. When you upgrade to Plus, you can hide your age among other things. This is just another way to manage your privacy and keep hidden those details you do not want to be publicly available.
Get unlimited rewinds. This feature allows you to undo any wrong-doing (or better, wrong-swiping) which is very important when you swipe left someone whom you should definitely have swiped right. You do not have to fear any limitations – rewind as many profiles as you like.
Enjoy ad-free browsing. We know how annoying ads can be, so when upgrading to Tinder Plus you do not need to worry about the major buzzkill in your quest for a perfect match.
Now that we have presented to you the main Tinder Plus benefits, let us do the same for the Gold upgrade so you are in the clear concerning both of them.
Tinder Gold features are the same as Tinder Plus, but it also adds two significant changes.
Just to summarize shortly, with Tinder Gold you can also enjoy browsing profiles of other people without worrying that a random ad will show up on your screen.
Next, you can protect your privacy with options such as limiting who can see your profile or hiding other relevant details about yourself, which is great if you want to avoid giving away too many personal details in advance.
Similar to Plus version, with Gold you will also get unlimited rewinds so you can fix the wrong swipe you made and you will get five super likes a day with this upgrade.
Also, you enjoy the Passport feature which offers the possibility to change the location and you will also get unlimited likes.
Naturally, you will get the boost option as well which will make your profile more noticed on the app.
Having read all of this, it is natural for you to wonder how then Gold is different from Plus upgrade.
Well, this is how!
In addition to all of the (identical) features indicated above, Gold brings some other novelties to the table that you will not find in Plus upgrade.
So what are these novelties? Namely, in addition to all of these upgrades, with Tinder Gold you also get Likes You feature and Top Picks.
Likes You feature enables you to check who already liked your profile even before you like theirs.
This is a highly useful feature for those who need a little encouragement to approach someone.
The point is, once you log in you will see at a glance the profiles of people who liked you.
If you return the favour, i.e. swipe, the two of you will become an instant match.
Another significant trait of Likes You feature is that you do not even have to swipe the profiles of people who liked you one by one.
You can automatically match with all of them and then decide who you want to get in touch with.
If you want to spice things up and see who else is there besides those who liked your profile, you can still see the basic Tinder membership and check if someone looks more interesting.
And finally, the Likes You feature is unique to Gold users and cannot be accessed by the users of the basic version or Plus upgrade.
As for Top Picks, this feature is designed with the idea that Tinder shows you the profiles of those people who might be the best choice, i.e. match for you.
Interestingly, all users will get one Top Pick per day, but with premium upgrade Gold you will get a whole set of picks.
In the set, you can get anywhere from 4 to 10 profiles that might be a good match for you.
Of course, it's completely up to you whether you want to do anything about it.
Throughout this chapter, we showed some primary features in the distinction Tinder Gold vs. Tinder Plus to you.
We will now move on to some other details concerning the upgrades.
How Much for Plus & How Much for Gold?
How much is Tinder Plus?
Tinder divides its users into separate age groups when offering the price for this upgrade. In short, users are divided into two groups – under 30 and over 30 years old.
For users under 30 years monthly subscription is approximately $9.99, while those above 30 can upgrade to Tinder Plus for $19.99 per month.
The good thing is that you can subscribe for a longer period as well at special prices.
For example, 6-months subscription is some $5.99 per month while the annual subscription is available for $4.58 on a monthly basis.
Still, note that these prices are merely indicative since Tinder charges differently based on the age group or location.
So, if you want to know what the price is the best way is to check it in your app.
As mentioned, Gold is also a paid-for subscription.
Since it offers more possibilities than Plus, it is only natural that it's a trifle more expensive than its predecessor.
How much is Tinder Gold?
Not to delay, this upgrade is available at $29.99 if we are talking about a monthly subscription.
As is the case with Plus, 6 or 12 months subscriptions are also available.
If you opt for a subscription lasting 6 months, you will have to pay $12.50 per month, while the annual subscription amounts to $10 a month.
So much about the Plus vs. Gold cost.
The good thing about Tinder Plus or Gold is that there are no special requirements for the sign-up process.
Since both of them are in-app purchases, you do not have to provide your data all over again when you decide to upgrade to either Tinder Gold or Plus.
To get the Plus subscription, you just need to open Tinder, then tap the profile icon at the top of the main screen, tap Settings and then tap Get Tinder Plus.
Same goes for Gold, it's just that the final step is Get Tinder Gold instead of Plus.
If you are having any doubts about whether to use any of the upgrades, why not get one and see what happens?
If you are thinking about who Plus and Gold are meant for, let us tell you that they are designed for those users who are committed to the app and who have a marvellous profile.
The reason is that all of the features in both upgrades are meant to match you with someone and this will not happen if you do not present yourself in the best light.
Furthermore, both Plus and Gold are meant for those who do not feel sorry giving a few resources in order to gain something even larger.
If you are not the (money) giving type, you should just as well skip both upgrades.
Next, both options are highly useful to frequent travellers, since this is how they can make contact with locals using Tinder all over the globe.
In the Tinder Plus vs. Gold distinction, we can safely say that Gold is made for those who are not used to wasting time when looking for someone to have fun with.
Gold is also great for those who are tired of choices so with the Top Picks feature their life will be way more simple than before.
We can even go one step further and say how Plus upgrade is good for those who still have some doubts about what they want to do with Tinder and how fast they want to meet their match(es).
On the other hand, Gold is for those who want to get the full package and they want to get it now.
By similar analogy, we can say that Plus is for those who are not in a (big) hurry to meet someone while Gold is doing things full speed.
As for age, we can safely say that neither of the options is recommended for users younger than 19.
One of the reasons is the price (we know that the majority of teenagers is with limited funds) and the second is that they can have plenty of time and fun the basic version as well.
The Verdict – Tinder Plus Vs Tinder Gold
Throughout the article, we presented and explained the main difference between the two upgrades brought to us by Tinder – Plus vs. Gold.
Having checked their features in detail and seeing what it is that you get with both of them, we cannot but say that one of the upgrades tips the scale just a little bit in its favour.
Although they both come at a certain price, no matter what you opt for from the distinction Gold or Plus, the outcome must and will be positive.
Due to the possibility to enter your preferences as early as when creating the profile, both upgrades will work well for any gender group.
In a similar fashion, both upgrades offer sufficient features to help you find a match faster, and it's just up to you to decide whether to go half-way or all the way through with something.
Soooo, although it comes at a bit higher price than it's predecessor, we will daresay that Gold is the subscription you need to choose from Tinder Plus or Tinder Gold.
Taking overall impression into account, Gold offers the same features as does Plus, except that it also comes with significant additions – Likes You and Top Picks.
These two features are the ones that influenced our decision the most since they will spare you a substantial amount to time and trouble in your quest for a hot match or a hot date.
They are both great in terms of privacy issues; i.e. you can hide the profile from people you didn't swipe right and you can hide some details about you from the people you did swipe right.
They will both let you chat up locals wherever you go and will make it possible for you to super like people, rewind wrong swipe or enjoy the quest with no ads involved.
Still, our winner for today is Gold since it will make your search more meaningful by suggesting the top picks in advance and people who liked you before you liked them.
It's up to you now to upgrade to either of these and see which one suits you better.
Have a lovely match!
Frequently Asked Questions