Hi there, welcome to another article on our Tinder tricks series.
Today, we'll show you how to see who liked you on Tinder without Tinder Gold as we unveil the following:
Let's get down with it, shall we?
OFL Top Recommendations based on 100,000+ Survey

"Serious Relationships"
"Discreet Hookups"
"Best Course for Men"
"Quick Flings"
"Normal Hookups"
"Our Quiz"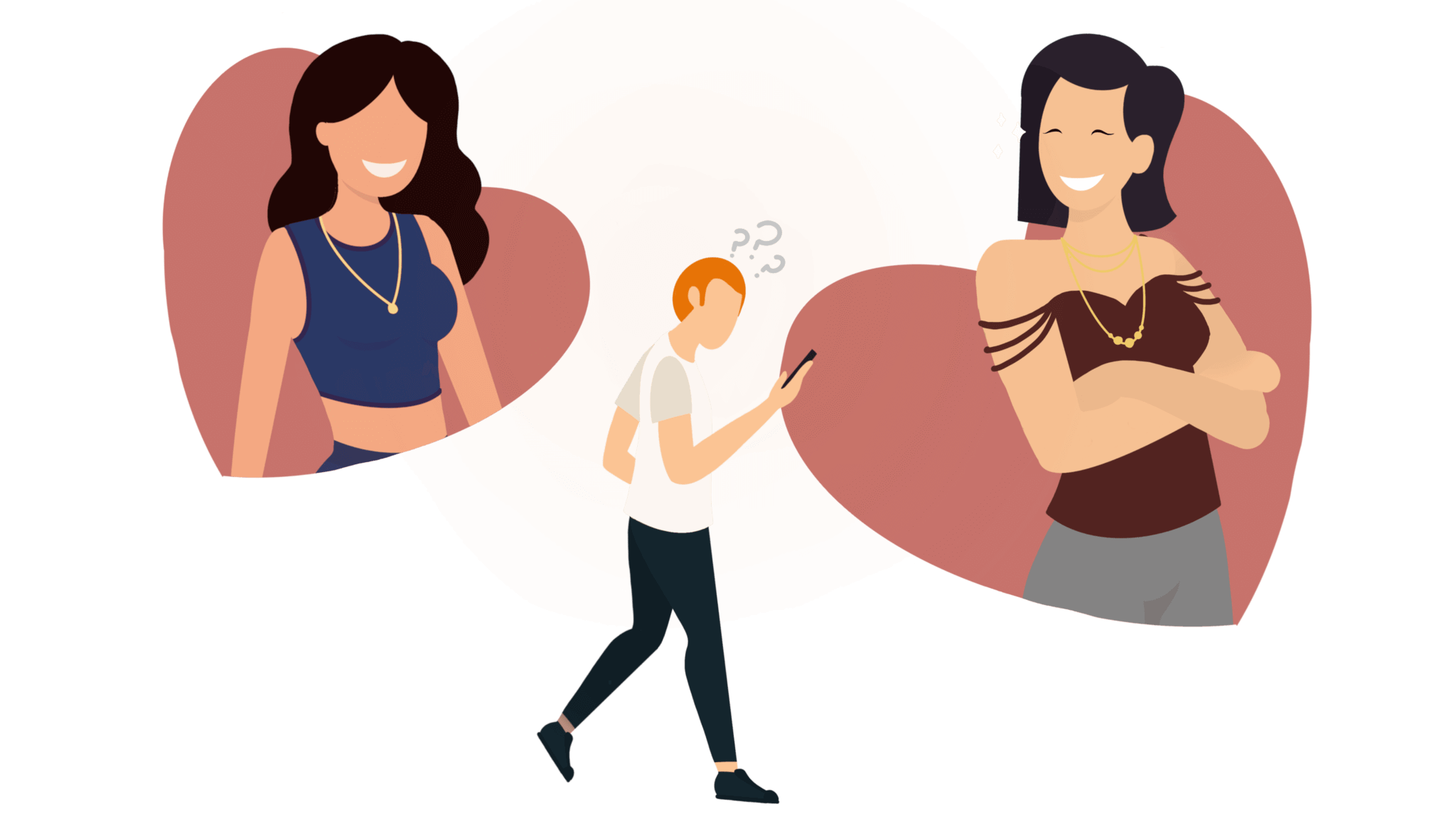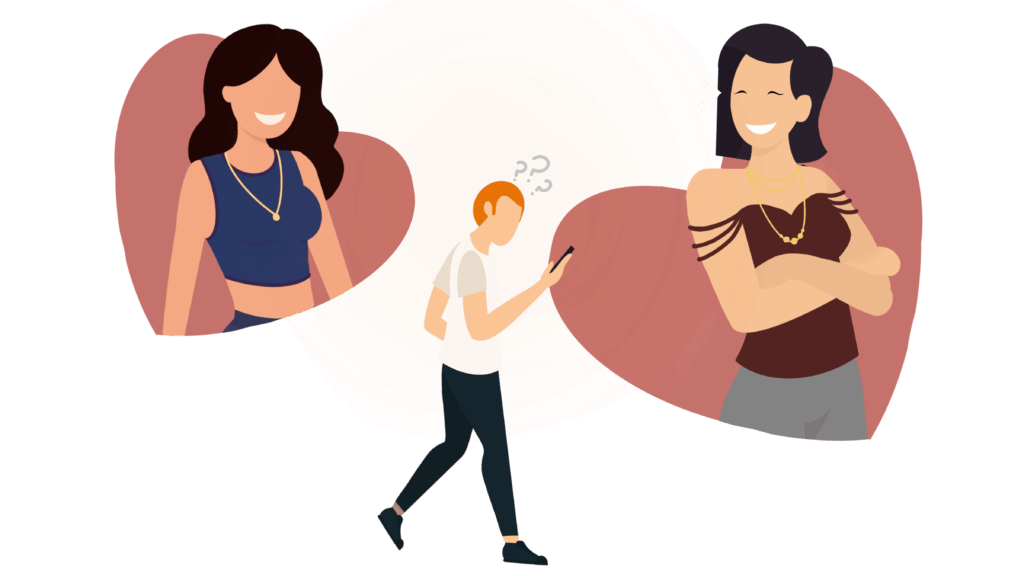 See Who Likes You on Tinder in Video Form
Audio (podcast) form for those of you on the go
You know that with Tinder we are talking about a location-based app that helps you meet and date people online and/or transfer your relationship into the offline real world.
The idea behind is similar to any of the dating apps you can come across.
In essence, we can say Tinder is an all-in-one dating app, unlike BeNaughty or Ashley Madison that focuses more on casual dating, or eHarmony that focuses on people seeking soul mates.
Still not sure how to get your own Tinder profile up & running?
Well, then let's show you how to use Tinder.
First things first: register, create a profile, provide personal details, gender preferences, add a bio and an appealing photo.
After this, the app shows people nearby based on shared interests.
Swipe left for dislike and swipe right for like.
Once they swipe your profile right as well, you got a match and you can start communicating.
More or less.
Tip: Keep the location settings on your device ON so it can show you the people in your vicinity.
OFL Top Recommendations based on 100,000+ Survey

"Serious Relationships"
"Discreet Hookups"
"Best Course for Men"
"Quick Flings"
"Normal Hookups"
"Our Quiz"
Otherwise, the app will not be able to perform its rightful function.
Although it exists for almost a decade already and is available in over 40 languages, distributed around 196 countries, Tinder constantly offers new possibilities to its users.
Among these, you will find the super feature such as Rewind that does an amazing job by allowing you to correct your mistake of swiping left instead of right.
The next cool option they introduced was Super Likes.
These led to the first paid upgrade released throughout 2015-2016 and that was Tinder Plus.
Thus answering your question" is Tinder free?"
The upgrade brought many novelties and significant features such as the Passport option, unlimited likes, unlimited rewinds, additional super likes, Tinder Boost (this one is amazing if you know how to use it), ads-free.
You know all of this, I'm sure.
Despite this, Tinder continued its improvements and presented another paid upgrade under the name Tinder Gold.
I know that saying "paid upgrade" turns you off immediately.
I mean, why pay if you can get it for free?
But, what if you can't?
Let's see what you can get as a Tinder gold member.
Tinder Gold – Understanding the Basics
Out of 6 million paid subscribers, a significant number of these have a Tinder gold subscription.
So, what makes Gold so appealing?
What kind of features does it offer and how to use Tinder Gold?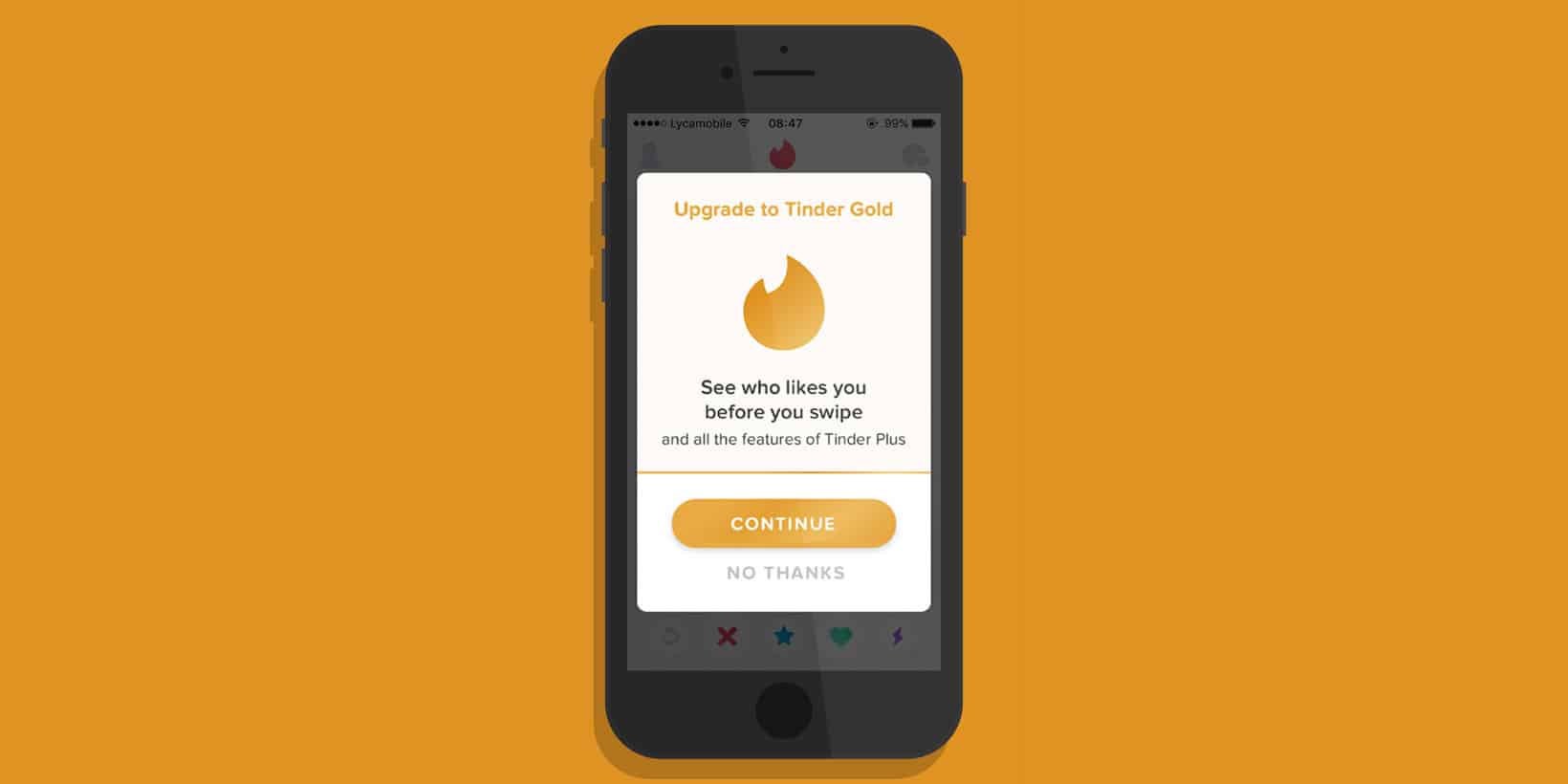 Before any of that, you might wonder why we are not dealing with Tinder Plus first.
Well, we are not dealing with it for a rather simple reason – all you get with TP upgrade, and more, is automatically included in the Gold Upgrade.
Now, what distinguishes Gold membership from Plus and/or Basic (free version) is the fact that the design is slightly changed (I'll elaborate in detail just a bit later).
Not to mention the fact that it boosts your love life and increases your chances of success by some 50% and higher.
I am aware of how anxious you are to read the answer to your question who liked me on Tinder? and how you can check this with Tinder Gold (or, maybe even without it?), but let's deal with what you get when you pay for the upgrade.
Similarities with Tinder Plus
First of all, here is the summary of the new features originally offered by Plus and also included by Tinder Gold.
1. The Passport Feature
This temporary option allows you to apparently change your location to any place on the earth.
It is great since it enables you to chat with people far across the globe tricking them into believing you are just a few miles away.
So, enjoy chatting up hot Latinas or seemingly cold Scandinavians while sitting comfortably in your home.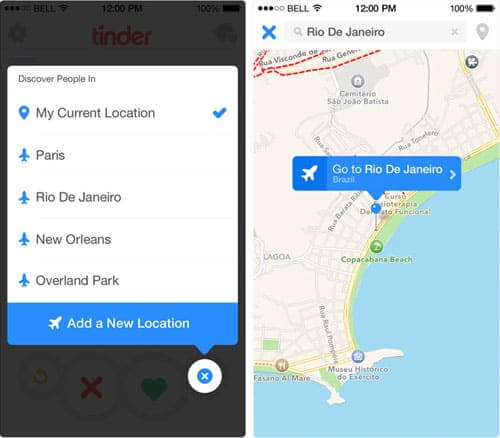 By the way, with this feature, guys reported over 60% higher rates of success with women than local males.
This is how I met a steamy Spaniard recently, and I can tell you, it is fun (though I'm not planning to go there any time soon)!!!
2. Unlimited swipes
Obviously, swipes are included in the app's basic version but are severely limited.
Now with unlimited swipes, you have unlimited possibilities increasing your chances of success by some 25-30%.
If you want to know why so low (seriously?) chances, well, not everyone will return the swipe right.
Deal with it.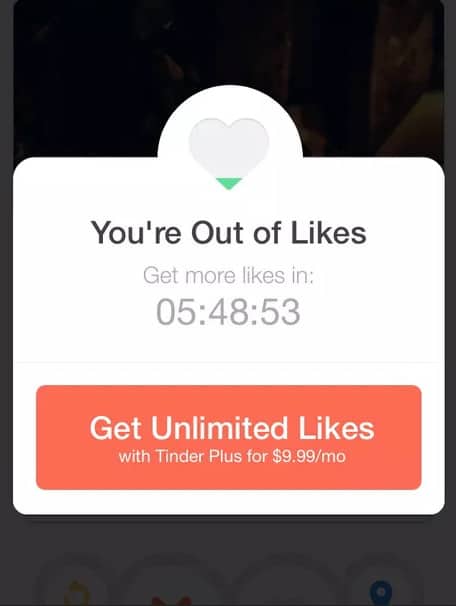 3. More Super Likes
The story behind Super Likes is to tell someone you really, really, like them.
Like, really!
Still, you only get 5 additional Super Likes per day and you can purchase more if you need to (seriously, are you truly that idle?).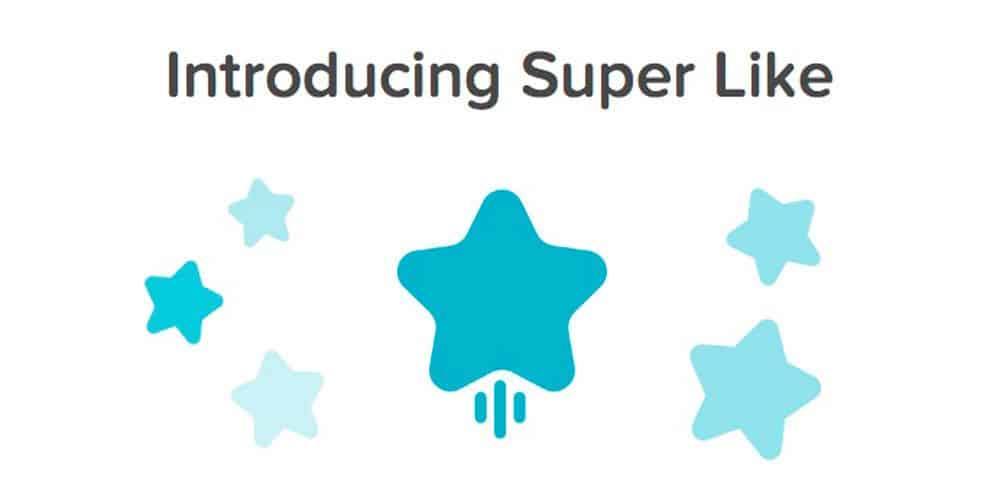 4. Tinder Boost
I particularly liked this one since it's really frustrating sometimes to wait for people to like you.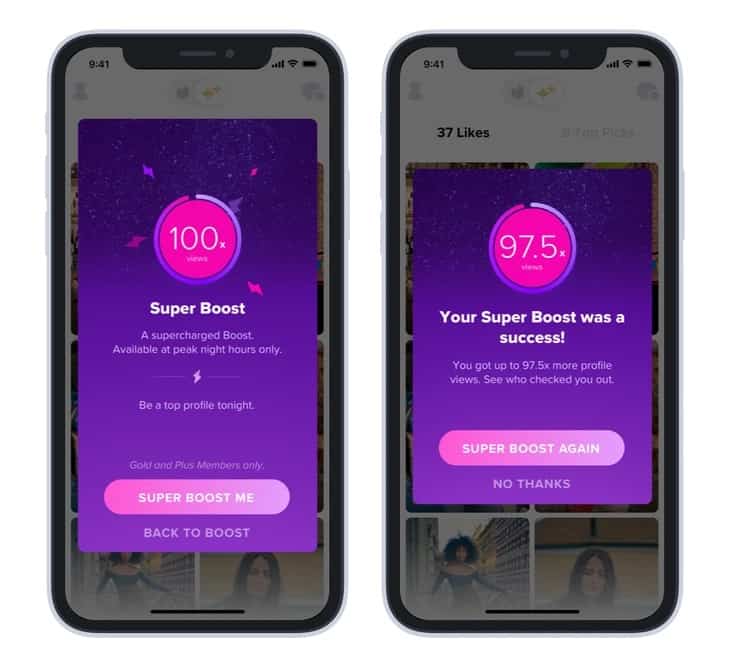 With this feature, you'll get them to like you faster.
How so?
Well, the feature lets you move your profile to the top of the queue among other profiles in the area so people will see you faster.
If you use it wisely (read, in Tinder prime time), you can raise your chances of success to even 65%!!!
5. Limited visibility
We found this to be a great feature from the privacy point of view since you can set restrictions on who can check your profile.
For example, only the people you liked can see the info listed in your profile.
With online dangers are lurking everywhere nowadays, it's great to know you can protect yourself from all sorts of creeps.
6. Additional control over certain details
This means that you can hide some details (age, distance, etc.) even from the people who liked your profile.
Great, isn't it?
You can never get too cautious these days.
7. Unlimited rewinds
I always hated it when I'm eating my favorite snacks and take the phone with my oily hands wanting to check what's new on Tinder, swiping someone left in the process who totally deserved to be swiped right.
Now you (all of us) can fix this by rewinding as many profiles as you like.
8. NO ADS
We had to capitalize on these since ads are Satan's emissaries sent to us to cause extreme pain and suffering!
And Tinder Gold got rid of these.
Yay!!!
Now that we've made a comparison with Plus, this is what makes Gold even better.
(Just be a little bit more patient and you'll get what you came for – the info on how to tell if someone likes you on Tinder!!!)
Tinder Gold – Game-Changers
The two features that raise the Tinder game to the next level are Likes You and Top Picks.
And the Likes You feature is the answer to your question on how to see who likes you on Tinder?.
With Tinder Gold, as soon as you log in/open Tinder app either on your Android, Amazon, or Apple (iOS) device, you will immediately see those who liked your profile.
This is one of the differences compared to Plus or Basic since they do not have this feature, so the design of the front page is different.
This sole feature does wonders since it has shown to be 20% more helpful in matching people compared to the standard swiping right and hoping and waiting for the same reaction on the other side.
The best thing of all – you can automatically match all of the people from the Likes You section and spare yourself a substantial amount of time.
Of course, you don't have to communicate with all of them. Statistically, a girl will receive messages from only 39% of boys she is matched with.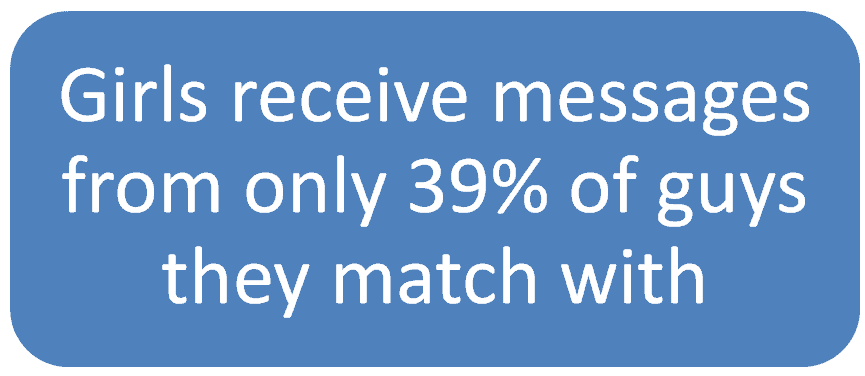 Fun fact: 1 of 3 guys are so daring (or, rather, disrespectful) to ask for sex directly when writing to girls on Tinder.
Their chances of success in this case – 0%.

Naturally, even with this feature, you'll still be able to use the basic version and check out the list of people that weren't that bold to swipe you right.
This is great since you do not have to limit yourself to those who liked you.
There's plenty of fish in the sea, right?
Now you know everything relating to how to tell who liked you on Tinder having in mind that it is a paid upgrade.
The next benefit of the Gold version is the Top Picks feature.
The point here is that the app chooses only the best (i.e. top) picks for you.
Now, if you are an ardent Tinder user, you know that Top Picks already existed.
So, what's the deal?
Well, now you have some 4-10 Top Picks compared to just one earlier.
The great thing is that you choose whether to ignore or swipe right all of them or select only those you find the most appealing.
But then, can people see if you have Tinder Gold?
We did say multiple times that this is a paid upgrade.
So, how much is tinder gold, indeed?
Before you're given some approximate pricing, you need to be aware that prices vary across continents and countries.
The next distinction that Tinder makes when we talk about the price is age.
For people under 30, the price is a bit lower than for those over 30.
Still, what I strongly advise is that you check in-app what would be the best price for you.
And, as for some estimation, of course, you have various subscription plans to choose from.
You can start with the monthly subscription (the most expensive option), but there are also the options to subscribe for half or a full year.
In terms of pricing, the monthly upgrade is some $30.
I know it doesn't sound quite appealing that you need to pay for this without knowing for sure that it gets things done.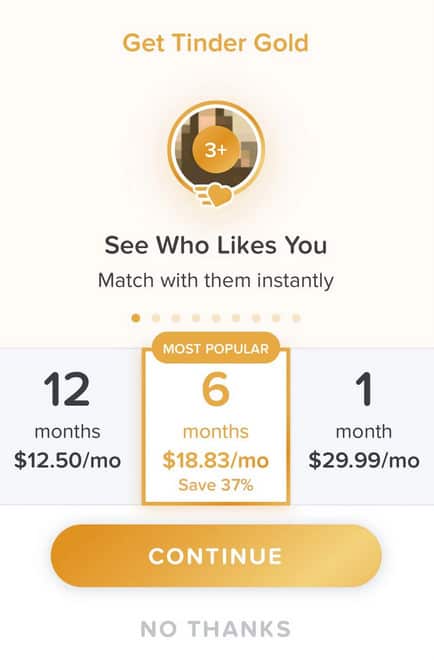 Anyhow, the six-month upgrade is some $12.50, and if you were to opt for a full-year upgrade, such pleasure will cost $10 a month.
And that's about it with Tinder Gold.
But we know you little crooks out there always wanting to cheat the system and get as much as possible without paying for it, also how to see who liked you on Tinder without paying.
Is this feasible with Tinder, what do you think?
Hmm, what if I told you it is?
This leads us to…
The Most Important Free Hacks on Tinder
Did I mention that Tinder has 6 million paying subscribers?
That's more than enough, right?
I mean, why should you be among these if you can get some of the Gold perks for free?
Well, free Tinder Gold is not a thing per se.
You will not be able to get Tinder gold for free and access all of the features that it offers.
But, I know you do not care to get all of the features (neither did I!).
You only need one feature so you can quench your curiosity.
On Tinder see who likes you is the secret we are burning to reveal.
It feeds our ego and it's not necessarily a bad thing as long as we're not conceited about it.
An occasional boost of the ego is a good thing.
It will make you more confident in dealing with matches.
So, I imagine you've been researching and asking around how to get Tinder Gold free but, as I said, you cannot do this.
Not yet, at least.
But, what I surely know is how to see who liked you on Tinder without paying!
Indeed, how to see who liked you on Tinder without Tinder Gold?
What if we told you there are two ways to see who likes you on Tinder?
Before I give you the exact steps on how to trick Tinder and get the info you need (i.e. Who likes me on Tinder?, how to know who super liked you on Tinder), let me tell you that for both of these hacks you will need a PC and the Google Chrome browser.
If you're wondering why PC, well, Tinder also offers a desktop version that helps you bypass the payment.
Of course, that's not the primary goal of the desktop version, but this is why we need it for the time being.
The Ultimate Hacks: Option 1
Here's a step-by-step guide of our first Tinder hack to see who likes you.
If you've never used Tinder on your PC, you will first have to log in to your Tinder account as usual, via your phone number or Facebook account.
After that, you will see your list of Matches on the left side.
Next to it (to the left again) you will find a blurry realm where you can see all those people who liked you.
I use Tinder Gold, so you can't see the blurred part here.
Click there.
If you know how to advertise yourself on Tinder, this field will be filled with blurred images (profile photos) of people who liked you.
If you aren't that popular, the numbers will be a bit lower.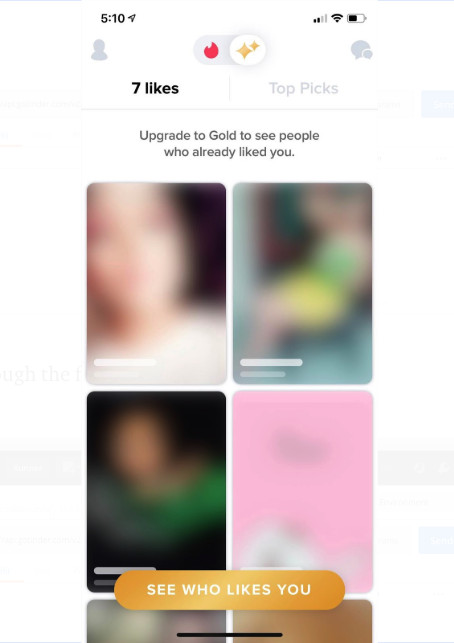 Whichever the case, this is how to find out who liked you on Tinder.
Now that you clicked the field with all those blurred images, you need to click again on the first among the blurred pics.
Then click "Inspect element".
This is where you mustn't panic.
Although the Developer Tool will pop up, with the Elements submodule and Styles too, it's not rocket science, don't worry.
This is how to deal with it successfully.
Scroll down the Styles box and search for this 'filter: blur(12px);'.
Once you locate it, you have to click it and make one small modification in the streak.
That is, instead of 'blur(12px)' retype so as to get 'blur(1px)'.
Close the Developer Tool after this and settle down, cowboy, since this doesn't mean you've miraculously become an IT god.
Anyhow, the former operation significantly reduces the blurriness of the first 10 images, and you will finally be able to get the answer to Tinder who likes you?
Once you see someone you like here, you can maybe go for the Gold upgrade after all and match this person.
Or, all of them.
I know that the previous procedure may sound complicated to you, but it's actually a rather simple operation to perform.
Just follow the steps carefully and make sure to change the proper code.
This is just one way for you to cheat the system and see who liked you since obviously, Tinder gold-free does not exist.
The Ultimate Hacks: Option 2
If you thought we only had one hack for you, you're wrong, my friend!
There is another way how to see who liked you on Tinder for free.
Let's see how.
Here you will have to go through Google Chrome again and you will also have to log in to Tinder desktop by visiting tinder.com.
Once you are logged in, you will notice the section on the page that lures you into subscribing to a Gold upgrade.
This is where you will see a bunch of blurry faces, teasing and teasing.
Of course, these are all the faces of people who liked you.
Seeing these, you might relent and upgrade.
But, for those of stronger will, there is another hack you can employ to see who likes you on Tinder without paying (I mean, isn't the point today to get for free as much as we can?).
So here's the thing you need to do.
Again, you don't have to be an IT expert to perform this procedure.
You just need to be careful not to mess up something.
Anyhow, the procedure is a rather simple one so I'm sure you'll do it right.
The first step to lift the blurriness from these profiles is to right-click an image you want to see and then choose the action "inspect" from the pop-up menu that will appear on your screen.
Now that you have done this, you should see a box on the right side of the Chrome screen.
The screen will display a scary-looking code.
Obviously, you don't have to be a genius to know it's not a big deal and you can ignore this.
What you need to do next is right-click this same picture and choose "inspect" again.
Now on the side, the white box is still showing the code.
And somewhere in the "formula", you should notice the world "blur".
This is precisely what we are looking for.
Once you locate the word in the code, delete it and press enter which should make it possible for you to see who liked your profile.
Still, note that this trick will only allow you to see the name and the profile photo of the person who liked you.
You will not be able to see anything more than this and you will not have the possibility to get any matches in this way.
So, maybe now that we unlocked the secret of how to see who liked you on Tinder, maybe you can see if purchasing Gold is worth your while.
It will certainly give you more options as I wrote in the first part of the article.
We know that curiosity is one of the general motivators for humans.
We are always struggling to find out more and more.
This is all the more true when it comes to somebody else's opinion about us.
Not to mention the extent of our curiosity when it comes to our love life.
Online dating platforms and apps, such as Tinder, Bumble, and Hinge, help us a lot in this regard.
However, the basic version often does not meet our expectations and requirements.
Or to phrase it better, you can't always know who liked you if you haven't liked them.
One way to fix this is to pay for the improved upgrades and unlock a variety of options.
But, what if you don't want to pay or aren't sure it'll be worth it?
We do believe that this article has resolved your biggest dilemma – how to use Tinder for free and even see who likes you – or rather, how to find this out without paying.
As a direct consequence, my little rascals, you can now check the names and profile photos of all those people who liked you and thus relieve yourself of curiosity.
And if you see someone you particularly like, you can get Tinder Gold and match this person instantaneously.
Not to mention you can match all of them and make your money worth it.
Good luck!
Our approach to this article on how to see who like you on Tinder for free was to conduct detailed research before concluding the best Tinder hacks.
We evaluated and tested several hacks that were said to achieve this on many social media platforms by real Tinder users and found these two to be most efficient and viable.
Frequently Asked Questions