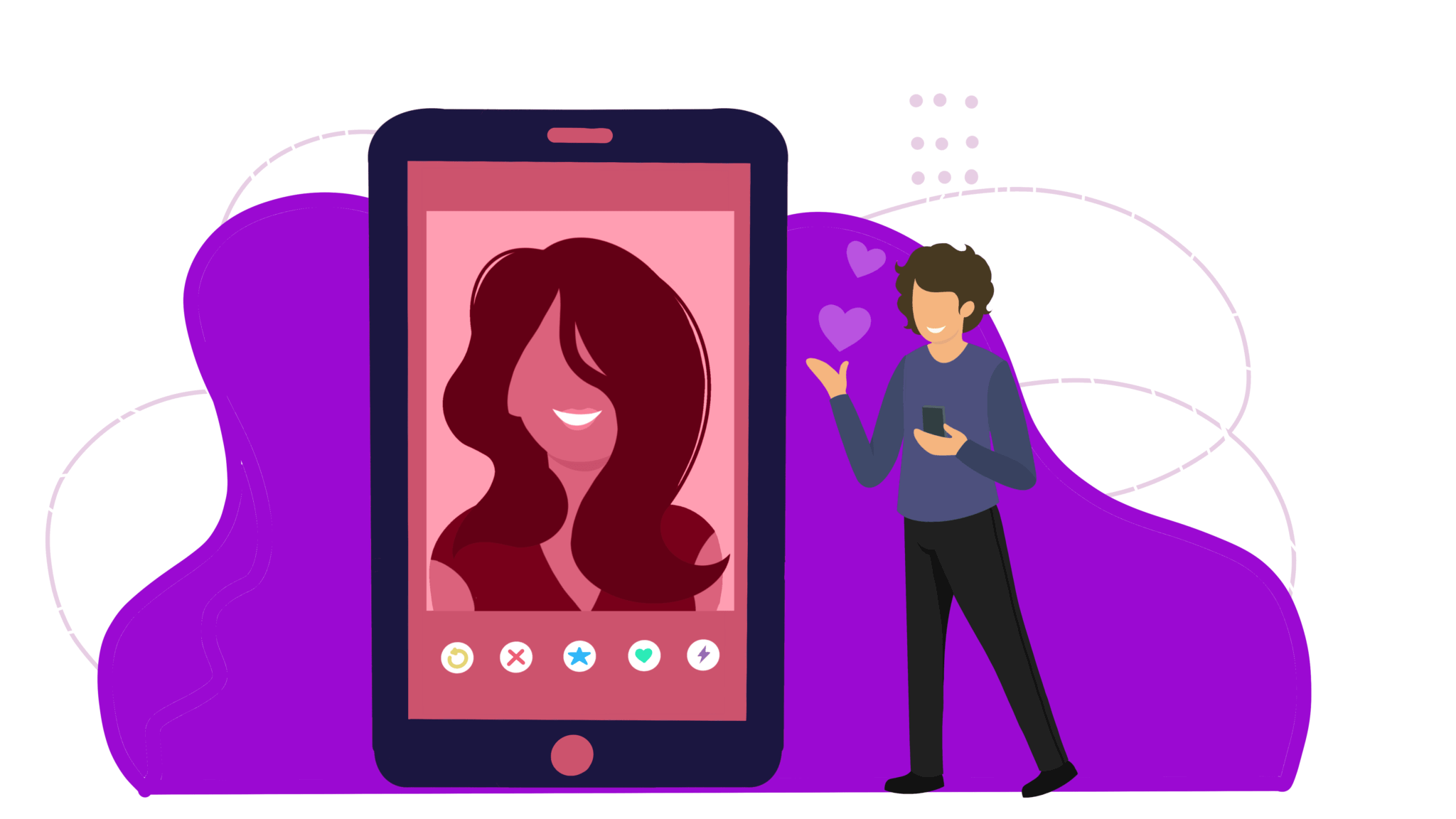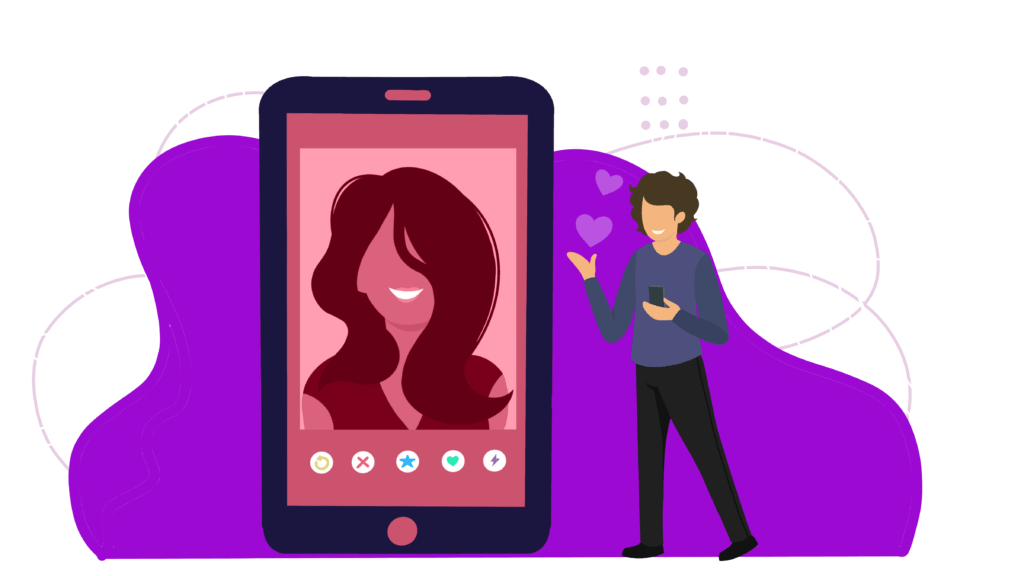 Most people will tell you that Tinder is the best app for quick hookups by just swiping right, but is it?
Well, let's see how you can use Tinder to suit your specific purpose.
In this article, we'll find out the following:
OFL exclusive offers - Check all of them

"Serious Relationships"
"Discreet Hookups"
"Best Course"
"Quick Flings"
"Normal Hookups"
"Our Quiz"
At the end of this article, you will have all the answers.
Ready? Let's hook up!
Is tinder giving you the best chance of success with online dating?
Take our dating app quiz to find out.
People who follow our app recommendations have an average of 2 more dates/casual meetups per month.
OFL exclusive offers - Check all of them

"Serious Relationships"
"Discreet Hookups"
"Best Course"
"Quick Flings"
"Normal Hookups"
"Our Quiz"
What Is Tinder and How Does It Work
The question for today – is Tinder just a hookup app like BeNaughty or Ashley Madison? or is it an app for those seeking serious relationships only (like eHarmony)?
What is Tinder?
Well, we are here to find out shortly.
As you can probably already conclude, Tinder is a widely popular dating app that helps you find the closest single (and not only) people to your current location.
Many people love to use this app because of its user-friendly interface and the multitude of users all around the world.
Tinder's main features are free, but a lot of people invest in premium accounts to gain access to other interesting features like super likes, boosts, & top picks.
All you need to do is open up an account, look at other user's photos, swipe right or left when you like/dislike someone's picture, and message with people who like you back – so simple!
You should be aware, though, that you'll only see the pictures of the closest users without knowing other details until you match.
In the beginning, Tinder's users were required to sign up using their Facebook profiles.
However, nowadays, you can join this dating app without a Facebook account because the Tinder hookup app you create is a separate account, at least when it comes to mobile apps (we'll talk about the desktop version later in the article).
What's interesting to notice is that Tinder is gaining more popularity each day, and among various age groups.
The app has also just recently been integrated with Spotify.
That's why we should talk about the following:
Since being created in 2012, Tinder has gained extraordinary popularity, firstly among younger singles looking for casual dates and relationships, and then among a wide variety of people of all age range.
At the time of writing this article, Tinder has more than 50 million users, and over 50% of them are single or divorced.
Still, married people also use Tinder, and they make almost a third of all members.
Gender-wise, men are those who use this dating app more than ladies (62:38 percent).
While the majority of users are between 25 and 34 years old (Millennials), as you can see from the graph below, there's a large part of users who are younger (38%).
Naturally, some older people rely on Tinder for hookups or even hope to find their soulmate on the app.
We should also mention the area that the users live because this is also interesting data to explore.
A large majority of users live in urban areas, while only 24% live in suburban or rural areas.
When it comes to nationality, Tinder is a widely available dating app with users from almost 200 countries.
Still, the top three countries that use Tinder the most are
Brazil
USA
UK
From this, it's obvious that you'll be able to find the closest hottie in your area no matter in which of those 200 countries you live in, and no matter which language you speak.
Tinder is famous all around the world, and it's gaining more users every day.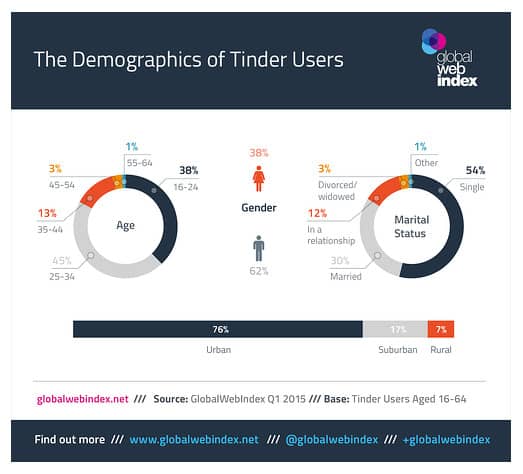 As you can see, everyone can find someone on this dating app.
So if you're wondering "does tinder work" you'll be relieved to know that the majority of members happily use Tinder to meet other people in the vicinity.
No matter in which age group you are, Tinder has a variety of people in each group.
Even though the majority of users identify as heterosexual, members of LGBTQ+ orientation can also find someone to meet.
As a matter of fact, with the growth in the number of users, there are consequently more and more LGBTQ+ people who rely on Tinder dating for their dating life.
Another great piece of information is that, since mid-2019, Tinder's team has included the possibility of selecting your sexual orientation when setting up the profile, which means that the app has become much more inclusive.
If you're someone who is considering signing up and creating a Tinder account, you surely have a lot of questions when it comes to the purpose of Tinder.
If you're not sure how to use Tinder, you can download the app from the app store on your iPhone or the play store from any of your Android devices.
The Tinder sign-up process is pretty straightforward and quick.
Are you wondering what is Tinder for, or is Tinder good for dating?
You'll find out everything you want to know in this article.
In this way, you can decide whether or not Tinder is the right app for you, but having in mind its inclusivity, and a variety of users, your decision should be positive.
The most important thing to have in mind is the fact that not every potential match on Tinder for only one reason.
A lot of them are open to both hookups as well as romantic relationships, depending on the person they match with, which is fantastic.
Of course, there are always some users that want to take advantage of the app's popularity and use it as a way of marketing.
However, these cases happen less since Tinder has managed to control the situation more in the last few years.
Now, the users can report those accounts and preserve the main purpose of Tinder – which is meeting the closest people that you find attractive.
Having said that, it's time to talk about what are the most popular reasons why people use Tinder.
But firstly, let's shortly talk about Tinder's largest age groups – Generation Z and Millennials.
Tinder and Millennials & Gen Z
Millennials make the majority of Tinder users, and many of them actually still wonder what's the purpose of Tinder since it is the most popular dating app among this age group (as you can see on the graph).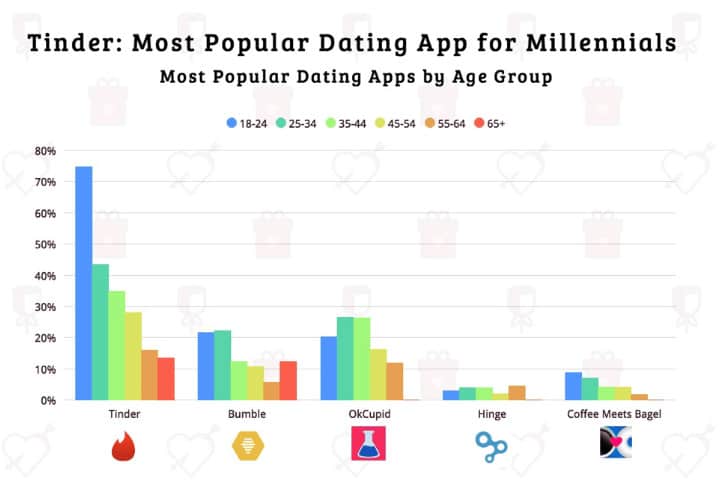 Even though a lot of Millennials use Tinder hoping to find their soulmates (especially the older ones), the majority of them are there only for hookups or procrastination, as well as users that belong to Generation Z.
This shouldn't surprise us because Millennials prefer having time to focus on their jobs and careers, and that's why they usually don't want serious relationships.
The same goes for Gen Z since they are mostly students who want to focus on schoolwork or job.
As a matter of fact, you'll see on the graph below that students actually use Tinder because of its international popularity and hype, as well as to have a confidence boost.
That's why over 70% of matches among students and younger Millennials don't result in dates.
These users usually exchange a couple of messages, move on to other matches, because, hey, there's a lot of fish in the Tinder sea!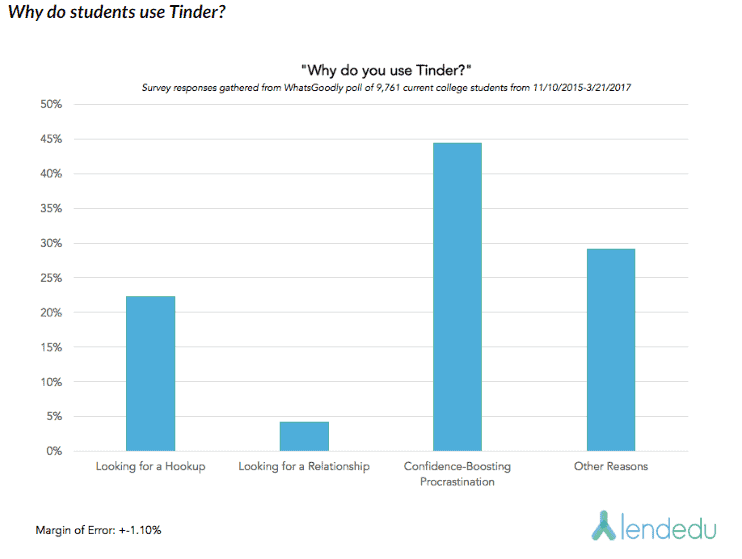 So, let's break the "hookup app" stigma once and for all, and answer the question that probably interests you the most:
Nowadays, not necessarily.
While in the beginning, it was almost always used for one-night stands and hookups, the purpose of tinder today is much more versatile.
Starting from a Tinder hookup app in 2012, it's really interesting to see how much the answer to "what is Tinder app used for" has changed over time.
As it happens with any other social media network, this dating app has very quickly become one of the means of marketing, activism, and similar.
A lot of people would use Tinder to try and sell some products or call people to action.
After some time, Tinder's team has decided to enable the "report" action so that these posts are easily controlled and blocked if necessary.
This is a nice feature that was highly anticipated because those accounts are considered spam.
Other than that, there's a large majority of users nowadays that hope to start a romantic relationship on Tinder.
This means that the answer to questions like "is tinder just a hookup site" is negative. Tinder is much more than just that.
Even more so, there are a lot of couples who started their romance as tinder matches and now enjoy successful and happy marriages.
A recent Leah LeFebvre study (2017) with almost 400 participants between the age of 18 and 34 has shown that the majority of them started using Tinder because of its popularity and global hype.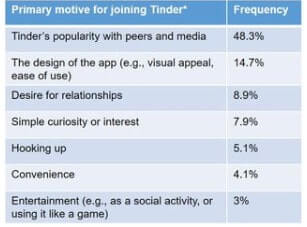 As you can see from the graph above, only 5.1% of the participants said that they had created their Tinder accounts for hookups only.
However, this doesn't mean that people who said their main reason was the app design didn't have any other intention, such as one-night stands, when joining Tinder.
There's no doubt many users will have multiple goals when it comes to using Tinder, and a lot of them actually sign up to Tinder just as a confidence boost or out of pure curiosity.
Maybe this can be a better explanation of why there are so many Tinder users that are already married or in relationships, but it's just a hypothesis.
That's why it would be wrong to say that tinder is for hookups only because a lot of successful marriages that started as matches have convinced us in the opposite.
So, if you're wondering is tinder for dating, the answer can absolutely be yes because you will be able to find someone who's looking for more than just a casual, physical relationship.
Is Tinder Available Only as an App?
Even though Tinder was created only as a mobile app, a lot of people, especially a bit older ones, were asking questions like "is tinder a hookup site" or "is tinder a dating site".
Well, lucky for them, and for the users that don't have a lot of storage on their phones, in 2017, Tinder has decided to create a desktop version – Tinder Online.
Tinder for Web or the Tinder website is a very convenient way of browsing through the numerous pictures of the users and choosing your right matches.
It's often much better to see the pictures on a large desktop monitor than on the little cell phone screen.
The user experience and design are also fantastic.
The only drawback would be the fact that you need to connect your Tinder account to your Facebook profile if you want to use the desktop version of Tinder, as opposed to the app, where you can make a separate account.
However, if that doesn't bother you and you appreciate the convenience of Tinder for Web, you'll find it very enjoyable.
Does Every Tinder Match Finish as a Date?
As you probably know, after matching with someone in your area, you'll be able to send or receive a message from that person.
Since women on Tinder receive more messages than men, it usually depends on the female whether or not there will be any conversation that leads to a potential date.
If the users who matched start messaging, on average, it takes around five messages back and forth to make a woman interested in meeting with her match.
This is not a rule, and some gals need more time to get to know their match before agreeing to meet, but men are most likely to get a date after exchanging around five messages.
According to statistics, the total of dates of Tinder users weekly is one million.
The biggest number of Tinder matches that don't result in dates are among younger Millennials or students since they usually aren't interested in serious dating and only seek a confidence boost and attention.
As mentioned earlier, 70% of them admit having created their tinder hookup account out of pure curiosity and the need for validation when it comes to physical appearance.
So, it's normal that among them, not every communication will continue as a date.
Also, since the majority of users are from this age group, the users have a lot of choices for partners, and it's expected that they'd be picky.
However, for those who decide to go out on a date, almost all of them do it within a week (more than 95% of users).
Men vs Women: What Are Their Intentions?
Who spends more time on tinder?
Who gets more matches?
You've already seen that Tinder has more male than female users.
Still, it's one of the most popular dating apps for both genders.
When it comes to the purpose of tinder and questions like "is tinder a hookup app?" various statistics show that male users are more likely to use it only for hookups.
On the other hand, women prefer to use it for chatting, meeting people, or any other reason rather than just one night stands.

On average, users spend around 45 minutes to an hour on Tinder.
Generally, women are pickier and don't swipe right as often as male users do (14% gals 46% gents).
Men tend to swipe right even if that user isn't completely their type, especially those who use Tinder for hookups only.
And if you're wondering, "when's the best time to be on Tinder?" you'll have the biggest chance to match with someone around 9 pm since more than 50% of users are active then.
Female users get more matches in a short period of time, compared to male users (200:100 or less, in one hour).
This is probably because there are more male than female users, as well as the guys' ease of swiping right.
However, even though women are pickier and swipe left more often, 21% of them are most likely to message to their match.
When it comes to guys, that number is only 7%.

An interesting curiosity is that men send much shorter messages than women.
While an average first message from male users has only around ten characters, females like to take time, and their messages have around 100 characters.
Nowadays, there are a lot of people who join dating apps, hoping to meet new people and potential partners.
Due to the lack of time because of our jobs, rarely anyone has enough time to go out each weekend and meet their future love in bars and pubs.
That's why dating apps such as Tinder, Hinge, Bumble, Match.com, OkCupid, and the rest, have become so popular in the 21st century – convenience, it's as simple as that.
And while, of course, a lot of users turn to Tinder for one-night-stand and casual dating, a large part of them is simply using the efficiency and convenience that it offers, with the hope of finding their ideal person and, eventually, getting married.
That's why it shouldn't surprise us that almost 14% of the users have been married to the person they met on Tinder.
Also, another 14.7% of people who met thanks to the online dating apps (Tinder included) are in long-term relationships and are very happy, according to the survey conducted by Simple Texting – as you can see on the graph below.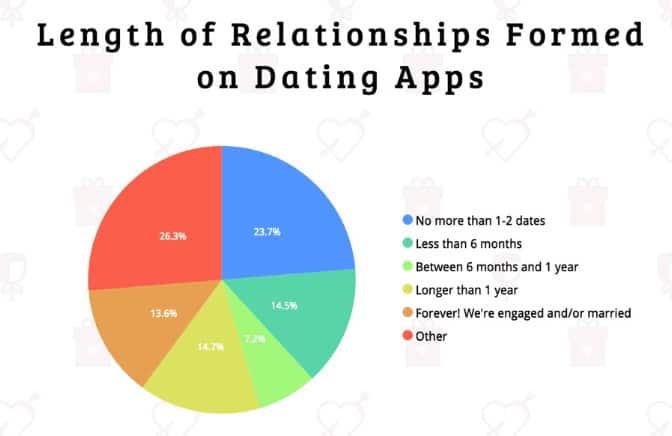 Normally, some Tinder dates will be a complete failure because let's face it, the first and only contact you have with someone is their picture.
However, very often, the person you match with can turn out to be the one that completes you, and that's what the experience of many Tinder users has proven.
A lot of people join this mobile dating app searching for a simple confidence boost and compliments but end up falling in love with another user when they meet face to face and marrying him/her.
You have surely read online about different successful love stories that started as Tinder matches, or maybe even you know someone who has met their soulmate through this app.
Another very interesting fact is that anything can happen both with offline as well as online dating.
More often than not, we hear or read about people who joined the Tinder hookup app because they only wanted casual dating, but they got lucky enough to meet their soulmate there when they were least expecting it.
As you can see from the graph, you can stop wondering is tinder good for dating or does Tinder work? because a lot of the stories from Tinder users have proven that the answer is positive.
Even though the majority of Gen Z and Millennials may not be interested in using Tinder to meet someone to marry, older users are mostly there to hopefully fall in love.
That's why Tinder has someone for the users of every age group and every intention.
At least with dating apps, the communication should be more straightforward, and, in the end, everyone is saving a lot of time concentrating on the people that share the same intentions.
Is Tinder for Hookups Only?
When it comes to questions similar to "what is tinder app used for" or "is tinder a hookup app" it's obvious that the answer can't be black and white.
You already saw that using Tinder for one-night stands was most popular when the app was created, but nowadays, the situation is totally different, as it is with other dating services, as the graph below shows.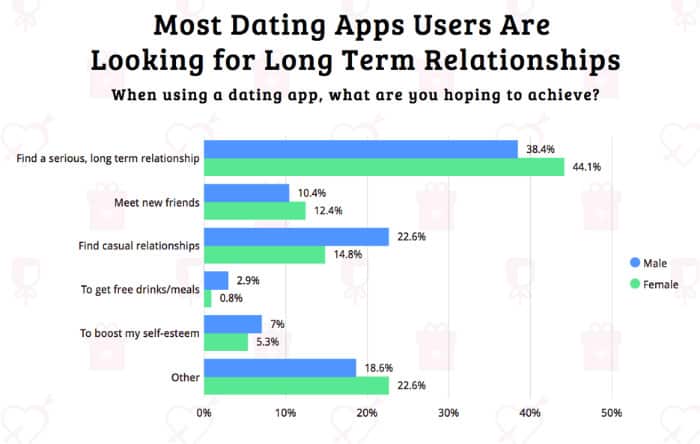 No matter if you're looking for a casual relationship or you only want to meet people and potential long-term partners, Tinder is one of the best choices of dating apps that can offer it.
Conducting these surveys can be very helpful to people who are still in doubt whether or not to try to join Tinder.
Why?
To avoid people being disappointed with the majority of users having different intentions.
Thanks to the variety of people on Tinder, age, gender, and interest-wise, everyone can join without worrying because every person will be able to find their perfect match.
This brings us to the conclusion that, no, Tinder isn't for hookups only, and it actually offers a lot of space and choices for everyone to freely express their intentions, match with the users they like, and meet new, interesting people without losing time.
Frequently Asked Questions