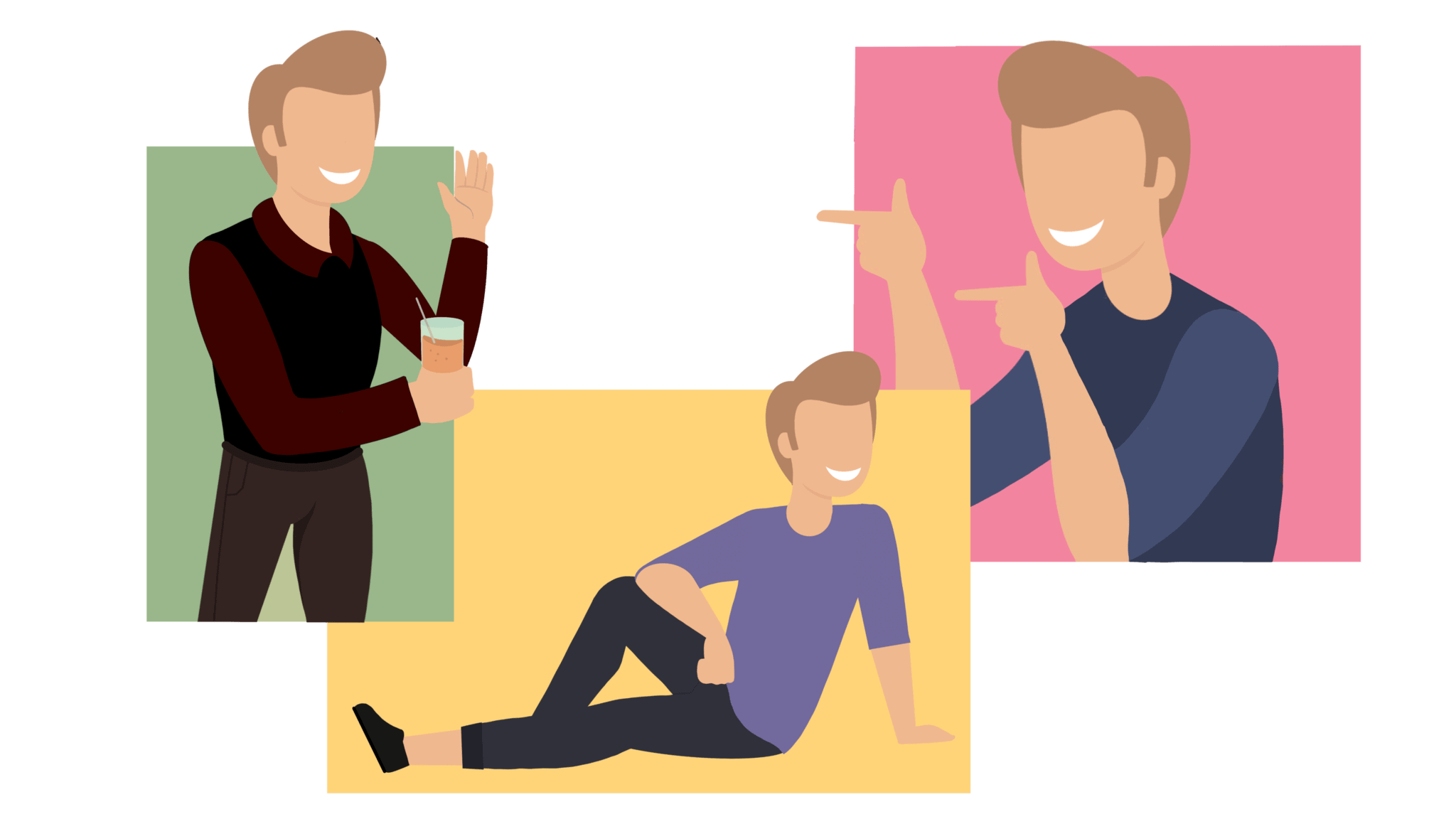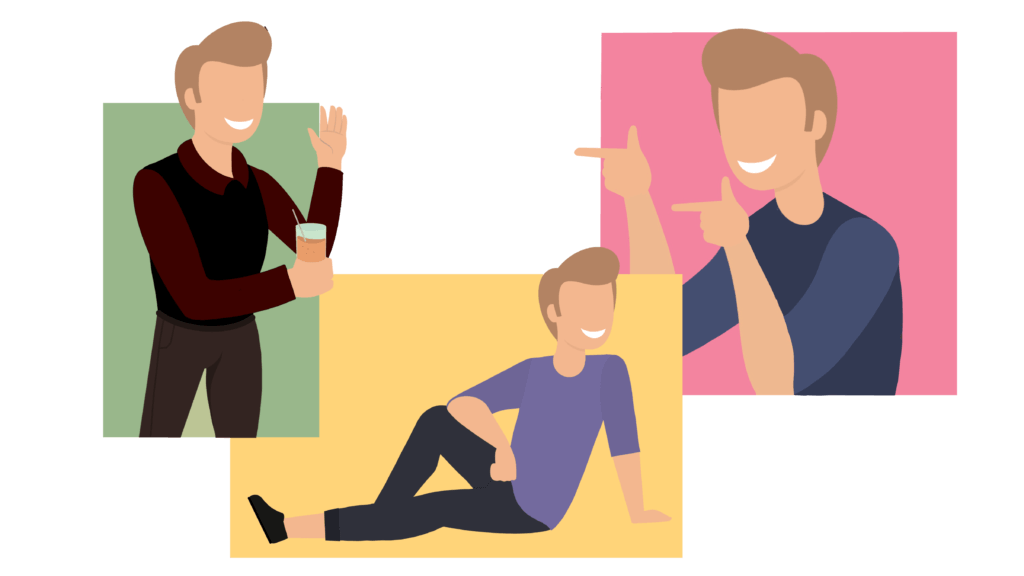 Have you had it bad with getting likes on your Tinder profile or even getting a match?
Ever wondered if your photos might be the problem?
Today must be your lucky day because this article will show you how to:
OFL Top Recommendations based on 100,000+ Survey

"Serious Relationships"
"Discreet Hookups"
"Best Course for Men"
"Quick Flings"
"Normal Hookups"
"Our Quiz"
Let's check out how to make a good Tinder picture from the Tinder pics guide.
Tinder Photos Guide in Video Form
Audio (podcast) form for those of you on the go
Why are good Tinder photos extremely important?
When you start your Tinder journey and start swiping left or right, the main criteria you are basing your impression on someone are their Tinder profile pics.
As superficial as this may sound, it is true.
Your Tinder profile picture is supposed to be the bait for all the members out there trying to find their match.
This is why your Tinder pics have to be well-lightened, with neutral colors, etc.
Tinder photos should show your different editions depending on your hobbies and interests.
Tinder is the most famous dating network in the world.
It is not just an app for quick flings (like BeNaughty or Ashley Madison) or is it strictly for those seeking serious relationships (like eHarmony).
So, whether you are seeking a casual date or a soulmate, Your best chances of finding the match are hidden in the world of Tinder cruising.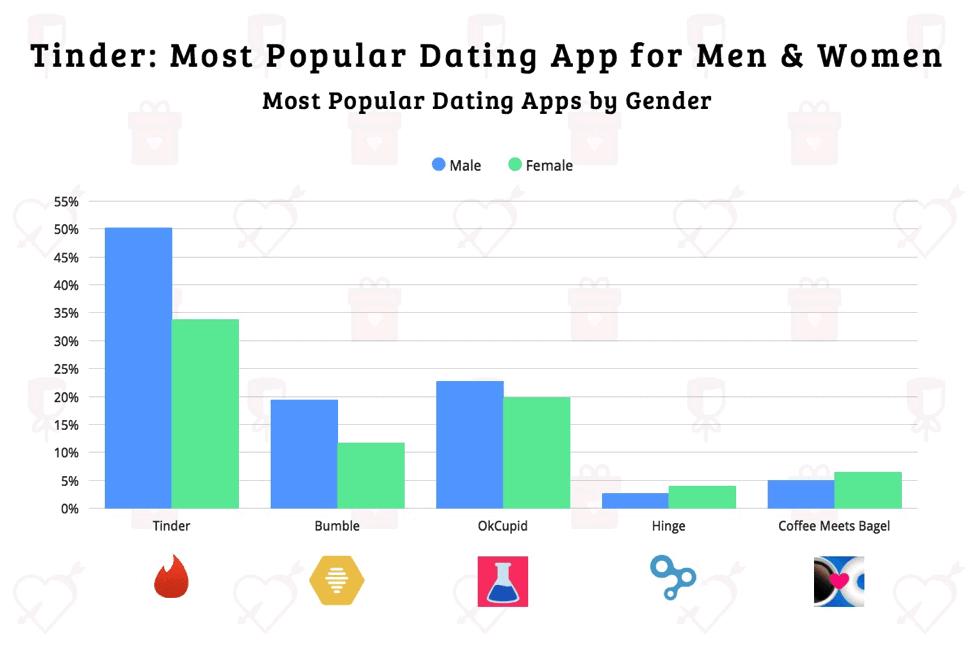 If you are keen on finding the match, whether it be for a hookup or entertainment, you need to empower your game and make one hell of a Tinder profile.
OFL Top Recommendations based on 100,000+ Survey

"Serious Relationships"
"Discreet Hookups"
"Best Course for Men"
"Quick Flings"
"Normal Hookups"
"Our Quiz"
Unlike your Tinder bio, great photos give you more options to express yourself.
These pictures should show your hobbies, interests, passion, things you enjoy the most, the way you live, and so on.
Your Tinder photos are the best way to create a good first impression, advertise, and promote yourself.
They give you space for editing, applying various filters, improving them in numerous photo apps or Photoshop.
You can also show your virtues that don't include your looks.
Of course, you should take pictures for Tinder where you look nice, relaxed, clean, well dressed, and shaved.
But more importantly, you can show what you like to do.
For example, if you like animals, you should take pics with your pet or your friend's pet or at a ZOO.
If you like to hang out upload a photo with your crew.
If you like to travel post a picture that looks adventuristic or where there is a famous monument in the background (the monument could also be some famous sight-seeing spot from a foreign country).
As I said, taking your Tinder pics and managing them should be your number one priority when it comes to editing your Tinder profile if you want to get as many right swipes as possible.
Personality and energy are very important but the best Tinder photos are the ones that show that you look nice and have an interesting way of spending your free time.
Whether you are shy, sexy, sweet, animal lover, businessman, sports type or an elegant guy, Tinder pictures give you a possibility to show all of that.
Luckily, there are no limits, there are only Tinder picture tips.
In this guide, you will see what to do and what not to do when it comes to posting your Tinder photos onto your account.
Since there are only 15% of women swiping right, guys need to improve their endgame and get more right swipes by simply following the steps on how to take Tinder pictures.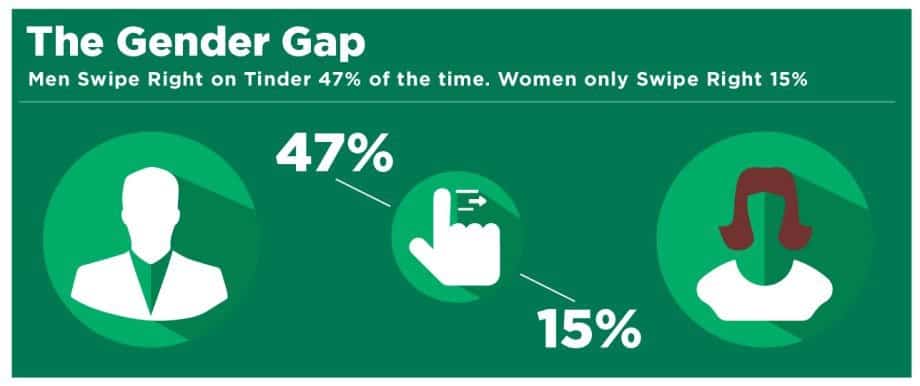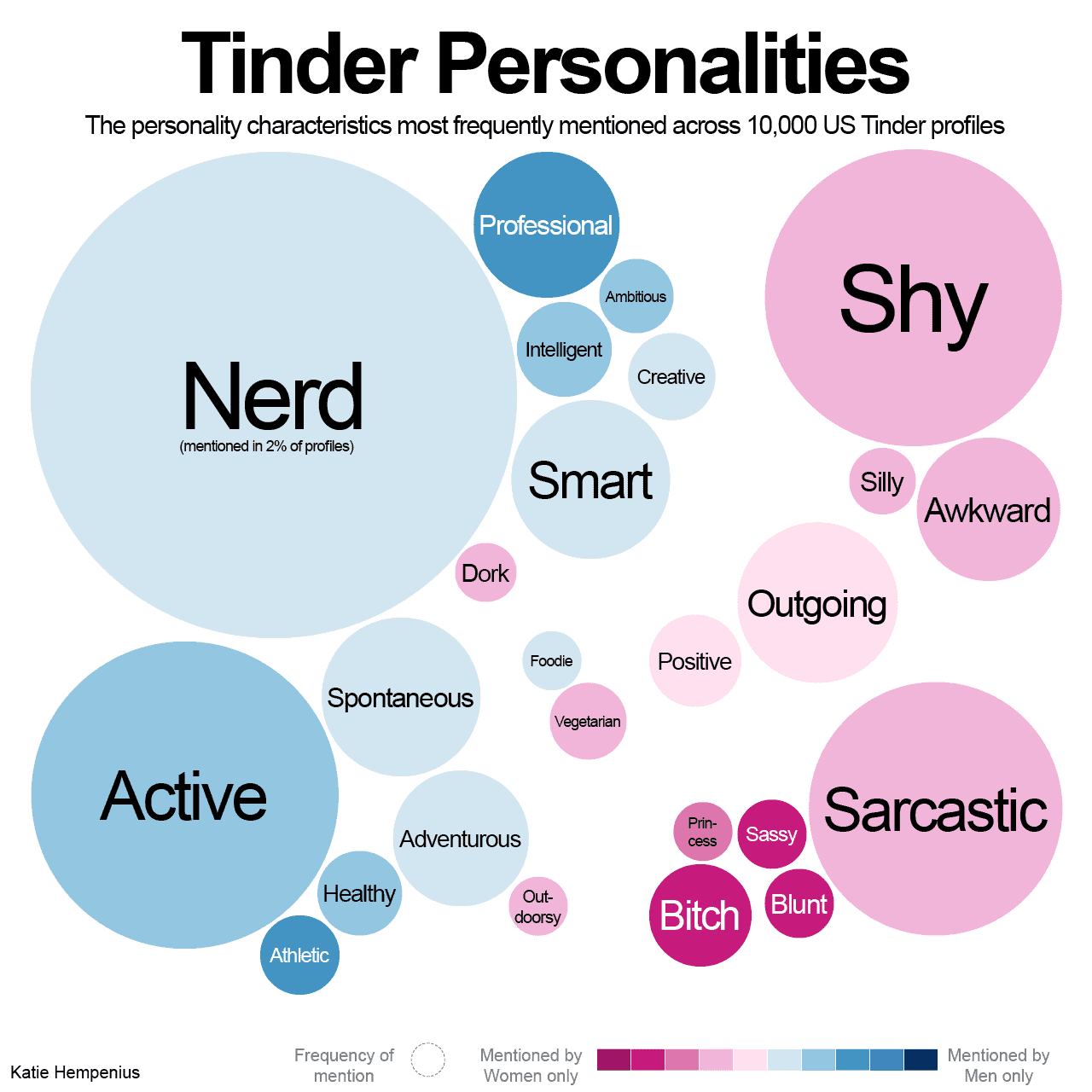 Tinder Photos Don'ts for Guys
1. Do not post Tinder selfies
If you are skeptical about taking advice from random people online, these tips will help you a lot because they come from the founder and former CEO of Tinder (Yes, you read it well!) Sean Rad.
When it comes to don'ts Sean Rad says that posting selfies is a mistake.
As you continue reading and picking up useful tips on how to take good profile pictures for Tinder you will see what is fruitful and what causes girls to swipe left when they see your Tinder profile.
Rad suggests that you should avoid selfies, but he also agrees that posting one good selfie is acceptable and could sometimes go in your favor, especially if you understand how Tinder matching works.
Selfies should be avoided because they tend to portrait you as a narcissist – someone not so approachable and fun to talk to.
They can give out an impression of a self-oriented dude who has no ability or intention to satisfy the significant other.
Guys who post selfies are often labeled as insecure persons who, because of that can't seem to have a normal relationship with someone.
Since women often study everything on a guy's photo from any social media, picking the right photo and uploading it should be your main focus when building up a Tinder account (or any other dating profile).
As I suppose, you do not want a cute girl going to your Tinder photos and psychoanalyzing you based on them.
But if you are confident enough to feel fine with it, there should not be any problem, but you must practice how to take Tinder pictures by yourself.
And how exactly are you going to get confident?
By posting dating photos that follow these tips.
The right photo can make you whatever you want to be.
Another reason you should avoid taking selfies for a Tinder profile is that front cameras on smartphones are not as flattering and good as you need them to be for this purpose.
There is no logical reason to take selfies with your HD camera since you would look ridiculous.
Plus, by uploading photos where everyone can see someone took them for you, you can show yourself as a social person that goes out or hangs out with their friends.
I guess this pretty much sums up all the reasons why you shouldn't really post selfies to your Tinder profile.
Best Tinder photos usually come from HD cameras that someone else used to take pictures of you.
Bathroom photos are also a big fail if you want to get as many right swipes as possible.
You can look like a loner, plus the lighting is mostly bad.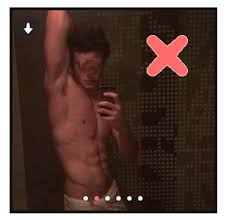 When you are scrolling through your phone gallery looking for the right photo to upload to your Tinder profile and stumble upon a photo of you wearing sunglasses hold right there!
Yes, you look mysterious and hot with those sunglasses on.
Yes, they go well with the landscape around you.
And NO, you should not post that picture on your Tinder profile.
I know you are thinking that this does not make any sense at all, but hear me out.
When a girl is swiping on Tinder and sees a photo of a guy with sunglasses on, she is not going to think 'Oh he is so damn cute.
No, she is going to feel suspicious and unsure if your account is real and whether you look cute without your sunglasses on.
Women don't want to risk it since there are a lot of guys on Tinder and they are confident and patient enough to keep looking for the ones that put in some effort to take great tinder profile pictures.
They are not up to swiping shady guys right, or the ones that look like they have something to hide.
As much as these things sound like sundries, they are really important if you are trying to make a good impression, especially if it is the first one.
There is a reason people say that eyes are the mirror of a soul, so don't avoid showing a glimpse of your soul in your tinder photos.
You may not be aware of it, but some girls can think that you have warm eyes or a look full of reassurance.
Girls will also want to see a guy's haircut, his full appearance, the shape of his head, and so on, so hats (any kind of them) are a no-go for sure.
They will probably think that you are immature, hiding your boldness, and whatnot, depending on the shape of a hat you are wearing on your Tinder pic.
Instead, take a nice headshot with bold body language to match as well as a welcoming facial expression.
Do this, and be rest assured that the ladies will not only swipe right but also take a screenshot of your picture.
Statistics show that your chances of being swiped right decrease by 12% if you are wearing a hat, and by even 15% if you have your sunglasses on.
Tinder is a dating app where all comes down to your looks and your first picture is what most girls will judge by.
And how are you going to show what you look like?
Well, by posting good profile pics, right?
This means that your look needs to tell stories about you.
For example, if you have a messy haircut that looks like you planted a bush on your head, that will seem as if you are unable to take care of your hygiene and trimming.
A longer haircut can present you as a teenager or a college student that has no taste in style whatsoever.
Even if you were a student, would you really want to give an impression of a guy with an outdated haircut?
Any facial hair should be trimmed and taken care of.
No one wants to look like their trimmer broke or as if they can't afford to buy a razor.
Even when you put this financial or responsibility factor aside, you simply can't allow yourself to be presented as an unstylish incompetent guy who does not feel the need to trim his beard or get a decent haircut.
So, it all comes down to paying attention to what your look says about you.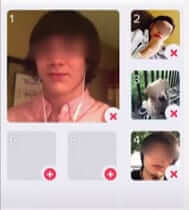 4. Do not post shirtless photos
O.K. guys, so we all know that you want to increase your chances of hooking up on Tinder by showing your abs and muscly chests.
And to be honest you are not wrong to think that girls fall for wide shoulders and strong-looking men.
But there is one thing you probably did not know – shirtless pics will repel a woman who is swiping on Tinder hoping to find someone she really likes.
By posting photos where you are not wearing a shirt, especially if you took it as a mirror selfie, you will reject women's attention because they will find you cocky.
Shirtless photos give away the sense that you are exclusively looking for something sexual, that you will insist on getting sexy photos of girls, or even that you are a narcissistic maniac.
These are all traits you should try to avoid portraying.
As much as women like to hook up or have a sexual relationship with someone, they are not that open when it comes to showing their bodies, so you should avoid shirtless photos in order not to scare potentially interested women off.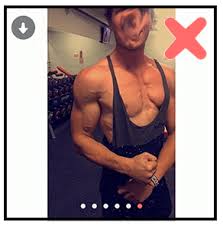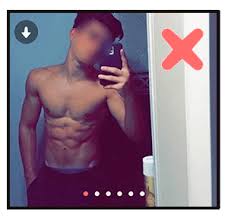 5. Avoid posting photos from the gym
It is well known that women like their men fit and strong, but that does not mean that you should proclaim it as much as possible.
Like some other things I have mentioned, photos from the gym can also seem as if you are narcissistic or cocky, which you don't want to be in the eyes of an attractive girl.
No matter how hard you train or how often you go to the gym, women tend to have some other ways of staying fit so gym pics won't give you much of a base for the subject to talk about.
On the other hand, if you are a personal trainer or any kind of employee at the gym, you can post a photo that shows that you are actually working there.
For example, if you are a personal trainer you can ask someone to take a photo of you stretching a client or explain to them what and how to do it.
If you choose to do this, make sure you are facing the camera, that you are in the main focus with blurred background and that you only have your upper body in the shot.
All of these tips are going to make more sense when you continue reading, and they're also going to be explained based on 'how' and 'why'.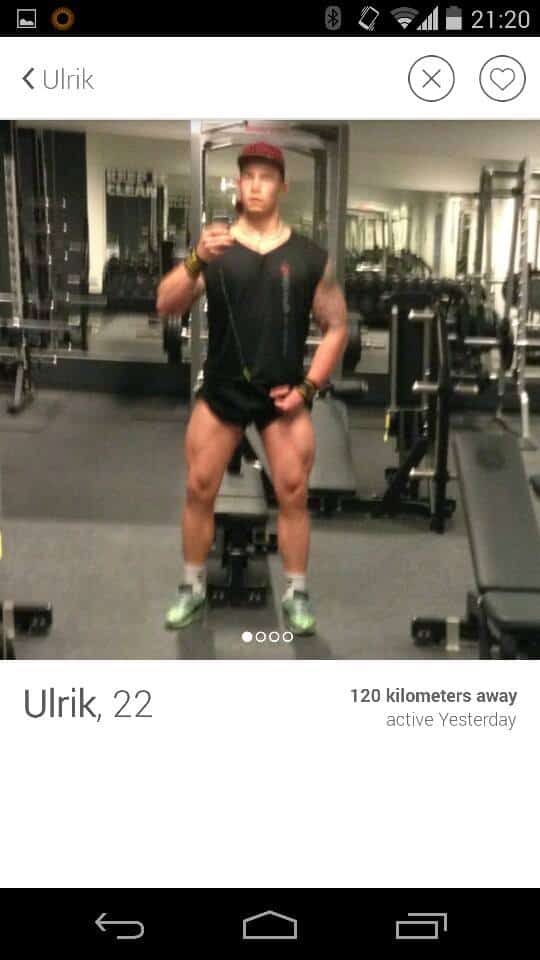 6. Photos with a girl are a huge no go
Imagine running into a cute girl while swiping on Tinder and you decide to check her profile.
As it turns out, in one of her photos, you can see her with a guy hugging her.
There seems to be a sexual connotation in the photo, so you decide not to take any action.
Now imagine it the other way around.
Do you think the girl that saw a pic of you with some girl next to you is going to indulge in something with you?
It is quite simple.
No matter who the girl on your Tinder photo is, there are only bad things someone can think of.
As far as someone seeing this photo is concerned, you could be in a relationship, this could be your ex-girlfriend, or you could turn up being a weirdo for posting a photo with your sister or a female best friend.
You could also seem like a player or a cheater which is never good if you are trying to make a girl like you.
7. Be extra cautious with group photos on tinder
Group pics can present you as a social, approachable person who is genuine and good with people.
You can also seem like a fun and cool person, an extrovert who enjoys other people's company.
This is something girls find very attractive in a guy and it makes them want to spend time with you.
They also feel as if they have something to bring to the table.
Even though group shots can be good for your dating rate, you have to pay attention to certain things.
First off, try to have not more than 4 or 5 friends in a group photo.
Also, make sure that you look the best out of all your friends.
You do not want your potential match to go looking for your hot friend on social media or dating apps.
Even more important rule says that you should not have more than one group photo on your tinder profile.
You clearly don't want someone to look for you in photos from dusk till dawn.
You need to advertise yourself most efficiently and to catch someone's eye immediately.
How to make the best tinder pictures for guys is something you need to know if you are eager to get those right swipes as quickly as possible.
8. Don't take pictures from weird angles
You may think that artistic photos are cool and get a lot of traffic, but when it comes to tinder you need to have your photos particularly bright and sharp.
There is no need for some artsy angles where you want to be shown as a mysterious artist or a poet.
These angles often tend to miss capturing all the important stuff your tinder photos should have.
First of all, you should be facing the camera.
You can maneuver some angles if you want to capture the light in the right way so your nose looks smaller or your shoulder wider.
These maneuvers are common and can bring some great results.
You just need to make sure that your face is clear and that everyone can see it well when you upload a photo on your tinder profile.
If your face is not focused well or if you are not facing the camera and half of your face is in the shadow or can't be seen because of a weird angle of a photo, then you will probably be swiped left because it would seem as if you are a fake profile, or have some flaw on your face which you are trying to hide.
It is also common for guys to take selfies that look super weird.
Like from the bottom of their chin where the only thing you can actually see is the content of their nostrils. Ewe.
Anyway, just take photos from regular angles and don't feel the need to experiment much.
9. Never post pics you are not in
Both Tinder photos and biography fields are there for a reason.
Actually, they are here for some great reasons.
The empty field where you are supposed to enter the things you like, stuff about your personality and what attracts you, etc. is the biography field.
This field should be used to type in for example 'animal lover'.
By doing this, you don't need to post pictures of your dog on your tinder profile.
It is not so difficult to understand that there is no need whatsoever to upload a photo of your dog sleeping or your fishes in the aquarium.
That is what the biography field is for, as said.
Tinder gives you an option to upload a maximum of 6 photos.
You don't have to fill out all of the 6 available fields, and you definitely don't want to fill them with pictures of your pets.
Also, if you are enthusiastic about art or traveling, there is no need to post a picture of a sculpture or a painting from a gallery or a museum.
Posting a photo of a sight-seeing spot without you in it is also counterproductive if you want to get many right swipes.
Instead of posting this kind of photo you have two options.
First, you can describe your passions and interests in the biography field (I mean that's what it's for) or you can link your tinder profile with your Instagram account.
This way you can allow other people on tinder to check out more photos of you on your Instagram profile if you want them to see what things do you like and what hobbies do you have.
Another great thing about connecting your tinder and Instagram profiles is that everyone will be reassured that your profile is not fake and they could contact you via Instagram in case they decide to shut their tinder account down.
If you end up uploading your pet as a tinder profile picture, chances that you will match with someone are less than 1%.
These profiles usually count as fake ones.
There is one more thing you can do to turn your love for animals in your favor.
You can post a photo with a dog (for example) but you need to do it right.
You have to be in the photo with that dog, or you can post a pic where you are playing with it.
Make sure your face is in the focus, the background is blurry, and that the upper half of the body is clear in the shot.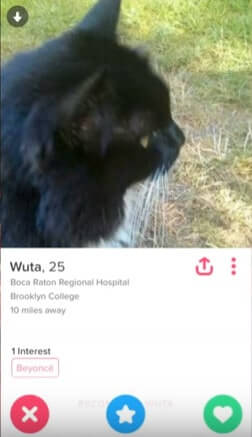 I bet you would be very disappointed if you went out on a date with a girl you met on tinder and it turned out she looked different than in her tinder photos.
This scenario happens all the time.
Girls tend to post their photoshopped photos, while guys usually upload their photos from their younger days.
These actions can cause a big mix-up.
No one wants to be lied to, deceived, or to be disappointed because of someone's looks.
Sadly, insecure people need to lie about their age, their looks, their height, and so on.
Play it nicely.
Do not do something to someone if you don't want someone to do the same to you.
This principle is old and clear.
So why deceive someone if you can take some good photos if you put a bit of your effort in?
Girls are very sensitive when it comes to lying, so you probably won't get another shot with her if she finds out you lied about something, especially your age or looks.
It is not that hard to be swiped right, all you need to do is continue reading about how do best tinder pictures for guys look like and how to take a good Tinder picture.
You are already halfway there.
11. Not by any means post grainy photos
Grainy photos are the usual tell that the Tinder profile is fake.
You may know that you are real, but people that run into your profile will not think so.
While uploading photos on Tinder they tend to lose their quality.
This is one of the main reasons you should only upload high-quality photos.
Unfortunately, this is not something you can fight against if you don't have an HD camera.
So even if you had chosen the photo with solid quality, know that it will probably become grainy and less sharp once you upload it on tinder.
Besides looking like a fake profile, another very important reason you would want to avoid this kind of pics is that no one will actually see the way you look because of the poor quality of the photo.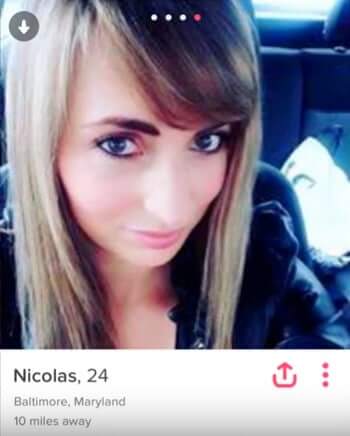 We all know that love makes us whole and that no one wants to end up living their lives alone, but do you really want to be seen as someone who tries too hard to have their Tinder photos perfect?
Let's say a girl stumbles upon your Tinder profile while swiping and she starts checking it out.
At first, it all seems nice and smooth, but then a pic of you in a suit caught her eye.
The first thing she sees is a guy wearing a suit (which is surprisingly not something girls like to see on Tinder), but after a few moments, she spots the background.
Imagine her rejection when she sees that you took a photo in front of your closet as if you had put your suit or a jacket on just so you can take a photo for your Tinder profile.
Guys who try too hard to have their photos perfect seem pathetic and desperate to find someone.
This is more embarrassing than having a photo that is of low quality.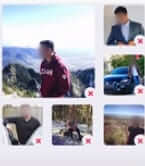 As strange as it sounds, certain research shows that every woman swipes left when she sees a guy wearing formal clothes on his Tinder profile picture.
You would think that women would swipe right when they see someone in a suit – a responsible, mature, and organized man who will fulfill all of their wishes.
But this is a great delusion.
People that use Tinder are mostly younger and older women using it are usually divorced or separated.
It is well known that Tinder is a dating app where you look for a hookup or someone to hang out with.
This basically means that women are here to have fun.
If you seem formal, unapproachable, or too serious none of the females will swipe you right.
By wearing formal clothes or suits, this is the exact impression you are going to make.
Things to pay attention to with Tinder photos
1. High-quality pictures are the only right way
Best Tinder profile pics are the ones that give a clean and sharp image of your face.
Like I already wrote – photos you choose for Tinder that are not high quality are usually grainy or pixeled when uploaded to your profile.
Tinder lets you upload 6 photos only, which is more than enough.
This means that you can basically take enough shots for the Tinder profile in about an hour.
If you have the time to cruise down those Tinder waves, you will manage to find this one crucial hour of your time to make some hell of a snap.
We already cut selfies off because of bad front camera quality (among other reasons), but this does not mean that all the other photos are good for Tinder either.
Quality is one of the most important things you should pay attention to when taking pics for your Tinder profile.
If you upload photos that are of low quality, or actually any kind of quality that does not show your face well is automatically a bummer for you.
The looks are 85% of what people base their choice on when it comes to Tinder, so by adding low-quality photos (and low-quality means nothing to see) you are headlong decreasing your chances of finding someone to hook up or date.
To state the obvious – if you have nothing to offer, do not expect to catch someone's eye.
Smiling makes people more genuine and approachable, which are two extremely important things you want to possess when you are using Tinder.
If your Tinder pics are too serious, no one will think that you enjoy having fun or chitchatting.
This serious attitude is simply repellent.
For people who see your serious Tinder photos, it can become clear that you are not into hooking up or a casual hang out.
It can also seem as if you are uninterested, an introvert, or boring.
Smiling can increase your chances of matching on Tinder by 14%.
You should try to smile genuinely while being photographed, with those tiny wrinkles around your eyes.
They are the main indicator that you are smiling from your heart.
No one likes fake people who are pretending to be something they are not.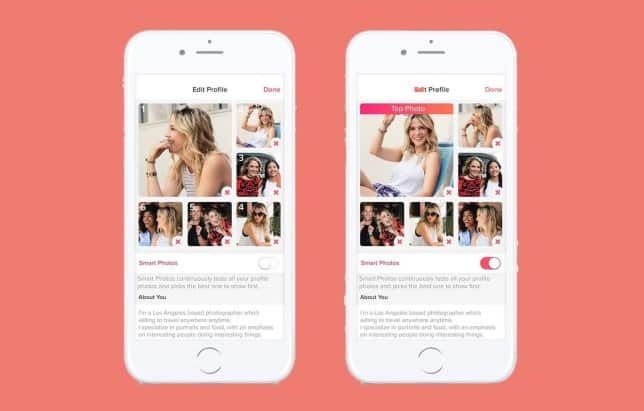 Smart Photos feature is designed to use an algorithm that sorts your pics depending on what is and what will be popular at a certain moment.
Depending on the number of right swipes your photos got, Smart Photos ranks your Tinder photos by popularity and then shows the best-ranking one when someone starts swiping.
You can easily turn on this feature in your tinder app.
Many people started using this feature because when it was first tested it showed an efficiency improvement of 12%.
4. Feel free to upload photos that show your personality
You could read about why are good Tinder photos so important at the beginning of this article.
One of the reasons was the fact that the photos you decide to upload can show a glimpse of your personality.
You also had a chance to see what kind of personalities exist on Tinder and to make sure you are definitely not the only one out there.
Pictures can sometimes give us a false or prettier image of something, but some things don't always need to be just pretty.
Tinder photos can be used to show your hobbies, interests, preferences, and other important things in your way of living.
You don't always have to show yourself as a macho or a handsome guy.
You can upload a pic that shows how funny you are, how much have you can have, or how adventurous you can be.
There are various options when it comes to cool profile picture ideas.
If you like to travel – post a photo you took at a cool place abroad, but make sure you are in it.
If you like to cook you can take a photo with a cooking hat where it is obvious that you are enjoying and having fun.
You can also post a photo from a Halloween party in your costume.
The boundaries don't exist, but posting a bright and sharp high-quality picture is still the best way to do it.
5. Choose your background carefully
Neuroscientists proved that your brain can react to a photo in a nanosecond.
Sometimes you won't even be able to see it, but your brain has already picked a pic that it likes or dislikes while you were swiping on Tinder.
If you want to catch someone's eye and get the right swipe, you have to have a Tinder profile photo that will manage that.
This kind of effect is possible to get if your face or your upper body half (or a third) is in the main focus of the photo.
Facing the camera improves your chances by 18% because it gives a clear and sharp insight into your face and a part of your body that was captured with it.
If you want to stay in the focus and seem as if you are going to pop out of a photo, you have to manage your background and contrast well.
The background you decided to use should not be too colorful, too bright, or in any way more noticeable than you.
The first thing you should do after you take a photo in front of an area that fits these conditions is to manage the contrast.
You want to have a clear difference between brighter and darker parts of a photo.
The second thing you need to do is to blur the background as much as possible.
Nothing should interfere with your silhouette.
This way your face and your body will be well presented and will catch everyone's eye.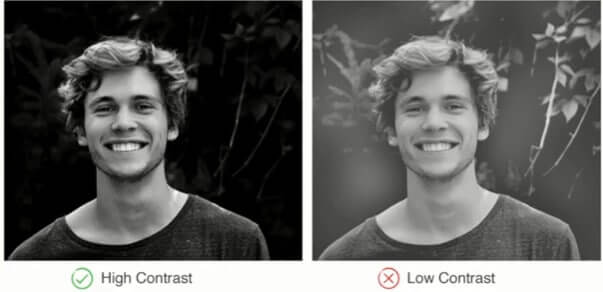 6. Use Photofeeler to see reactions to the photos you thought about posting
Tinder pics for guys are now practically making themselves.
Once you read all of the tips and tricks on how to take perfect Tinder photos and how to sort them, you are ready to start confidently swiping.
But, before you start uploading and deciding on which pics to upload and which not to, check out this website that will help you with your choice.
If you want to know what picture causes what kind of reaction from people that are looking at it, now you can easily do it and find out.
All you need to do is upload the pics that are meant to cause certain reactions.
Once you do it, people will start clicking on the answers next to the photo that they find true.
Above the photo lies a question 'Is this person portrayed as…?' and next to the photo there are adjectives that you are supposed to scale.
Depending on the photo, there can be adjectives like smart, trustworthy, attractive, and others, depending on the purpose of the photo you had uploaded.
It will only take a few weeks for you to start figuring out which photos give away which impressions, so soon you will be able to decide on which pics to post all by yourself.
Tinder pictures for guys have never been easier to be recognized as good, now that you have read all of these Dos and DON'Ts when it comes to picking the right tinder pics.
I believe you are quite eager to start calling your friends to help you out with your photo session and to give you their feedback on the photos you are about to use as Tinder pics.
Best pictures for Tinder are now only a flash away!
Frequently Asked Questions