Online dating has never been smoother and enjoyable than when Tinder introduced "the art of swiping".
Just heard of Tinder and wondering if it's worth your time?
Don't even flinch, I will guide you through:
OFL exclusive offers - Check all of them

"Serious Relationships"
"Discreet Hookups"
"Best Course"
"Quick Flings"
"Normal Hookups"
"Our Quiz"
Let the swiping begin!
Is tinder giving you the best chance of success with online dating?
Take our dating app quiz to find out.
People who follow our app recommendations have an average of 2 more dates/casual meetups per month.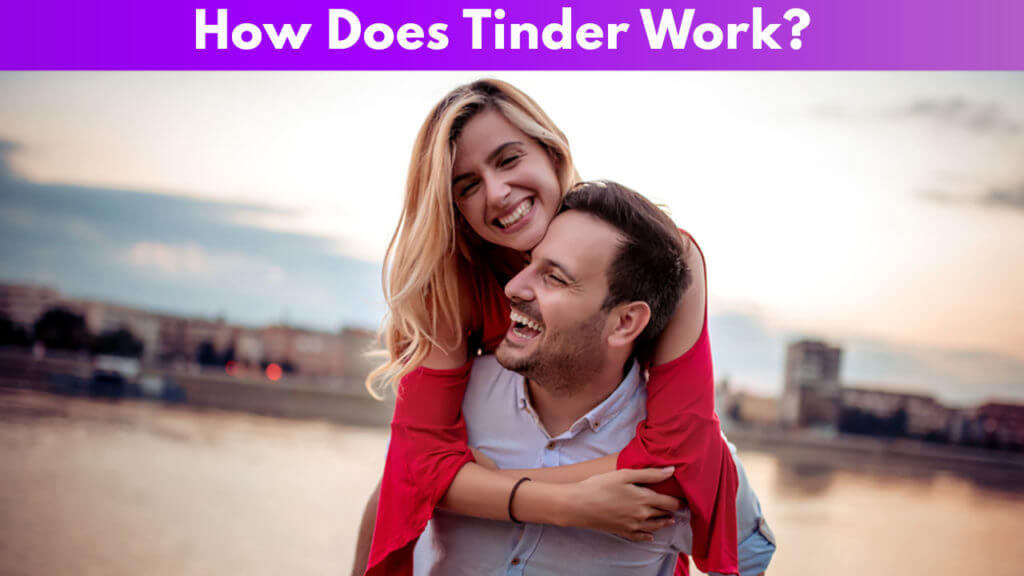 Post 1 of 11 in the How Tinder Works Series
How Does Tinder Work? In Video Form
Audio (podcast) form for those of you on the go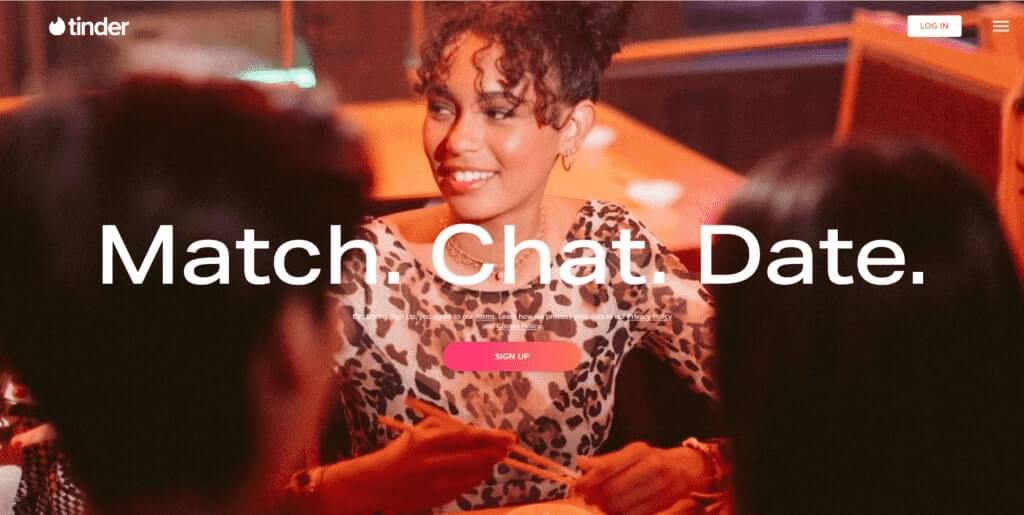 For those of you who aren't familiar with this form of dating, or this app, to be more precise, Tinder is an online dating app that lets you meet new people from the comfort of your bed and PJs.
You can download the app for free from your Android (Google play store) or IOS (App store) device and sign up instantly with your Facebook account or phone number.
What is Tinder for?
Its goal is to bring people closer no matter where they are, whether it be the same neighborhood, city, country, or opposite sides of the Earth.
Thanks to the new technology of the 21st century, the world has become a playground where we can all have fun with only one smartphone.
Tinder can be best described as a huge catalog with millions of men and women that are displayed to you based on the location and your preferences that the app learns thanks to your actions.
Tinder is a site that is worth it among the biggest dating website out there, and these range from people looking for a quick fling to Serious relationships.
It is not just a hookup app (like BeNaughty or Ashley Madison) or only for serious relationships (like eHarmony).
Just like you would swipe through a photo album and turn the pages, that is how you swipe through dozens of accounts shown to you every single day.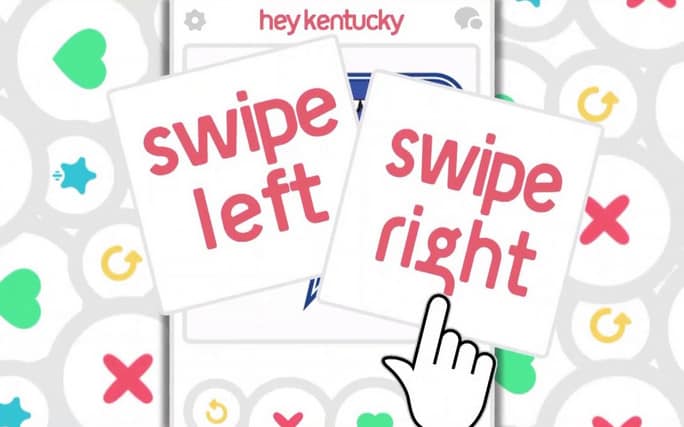 We all know that looks matter, especially the first time you meet someone and feel the attraction, so Tinder focuses on that primarily, and it lets people add up to 9 photos on their profile.
How does Tinder match?
Based on someone's Tinder profile photos and looks, people decide which way to swipe – left or right.
So, if you've just wondered: "What are the Tinder swipe rules" the answer is easy – swiping left means that you dislike someone and wish to skip their profile while swiping right means that you like them and hope to match and initiate contact.
However, when you like someone's profile, they will not know it and you will have to wait for them to see your profile in their profile stack and like you back.
Using the Tinder profile template will help you create a perfect and irresistible profile.
That is the trick that creates the match and that is why this app causes real adrenaline rushes.
You never know if someone has liked you before and if the match will be made right after you, not knowingly like their profile, getting the message: "it's a match!".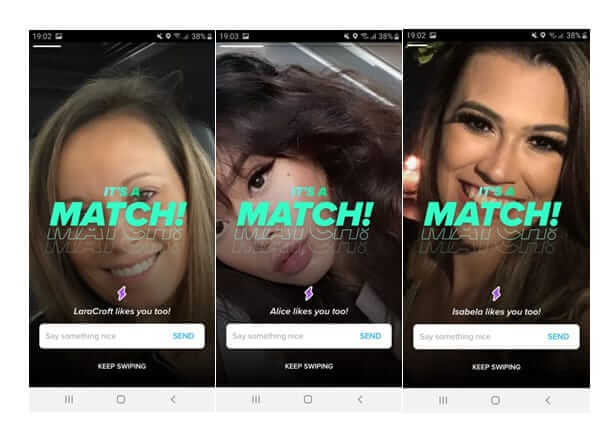 This app is pretty fun and interesting to use, especially if you're giving it a shot for the first time!
Many people think how the hell are they supposed to meet someone online and even fall in love, but, believe it or not, Statistics gathered show that 26 million mutual matches occur each day, resulting in 1 million dates each week!
Fascinating huh? I bet you didn't have that information. 😉
Let's get into details on what is Tinder and how does it work.
When was Tinder created?
Tinder was created in 2012, and it was first a small dating app that wasn't even near becoming a disruptor in the online dating world.
It was pretty much like other services of such kind, and most importantly – it didn't have the "swipe" feature.
It was made with one goal – to bring people close in a fun and easy way.
Many other online dating sites featured quite long and often boring questionnaires with dozens of questions and surveys one was supposed to take to get the best fitting candidates.
However, Tinder's founders Sean Rad, Jonathan Badeen, Justin Mateen, and several other team members wanted to create something fun and different, based on what looks like the most important criteria at the very beginning of the dating process.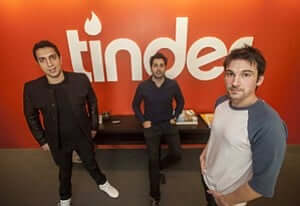 After introducing the app, they were thinking about the best and most interesting features they could add and make the app distinguishable.
Suddenly, it was Badeen that came up with the idea of "swiping" and this happened after he got out of the shower and swiped the foggy mirror – can you even believe it?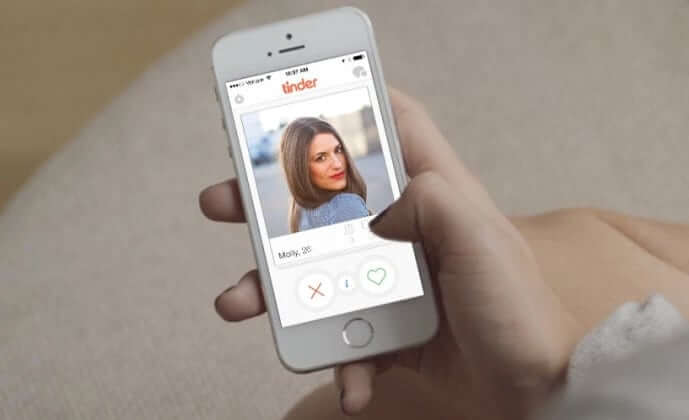 Only then did he think how that hand movement is the move we use in the reality to go through photos as we list them.
It's even more interesting that his team wasn't that impressed with the idea, however, he wouldn't let it go.
Badeen then spent 3 days developing it on his own and added it to the app without others even knowing until it was on there.
This feature became so popular that it presented Tinder's signature, no one else has ever made something so simple, but yet so compelling and fun to use – swipe left, swipe right, as easy as that!
Suddenly, thousands and then millions of people registered and the user base continued growing rapidly.
Today, almost a decade later, it has 57 million users around the globe and the astonishing 1.6 billion swipes every day!
How Does Tinder Swiping Work
Besides "how does Tinder work" this is the second most important question, but also the one that has a quite simple answer! 😊
As I already wrote, there is a swiping game that is quite easy!
Every single time you are shown a profile on the main page you have a decision to make: swipe left or swipe right – depending on whether you like someone or not.
If you swipe left, which is the same motion you would make with your hand if you wanted to continue swiping on in a photo album – it will mean you are saying "no" to someone, while the opposite, swiping right, will mean "yes".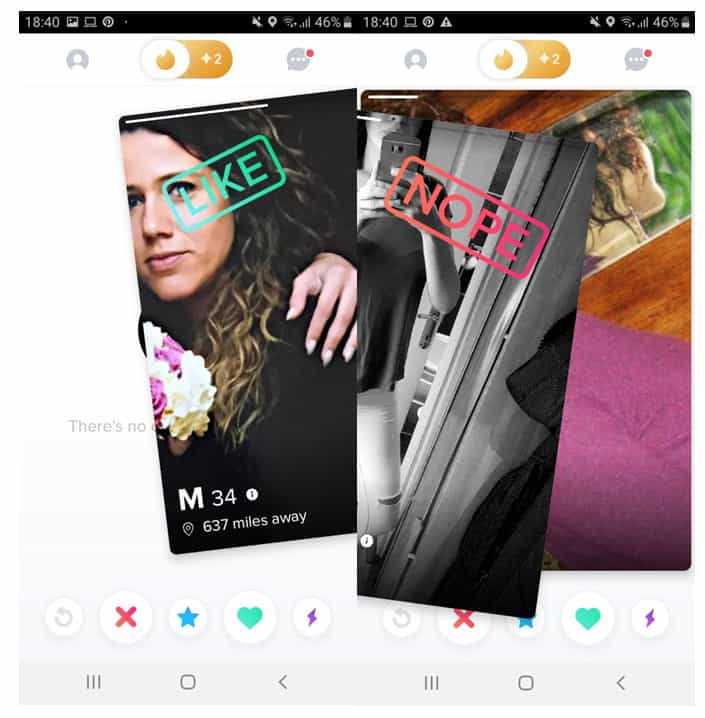 Thanks to this method, your main decision is quite an easy one, without too much hassle.
Look at the photos, see the "bio" (short description on the profile), decide what you think, and give it a go!
Today, more than ever, we have so many choices that people pay attention to someone's looks more than before, so with such a big profile palette in front of you – why not decide first based on it and then later on other traits as well?
Each day, you get shown many different profiles, based on your location, taste, and previous actions.
Do you like tall, muscular, dark-haired guys?
Well, the app's algorithm will learn that and show mostly guys with such features.
Before you start swiping, you will have to adjust certain settings on your Tinder account based on your preferences, that is, the age range of the potential partner, their distance from your location (which can be up to 100 miles away), and their gender.
These settings will affect the profiles you see and you can always change them if you aren't satisfied.
For example, if you are in a small town, you might want to set a bigger maximum distance than in a highly-populated area.
Once you start swiping, it can be quite addicting, and people get quite picky, because they know they are about to see so many profiles, so many strive to find the very best one.
However, many times the opposite happens, and the statistics say that men are more likely to swipe right on numerous girls, and only when the match is made to decide whether they will initiate the contact.
On the contrary, women are the picky ones, who mostly swipe right on the guys they like.
To be more precise, women swipe right only 16% of the time they spend online, while men do it 46% of the time spent swiping on the app.
What Makes Tinder So Popular?
Tinder's swiping game has been such a boom and a revolution that many other popular dating apps straightforward copied it – Badoo, Bumble, OkCupid, and many others.
This feature makes this process simple and normal, this is how we would choose someone in real life if we were given a photo album with potential partners.
And that is the whole beauty of it – its simplicity.
You don't have to be bothered with dumb and boring questions and spend lots of time filling them out.
We live fast, and we want to meet and date fast – time has become a precious commodity, and there is no space for losing it.
Tinder has a beautiful and simple design – you won't get hundreds of overwhelming notifications, which almost always is the case with other dating apps, everything is separated very well, your profile, the main screen with potential partners, the messaging area, and another part for premium users – top picks.
As we go through the text, you will see what differences exist between the free and paid versions, and this is one of them.
With the free version, you get 9 top picks based on your taste, and you get to choose one profile (or none), but with the paid membership, you get several sets and are at liberty to choose as many profiles as you wish.
All of this is so well designed, that spending time on Tinder feels relaxing and very good.
What a fun time to be alive!
Instead of matching by exchanging phone numbers, today we match by exchanging likes.
I've already briefly explained the process: If I like you, I will click "like" or swipe right on your profile, but you will not know that.
That is if you are using a free Tinder version, but we'll get to that soon.
Now, you will get your stack of profiles, and you might or might not bump into my profile, and then you might or might not like me back.
That is where all the fun lies.
If you like me as well, then you will get a green notification all over my profile saying: "It's a match", and I will get a notification saying: "You have a new match!"
So, if you've been wondering; what is a Tinder match – there you go, it's quite simple!
Only when this happens we will be able to initiate contact by sending a message or reacting to each other's photos – it is pretty much the same.
Now, it often happens that neither party sends that first message – women tend to wait for men to do it (I guess that true courtship never dies, not even when it is expected to be done via a message), and some men like too many profiles and only then decide whether they will talk to the girl.
Sometimes the answer is "no".
Now, I mentioned the free version, because that is what the majority of people use, however, Tinder also offers two kinds of paid memberships – Tinder Plus and Tinder Gold which have certain differences.
Tinder Gold offers a great feature that lets you see who swiped right on your profile before a potential match is made.
If you are one of those curious members who don't want to play the guessing game, then you should go for the premium version and go through the list of people who hope to get matched with you.
Another way to show someone you like them is not only by swiping right but by giving them a "super like" – which means they will get a special notification saying that they had been super liked.
However, there is a catch again, they are not shown your name right away but need to keep searching for it to match with you.
This is slightly different than a regular right swipe because they will get a hint about who did it, and that is a blue star beside your name – meaning they will know you are the one who super liked them when they see your profile.
Free version users get only one "Super Like" per day and need to be cautious with it, as the idea is to use it for someone quite "special", while premium users get 5 of them each day.
As we are talking about this, you might wonder what happens if you click Super like on someone by accident?
Unfortunately, there is no cure for that in the free version, and the best thing you can do is to hope that they won't like you back.
If they do and talk to you, the second-best thing you can do is to apologize in a REALLY nice way and explain what happened.
This is awkward, but the person deserves an explanation rather than silent treatment because of your mistake.
In case you are a premium member, you can retract one Super-like per day and get it back as if nothing happened.
I hope this gives a quite clear picture of: "how do you match with someone on Tinder" 😊.
How does the App know Your Taste?
How Does The Tinder Algorithm Work?
Many people are out there wondering how the hell the app knows what profiles to offer to them.
Not only that it offers some good ones, but it offers great options most of the time, and the more you use it, the better they get!
This happens thanks to Tinder's algorithm, that based on your actions learns what your preferences are.
Now, there used to be one algorithm that gave people their "scores" called "ELO scores".
This method was stopped almost two years ago because it focused mostly on how popular you are.
Let me explain.
If you were a very good-looking individual, you were normally very liked by many profiles, and this meant that your ELO score kept getting higher.
Now, people with similar ELO scores kept getting shown to each other and interacting much more than with other slightly less attractive individuals with lower scores.
This was quite unfair because hot people kept seeing hot people, while all the others never even got a chance.
And yes, this app does revolve around the physique, but this ELO score was a bit too extreme.
This is why the ELO score was removed, and a new algorithm was introduced.
This one works in a better and more interesting way.
For example, if I like a guy and another girl likes him as well, the app will assume that we have a similar taste.
So, tomorrow, if she likes someone that I haven't seen yet, it will display his profile based on the assumption that I will like him as well.
Be Careful with Your Swiping
Thanks to this method, there is a better and more even profile distribution.
All this swiping is a game, but at the same time, it isn't for several reasons, both practical and moral.
First of all, swiping right like crazy doesn't lead you anywhere, and let's ask ourselves what would be the point of that?
Getting 100 matches every few days is silly, because there is no way you really, really like all those people, and I can bet anything that you won't reach out to all of them.
The point is to go through all the profiles you are shown, but to keep some standards (that I hope you have) and swipe right accordingly only those people you can imagine yourself having a date (or other) with.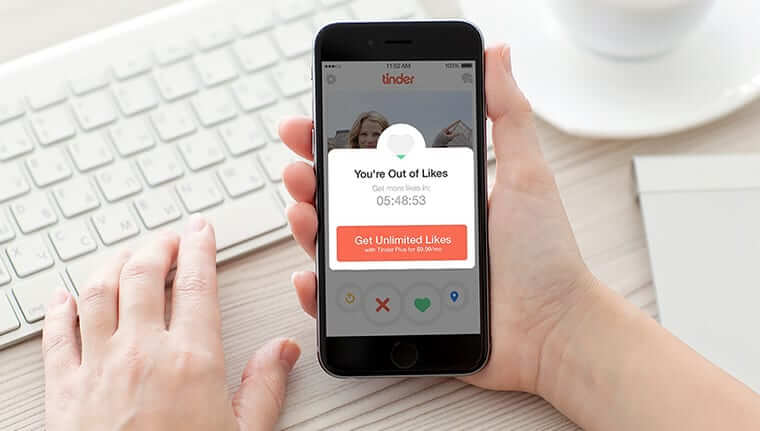 Secondly, swiping right and matching people randomly is not nice.
Someone could like you and get very excited when they match you, only to see you are not reaching out, or even worse, ignoring them after they had done it.
As I said, many guys just see cute girls and swipe right automatically, but then take no action, or even when they do, they send all these short and meaningless messages because they have other 56 matches to talk to.
Thirdly, the app LEARNS what you like and I bet the last thing you wish to do is confuse it and end up being shown profiles that have nothing to do with your real taste.
And all that because you had your small competition: "how many right swipes can I make in a minute".
That is just dumb and you should refrain from it.
Thus, the answer to: "how do you match on Tinder" is not by swiping right on just anyone!
Also, with the free version, you have a limited 100 right swipes per day, but still, I hope that you make a lot less than that.
You Swiped Left/Right by Mistake
If you've been wondering how the Tinder app works, you must have thought about what happens if you swipe left or right on someone's profile by mistake.
This does happen when using Tinder quite often for two reasons.
The first one is that you are new and still don't feel how sensitive the screen is and how easy it is to move your finger in the wrong direction, especially if you keep switching between other apps as well.
The second one is that you get in the "I keep swiping left" mode, especially girls who are quite picky, that you accidentally swipe left on someone you like as well.
As you can see, swiping left accidentally happens much more often than swiping right.
And that is a problem. Or maybe not?
Free version users do face a problem because there is no way to go back and see the profile again, and the only thing you can do is to hope it will reappear, which can happen.
However, premium users can use the "rewind" option and go back no matter if they had swiped left or right – but they can go only 1 profile back!
That is the trick or hacks you can apply.
Photos Tell a Whole Story
Several photos.
Who could even imagine there is a whole science behind picking the right ones for your profile pictures, the ones that will convey the right message.
Believe it or not, they can be a huge deal-breaker, because the goal is not only to show yourself on any photos but to decide how you will pick the right ones.
Will you add photos with friends, pets, of your half-naked body (I presume you know that naked photos are OUT OF question?), of you, partying, drinking, a bit blurry ones, etc?
It can all and probably will be analyzed down to the tiniest details, so one should be careful.
First of all, you should know that one photo might suffice, but it usually doesn't, and many serious studies done on this topic have shown that the best result on Tinder is made by adding 3-4 carefully chosen photos.
Here are some of the tips to help you out:
The first photo someone sees on your profile should be of you only, with bright light, allowing other people to see your face and smile clearly.
That is their first contact with you and just think about what you would like them to think and envision when they see you. They might not even decide to go through the other ones if the first one is unfitting.
OFL exclusive offers - Check all of them

"Serious Relationships"
"Discreet Hookups"
"Best Course"
"Quick Flings"
"Normal Hookups"
"Our Quiz"
Refrain from posting photos where you are barely clothed or selfies unless we are talking about good ones from the beach, where you are having fun – not just posing and showing off.
Showing off can be great but also a huge turn-off, depending on the audience you wish to attract.
Feel free to share what it is that you do – do you spend all day in an amazing suit and work in an office, or are you a firefighter, police officer, etc.?
Well, let the people see that it can be so attractive!
Plus, you are sharing a piece of your life that way!
Besides work, show what your hobby is – do you like to travel, cook, go for a swim, garden, play sports, or have any other hobby?
Giving an insight into this gives you even more depth and allows someone to figure out whether you would be a great match.
Refrain from posting photos where you are drinking and partying, because most people (even those who also do it) will swipe left, thinking that you are a party animal.
These photos need to describe you, so if you pick such as 1 of 3 or 4 photos you choose to post then you are showing how crucial that is for you.
Many guys have realized how crazy girls are over guys with pets, so they post such photos, which is quite cute.
Feel free to show your love for animals and someone will love it!
Once again, post sharp photos and try to show both your face and body shape, smile, and eyes, both men and especially women like to see the whole package, as it helps them form a decision.
Face filters, eyeglasses, strong photo effects, fake makeup, blurry parts, always the same poses, too much light exposure, and other forms of hiding your face, its parts, or your body are a big NO.
We are not here to show our fake selves and deceive someone, but to show our true selves proudly!
After you have read all of this, I am sure you understand what important role pictures play, especially when they are the only thing, besides a bio that shows what kind of a person you are – so much needs to be said with so little and that is true art!
So, if you've been wondering: "how do you get a match on Tinder" the answer is definitely by having the right and interesting pics.
A Bio Gives a Final Touch
Bio is a short optional description you can add to your profile and it serves to give others a sense of who you are as a person, whatever it is that photos cannot depict properly.
Because it's optional, many people skip this part, because many also use cheesy and cringy jokes and sayings that are just worn off and that have made bios slightly unpopular.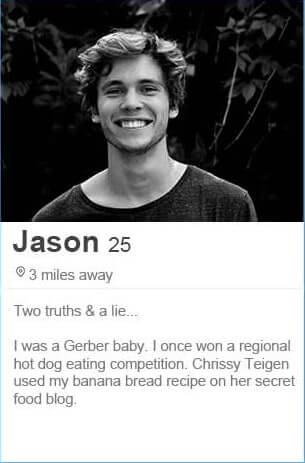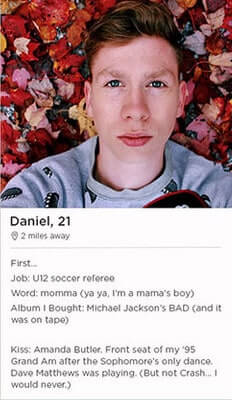 On the other hand, a lot of individuals do pick to fill it out because they know what a difference it can make.
It just completes your profiles and gives more depth.
Your bio can be up to 500 characters long, which is several sentences.
In case you decide to add it, which I encourage, it should be well thought through, without grammar and spelling mistakes, and concise.
Here are several tips on this topic.
Just because there are 500 characters doesn't mean you need to write that much. It is often possible to say a lot by using just a sentence or two.
If you google good bio ideas, you will see a lot of options you might like – but just like you liked them, so did thousands of other people, and they wear off after a period, making you sound lame, and that is the last thing you wish to evoke.
Feel free to say what your preference is in case it's very important – do you love blue eyes, dislike girls/guys who smoke, wish that someone is out of school, have certain sexual preferences – whatever is crucial for you could be written, so people know what to expect.
For example: "A big plus for girls with blue eyes", "Please swipe left if you smoke", "Not looking for anything serious", etc.
Try to be interesting and inspiring, this is no time for plain and boring intros like Hi, my name is John, I am 22 years old and study Medicine.
I like football and fishing".
This doesn't give any special insight, nor does it inspire someone to meet you better (unless you look really good, so bio doesn't matter as much).
If you lack inspiration, you could always add a good quote, a sentence from a movie (that people know preferably), a part of a song, etc.
This way anyone who tries to connect with you can refer to it easily and start the conversation 😉
The best way to think of something is to try and look at your profile from a stranger's point of view – what would you like them to see there, what is the idea you wish to share, what is the first thing you wish for them to think/see?
Just like we've all heard about thousands of fake profiles on Instagram, Facebook, and other social media, we should all keep in mind that this isn't a rare occurrence on Tinder either.
Tinder is a perfect network for people to hide behind fake profiles that are created for numerous reasons.
Understanding Tinder and how important basic information is will help you fish out fake profiles easily.
Some do it because they lack self-confidence and think the only way to talk to hot girls/guys is by having fake photos, some because they don't wish for anyone to see them there, but they say who they are in the end, or the worst reason: they make a profile to encourage someone to talk about sensitive subjects and blackmail and embarrass their victims.
This all sounds scary and it can be, thus, one needs to be very cautious and not simply trust every person naively.
Tinder can be quite fun and believe it or not, according to a large survey conducted in the US in 2017, 39% of people have met their significant other online, but, please be careful.
Here are some of the tips that could help you identify fishy profiles.
Does he/she look too good to be true?
Now, don't get me wrong, there are so many good-looking people on there, but if they are gorgeous and on top of that have only one photo you can bet something is off.
Photos are way too perfect? let me explain.
You should compare them to other profiles in your surrounding – for example, if you live in a smaller town, where most people are down to Earth and you find this profile of a guy who travels the world and looks amazing, as if he were from another planet and your friends have never seen him either, that should raise your suspicions.
You guys matched and have been talking but no matter what you say, he/she avoids giving you the user name for other social media?
If everything has been going great, it is natural that you move to another network and continue things there, deepening the connection.
If this fails to happen and the person keeps sticking to Tinder only – say goodbye to them, something is off.
It is either a fake profile, or real, but they are hiding something serious – for example being taken, or even worse, married.
Unfortunately, around 20% of Tinder users are married but still spend time on the network.
If a great connection has been made, but you are very cautious and still have some doubts, the best way to see if they are real is to ask for a live photo, or even better, a video call.
This will throw them off for a second if the profile is not real, and you will hear a bunch of silly excuses or receive another fake photo taken before.
They might also rebel and call you names – making you feel bad for not trusting them.
These are all tricks!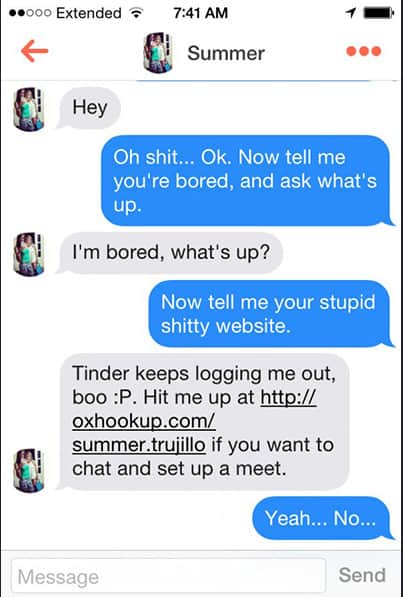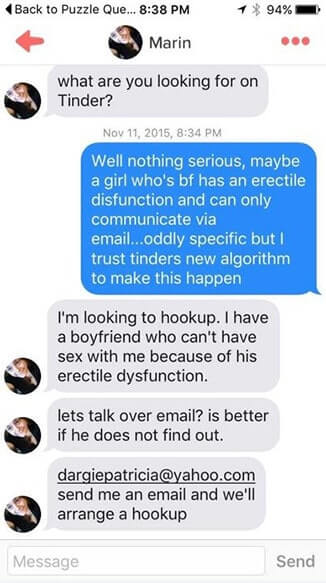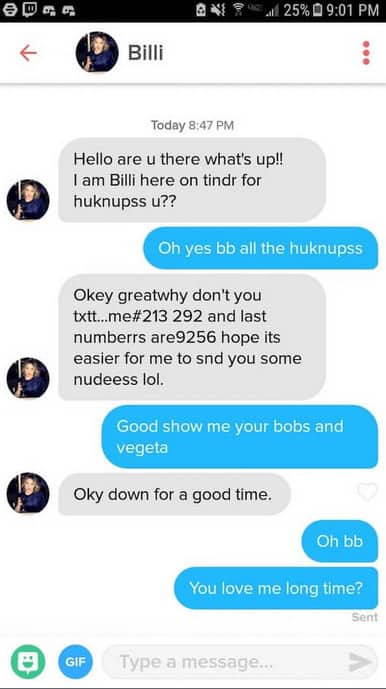 No real person who is interested in you will say no to this, they will even encourage talking via a video call in case you can't meet in person at the moment.
All of these should serve to help you out so you don't end up with hurt feelings and pride.
It might feel awkward to ask someone to prove their identity, but a sensible and real person will understand and do it happily.
So, if you've wondered what does it mean to be matched on Tinder, I must say it doesn't mean only talking and opening up to anyone but also making sure you are doing it safely.
I have touched on several differences between the free and paid versions of Tinder so far, so you have a better understanding of what each feature has to offer.
As you know there are two premium options – Tinder Plus and Tinder Gold and here is everything they offer along with their subscription prices.
Tinder Plus gives you 5 interesting options plus no ads (however, the ones you see in the free version aren't boring nor that common):
Unlimited Likes – unlike the free version that lets you like around 100 profiles a day, this one lets you do it as much as you wish (but I hope you don't use it)
Rewind – allows you to go back to the last profile and change your decision about it
5 Super Likes a day
1 Tinder Boost a month – This feature boosts your profile for 30 minutes, making it one of the most popular ones in your area, and increasing your chances for matching. Statistics says it gets viewed 10x more
Passport – This feature lets you choose any location in the world by pinning it and see people who live there, which is opposite from the free version that suggests only profiles up to a certain distance
No ads
Price: $9.99 per month for people under 30 years old and $19.99 for the ones older than that age.
Tinder Gold is an upgraded Tinder Plus version as it offers additional two great features:
See who Likes You before you swipe left or right – this is a great addition especially since you have no idea if you would even see some of those profiles
New Top Picks every day – unlike free version users who get to chose only 1 top pick every 24 hours, premium users get whole sets every day and an unlimited number of likes
Unlimited Likes
Rewind
5 Super Likes a day
Passport
No ads
Price: $29.99 per month or less if you commit to using it for 6 to 12 months
If you are approaching the Tinder world quite seriously and want to get the best of it, along with all its perks, and do your best to meet someone special, subscribing to these premium versions is a really good idea.
However, if you just want to give this game a shot and see what's out there, then I say you create a regular account and see if you like the app.
You can make up your mind easily afterward and subscribe.
I hope that reading this article has given you much-needed insight into the world of this dating app and has answered one of the nowadays' burning questions – how the fuck does Tinder work!
All of this might feel overwhelming, especially if you are just about to dive into the online dating world, but believe me when I say that it is very easy, fun, and interesting!
You set your preferences, make up your mind, and talk to people you want to, without any pressure!
I hope you see firsthand what I am talking about and meet a new amazing partner(s) and even friends! 😊
Frequently Asked Questions