Tinder is the most popular online dating app out there today.
Tinder comes with a large variety of free features, but in this article, our focus will be on one of the premium offers – Tinder Gold.
This review will cover:
Come with me to the Tinder "Goldmine!"
Take our dating app quiz to find out.
People who follow our app recommendations have an average of 2 more dates/casual meetups per month.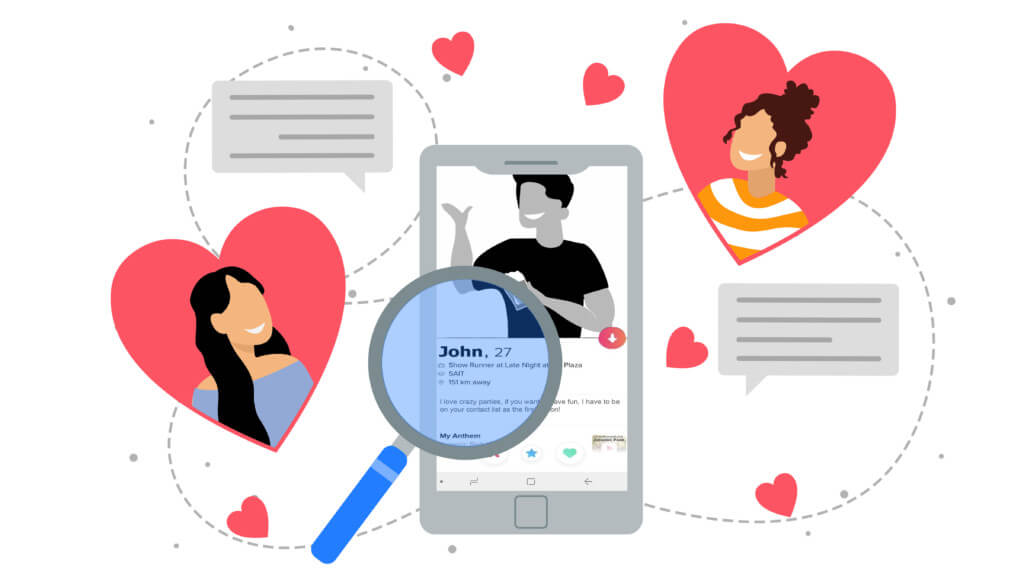 With a wide range of free features, Tinder has become the most popular online dating app in the world.
The ranges from people looking for a quick fling to Serious relationships. It is not only for hookups (like BeNaughty or Ashley Madison) or only for serious relationships (like eHarmony).
It is the first mobile dating application that featured swiping system,one of the amazing Tinder features, which allows you to easily go through the list of potential matches and find people you like.
Apart from that, Tinder has two separate premium plans, both adding something different, which could help you get more matches and manage them in a more efficient way.
With these plans, you will most certainly be able to find your perfect match, since Tinder has one of the largest membership bases out of all online dating platforms.
As an upgrade from Tinder Plus, Tinder Gold brings several additional features to the package.
Features that further enhance the experience and help people meet their perfect match easier and faster than usual.
There is total of two of those additional features that come with Tinder Gold premium package:
See who likes you
Top picks
See profiles that liked you
One of the most important goals of online dating is to help you find your perfect match, someone you might like, hook up and even have a serious relationship.
And Tinder allows you that, even if you are just a free member.
However, it can take some time and a lot of "try and error" matches to find the perfect match for yourself.
And there are some fake profiles as well, which can only prolong your waiting time.
Getting Tinder Gold might improve that and let you see every other member that liked your profile.
With that information, you can easily go through the list of people who found you to be of their liking.
It is a great way to get matches really fast, without having to guess whether someone will like you or not.
If you've ever used Tinder before, you know that it can be really tiring to swipe for more than 15 minutes in order to find someone that you really like a lot because, as said above, Tinder is the most popular dating app in the world, with the largest membership base.
One thing that could help you speed that process comes with Tinder Gold, which is Top Picks feature.
It is a feature that gives you several (4 to 10) potential matches, according to your preferences and previous likes.
That way, you will be able to pick mostly people that are more to your liking, without having to spend too much time swiping through dozens of profiles that you might not even like.
We've gone over two most important features that come with Tinder Gold membership.
However, since Gold membership is simply an upgrade from Plus membership, everything you get with Tinder Plus also comes with Tinder Gold.
Let's see what those features are.
How many likes do you get on Tinder?
As a free member on Tinder, you get 1 Super Like on a daily basis, which you can spend to show people that you like them a lot.
That would potentially increase your chances of matching with that person since they would probably be interested to open your bio and find out more about person who likes them a lot.
If you get Tinder Plus, as well as Tinder Gold, you will get a total of five Super Likes every day. That's five times higher chance of matching with someone, which is great.
It often happens that we can make a mistake when swiping for prolonged amount of time.
For instance, you may like someone, but swipe left, or you may not like someone that much, but accidentally swipe right.
One way to fix that is to use the Rewind feature that comes with Tinder Plus and Tinder Gold.
It allows you to go back to previously looked profile and correct your mistake, by selecting different option.
It is really great since it allows you to easily change your choice, thus, increasing your chances of meeting the right person.
Who knows, perhaps that person you accidentally swiped left might be your soulmate. You can never know until you try.
Do you like traveling and meeting new people from all around the world?
If you are that kind of adventurer, Tinder Plus and Tinder Gold offer you very unique and interesting feature: Tinder Passport.
Normally, when you create a Tinder account, you can only swipe people from your area or country.
However, with this feature, you can meet people from all around the world.
It allows you to change your location, thus unlocking profiles from other countries. This is perfect for people who like traveling.
Every so often, we've stumbled upon people who are looking for people just to chat to, in order to find out more about their country or culture because they want to come to visit that country.
With Tinder Passport, you can easily do this and meet a lot of people from all around the world, from which you can learn anything you need for your upcoming travels.
In order to get more matches, more people need to like your profile. But in order for them to do that, your profile must be visible.
How to see who liked you on Tinder without Tinder Gold?
Free Tinder members are usually shown not so close to the top of the queue, which lessens their chances of matching with someone.
With Tinder Plus, you get the Free Boost option, which places your profile on top of the queue.
That will make your profile more visible and increase your chances of being liked by other members, thus, increasing your chance of finding your perfect match.
One of the most annoying things about almost every online dating app is that there are tons of ads, which interrupts your experience and take more of your time.
So, instead of non-stop swiping, you have to stop and wait until the ad is done, which can be really annoying from time to time.
But, worry not! With Tinder Plus, you get Ad-Free experience, which allows you to swipe without any interruptions.
People who register on Tinder and don't upgrade to any of the premium plans get 100 Likes to spend every 12 hours.
So, they are somewhat limited and can't go through a lot of profiles.
If you upgrade to Tinder Plus and Tinder Gold, you will get unlimited amount of likes, which allows you to spend as much time as you want on swiping, thus increasing your chance to find your perfect match.
Now that we had covered all the premium features it offers in the Tinder Gold review, let's move on and discuss features that come with a standard free membership, which is, of course, part of the benefits of Tinder Gold.
A lot of dating websites have a lengthy and difficult sign-up process. However, Tinder is different.
It is very easy to register on Tinder and immediately start swiping in order to find your perfect match.
There are different options to register, which will be covered a bit later.
Even though most online dating apps can help you find people for serious relationships, as well as occasional hookups, nudity isn't allowed on Tinder.
So, you won't stumble upon any photos that show any nude parts.
You probably know how some online dating websites tend to send a bunch of spam emails to their members every day, alerting them to new matches, likes, etc.
Tinder distinguishes itself from the competition because it doesn't do that.
You won't be getting a dozen emails every day.
You will only get emails alerting you for important notifications, like when you match with someone and similar.
Since Tinder is one of the most popular online dating apps in the world, you can expect to see some fake profiles.
However, they are easy to recognize, since most of them don't have anything written in bio and their profile photos are usually a bit lower quality.
So, you can simply evade that kind of profiles and focus on trying to match with members whose profiles look and feel genuine.
One of the best features Tinder offers is its chat feature.
We could say that the app itself is built for two things: matching and chatting.
So, it doesn't surprise that Tinder's chat feature is excellent.
It works similar to other chatting apps, like Messenger, WhatsApp or Viber.
It is completely lag-free, so you won't have troubles using it.
As a special feature for students, there is Tinder U account.
It is made to help students meet each other in an easier way.
However, not everyone can use this feature, there are certain terms that you need to meet.
First, you must have an email that ends with ".edu".
Also, when you sign up for Tinder U, it has to be done from your school or university, so the app could set your location to that school.
After that, the app will only show people from the campus grounds.
So, you won't see any profiles from outside your university.
This is done as a security measure, so people from outside the university couldn't take advantage of that and make fake profiles to meet younger people.
Tinder offers a really neat feature, which allows you to set a badge on your profile that tells people that you are going to attend certain event in your area.
For instance, if there is a concert soon, you can select it and people who visit your profile will be able to see that you are going to attend that concert.
It is a really nice feature that can help you to find people who have similar interest as you.
This way, you will find someone you like much easier.
One of the features that are still in beta phase is Tinder Places.
It will allow you to see members who visited some places you tend to visit often as well.
For example, if you like to go to a certain bar or cinema, you will be able to see profiles of members who visited those same places.
This could also help you to find members who like the same things you like, making it easier for you to find your perfect match.
If you matched with someone, but after some conversation, you realize that person is not fitting for you, you can simply use "unmatch" feature to remove them from the list of your matches and prevent them from messaging you any further.
However, if someone gets to be really annoying, you can also block them and prevent them from seeing your profile and messaging you any further.
Multiple Gender and Sexual Orientation options
For picky ones, there are multiple options to select gender and specific sexual orientation. The list is really long, so there is something for everyone.
Tinder comes with a Smart Photo feature.
If you upload at least three photos, Tinder can automatically select the best one to be your profile photo because the first impression does matter.
You can write something about yourself in the separate "About me" section, which allows other members to see everything you write down.
It could help you get more likes and matches.
One of the great ways to show that your profile is not a fake is to link it to your Instagram profile.
Your Instagram photos will then be shown on your Tinder profile, without you having to upload separate photos.
Tinder feed is there to show you the latest activity of your matches. It works similar to Twitter, Facebook or any other social media.
A Tinder upgrade gives you access to all this.
Registering on Tinder is very easy and it takes only a couple of minutes to complete the entire process.
Tinder Gold doesn't add anything new in regards to registering.
After that, you are free to start swiping!
There are three ways of registering on Tinder:
By using your email address
With your phone number
By signing up through Facebook
If you use the first two methods, you will be asked to input some of your basic data, such as your age, gender, etc.
Over time, you won't be able to change some of that.
For example, if you say that you are 25, the app will show you are 25 even after 2 years.
To avoid that, you can sign up through your Facebook profile.
What's great about this is that your personal info, such as age, will automatically be shown and updated over time.
So, you won't have to type your real age in bio, like some other people do when they get older.
When you register, you will need to add some photos and after that, you can simply start looking at the other people's profiles in order to find your perfect match.
Tinder Gold is very easy to use, with several new interface additions, that are easily recognizable.
However, let's offer you some tips for using the app in general.
Ignoring profiles that might be fake – as said above, there are some fake profiles on Tinder. They are easily recognizable, so you should avoid them. However, if you match to some, and they send you some links, never open those links. Because no one in the sane mind would simply spam links.
Picking the right profile photo – always have 2 or more photos. They should be clear enough to see your face, as well as some of your figure.
Focusing on the 'About me' section – write something about yourself in the "About me" section to increase your chances of getting the perfect match.
Sharing personal information – needless to say, never share your personal information and stick to the Tinder chat until you meet the person on the other end.
Try to stay relaxed – stay chill, don't overreact and let the conversation go to its course. If it becomes too weird, feel free to stop though. No one likes to hear too many weird things in the first few days at least.
Now that we'd seen what are the features that come with Tinder Gold, let us examine the strength and weaknesses of gold membership.
Tinder Picks feature – can save you some time finding members that you will most likely be interested in.
Match without having to swipe – since you can see who liked you, you can simply check that list and see if you like someone as well. Then if you do, you can like them back and match instantly.
Boost and Super Like – with Boost and Super Like features your profile could be seen by more people, making it easier for you to get matched to someone.
Hide info and distance – you can hide your age and location, thus controlling what other people see.
Doesn't necessarily make you 'King of Tinder' – you still need to have good photos and interesting character.
You don't need to know who liked you – you can do that by simply spending more time swiping other people's profiles.
Some features you might not need – for example, let's say that you don't travel a lot. In that case, there is no need for you to use Tinder Passport feature, for which you've been paying.
When it comes to Tinder mobile app, Tinder Gold doesn't add anything specific to it.
Tinder is first made to be a dating app.
Later it was added as the web version.
When you upgrade to Tinder Gold, you will only see several changes in the app interface, which are easily recognizable and clear.
Can others see if you have Tinder Gold? No! But if you change your age or location, the arrangement will reveal your type of account.
Since Tinder is the most popular online dating application in the world, you can expect a very large membership base.
Let's see more detailed demographics.
Brazil – 14.68%
United States – 11.22%
Poland – 4.21%
United Kingdom – 4%
Germany – 3.77%
Tinder has over 57 million members from all around the world.
Over 4.1 million of them are Tinder Gold and Tinder Plus members, which means that you will have a very good chance of finding your perfect match by using this app.
So, how much is Tinder Gold?
Pricing on Tinder is a bit different than on other online dating platforms.
There are two different tiers, depending on your age.
The older you are, the more expensive it gets.
Therefore, Tinder Gold price for people under 30 years of age are:
1 Month – $9.99
6 Months – $52.99
12 Months – $82.99
On the other side, we have Tinder cost for people over 30 years of age:
1 Month – $19.99
6 Months – $90.00
12 Months – $120.00
The Chances of Having Success
Since there are a lot of people on Tinder, the chances of meeting someone special are very good.
Some people even found their soulmates and got married to people they met on Tinder.
Adding to that, Tinder Gold adds some neat features that could help you, find that special someone. But, the question remains: is Tinder Gold really worth it?
We have to say that Tinder Gold is not really worth the money you pay for it.
Yes, it can be helpful, but these two additional features don't justify the price in our opinion.
If you want to get more out of Tinder, you should pay for Tinder Plus instead, since it adds a lot more features.
Tinder Gold is only useful if you are liked by a lot of people since it would allow you to manage your Likes easier.
Sign Up – 5.0/5
Communication – 5.0/5
Search Filters – 4.5/5
Ease of Use – 5.0/5
Customer Service – 5.0/5
Safety and Anti-Scam – 5.0/5
Number of Members – 5.0/5
Overall Rating – 5.0/5
Frequently Asked Questions