If you are a Tinder user, you probably should've come across the Super-like feature – that was launched precisely in 2015.
Well, if you don't know about it, no worries.
In this article, I'll guide you through:
OFL Top Recommendations based on 100,000+ Survey

"Serious Relationships"
"Discreet Hookups"
"Best Course for Men"
"Quick Flings"
"Normal Hookups"
"Our Quiz"
At the end of this article, You'll surely become a pro on how to use Super likes on Tinder.
Let's go on the Super-ride together!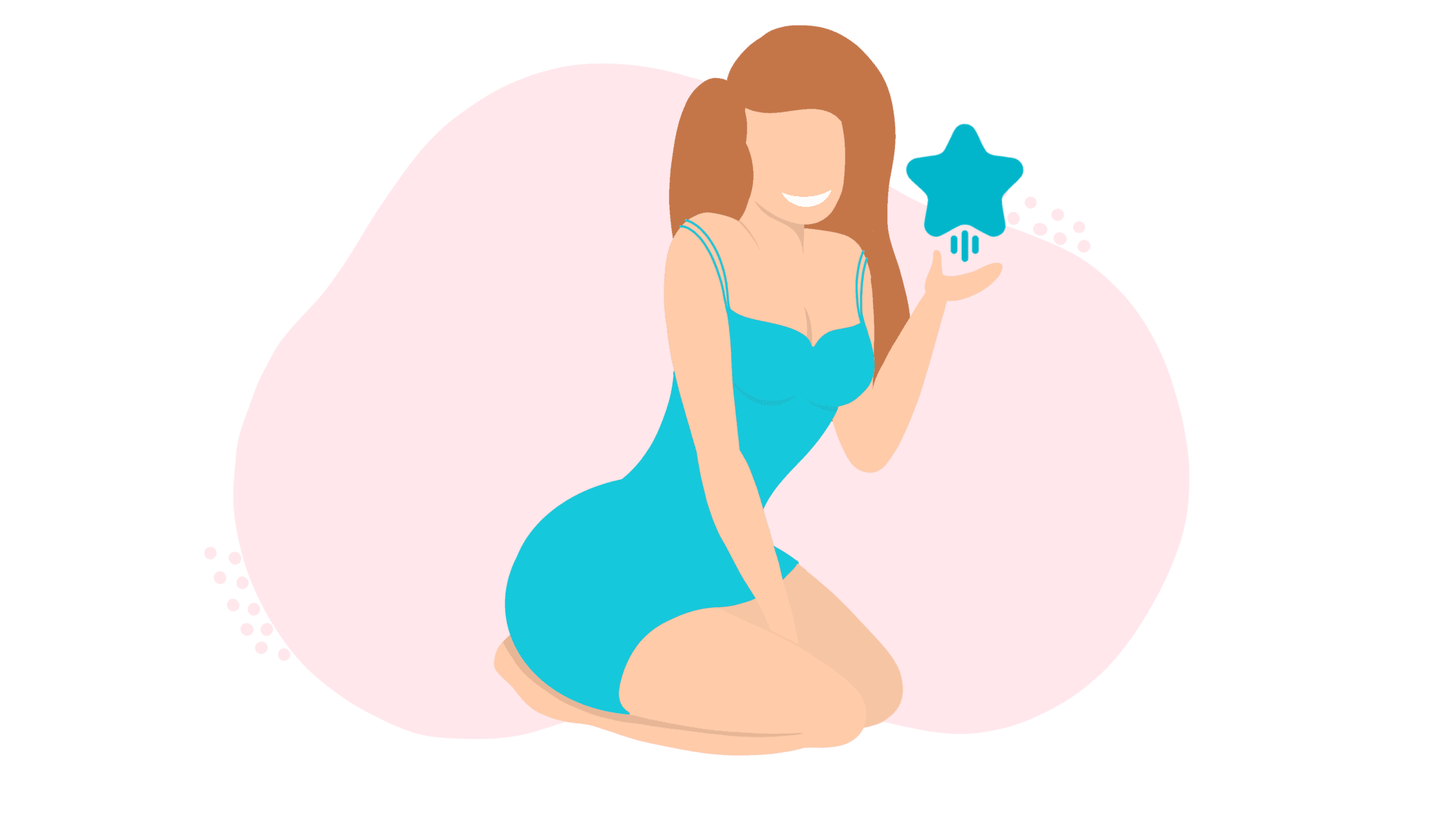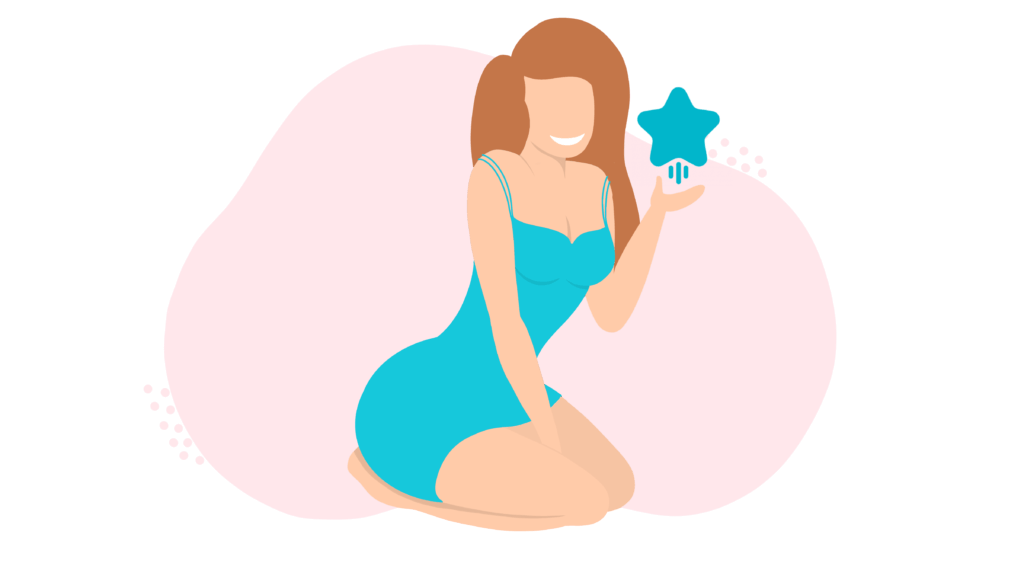 Tinder Super Like in Video Form
Audio (podcast) form for those of you on the go
What is it and what does a Super Like do?
Before we dive right into What is Super-like, let's talk a little about what Tinder is and why it has become so popular in the dating world today.
While there are apps that are solely for people seeking serious relationships (like eHarmony) and others that are only for those looking for quick flings (like BeNaughty or Ashley Madison), Tinder found a perfect way to cover both sets of people.
So, what are Super likes on Tinder?
Super Like Tinder is a feature (more like super swipe on Bumble) that allows you and enables you to express a special interest in a girl by Super Liking her instead of just plain liking her.
Super Liking on Tinder is done by swiping up on a profile that you think is deserving of a Super Like, or you can use the Super Like button.
The blue star on Tinder for super liking the profile is under the profile, right between the red X and a green heart.
Tinder Plus and Tinder Gold users can have 5 free Super likes, while free members, sadly, get only 1 daily.
If you need extra Super likes to send to all the hot girls that you fancy, you can always buy more.
OFL Top Recommendations based on 100,000+ Survey

"Serious Relationships"
"Discreet Hookups"
"Best Course for Men"
"Quick Flings"
"Normal Hookups"
"Our Quiz"
How much the package will cost depends on the offer, age and location, but the great thing about them is that they do not expire like the free ones, so you can use them whenever you feel like it.
How to find out who super liked you on Tinder?
Just as you can use the super like on a girl's profile you think is hot, girls can Super like you as well.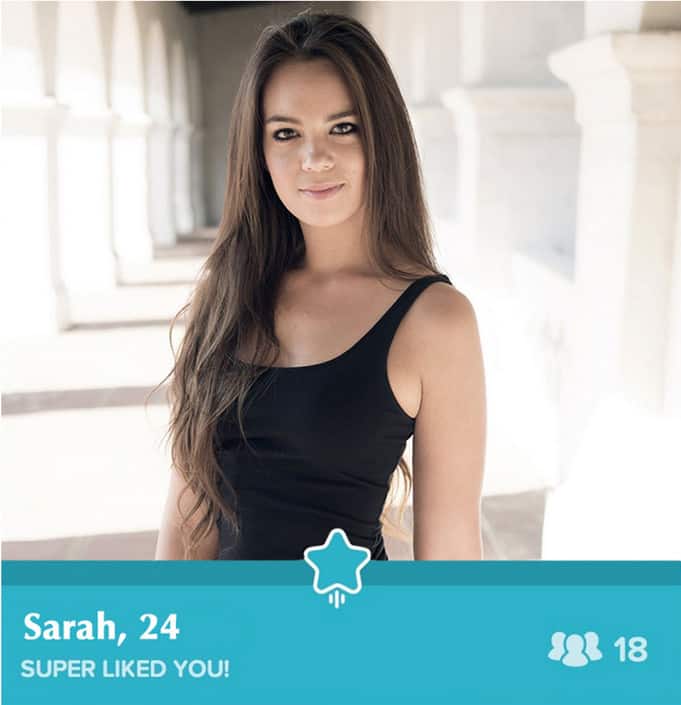 To use the Super like you need to know how to see who super liked you on Tinder, and this is not something you need advice and hacks for.
It is right there, staring at your face.
If you Super like a girl, she will be informed that someone has Super Liked her.
When she taps on the notification, she will be taken to the swiping deck of the profiles she would usually get as the day's pick, and there you are at the top of her deck, with a blue frame and a Tinder blue star, catching her attention.
She will not be taken straight to your profile, but the feature will help you be on top of her list, so you are sure she will see you.
Also, she is supposed to be swayed by the fact that you have chosen her to spend your only Super Like on her and get you an immediate match.
What does super like mean on tinder?
The idea behind Tinder blue star icon is that the exclusiveness of the Super Likes provided by their scarceness will make potential matches on the receiving end of the Super Like feel special and that the action will cause you to match with her.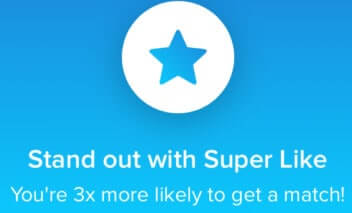 Tinder claims that using Super likes improves your match rate three times and that it makes your conversation 70% longer which sounds great, but is it all just milk and honey, or are there some 'threats' to using the Super Like button?
Continue reading this guide to help you become the Tinder pro you have always wanted to become.
Before I go over the pros and cons of using Tinder's blue button, let me tell you what you can do if you accidentally swiped up on a person you wouldn't even use your right swipes on.
Plus, what is the Super Likeable game?
If you want to get your Super Like back because you have noticed a better match, or you have Super liked, say, your boss (ugh!), by accident, you can use the yellow arrow button to take back the last Super like.
That super-like rewind is a premium feature if you are a Tinder Plus or a Tinder Gold user.
Otherwise, on a non-paying membership, you can only endure the embarrassment in the boss scenario or just not engage in conversation with the girl you accidentally Super Liked (or you may try and give her a chance, if, for nothing else, then because Tinder algorithm likes when you engage in conversation with your matches which improves your rating).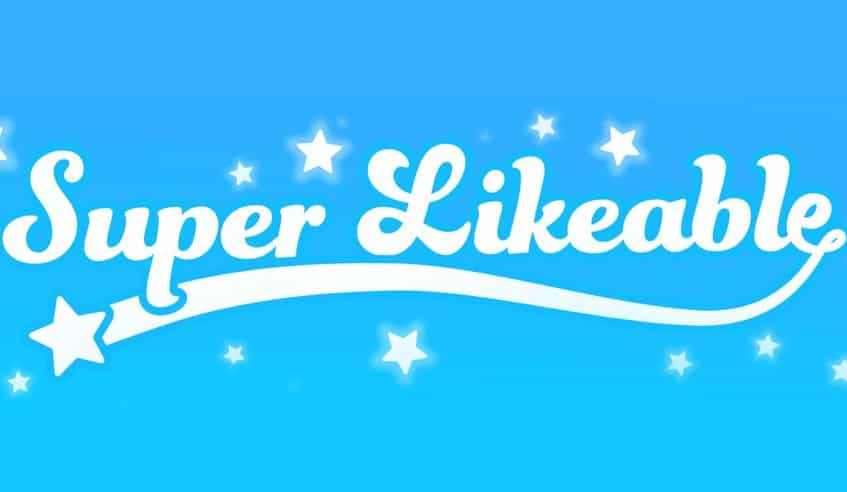 When it comes to The Super Likeable game, Tinder is about this:
It is a relatively new feature (2018) compared to the Super Like, and it is a Tinder activity where you get 4 profiles to choose from to Super like for free (on top of the free Super like you get daily).
You can, sadly, super like only one of those 4 profiles.
The profiles offered to you here are supposed to be the profiles tailored for you, those who the Tinder algorithm thinks you will like.
This may raise your chances at a match, but if you can't right away decide which one you like, or you would otherwise swipe right on all of them, too bad, but you can't since the other three profiles are automatically swiped left.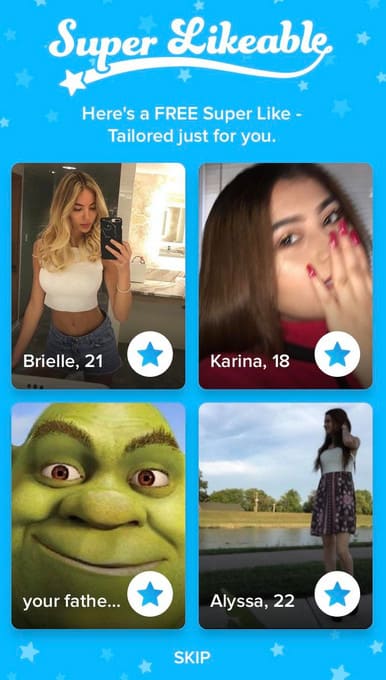 If you do not want to miss out on the three girls deemed undesirable for a Super like, you can skip the game altogether.
Now, let's weigh in on should you and how to use the Super Like feature.
To super like or not to super like?
Now that you know how do super likes work, it's time for you to decide whether you will use it or not.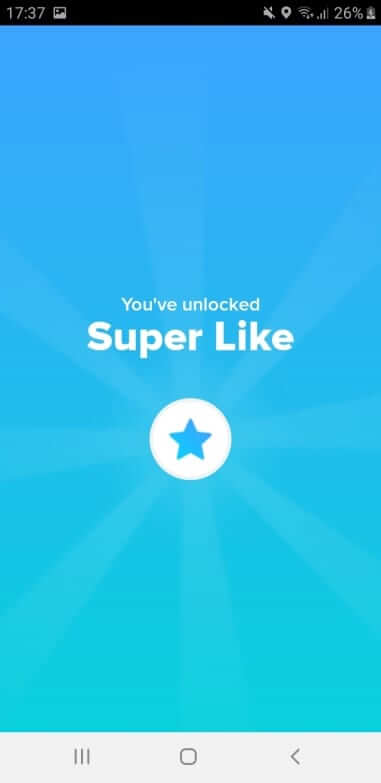 As I have already said, public opinion is divided- some swear by it while others claim it is completely useless.
I think that both sides are actually right at the same time since it depends on how you use it.
Do I have an answer to this dilemma?
Damn right, I do!
Have you used it?
Are you here looking to find a cure for the tragic score you have been having on Tinder since you bought a Super Like package and now you are desperate for the investment not to become futile?
Are you new to Tinder and looking to know all the tips and tricks before you actually make any decisions?
In any case, here's me, coming to your rescue!
Before I tell you exactly what to do to get the most use out of Tinder super like, let us take a look at both sides of the never-ending argument.
Here it goes.
Tinder and Tinder representatives say that the Tinder Super Like has improved the online dating experience of its users.
They claim that it raises the match rate 3 times and that the conversations started after super liking someone is 70% longer and result in an actual date more often.
What happens when you super like on Tinder is this: you show more than regular appreciation for the girl you are swiping on, and this should make her feel more special, if nothing else, then because you only get 1 (or 5 for paying members) super like a day, Tinder thinks.
They base this assumption on the basic nature of human needs, especially emotional ones.
We are, as a species, inclined to like the people who like us, and not like the people who do not.
Take this as an example: You thought that John Doe is a decent fellow only to hear that he has been badmouthing you behind your back.
Not so decent, after all?
Your attitude towards this guy changes even though this may or may not be true.
Also, if you do not have a very high opinion about someone, and they for some reason like you, and express that, over time, you will start to like this person, or at least think they are quite ok.
And this is quite normal.
We do not like rejection and sometimes even hold a grudge, while we thrive on attention and what comes with it.
This is the basic idea behind the super like – Hey, this person likes me enough to send me their only super like for the day, so they must be cool!
In theory, yes.
The attention, the exclusiveness, and the flattery are what might make a girl more inclined to swipe right on you.
It goes with the IRL needs and tactics that work on your average girl, so why wouldn't it be the case of Tinder and its beloved blue star?
Another thing why Tinder swears by the Super Like is the fact that they take both girls and guys on Tinder into account, which statistically is the right way, but for us guys, it makes little or no effect.
Why is that?
Girls almost always get a match after they Super Like a guy, but then again, they get it even with the regular like as well.
Guys are not that picky as girls.
So, if a girl gets a match 90% of the time, a guy will get it only 10% of the time.
It is harsh, but it is true.
This is why we need to master all those tactics and strategies to get Tinder success.
Anti attitude: do not use it
So, the majority of the public thinks that the blue star is completely useless for getting more Tinder matches, although Tinder swears by its effectiveness.
Just ask around, ask your friends who are on the app.
How many of them will say that they have gotten a few matches thanks to Super Liking a girl?
Well, maybe a 9 out of 10.
I agree this is not a good rate, so why the hell am I here, writing about this subject?
Bear with me and you will see, but let me tell you the arguments of the Anti fraction of the public.
The first argument is: There is no effect.
And, as I have already said, that is true in the majority of cases.
You tapped on the Tinder Blue star, yet nothing happened- there are quite a few reasons for this, the most important being the fact that your profile is not so great and that you have been shooting too high.
Do you really think that a girl who looks like Blake Lively would go for anyone short of Ryan Reynolds look-a-like? Nope.
The next argument is – Neediness.
Many girls claim that sending a super like expresses not the fact that you actually really like them, but the fact that you do not have enough self-esteem to simply swipe right and get her attention the regular way.
Of course, this attitude goes higher the less attractive your profile is.
She would forgive you for the neediness and pushiness (at least at first) if you look good.
And this is not something I have made up.
I asked many of my girlfriends about the Super Like, and the large majority of them share this opinion: Super Likers (guys) are needy and probably really ugly.
Also, instead of feeling flattered because of it, the girls tend to feel offended, and they wonder how can someone say they really like them based only on a few pics and sentences.
They feel reduced to only physical appearance.
Verdict on Tinder Super like
Upon the review of both pro and con arguments for using the Tinder Super like, and after months of research and using different techniques for maximum benefits of this feature, I must say I find myself somewhere in the middle.
I can neither say it works wonders nor that it is completely useless.
Diplomatically, I will say yes, it can be useless, and yes, it can do wonders, the result of your success depends not only on the Super Like's features and what it brings but on the way you use it as well.
The key to dominating Tinder with the Super Like button is in knowing when to use it and not whether you should use it at all.
If it weren't getting any success to Tinder like those against the feature say, they wouldn't keep it for so long.
So, there must be a way to master it.
Luckily, I am here with the answers.
The first thing you should pay attention to (this is important regardless of the Tinder features you use or analyze- be it the ELO score or the overall success, this goes) is your profile.
I have already said that the chances are only slightly, slightly higher, that a girl would swipe right on you just because you Super Liked her, especially if she wouldn't do it, even without the super like.
Here, the profile quality is immensely important.
If it is attractive and interesting, it will raise an eyebrow or two, but if it is not, there is no amount of Super Likes you can send that will get you that match you so desire.
The quality of your profile, or how attractive it is may and may not have to depend on your actual physical looks.
Even if you are not the most handsome guy in the world, or you do not have the world's most symmetrical facial features (for example), you can still present yourself in a way that will appeal to women.
So, what does a good Tinder profile possess?
The number one is a good quality profile photo, and then all the other photos should be in the same quality range because many Tinder coaches agree that the profile is as attractive as its least attractive photo.
So, forget photos that are: blurry or low quality, bathroom selfies, photos of/with your pets, group photos (especially if there are people on it who are objectively hotter than you), photos where there is no face showing, and so on.
Ask a friend to lend you a hand at taking the photos, or at least to help you pick out the best ones.
If that is not something you would do, there are websites where you can have strangers on the internet evaluate your photos, and you can be sure they are objective.
Another thing is the good bio since once you caught her eye with great photos, you need to give her an idea about your personality.
Saying something basic about you in a few theses along with a joke is the way to go.
Avoid long, essay-type texts, avoid complaining and coming across as desperate and needy or someone who has not seen a girl in his bed for ages, and also pay attention not to come off too strong, crude, and off-putting.
If she likes your profile, the chances are higher that she will swipe right on you rather than give you a left swipe after you've Super Liked her.
The upside of the Super Like is in the fact that you will become more visible to her, so she is more inclined to stop and look at all your photos and read carefully through your biography than if you didn't send her the Super Like, and even more so if your profile looks good.
Choose the Girls to Super Like
The next thing to think about, and, in my opinion, this is the crucial part, is the type of girls you want to Super Like and it largely depends on the previous point, and that is the quality of your profile.
Let's say your profile is average – give it a 5 out of 10 in the ELO score, for example (works for all profile qualities though), there are the scenarios:
Yes, you can Spend your Super Like on an average-looking or homely-looking girl (say her profile is 3/10), she might feel flattered and grateful for it and match with you, but will you actually like to chat with her and eventually take her out?
If so, go for it!
The next thing many of the guys on Tinder do is they send the Super like to the girl who is way out of their league, say a 10/10.
She gets so many regular and super likes a day that you as an average will not stand out to her, and the super like has lost all its initial power.
You should actually send Super likes to the girls who are slightly hotter than the girls you are currently seeing on your profile.
So, if your profile is a 5/10, you will be seeing girls who are also in this range, what you should do is look for slightly hotter girls, say 6s or 7s.
You will catch their attention as you will not be so below their regular offer, that she might consider swiping right on you.
Besides getting a match, there is another upside to this tactic: if hotter girls match with you, your ELO score will grow and you will be able to repeat the strategy, now with an 8/10 girl.
Do not let me confuse you, you can never know your ELO for sure, but after a while on Tinder, you can deduce where you are at, by the quality of the girls you are seeing.
With this tactic, you will not get ten matches out of 10 Super Likes that you have sent, but you will improve your overall performance.
So, in the end, whether you decide to follow my successfully proven guidelines for using the Super like or decide to take the more conservative approach and use only the regular swipe, I hope you will have a lot of great matches and dates.
You do not have to be afraid to take some risks with the Super Like feature.
The most important thing to do is to keep your profile well-maintained and spend Super Likes sparingly- only on those girls you do actually really like making sure that they are just above the girls' profile quality you usually match with.
Happy swiping!
Frequently Asked Questions