How effective is Tinder Elo?
This article is a perfect guide on how to use the Tinder algorithm to get a perfect match.
Get ready to receive key insights into the following:
OFL Top Recommendations based on 100,000+ Survey

"Serious Relationships"
"Discreet Hookups"
"Best Course for Men"
"Quick Flings"
"Normal Hookups"
"Our Quiz"
At the end of the article, you would have learned how to use it to your advantage.
Let's dive right into it!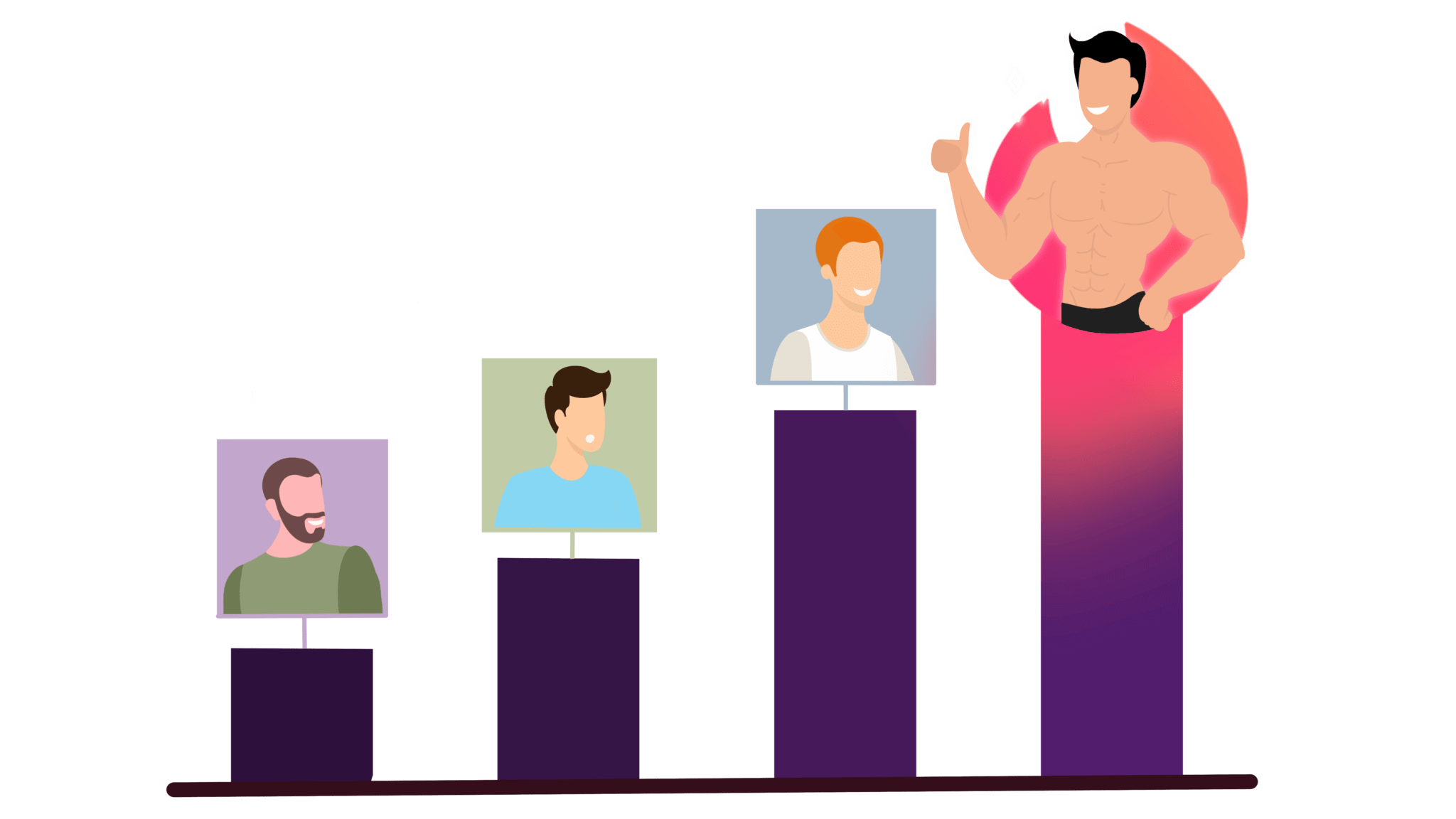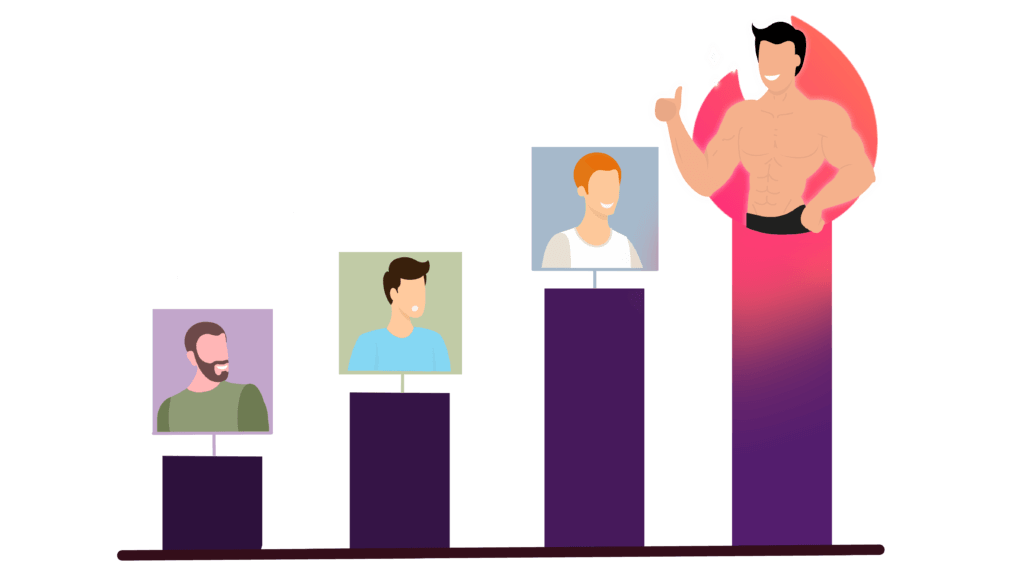 Tinder Elo Guide in Video Form
Audio (podcast) form for those of you on the go
Before I start explaining how Tinder works, and what are the ways you can learn how to make the Tinder algorithm work for you, let me tell you a few interesting things about the history of Elo score Tinder has used to rate your profiles.
Tinder Elo rating system is not a new thing invented only to make your online dating troublesome or easier.
In fact, it sets Tinder apart, considering that Tinder is considered to be an all-around dating site when compared to casual dating apps (like BeNaughty or Ashley Madison) or those for serious relationships (like eHarmony).
The Elo system is actually taken from a rating system used in chess, video and board games, Major League baseball, and other multiplayer competitions.
It is used to rate competitors and help make predictions on who would win.
Also, the competitor's rating changes based on who they defeated and who defeated them.
Let's take the NBA as an example.
In the last few years, Golden State was at the top of its game, and Charlotte Hornets, well, not so much.
OFL Top Recommendations based on 100,000+ Survey

"Serious Relationships"
"Discreet Hookups"
"Best Course for Men"
"Quick Flings"
"Normal Hookups"
"Our Quiz"
When predicting the outcome of the game played between those two teams Golden State will have more chances, according to Elo.
If Golden State actually wins, a few points would be taken away from the Hornets.
However, if the Hornets won, a lot of points would be taken from the Golden State because the winning was against the odds.
This is an oversimplification, of course, as the actual scoring system has a much more sophisticated approach.
As guys, we get things better through sports metaphors, so I will later rely on this analogy to explain how does Tinder's algorithm work.
Another interesting thing is that you can find Elo written like this (Elo) or ELO, both are correct, as it is not an abbreviation, but the last name of a physics professor Arpad Elo who invented this rating system.
Now, let's start explaining the Elo score Tinder and make your online dating experience run smoother than ever.
Elo scoring system was implemented into online dating apps, not only Tinder accounts, to determine who will be matched with whom.
It is otherwise known as the desirability score.
The higher your Elo score is, the hotter and more desirable you are.
At least on Tinder, as this may or may not reflect your real-life attractiveness (physical or personality-wise).
This is just how Tinder sees you, or better said, how it sees the quality of your profile (pics & bio) and your in-app behavior that affects the Elo rating. (I will get into details later).
A high Elo score translates to higher chances that you will get a match and that it will be an attractive girl and not a soccer mom (unless soccer moms are your thing, in which case, knock yourself out!).
To conclude, this mathematical algorithm decides whether you will have a date this weekend or whether you will stay home alone, playing solitaire.
Let's see how the Tinder matching algorithm works in real life.
Elo algorithm: How does it work?
Let me start with this, you can never know your exact Elo score, but let me try and explain how it works in the simplest way I can.
The ranking is similar to that of Chess players – but not many of us play Chess anyways, so I'll still try to give a better explanation.
Let's assume that Tinder gives each of the new members an average Elo score- let's say 500 points- the moment you join tinder.
All users with a point score over 500, and especially about 20% of users who have 800+points, are considered hot, and all the others are considered unattractive.
Do you want to be in this top 20% but would settle for the top half of the users? I have two things to say to you:
One- of course you do, and two- why would you settle?
I have done extensive research on how do you get a match on tinder, on many, many test profiles that I am completely confident that these next few points that I will try to bring closer to you are what will surely affect your Elo score.
This first point I have found out mainly refers to the guys, which means that it is actually us who lower our chances at a date or a hook-up (let's face it, it is the same in real life too).
It seems that the girls are more selective, to begin with, so they rarely have to control their impulse to swipe right on every person that is shown to them.
Research shows that about 90% of guys tend to throw right swipes on all of the girls they see, hoping that it will up the number of matches.
And this is a tactic employed early on by many Tinder users (mostly guys), maybe even two or three days after joining the app because it is then when the initial noob boost stops, and the match number falls.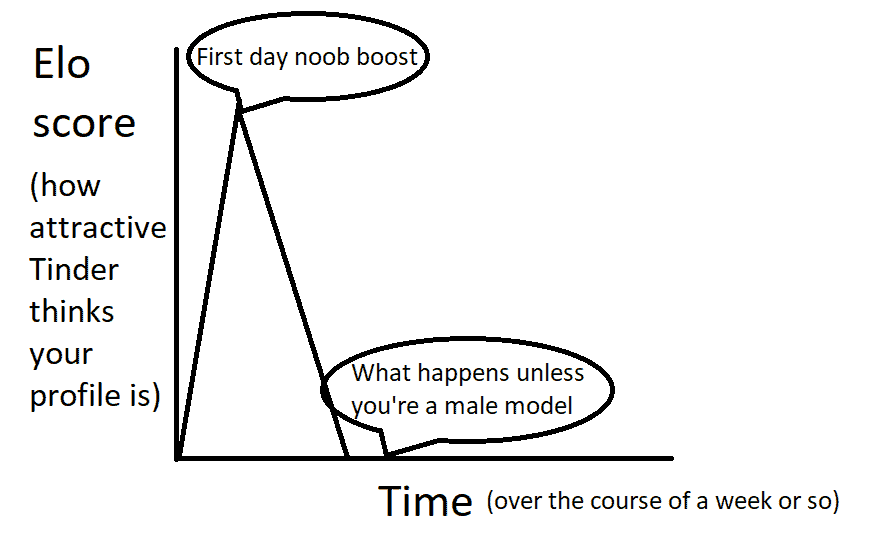 Swiping right on anything with boobs will increase your match number but only for a short time.
Why is that?
Tinder will punish you for having low standards, and this may result in a lower score on the Elo board.
Why will it show you the profiles of the most attractive girls on Tinder when you are perfectly happy with swiping right on less attractive girls?
Even if it occasionally shows you a hot girl, the chances of matching with her will be much lower, and generally hot women will be scarce.
So, instead of being freaked out because you are not getting quite as many matches as the first day you joined be selective at who you swipe right on (but do not be a hater and do not swipe only left, either).
What you should do is swipe right on girls you would actually like to talk to – either as potential matches or have drinks with them in real life.
If you wouldn't date a 100kg wrestler do not swipe right- simple as that.
Another thing Tinder pays a lot of attention to is the swipe-to-match ratio.
If you swipe right on 10 girls and 6 of them match you, it is a good ratio while 3 out of 10 is not considered a good ratio.
So, selective swiping improves your swipe-to-match ratio using simple logic.
If you like 100 girls the chances that 60 of them like you back is almost possible, the possible scenario is maybe, but only maybe 10 of them will match you.
You can see what this does to your Elo score – so you've to be picky with your right swipes.
A great way to improve your swipe-to-match ratio is to invest in Tinder Gold.
In that way, you will have the option to see who swiped right on you, swiping right on those girls will be an instant match, and you can get a 6 out of 6 ratio – which is perfection.
You can find Tinder top picks when you press the gold Tinder logo and it will show you all the girls who already liked you.
Profile quality plays a huge role in forming your Elo score.
I have already said that Elo rates the attractiveness of your Tinder profile, not yours per se.
So, even if you are a male model and objectively are handsome as hell, if you post a toilet selfie or something similar, your Elo can be lower than you would expect.
The fact is, Tinder does not know you personally, so you should make your case the best you can.
There are guides on how to handle this photo conundrum in order to improve your Tinder experience so check them out.
Also, the way you complete your bio plays quite a role.
In any case, no girl wants to spend the evening with a self-pitying guy quite out-front claims that he is either pathetic, or bored, or sad.
On the other hand, an intelligent guy with a sense of humor has a plus from the beginning.
So, pay attention to what you write here, also update it from time to time, just to keep the gals on their toes.
Not only the quality of your profile will affect your Elo score but the quality of the girls who swipe right on you as well.
The better their profile, the higher their Elo the more Elo points you get when they match you.
Let me remind you of the sports analogy from the beginning: If a girl equivalent of the Golden State likes you you get more points than if a girl equivalent of the Charlotte Hornets likes you.
For the Golden State girls to like you, you have to be GS material, so do not be lazy and work on your profile.
Simple as that!
This is the answer to "how does tinder matching work?"
Let me say this first.
No amount of great photos will ever bring you matches if you are not active on the app.
This does not only go for the peak hours in the evening, or Fridays and Saturdays when everybody is looking for what (or who) they are going to do during the weekend.
The activity entails that you need to be active at least a few times a week, or even a few times a day.
That does not mean that you need to dedicate all your free time to swiping on Tinder but pop in every few hours, swipe for a minute or two, answer to the messages you have gotten, add something to your bio.
Use your commute time for this, and even change location because maybe there will be a hot girl on the metro station, or change location to your favorite coffeehouse when you are on a lunch break, and again swipe for a couple of minutes.
Another thing you can do to boost your Elo and increase activity is by adding photos and information to your bio.
It shows Tinder that you are invested in using the app and this will encourage it to show your profile to more attractive girls.
Otherwise, why would it bother? You are not there and the match is practically wasted.
The next thing that you should do which will help your Elo grow (and this also has a big psychological effect on the girls) is responding to messages the sooner you can, and engaging in conversation when you get a match.
Do not wait for hours to reach out to the girl who matched with you.
If she matched, she's there and obviously ready to chat, use that before another guy swipes in.
The girls usually have no issues getting matches.
First of all, there are fewer of them than us, and second of all, they are pickier.
So if you make her wait, you risk turning her off – she does not need to wait for you because she has a lot of options.
Your taking time to answer or reach out can be interpreted as a lack of interest, and that is a turn-off.
Once again, it pays off to be active with using Tinder.
If you have a new account, you will most likely not have problems finding matches because you'll be assigned an average Elo score by Tinder.
When you know how do Tinder matches work, you need to know why it sometimes happens that the matches go scarce or disappear completely.
But over time, you might resort to paid options like Tinder Boost or Tinder Plus to help highlight your profile and give you access to more "Super likes" respectively.
The most frequent reason is doing everything the opposite of what was mentioned in the previous section which means being inactive and unresponsive, swiping only right, and keeping a bad profile.
Luckily for you, you know how to fix those and gradually build your Elo score again.
It is a slow process but it is fruitful, especially in the long run.
You will not get many instant matches but Tinder will see that you are improving and build up your score.
You will notice that this is happening when the girls that are shown to you become hotter.
The other reason for a smaller number of matches is that you have actually run out of the girls who are close to you which can happen, depending on the population, in about a week or two, or even 6 months to a year.
Can you boost your Elo score?
So, the solution to getting more matches on Tinder, or better matches is restoring your Elo score.
Regarding this, the most frequent question I get is: "Can I know my Tinder stats?" which translates to "Can I know my Elo score?" and the answer to both is – sorry, but nope.
Tinder would not allow you to know your Elo score.
What you can know, however, is your Elo score the moment you join Tinder, or right after you reset it, because Tinder assigns you an average score at that time.
Whether you go higher or lower than that depends on your swipe-to-match ratio, the quality of your profile, how invested you are in using the app, and how quickly you engage in conversation with your matches, and I have already talked about that.
To make the self-diagnosis of your Elo score, take a look at the profiles that are shown to you.
Are they hot?
If they are, chances are that your score is quite high, and Tinder considers your profile hot as well.
In that case, unless you have gone through all the women you would actually date, do not reset your profile.
If the profiles are not hot, maybe it is time for a reset and a chance for new and hotter matches.
So, resetting your Tinder profile and restoring your Elo score is kind of a fresh start for your profile.
It can be very useful when there are no more girls who would match you because you have gone through all of them in your area.
How fast this will happen depends on how many girls are actually in your area, and how many of them are using Tinder.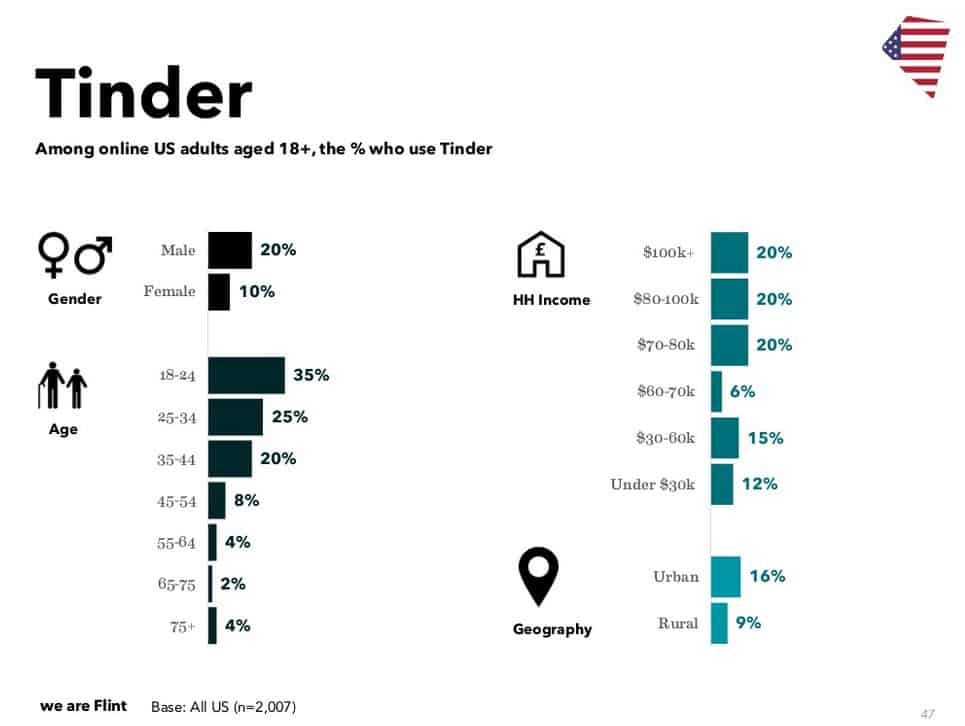 Resetting the profile, especially if you have previously re-vamped your profile and changed your photos can make girls who have previously swiped left on you swipe right this time.
This is because girls tend to remember the general appearance of the profile, not the photos themselves, so change them up a bit and wait for a miracle.
Another thing that makes resetting your profile beneficial is the noob boost you get in the first 24 hours you spend on the app.
After you have gathered all the knowledge and experience, you can use that time frame to set the foundation for a great Elo score from that moment on.
The noob boost makes you more visible to the other users (to keep truly new users on the app by giving them more matches) and sets your Elo on the average score so you can go either way.
Do not think, however, that I will give you a magical solution to your Tinder problems and that you should relentlessly exploit this option without any consequences or penalties from Tinder.
Everything in moderation, and restoring your Elo score falls under the same behavior.
Why? You may ask…
Well, resetting your Elo score can be beneficial in the before-mentioned cases, however, it can cause Tinder to see you as a bot and shadowban you – which will actually be counter-productive for you.
When you reset your Tinder profile to get Tinder new matches way too often, Tinder will actually not show your profile to other users while, on your part, everything will seem normal- you will see other users, and be able to swipe.
Not one match will come your way, sadly, because other users will not have any notification that you exist in the app.
This is shadowbanning and it happens as a punishment for inappropriate Tinder behavior.
To sum up, do not go wild at resetting your profile to restore your Elo – this is not how to increase Tinder Elo.
Do it once or twice a year, tops!
What is this talk about Tinder's new algorithm/ranking system?
Is it true, how does the Tinder matching system work, and did you just learn everything about Elo only to find the knowledge completely useless?
Let me answer all of your questions.
Yes, starting from the middle of March 2019, Tinder has announced that they started using a new ranking system that determines your matches (i.e. who sees you, who do you see, etc.) because the Elo ranking system was effectually flawed in some aspects (more on that later).
What has changed from the Elo ranking system is that it now pays much more attention to your location and the time when you use Tinder (which was a factor before also, but now more than ever).
But I will get into more details in a minute.
And no, your Tinder Elo knowledge is not useless.
There are two reasons for that.
The first is – Tinder will still use Elo ranking to some extent to rank the quality of your profile (regardless of which girls see you), and the other one is that Tinder will implement these changes gradually – in some regions and not all at once, so it will take some time for the new ranking system to take off completely.
Let me explain the key notions here.
I have already said that the Elo ranking system was flawed.
However innovative it was for ranking tournaments it showed it had some issues when used for dating apps.
Why is that?
Okay, ranking by desirability is a good thing, that is, it is a good thing if you are desirable (or, to be correct, if Tinder finds you desirable).
But what about if you are not as desirable as Tinder would like you to be to place you in the tinder top picks?
You would most likely be unsatisfied with your performance and with the app itself, which will then motivate you to delete your account and go back to old-school, real-life dating (which is okay, however challenging).
Otherwise, it will make you pay for a subscription to another dating app (which is something Tinder would, logically, like to avoid as much as possible).
The trouble with the Tinder Elo score is that it provided only about 20% of guys with the opportunity to match with (or even be visible to) hottest (or even decent-looking) girls.
The other 80% of guys ended up being matched with or visible to below-average-looking girls, which was a major downside to online dating because nobody wants to spend time and money on some uggos.
With this system, the majority of guys who are not as adept at dating anyway did not have an edge over the hot guys who probably do not have a lot of problems getting laid or finding a GF in real life, to begin with, and Tinder is only making their lives easier.
What Tinder did is that it evened the playing field with these new ranking points, so that the guys who would have previously ended up in the infamous 80% could have a chance at chatting up hot girls.
Making the playing field even was made possible by putting more emphasis on the location settings and the time you are being active.
It all sounds familiar already as there are researches done on both previously, and it is well known that using Tinder at certain hours of the day increases your chances of getting matches.
But what has changed?
Location
Generally, location settings are usually up to 20 kilometers, but you're usually shown girls that are up to 10 km away from you, just to increase the chances of you meeting her in real life.
Now, Tinder tries to show you girls that are up to 3 km away to increase your chances of meeting her.
The same goes for girls, they will now see guys' profiles that are geographically close to them which will eliminate the issue of setting up a date and including the time you would need to get to her no the date-planning. (Studies have shown that girls prefer geographically closer guys than those who are not as close to them.)
An 8 km radius is quite big, and although you would get a pick at more girls, your competition would be bigger as well.
Take this as an example:
You are an average-looking college student living on a college campus, and you are surrounded by hundreds if not thousands of hot girls who are on Tinder as well.
Your competition before Tinder reduced the radius of girls that were shown your profile was a model or a hot bartender, or a sportsman living some measly 5 km away from the girl you might match with.
Who would she pick?
Unless she has a thing for an average-looking college guy, she would probably pick him.
So what changes should you expect and what is the impact on your dating experience?
There are two possible scenarios:
1. You are the average Joe and your match rate rockets.
or,
2. You are the hot model, and your match rate decreases purely on location merits.
Time
Even before, the timing of your Tinder interactions has played a crucial role in your Tinder match rate and improving your Tinder score.
The best time to use Tinder was early in the evening (6 pm to 9 pm) because it is when the majority of girls are active.
Now, after the changes have been implemented, you can use Tinder at any time because your profile will be shown to the girls who are also active.
E.g. If you can't sleep and decide to go on Tinder at 4 am, your profile will be shown to the girls who are also active at that time regardless of how they look and how above (or not) the average they are.
You are less likely to be shown to the girls who were active around midnight, for example.
This new strategy should improve your success because according to studies of in-app behavior, users are more likely to initiate messaging if they can get an instant response, rather than waiting for hours before they get it.
Is Elo becoming obsolete?
This brings us to the third concern, and this is Elo's score knowledge.
Are you confused at why we have made this text and had Tinder Elo explained to you, only to tell you that it does not work like that anymore?
Yeah, I get it, but do not worry, it has not become obsolete.
Whether you belong to any of those two groups, either those who gain or those who lose due to this change, you want your profile to have a good Elo score to keep your Tinder rating in check.
So, the basic guidelines I have told you about Elo Tinder scoring still counts-swipe to match ratio will still play the role, reset Tinder Elo as well, how good your profile looks, and so on.
So do not go rampant swiping right to any girl who has a profile on the app, otherwise, you will not have the chance with a girl, even if she lived right next door in your dorms.
So far, so good, let's check out some FAQs you might still have concerning Tinder Elo…