Hi guys, welcome to our detailed guide on how to delete your Tinder profile.
In this article, we'll share useful insights with you about the following:
At the end of this article, you'll be able to decide if you still want to delete your Tinder profile or not.
OFL Top Recommendations based on 100,000+ Survey

"Serious Relationships"
"Discreet Hookups"
"Best Course for Men"
"Quick Flings"
"Normal Hookups"
"Our Quiz"
Let's get started!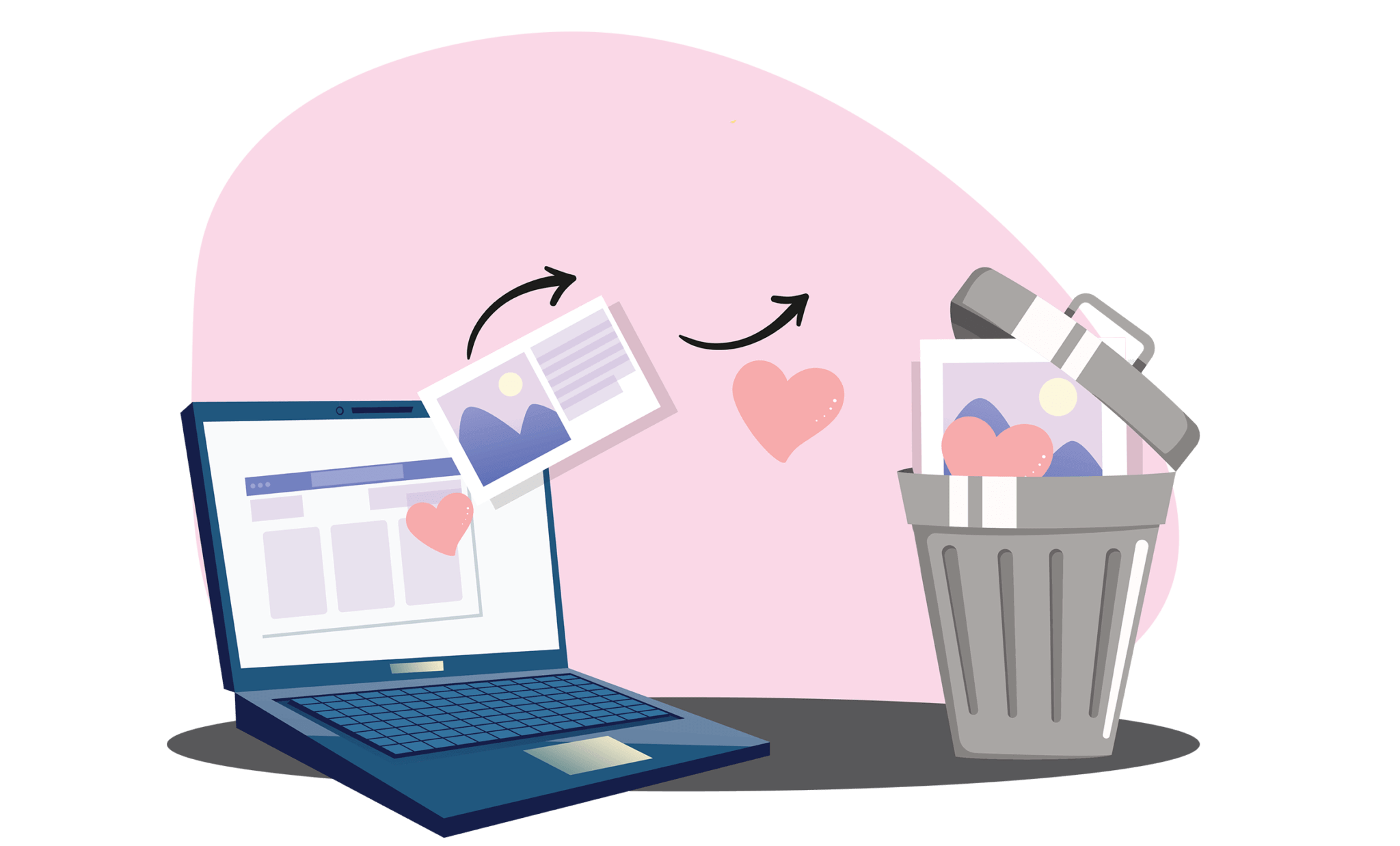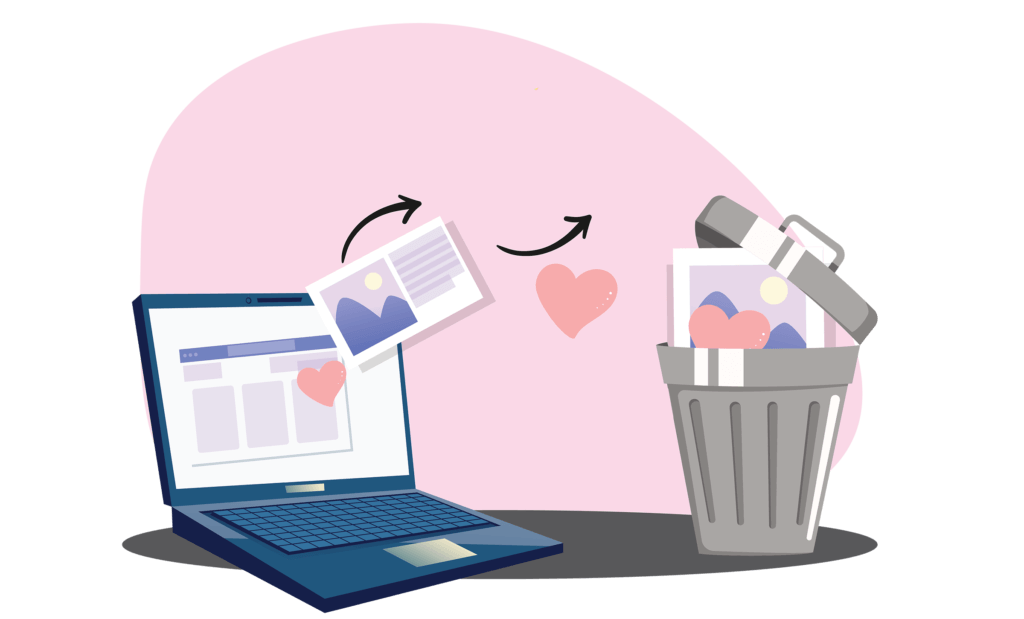 Tinder is a quite popular app that has been around for a few years, and sometimes people just get tired of it.
Tinder is not just a hookup app like BeNaughty or Ashley Madison, neither is it just an app for those seeking serious relationships like eHarmony, it ranges from those seeking quick flings to people seeking life partners.
Maybe You've been on some good dates and a few quite bad ones on Tinder.
After a while, you may be wondering would you click better with someone outside Tinder.
Before we talk about how to permanently delete Tinder, let's take a look at some of the most popular reasons behind this decision.
1. You aren't seeing any new people
From our findings, many Tinder users have been in a similar situation, and when this happens, most of them start googling: how do I delete my Tinder account.
This is a quite valid reason for deleting the app and finding something else.
Even though you've swiped left on someone, after some time, their profile will appear again.
When this happens, you can change your opinion, and swipe right, but most people stick to their first reaction and swipe left again.
After a few rounds, this profile (with others you've previously ignored) will show up again and again.
OFL Top Recommendations based on 100,000+ Survey

"Serious Relationships"
"Discreet Hookups"
"Best Course for Men"
"Quick Flings"
"Normal Hookups"
"Our Quiz"
If these profiles keep popping out frequently, that probably means there aren't new people around you.
Without new profiles to like and match with, the app loses its purpose.
This means if you're a Tinder gold or Tinder plus subscriber, you probably just want to unsubscribe, or worse still, uninstall Tinder altogether.
2. You are now in a relationship
Great for you!
Whether this is a person that you've met through Tinder or any of the other popular dating apps, you probably don't need the app anymore.
From experience, once people start a serious relationship, it is logical to delete Tinder and commit to your partner.
But before you eagerly delete your Tinder account, please ensure you know how to cancel Tinder subscription properly to avoid further deductions on your card.
This is because deleting Tinder (the app) from your phone will not automatically cancel any of your premium subscriptions (we'll talk more about this in a later session).
3. The very low match rate
You started strong, swiped both ways, had a few matches, but for some time, the number of potential matches is dropping.
Your ELO score is affected, and each day you are seeing fewer and fewer profiles.
Also, fewer people are seeing you, and you are lucky if you get up to two matches a day.
This low match rate is quite discouraging, and a majority of Tinder users are deleting their dating profiles because of it.
4. It is affecting your self-esteem
It is no secret that Tinder is a superficial app, and your profile photo and a few words in your bio are enough for someone to dislike you.
In fact, when it comes to Tinder, everything is based on looks, which is quite shallow, but that's just how the app works.
With just one like, someone will tell you whether you are desirable or not.
Constantly seeing people that seem more confident, smarter, and sexier, and comparing to them, will also bring you down even more.
You should feel good about yourself, so if you feel down, it's okay to delete your Tinder account.
5. It just isn't exciting
During our extensive search for reasons why people want to delete their Tinder accounts so badly, we also found out that some people don't find online dating as exciting as others.
They prefer meeting people in real life – in bars, at the beach, or in clubs and concerts.
Online dating, swiping, and chatting with strangers aren't as thrilling, and the first dates are awkward.
But can you delete a Tinder account for real?
Read on to learn how to delete a Tinder profile completely.
How to delete your Tinder account
Can you delete your Tinder account?
Well, yes!
And here is a step-by-step guide on how to delete Tinder account.
By following these steps, your profile will be permanently gone.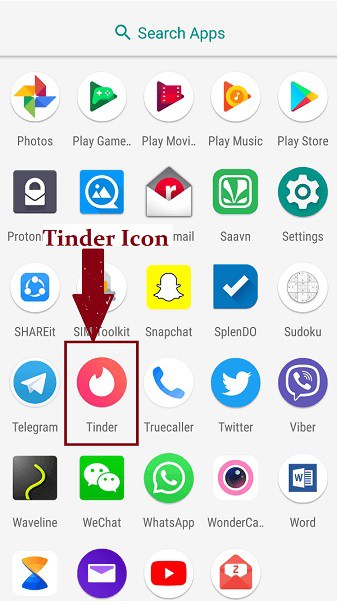 2. Find the profile icon at the top left of the screen and tap it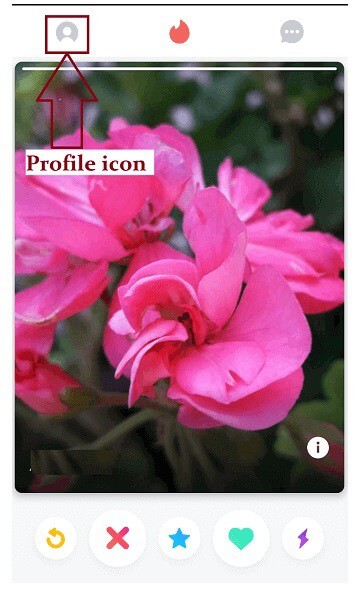 3. Find the "Settings" button and enter the Settings menu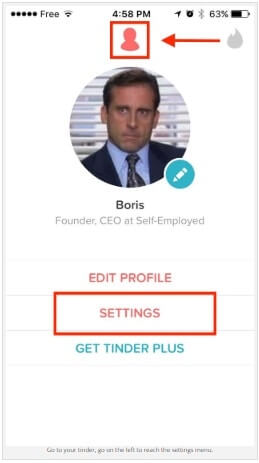 4. Scroll through the settings menu to find the "Delete account" option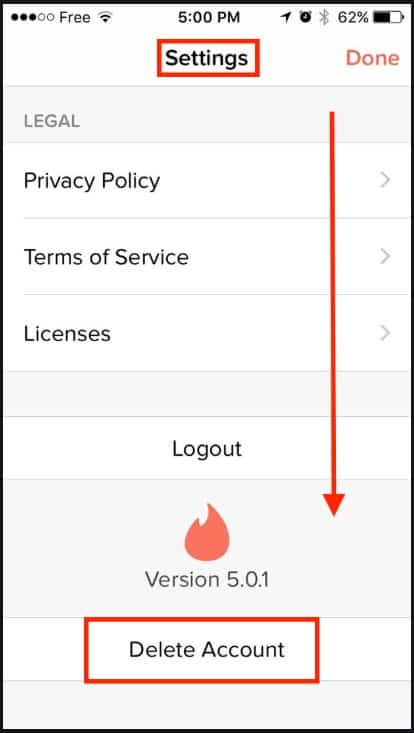 5. Click on "Delete my account"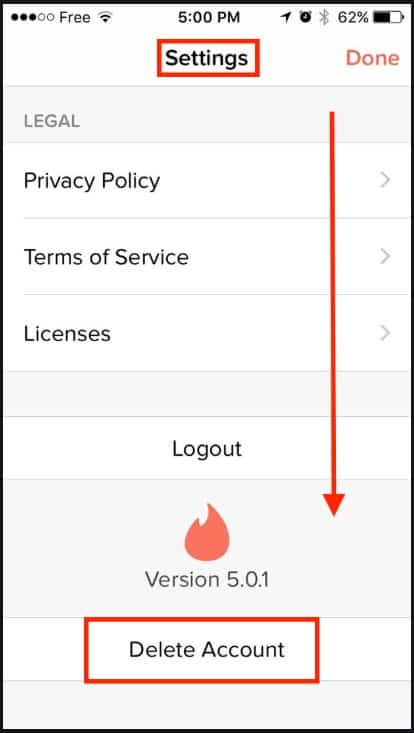 6. Choose one of the reasons for leaving Tinder.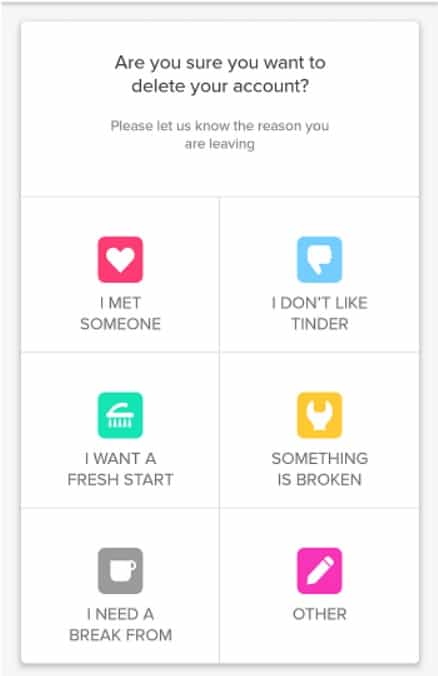 7. Tinder will ask you to confirm your decision.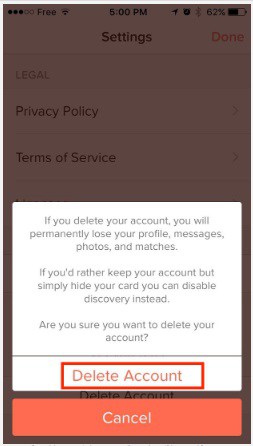 After completing all of the mentioned steps, you will get a message notifying you that the account has been deleted.
With that confirmation, you're definitely home-free.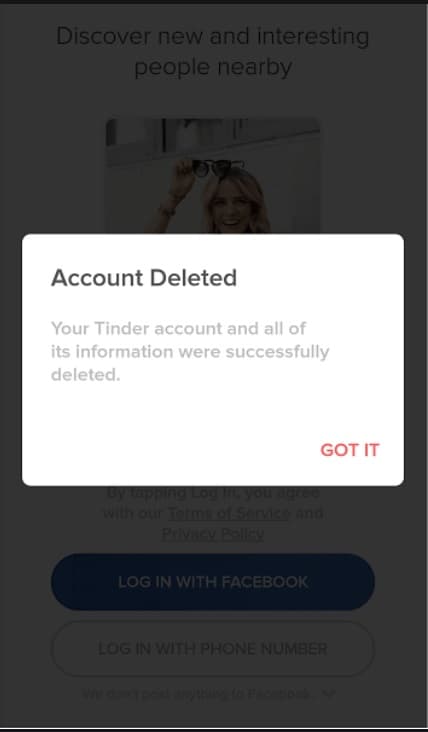 Now that you've successfully deleted your account, let's talk about how to unsubscribe from Tinder.
If you have been using one of the memberships and subscribed through Google Play Store ID, the Tinder plus or gold subscription won't be automatically canceled.
You can do it via the Play Store and cancel the subscription manually.
This is how to get rid of Tinder gold or plus subscription.
Find the Account button in the Menu of the Play Store and go to subscriptions.
Click on the Tinder icon and choose to Manage to cancel the membership.
Note: if the above is not done, you will still get billed monthly.
Users that have linked their credit cards with accounts don't have to worry about canceling their membership previously.
When the account is gone, so is the membership (platinum, gold, or Tinder plus subscription).
Also, we found that many Tinder users who sign in via Facebook wonder how to delete Tinder from Facebook.
Luckily, you don't have to bother yourself on how to remove Tinder from Facebook.
Once the account is deleted, it will be automatically unlinked from your Facebook account.
If you want to sign in again via Facebook, it can't be done via the same profile and you will have to make a new one and start over.
What it means to delete the profile
Because you're already interested in how to get off Tinder, you should learn what this means as well.
Firstly, you should understand that when a profile is deleted you can't get it back.
As said, you won't have access to the messages, nor the people or likes.
If there are people you would like to keep talking to, it might be a good idea to get their numbers.
Otherwise, you won't be able to reach them.
Secondly, the data isn't deleted permanently.
Tinder has a policy of keeping some information for three months after the account deletion.
This information includes Facebook profiles, linked social media profiles, email addresses, phone, and credit card numbers.
If you want to know what they are keeping, you can ask for a report.
All of this data is probably kept to prevent people from creating a new profile as soon as they delete the old one just to get a boost and improve their ELO score.
Lucky for you, this can still be done, which we will talk about later.
Uninstalling the app and deleting the profile
Now that you know how to delete Tinder profile permanently, let's talk about one of the most common misbeliefs we came across during our study.
Do you know how to disable Tinder?
Most users think that just by uninstalling the app their profile is gone.
Well, it is to you, but not to the other Users.
When you uninstall the app it is only gone from your iPhone or Android device.
You have freed up some storage space, do not receive any notifications from the app, and don't have access to anything it is offering.
However, your profile still exists.
If you reinstall Tinder via the ios App store, you're back fully.
It is still a part of Tinder, and people will still be able to swipe right or left on it.
Uninstalling the app is not one of the ways to deactivate Tinder, but it's great for when you need a short break from online dating.
After some time, you can sign in using the same data and all of the matches and messages are preserved.
It will be the same as you left it.
Yet, some people think that just by deleting the app from their phone, all of the data is gone and their profile no longer exists.
So remember, by deleting the app you are basically only stopping the notifications, and if you want to delete the account permanently, go back to the above-mentioned steps.
Only by choosing the "Delete profile" button and confirming the decision, the profile with all of its data is gone.
When you delete the app, you can still go back to your profile whenever you decide.
For everyone that might need a short break, we believe it's best to pause and hide the account instead of outright deletion.
When you do this, your profile won't be displayed to other users and matching will be stopped.
However, if you want to chat with someone, you will still be able to do it.
In our opinion, hiding the account is a much better option than deleting it or uninstalling the app, especially when you know that you aren't done with online dating.
When you decide it is time for a short break, click on the profile icon and go to settings.
In account settings, find the "Show me in Discovery" button and turn it off.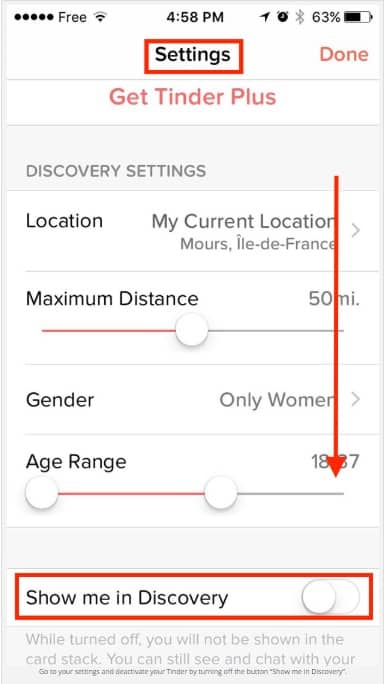 The same option will be presented to you when you click the "Delete profile" button, so you can change your mind and only temporarily hide it.
Deleting and resetting the account
Well, let's show you what we found about resetting your Tinder account.
When guys like you aren't getting as many matches as they wanted, they decide it's time to start all over and reset their account – maybe you too.
Many tried this by just uninstalling the app but came back to the same profile they had before.
Also, many just uninstalled the app, used new data to create a new one, and Tinder found out that they had two accounts.
Of course, this resulted in a ban, and both accounts were lost.
Wondering how to reset Tinder?
If you want to reset the account, you will first have to delete it – Yes, that's right.
Resetting means creating a new profile with completely new data.
To Tinder, it has to seem like this is your first account ever.
You will have to make sure that all of the previous information is deleted, no longer exists on Tinder and your phone, and start from scratch.
Make a new email address, Facebook profile, buy a new phone number, and take a few new pictures.
Some users even create new Instagram so they can link these new profiles with a new Tinder profile.
If you want to upgrade to a new account, you will have to get a new credit card as well.
Of course, this only applies to people that subscribed previously, and Tinder has their old credit card number.
Because Tinder is getting better at catching reset abusers, a few even decided to change their Internet provider and get new IP addresses.
This is quite extreme, but the chances of getting discovered and potentially banned become significantly lower.
Setting up a new Tinder account can have many benefits.
If you were unhappy with the results so far, you will get a second chance to fix your mistakes and enjoy a better online dating experience.
Here is a list of all benefits:
1. Creating an improved profile
When you are resetting Tinder, you are recreating the profile.
Only this time, you can upload better pictures, and write a new bio.
The first time was great for testing which pictures get the most likes and which you shouldn't upload.
If you took a long break from Tinder, you had plenty of time to explore further which photos work the best.
Also, you can now write a new bio, represent yourself better and enjoy more matches and likes.
There are plenty of tips and tricks on how to write good bios and take great Tinder photos.
Because you need new social media as well, these can be upgraded too.
2. Second chance
A hot girl possibly decided to swipe left on your old profile.
However, now she is seeing a much better version, and she might change her mind.
With better photos, a well-written bio, and a new approach, you can get 3-4 times more matches than before.
Resetting Tinder might change your entire online dating experience for the better!
3. Automatic boost
When new users join the app, their profile is automatically boosted.
This boost doesn't last long (only the first 2 to 3 days), but if you use it correctly, it can last longer.
When the profile is boosted, it appears at the top of the queue and more people can reach you.
Thanks to this high visibility, you can get more likes, matches, and a better ELO score.
During those first few days, how you use the app is extremely important.
Swipe right on every girl you think is pretty and will like you back.
Also, swipe left if you don't like someone and on anyone who will turn you down.
If you choose the girls properly, your match rate will be high, which will further result in a great ELO score.
Also, with the higher ELO score, you might get access to some new profiles that you weren't able to reach before.
The methodology for this article was to practically download the Tinder app, register an account.
Our approach was to try out all the possible ways to get rid of the account and document the process every step of the way.
We analyzed factors such as membership packages, device type, Facebook account, and deletion purpose during our research before adopting a final process to permanently delete a Tinder account.
There you have it guys!
You now know exactly how to delete your Tinder account permanently.
Always remember to disconnect all your credit cards from your account before deleting the app from your phone.
We strongly advise you to follow the 7 steps to deletion carefully and possibly do a re-check before uninstalling the app from your phone.
Good luck deleting & resetting your Tinder!
Frequently Asked Questions