In this article, I'm going to show you how to write the most captivating Tinder bio lines.
With such great bios, you will get the attention you crave now and again.
You are going to learn:
OFL Top Recommendations based on 100,000+ Survey

"Serious Relationships"
"Discreet Hookups"
"Best Course for Men"
"Quick Flings"
"Normal Hookups"
"Our Quiz"
Let's jump right in and get going.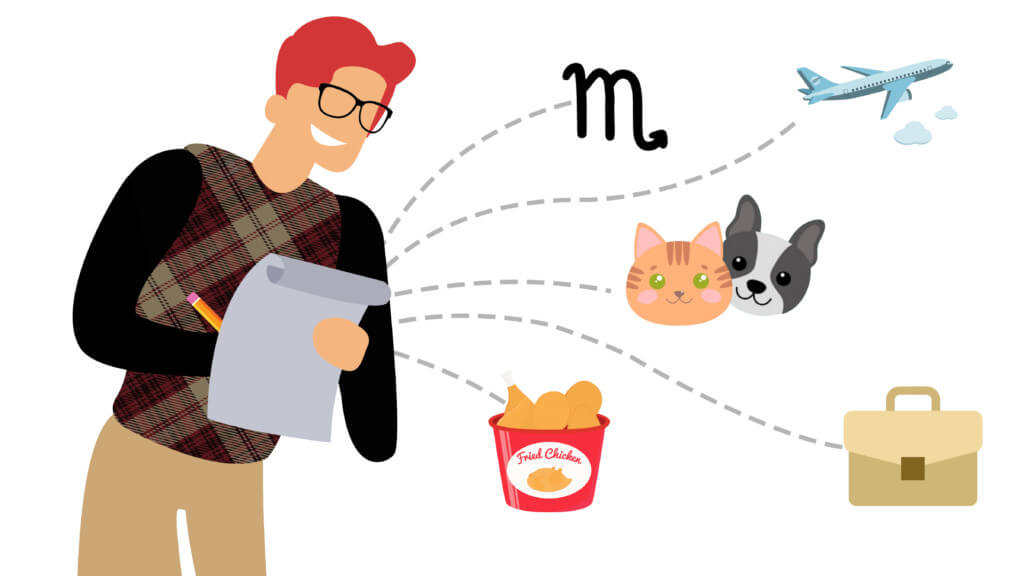 Tinder Bio Guide in Video Form
Audio (podcast) form for those of you on the go
Confidence is definitely something very very appealing to women.
Unlike BeNaughty or Ashley Madison which is strictly for hookups and eHarmony which is only for serious relationships, Tinder is the biggest platform for both hookups and serious relationships alike.
Confidence usually reflects that you have no insecurities and a secure guy is 100 percent irresistible to every woman out there.
Remember, the traits of a confident person are the ability to take risks, try new things and do adventures.
Furthermore, you don't only have to show your confidence in your bio, you can also choose a profile picture where you appear very confident.
A secret tip from expert photographers is to place the camera just a little below eye level when taking a pic.
The viewer gets the feeling of looking up to you in response to such a picture.
Here are bio lines for your dating profile that will make you appear more confident instantaneously:
I love to try new things out, go to new places and meet new people. I take calculated risks but only when it comes to business deals.
OFL Top Recommendations based on 100,000+ Survey

"Serious Relationships"
"Discreet Hookups"
"Best Course for Men"
"Quick Flings"
"Normal Hookups"
"Our Quiz"
I am someone who talks very little and listens a lot more which makes me an incredible listener as well as one of the best people to seek advice from.
I am the one you would definitely like to Netflix and Chill with. My friends call me an encyclopedia of all the TV shows for a reason. I would binge-watch all the best shows with you. And the best thing is: I would NEVER give you a spoiler.
Health fanatic. Gym Freak. Aspiring Model. I love traveling and I have also traveled to almost every place usually because of my photoshoots. I can be a great travel guide/travel buddy. Turn-ons: Tattoos and big smiles
Taller than you in your longest heels. I can be your incredible gossip partner and a wonderful gym buddy.
My T-shirt looks like the T-shirt of your new boyfie. Also, I got a great collection of T-shirts, just so you know.
Show that you are an Empath
No matter the dating sites you're on, you're simply going to double or maybe triple your chances of getting a first date if she gets to know that you have caring nature.
For instance, having a pet shows that you are definitely capable of taking care of others and you feel the responsibility to provide a good life to another living creature.
Also, if you are a feminist or an environmentalist, you are definitely someone every girl would fancy going out with.
According to a study, guys who have a helping nature are very appealing to women.
So, adding volunteer work to your bio is certainly a great thing to do.
Here are some pretty great Tinder bio lines for guys that will land you an awesome date sooner than you can imagine:
I am a proud vegan. Love to spend my weekends in Florida's State volunteer shelter. Beaches and sunsets are amongst my favorite.
Looking for someone as passionate about saving the planet as I am. Someone who enjoys helping others as well as loves stargazing and spending time at scenic places.
Great dad to three amazing dogs: Bruno, Brad, and Brian. They are certainly my lifelines and my favorite people. They love to meet new people and so do I.
You know when you're in a gathering, and everyone's talking over you, but there is one guy who maintains eye contact and listens till you finish. I am that guy.
Do not lie about why you are on Tinder
If you are looking out for someone to party with or for a hookup, only tell it in your bio.
But tell it in a good way obviously.
If you are not looking for a serious or long-term relationship, just be straightforward about it.
In this way, you will save your time as well as someone else's time.
Being truthful and upfront about your intentions will help you connect to people with the same intentions.
Also, you should not lie about your age because at the end of the day, the other person will find out and it would be really embarrassing for you.
Here are a few best Tinder bio lines for guys to help you in this regard:
A little party definitely killed nobody. A businessman on weekdays and a party beast on weekends because we must work hard and party even harder. So, someone who is also busy on weekdays and parties insanely on weekends is all I need.
I run a salon in two different cities which means I am mostly unavailable but I will always text back. Can only meet once a month. Looking to settle down in 3 years. So, looking for someone to become friends with first and take things ahead.
I am crazy yet so classy. I am neither here to make friends, nor am I here to have a serious relationship. Just looking for some fun and a great time.
Make sure your bio is in sync with your profile photos
Don't copy and paste Tinder bios for guys or profile examples that you find on social media.
If you are mentioning in your bio that you're someone who loves the gym, then your profile pictures should not show that you are quite out of shape.
And if you're saying in your bio that you are friendly and social then your chosen pictures should not be the ones with a grim expression.
In the same way, if your bio says you are a party person, do not put all the pictures looking all nerdy.
Choose pictures that will make your potential match spend more time on your profile – which will increase their chances to swipe right.
Here are some best Tinder taglines for guys that will help you choose the best pictures, the ones that will definitely do the magic for you:
Do not upload any picture with opposite gender even if you look great in it. If you are standing too close in the picture, cropping the picture is also not a good idea.
Do not upload any picture with a friend of yours who is looking better than you in that picture.
Try to avoid pictures with snapchat filters(specially the dog filter) because they usually change your appearance and sometimes it becomes very unclear how you really look like by looking at you.
Choose your pictures with your pets in them. It makes you more likeable for the opposite gender.
Avoid posting your picture with a kid in it, unless you have a kid. This sends a message to the potential date that you might be hiding your status and you are married and looking for some side action.
Information like where you work, what you like to do in your free time, and what's your zodiac sign might seem too basic to tell, but that really sets milestones for a good time together because some people hold a strong belief in zodiac signs.
Also, many prefer to date people with the same profession or interests.
More often than that this becomes the only reason someone will swipe right on you because they would find a similarity.
Overall, first impression matters and can easily become great conversation starters.
Here's how you can add some basic information about you in Tinder bio lines for guys:
Daniel, 33
Aquarius therefore rebellious. Robotic Engineer. I like to read but on Kindle.
Gemini. Journalist. Can speak 4 languages. I love history and architecture. An easy-going guy who talks a lot. Looking for friendship and definitely something more.
Scorpio. Scientist. A bit of a nerd but I definitely know what I should know. I am quite an interesting person. Meet me and You will agree.
There is a fine line between being funny and being arrogant, disrespectful, or worst of all, degrading yourself when trying to be funny.
So, right hilarious Tinder bios will instantly turn you into a chic magnet, but make sure you borrow a hint from some of the best Tinder bio examples in this article.
If you are bad at being funny, then do not try this tip, not everyone has a good sense of humor.
Here are some funny bio lines (maybe some of the funniest you've come across) to tell you how humor is done right:
"So, kids I just swiped right and this is how I met your father" You, after a decade.
I get low on intelligent conversations and high on stupid ones!
My 3 pm mood is better than my 3am mood! Because I do night shift.
I am just a boy standing in front of this beautiful girl asking her to swipe right.
Current relationship status: Made dinner for two: My cat ate both!
Your secrets will always stay safe with me because there is a definite chance that I was not listening.
I like dark humor and dark lighting. Still not able to get over the death of Knight King. If you feel the same, we should go out.
The right emojis are a serious game-changer in this scenario.
You can say so much with the right choice of emojis, and let's be honest here, emojis explain more than words can ever.
In fact, people these days are more used to them.
It takes users a few seconds to decide on tinder.
So, instead of writing, emojis are a better option in this time-constrained setup.
Here are some best Tinder taglines for guys to help you in this regard.
Mark, 25
✍ 🎓 🤞 🐶 🍟 🍕 🛩 🏖

(Pursuing degree in Journalism. A dog person. A foodie. Love to travel to beaches.)
Peter,34
👨‍🎨 🧠 👌 💑 🥦 🥒 🏋️‍
(Artist. Love intelligence. Looking for a relationship. Health freak. Fitness lover.)
Be exceptionally creative
All you need is a little creativity and a lot of out-of-the-box thinking.
While swiping, when almost every profile will appear identical, users are more likely to stop only when a profile bio is different from the rest.
So, a great way to do this is to do comparisons and make it more fascinating and attention-grabbing for users who are visiting your profile.
Here is one way to go about writing the best Tinder taglines for guys:
Raj, 26
Weekend getaway< unplanned getaway
Planned date< surprise meetings
Medium rare steak > well done
Orange>black
Squats> lunges
Similarly, a great song that explains who you are is an outstanding, as well as a very creative way to write your bio.
You can do extensive research and find a song that talks about your past, present, or future or a song that exactly describes your feelings.
Just steer clear of sad and depressing songs as they are a major turn-off on a Tinder profile.
The songs that describe you well will definitely make her think that the only right thing to do is to swipe right.
Here are some bio lines to give you a clear idea.
Mark, 30
A song that perfectly describes what I feel right now is: Thank you, next!
Rakesh, 28
Not Afraid, Eminem
Biggest Turn-offs that you should avoid
It is definitely important to know what makes them ladies want to swipe left within a fraction of a second.
There are certain things that you add in your bio – not knowing that they're serious turn-offs except you understand the Tinder etiquettes.
So, consider the advice that I am about to give you, like excerpts from the Holy Book, and you won't make a stupid mistake of adding any of the below-mentioned stuff in your bio.
Here are some things that you must avoid writing in your Tinder bio lines for guys at any cost:
You must never joke about being lazy or unemployed or broke because really that will decrease your chances of getting a date to zero. The reason is highlighting your flaws or your shortcomings ruins your impression in front of your potential date.
Furthermore, showing off too much is also a big NO. Women feel instantly repelled when they look at a profile of someone having every picture about driving expensive cars and the picture especially focuses on the brand logo of the car driving.
Arrogance is also one of the best ways to turn away all good prospective dates. Every girl likes a guy who is humble and polite.
Spelling mistakes will definitely ensure that you never get the right swipe. The best way to avoid spelling mistakes is to ask any of your friends to proofread your bio.
Showing intolerance is also not acceptable. If your profile picture or bio in any way reflects anything racist or targets any other religion, you are definitely destined to never find a date on Tinder.
This is quite a practical thing to do, and in this way, the visitor of your profile will also find out a lot about you in a fun way.
You can choose a few good aspects of dating you and other not-so-good aspects of dating you.
You can also add a bit of humor if you like.
It is always a good thing to be truthful when it comes to listing pros and cons, but if you are twisting facts a little bit, then it really does not harm you.
Your good aspects will compel her to choose you from the lot, and your not-so-good aspects will mentally prepare her that she has to put up with your flaws.
Obviously, no one is perfect so, do not worry.
This information is also a great cue to start a conversation.
Here's how you can do it aptly:
John,32
Pros: great knowledge of haircuts
Cons: I am almost bald
Pro: Great at making pasta
Cons: literally don't know how to cook anything other than pasta
Pro: got exceptional singing skills
Cons: Forgets lyrics
Adam, 29
Pros:
Owns a mini home theatre
Practices medicine
knows Spanish, Arabic, and Chinese
Cons:
Not a fan of superhero movies
Got bad handwriting
un apologetically honest
Don't be vague.
Being vague is what makes you just another ordinary member seeking a match on Tinder, and being precise is what will make you stand out from your competition.
So, when you include in your bio that you love cars, you have to be specific about your favorite models or brands.
Similarly, when you talk about your expert skills in cooking, you should tell whether you know how to cook Italian, Mexican, Mediterranean, or some specific dishes that you are an expert at.
If you love music, then you must tell your favorite genres and your favorite songs.

Here are some examples of some cool Tinder bio lines for guys that will teach you how to be specific:
I have been playing football since high school. I am known to make the best coffee. Have traveled to 14 countries already.
I love to watch horror movies. Annabelle, according to me, was the best horror movie ever made.
I love to read fiction. I am currently writing my own novel based on fiction. Dan Brown is my biggest inspiration.
I like intelligent conversations with sharp people. I love to talk about politics, the economy, and the environment.
At the end of the day, you have to remember you just have to make them an offer that they simply can't refuse or say no to.
You can also go ahead and ask them a question that will make them want to answer it right away.
This will make them swipe right in a bid to answer what is being asked.
It is a simple yet such a great and ingenious strategy that it definitely works almost every single time and on everyone because asking a question is like challenging your knowledge and everyone loves to take challenges.
Tinder bio lines for guys – Bonus tip
Here are some lines to help you make the right use of these bonus Tinder tips:
Anyone here who knows where to find freshly baked pizza with great taste in NY, help me out, please. I will take you along as well.
Got two passes to this concert happening this weekend. If anyone is interested in this offer, Swipe right and reserve your pass.
The movie this weekend or a peaceful long drive? I will pick you up from your place. Drinks and dinner are on me afterward.
Anyone who knows the recipe to make Nutella brownies, let me know. Kinda urgent. Terrible craving.
Musician. New to Pittsburg. Looking for some recommendations and an awesome company. If you have been living here for a long time now, let's hang out.
Getting a date on Tinder is definitely not luck.
It is just the right combination of an awesome bio line and a great profile picture.
Use the above-mentioned Tinder bio tips and see the magic for yourself.
You can thank me later!
Source:
https://www.technologyreview.com/s/613286/the-anatomy-of-online-dating-has-been-revealed-in-unprecedented-detail/
https://www.ncbi.nlm.nih.gov/pmc/articles/PMC3851331/


Frequently Asked Questions