In order to stand out from the crowd and get more Tinder matches, you must have a well-organized profile.
In this article, I will show you how to:
Let's get your Tinder profile up there!
OFL Top Recommendations based on 100,000+ Survey

"Serious Relationships"
"Discreet Hookups"
"Best Course for Men"
"Quick Flings"
"Normal Hookups"
"Our Quiz"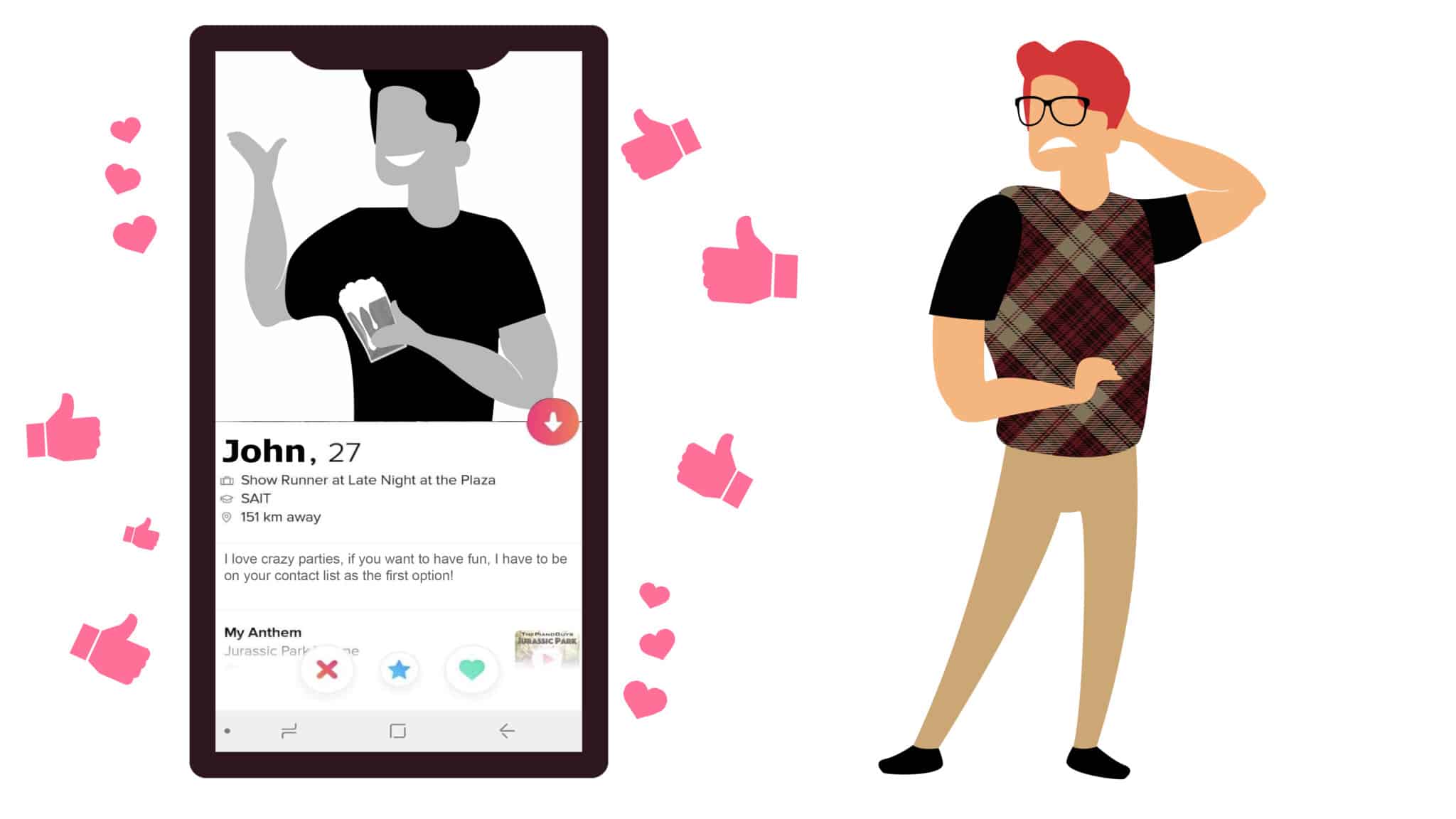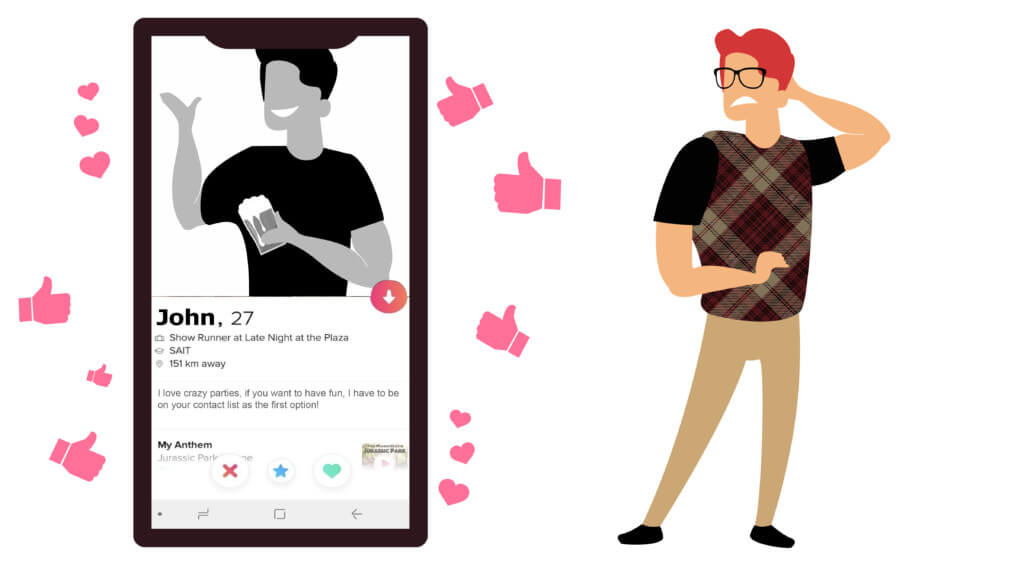 Tinder Profile Template Guide in Video Form
Audio (podcast) form for those of you on the go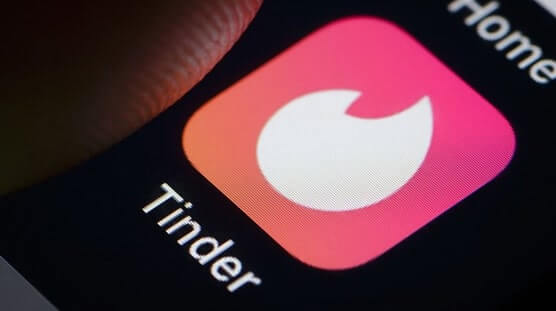 Tinder users range from people looking for a quick fling to Serious relationships.
It is not only for hookups (like BeNaughty or Ashely Madison) or only for serious relationships (like eHarmony).
I assume that you are looking for the best way to organize your profile and wonder how to approach this process with one goal in mind:
To get interesting matches and stand out from the crowd!
Well, the good news is that you came to the right spot.
This article talks about Tinder profile tips and gives insight into the best male Tinder profiles.
Be it a hookup or a long-time thing, here you'll find some good templates!
Let's cover some basics and get down to business on how to make a good Tinder profile!
The "Sacred" Trio of a Tinder Profile
As you may already know, your Tinder profile is comprised of three parts:
Your photo gallery
Bio
and your texting game
and what matters the most is that they all need to be in sync with each other.
There are no words to describe how important it is to be aware of this fact when writing a Tinder bio.
OFL Top Recommendations based on 100,000+ Survey

"Serious Relationships"
"Discreet Hookups"
"Best Course for Men"
"Quick Flings"
"Normal Hookups"
"Our Quiz"
Why?
Because only one of these three sections, no matter how good quality, isn't effective on its own without the backup of the other two.
You can try to sell a certain image, for example, that you are a cool dude, the life of every party, and so on, by adding great photos that seem to corroborate this.
However, if your bio doesn't tell about your wild and crazy side…
and your texting shows that you prefer going to bed earlier…
and that photos don't portray you right, then this method doesn't work.
Another example.
Let's say you wish to portray yourself as a dominant alpha male who loves women and whom women love even more.
You have a bio that says you have crazy skills in bed, you love hair pulling, teasing, and other games, etc.,
However, if your posture in photos is bad, if you look timid and shy and introverted, well your bio is in vain.
Also, if you have pretty masculine photos and a highly sexual bio, but through texting, you show more of your soft side…
…and you don't seem as confident and dominant….
women will see right through you.
Many men tend to portray themselves as sexual and dominant.
But they fail in bio and texting.
Because, they don't have as much time to think of a good answer as they do for coming up with a bio, so naturally, good results will fail to happen.
I hope these Tinder bio examples explain well how important it is to sync your profile well according to your wishes.
Oh yeah, also the area and culture of the country where you are located in case you are abroad.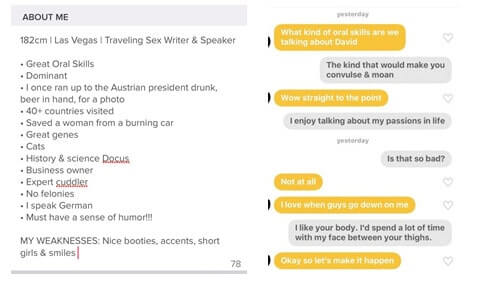 So, depending on whether you are searching for romance, sex dates, threesomes, locals in another country, your profile needs to be adjusted so it suits others' wishes and allures them.
With a good combination of:
words,
photos,
and various strategies
your profile will work and you will be contacted much more by interested members whose imagination you tickled.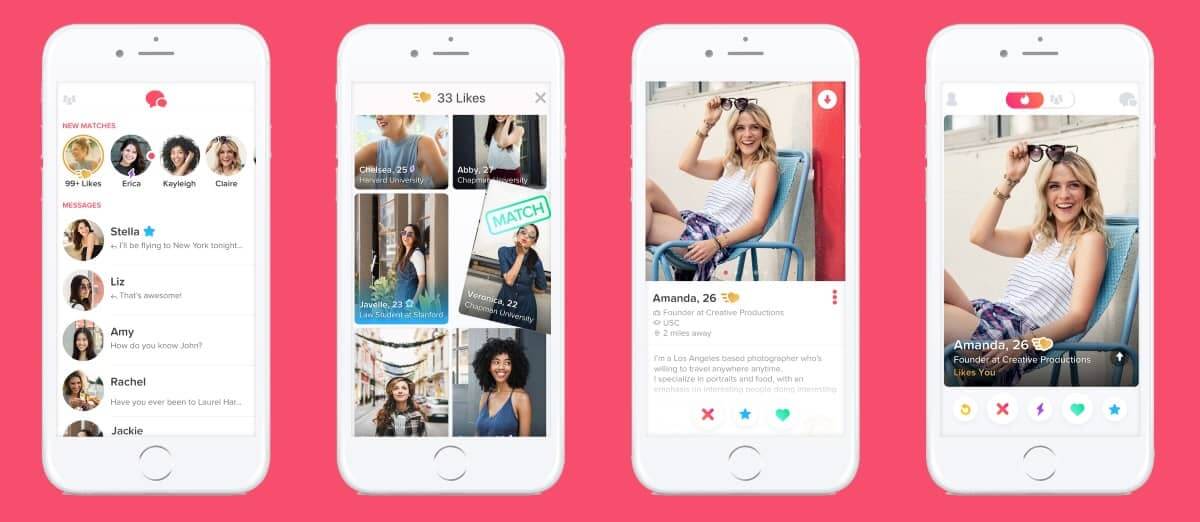 Long Term Commitment Profile Template
Even though there is a certain stigma surrounding Tinder that most people look for sex buddies and hope to get one-night stands, that is not true.
Tinder can be a great place for anyone who is also looking for a serious relationship, especially when knowing that there are 57 million people in the world who use it.
So, your match has got to be out there somewhere!
But, you need to know how to make a good Tinder bio.
Here are some of the Tinder profiles for guys.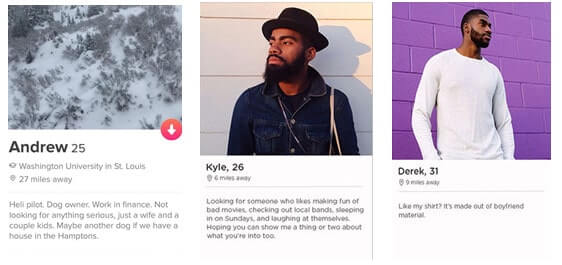 Andrew,25
"Heli pilot. Dog owner. Work in finance. Not looking for anything serious. Just a wife and a couple of kids.Maybe another dog if we have a house in the Hamptons."
Derek, 31
"Like my shirt? It's made out of boyfriend material"
These three should give you an insight into how to make a good Tinder bio for guys to let girls know you are serious.
To do this you can use one of the two tactics from the Tinder profile generator.
Andrew has said it, loud and clear and any woman who stumbles upon his profile and reads the bio will know exactly where she would stand with him in case, he likes her a lot.
Plain and simple.
We see that he wants a wife, kids, a family house, and dogs, which is a pretty clear vision.
On the other side, Derek uses the funny "boyfriend material" to state that he wants to be someone's boyfriend, again, plain and simple.
You can see that you are learning how to write a Tinder bio with ease.
2. Say It Between the Lines
Kyle has used this second method because he said certain things that refer to a serious relationship.
Wanting someone to sleep in on Sundays with, you gotta admit it, you don't just sleep in with just anyone on Sundays.
Sundays are special.
He also hopes to do simple things with this person, laugh, watch movies, etc.
WHAT NOT TO DO:
Derek made a mistake by not adding his photo intentionally.
And his logic was the following:
"I want her to like me for what I offer and wish, and because she feels the same way, and not because of my looks".
However, this is wrong, because every girl wants to see what you look like first.
Even though we say that appearance doesn't matter, it simply isn't true, because you need to like someone physically at least a bit.
WHAT TO DO:
The best male Tinder bios should portray who you are and say what you hope to get from it.
Be it a girlfriend, a wife, and children later, let chicks know that you have serious intentions.
Also, make sure to add a photo of good quality that will depict what you look like exactly.
Girls love to see when a guy knows what he wants and has a good photo on top of that.
This photo must be "decent", meaning you are clothed, and aren't trying to show off your half-naked body, have a nice haircut, aren't wearing sunglasses, and are preferably smiling.
Even when you don't wish to write what you want specifically and wish to create a mystery, you can write about the things you like. Kyle did and added hints in between, so ladies understand your intentions.
MORE IDEAS:
"Looking for someone to bring to family events so they'll stop thinking something's wrong with me."
"Step 1: I conquer your heart. Step 2: We conquer the world together."
"I'm looking for a girl/guy who'll share her/his Netflix password with me."

Sex Date Profile Template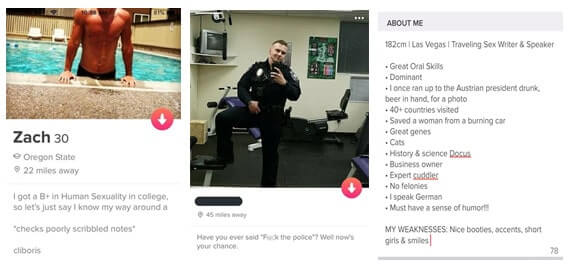 If hookups are your thing, then Tinder is a place to pick since your chances of finding someone who wants the same is pretty high.
Now, the question is how to approach saying that and what suits you the best with Tinder bios for men.
If you've ever wondered and googled: "best Tinder profiles for guys who want sex" here are three great examples.
"Police Officer"
"Have you ever said, "fuck the police"? Well now's your chance.
"The Explicit Guy"
Great oral sex, dominant, I once ran up to the Austrian president drunk, beer in hand, for a photo, 40+ countries visited, saved a woman from a burning car, great genes, cats, history and science Docus, Business owner, expert cuddler, no felonies, I speak German, must have a sense of humor
My weaknesses: nice booties, accents, short girls, and smiles"
As you can see there are several ways to go about and these are the two best methods.
1. Be Witty About It But Send The Message
Nowadays on Tinder, it has become a form of art to suggest having sex without having to say it explicitly.
Moreover, suggesting sex by alluding to it and making funny references to catch someone's attention and use it as an ice breaker, has become a "golden rule".
Both Zach and "the police officer" have done it, along with posting appropriate photos.
All jokes are welcome, as long as they convey your message and let things clear for the other party.
Similar bios that have been used are:
"They say you are what you eat. If that's true, I could be you by morning."
"Need a pillow to sit on? I can be yours if you want."
How cheesy, funny, or dirty you want them, depends on your personality and whether you wish to shock a girl by your very explicit words or by making her laugh more.
Be Dirty and Don't Be Afraid Of It
The "explicit guy" on the very right photo nailed it with the first two bulletins, because he said it all but in a very fine and simple manner.
The word "dominant" is very eye-catchy and many girls love to meet dominant men.
Moreover, they love men who know how to play with them in bed and who don't just call themselves "dominant" without having nothing to show for it later on.
This way of talking conveys confidence and should be followed by a pretty masculine photo that shows your body, posture, and character.
Many girls will get interested right away and will even make the first step by opening the conversation, which makes things for guys so much easier.
WHAT NOT TO DO:
It is very important to keep some balance and be explicit to a certain extent.
It has become normal to say things like I mentioned above.
But anything more explicit that uses very vulgar words and detailed "dirty" descriptions is a "no".
WHAT TO DO:
Pay attention to the photos that accompany your bio as they can be a deal-breaker.
Many men who look for hookups tend to post half-naked shots of their bodies flexing, selfies, even shots that depict their member under clothes pretty well.
Now, these could work, but more elegant and manly clothing can be your best friend ever.
Especially if you look amazing in a suit.
This type of clothing will make you look even more masculine.
It will make girls believe that you do have a "dominant" side that wakes up in the bedroom.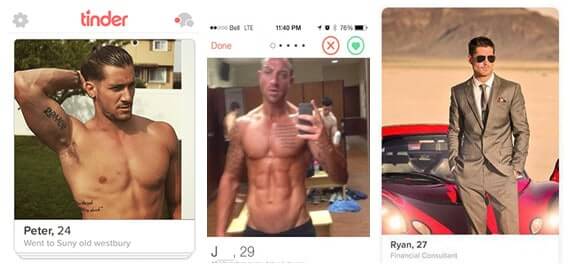 If you Want to Play The "I am New Here" Card and Meet People Fast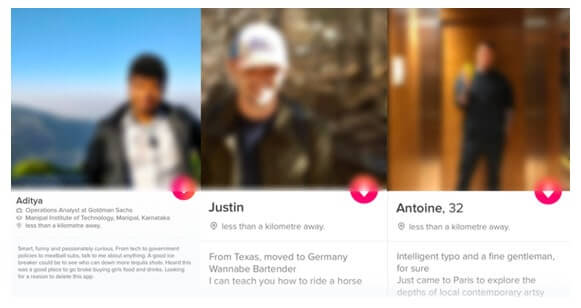 If you are a beginner on Tinder, you can be witty like Aditya and be sarcastic about expecting to delete the app, or can use Tinder bio templates like the ones below and see how other members react.
Girls tend to be "helpful" and will react well to this.
"I am your new Tinder neighbor. Care to show me around?"
"Heard many stories about Tinder, I guess it's time to write my own and see how it turns out"
"So many stereotypes about this network, let's see if any of them are true".
If you are new to a certain country, saying it in your bio creates great results, especially if you speak the language and know the culture.
The culture is pretty important, as it can help you with meeting people.
For example, if most of the local girls are pretty short and have cute smiles, you should always put that on the list of your "weaknesses".
They will love it and find themselves in the description right away.
Antoine, for example, said that he was new to Paris and was ready to explore.
That is great since any girl from Paris can offer to show him around and they might even end up with her showing him her apartment.
WHAT TO DO:
Show your interest in meeting new people or meeting new cultures; in wanting to practice the language and willingness to broaden your horizons.
Girls love open guys, especially if they can teach them something new.
WHAT NOT TO DO:
Even though you may be new to Tinder and expect to have a negative experience due to prejudice, skip the negativity.
Saying things like "I don't even know why I am here" is pretty boring and won't encourage girls to try to match you.
If You Are Looking for a Threesome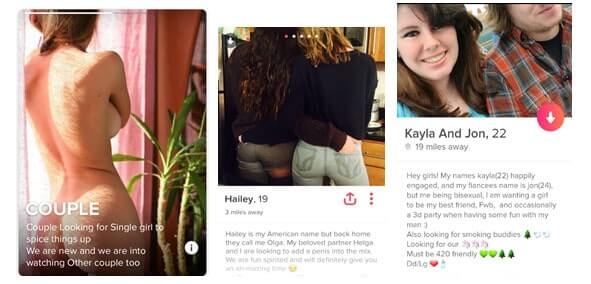 Couple
"Couple looking for a single girl to spice things up. We are new and we are into watching another couple too."
Hailey, 19
"Hailey is my American name, but back home they call me Olga. My beloved partner Helga and I are looking to add a penis into the mix. We are fun-spirited and will give you an ab-amazing time"
Kayla and Jon, 22
"Hey girls! My name's Kayla (22), happily engaged, and my fiancée's name is Jon (24), but me being bisexual. I am wanting a girl to be my best friend, FwB, and occasionally a third party when having some fun with my man. Also looking for smoking buddies. Must be 420 friendly."
Looking for threesomes is not new to the Tinder network.
However, it is much less common than one-on-one dating/hooking up.
So individuals/couples who look for the third person tend to be skeptical about showing their faces, which is understandable.
If you hope to find a third person to add to your mix, feel free to be open about it and state what it is exactly that you and your partner are looking for – what age, gender, sexual preference, etc.
Also, if you are an individual male who is looking for the other two people, make sure to say that you are open to threesomes.
WHAT TO DO:
Create a profile together or if you and your girlfriend, for example, are looking for another girl, it is best to use your girlfriend's account.
Make sure to add photos of both of you, the first one should be hers, and then the second one is either yours or one of both of you.
Even though showing your face is always optional, people will be able to decide faster about a threesome when they see what you (and your partner) look like.
Also, since most guys look for a threesome along with their partner, you should keep using "we" when referring to you and your partner when communicating with an interested party.
If You Are Married and Wish to Hookup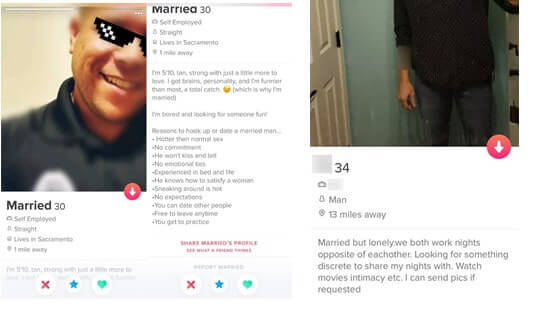 As you can see there are different approaches to creating a profile when you are married, since doing this can be quite tricky.
The last thing you wish to do is to have to explain to your wife why your profile is on Tinder, so one must be very careful when creating a profile when married.
If you are married you might have looked for "Tinder profile examples male married" or "Tinder about me guys who are married" but there isn't an exact recipe for such a bio.
However, let's analyze the two Tinder bio examples.
As you can see, the "married" guy did it pretty openly, by almost showing his face, while the "Unknown" guy wasn't as brave and decided to chop the head off.
If you decide to be present on Tinder while married, you need to add "extra value" to girls.
Because something needs to attract them to you specifically, compared to a ton of other solo guys, who aren't that much of potential trouble.
So,
WHAT TO DO:
Be specific, and say why you are there, are you bored, is the fling in your marriage done, do you not understand each other anymore?
Honesty will get you points in this case.
Because girls who are about to enter one's marriage wish to know what they have on their hands.
Try to show most of your face, even though you are scared.
Being on Tinder while married is pretty risky, and it makes you brave, so show how much you like the risk, by letting her have an idea about what you look like.
It doesn't have to be a full face shot, but something like the photo of the "married" guy will work great.
Add value, as the "married" guy did – he took his time to organize all the benefits you might get from dating a married guy and what benefits he brings to the table.
Hat down to him.
That way you know exactly how things are and what to expect from him.
WHAT NOT TO DO:
Leaving a blank bio while your name is "Married" is a no.
Even though girls love mystery, this kind of mystery is just not interesting, as she has no idea what she is getting herself into.
Also, if you don't have a photo on such a profile, I guarantee you won't get a single match.
I hope these Tinder profile generator examples shed much-needed light on how to approach designing your profile for different purposes since it is a deal-breaker.
Know what you want and then show it!
That is the best policy.
Hopefully, you won't have to search for "Tinder profile men" anymore and will have fun on this network.
Happy Tindering!
Frequently Asked Questions