Having a hard time selecting the best photos for your Tinder profile?
Don't worry! You're not alone.
Today, I will add to your knowledge about Tinder by answering the following:
OFL Top Recommendations based on 100,000+ Survey

"Serious Relationships"
"Discreet Hookups"
"Best Course for Men"
"Quick Flings"
"Normal Hookups"
"Our Quiz"
At the end of this article, You should know how to take full advantage of this Tinder feature and make your profile stand out.
Let's start!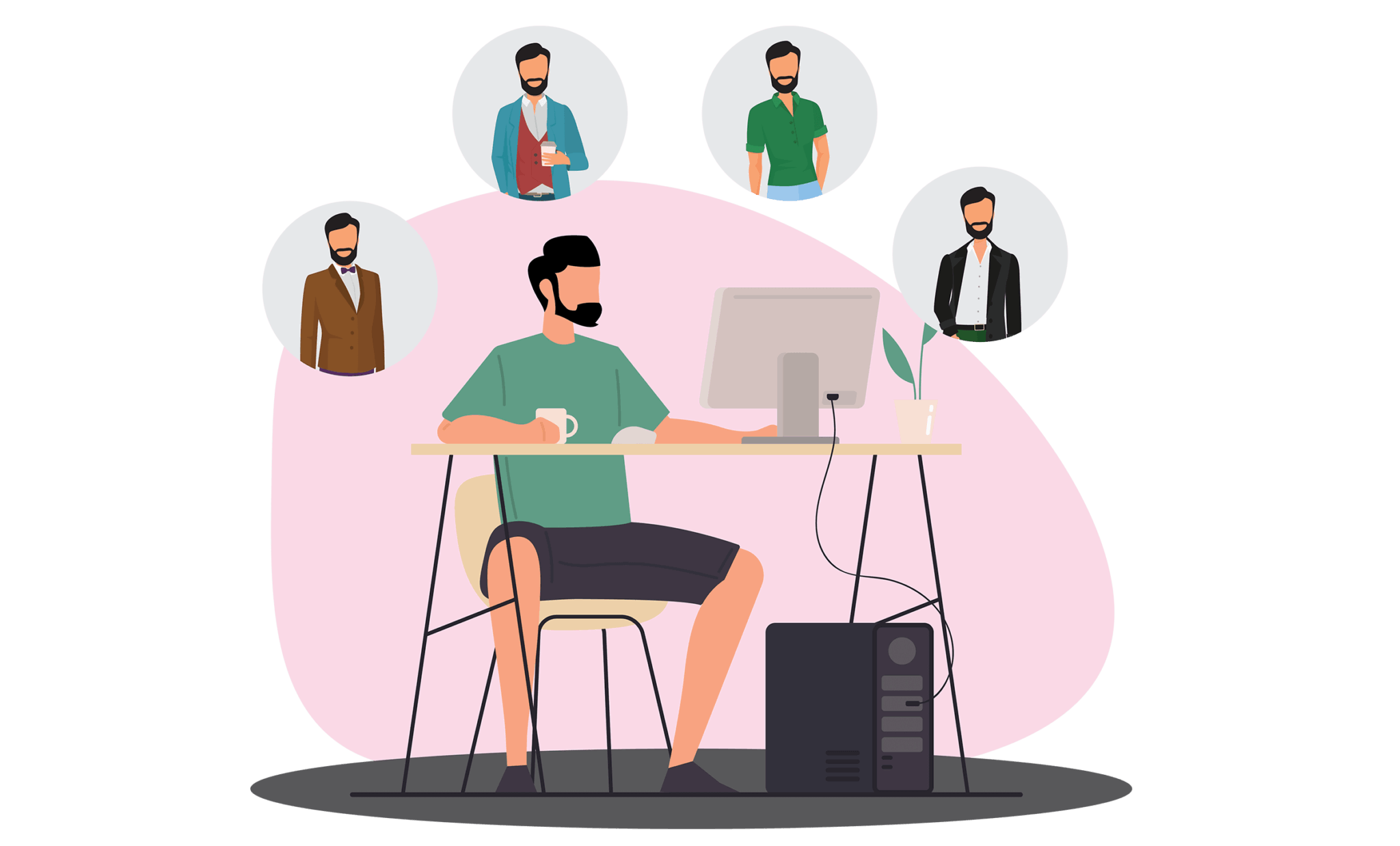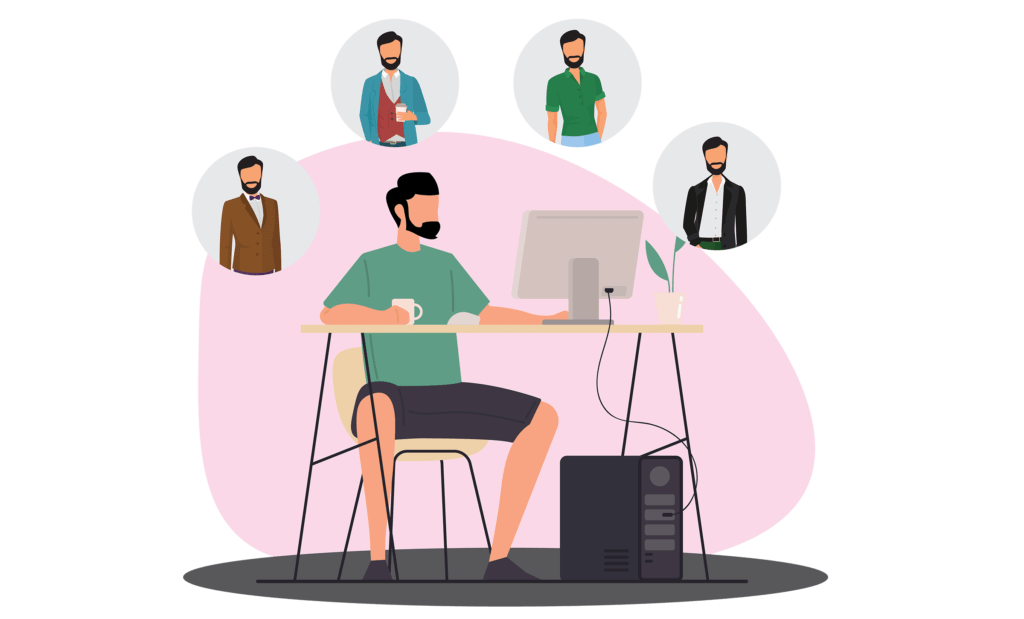 Tinder is the most used dating app available to us today – with over 57 million users across more than 190 countries.
While some sites like eHarmony solely focuses on people seeking serious relationships and others like BeNaughty or Ashley Madison are only for those interested in quick flings, Tinder has been able to establish itself as an all-in-one platform that allows for hookups and serious relationships alike.
Tinder's Smart Photos is the feature that was introduced to this app for the first time back in 2016, and it was something many people have been waiting for!
This new feature is based on the machine learning algorithm that analyses every single right swipe a person makes on your photos and then converts it to the "right swipe rate".
This rate is generated by dividing the number of right swipes and a total number of swipes for each of your photos.
Tinder first explores the photo options you have given it and explores which ones would be the best choice for the first spot, that is the "profile photo" that people first see.
Based on this testing, Tinder is then able to rearrange your photos on its own without your control, placing the most-swiped-right one as your Tinder top photo and then listing the other ones with lower rank afterward.
This feature has shown itself to be quite helpful since people who activate it don't have to think about what picture to place as the first photo since Tinder does it all based on other people's actions and this is what matters the most.
Some users wonder what does the new top photo means on Tinder, but the answer is simple.
OFL Top Recommendations based on 100,000+ Survey

"Serious Relationships"
"Discreet Hookups"
"Best Course for Men"
"Quick Flings"
"Normal Hookups"
"Our Quiz"
It is just the result of another photo becoming more right-swiped, which means it overtook the first spot.
Today your opinion on your photos doesn't matter in the online dating world, as much as other people's opinion does.
After all, they are giving you a "grade" and it is fantastic how Tinder came to understand this.
Thus, if you've found yourself in this never-ending battle, I strongly suggest you toggle the Smart Photo feature on your profile.
Here is how:
Click "Edit Info"
Find the "Photo Options" button
Activate "Smart Photos"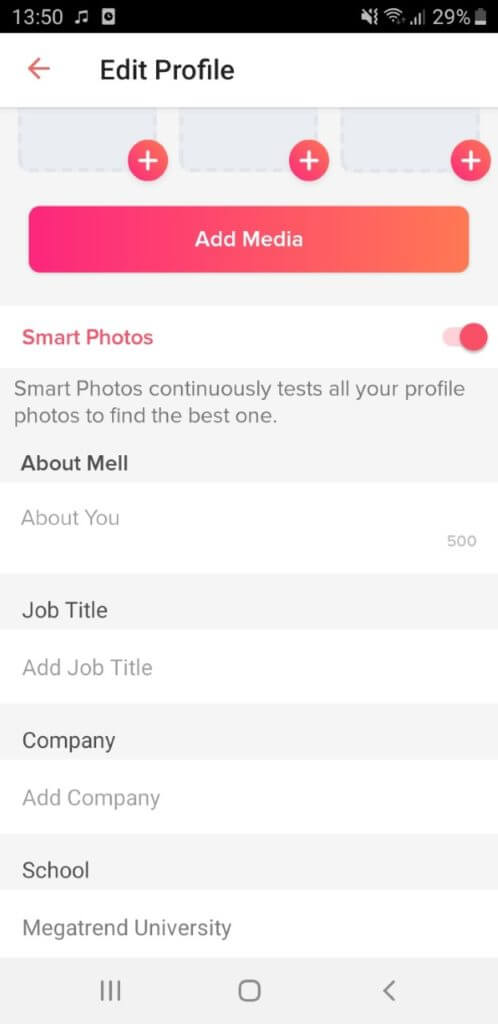 When this smart photos feature was introduced and tested, users who activated it matched 12% more than before which is pretty impressive if you ask me.
However:
Does Tinder Smart Photos Work?
Knowing that you only need to upload photos and wait for them to be arranged and even increase your chances by doing so sounds pretty good, however, there are several potential flaws to this system.
First of all the question is – have you uploaded the best photos you have?
This brings us to the next questions: "Do you even know which ones those are?" and "How to even know that for sure?"
Based on your initial choice, you feed Tinder with your photos, and then it does its little magic, however, if you make a bad choice, that Tinder is still left with them.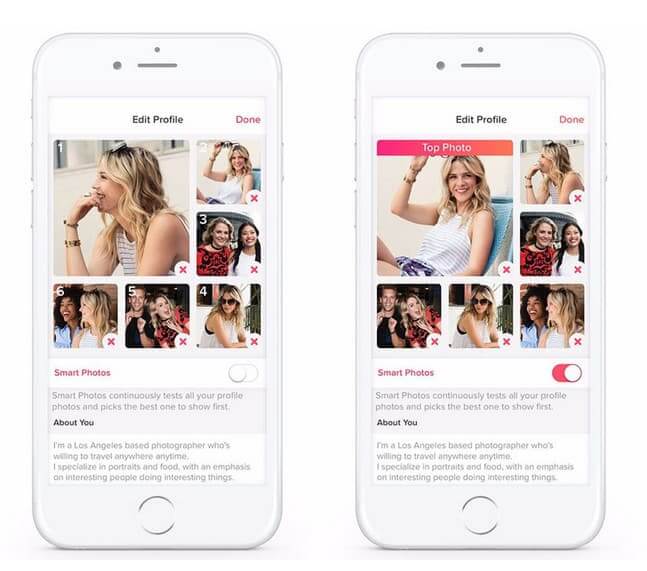 So, the not-good-looking picture will still be not-good looking and that is a potential problem.
But, many tips prevent this from happening and we will get to this in a second!
Also, there is another issue, and it is that other interested parties don't necessarily swipe right on your most attractive profile pic but any photo when they decide they like you.
This means that the order might not be the best possible one.
Since the right swipes are all that matters one may stop but ask a question: "what happens if people swipe right on photos randomly?"
The final and last potential problem is the one that occurs when there is insufficient data from other members.
For example, if you are located in a tiny town or in the suburbs where there aren't many active users, "Smart photos" will have to work with this small user pool and arrange your photos based on their actions.
This, unfortunately, can give much worse results than for the individuals who are located in areas with thousands of active members.
Nevertheless, even with these potential problems, your chances of matching with people increase!
How to Pick the Best Possible Photos
Now that we have gone over the Tinder smart images algorithm, its potential, and flaws I find it only fair to talk about various tips for picking the best photos for the profile to overcome one of the above-mentioned setbacks!
Ready or not, here they are:
1. Ask your friends for advice
What are friends for if not to be there for us and give helpful advice (even when we don't want them lol) – so why not ask them what the best photos you have are?
A good friend will always be sincere and will tell you honestly their thoughts.
That selfie you took and are in love with might not be the right choice for Tinder, and you don't even know it!
Believe it or not, according to a large study "people make suboptimal choices when selecting their profile pictures, such that self-perception places important limits on facial first impressions formed by others."
This is just another proof that your judgment might be clouded by your mind without you even knowing it, and this is where friends also come in handy!
This happened because you are so used to seeing your face and its expressions that you miss seeing certain traits that someone might find attractive; or are inclined to pick not-so-good photos.
People create extremely fast impressions on others in several seconds, and they analyze everything from the face and tiny details on it to the surroundings, and this is called thin slicing.
Thus, the best thing to do is to get a second opinion and hear much more objective thoughts than yours.
This is quite important because not only are you supposed to look well, but also trustworthy and competent, which is quite a package that the photo needs to have.
Also, when it comes to selfies, the issue is the same – people tend to love their selfies, but when they ask their friends or even people they don't know, the answer is almost always that they look better on photos someone else had taken.
If you, however, don't wish to ask anyone else, then there is an extremely helpful site called Photofeeler that will tell you what exactly a photo of yours says – whether you seem likable, confident, attractive, influential, smart, etc.
2. Add Color to Your Photos
There is something phenomenal about the red color – it simply allures you and anyone wearing it seems more seductive and attractive, there is no doubt about that!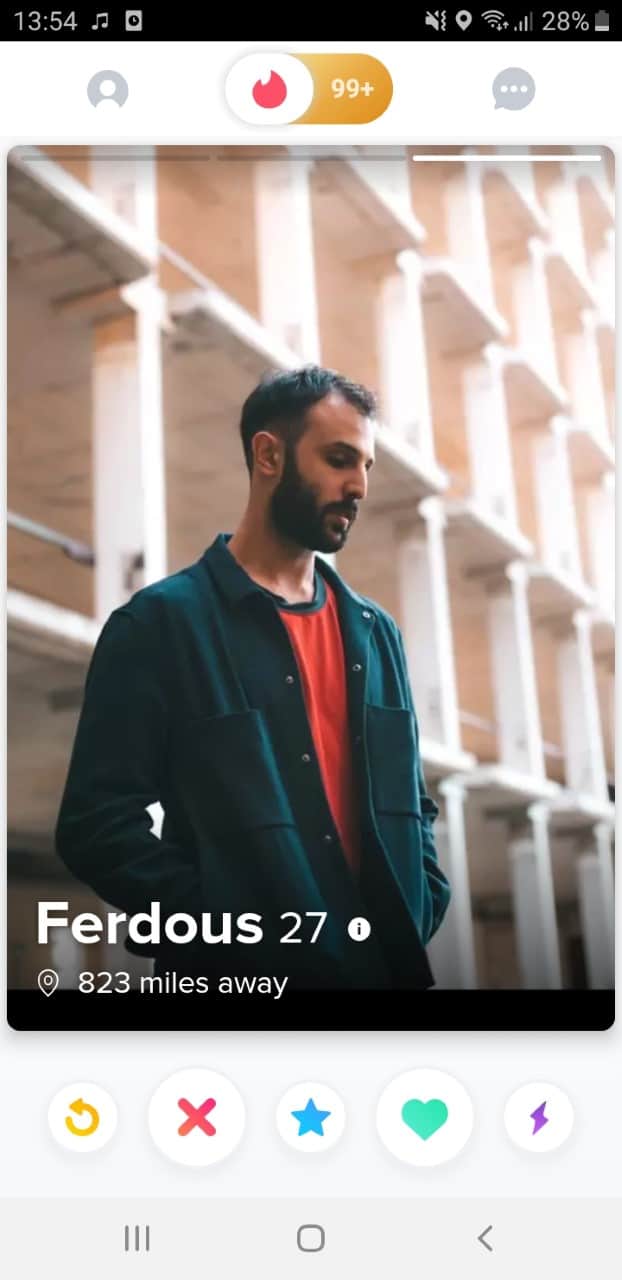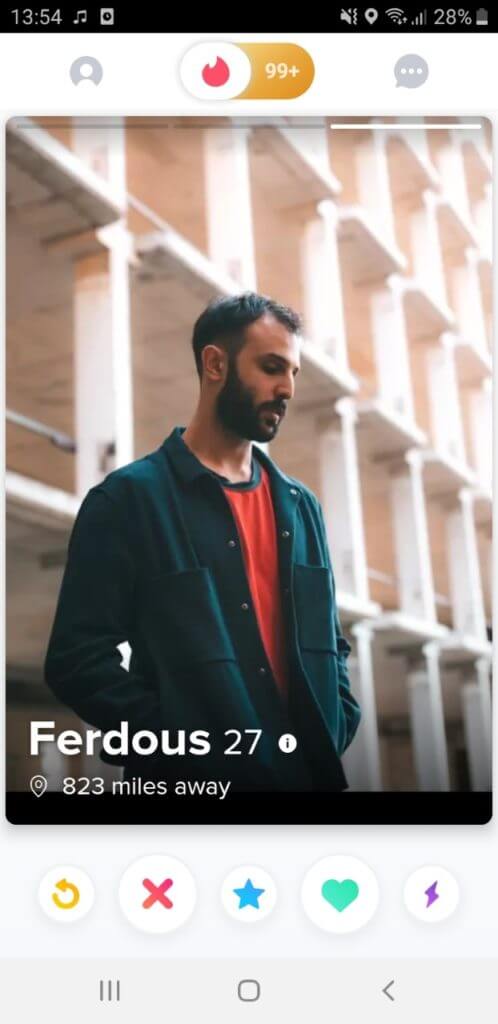 This is even truer when we try to analyze thousands of photos where people usually wear neutral, and I won't refrain from saying boring colors.
They are indeed elegant and subtle, but again not as eye-catching as the bright ones.
Even Tinder has analyzed 12,000 photos and concluded that 56% of women and 72% of men have clothes in neutral colors.
Its time this changed!
3. The Photo Needs to Be All About You
If there is one situation when everything needs to be about YOU and only YOU, it would be your Tinder photos.
A study conducted by several universities, including some Ivy League ones, says that "postural expansiveness", or better said, taking much physical space increases your chances of being liked by other people.
This behavior makes a person seem dominant and way more attractive.
You might not even be aware that you would be attracted to "dominant" individuals, but when our brains are faced with various photos and make decisions on them in split seconds, they simply prefer this kind of person.
For example, both men and women experience much more success when posting photos with outstretched arms and legs.
4. The left side of Your Face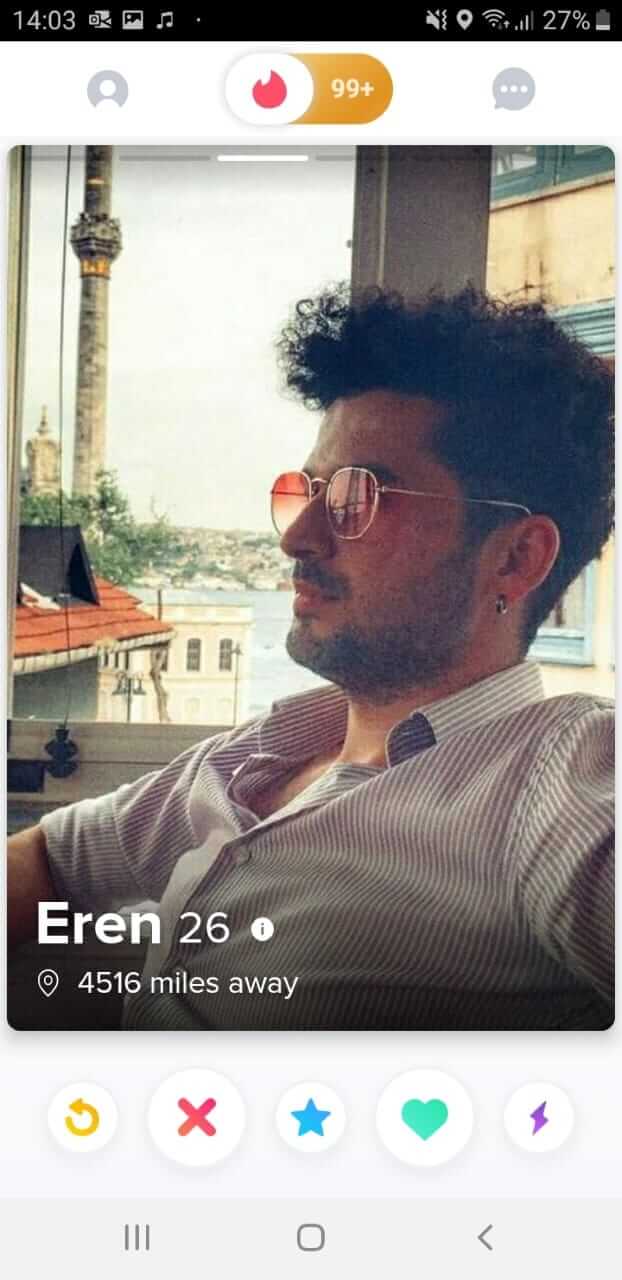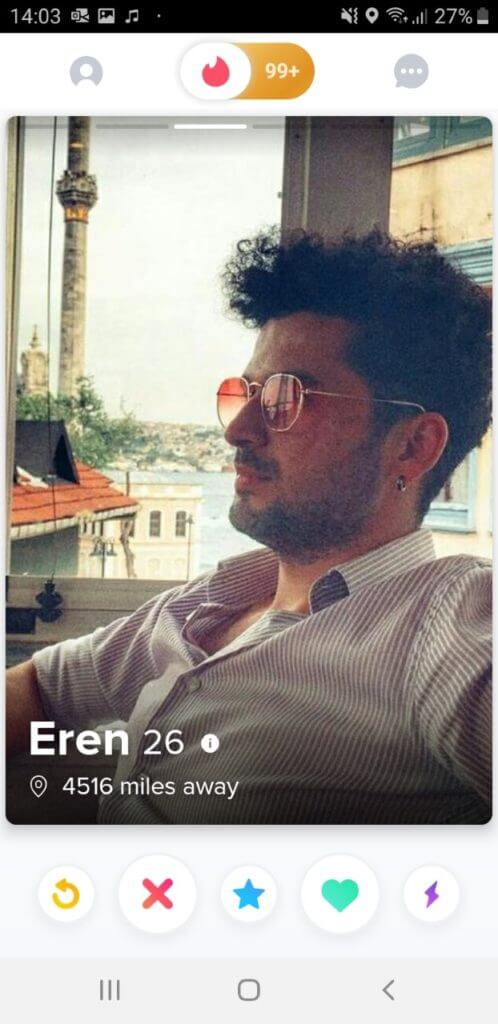 When you look at the paintings throughout history, it becomes obvious that the majority of portraits depicted are showing the left side of their face.
For some reason, people tend to like more photos when the left side is shown, compared to the right one.
The reason behind this could be that the right hemisphere of our brains controls the emotions and the right side of the body, which leads to stronger muscle contractions, and finally, slightly more defined cheeks and jawline.
Pretty interesting, huh?
5. Good posture is everything!
There are no words to describe how bad slouching and wrong posture may seem and what a bad impression they can give to potential matches.
Now that we have said that people form impressions on you in split seconds and based on photos, I hope you will look well at your posture on the images you plan to upload?
Some men and women do this because they are too tall and don't want to stand out too much, but the better solution for this is to spread your legs and "lower" yourself that way.
6. You and Your "Ugly" Friend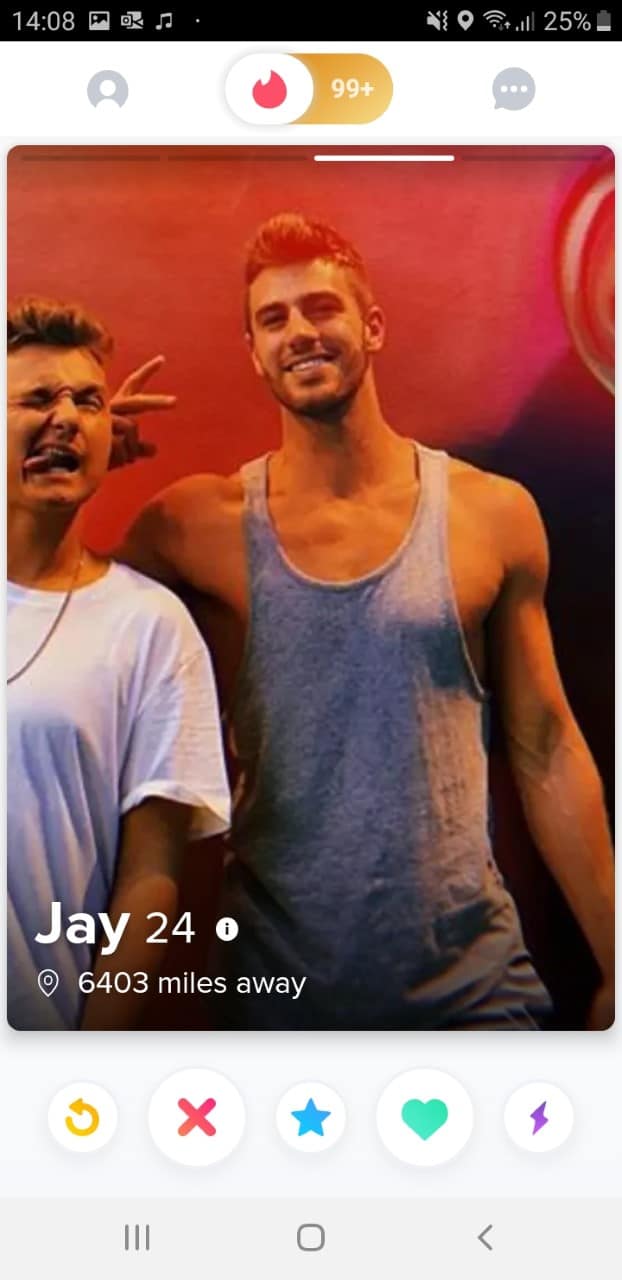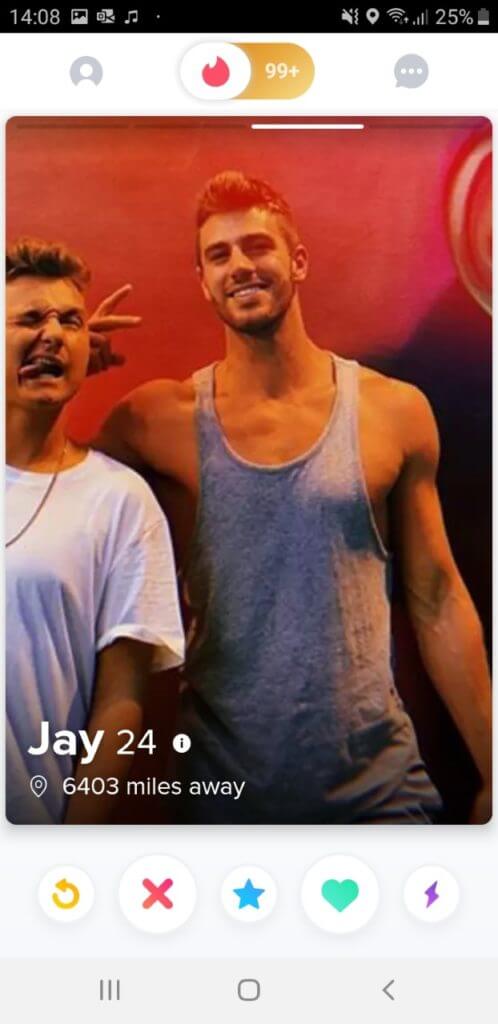 Now, don't get me wrong, but there are several types of research conducted regarding this phenomenon, including the one done at Duke University.
It says that posting a photo with someone less attractive than you can make you look a lot better and a lot more attractive.
This sounds wrong, but that is how our brains perceive "beauty".
For example, if you stood solo in a photo, someone's brain would look at all your features in detail, but when accompanied by someone who is slightly less good-looking, you suddenly appear much hotter, and that is pretty important on online dating networks.
In case you think you have a photo of this kind, feel free to upload it.
7. Show Your Eyes and Smile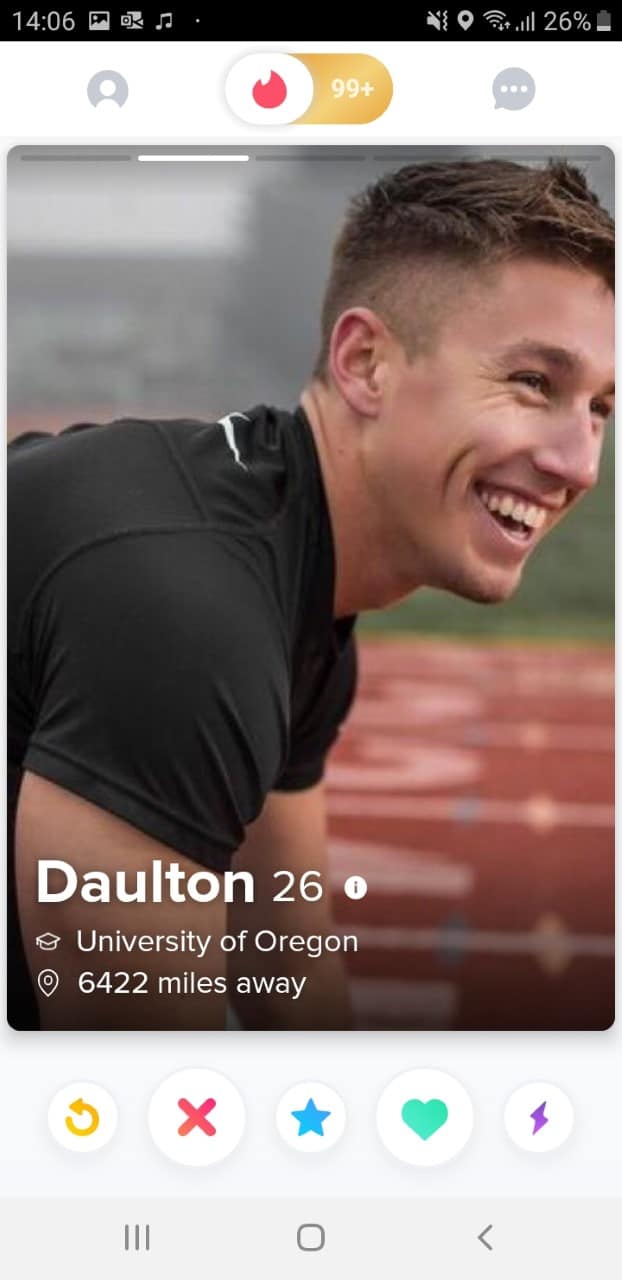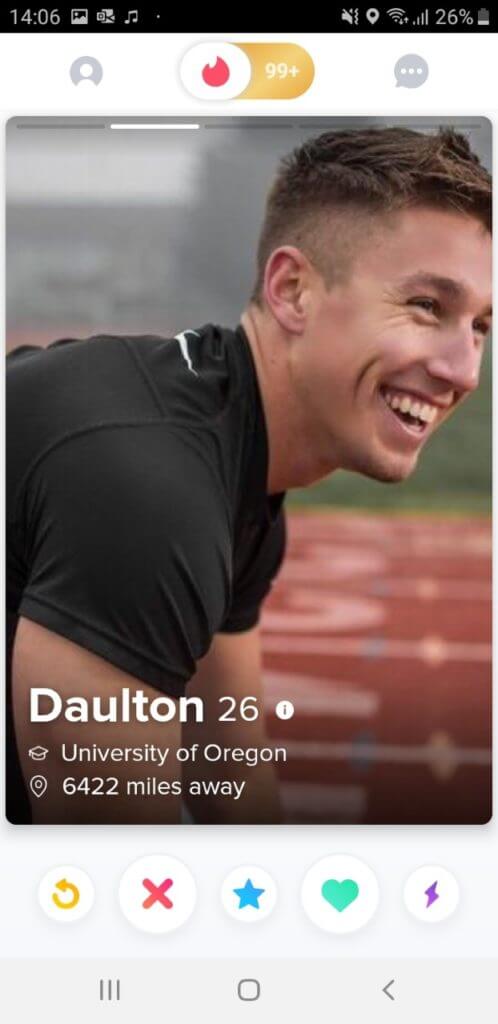 I already mentioned the website PhotoFeeler that will give you an impression someone will most probably form on you based on your photos.
One of the great mistakes people make is that they upload photos with glasses, making this website and other people unable to analyze their "trustworthiness" that comes from their eyes.
The service, along with our brain thinks this way: "Okay, this person is hiding their eyes that are an entrance to the soul, what else are they keeping a secret?"
Also, smiling makes you so much more attractive, especially if you don't find yourself to be that way.
Even if unfortunately you aren't that attractive, a study conducted in Switzerland says that smiling in photos can compensate for any non-appealing features.
So, show your pearly whites and don't be afraid of it!
Also, if they aren't as white, a slight photo editing is not a crime! 😉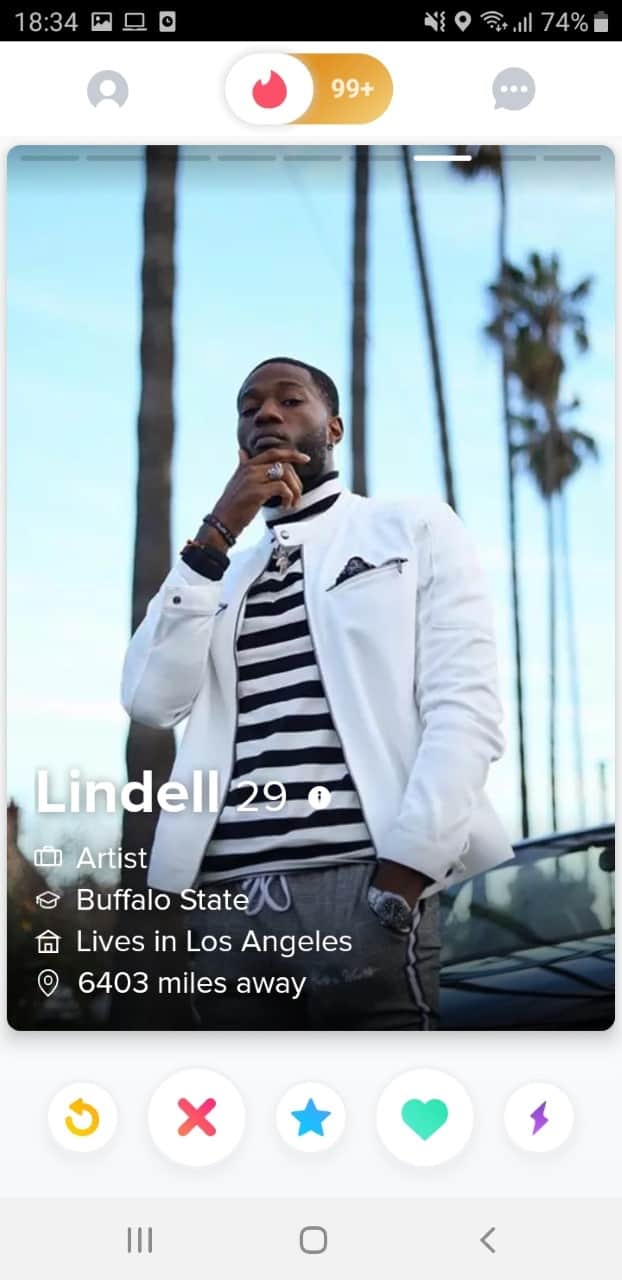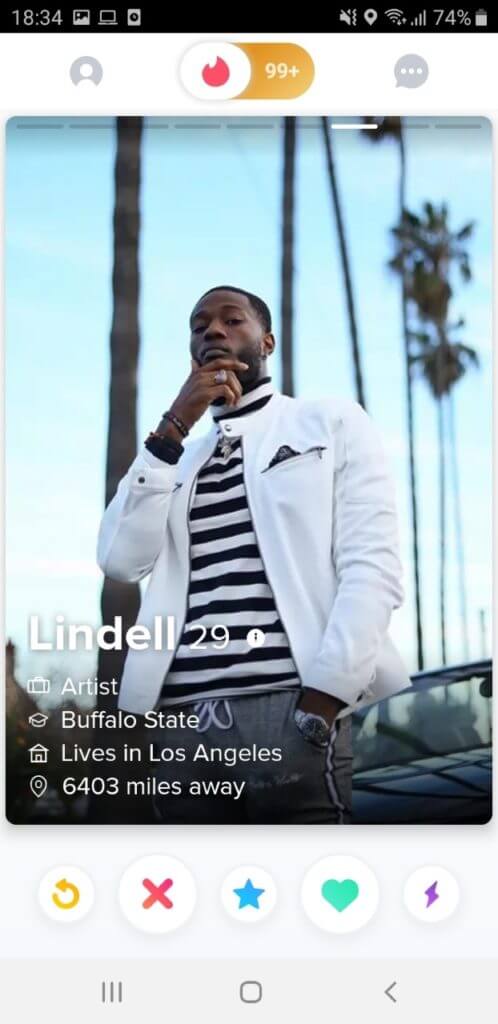 Uploading photos with more contrast makes you look so much more appealing than doing so with the vague ones in which your face blends into the background.
Thus, feel free to edit the photo to increase your face's visibility and color strength.
Various studies have been conducted in the field of neuroscience, and the results show that our brains sometimes don't like too much cognitive overload, and thus, prefer simple pictures.
I know that fun and colorful backgrounds are amazing, but they do you more harm than good because people either skip through such photos quicker or focus more of their attention on the background, and that is the last thing you wish to achieve.
10. Drinking in Photos is a "No"
It is as simple as that because imagine what kind of impression a person will form about you?
We all like to go out, have fun, and a drink or two (or more), but you don't wish to come off as a party animal who has a drinking problem.
You would want to depict yourself as attractive, trustworthy, smart, funny, and other things, and there are only several photos you can use to achieve that, so wasting one on showing yourself drinking is not acceptable.
I hope that reading this article has shed some light on the question: "How does Tinder choose your photos", what the Smart photos Tinder feature is and how to pick the best ones to show a potential date who you are in only several swipes.
Frequently Asked Questions