Tinder is one of the best, if not the best dating app in the world.
There are different settings regarding the Tinder age range, and today we are here to explore them.
In this article, we shall discuss:
OFL Top Recommendations based on 100,000+ Survey

"Serious Relationships"
"Discreet Hookups"
"Best Course for Men"
"Quick Flings"
"Normal Hookups"
"Our Quiz"
Wanting to hide or update your age (range) on Tinder? Let me show you how!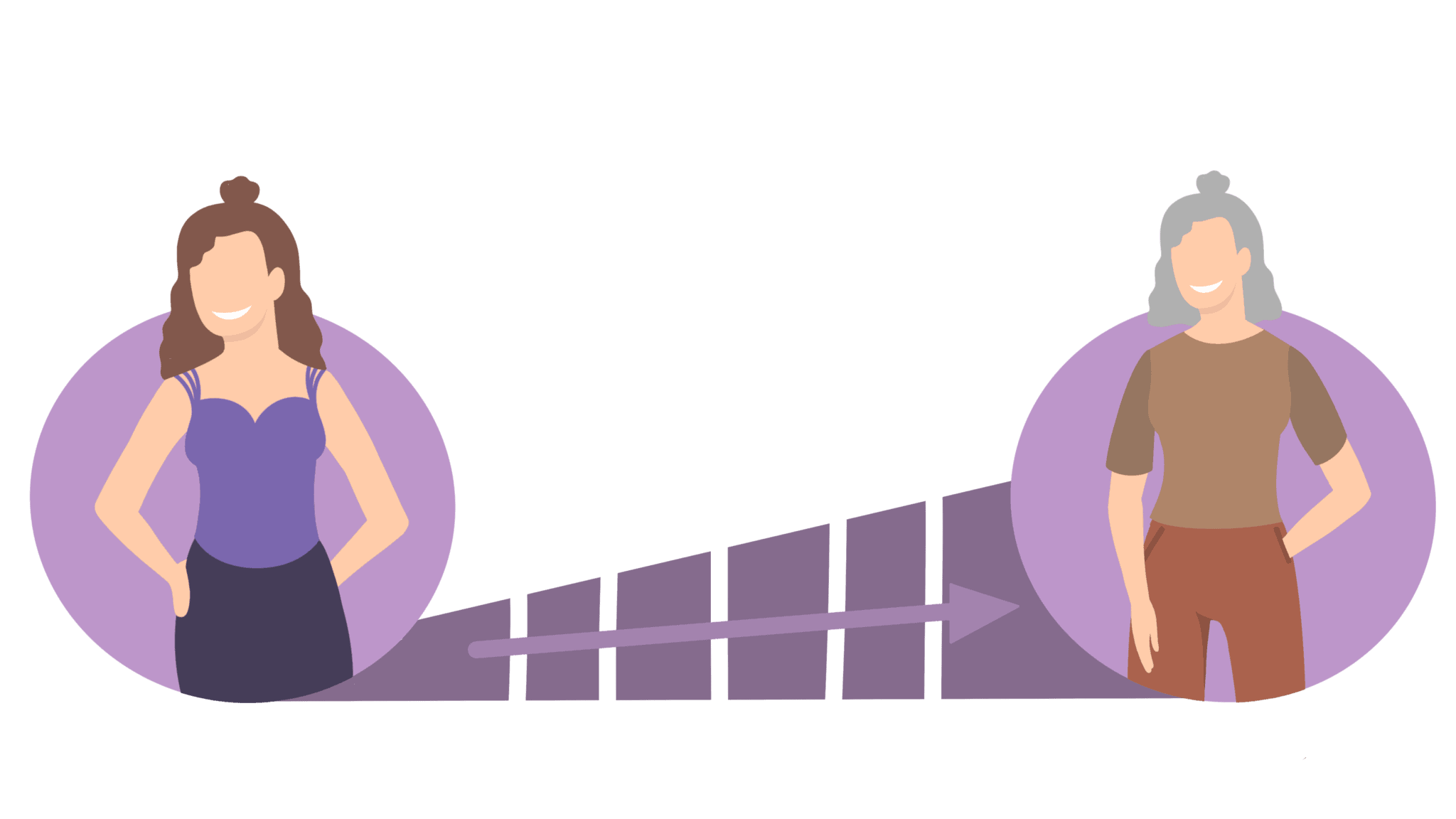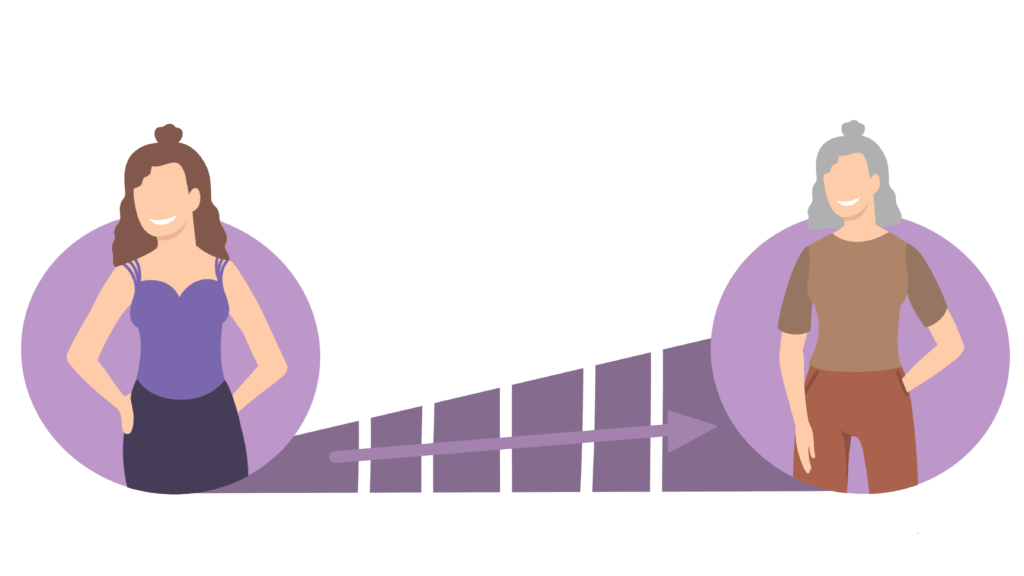 Tinder is seen purely as a hookup app (like BeNaughty or Ashley Madison) by many people, while others see Tinder as an app where they can find serious relationships (like eHarmony).
When it comes to the Tinder age requirement, there are many important things to know about it, since some things have changed in the past several years.
In the past, there were several versions of Tinder, depending on your age.
The normal version is generally for people over 18 years old, where you could meet people of all ages.
However, due to the popularity of the app, younger people were also allowed to use it at some point in the past, but they were only able to meet potential matches of similar age.
More precisely, teens between 13 and 17 year-olds were able to use the app, and meet other people from the same age range.
But, nowadays it's different.
So, as for how old do you have to be for Tinder, I can say that today, the minimum age requirement to use Tinder is to be at least 18 years old.
Because of that, some people lie about their age, mostly teens who would want to use the app and meet older people.
OFL Top Recommendations based on 100,000+ Survey

"Serious Relationships"
"Discreet Hookups"
"Best Course for Men"
"Quick Flings"
"Normal Hookups"
"Our Quiz"
Therefore, you should be careful when using Tinder.
You don't want to break the law and hook up with people under 18, even if you weren't sure about their real age.
Technically, it shouldn't be legally possible to even have Tinder at this age, but there are always loopholes and other ways people can do it, which I will show you a bit later.
Now that you know Tinder minimum age requirement, let's find out what age group Tinder is for.
Nowadays, you can customize your age range preferences, to find people from the specific age range you want.
This allows you to find older people if you like more serious members or meet hot younger girls for something more casual.
The widest available age range on Tinder you can set is between 18 and 100 years.
Furthermore, you can customize it how you want, increasing the minimum age, and reducing the maximum age as well.
Now that we know that, let's explore some useful Tinder statistics – regarding the age distribution between users.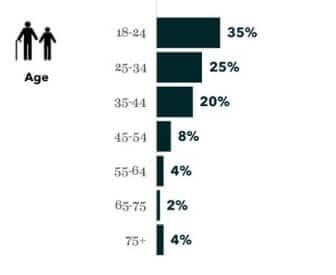 As you can see, over a third of Tinder users are people from the age group of 18-24, more precisely 35% of them.
They are followed by the age group of 25-34 (25%), 35-44 (20%), while only 18% of users are people over 45 years old.
This is totally expected, since nowadays, younger people use technology a lot, and it is not a surprise for them to use online dating apps to meet other people.
Also, amongst some of them, there are probably those younger than 18 who lied about their age to be able to use the app.
How to Change Your Age Range on Tinder
When it comes to customizing your age range on Tinder, it is a pretty simple procedure, which I am going to completely explain.
This setting can be found in your Tinder's Discovery settings, and can easily be changed by moving the slider left and right.
When you open a Tinder app, you will most likely find yourself in a place where you can swipe other people's profiles right away.
To change Tinder preferences, you will have to swap the tab to your profile, by clicking the icon on the top left corner of your screen.

After that, you will be moved to your Tinder profile page, where you can customize your details and preferences.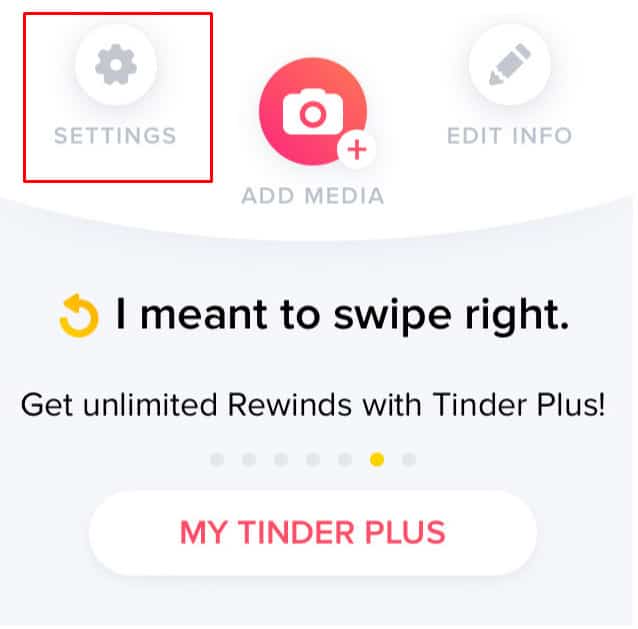 To access Tinder Discovery Settings, click on the 'Settings' button on the left side of the screen, where you will see several important options.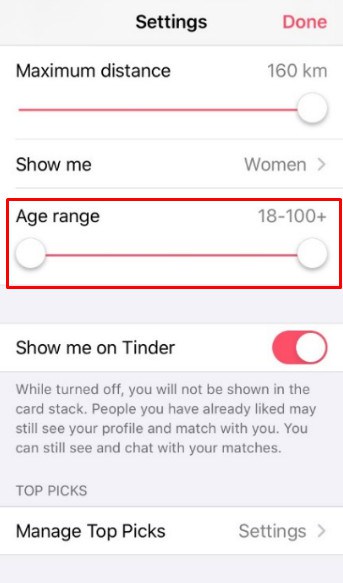 From here, you can change different settings, such as setting the maximum search distance, which will allow you to see all members in the vicinity of a set distance, choosing Gender search preferences, as well as some several other options, which are not the topic of today's article.
Amongst all those options, you will see the 'Age range' slider.
To set your desired age range, simply move the slider left or right until you set the age range you want.
This option means that you will be able to see the profiles of all Tinder members in your vicinity, who belong to this age range.
As you can see, it's pretty simple to change and customize the preferred Tinder age range, without having to bother with multiple options.
I get a lot of questions such as 'how do I change my age on Tinder.
I finally decided to answer all those questions and teach you how to change the age on Tinder.
Basically, there are two different ways of doing this, depending on whether you linked your Facebook account to Tinder or not.
I will explore both options and explain how each of them works, so you could be able to see the complete picture and be aware of all possibilities regarding this topic.
So, without any further delay, let's start by explaining how to change your age by using the Tinder application.
Changing Your Age through Tinder App
As for the question, how do you change your age on Tinder? it's a question that pops quite often, next to the 'how to change my Tinder name'.
Changing name and age on Tinder are the only two things you cannot do after you install the app and set up your profile.
Therefore, the only way to change your age via the Tinder app is to completely re-install the application and change details upon installing it again.
Let's take a look at the entire process.
Don't worry, I will guide you through everything, so you don't have to be afraid to make a mistake.
The first thing you need to do when changing your age via the Tinder app is to click on the profile icon on the left like I had already explained before.
After you are on your profile, you need to access the settings by clicking on the 'Settings' button, and after you are there simply scroll down and click on 'Delete account' as shown in the picture below.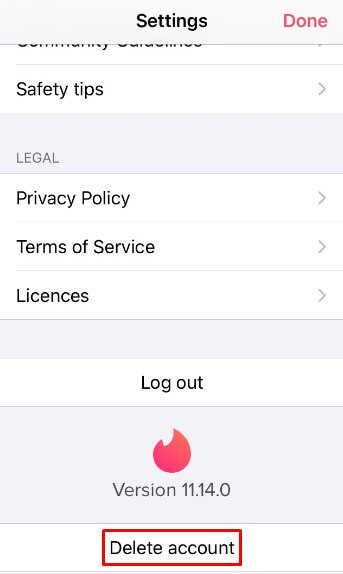 After you successfully delete your Tinder account, what you need to do is go back to the App Store or Google Play Store, depending on whether you use iOS or Android.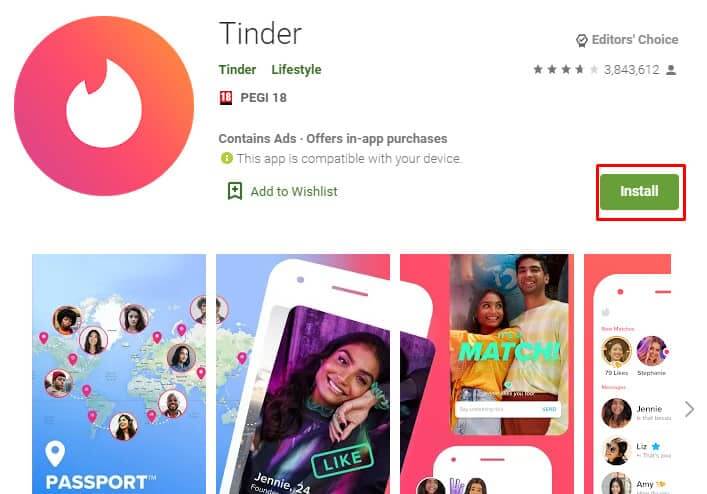 From there, you will need to install Tinder again.
And since we are talking about registration without using Facebook, you should select that option.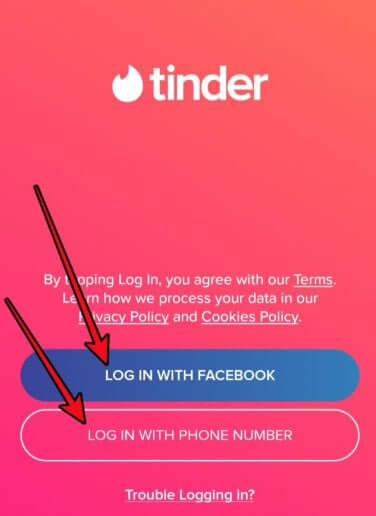 You can also choose to register via your email, but that is a story for another time.
For now, let's leave the registration part like this.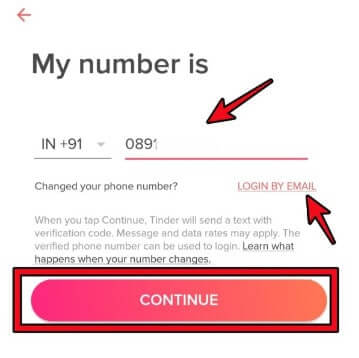 Once you create your new Tinder Account, you will be asked to add several photos and some basic information about you.
This is where you can edit your name and age.
So, whenever you want to update your age information on Tinder, you will need to do so by repeating this whole process.
That is, of course, if you are not using Facebook to create your Tinder account.
Now, let's take a look at how to change your age on Facebook to change the age of Tinder.
Changing Your Age via Facebook
There is an easier way to change your age on Tinder, which is, of course, using your Facebook account to do it.
Keep in mind that this option is only possible if you had registered on Tinder via your Facebook profile.
It won't be possible to do so if you were using other sign-up methods.
To change your age on Facebook, you need to log in to your Facebook account, then go to your profile and click on 'About info'.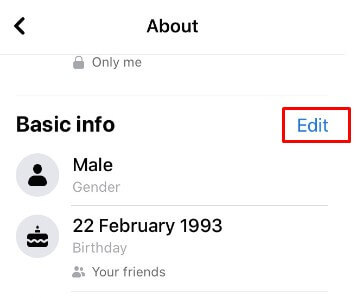 Here, you should click on 'Edit', which will allow you to change basic information about yourself, such as your birthday and gender.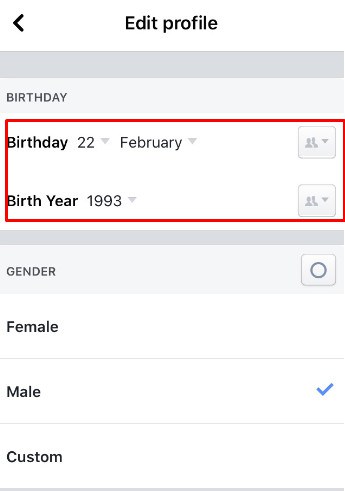 From here, simply change your birth date, save changes, and you are good to go.
Of course, this step is only needed if, for some reason, you don't want to show your real age on Tinder.
However, if you want Tinder information to be always updated, and your age to always be up to date on Tinder, it will be done automatically.
Once your age is updated on Facebook, it will automatically update itself on Tinder in the next 24 hours or so.
One thing to note here is that you are not allowed to change your age on Facebook every so often.
If you try to spam it too often, Facebook might block you from using this feature for 60 days.
But, if you simply want to do it once, then you won't experience any problems with it.
Hiding Your Age on Tinder
There is a pretty interesting feature called 'Tinder hide age', which allows you to, like the name suggests, hide your age from other Tinder members.
This can be done for several reasons, which I will go into in a moment.
But first, let's see how to even use this feature, shall we?
This feature is only available if you have a Tinder Plus membership.
To get it, you have to pay of course.
You can get it by paying $4.58/mo for 12 months, $5.83/mo for 6 months, and $9.99 for one month of Tinder Plus membership.
It also unlocks some other features, but that is not the topic of this text.
After you've gotten your Tinder Plus membership, you will be able to use all these options.
Let's see how.
To hide your age on Tinder, you need to get to your profile settings again, by clicking on the top left icon on your screen.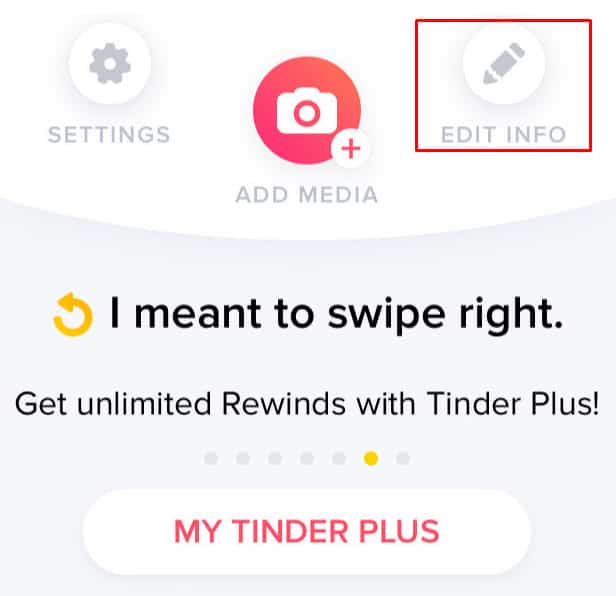 After that, you should click on 'Edit info', which will allow you to change different settings about your own Tinder profile.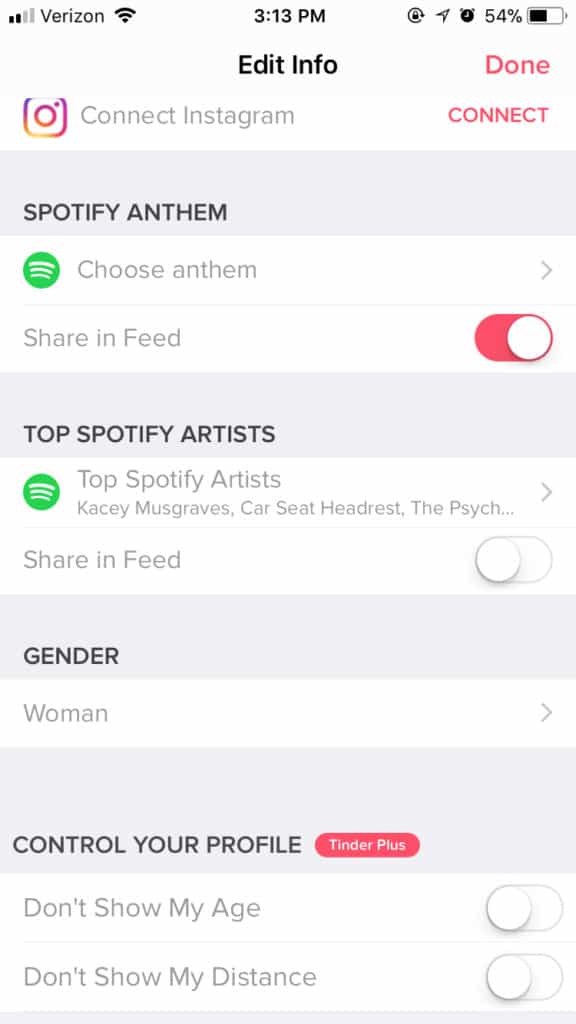 Here, you can find Tinder Plus features, such as 'Don't Show My Age' and 'Don't Show My Distance'.
To enable these features, simply click on the slider, and you are all set.
Pros and Cons of Hiding Age on Tinder
Now that you know how to hide your age on Tinder, let's talk about the positive and negative sides of doing this and judge if it is worth it or not.
Pros:
Cons:
Hiding your age might seem useful in theory because it allows you to keep your privacy, and it could help you get laid.
If you are a good-looking older dude, who looks younger, or if you are a younger dude, who looks a bit older, women might fall for that, so in that instance, it could be useful to hide your age.
However, in truth, this causes more problems than help.
In almost all surveys, women claimed that when they see a man without age information, they instantly swipe left.
This automatically means that you would get fewer matches because hiding your age on Tinder creates some sort of mistrust, which is something most women despise.
Conclusion on Tinder Age Range
I hope you enjoyed this guide about how to change your age on Tinder and what is the possible age range you can set to meet your personal preferences.
If you have anything to share about this topic or some questions to ask, feel free to do so in the comment section below.
Frequently Asked Questions