Hi guys, welcome to this interesting article where we have compiled some helpful hacks on how to get unbanned from Tinder.
In this article, we will look at:
Let's get you unbanned already!
OFL Top Recommendations based on 100,000+ Survey

"Serious Relationships"
"Discreet Hookups"
"Best Course for Men"
"Quick Flings"
"Normal Hookups"
"Our Quiz"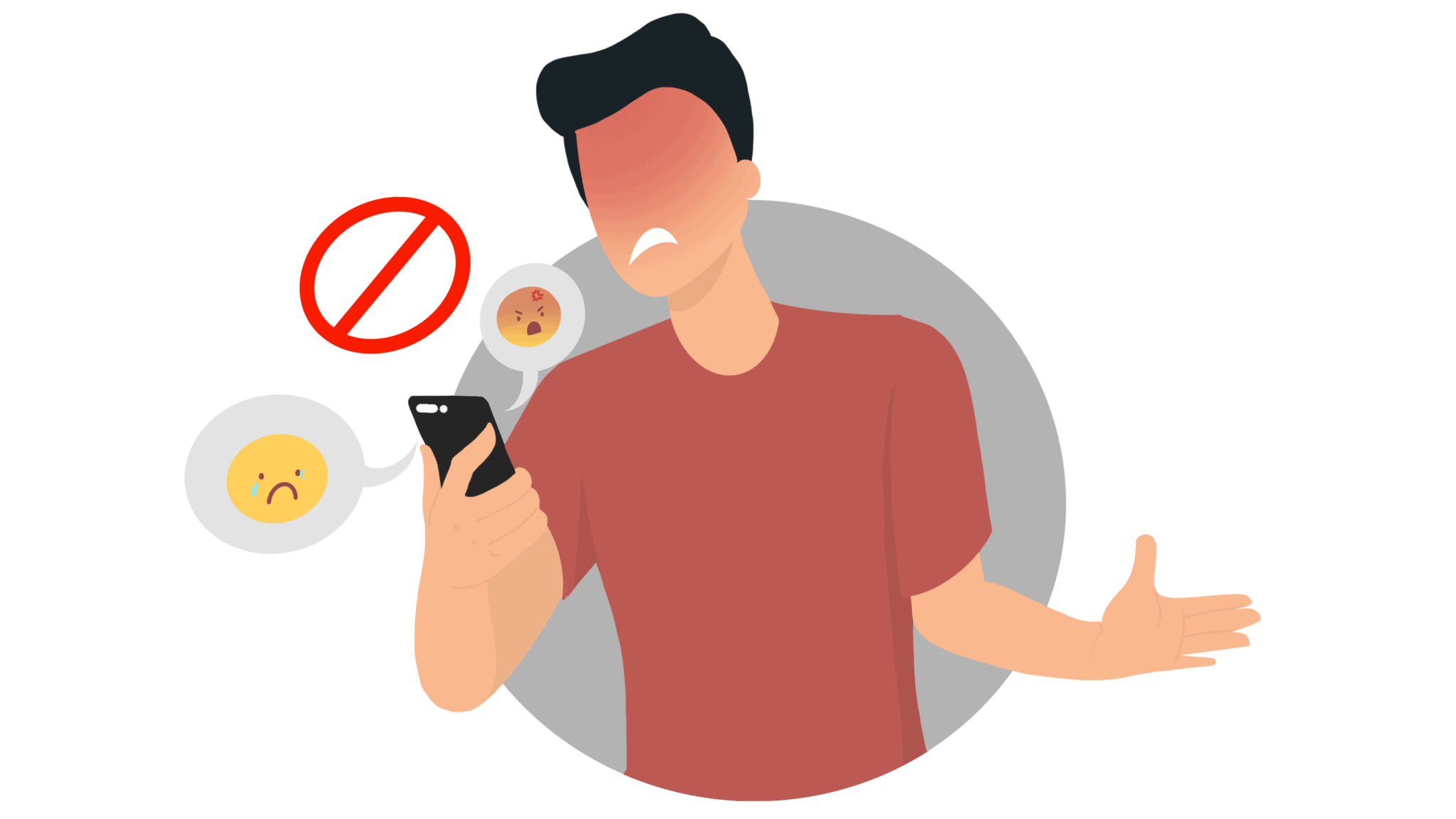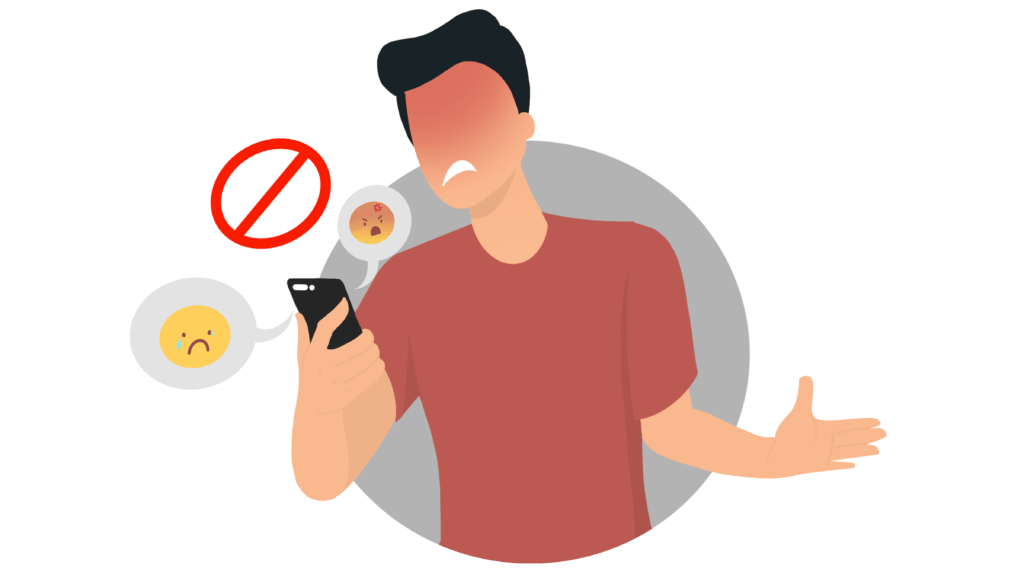 Nine Reasons for Getting Banned
Everybody thinks that they can't get banned from Tinder so easily.
It is quite a large platform, and because it is a dating app, the rules are a bit different.
Though Tinder ranges from people looking for a quick fling to Serious relationships, it is not only for hookups (like BeNaughty or Ashley Madison) or only for serious relationships (like eHarmony).
However, Tinder is looking after its users and a certain type of behavior isn't welcomed.
This behavior includes racist or sexist comments, inappropriate language, and many others which will be covered.
Of course, if you act politely and descent, you probably won't get blocked on Tinder.
Even though you have been acting appropriately, one day you might wake up to your tinder account banned.
Then you say Tinder banned me for no reason or ask why was I banned from Tinder?
Keep in mind that getting banned from Tinder for no reason isn't likely.
Even when you think that you have done nothing wrong, your behavior could offend somebody and they decided to report you.
Although just one report isn't enough to get your account Tinder banned, a few of them could lead to this.
Don't worry, you aren't the first or only user facing this problem with your Tinder profile.
OFL Top Recommendations based on 100,000+ Survey

"Serious Relationships"
"Discreet Hookups"
"Best Course for Men"
"Quick Flings"
"Normal Hookups"
"Our Quiz"
As the screenshot below indicates, our researchers found many Tinder users in the same situation.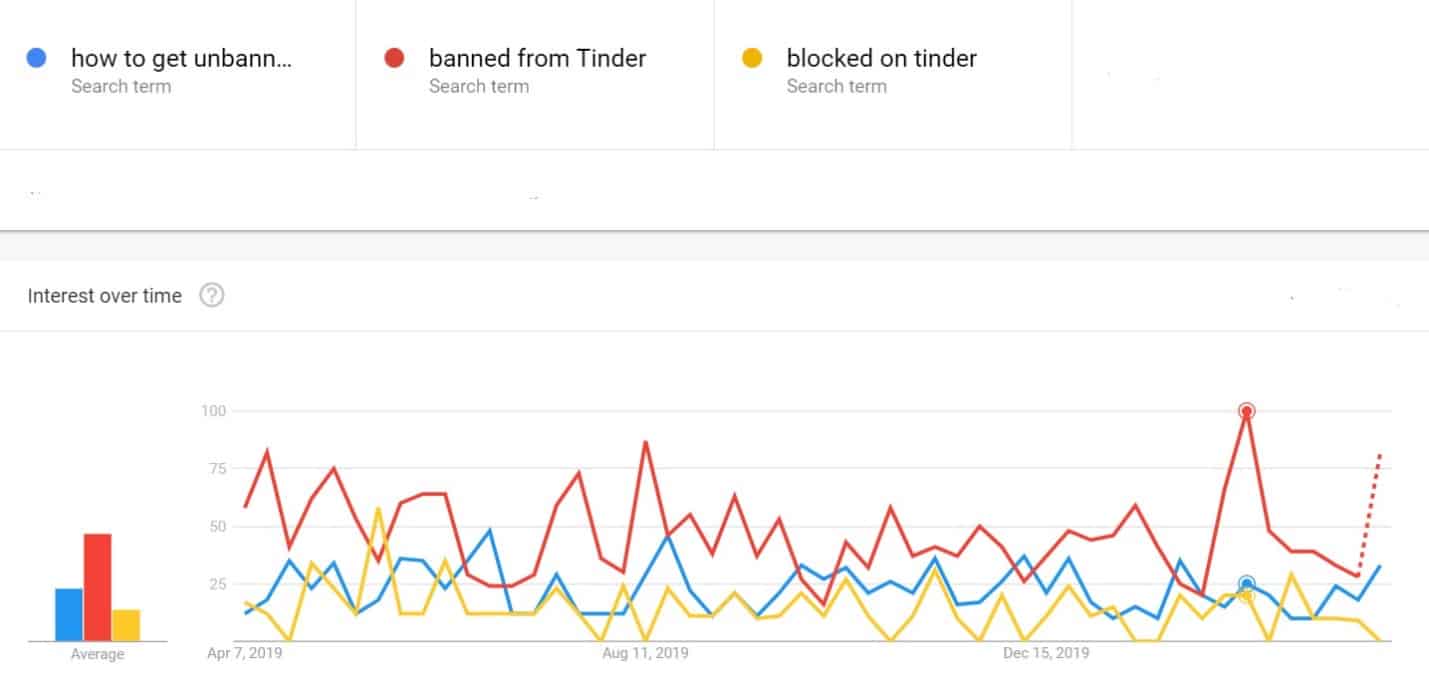 In 2019, the term banned from Tinder was one of the most popular – almost 50% more than other terms.
The term how to get unbanned from Tinder also showed increased popularity during the same year by 50% as well.
Before we show you how to recover your account, you should learn how you get banned from Tinder in the first place and which type of behavior to avoid.
Here is a list of some of the most common reasons for getting banned.
1. Inappropriate language
We believe this to be the most obvious reason for getting banned, yet many people think that they can easily get away with being rude.
Also, this is one of the most common reasons for getting blocked.
We found out that over 50% of blocked users have used offensive and inappropriate language.
As previously mentioned, anyone on Tinder can report you and you can do the same.
Tinder is allowing their users to play police officers and report whoever they want (of course, you will have to state a reason for reporting someone).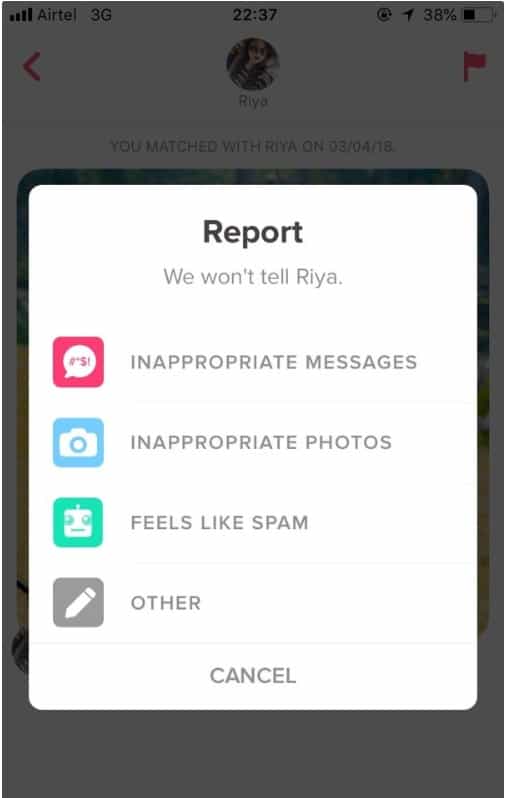 If you have a few reports, Tinder will block your account.
You may feel like you've got Tinder banned for no reason, but this rarely happens.
You probably even got a warning before getting banned.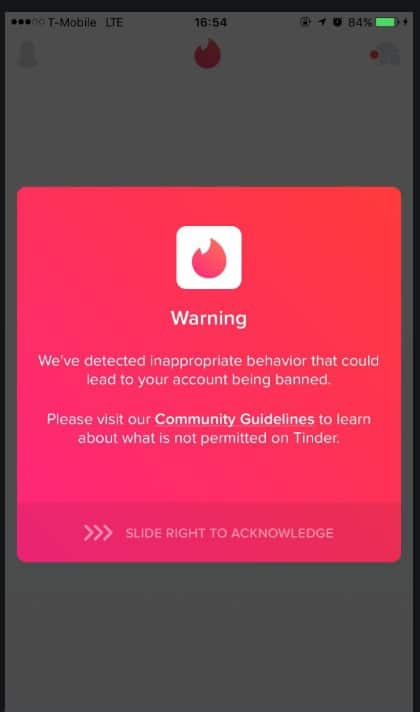 After reading the warning, you will have to read their Community Guidelines and tick the "it won't happen again" box.
However, if you get a few more reports after this warning, you will be banned.
Again, don't worry, the Tinder ban doesn't mean you won't ever again have access to this app.
There are ways to get back and we'll cover how to unban Tinder account as well.
2. Pretending you are somebody else
If you were wondering how to get banned from tinder quickly, create a fake profile with a random name.
Catfishing and fake accounts are quite common on Tinder and the creators are looking for new ways to deal with these accounts.
Usually, this includes help from other members – if an account seems fake or you know for certain that it is fake, you can report it.
Tinder will do a check and decide whether to block that person.
Most people pretend that they are someone more attractive and entertaining.
They might use their name (but many of them come up with a new one) and steal other people's pics.
If you're calling someone out on a racial basis, you will suffer the consequences, and there is no way to bypass this ban.
This also depends on the person you are chatting with.
If the comment doesn't seem racist to you, it may sound different to them and they will quickly press that report button.
Sometimes, the most stupid things, such as song lyrics could get you in trouble.
Many people, including myself, wrote lyrics that were racist or just included a few racist words.
Tinder immediately warned me to stop it and when I didn't, Tinder banned me.
We advise you to not try this and expect a different outcome – it will always end with a ban!
Choose your words carefully, and if you aren't interested in someone, just keep swiping left.
There is no need to offend someone and risk getting your Tinder account reported and blocked.
This goes hand in hand with racists comments.
The outcome is the same – you will get banned.
Not all women are feminists, and not all feminists will report you for a sexist comment – some of them will just delete the messages and move on.
However, if you have started an argument with a girl on Tinder and she finds one of your statements sexist, she could just hit that report button and get you in trouble.
Our candid advice, always choose your words carefully, and when you notice somebody trying to provoke you, either block them or delete the messages.
Tinder is an app that homosexuals use as well and both Tinder Gold and Plus have a few functions just for the LGBTQ community.
If you aren't homosexual, you can simply avoid homosexuals on the app.
When you created your profile, you must've already stated that you were interested in girls, so you won't come in contact with homosexuals.
There is no reason to start chatting with these people only to offend them and call them out.
Tinder is not tolerating any homophobic messages or actions, which means that you can easily get Tinder banned.
You aren't obligated to share their preferences, opinions and believes, so just leave them alone and focus on your matches.
We've observed that people don't like waking up to a dozen of your messages.
If you aren't getting a response to the messages, you should probably give up.
If the girl you are texting isn't interested and further messaging will only lead to her either blocking you or reporting you for spamming.
Also, constantly texting one person might make you look needy which girls find unattractive.
Another type of spamming is sending the same message to different accounts.
Many guys just copy and paste "hi beautiful" to all of their matches.
I wanted to find out if this behavior could lead to a ban, and it did.
Sending the same message to multiple accounts was suspicious and Tinder blocked my account.
It is okay to chat with different girls (that is the point of the app), but send them different messages so it doesn't look like spam.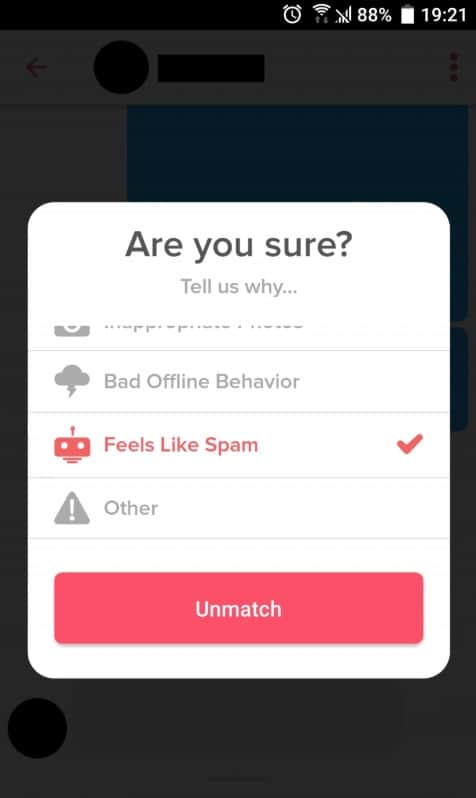 7. Using Tinder for paid promotions
Because this is an app, often people assume that whatever is allowed on other social media apps will be allowed on Tinder as well.
However, in most situations, it is not the case.
The profile you created is meant for chatting, meeting new people, and trying online dating, and you shouldn't use it to promote any brand or product.
Promoting also includes making people follow you on Instagram or other social platforms.
Tinder isn't the place to find new followers and gain more likes on Instagram.
This is behavior is easily spotted by Tinder and after a few reports, you will get banned.
8. Posting nudes or inappropriate images
We get it – you have incredible abs and want to attract girls with a good photo of your muscles.
If you are only showing your body a little bit, it could work.
However, posing entirely naked won't result in many matches, and girls will quickly swipe left once they see a dick pick as a profile photo.
Based on statistics, nude pictures get 5x fewer likes than pictures of the face.
Also, sending these pictures isn't okay either – 99% of female Tinder users do not feel comfortable receiving nudes.
Another type of violating image is pictures of animal corpses.
Seriously, can you get banned from Tinder for this?
Well, Tinder has a strict policy on pictures with a dead animal – upload it and you will get blocked.
If you caught an animal and took a selfie with it, there is no need to post it as your profile picture.
It belongs in your gallery and not on Tinder.
9. Lying about being the legal age
For some time, Tinder allowed minors to create a profile and explore online dating.
However, this policy has changed – only users older than 18 can join.
If you are underage, wait a few years (or months) and create an account when you are legally allowed to.
Finding out that you are under 18 years old isn't hard and if you get banned, you might not get the chance to create an account when you get older.
Also, avoid joking about your age number.
Even if you are of legal age, but often joke that you are younger, Tinder can still ban you.
Somebody might not get it as a joke and decide to report the profile.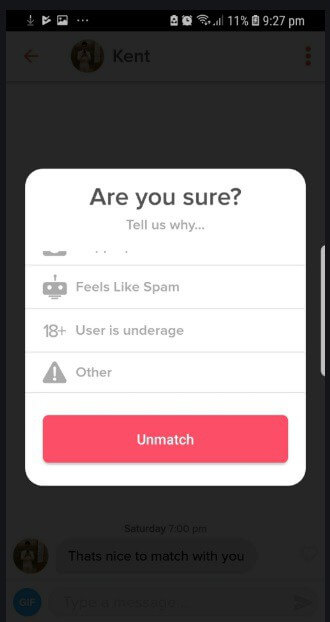 Banned from Tinder, How to Get Back?
Unfortunately, you made some of the above-mentioned mistakes and got banned and now you're wondering…
What are the next steps?
Is there a Tinder unbanning tool?
How long does tinder ban last?
How to make a new tinder after being banned?
Fortunately, you will be able to recover your account and continue matching and meeting hot girls.
All you have to do is follow these nine steps:
Just like other apps, Tinder has a support service that could help you resolve this issue.
Even though there isn't an official Tinder ban appeal you can submit, with the help from support services you could learn why the ban happened.
They will explain all of the circumstances that led to the ban and then you'll have the answer to "why was my Tinder banned?".
When you are aware of the mistakes you've made, apologize and explain your side of the story.
Remember to be polite – arguments with these people won't get you far.
Any communication misunderstanding can be resolved with the Tinder support service and your account will be unbanned.
If you are lucky, the entire process will be finished after a few phone calls or emails in a few days.
Unfortunately, in some cases, it lasts over a month so keep your patience.
2. Otherwise, create a new account
You can continue to this next step only if the first one didn't work.
If the Tinder support service unbans your profile, you will keep all of its data.
Your ELO score won't be affected, all of the photos and matches will still be there.
If you decide to create a new profile, you will be starting from scratch.
Lucky for you, know you can create an even better profile – better pictures and bio, and use Tinder more strategically to get more matches.
Also, your profile will be automatically boosted because you will be considered for a new member, and the ELO score could be improved.
How to make a new Tinder account after being banned?
All of the steps you had to follow before are the same, but there are a few things you should be aware of.
3. Always use a new SIM card
If you want to create a new profile, you will have to get a new phone number.
Tinder can easily recognize your old number and stop you from making the new profile.
With a new card, you can create a new account without Tinder knowing you are one of the banned members.
4. Register a new Facebook account
If the Facebook profile was linked to your previous account, avoid doing this now.
Linking a Facebook profile is okay only if you have created a new Facebook account as well.
Also, signing up using the phone number is a better option than doing it via Facebook.
Tinder won't ask you to link the Facebook profile if you have entered the phone number.
However, if you only log in via Facebook, you will be asked from time to time to add the phone number.
Getting a new SIM card and creating another Facebook profile can be a hassle.
Important things to note about browsing Tinder
Both Google account (for Android users) and Apple ID (for iOS users) are storing much of your data and you can't as easily delete this data.
Before downloading the app (after deleting your banned account), create a new account, sign in to the App Store or Google Play Store with it and then download the Tinder app.
This step is required for both free and premium memberships.
After creating these new accounts and buying a new phone number, you can finally create the profile!
All of the data you enter will be entirely new to Tinder and it won't recognize you as one of its previous or banned members.
7. Add new and better photos
The good part of setting up a new profile is the chance of adding new, better photos.
Whether someone will swipe right or left is often based on the profile photo.
Because you already have Tinder experience, you know which photos get the most likes.
Uploading the old photo that girls swiped right on isn't recommended.
You will have to alter it a little bit.
Tinder Al is great at recognizing the same pictures and if it does, it will connect it to the old account and you will get banned again.
When adding previously used photos, crop them differently.
You can also play with Photoshop and change lightning, brightness or maybe add a filter.
Of course, with the new pictures, you will be safe from getting banned.
8. Do not link your Instagram profile
After writing your bio and uploading photos, you will be able to link to other accounts.
Many Tinder users link their Instagram profile and if you have done this in the past, avoid doing it now.
The Instagram profile has little impact on the number of likes and not linking it won't affect the matches.
Reusing the old Instagram profile could only lead to being discovered and blocked once again.
If you do not plan on upgrading the Tinder account, you can skip this step.
For anyone that wants to purchase either Tinder Gold or Tinder Plus, a new credit card is necessary.
You can use the credit of a friend or any family member, as long as it is not the card that was linked to the previous account.
Unfortunately, nobody can tell you how long the Tinder ban will last, but with these nine steps, you can get back in the game.
This tactic worked for 75% of banned Tinder users – others just missed one of the steps, got caught, and had to redo it all one more time.
Because of the increase of reported profiles, Tinder is now taking them more seriously and banning people more than ever.
There isn't an exact number of banned profiles, but almost 10% of male users get blocked or banned at some point.
Of course, these profiles are usually reported by women who taught their language and behavior was disrespectful.
If you haven't got banned yet but received a warning for getting reported, there are things you can do to save your account.
As mentioned, after getting warned they will send you the community guidelines.
It might be helpful to read them and better understand what is allowed and what isn't.
After ticking the "I understand and it won't happen again" box, you can continue exploring the profile.
If the mistake is not repeated and there aren't more reports, you will be safe.
If you know who reported you, you should consider apologizing to that person.
Do not spam her with the messages – just write one simple "sorry" and move on.
Getting around Tinder Ban
You can still use Tinder freely, send flirty texts, and not get banned.
How to get around Tinder ban?
If you do any of the things mentioned above, a ban is unavoidable.
With a few carefully worded messages, there is a way to have an interesting conversation and avoid getting banned.
Obviously, if you are too sexually direct, you will be just as quickly reported and blocked.
When that happens, any chances of dating that girl are ruined.
Just look at this screenshot – he probably found himself banned from Tinder a few days later.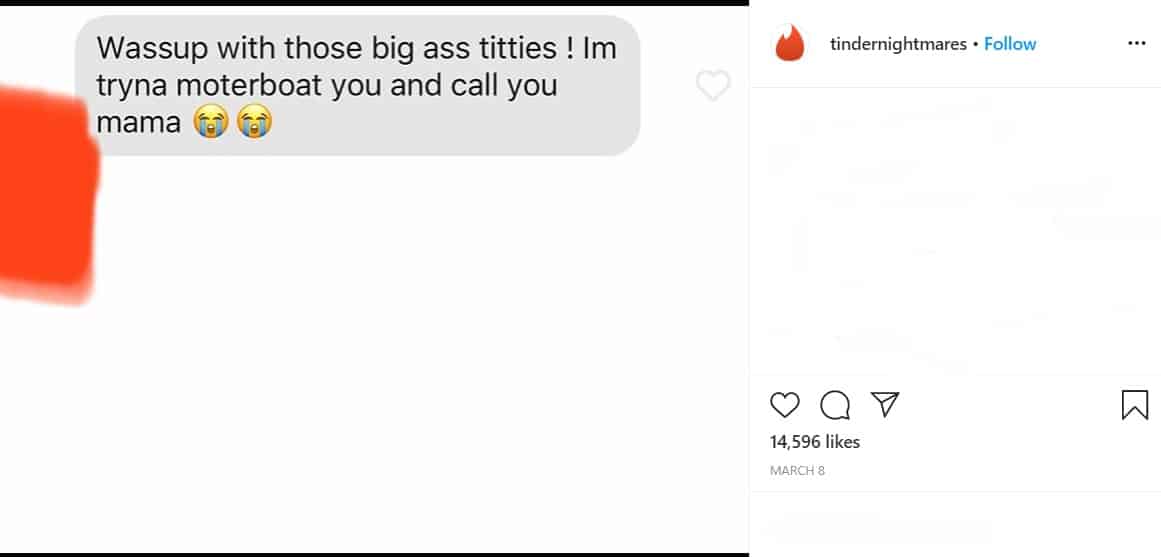 Also, if you are trying to compliment a girl's appearance, this is not the right way to do it.
She will only think that you are a pervert and find the comment offensive.
This isn't a good pick-up line and she won't find it funny or charming: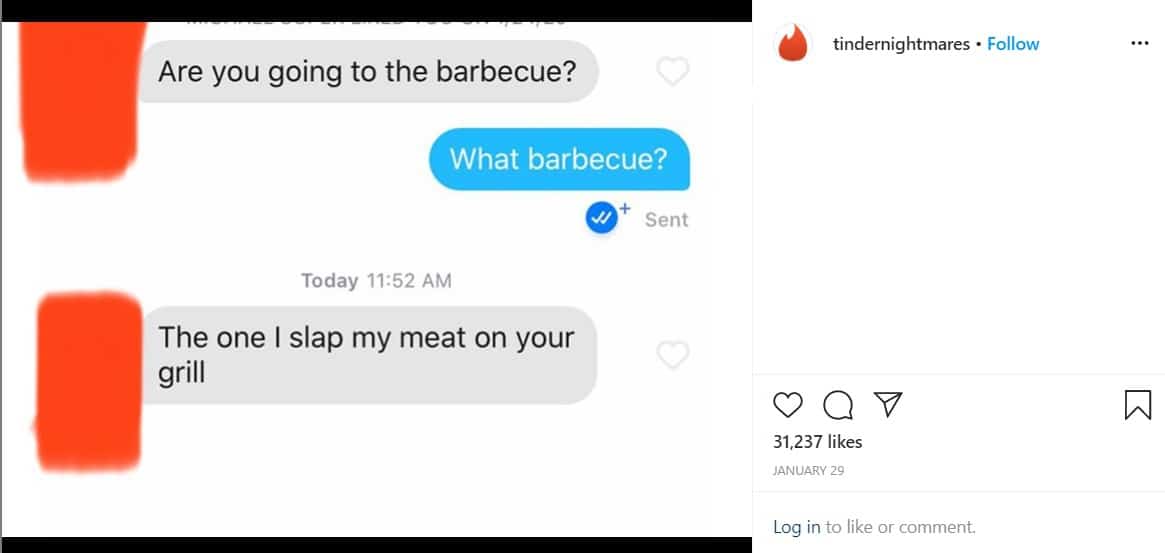 If you send a similar message, say goodbye to your account immediately.
The messages you send should be respectful and sometimes a bit indifferent.
A straightforward text won't always work and might scare the girls at first, and you can send them after you get to know each other.
From our experience, there are plenty of messages that aren't sexual but still help you achieve your goal – going on a date or finding a fling.
The texts can be about her preferences, compliments, your preferences, or anything similar that will present you as a decent guy worth somebody's time.
Also, show your humor and flirty side, but do not take it too far.
Here is a good example: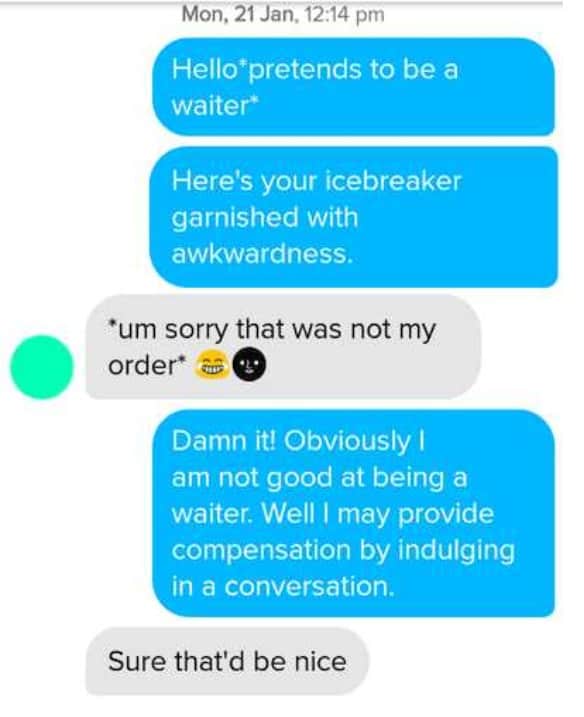 The first line was original and funny, she got the joke and continued the conversation.
Without being too direct, the guy showed his interest in the best way.
Here is another great example: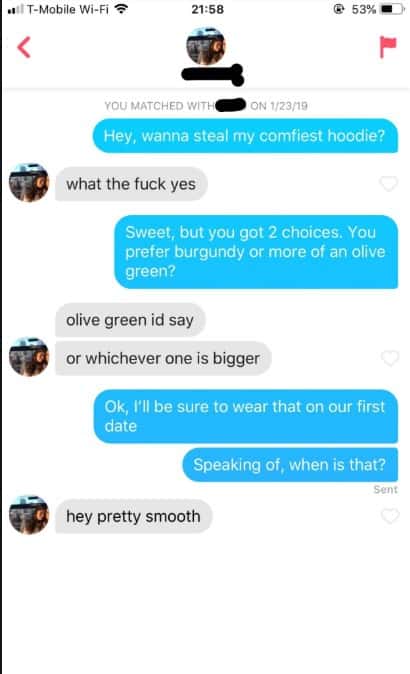 This one is direct but still polite and original, and the girl was obviously impressed.
If you can come up with a similar pick-up line, the chances of getting a positive response are 99%.
Our approach was to gather, evaluate, and analyze the facts surrounding Tinder bans and how to get unbanned on Tinder.
Our conclusion was based on experiences and findings from Tinder users, as well as answers from the Tinder support and FAQs section.
There you have it.
All of the dos and don'ts.
Hopefully, these few examples helped you understand which behavior is acceptable and which isn't.
In the end, it is all up to the person that is receiving a text – if she doesn't get the joke, you could be in a lot of trouble.
If you do get banned for whatever reason, at least you know the steps to get back!
Frequently Asked Questions