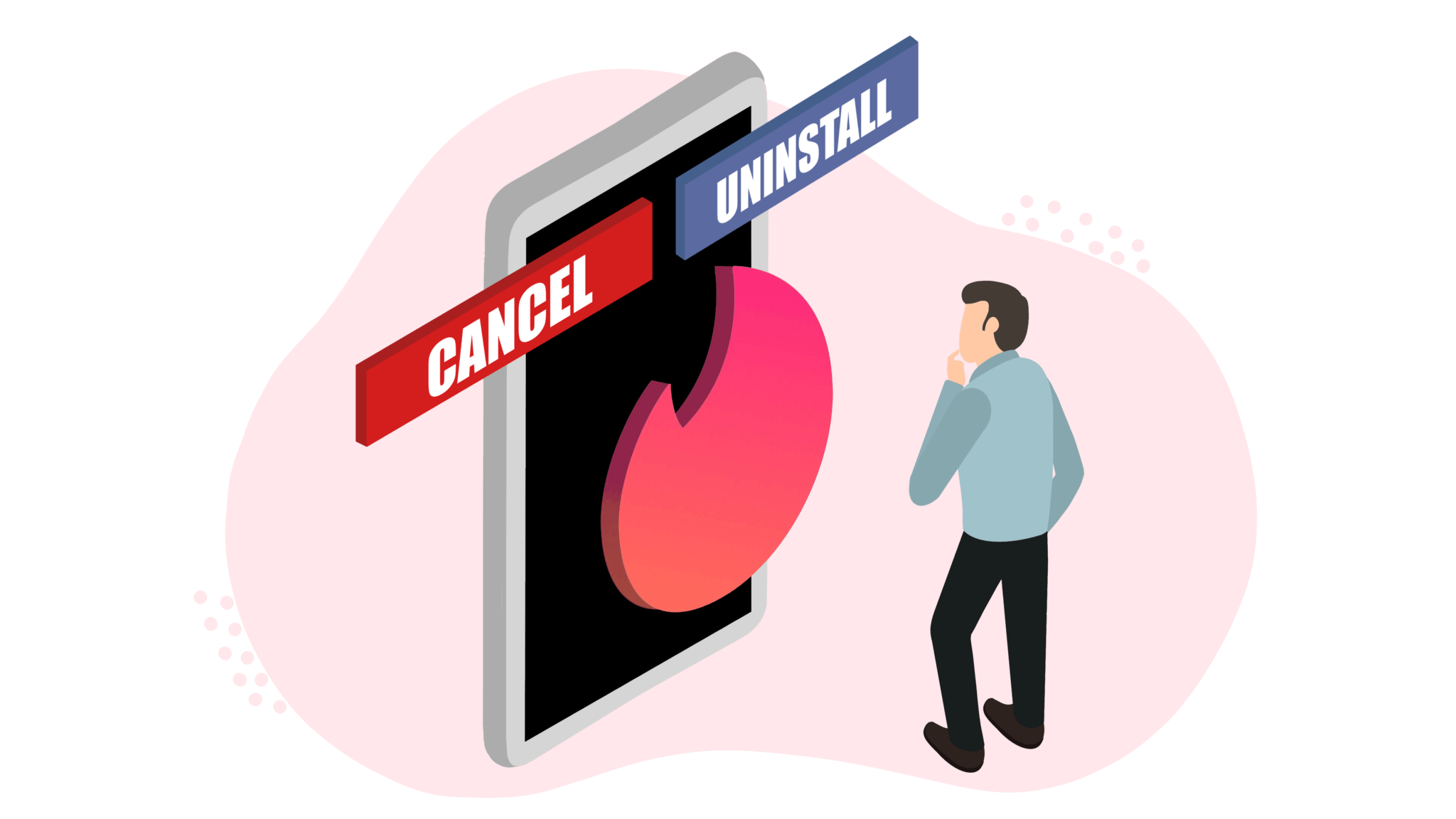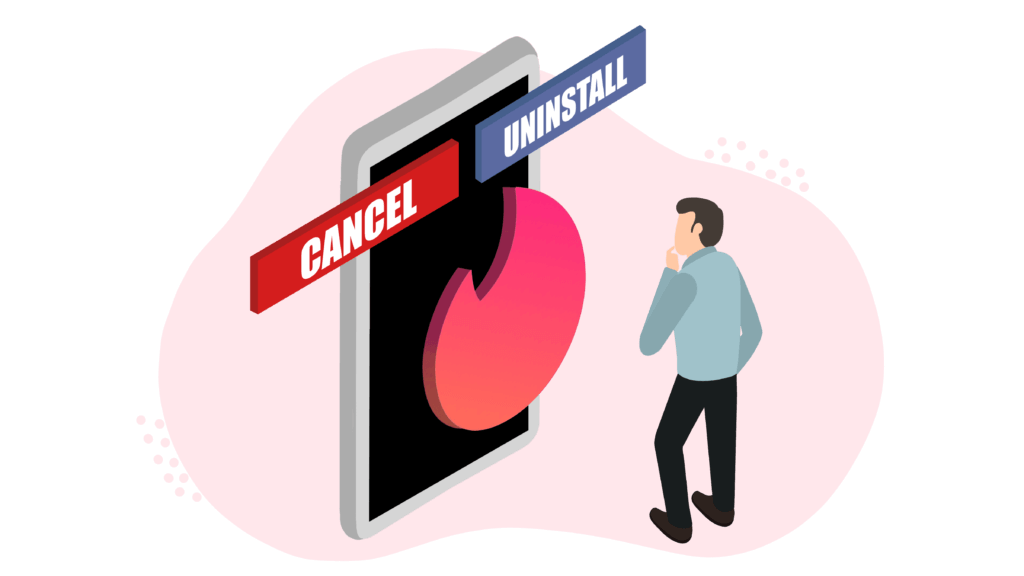 Hello guys, welcome to our article that focuses on the best ways to cancel your Tinder accounts.
In this article we shall find out:
Let's get started!
OFL exclusive offers - Check all of them

"Serious Relationships"
"Discreet Hookups"
"Best Course"
"Quick Flings"
"Normal Hookups"
"Our Quiz"
Is tinder giving you the best chance of success with online dating?
Take our dating app quiz to find out.
People who follow our app recommendations have an average of 2 more dates/casual meetups per month.
Tinder is one of the most popular dating apps today with over 57 million users and millions of daily matches.
While most people see Tinder as just an app for hookups only (like BeNaughty or Ashley Madison) and others use it to seek serious relationships (of which eHarmony is solely for this purpose), Tinder can serve the needs of both categories of people effectively.
The moment has come to make the app gone from your portable gadget (and life), but how to do it?
It feels a bit strange doing so because you've somehow become attached to it, as you've (assumingly) been spending a considerable amount of your day and night time using it.
Not to worry, here comes my step-by-step simple instructions on how to cancel your Tinder account permanently.
These are the steps to take if you want to delete your account FOREVER:
Sign directly into the app or visit the official website (these are for security reasons)
Tap the profile icon (top left of your Tinder profile)
Browse Settings until you see the "Delete Account" option
Select the option, click on it and the app is gone
Should you cancel, uninstall, or delete?
When you uninstall the app, your account still exists, but there's no app on your phone/computer.
If your re-install the Tinder app via the ios app store or the google play store app, your account will still be valid and fully functional.
But, when you delete your profile, using the instructions above, and then uninstall the app as well- then you can say Tinder is gone in every possible way.
Also, in case you have some of the paid subscriptions (Tinder plus or Tinder gold), and you access them via Apple ID (iTunes account) or Google Play Store account, your subscription fees will not be automatically revoked.
You have to unsubscribe or cancel your Tinder subscription manually.
If you've paid your membership on Android or Tinder online (Tinder.com) using your credit card, account deletion will automatically call off your subscription.
So, besides deleting the app and your account, you need to make sure you won't be charged any fees, so make sure your subscription is fully revoked as well.
Keep THIS in your mind:
When you erase the account, you permanently lose not only matches but also messages and other info in connection with it.
This means all data you've left on the app, all the communication you've had, people you've met will be gone.
But, there's more than a great compromise in case you cannot make up your mind on whether to delete or not and we will share it with you later.
Reasons why people want to cancel Tinder
It's not just the first thing that would come to your mind, that people do so because they are not satisfied with Tinder (or any other similar platform).
We mean, people create profiles on dating platforms for so many different reasons, so it's more than logical that they will be interested to cancel it for the diversity of causes.
Let's discuss the most common!
Funny but true, when they connect with one person on Tinder and start communicating with him/her via some other medium (Facebook, phone number, etc.), they see it as the right moment to delete the app.
Because, hey, they've already matched with somebody, there's no need to have an app anymore, is there?
Well, the fact that you are having pleasant communication with somebody doesn't necessarily mean that you will end up in a relationship with that person.
(I think this is the silliest possible reason to cancel Tinder, but I know people do so).
2. Getting into a relationship
This one undoubtedly makes more sense than the previous reason.
We mean, if the app brought you a great partner, and you are having a great time together, there's no need to keep the app "just in case".
You shouldn't leave even the slightest room to spoil things if they are already heading in a good direction.
That's how people who delete the app for such a reason resonate.
3. Getting back with an ex
When a couple breaks up, there's always that "revenge" moment, when they compete with each other who will be the first to enter a new relationship.
That's why they open the Tinder account, to boost efficiency and win, so to say.
However, very soon they realize that they are meant to be together, and they get back.
Which makes Tinder unnecessary, right?
4. No more new suggestions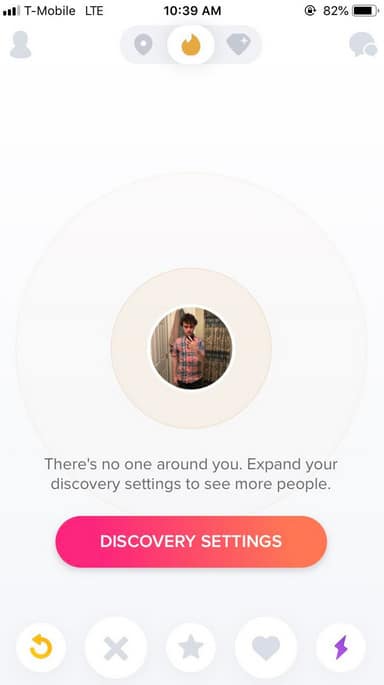 As silly as it sounds, but no matter how long the distance you've set maybe, some people re-appear, and you already have that déjà vu feeling.
Those potential matches are given based on your location settings, so you can either upgrade the membership and widen the area, or delete the app.
5. It feels like all is just a cheap validation
People like being complimented and love the feeling that they are desired by some stranger, but once that initial tickling is gone, it doesn't feel so awesome.
During our research, we found this to be one of the mutual flaws of all dating apps, not just Tinder, you feel like you are just collecting some likes, pluses, hot pics, with no special reason.
Once people realize this, they delete the app.
6. It tends to look like shopping sometimes
Yeah, it's the sad truth, but after a while, it kinda gives that feeling as if you're in a boutique choosing a new pair of jeans, and you cannot make up your mind.
It's silly, we know, but on one side it's impressively convenient to have all those profiles and pics at your disposal, but it becomes boring after some time.
At that point, people decide that it's better to give it a try to good old offline dating, and the profile is gone.
7. The dark side of dating apps
You've just discovered what ghosting, orbiting, pigging, catfishing, benching, and all mean – you've seen married people on Tinder, and that has suddenly changed the whole idea of online dating drastically.
Naturally, you wouldn't like to find yourself in any of the scenarios, which is why you decide you no longer need a dating app.
8. People become addicted to it
Yes, sadly, but it becomes a true obsession for some people, they keep swiping and swiping, looking for something, but they've even forgotten what is it that they are trying to find.
When they become aware of that, they decide to cut it to the roots and make the app gone from their lives.
9. Realize they don't like the entire concept of online dating
Online dating is fascinating, and people get hooked up easily, but after several clicks, matches, and so on, some realize it's simply not the same.
For some people, this tempo of connecting with others is way too fast, and they don't like it, as they have the feeling that someone keeps pushing them all the time.
So, they delete the app, because they want to stick to offline meetings and dating.
As you can see, there are so many reasons why people say "Enough!" and decide they are much better off without the app.
What if… There's Simply No Success?
Even though it may seem almost impossible, but some people are simply not satisfied with the app.
They've tried it, matched with several people who went on a couple of dates, but it simply gives no long-term success.
Thye even became paying subscribers thinking that the super likes will flood in and matches will be no longer scarce – this isn't always the case.
So these people get disappointed easily, because hey-they've heard a great deal about the app, bringing others so many matches and excellent dates and hookups, so why it keeps failing in this particular case?
Also, you have people who don't get any matches, no matter how actively they use the profile, it's almost like they are invisible.
Sometimes people get tired of receiving too many unsolicited pics, or dirty messages, as they are looking for something more than just a one-night stand.
Whichever of these scenarios is the case, they instantly start seeking how to cancel Tinder plus or gold subscription as deleting the account may seem like the best option.
But, is it the ONLY solution, or could something else be done?
Let's check out!
Taking a Break is an Option
Assuming none of the above-mentioned describes your feelings about should you or shouldn't delete your account, how to make up your mind?
You can simply take a break, that's it.
As mentioned earlier, if you fully cancel the account you lose all the matches, communication, everything, and perhaps you could have given an extra try and spark communication with one of the matches.
There's a way to balance these two, and this marvelous option is to TEMPORARILY hide your profile.
Open the app and tap on the profile icon
Explore Settings and find Discovery
Switch the option to off
Good thing is that even when the option is off, you will still be able to view your matches and send messages to them.
Discovery serves to give some suggestions and potential matches, so when the option is not on, you won't be displayed as a potential match for other people.
Moreover, your profile will still be visible to those you've already liked, and they could even return a "like".
This leads us to quite an interesting conclusion- there's a possibility to get new suggestions even when this option is off.
If you ask me, this option is much better if you cannot make up your mind, because it will keep all your data, and you are simply not actively using the app at the time being.
When you get back to it, everything will be just as before you decided to take a break.
BONUS TIP – New Tinder, New You
No, I'm not going to tell you to delete one account and create another, because it's pointless.
You can technically have multiple accounts, but why on Earth would you do that if you are trying to find a way to make it work for YOU, not some imaginary persons.
Don't play Dr. Jekyll and Mr. Hyde, be one and only you and see where that takes you on Tinder!
What I'm trying to tell you here is that you should take time and analyze your profile, as well as your wishes and expectations.
If you feel that you are not getting quality matches, perhaps the reason is your profile.
Check out your profile pic, and your bio, and see if they truly portray who you are.
You may have created the profile a year ago, and having in mind that we all change, perhaps that "online" you are no longer the "real" you.
Update your profile.
Then, think about how you approach those matches.
Your tactic may be wrong and believe me, a great opener or a humorous icebreaker can do a lot.
Take time to learn them, and improve your communicational skills with your Tinder matches.
These are just basic steps to take, and even with these small modifications, your chances can boost enormously.
Deleting the profile is quite simple, it's just several clicks, but why give up so easily, when there's a lot to be done to turn the app working for you!
You have to be a fighter, because no matter how simple online dating may seem, the competition is even bigger, and you need to accept the challenge and prove that you stand out from the crowd.
So, before you eliminate the app from your phone and life, polish your profile and communicational skills a bit, and you'll be surprised how many benefits that can bring you.
The methodology we used for this article on how to cancel Tinder was to carefully research and evaluate the various ways and reasons why people want to cancel their Tinder accounts and arrive at a conclusion.
Our evaluation was based on frequently asked questions on social media platforms and other forums.
Final Thoughts on How to Cancel Tinder
As you can see, online dating always comes with some extra options and possibilities, and they are all designed with one purpose- to help you find the ideal partner.
Now that you have the necessary knowledge on how to cancel your Tinder account, and how to take a break, it will be much easier for you to determine what suits you the best.
From experience, we know Tinder can bring you plenty of success if you know how to use it the right way.
Take a break if you feel like you need it, and then come back to the dating scene and use all the knowledge a genuine dating expert has because that's EXACTLY what you are now!