What's up guys and gals, this is Tyler presenting the most up-to-date review of the popular hookup site, Benaughty.
Do you think Benaughty is the renowned dating website perfect for a quick fling, one-night stand, or hot online encounter?
Stick around to find out if that assertion is true from this Benaughty website review!
So, I will be scrutinizing the site to see if it is legit or if we are looking at a total scam.
OFL Top Recommendations based on 100,000+ Survey

"Serious Relationships"
"Discreet Hookups"
"Best Course for Men"
"Quick Flings"
"Normal Hookups"
"Our Quiz"
Recommended also: The complete guide to creating an online dating profile. You'll be amazed at the number of successful testimonies coming from satisfied users.
Is your dating app giving you the best chance for success?
Make sure to take our online dating site/app quiz to find out.
It's a fact that people who follow our dating site suggestions have on average 2 extra dates per month.
BeNaughty Review in Video Form
Audio (podcast) form for those of you on the go
A Quick Peep into Benaughty
Whereas you can enjoy a 3-day trial on Benaughty at $2.97, the 6-month subscription costs $12.30/month. It records over 17 million visits in a month with 60% female and 40% male visitors. Just as your chances of hooking up with a lady for a quick fling or serious relationship is high, using the search filters is easy too.
Having used the Benaughty dating service for quite a while now, I have a pretty good idea of the types of profiles you will find on the website, how easy it is to match with people, and how easy it is to hook up in general.
So, is Benaughty legit? Let's walk through all the features, positives and negatives, and the overall price, to see if it is worth your investment.
Once done with this review, check out the Benaughty site here.
Let's take a peek at the members
Overall, I was quite surprised at the large number of people in my area using Benaughty. This prompted me to take a look at similarweb.com to see the estimated website traffic that it received.
Population of Benaughty
As you can see from the overall rankings below, it is ranked #2401 out of all sites in the United States. I'm shocked because I know any site that appears within the top 10,000 websites receives a tremendous amount of traffic.
This was the first good sign.
The next thing to see is the average monthly visits that are also highlighted below. Currently, Benaughty receives about 17 million monthly visits.
For a dating website, this is quite a huge number of visitors/users.

One of the worst downsides afflicting many hookup dating sites is the fact that they do not have the traffic or users to give me as many options as I would like to choose from.
During my one-month sojourn on the Benaughty hookup site, I was continually seeing new users pop up, making my search options wider, and that's a very good thing.
For me, population size is the biggest make-or-break factor when it comes to online dating websites.
Benaughty passed my primary test easily.
In general, the profiles on this site are typically less detailed regarding biography, as well as likes and dislikes when compared to other sites like match.com.
OFL Top Recommendations based on 100,000+ Survey

"Serious Relationships"
"Discreet Hookups"
"Best Course for Men"
"Quick Flings"
"Normal Hookups"
"Our Quiz"
This factor can be attributed to the fact that a lot of people want to remain relatively anonymous on this hookup website. This common behavior is indeed funny because, though they hide their names, they still go-ahead to put up their profile photos for everybody to see during the registration process.
Weird, right?
Benaughty demographics breakdown
All in all, there are more women than men on Benaughty. The numbers are split at approximately 60% female and 40% male.
This is the exact opposite of what I was expecting.
Regarding the age brackets, the users are pretty much what I was expecting considering that the most significant percentage of their users are between the ages of 25 and 34.
Below is the full breakdown of age categories on Benaughty.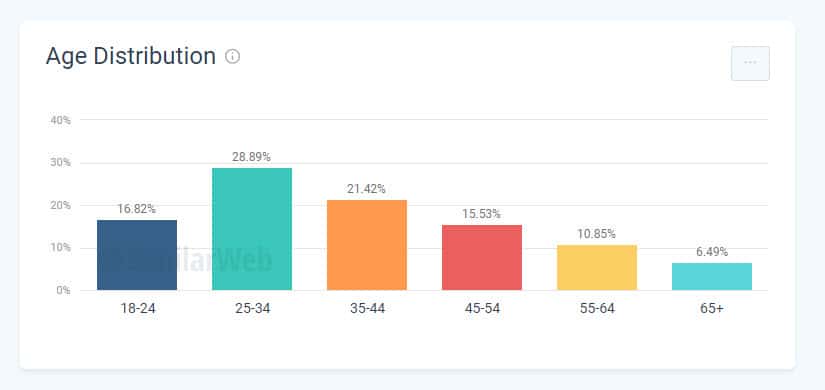 How hot are users on Benaughty?
Just like any other hookup site I have checked out and used, you get a mixed bag of super attractive users, unattractive users, and users that are cute but possess nothing else special.
Benaughty is not different, in this respect.
Here's a screenshot of the first women that popped up in my area when I first signed up for the Benaughty paid membership.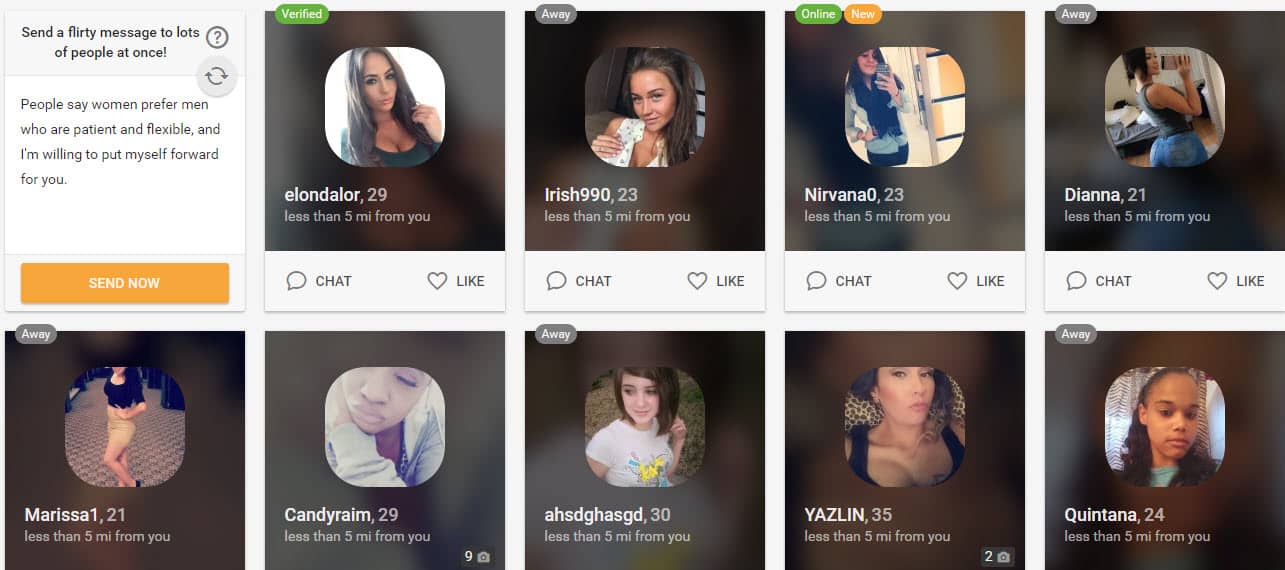 As you can see, there are a few pretty hot chicks in the mix which I was happy to see.
Something to note, however, is that I was using the free version of Benaughty for about a week before switching over to a paid membership to further try it out.
I think that the algorithm favors paying members because I started seeing cuter members show up on my search and the filter became a lot easier once I started paying for the service.
I'm not sure if they were showing up more for me, I was showing up more for them or maybe a combination of the two.
In any case, I think it does make sense that paying members get their profile boosted to the top for most people to see as I'm sure Benaughty wants to retain their monthly membership payments. And as a paying member, I was glad to see I was getting more matches, talking to more girls, and getting more opportunities for some easy hookups in real life.
After upgrading your membership and your profile gets boosted, you should step up with an attractive profile picture to catch the attention of someone who may want to ask you out on a date or you asking someone out.
Benaughty works both ways.
What about fake profiles?
Ah ah! "Fakkies" are everywhere!
One part of online dating site reviews frequently skipped by most people covers how to identify fake accounts and scammers that pop up on an adult dating platform. Nonetheless, this is a very important factor to consider!
I don't know about you guys, but I don't want to create a Benaughty profile just to be spammed by robots. This is why every dating website needs to implement some anti-spam and security measures to make sure that its users are authentic.
On Benaughty, they deploy some ingenious tactics to help prevent spam accounts.
The first measure is to have people verify their accounts. It puts my mind at ease knowing that I am talking to a real person. You can easily tell which are verified accounts because such will have a green "verified" sign next to their profile.
Here is an example of a verified profile.

To get verified, you need to call the Benaughty customer support line or send a mail to [email protected].
They will ask you a few questions to make sure you are a real person, and within 24 hours your account will get verified.
Getting verified helps you make a lot more connections with people because they know you aren't a fake profile!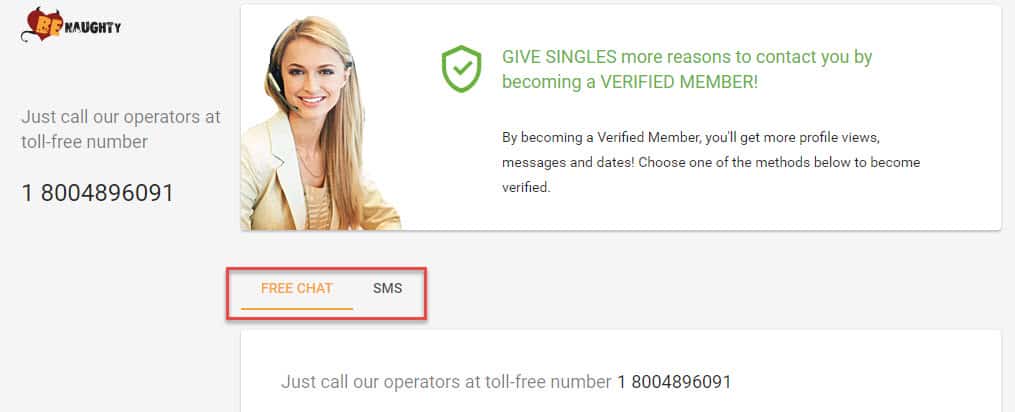 Among the special features is the safety measure that allows Benaughty users receive warnings you get about spamming profiles.
This is posted directly in the message section. If you get a message from somebody that has not been verified or that possibly has a history of "spamming-like" behavior on Benaughty, the website will let you know.
I would suggest staying away from these types of accounts as they probably are not real. You can also do your own part by getting to know the types of words that signify danger from the other end. Once you master this, stay away from such people – or bots.
Luckily the spam team does an excellent job of getting rid of them quickly. Here's what a spamming account looks like: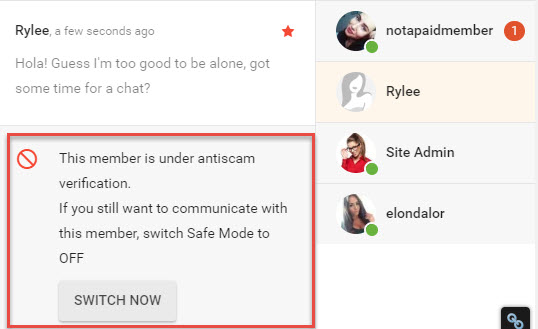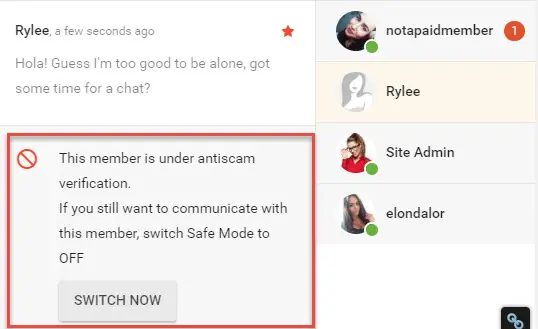 I like how Benaughty prioritizes members' safety and that makes them stand out because it is not the case with lots of other affair dating sites.
The overall consensus is that there are plenty of real profiles and the ones that are not real are quickly taken down. You would know whether the person you are talking to is a legitimate person on Benaughty or not.
Site layout and design
Overall the design and layout of Benaughty are very intuitive. This is partially so because they don't try to overload you with too many unnecessary features that can make you get lost on the website.
They keep it very simple and clean so that they can have a great mobile experience. As far as I am concerned, having a good mobile experience is more important than unnecessary features that you will never use.
If you noticed the image above where I was showing the overall traffic to the website, you might have noticed that the majority of users use Benaughty on their mobile devices. This is a good sign and shows that they have a mobile experience that is very fluid and comfortable to use.
Benaughty offers its dating app to Android and iOS users, two of the biggest mobile platforms in the world.
It means, in essence, that prospective users have nothing to worry about since the application is well supported and regularly updated to conform to new patches.
One other cool thing about the mobile app is how easy it is to use the "hot or not" feature which is similar to Tinder.
Honestly, I like this feature, and it works very well on mobile.
Make sure to be on the "hot" option by working on your profile picture, so that you can get hooked up quickly.
I suggest checking out the current design and layout on the Benaughty website to see for yourself.
What are the Benaughty features
I won't lie to you guys, Benaughty is not a very feature-rich dating website when compared to the likes of Zoosk or Match.com.
The only feature that they offer is the standard search and filter feature. But to be honest with you guys again, that is all that you need especially from a quick fling casual dating website.
Here is what the general search and filter function looks like on Benaughty: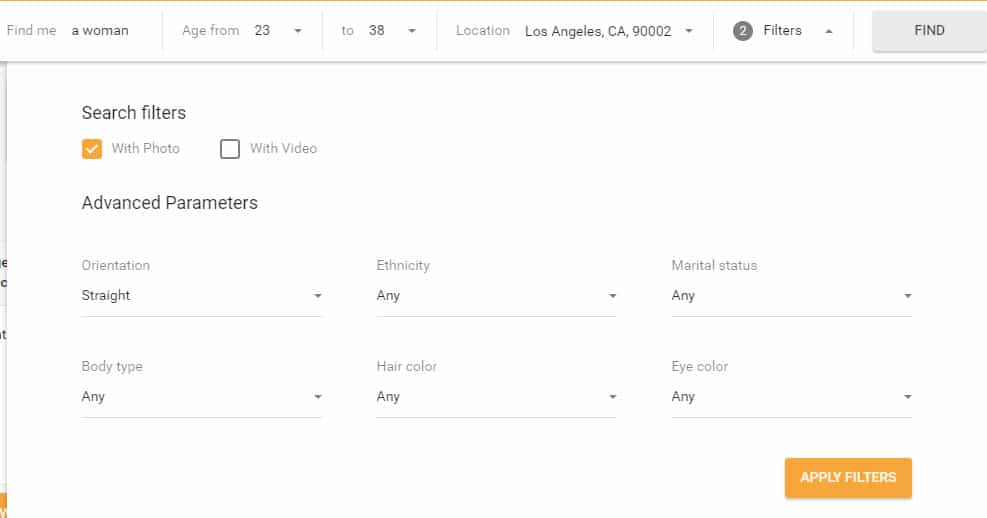 As you can see, the search and filter functionalities are pretty straightforward.
You can select to filter profiles with a photo, with the video, or with neither. You can select your sexual orientation, the ethnicity you are looking for, marital status, body type, hair color, and eye color.
To me, these are all the essential search result parameters that one will need for a quick fling with a sexy woman or handsome man.
One other cool feature that makes this app awesome is the video component. In other words, you can upload videos to your profile instead of just images.
I think this is exceptionally cool especially for the type of website that Benaughty is. You can get very creative with the videos that you post ;).
And don't worry, you can make videos private and only give access to the people you want to see them.
Contact features
With the free account option available on Benaughty, you are very limited in terms of how much communication you can have with the existing members. This option only allows you to send five Be naughty free messages a day.
Be that as it may, there are a lot of limitations to the five messages you can send and to whom you can send them.
For instance, although you can receive messages from women for free, the problem, however, is that a lot of the time you cannot message them back unless you have a premium account.
When I first signed up for the free Benaughty account, I was swarmed with more messages from potential partners on the Benaughty chat than I could ever handle or when compared with other dating apps.
I got to understand that this is because women can send you personal messages to free members for free given that they are extremely horny and want to get to the point, but then a lot of guys don't have paid accounts.
I figured that my dope profile helped me in this regard. They keep messaging me because my profile was on point.
Anyway, I finally had to spend more money to get a premium membership with the Benaughty app so that I could talk to a lot of these cute girls that I was getting messages and winks from.
I don't regret it.
Free features
Some other ways of communicating include sending "winks." However, this is a feature that not too many people use in general.
On Benaughty, you will be able to message people if you are a woman even though anybody can send "winks" to the people that they like or add people to their favorites list.
Also, you will be able to see who's online, access the new members' list, and as well use search filters to find a potential partner.
Features for subscribers
As a paid subscribers, men will also be able to message women.
You will be able to see all the public photos and photo albums on people's profiles as well as be able to unlock the Benaughty dating info session on "looking for."
As a paid subscriber, you'll also be able to send videos and photos to your perfect matches in the chat section as well as see the location of your match (a rough location obviously).
At this point, you need to get the right conversation going to be in the game. These women didn't come to play; you should flirt back and be bold enough to ask them out.
How much does Benaughty cost?
The current pricing for a Benaughty subscription is $.99 a day for a three-day trial ($2.97 total). The one-month subscription is the most expensive at $1.50 a day or approximately $45 per month. The three-month subscription costs $.51 per day or roughly $15.30 per month ($45.90 total). The best deal is the six-month subscription which costs $.41 per day or $12.30 per month ($73.80 total).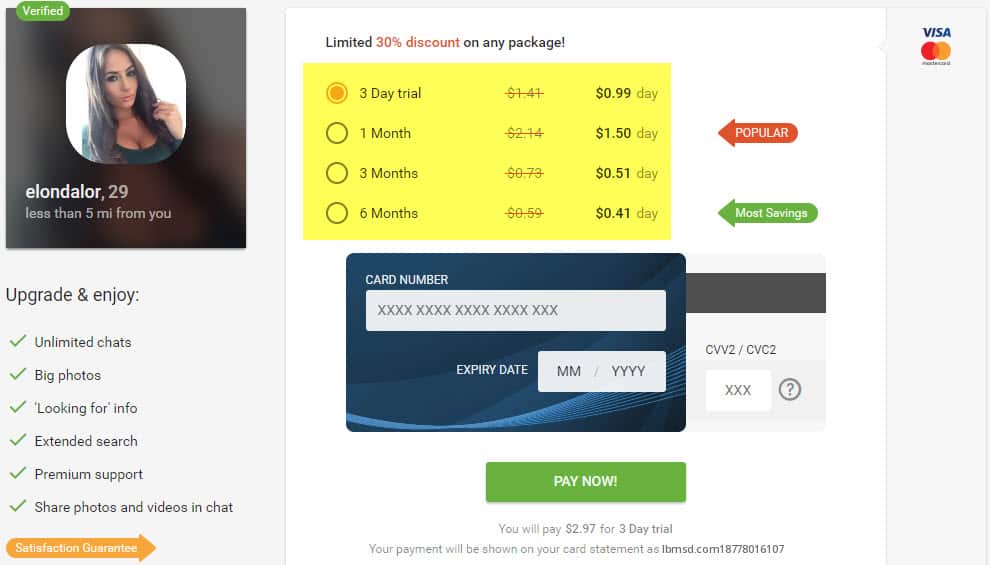 How easy is it to hook up on Benaughty?
Now, the most critical aspect of my Benaughty review. How easy is it to match with somebody, meet up with them and hook up with them after meeting on the website?
I have to give the overall score for this an 8/10.
This is overall very good in that within the one month I have been using the service, I have met up and hooked up with two different women from the website.
One of these was a "verified" member, and the other one was unverified. Although I was taking a risk with the unverified, I was able to talk to her off of the platform before we met up.
You will have a much better chance of finding and hooking up with a girl (or a guy) on this platform simply because everybody here is looking for the same thing, a quick fling.
There is no beating around the bush and minimal games to be played. Everybody knows what everybody else is after, so people get straight to the point.
You get the numbers and set out to visit and get down with each other for the best sex ever – and as quickly as you can.
Benaughty pros and cons
Pros
The interface is clean and user-friendly
It has a large and diverse user base of people
Availability of App on iTunes and Google Play for free
Available in over 27 languages
Availability of customer support service via phone, mail, and email 24/7
A blog section for dating advice
Cons
User's subscription are on automatic renewal by default
Free members can't chat on the site
Too much of notifications via SMS and emails
Methodology
Having registered on the Benaughty platform and tested the site on various devices, we were able to arrive at an overall rating.
The approach adopted was to study how user-friendly the site is, our experience on the ease of access on the login page, navigating through the site, and the overall Benaughty match experience.
A combination of our experiences on the site with real reviews from users on various social media platforms helped us to come to a reasonable conclusion.
Benaughty review conclusion
So… Is Benaughty legit or a complete scam?
Well, my rating for this site is:

There you have it, guys and gals, we have come to the end of this Benaughty reviews. This is to conclude once and for all that Benaughty is not a scam website.
You can complete the test by using Benaughty for free without ever having to pay to see what types of members are on there, what kinds of matches you can have, and what kinds of features they offer without ever having to pay.
For me, the six-month subscription I purchased will be put to good use I am sure. I already have confirmation about what types of users are on the website and that the majority of them seem to be real people.
The safety and anti-spam team at Benaughty is definitely above the industry standard, and that makes me feel comfortable.
Sites like Benaughty rank high among top hookup adult dating sites because they have a large number of members, making it easy to find a match among the active userbase.
Although the features are not extremely robust for a dating website, they are sufficient for the type of dating website that it is. It worked just fine, and I was able to find the women that I was interested in very quickly.
Let me know what you guys thought about my Be naughty dating site review. Have you guys tried out Benaughty? Shoot me a comment down below on your dating experience, and I will get back to you as soon as I can.
Until next time everybody, Tyler signing out.
Frequently Asked Questions(FAQ)