While Tinder is considered one of the biggest dating sites in the world for millions, a lot of people choose Bumble because of its flexibility and range of choices.
In this article, we compare both choices using the following criteria:
So, let the battle begin!
OFL Top Recommendations based on 100,000+ Survey

"Serious Relationships"
"Discreet Hookups"
"Best Course for Men"
"Quick Flings"
"Normal Hookups"
"Our Quiz"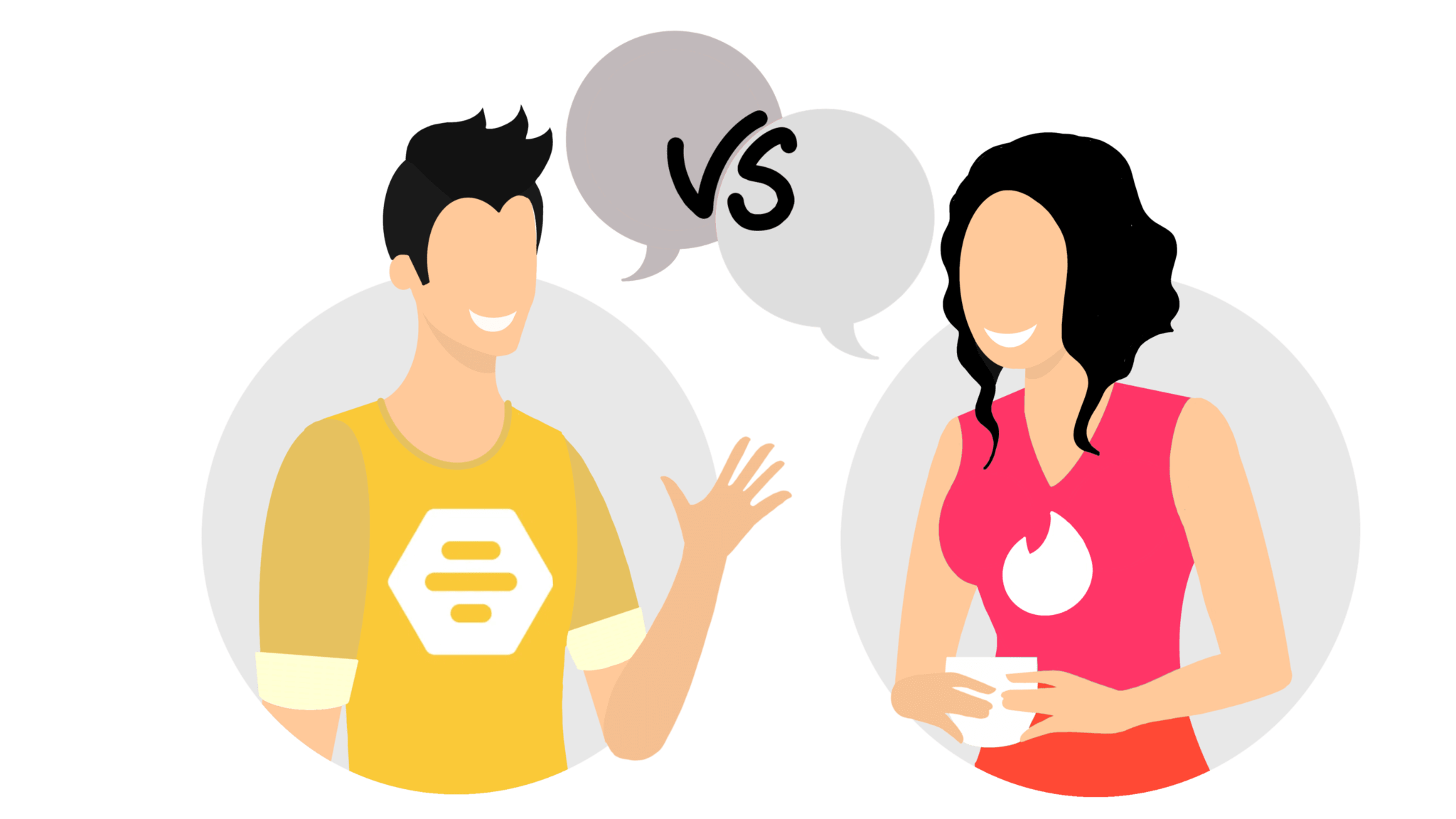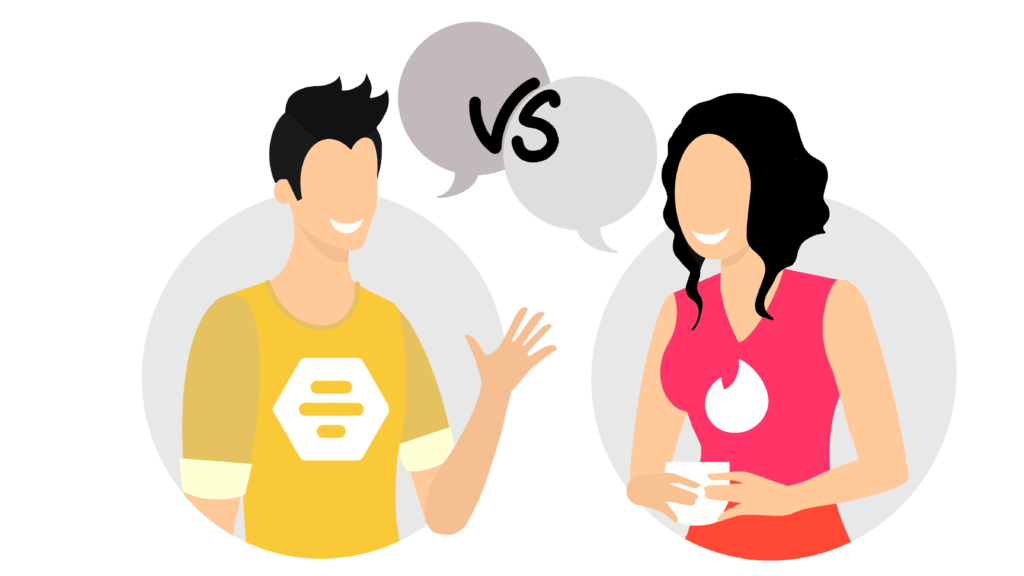 Video Comparison of Bumble vs Tinder
Comparing these two gigantic and mega-popular dating sites is not an easy task, but I'll do my best to show you what the pros and cons are, and which one wins in the end.
Throughout the entire article, I will share some useful stats from Similar Web, which represent the current and most recent trends for both sites.
Founded in 2014, Bumble currently takes 50th place in the category, whereas Tinder, which started operating in 2012 is ranked second.
Both of them have their ups and downs, but in a dynamic and vivid industry such is online dating, it surely doesn't come as a surprise.
But these sites are not only for hookups (like BeNaughty or Ashley Madison) or only for serious relationships (like eHarmony), people seeking any form of relationships (ranging from one-night-stands to soul mates) are found on both Tinder & Bumble.
What both of them do have in common is an impressively large base of consumers, which grows rapidly day by day.
Moreover, both brands continuously work on improving the quality of their services, adding more new features and options, which is the crucial reason why they are so popular among users all over the globe.
Bumble VS Tinder quick information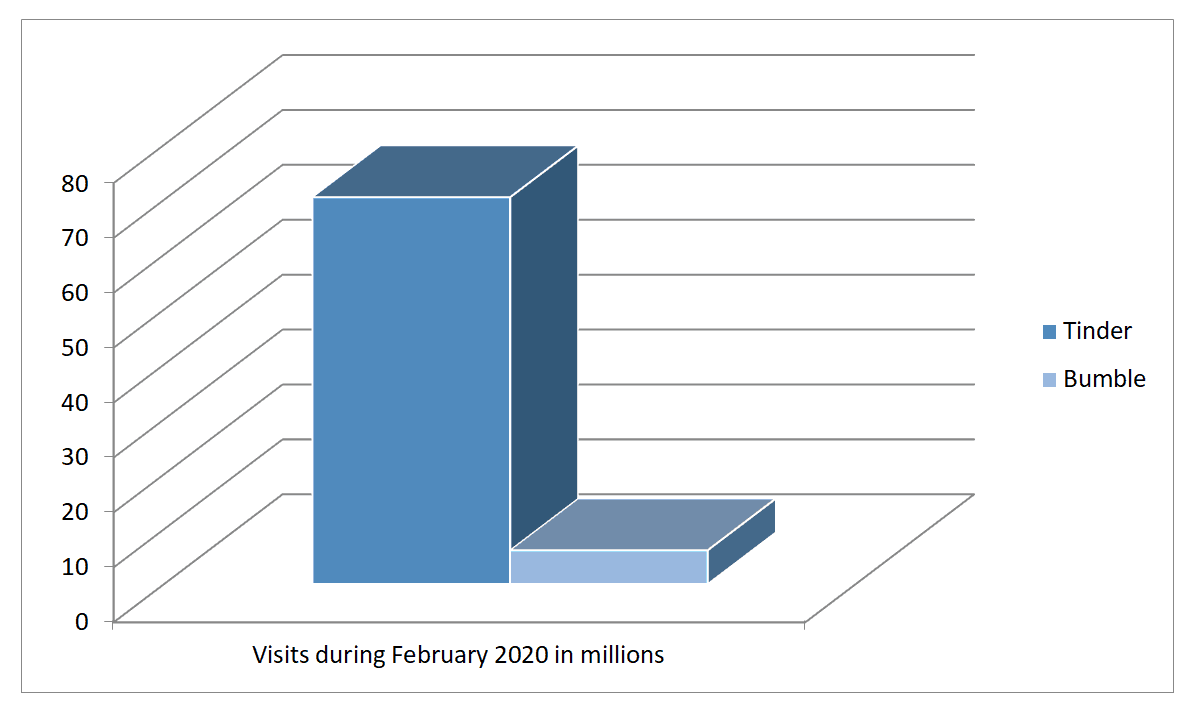 As far as the stats show, Tinder had over 70.43 million visits during the previous month, which is, you will agree on an impressive number.
Demographically speaking, the majority of users were from the US (13.9%), then Brazil (10.28%), Poland ranked third (4.38%), then the UK (4.03%), and Germany (3.96%).
OFL Top Recommendations based on 100,000+ Survey

"Serious Relationships"
"Discreet Hookups"
"Best Course for Men"
"Quick Flings"
"Normal Hookups"
"Our Quiz"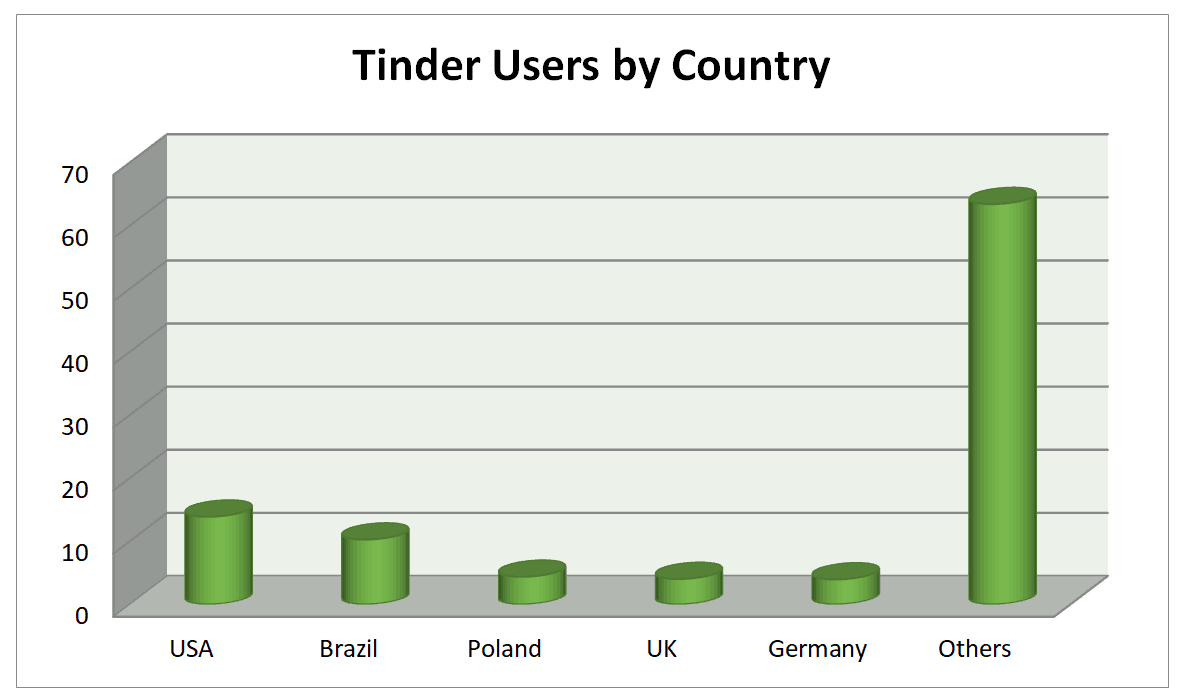 It's quite interesting to mention that the main part of referrals comes from Bumble (10.79%).
If you look at things from the social networks' perspective, then Facebook leads the way with 43.78%.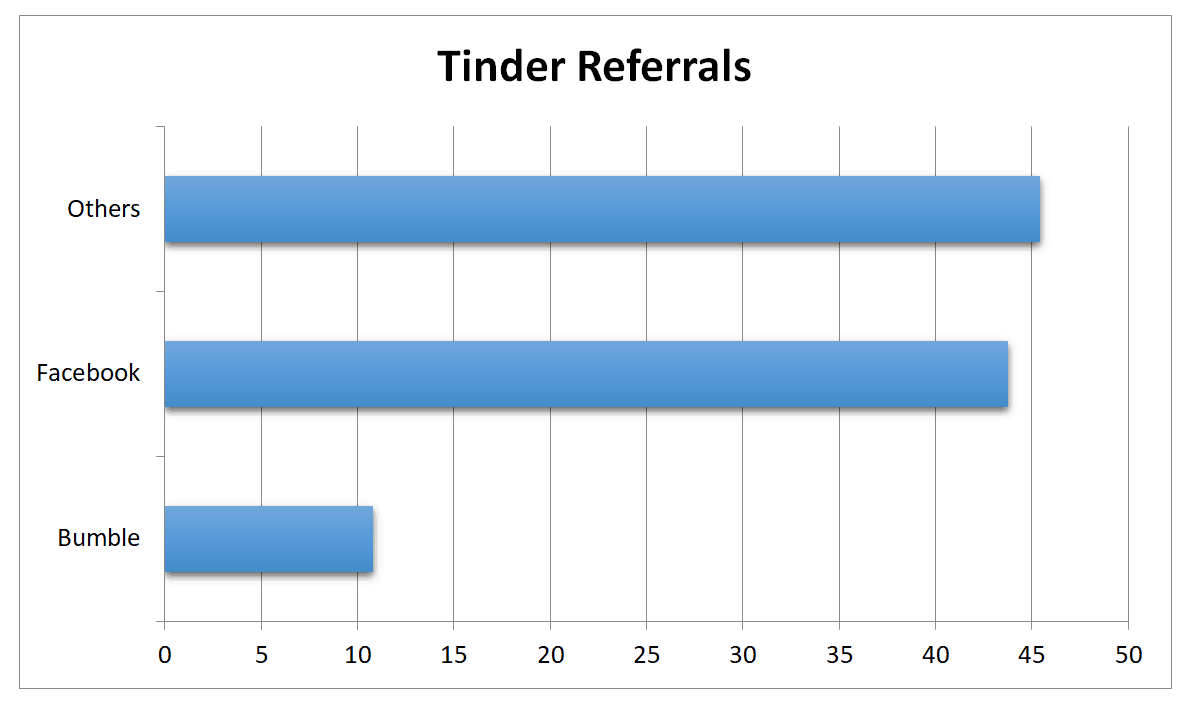 On the other hand, during the same period, Bumble had 6.14 million visits, which is drastically lower than the competitor.
In terms of traffic by country, the US is the leader again (47.40%), followed by the UK (8.80%), then Canada (6.95%), Australia (4.86%), and Germany (4.52%).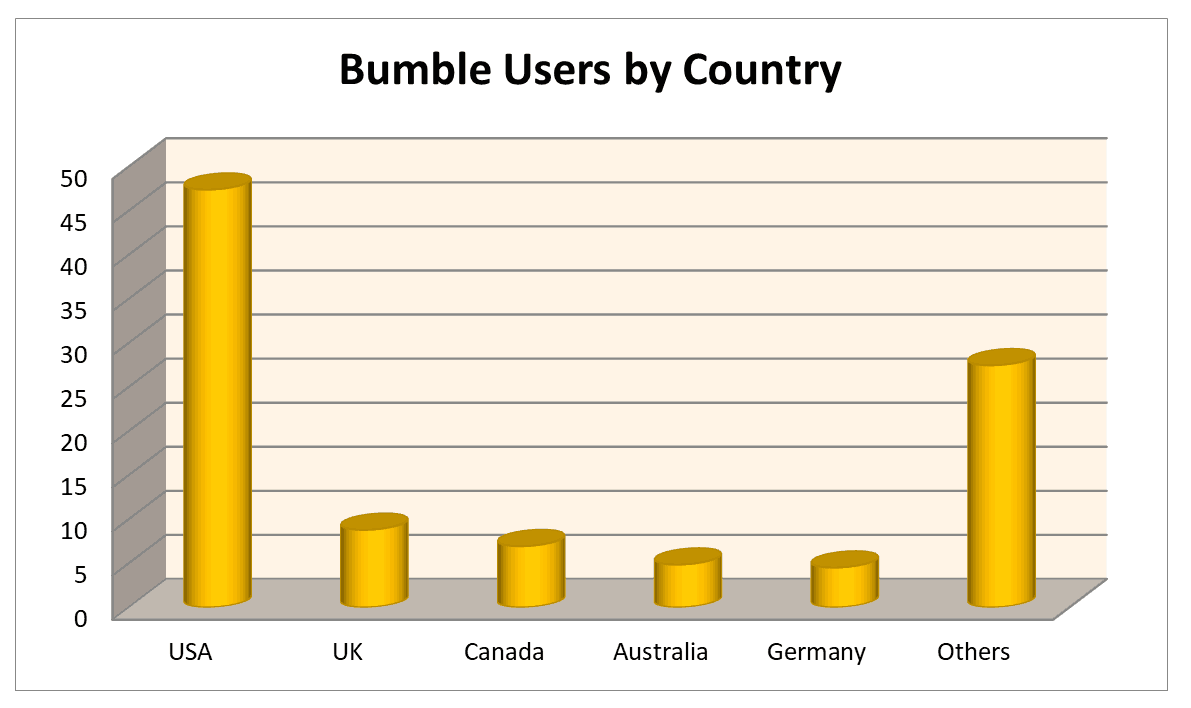 What comes as an interesting surprise here is that the main share of social network visits for Bumble is from YouTube (45.02%).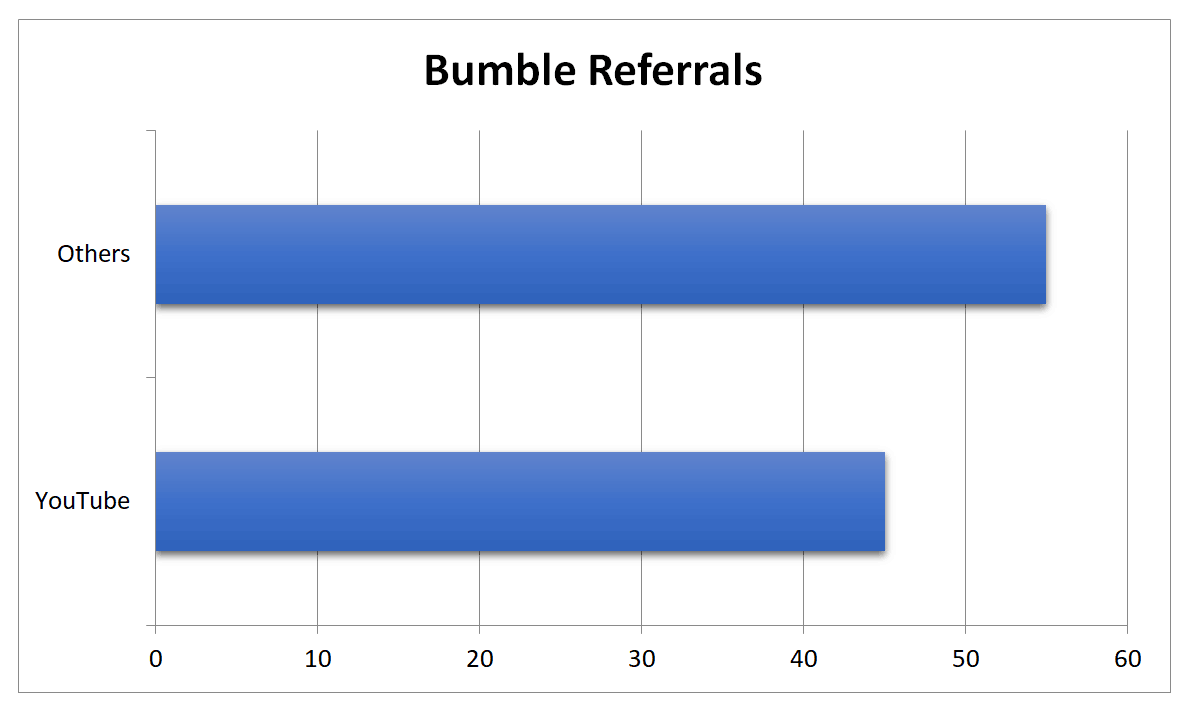 Now let's take a closer look at both sites and their design and see is Bumble better than Tinder.
Ease of Use/ Site Navigation, Layout & Design
Similar to "Ready. Steady. Go!", Tinder found its own sweet and short philosophy- "Match. Chat. Date."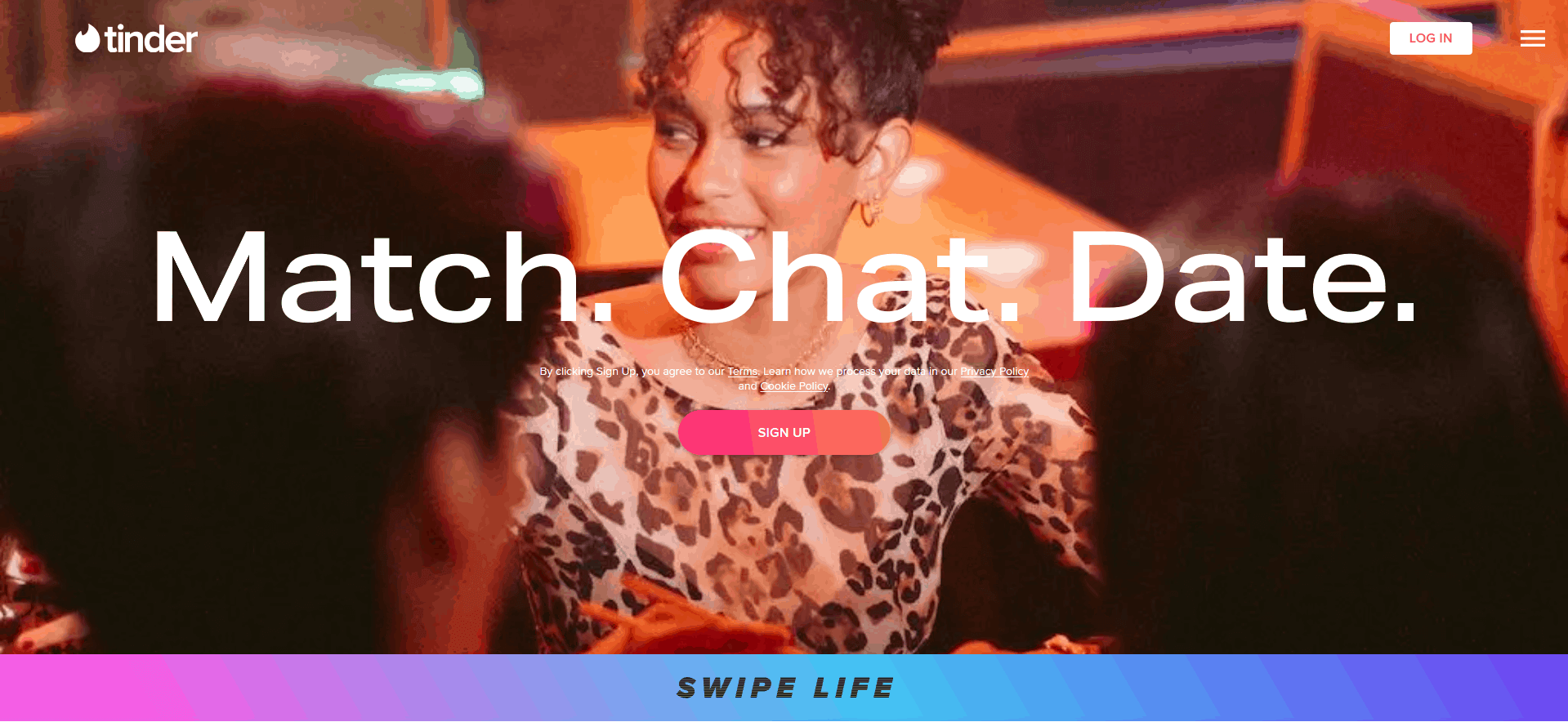 It's more than obvious that this platform is made for modern-day consumers, primarily for smartphone owners.
I can freely say that this app practically revolutionized online dating and took it to a whole new level, thanks to its extremely user-friendly design.
All it takes to do is what you are already doing- swipe!
Left or right, it's up to you, whether you like the suggested match or not.
This well-equipped platform hosts a plethora of interesting and useful stories on various topics- food and drink, travel, entertainment, style and beauty, dating tips and advice, and many more.
It's all accommodated in a special corner named Swipe Life.
Overall, the site has a quite intuitive design, so both newcomers in online dating and highly-experienced users can explore it without any difficulties.
Bumble's motto boils down to "Make the First Move", but it's worth pointing out that this platform encourages ladies to be the ones breaking the ice.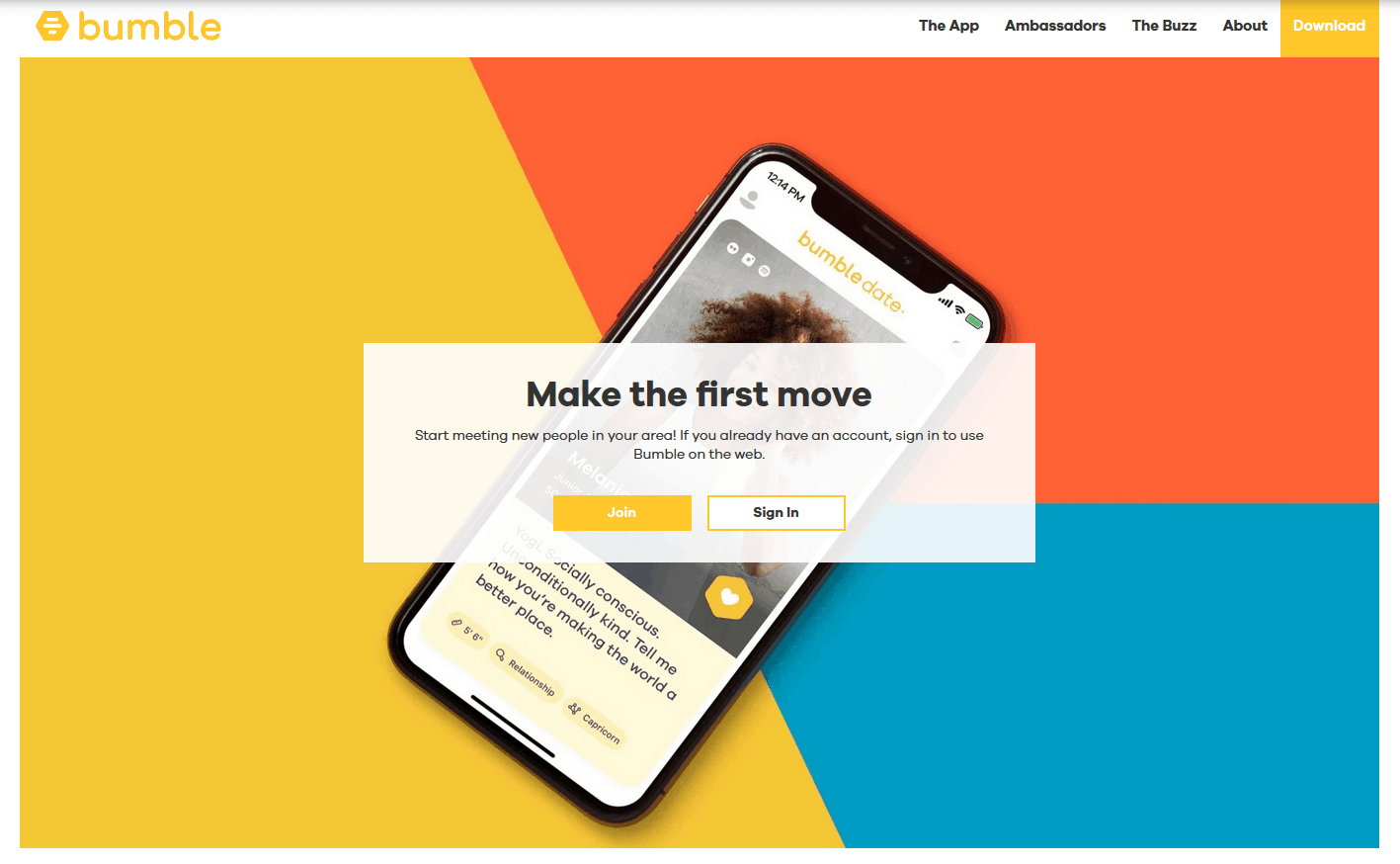 The main aim of such an approach, as they say, is to shift old-fashioned power dynamics and promote gender equality from the very beginning.
What this network does is not just to connect two individuals looking for a partner, but is also helping people find friends, build their professional network and establish healthier and stronger connections with other people.
Similar to Tinder, it has a special section with some useful articles on the versatility of themes, and they are all available in The Buzz section.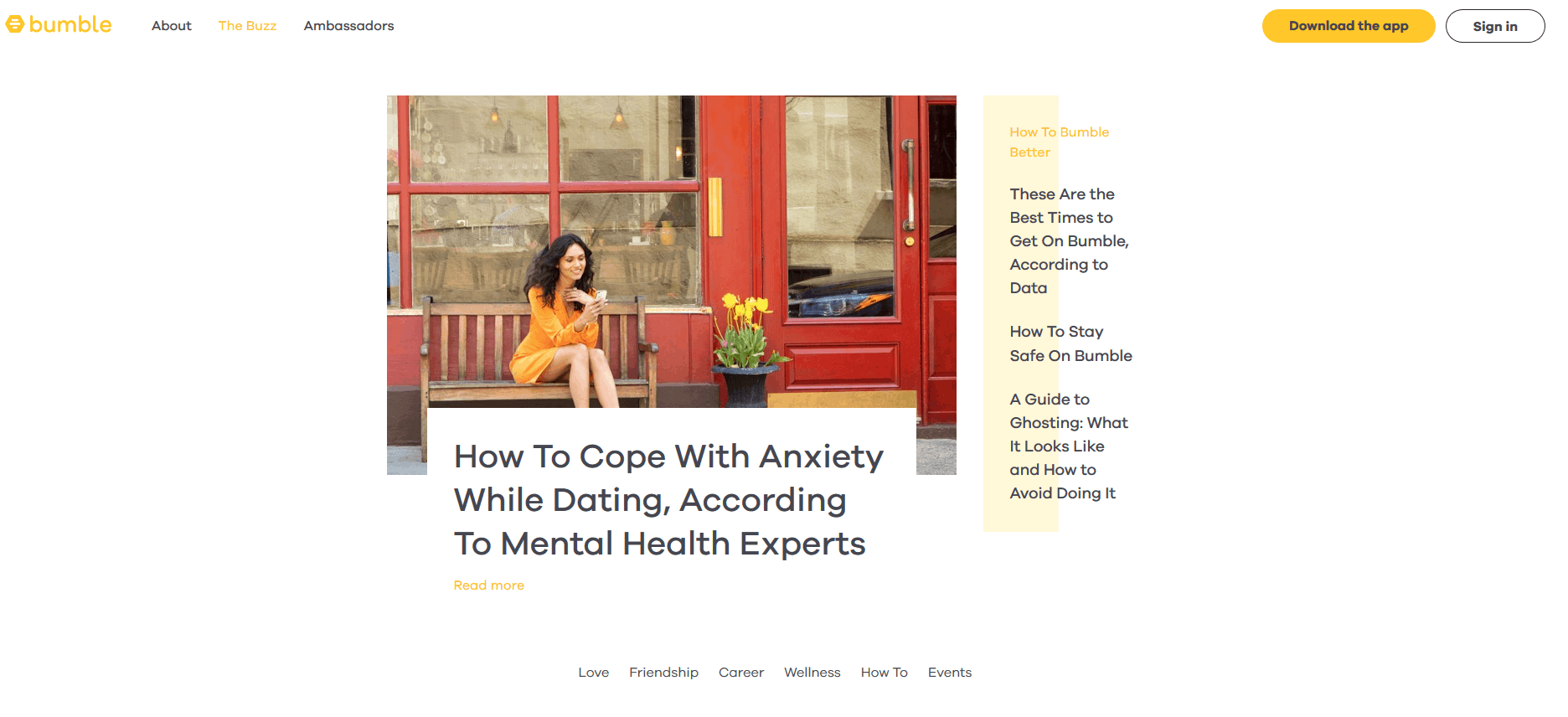 Looking at the trends and popularity for both platforms, it's crystal clear that Tinder and Bumble have had steady growth ever since they entered the industry.
The number of users is constantly growing, confirming that finding your soul mate over the internet is no longer taboo.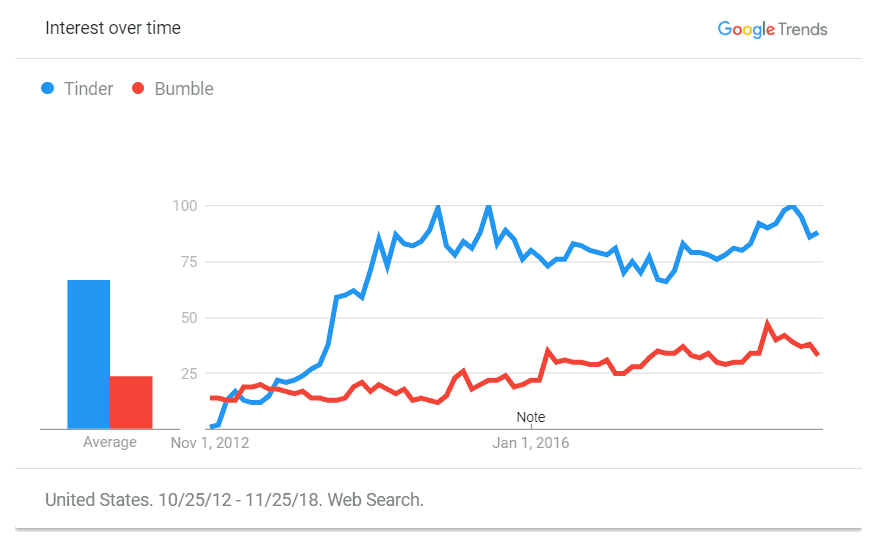 However, what puts Tinder in a slightly better position is a bit better optimization for mobile consumers.
The team behind the app was more than aware that people predominantly use mobile devices, and that's precisely what motivated them to build an app that perfectly caters to the needs of nowadays users.
Let's check out which of these two has better chances to get you a date and explore more the quality of profiles.
Success Rates and Quality of the Matches
The amount of success on Tinder or Bumble (or any other dating site) depends primarily on the user himself/herself.
You see, if you take some time to equip your profile well, answer the necessary questions, upload some cool pics, you are already more than halfway to success.
If you think that only one nickname is enough for all the pretty guys/girls of the world to rush into your hug (let's say digital one, in these regards), you're gonna be alone forever.
In fact, it's even more challenging in the online universe, because you need to present yourself the best way possible to people who you can't even see.
So, provided that you have done your homework well (i.e. created a charming profile), let's see which of these sites offers more possibilities to meet your soulmate.
How does Tinder work?
Okay, the very first aspect which puts this one in a slight advantage is its focus- mobile phone users.
All of us have computers and smart devices, but as a result of the mobile revolution, people prefer launching their favorite sites while on the go.
Tinder saw this and decided to use it as a trademark of the platform.
What is Tinder app and its purpose?
The whole system is designed to cater to the needs of mobile phone users primarily, and when a business is oriented that way, success is inevitable.
What is Tinder used for?
What you do is swipe the profiles in a specific direction, based on whether you like them or not, and that's what determines how quickly you will find a potential partner.
Besides this ordinary Tinder, to call it so, you have two more- Plus and Gold.
Both of them come with an even bigger spectrum of options, increasing the chances to find the one that fits your criteria.
Just to mention, these are paid memberships, but we'll talk more about the pricing later.
On the other hand, some people will criticize this system, saying that the appearance-based scheme is quite discriminatory.
But, let me ask you something- if you were to stand in front of ten people, and you need to choose one to start a conversation with, who would you choose?
Someone you find attractive or someone who doesn't look interesting at all?
That's right, so you'd basically use the same criteria you use in person, and an app even makes things significantly simpler by putting an endless number of choices before you.
Another filter the site uses to generate potential matches for you is location.
But, check this out if you opt for a paid subscription, you get to remove this restriction, and the entire world is yours.
So, all you need is a stable internet connection, a device, and plenty of patience to swipe.
Let's see what the competitor has to offer!
Is bumble good?
While Tinder knows no limits when it comes to who is the one to make the first move, Bumble's attitude on this is more than clear- it's ladies.
Unlike Tinder, here the location doesn't impact the given suggestions, some other criteria define who will be recommended to you if you have a Bumble account.
This platform also uses swiping as a way to determine whether you like a certain person or not, so if two individuals have swiped each other's profile to the right- it's the signal of mutual liking and Bumble date.
Then, both parties receive a notification, which means they are either interested in engaging in the conversation or would prefer to continue browsing other profiles.
At this point, we reach the first stumbling block.
If you are a woman, then your chances are higher, because ladies are the ones allowed to break the ice, make the first move and start the convo.
So, from the female's point of view, this sounds so powerful and fantastic, but, you will agree that this is not so fair towards men.
I mean, even the stats favor ladies- out of 100 suggestions, women are likely to find 10 to 30 suitable matches, while men would find only one!!!
This website has quite strict guidelines for posting pictures, so to offer a more realistic insight into the person behind the profile.
All in all, this platform gives more than decent chances to succeed, only it's a bit more favorable towards the female population.
Unique Features for Each Site
Not only are these two super popular sites, but all dating platforms are striving to offer something inventive and refreshing, something that will bring some new perspective.
Of course, nothing can replace face 2 face conversation, but until that happens, there has to be something that will spice up the communication in the online realm.
Let's s check out what these two have to offer and is Bumble the new Tinder?
Besides swiping and geolocation, which represent the very core of this site, there are many other options and features that can help you adjust your preferences and the Tinder safe feature.
For example, you can apply various filters for distance, gender, and age.
Among other cost-free features you can use, there's chat, which allows you to exchange messages with your match (both send and receive).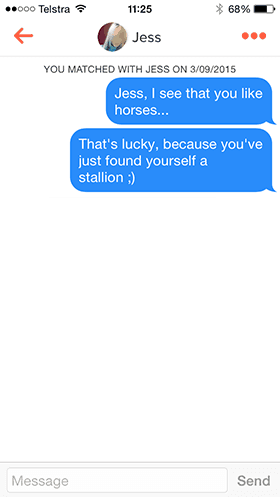 Then, there's a super like, which boots the success chances up to three times, is the way to send a direct and obvious wish for mutual connection with a specific person.
The free version offers one super like per day, whereas any of the paid memberships supplies you with 5 per day.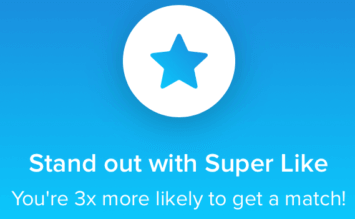 The next one is Boost-also a paid option, which enables you to set your profile on the top of the region for 30 minutes.
It's like getting the opportunity to sit on the king's throne for a while!
When you apply this feature, chances to get more matches are improved by an amazing 10 times.
Another cool option is to rewind your last swipe, in case you accidentally swiped to the left (that is, expressed that you are not interested in that person).
This is also available in one of the two paid subscriptions.
The one which gives you access to the entire world, not just people who have the same location as you is called Passport.
If you are a free user, you have a limited number of right swipes per day, while paid subscriptions come with an unlimited number.
There are also options to control who sees you, control who you see, you can remove ads as well, and if someone bothers you, you can even block him/her.
All in all, there's a multitude of features, which confirms that the team behind Tinder knows how to help people get together.
If you have been asking, does Tinder work? or should I use Tinder? this section should answer the question.
Bumble's field of expertise extends beyond dating, and as they say, it is "more than an app, it's a movement".
There are three different fields – dating, BFF, and Bizz, so you can not only look for a potential partner but a friend as well or look for a job.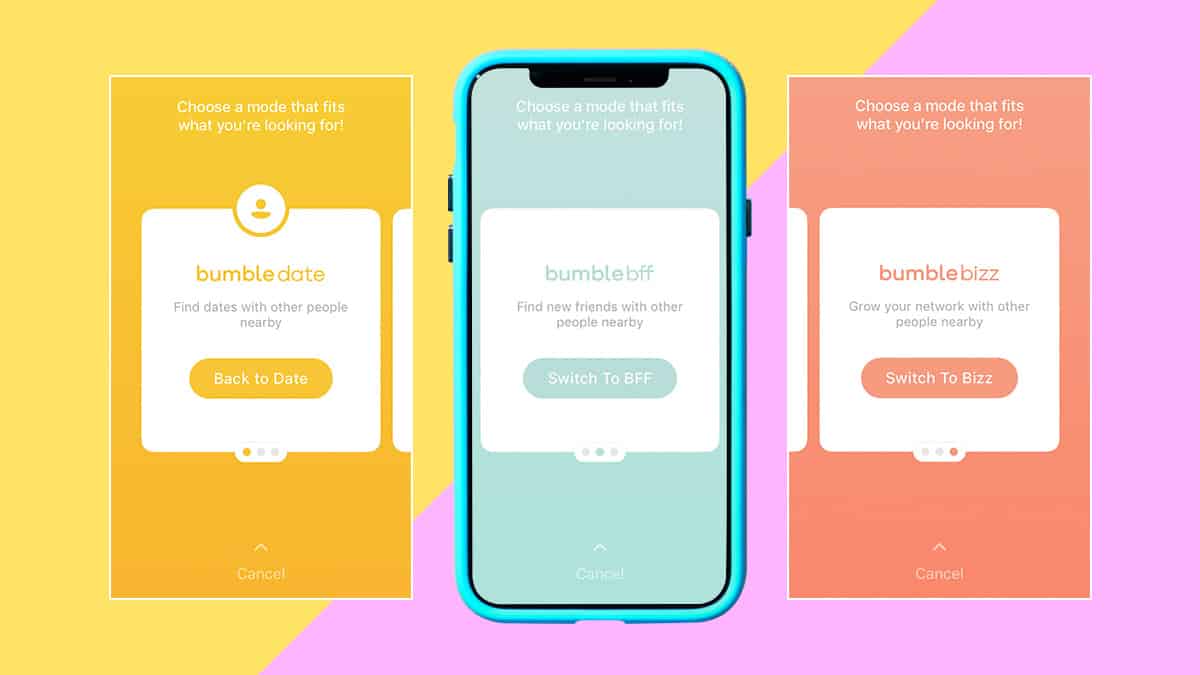 Each of these niches has very specific guidelines, and cannot be used for anything else rather than for what the name state is meant for.
Similar to Tinder, you can use some activities which require no payment, but for some upgraded services, you will have to pay something.
So, there are similar options like on Tinder, to backtrack accidental swipes to left, exchange messages with matches, and use SuperSwipe to express that you are interested in a certain person.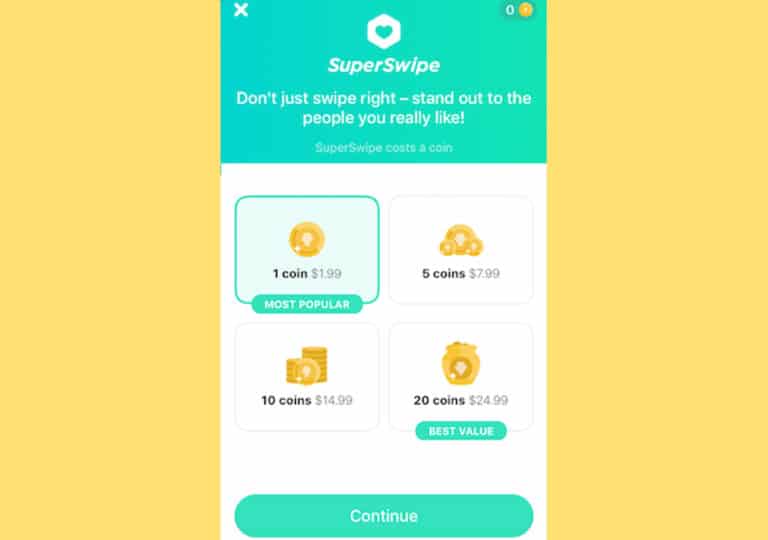 Then you have Bumble Boost, the premium option to extend matches (this is how guys can "buy" more time if they like the girl), rematch, and see who right-swiped you.
Spotlight, as the name implies, keeps your profile in a strategically better and more viewable position for half an hour.
To purchase those you need Bumble Coins, which are a sort of in-app currency.
As you can see, there are plenty of cool options here as well, which makes comparison Tinder vs Bumble quite challenging.
How Natural is the Sign-up Process?
Wanting to simplify things to the core, both sites offer quite intuitive and hassle-free registration.
So what is the main difference between Bumble and Tinder in the whole registration process?
If you want to join Tinder, you need a phone number and e-mail address to verify the profile.
After that, you fill it with some basic info such as date of birth, gender, name, and photos.
The other option is to do so via Facebook, and the time will be significantly reduced.
This option is convenient, as any change you make on Fb is automatically modified on Tinder.
The only downside of simple registration is the increased number of scammers and fake profiles, so be careful.
Bumble also allows you to sign up via Fb, or even connect your Instagram account to it.
But if you don't feel comfortable doing so, there are other ways as well, via phone number and confirmation code.
Then you fill the "about me" section and describe yourself in the most presentable way.
I'd like to point out that the Bumble dating site has very strict rules when it comes to uploading photos.
One is allowed to upload up to 6 photos, and they have to comply with the rules.
So, they mustn't be nude, offensive, photos that don't clearly show who you are, pics with kids, and many more.
This means that the chances that the profiles are legit are even higher.
The thing in common for Bumble and Tinder is that they are not only available as the mobile version, but can be accessed on desktop as well.
However, they do provide a better experience when accessed on mobile gadgets.
As you can see, both sites have a simple registration process and if you follow the instructions, you will complete it in a jiffy.
Let me add something very important- whichever platform you choose, please, be honest with the data you leave and with the pics you upload.
The goal is to show who you are, and find some genuine love, not fool people.
After all, you wouldn't like someone doing that to you, would you?
No one says you need to reveal everything about yourself but make sure those are some honest highlights which represent the very best of you.
Who is Each of These Services Meant for?
Any dating page is meant for people who are eager to find their soulmate with the help of the internet, but all of them have a specific target group.
When you analyze the entire idea behind Tinder online dating app, you can conclude that it is for active mobile users who are looking either for love, romance, hookup but also a marriage.
As for the Bumble dating app, it's a perfect place for you to look for a partner, but the platform also offers the opportunity to look for jobs or meet a new friend.
Having in mind that this one promotes "ladies first", it's a bit more oriented towards female users.
The Cost of Each Dating Service
Perhaps it's a cliché, but finding the love of your life is priceless, don't you agree?
If one platform can help you find an ideal partner for you, any dollar/euro/pound invested pays off.
On the other hand, you need to evaluate whether the balance between the given services, their quality, and the money you invested is satisfactory.
There's no doubt that both Tinder and Bumble offer lots of options, provide you with a range of tools to upgrade your profile, and communicate well with the one you like.
Let's see the Tinder cost for paid memberships.
Basic Tinder is free, and it gives you quite a decent amount of options to connect with a person.
But, if you are interested in getting more out of this platform, do know there are two types of paid subscriptions.
If you are an individual up to 30, and you are interested in Tinder Plus, the costs will be $9.99 for one month, $34.99 for 6 months, and $54.99 for 12 months.
For those over 30, prices are a bit higher-– $14.99 for one month, $60.00 for 6 months, and $80.00 for 12 months.
The other option, Tinder Gold, also has different pricing based on age.
Those up to 30, have to pay $9.99 for 1 month, $52.99 for 6 months and $82.99 for 12 months.
Users over 30 years pay $19.99 for one month, $90.00 for 6 months, and $120.00 for 12 months.
Is bumble free or not? Let's find out the bumble app cost.
Bumble Boost costs £20.99/$9.99 USD a month. More precisely, it's £7.49 per week, £41.99 for a 3-month subscription, £44.99 for a 6-month, or £79.99 for a lifetime membership.
This comes with three premium features- Busy Bee (unlimited extension for 24 hours for matches), Beeline (those who have liked you), and Rematch.
There are also Coins, which are used to purchase SuperSwipes.
Coins cost £1.99 each (or 5 for £7.99, 15 for £19.99, or 30 for £34.99), and one coin equals one SuperSwipe.
Now that we have analyzed all the important segments, it's time to make a final decision between Bumble vs Tinder and choose the one which offers more.
As you could see both of them are modern pages filled with versatile options and more than aware of what people nowadays are looking for.
Both sites have their target groups and work effortlessly on upgrading the quality of services, designing new features, and bringing more innovations.
Undoubtedly whichever you choose, Bumble or Tinder, they give a lot.
Taking all pros and cons into account, I'd name Tinder a winner of my review, simply because it's not discriminatory when it comes to making the first move.
Feel free to share your thoughts and impressions with me in the comments section below and see you in the next guide.
Happy dating!
Frequently Asked Questions