Part of the extremely popular and successful Cupid Media network, HongKongCupid.Com is a dating site for people from Asia and Hong Kong in particular.
But what does this dating service offer that makes it unique compared to other online dating sites?
And is it a place that Western men can meet Asian women to be their soul mates or is it just for Hong Kong singles looking for the perfect match?
Well, those are some of the things that we aim to clarify during this review along with:
OFL exclusive offers - Check all of them

"Serious Relationships"
"Discreet Hookups"
"Best Course"
"Quick Flings"
"Normal Hookups"
"Our Quiz"
So if you are wondering which Asian dating site you should be using, let's put HongKongCupid to the test and see if it's right for you.
Is your dating app giving you the best chance for success?
Make sure to take our online dating site/app quiz to find out.
It's a fact that people who follow our dating site suggestions have on average 2 extra dates per month.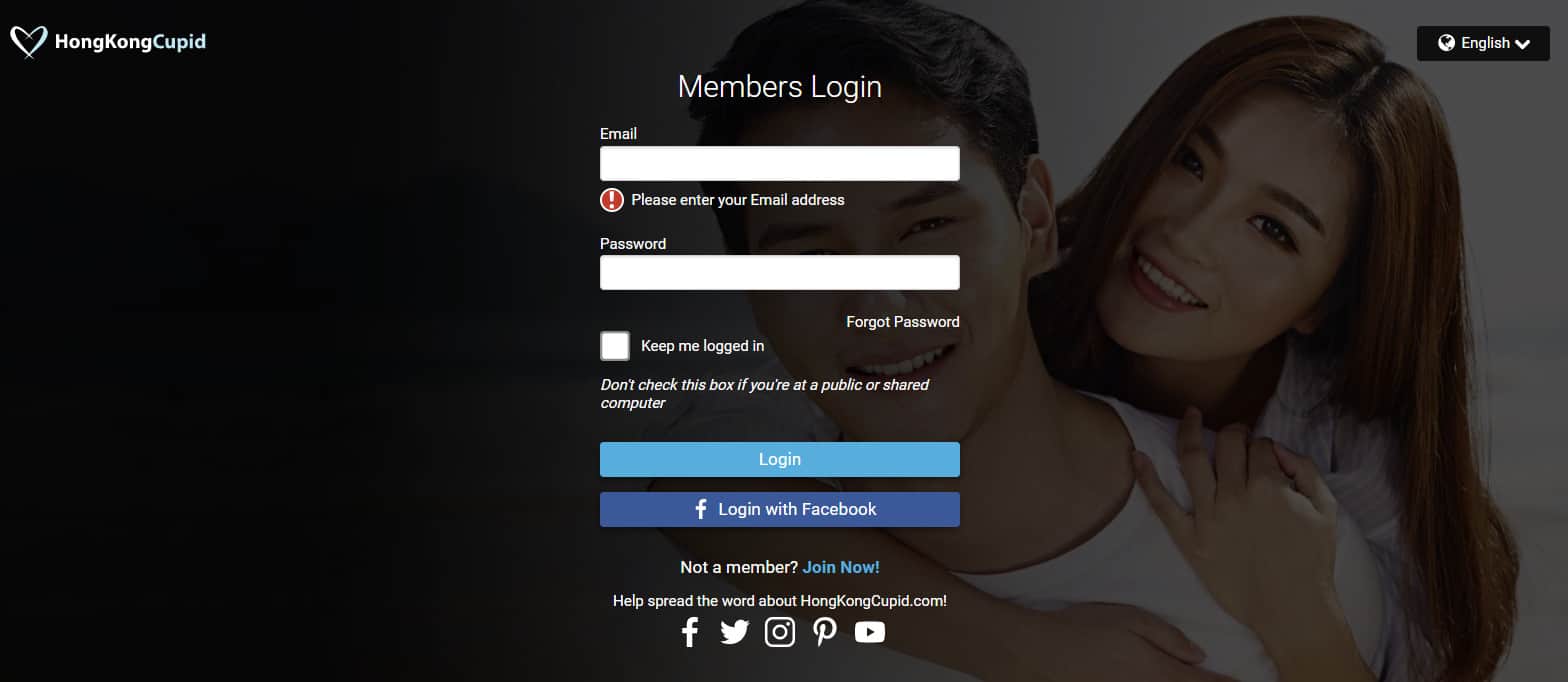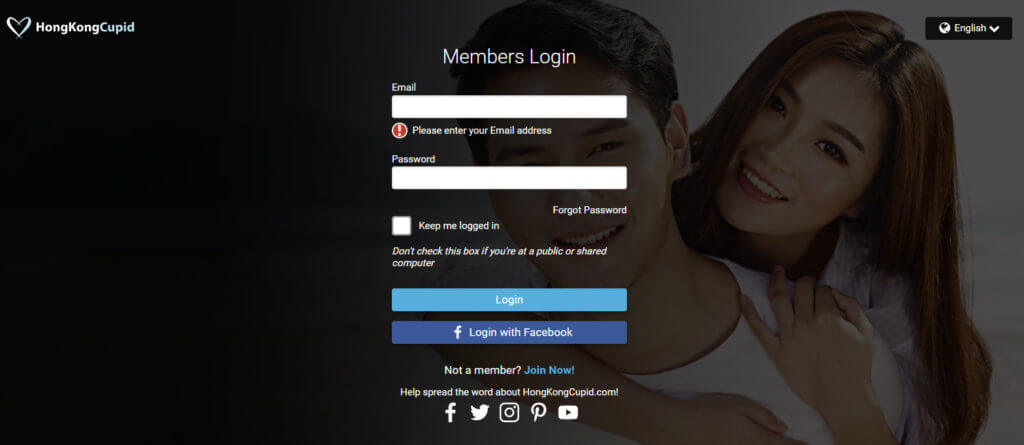 Ease of use – 4/5
Success rate – 3/5
Key features – 4/5
Price – 4/5
Many ways to sign up for an account including an Android app
The site provides you with matches or you can search for your own using a very efficient search engine
Membership features are extremely useful
Membership pricing is well thought out
Hong Kong Cupid has a small user base
If you are not a paying user you can only reply to messages you receive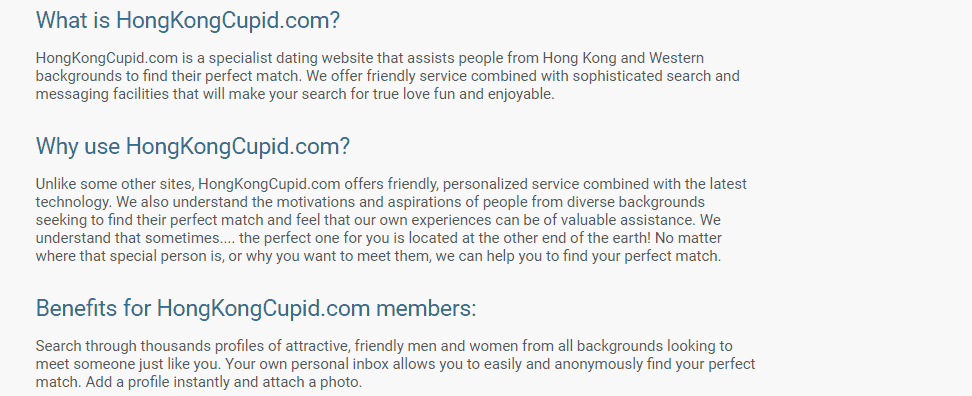 Who Is It For/Demographics?
While this is technically a Hong Kong dating site, you will find all kinds of people making profiles here, searching for love (like Tinder or eHarmony) or hookups (like BeNaughty or Ashley Madison).
That includes Chinese girls, Indonesians, Western men and others from the South Asia region.
In observing the site, you have two distinct groups on it for the most part.
First, there are women from Hong Kong and other parts of Asia that have created profiles on the site.
The second group are the men who want to meet them.
And as I have already confirmed, many of these men are from the West.
HongKongCupid isn't the only dating site to operate like this and it certainly won't be the last, that's for sure.
Now that we've identified the target markets, let's talk about some of the numbers behind the site.
It's definitely not as busy as other Cupid Media dating sites that cater to other Asian population groups in the region.
Exact user numbers weren't featured anywhere on the site but:
The HongKongCupid Android app has been downloaded over 50000 times
Around 25000 users have registered from the United States
Half of the users on the site are from Hong Kong
Close to 8000 new users join each month
60% of the users are female and 40% are male
Other users come from Australia, the Czech Republic and other parts of Europe and Asia
From these numbers, it is easy to conclude that this isn't the busiest dating site but it serves a very specific target market.
That's something you have to bear in mind.


Whenever you land on a Cupid Media dating site, you can be sure that you will be presented with testimonials on how it's brought people together.
And that's fair enough because there is no doubt that this company is good at solving users' search for a loving partner.
When you register for a profile on HongKongCupid, you have a few options.
You can either download the mobile app and register that way, or you can register through the homepage.
If you opt for the latter, you can use your Facebook account if you'd like to, or register using a valid email address.
The registration process needs the following information:
Your name
Gender and the gender you'd like to meet (with LGBT options)
Age
Valid email address
Password
Finding your way around the site
If you've used a Cupid Media site before, you will find your way around HongKongCupid with ease.
Even if you are new to these sites, they are so well set out that you'll be up to speed in the next to no time.
That's because they are just so user-friendly and really easy to use.
Right from the start, the site will present you with matchups to look through.
These are based on the age range and gender you indicated when registering.
I will get to how to search for a potential love interest later in the review.
But for now, let's explore the menu system on the site as this is your primary way of navigating HongKongCupid.
You will notice the menu system at the top of the page.
These are:
Matches: Click here to return to the matchup screen to easily view profiles the site provides for you to scan through
Search: While the site has a quick-search bar, you can launch more detailed searches by clicking on this menu.
Message: All your messages can be found here
Activity: See who you have favorited, liked or viewed. You can also see which other members have done the same to your profile.
There are other secondary menus from which you can access your profile or change settings but these are the main ones you will be using on the site.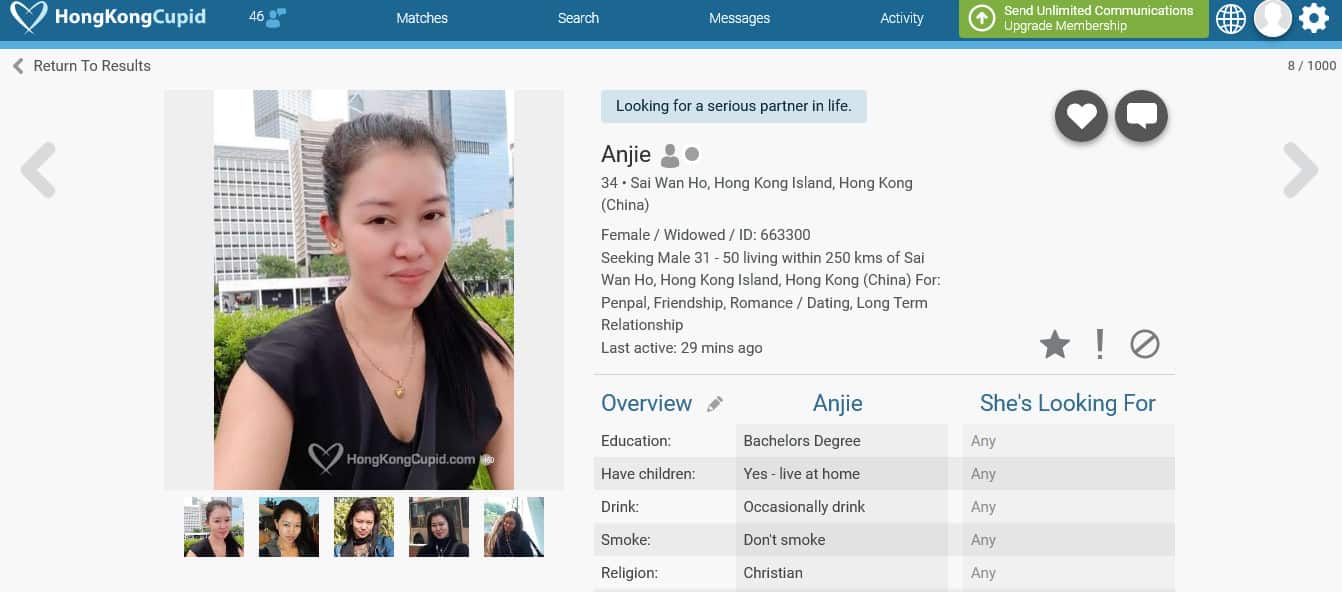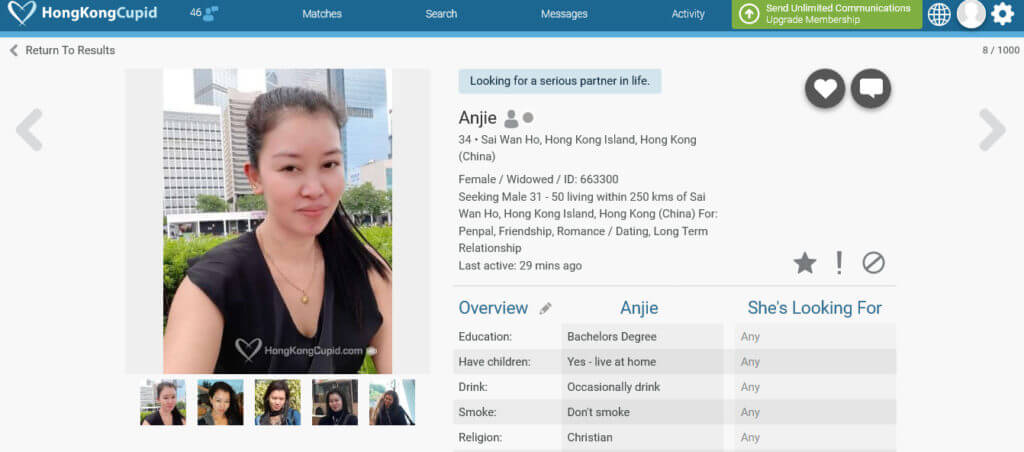 Your

HongKongCupid

Profile
As a new user, you need to put some time aside to flesh out your profile.
There's still lots of information to fill in here.
I think having users focus on completing their profiles are one area where Cupid Media can improve their sites.
They are packed with information but because almost none of it is completed during the registration process, you often find users with incomplete profiles.
The information you need to provide to finish yours includes:
Your appearance
Your lifestyle
Your background and cultural values
​A profile heading
What you are looking for in a partner
One of the strengths of Cupid Media sites is the fact that these profiles have so much detail.
You can really learn a lot about someone from their profile which can help you make a decision as to whether they are worth pursuing or not.
If you'd prefer to browse the site on your phone, you can do so.
But that's only if you have an Android device.
There is no app for iPhones or other Apple devices.
The app does everything the website does and you can easily look for potential matches and communicate with them too.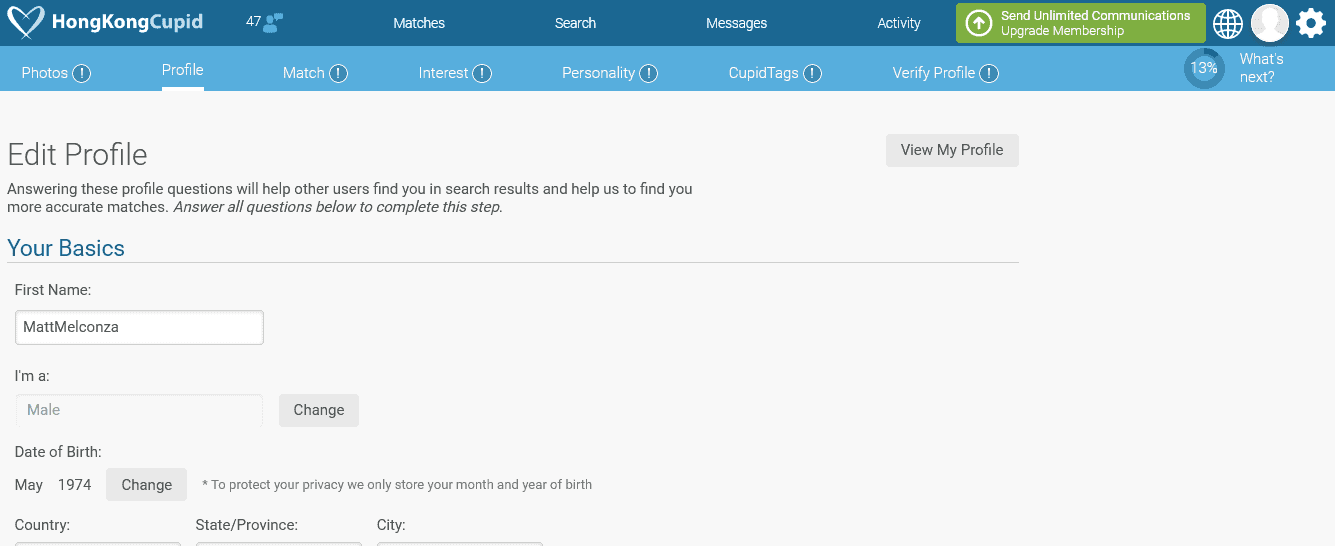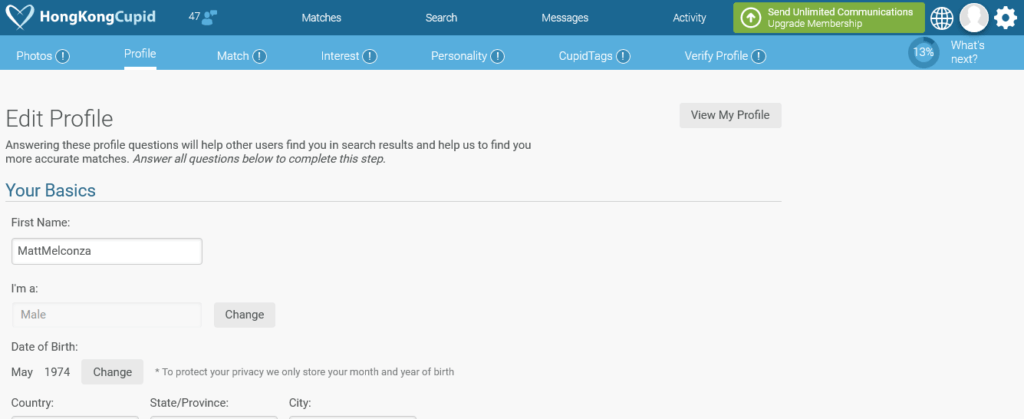 So let's talk about finding potential matchups on HongKongCupid.
Just how much can you achieve with a free account and what search features are on offer?
Well, the good news is that if you register as a user, you can get an excellent feel for what the site has to offer even before you pay a cent towards membership.
As I mentioned earlier, HongKongCupid will present you with potential matchups from the start and you are free to look through these for people that you might like to get in touch with.
But there will come a time when you are looking to launch your own searches.
And even for a free user, testing the search features on the site are a load of fun.
That's because you have so much scope.
You can change a number of parameters and even save your searches if you'd like.
That means each search can be tailor-made to include various parameters that you can include from a user's profiles.
Or you can just do a broad search based on a specific age range and location if you'd prefer.
And even free users get to use this advanced search engine.
That's certainly one of the areas of the site I I feel they have got right.
As a premium member, you can search using reverse matches and mutual matches.
A mutual match means you match what they are looking for and they match what you are looking for.
It's certainly worth exploring.
But that's not all.
You can search using Cupid Tags.
These are keywords people associate with their profile.
For example, "Caring", "Handsome", "Relationship" and "Open-Minded" are all Cupid Tags and that means you can search specifically for people that have attached them to their profiles.
These can be a useful tool to help you find the kind of person you are looking for and there are hundreds of Cupid Tags to search by.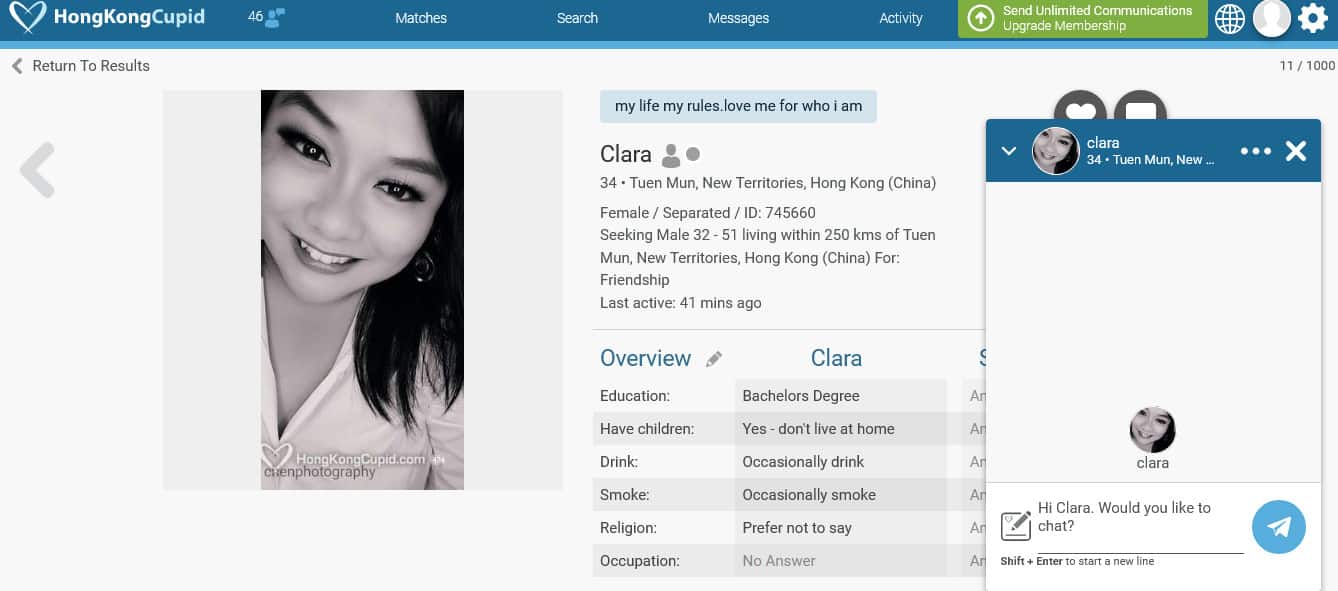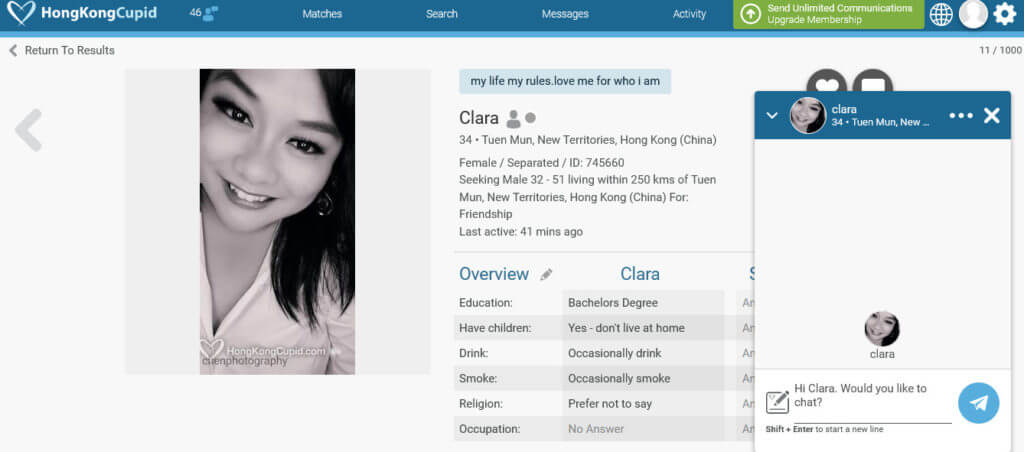 Unfortunately, while HongKongCupid gives free users so much, communication is very limited.
But it's not impossible.
If a member sends a free user a message, they can reply.
To send messages of your own, you are going to have to consider signing up for membership.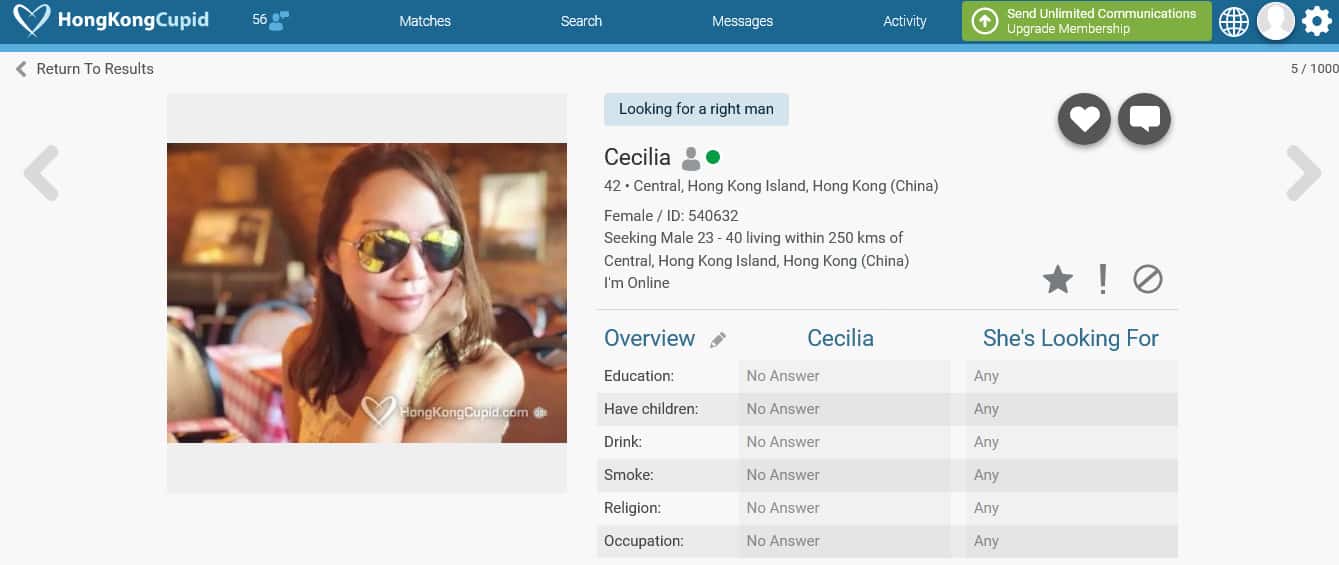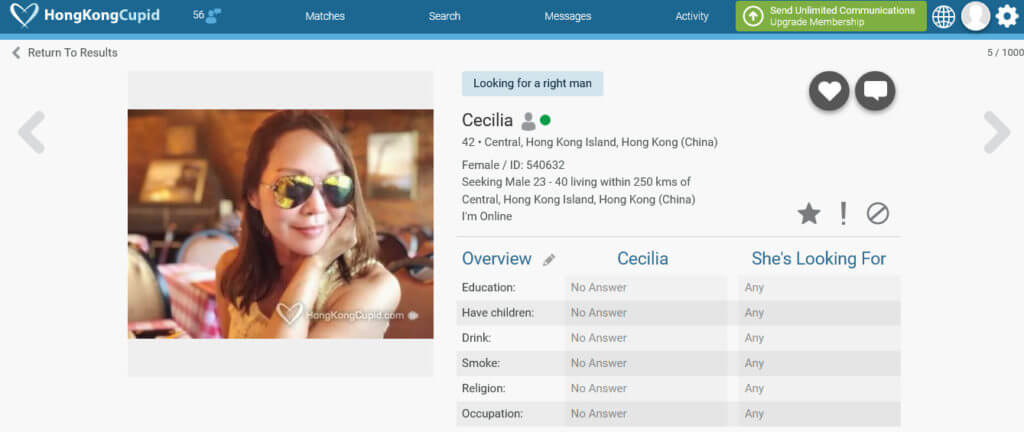 Cupid Media sites are a highlight when it comes to the extra that they offer premium members.
But before we get into that, here's a reminder of what you can do with a free account:
Sign up as a user on HongKongCupid for free using either the website or app
Make use of the basic search engine to look for potential matches
Reply to any messages you receive from paying users. You cannot send your own, however.
Like or favorite the profiles of other users
View an unlimited amount of matchups
Here's what you can expect should you opt to sign up for one of the membership packages on offer at HongKongCupid.
1.

Messaging

and translations
Messaging is unlimited for premium members of the site.
And because you might be dealing with a person who doesn't speak your language fluently, message translation is also a tool that you will have at your disposal.
So if you send a message, it will be translated into a users' home language and the same if they send you one back.
Now that's pretty useful.
You can also use an instant messenger system to speak to other users in a one-on-one chatroom.
This is faster than the regular messaging system.
The top membership option available on HongKongCupid brings with it a VIP profile status.
This means that not only will your profile show you are a VIP but when other users make searches and you match their parameters, you will appear first in their search rankings.
3. More search parameters
One of the strengths of Cupic Media sites is that their search engines are excellent, even for free users.
But if you want to add even more search parameters to help pinpoint the exact kind of matchup you want, membership allows you that option.
Also, don't forget the test the reverse and mutual matchups.
No other sites that I have reviewed has these options and they are well worth checking out from time to time, just to see what kind of matchups they turn up.
4. Double the profile space
All users get even more profile space than a free HongKongCupid user.
It doubles in size, in fact.
If you'd prefer to take your profile out of other search returns or leave no trace that you've viewed someone's profile, you can.
I have a major critique of this, however.
Why would you want to take your profile offline?
Having someone find you in a search and reach out to you should be just as important as you trying to find a matchup for your own.
But if you prefer the extra privacy, the option is available to you as a paying member.
Unlike some other dating sites where it's more advertising than dating, HongKongCupid advertising is not invasive.
Members don't have to worry about advertising at all, however, as these are removed as soon as you sign up and pay your membership fee.
And that's all the information I've gathered on what you can expect with paid membership.
Without a doubt, there are lots of useful extras here, that's for sure and should you choose to sign up, I am pretty sure you are going to use most of them.


So what's pricing like then on Hong Kong Cupid?
Well, the first thing you need to know is that you have two membership options (as you do on all Cupid Media dating sites).
These are:
Platinum membership
Gold Membership
The major difference between the two is that Platinum membership allows for VIP profiles as well as mutual and reverse matches.
Here's a breakdown of what they will cost you:
Platinum membership
1-month membership – $29.98
3-month membership – $59.99 ($19.97 per month)
12-month membership – $119.98 ($10.00 per month)
Gold membership
1-month membership – $24.98
3-month membership – $49.99 ($16.66 per month)
12-month membership – $99.98 ($8.33 per month)
Compared to other Cupid Media sites, HongKongCupid is actually a little cheaper.
From my perspective that would be because it has a smaller user base than others and to grow it, membership is cheaper which makes sense.
On the whole, however, my findings when it comes to membership and the key features offered is that the pricing is extremely competitive.


Conclusion and Overall Rating
And that's it for our Hong Kong Cupid review.
As with all other Cupid Media dating sites, it truly is a pleasure to use.
For me, researching these sites couldn't be easier and I believe that they are some of the best-run dating sites on the internet.
From the moment you sign up, everything is so super slick and easy, you won't have a moment's trouble on the site.
Are there scams and fake profiles to be found here?
Probably, but I didn't see anything obvious.
But with dating sites, there is always somebody willing to try and prey on the naive.
Sadly, Hong Kong Cupid does have some issues but they've got nothing to do with the overall design of the site or how it operates.
It's the user base that at present, is very small.
That's always going to happen with a niche site like this and if you are just looking to date women from Asia and not Hong Kong specifically, you could always try out another Cupid Media site.
That said, if you are living in Hong Kong or planning to move there, there is no harm in trying out it and seeing what it turns up.
For an overall score, the site is marked down slightly because of the small user base but it still scores a solid 3.75 out of 5.
Over an extended review period, Onlineforlove used HongKongCupid to test it as a dating site.
And we have concluded that it is for Hong Kong singles as well as men from the West and other parts of the globe who want to meet Asian women from Hong Kong specifically.
Our review approach gave a star rating for the most critical criteria as we tested every aspect of the site.
Our overall evaluation of HongKongCupid took the following elements under consideration: membership cost, how easy it is to use, success rate when it comes to matchups, the size of the user base is and key features it offers.