In today's online dating app review, we unpack something a little different.
And that's Say Allo, a dating and messaging app that has another string to its bow, the video date. You may have used Tinder or eHarmony and other real-life dating apps, or some of the hook-up sites (like BeNaughty or Ashley Madison), but now you want something a little different.
While video dating or video chats are something new, they are a staple part of Say Allo, that's for sure.
While Say Allo certainly promises that just how effective will it be?
OFL Top Recommendations based on 100,000+ Survey

"Serious Relationships"
"Discreet Hookups"
"Best Course for Men"
"Quick Flings"
"Normal Hookups"
"Our Quiz"
Well, it provides compatible connections with others thanks to the use of artificial intelligence.
We intend to clarify just what it has to offer this in-depth critique of the app.
And there's much that we will explore and analyze including:
So let's get ready to say allo to someone new and see just how this dating app can help you find that first video date.
Is your dating app giving you the best chance for success?
Make sure to take our online dating site/app quiz to find out.
It's a fact that people who follow our dating site suggestions have on average 2 extra dates per month.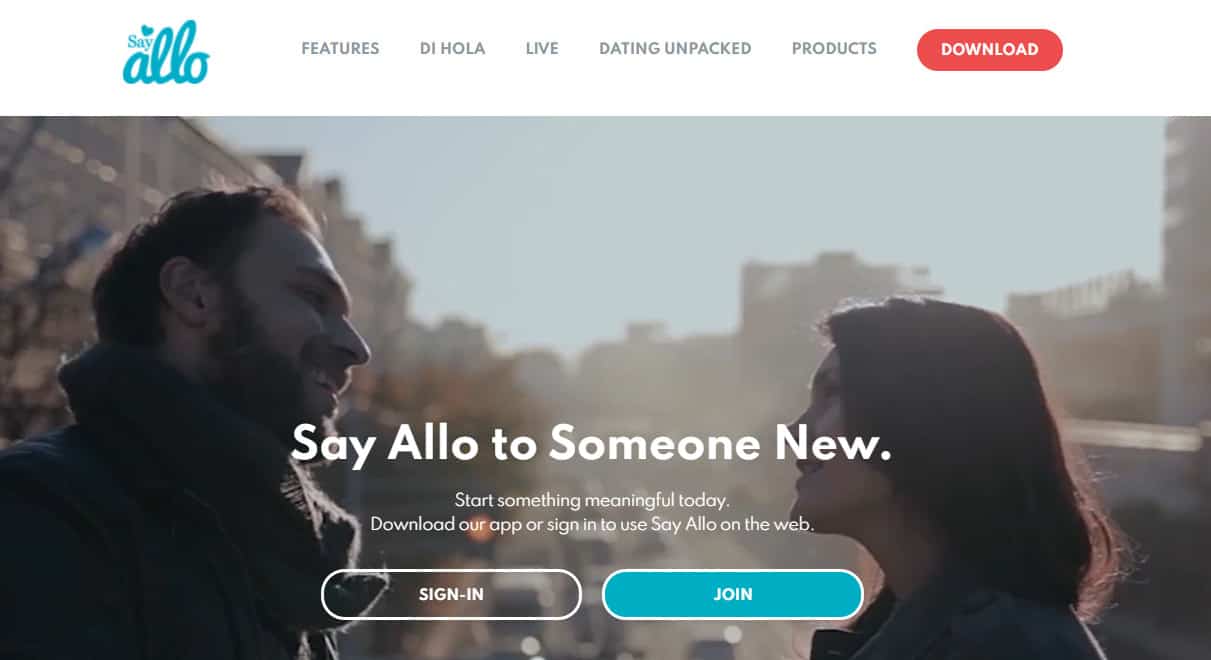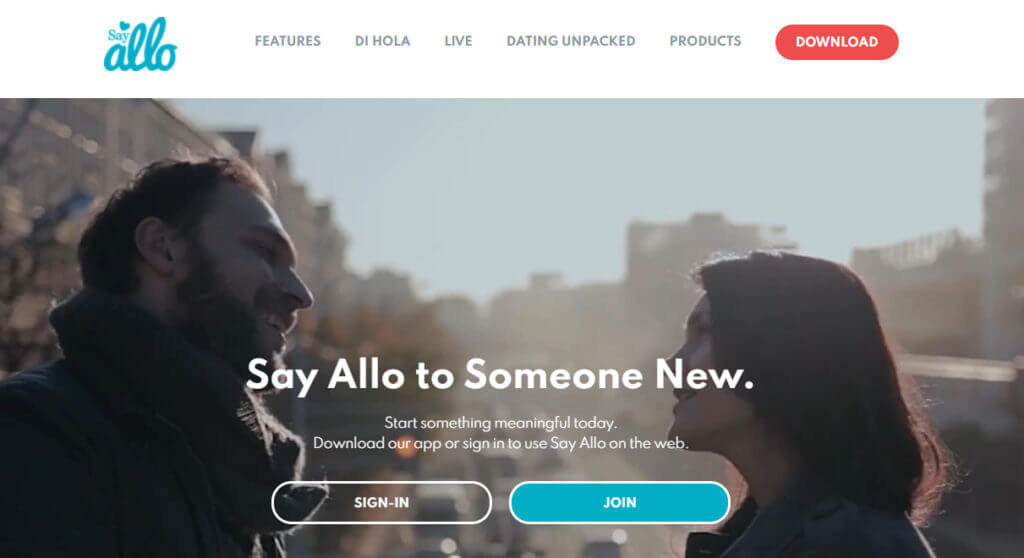 Ease of use – 4.5/5
Success rate – 2.5/5
Key features – 3.5/5
Price – 3.5/5
Profiles are packed with information
Compatibility reports tell you just how much of a match you are with someone
Cleancut design and simple to use
Messaging is possible without membership, if you match with another user
A small amount of users presently but it is growing
Video messaging is only for members, even if you matchup with someone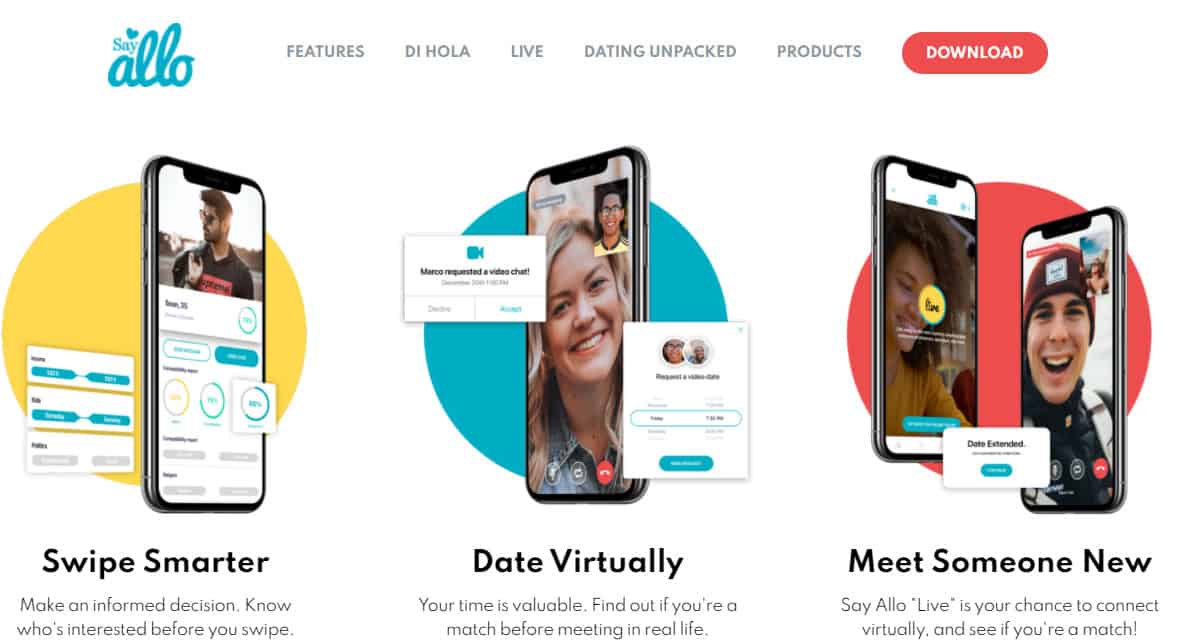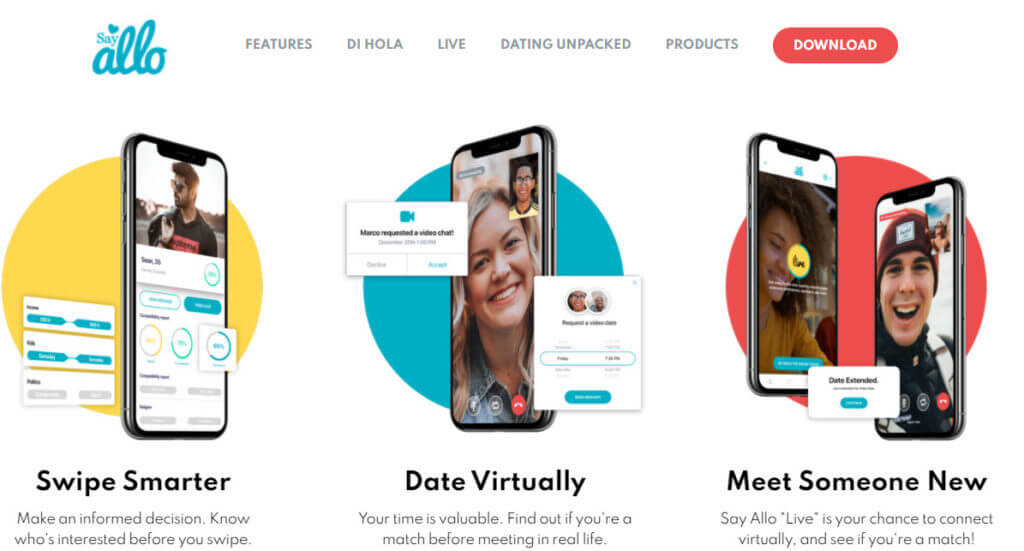 Who Is It For/Demographics?
While gathering information about Say Allo, the first thing that I determined that it has a fairly small user base.
And that's not something that surprised me seeing that it only hit the dating scene back at the start of 2020.
Of course, all dating apps have to start somewhere, right?
OFL Top Recommendations based on 100,000+ Survey

"Serious Relationships"
"Discreet Hookups"
"Best Course for Men"
"Quick Flings"
"Normal Hookups"
"Our Quiz"
At this point, identifying where the user base stands currently in terms of size is pretty much impossible but looking at other facts and figures can help give us an idea.
Say Allo has been downloaded over 10000 times on the Google Play store
It has similar numbers on the Apple store with a star rating of 3.6 currently
Figures suggest that around 15000 Americans have registered on the site (the biggest country in terms of users currently). It's also launched in other countries with users in Montreal, Canada pretty active on the app.
Up to 10000 users are active on the app each week.
That's just over 1000 a day
These figures indicate that Say Allo is still in its infancy as a dating app, that's for sure.
But no doubt, considering the fact that it's had to get underway during a global pandemic, it's not fairing too badly and will only grow.
Gender ratio and age ranges
While this is likely to shift a great deal as more people turn to the app, currently 68% of profiles on Say Allo are males and 32% females.
In assessing this figure, don't put too much into it as with a small user base, the likelihood of it all changing as more users sign up is 100% certain.
That's true for the age ranges of users too.
Currently, user age ranges are well spread but many users – around half of them currently – are aged between 18 and 34 years old.
The thing is, no matter what your age, when you sign up for an app like this, you are not only growing the user base but also providing potential matchup in your specific age range.
And that's invaluable.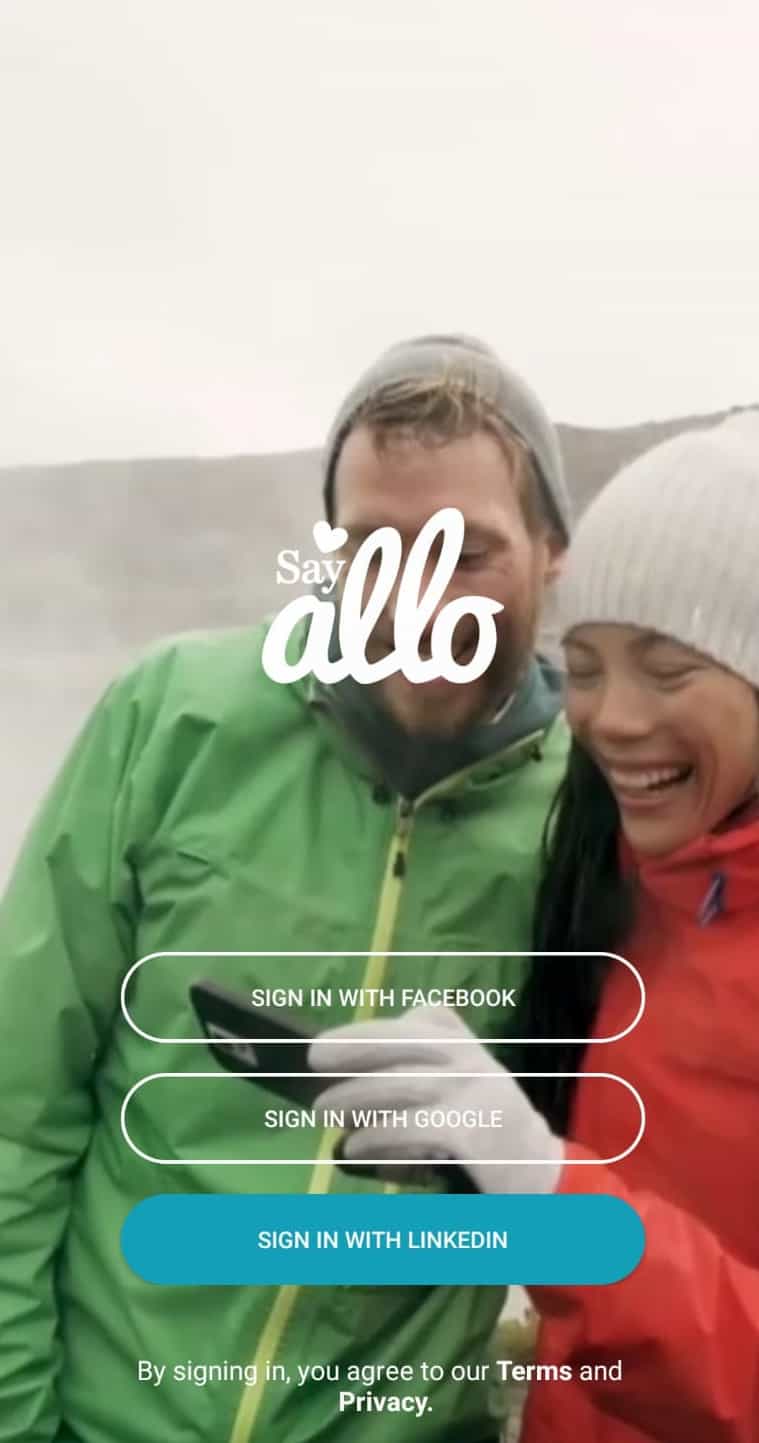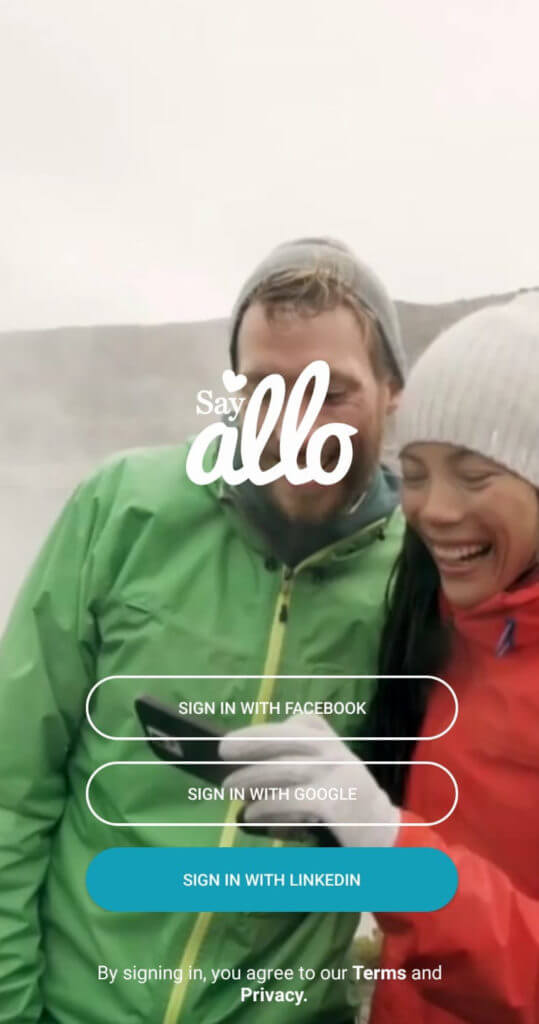 By now, you've probably observed that Say Allo is only app-based.
So if you have an Android device, or an iPhone, iPad or other Apple gadget, you are going to have to download it from the relevant online store.
If you'd like to find out more about the app, you can visit the website, www.justsayallo.com where you will find tons of information.
Once you've downloaded the relevant app, you are going to have to use a social media account to sign in.
Unlike other dating apps, you cannot use your phone number to register as a user.
Once you decided on the social media account you are going to sign in with (either Facebook, Google or LinkedIn), you've got to provide a substantial amount of information about yourself.
This includes:
Your birthday
Your gender
The gender interested in
Your body type
The body type (could be specific or include all of the six choices)
Your height
The height you are interested in
An about me section
Your level of income
Your religion
Your political affiliation
If you have children
If you want children
Your employment status
Your education level
Your marital status
Your thoughts on pets (for example, are you a dog person, a cat person and more)
How long ago was your last relationship
The distance potential matchups can be from your location
The age range potential matchups should be
That's a lot of information that the app wants to collect from you.
But I am all for it, that's for sure as much of it is profile based and getting that out of the way before you even use the app is never a bad thing.
Before we evaluate the app in terms of how to navigate it, I would like to chat about the overall look of Say Allo.
​Well, you can see it's a dating app that's only a few years old.
It has a very modern, fresh look and a clean interface that's so simple to use.
Say Allo also only uses two main colors, white and turquoise and they just work so well together.
It's a pleasure to look at, not cluttered at all and you will enjoy navigating it.
To do that, you are going to need to just access one of the main menus at the bottom of the screen.
These are:
Two people icon (Matches): Click here to see the matches that Say Allo presents to you
Interlocking circles icon (Messages, Video dates): Click here to see any mutual matchups you have made, users you can go on a video date with and any messages you have sent and received.
Half circles icon: Here you can rewind on someone you've accidentally passed by and see who has viewed your profile.
There are also two icons at the top of the page.
These are:
Three stripes: This gives you access to various menus including matches, your profile details, search parameters, settings and the help menu
Human silhouette: This gives you quick access to your profile. You can edit it from here as well.
And that's it for the menu system.
No need for five menus at both the top and the bottom of the screen.
Say Allo demonstrates that sometimes less is far better as it leaves the app uncluttered.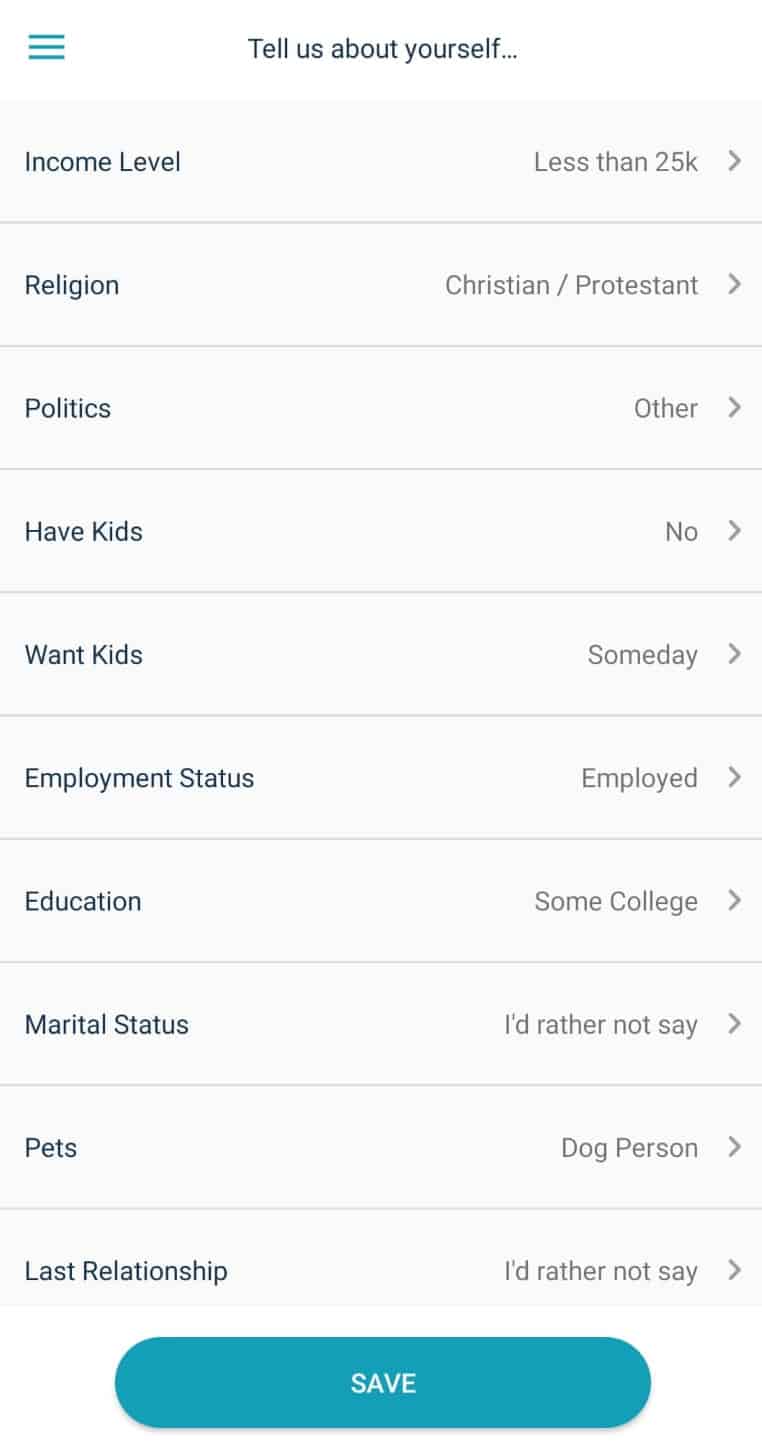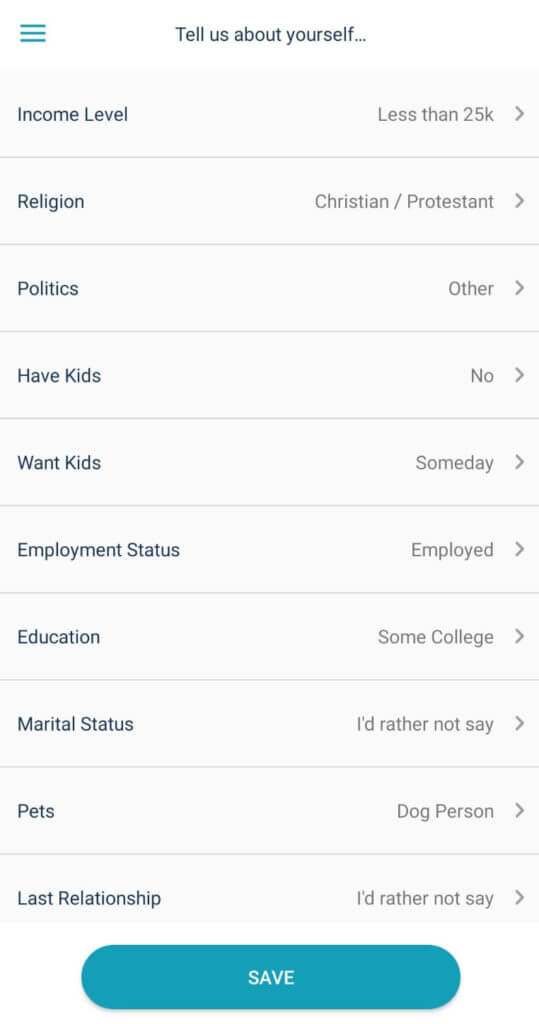 By conducting an extended registration at the beginning of your signing up process, there's actually not that much for you to do in terms of your profile on Say Allo.
​You've filled out all information that you need to already.
Of course, you are free to edit it at any time and you can do that quickly enough from the profile menu itself.
Note that you can add another five photos, making it six in total.
If I were you, that's something that I would consider as the video messaging aspect of Say Hello indicates to me that it is a very visual dating app, although most are, to be fair.
We are always attracted to users' photos first so again, uploading the full allowance makes sense to hopefully draw attention to yourself.
One of the things you will notice about other users' profiles is that you cannot see these details in full.
Only if you opt to sign up for membership on Say Allo does the full profile of other users become available.
It's not often that dating apps do this, but clearly those behind Say Allo feel that the privilege of seeing someone's profile should only be for members.
It's not necessarily a feature that I agree with.
At least give regular users some partial information about a potential matchup, otherwise you only get to go on their looks and a short About Me section.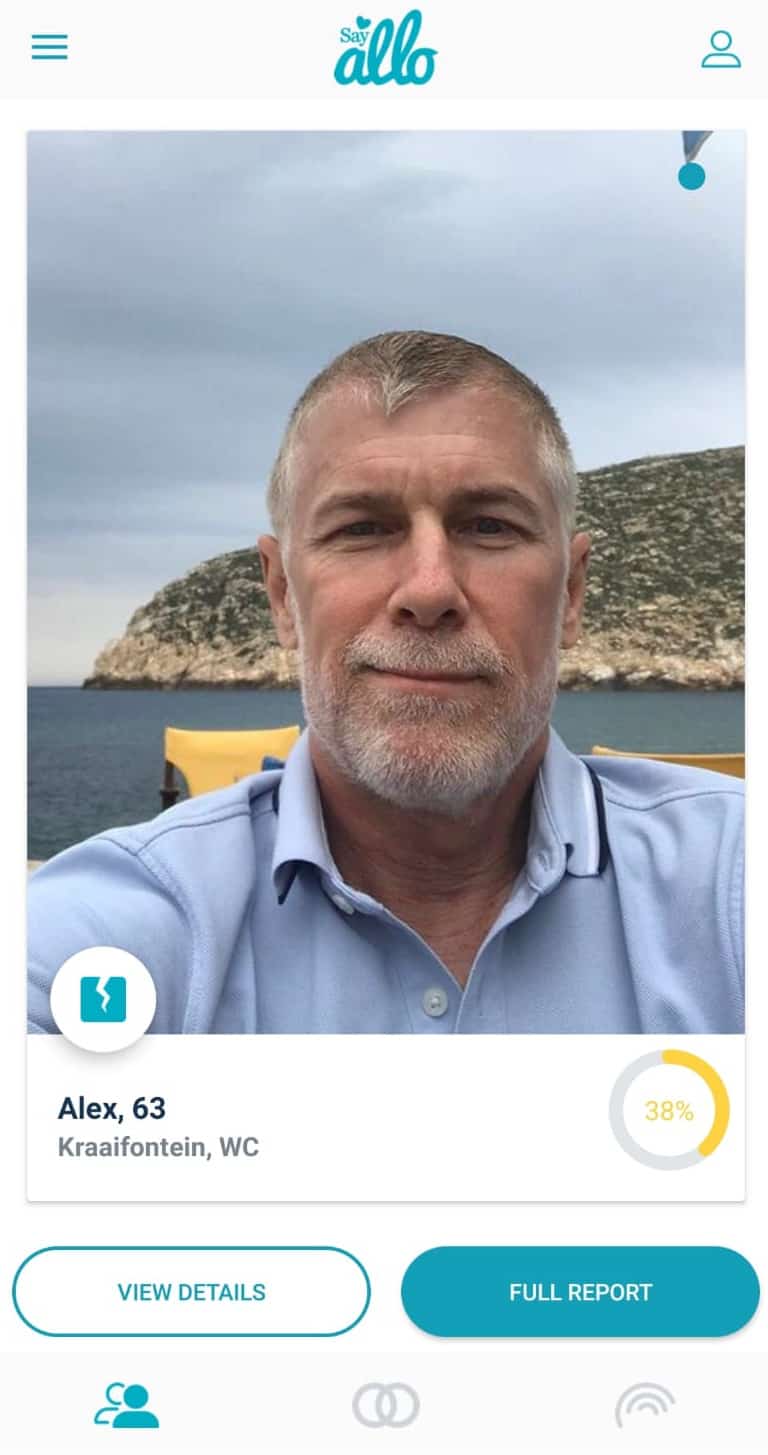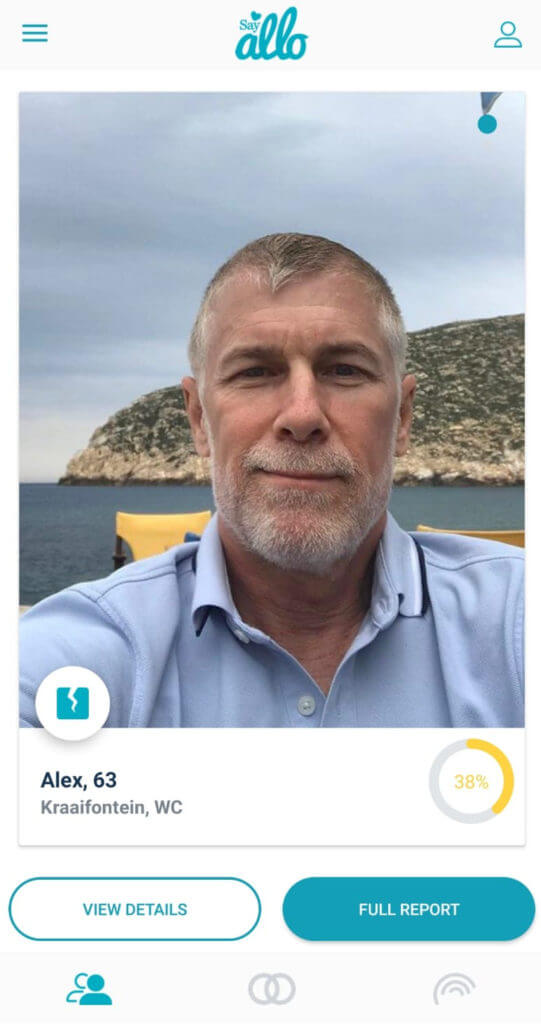 Because of where you live and the fact that Say Allo is still very new, your chances of success in using this app will vary.
For me, there were only a few matchups but if you live in the United States, your results should be far better.
That's especially true if you reside in a large metropolitan area.
So how do you go about finding these potential matchups?
Well, Say Allo is one of those apps where there's some swiping involved.
And don't worry, it provides the profiles of other users for you to swipe through by employing a system called SmartSwipe to help provide the kind of matchups you are looking for.
You can access these profiles in two ways.
Either click on the three-stripe menu at the top of the screen and select "Matches" or click on the two people icon on the bottom-left of the screen.
Both of these will bring you matchups as per the parameters you set while registering.
Then you simply swipe left if you don't like what you see and right if you do.
Should one of those matchups then swipe right on your profile, well then you have a mutual matchup and that means communication between the two parties can now take place.
If you'd like to see if you've matched up with anyone, click on the two interlocking circles (the middle menu) at the bottom of the screen.
Now you can see matchups as well as messages you've received or sent.
If you are a member of the app, you can also see who has liked your profile by clicking on the last menu on the bottom right of the screen.
This is useful to help facilitate matchups because you might not have swiped right on someone's profile but they have on yours.
Say Allo

Compatibility reports
One of the highlights of looking for a potential matchup for me is compatibility reports.
For regular users, you can see just how compatible a potential matchup is displayed as a percentage on their profile.
For members, you can click on that percentage to get a full compatibility report about the matchups which is more than useful, that's for sure.
From my perspective, having compatibility ratings like this on a dating app goes a long way to helping you find the best matchups.
Of course, this will be even more useful as the user population on Say Allo grows.
You will also notice the option to send an icebreaker to another user.
This takes the form of a question, for example, "I swiped right, hope you will too".
There are 10 icebreakers in total for you to choose from.
From my perspective, an icebreaker is an ideal way to let someone know you are interested in them.
It should be the first step in helping to facilitate an eventual meet-up down the line.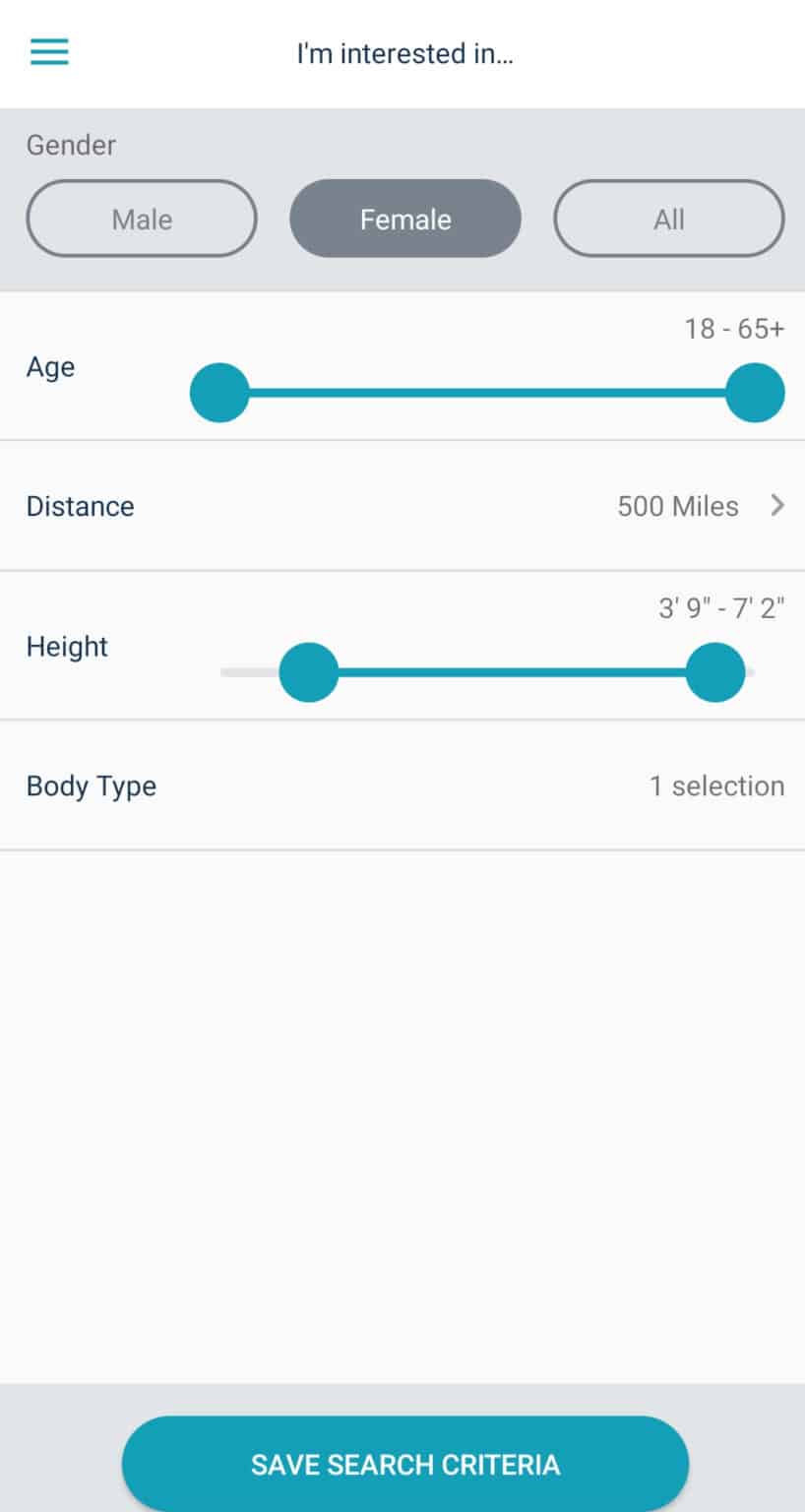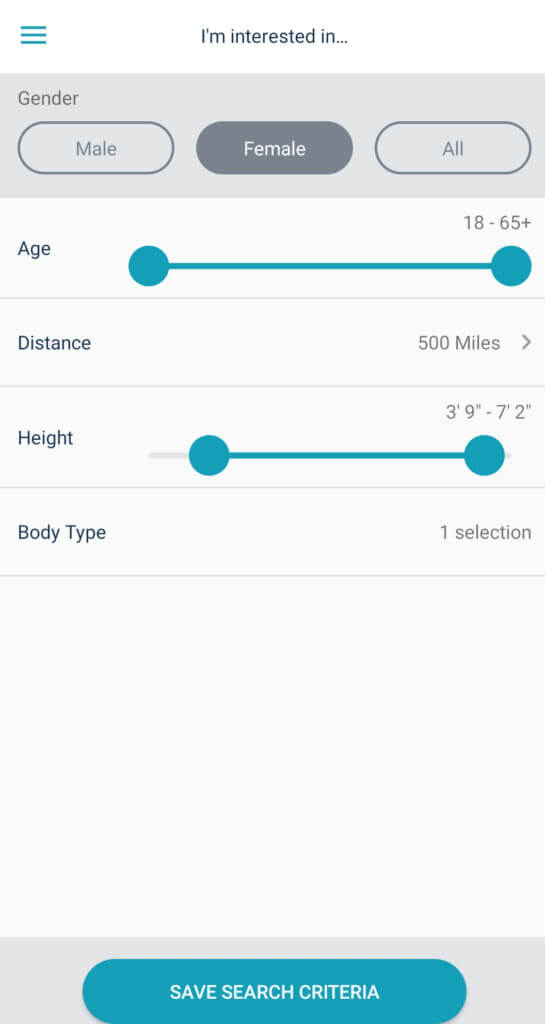 ​Adjusting search parameters
In testing what Say Allo had to offer, I quickly discovered that you can adjust the search parameters, even as a regular user.
This means that you can broaden or narrow your search for potential matchups.
And because Say Allo has a smaller user base, in the beginning, my findings showed that making it broader than more narrow turned up a few more results.
So how can you adjust the search parameters then?
Well, it's simple enough.
Click on the three-stripes menu at the top left-hand side of the screen and click on search.
Now you can adjust the following:
Gender
Age Range
Distance from your location (up to 500 miles away)
Height range
Body Type
One thing I believe they have wrong here is the range.
You can only select up to 500 miles away.
For an app that promotes video dating, that range should be limitless, I feel.
What's stopping you from having a video date with someone on the other side of the world?
Lastly, in this section, let's talk about reaching out to a potential matchup.
The only way that you can message other users if you aren't a member is if you match up with them.
Then communication is free.
Otherwise, if you opt for membership, video messaging and sending messages isn't a problem at all.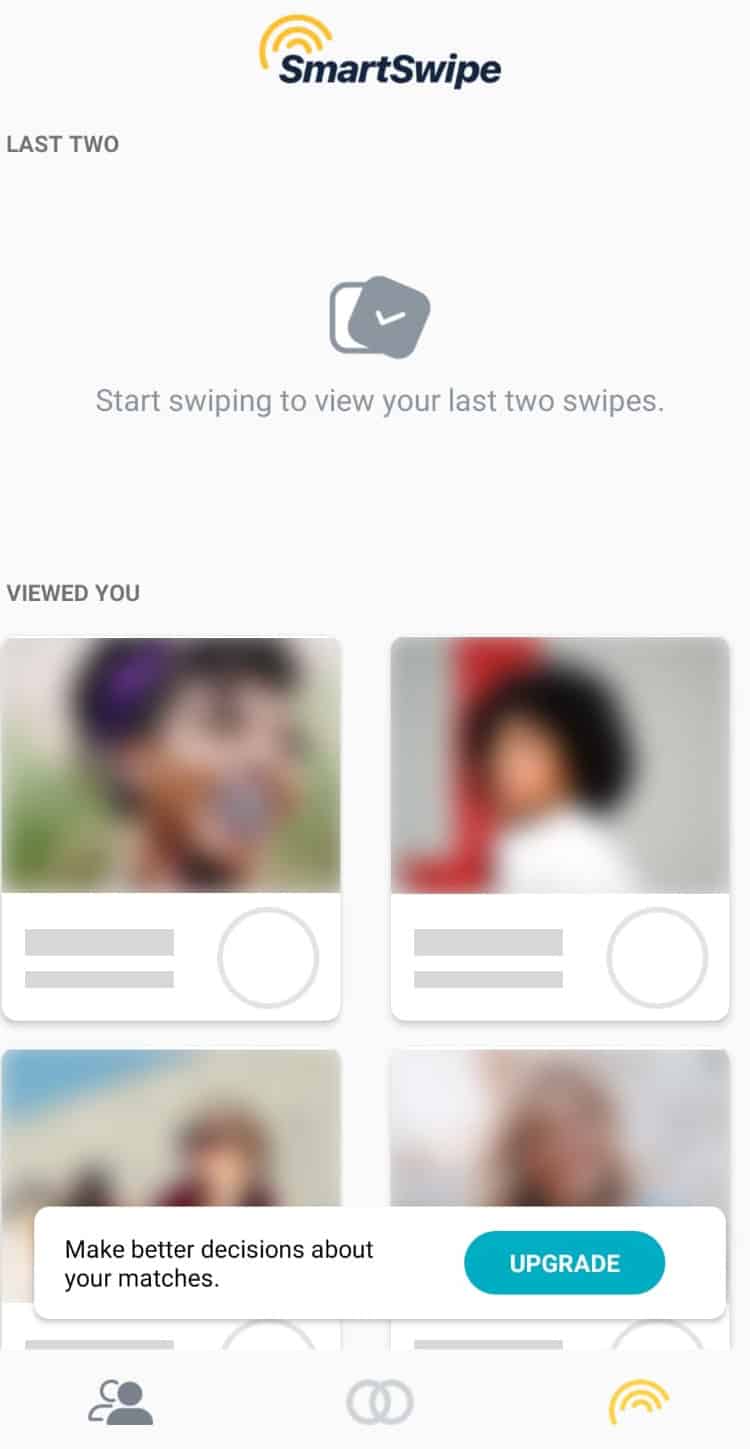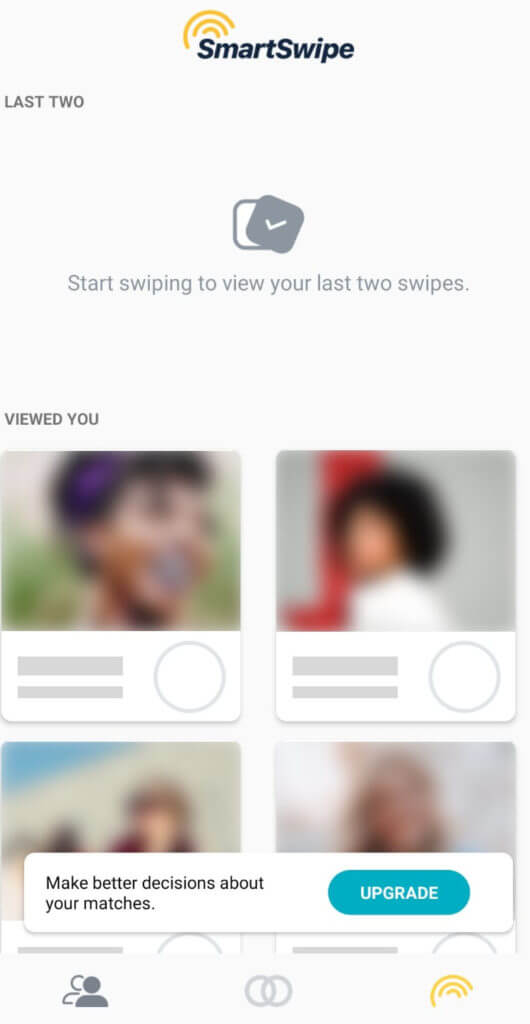 Here's everything that someone who signs up for a membership on Say Allo can achieve.
Video messaging is a pretty big deal on Say Allo and as a paying member of the site, you have access to unlimited video messaging as well as normal messaging.
Note that video messaging is a member-only feature.
Regular users can send normal messages if they do match up with someone but still can't video message those matches.
Profiles on Say Allo are packed with information but only members get to see what that is.
I think this is a more than useful feature because seeing someone's profile can be the final catalyst you need to help you decide if you want to swipe right on them or not.
A profile picture isn't everything, right?
3. See who has viewed your profile
Another standard when it comes to member features on dating apps, don't underestimate just how powerful the knowledge of seeing who viewed your profile can be.
Dating apps often don't have that many extras for members so it's critical then that what they do present is more than useful.
And in this case, I think all of these can be used to your advantage if you sign up to be a member.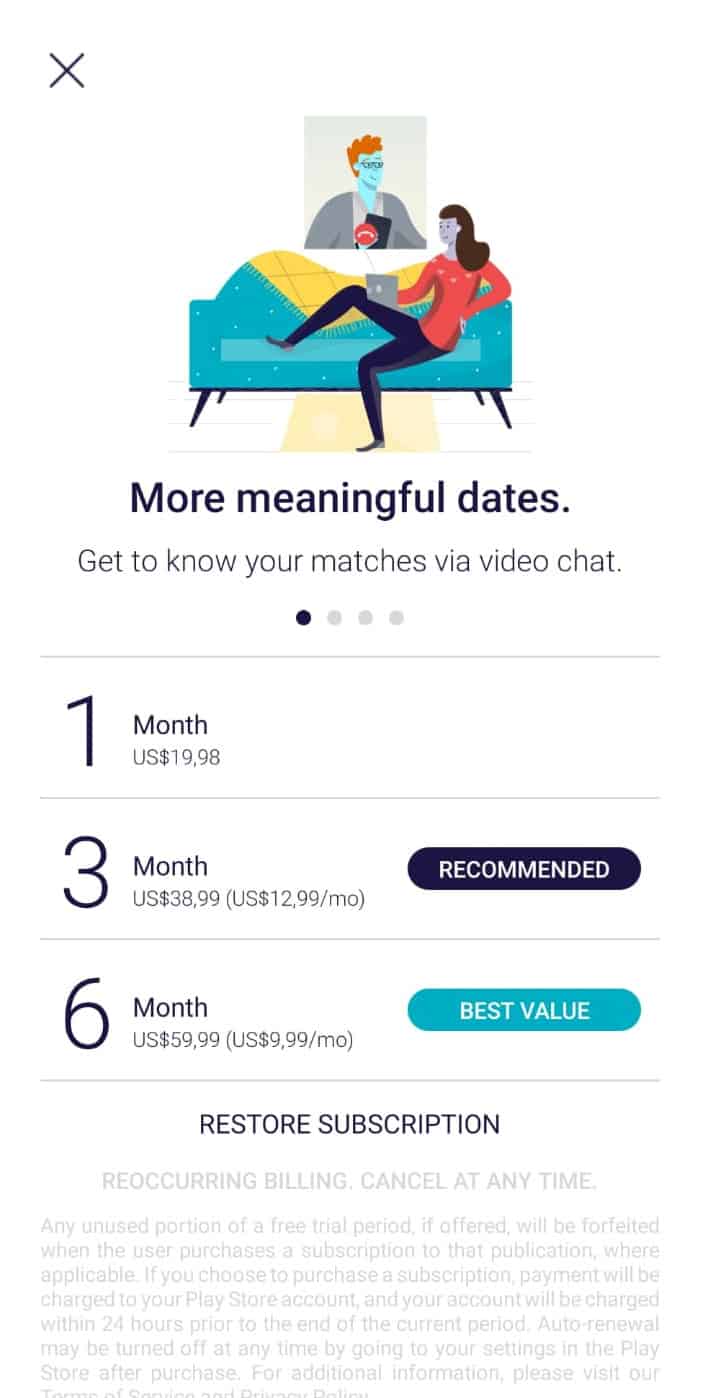 So that's the key features that membership provides covered, but how much is it going to set you back?
Say Allo has three different packages for you to choose from.
Here's a breakdown:
1-month membership: $15.99
3-month membership: $29.99 ($10 per month)
6-month membership: $41.99 ($7 per month)
The month-to-month membership offering is on par with many other dating apps in terms of pricing.
For what you get in terms of features, I feel it's priced just about right.
If you do find lots of potential matchups when using the site and you see yourself using it for a long period, I believe that the six-month membership option has incredible value.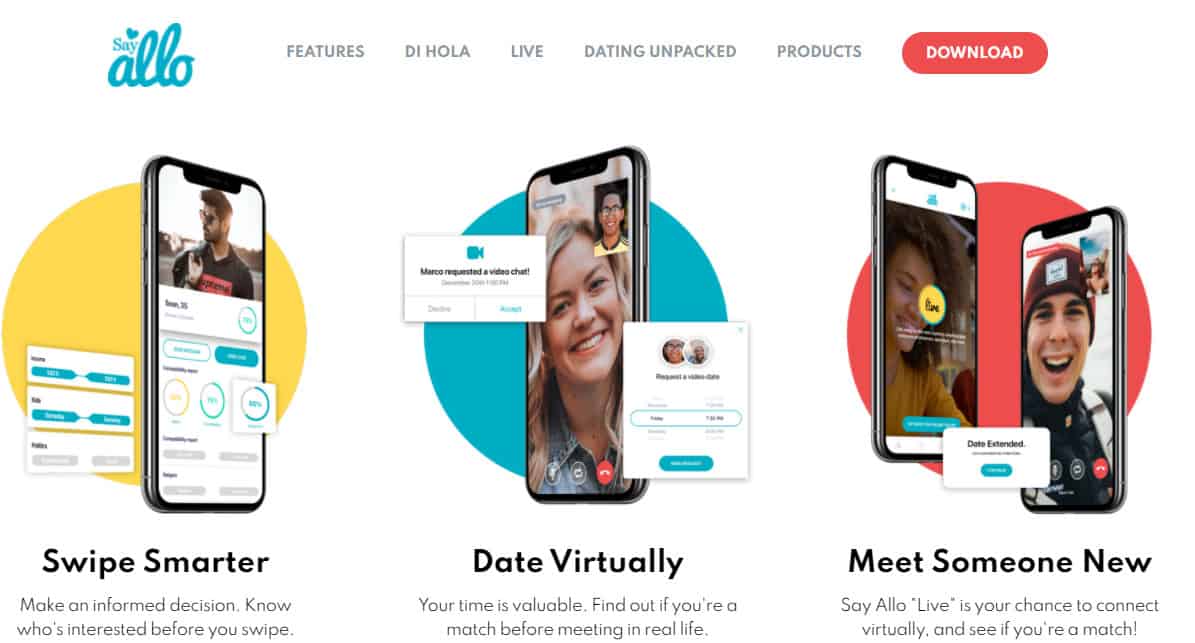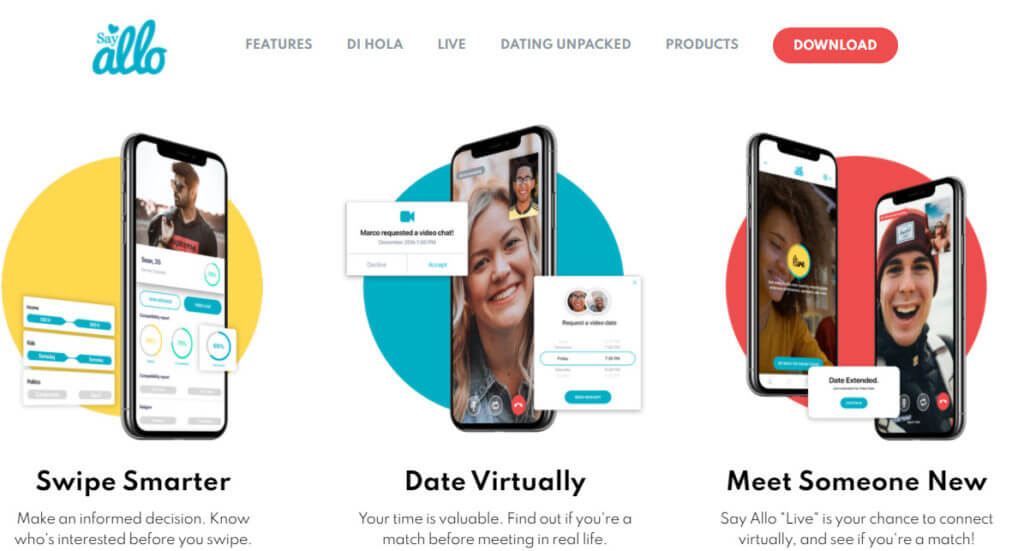 Conclusion and Overall Rating
And that's it for our in-depth review of Say Allo.
To summarize, at this point, because this is such a new dating app, depending on your location, it might not be that effective for you.
Despite that, however, this is a dating app that really has the potential to become a star in the online dating world in my opinion.
It's got some excellent features, is super simple to use and in the compatibility report, has an added extra that helps users to find potential matchups that are more hit than miss.
To conclude, I believe that Say Allo is an app to watch but for now, it is hamstrung by a small user base.
It scores a rating of 3.5 out of 5 which is significantly lowered because of a lack of users at this point in time.
Say Allo was tested by the team at Onlineforlove for an extended period of time.
Following that testing period, we concluded this app, while new to the online dating game, presents an excellent platform to meet new people although it currently has a small user base.
Our approach during the review process saw us give a star rating for critical criteria that we rank our dating sites and apps by.
And our final evaluation of this dating app was based on a number of factors.
This includes the price of membership, overall ease of use from signing up to using the app, the features it has for members, how many users have signed up and the likelihood of finding a matchup.