Erotic Madness is a dating service that seems to offer something a little different from most.
As you can guess from the name, this is a hookup site that claims to find users near your location that are looking for a casual relationship.
It's very different from other sites that do the same, for example, the affairs dating platform Ashley Madison or AdultFriendFinder.
But is this a dating website that's nothing more than a huge scam filled with fake profiles?
OFL Top Recommendations based on 100,000+ Survey

"Serious Relationships"
"Discreet Hookups"
"Best Course for Men"
"Quick Flings"
"Normal Hookups"
"Our Quiz"
Or are the matchmaking services it offers worth checking out in your hunt for swingers, a one-night stand, or other casual dating options?
Well, in this review of EroticMadness you are going to find out:
Is your dating app giving you the best chance for success?
Make sure to take our online dating site/app quiz to find out.
It's a fact that people who follow our dating site suggestions have on average 2 extra dates per month.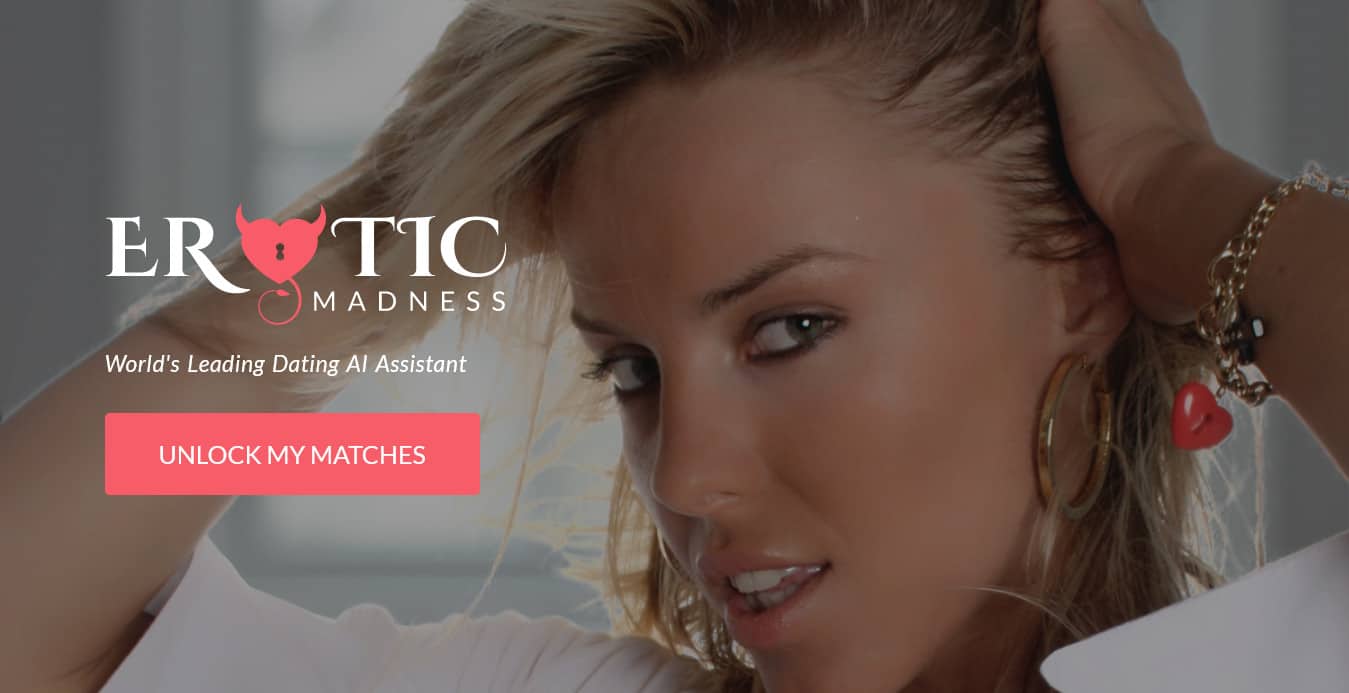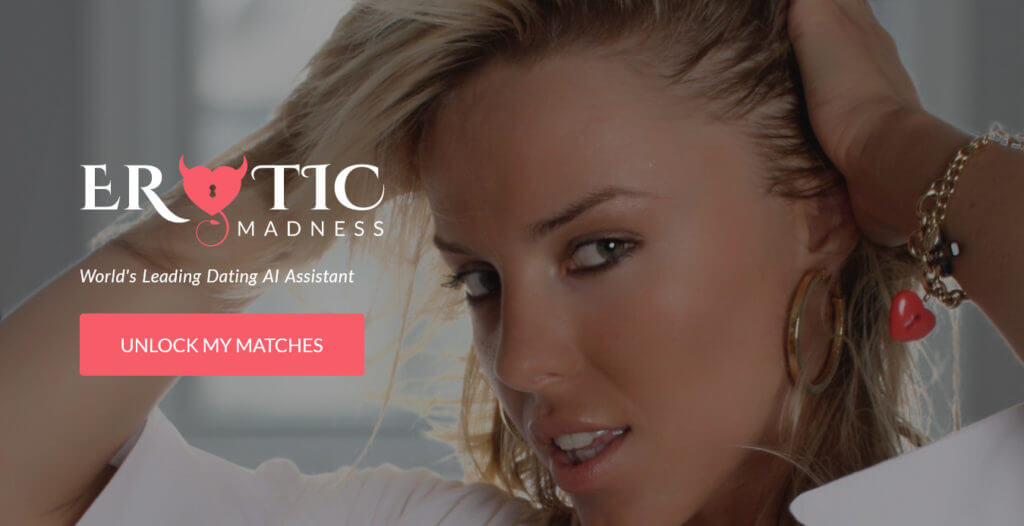 Ease of use – 2/5
Success rate – 0/5
Key features – 0/5
Price – 0/5
It is professionally designed
Promises much but delivers nothing
When looking for matchups, you are taken to other dating sites completely
Uses the same profiles but with different locations to entice users to sign up for a profile


Who Is It For/Demographics?
Hook-up sites are one of the cornerstones of online dating.
For every person using a commercial dating site in their quest for long-term love (like on eHarmony or Tinder), you've got another who wants to find someone near their location for a casual fling (like BeNaughty or Ashley Madison).
In comparing these kinds of sites, they all tend to do things pretty much the same way.
Well, that's until I came across and began to explore EroticMadness in a little more detail.
Before we get into that aspect of my research into the site, let's just clarify some demographics behind it.
Erotic Madness claims to have millions of users all around the world.
Around 100.000 of these are based in the United States
75.000 users are active on the site each week
That's over 10.000 a day and 300.000 each month
Gender ratio and user age ranges
As with other hook up sites, it seems that men are far more into NSA relationships than females to the point that around 78% of the users on EroticMadness are males.
That's a ratio of 3:1 when comparing males to females which is a fairly significant difference.
As for age ranges, here's a complete breakdown:
36% of users are 55 and older (28% males and 8% females)
18% of users are 25-34 years old (14% males and 4% females)
17% of users are aged 45-54 years old (13% males and 4% females)
15% of users are aged 35-44 years old (12% males and 3% females)
14% of users are aged 18-24 years old (11% males and 3% females)
It's interesting to note that male users over 55 years old are the biggest group of users on the site.
OFL Top Recommendations based on 100,000+ Survey

"Serious Relationships"
"Discreet Hookups"
"Best Course for Men"
"Quick Flings"
"Normal Hookups"
"Our Quiz"
But evaluating these stats, you can also see that the biggest female group is over 55 years of age as well.
Clearly, older people are looking to bring some spark back into their love lives.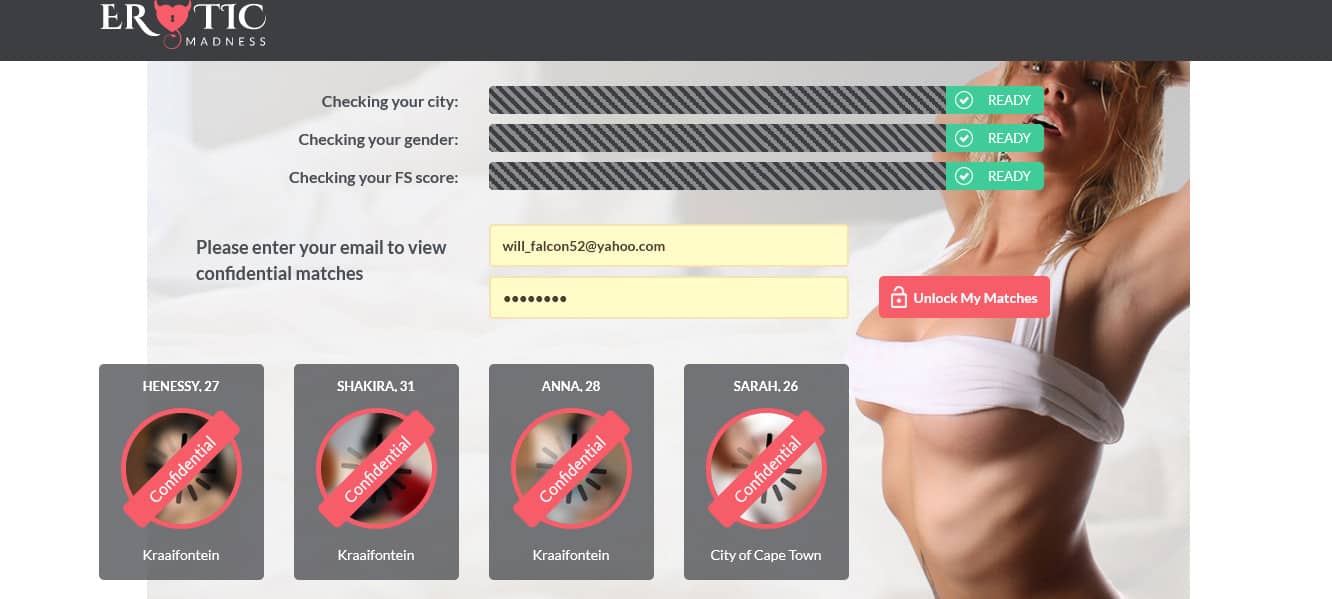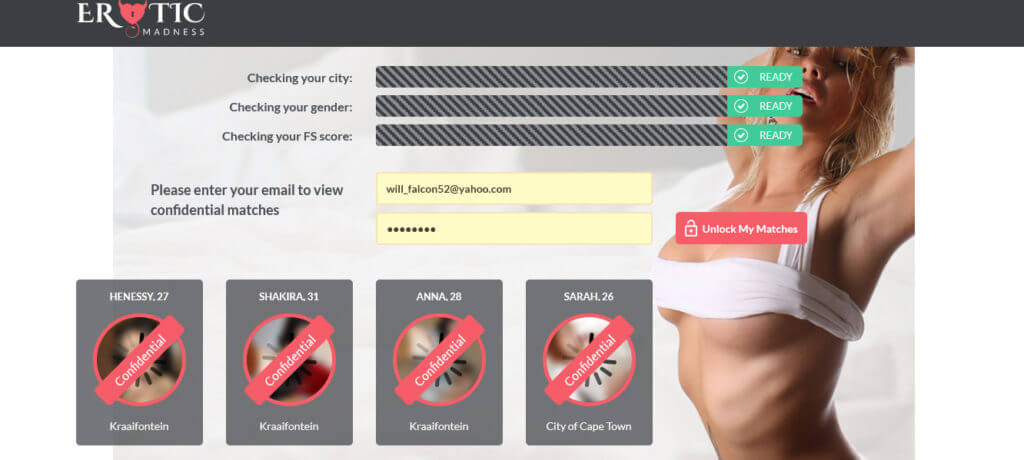 Dating apps and websites generally approach registration in much the same way.
But I can confirm that EroticMadness is very different from most.
It was with the registration process that I first detected that things were a little "off", shall we say, with this dating website.
First up, the site detects three pieces of information.
Your location, specifically the city you live
Your gender
Your FS score (and it's never explained what that actually is and I still have no idea)
My immediate concern was how can it know your gender?
But it did in my case.
Once that's done, it shows you a range of people for you to hook up with in real life.
Well, supposedly.
You then enter your email address and password to confirm your registration.
All of this takes less than a minute.
Verify your email and you whisked off to the site even though you've provided so little information about yourself.
And once you are there, all the website reveals is more mystery.
The

EroticMadness

website
While it certainly looks professional enough, if you compare the EroticMadness website to any other dating site, there just seems to be so much missing.
The first thing you are presented with is the potential profiles of people to hook up.
​That's nothing different when analyzing it to other similar sites.
The thing is, there is little else after that.
For example, the only menu that I could find was a link to my profile.
There is no way to search for potential hook ups, no parameters to set, no galleries to look through, no webcams like these sites often have, no nothing.
From the strange registration procedure to the lack of a significant website to navigate, my scam meter was starting to register.
So I tried registering through a different email address and using a VPN.
And guess what?
All the same users came up again with the same names but now at my new location.
That's a massive red flag, right?
But I decided to carry on with my original registration to collect more data before making a conclusion regarding how legit EroticMadness really is.
Before we go further regarding potential profiles to view, let's quickly talk about your own profile.
Because that's the only actual menu you can access.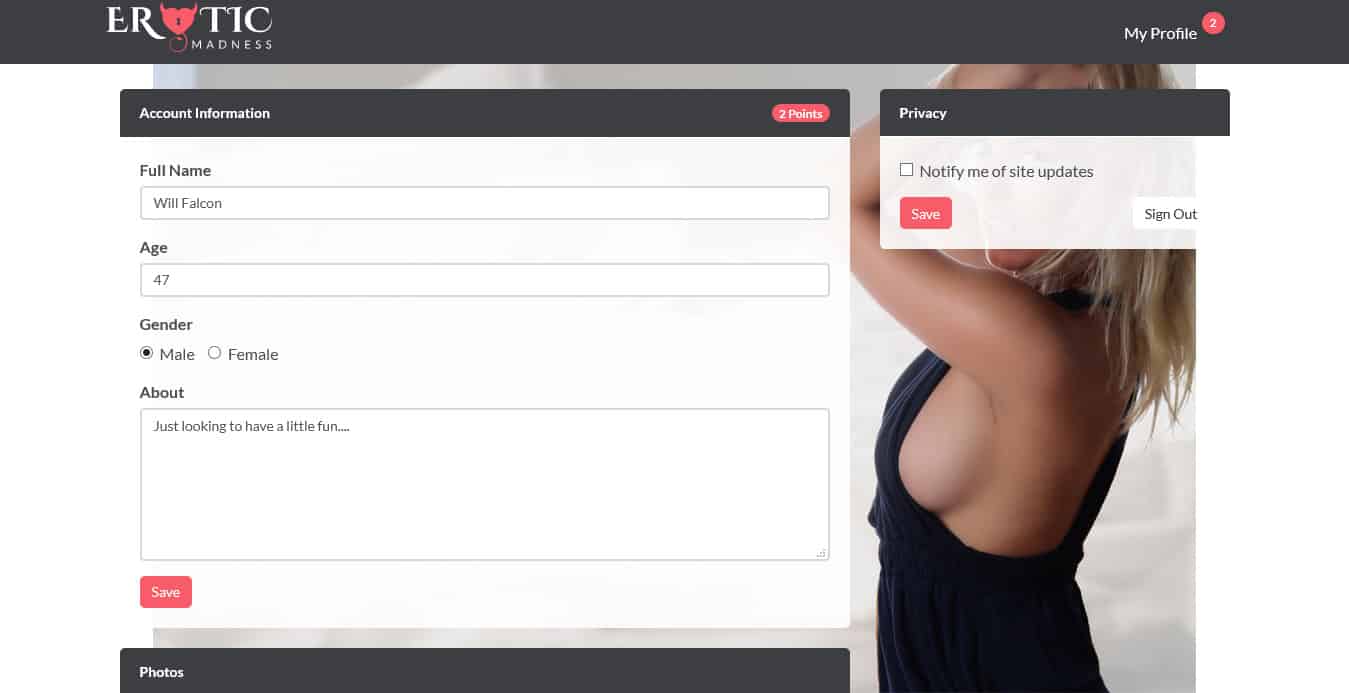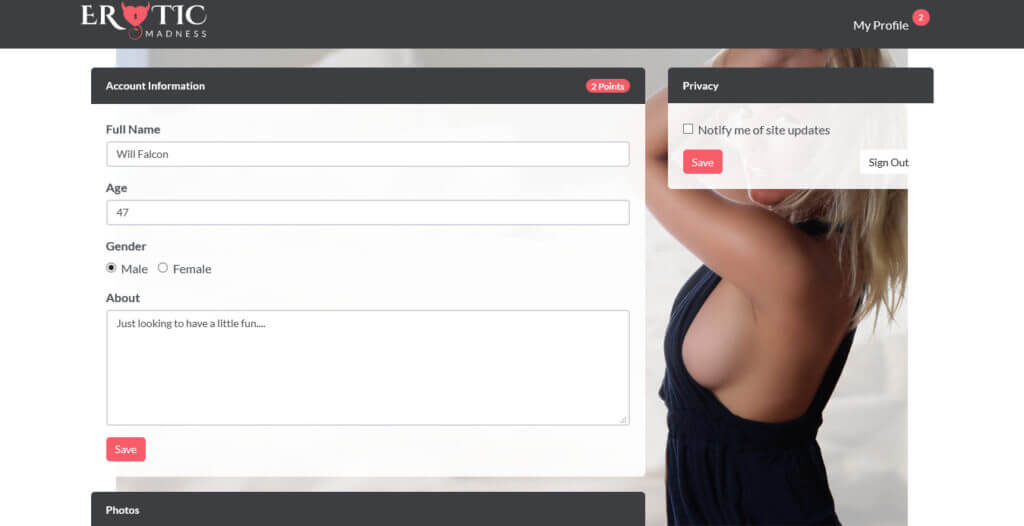 Profiles on

EroticMadness
They aren't packed with much information, that's for sure.
Let me summarize what's in one.
Your name
Your age
Your gender
An "About" section
A profile picture
And that's it.
Now I know this is a hook up site primarily, but most have profiles with more information than this, that's for sure.
I could find no other links to add more information to my profile.
I couldn't even find any links to other sections of the website at all.
And that's about all I can tell you about how to navigate the site.
The only thing you can change is a very limited profile.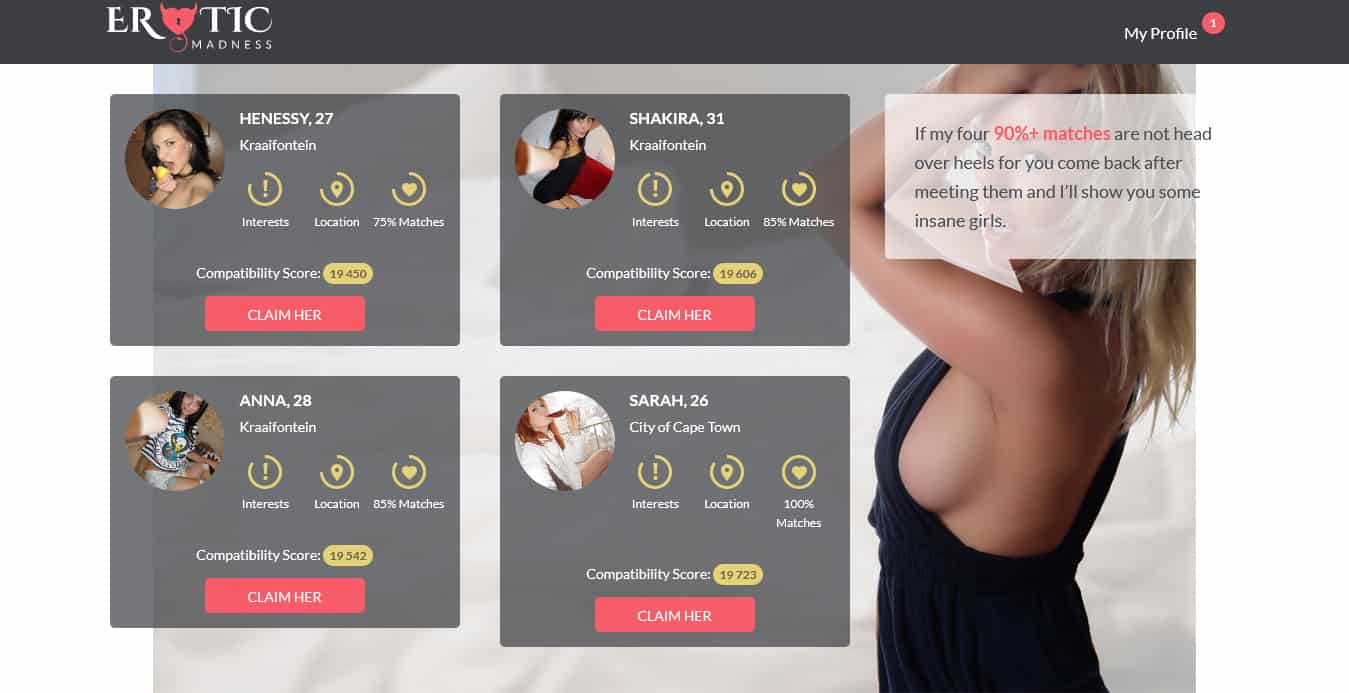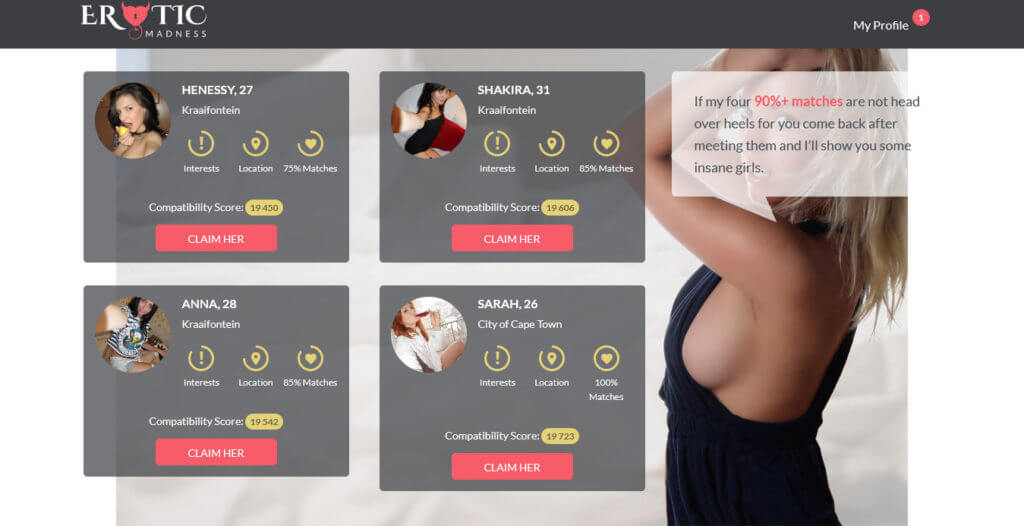 Next up, it's time to obverse just how the site provides you with potential matchups to hook up with.
The main page had four for me, with the promise of even more if I first checked those out.
Again, these were the same pictures I had seen while registering a second profile using a different email address and a VPN.
So yes, the alarm bells were ringing even louder now.
But to fully test the site, onward was the only way to proceed.
Those alarm bells reached a crescendo the more I looked at the matchups.
Names like Shakira and Hennesy weren't exactly those that you would find in the city in which I live.
Also, every single one of the four profiles looked like supermodels.
Just another warning sign, I guess.
They each had some information about them in terms of a matchup graph linked to me, I guess.
These were:
Interests
Location
Match percentage
They also had a compatibility score.
These were in the range of 19000.
But 19000 in terms of what?
Again, no explanation at all.
But it's the final part of each matchup that I identified as a massive warning sign.
"Claim Her".
Really?
What is this, the middle ages?
Anyway, it's at this point that things got even weirder.
Now from what I have read about the site, others have interacted with users, be it bots, people running fake profiles or staff from Erotic Madness.
But I never even got that chance.
Whisked away to another site
When I clicked on the "Claim Her" button, I was immediately taken to another site altogether.
This was Dating Egg and with just a few short inputs I was browsing profiles there.
At first, I thought these were profiles from Erotic Madness but after navigating around this new site, I saw that I had a new profile to populate with information.
Clearly, this was another dating site that had little to do with EroticMadness that's for sure.
Going back to EroticMadness and trying again just did the same thing.
I even tried with every one of the four profiles but every time I was taken to the other website.
Thinking that I must have missed something, I tried with the second registration that included a new email address as well as a VPN.
But again, the profiles, which were the same as my first attempt, took me off to Dating Egg.
There simply was no way for me to access the profiles on Erotic Madness at all.
Whether this is a way to get people to the Dating Egg website, I am not sure.
But it doesn't seem to be a hookup site on its own at all.
It appears as more of a chat site.
There are no obvious key features that you can access on the site or that are promised if you sign up as a member.
In fact, there is nothing that suggests that you can sign up as a member at all.
There is no link to membership payment for the site either.
For me, that's even more indication that this isn't what it promises to be, that's for sure.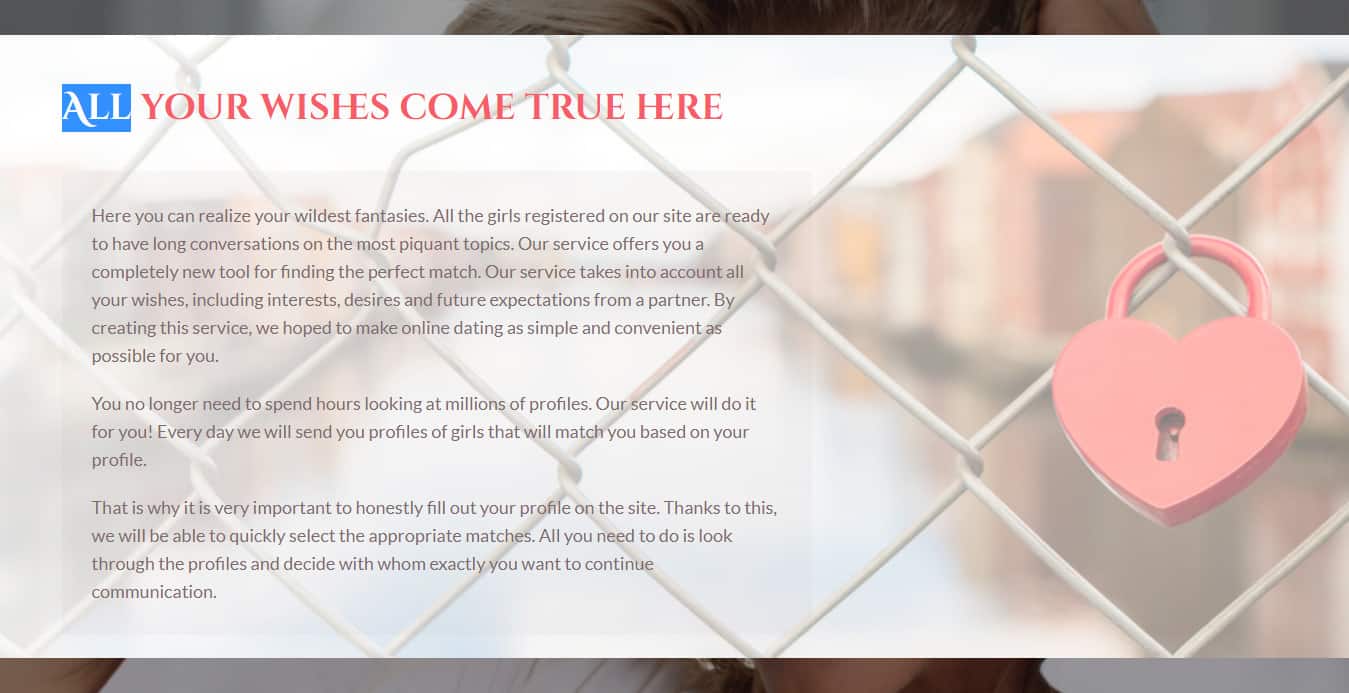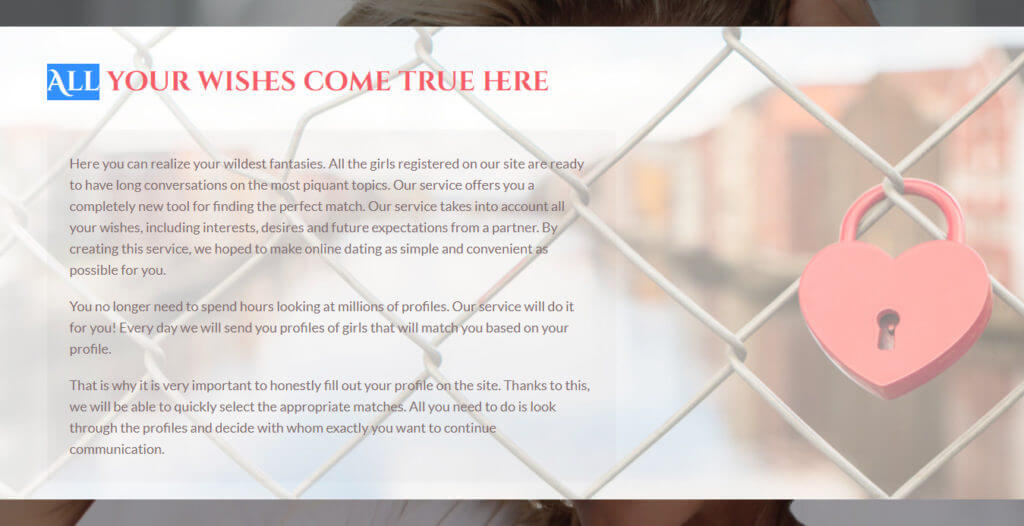 Conclusion and Overall Rating
To conclude, if I had one piece of advice for you, it would be to not even waste your time registering a profile on EroticMadness at all.
This is certainly a fake dating site and I am not sure what the idea behind it is, to be honest.
Perhaps it's just a way of scalping people's email addresses to sell of for spam.
But there is nothing going on here at all.
Why would the site take you to another one at the point that you are promised potential matchups that you can hook up with?
There is also no help section, any FAQ or an email address to even contact the admin team behind the site.
More red flags, right?
My advice would be to look elsewhere for your hook up dating needs.
Today, EroticMadness gets 0.5 out of 5.
At Onlineforlove we spent time studying EroticMadness for our comprehensive review.
We concluded that this dating site does not offer what it promises and is not worth your time.
Our approach to this review saw us identify key criteria that helped back up our findings about EroticMadness.
These key criteria took into account registering as a user on the site, how it operates, profile quality and more.
Our overall evaluation also focused on membership pricing, the success rate in matchups, how many users it has and the features it offers.
The site was found to be lacking in many of these areas.