Ashley Madison is the place where someone, be it a man or a woman, can have a secret hookup while keeping things discreet without having to worry about your spouse finding out.
It offers an opportunity for anyone looking to explore their interests outside of their current relationship.
If you feel comfortable having extramarital affairs (or a secret relationship) and need an online haven to do it, there's practically no better online place to do it. For example, you can find connections in your area using hookup sites like Ashley that cater to a wide range of interests and attention.
Our editorial team, with thousands of websites reviewed, graded Ashley as the top site for affairs, and married people looking for hookups, considering categories such as demographics, user activity, and safety. And there's a good reason for it. You'll learn:
Bonus tip: we have found that you can save a lot on Ashley Madison by signing up on the website (not the app) using this special link.
Is your dating app giving you the best chance for success?
Make sure to take our online dating site/app quiz to find out.
It's a fact that people who follow our dating site suggestions have on average 2 extra dates per month.
Ashley Madison Review in Video Form
Audio (podcast) for those on the go
Pros And Cons Of Ashley Madison
Just like every other dating website in cyberspace, there are some things that you might like or dislike. This is our editorial take on flaws and perks, where more than 10 people tested the site & its app.
Let's start with the good news.
Advantages of this Discreet Dating Site
Quickly and easily discovering married people in the user base who are interested in a one-night hookup or a longer fling.
A beginner-friendly interface that makes navigating matches on the Ashley Madison profile super easy and effortless.
Keep it secret and private: Many people like to keep their business-related affairs private, and this dating platform allows you to have the best experience while keeping things discreet.
The community is a safe place – all the users are real-life people who share the same perspective when it comes to flings while being married.
Disadvantages of this Discreet Dating Site
There are some accounts that do not have profile pictures uploaded to their Ashley Madison profile, but they just might belong to newly joined Ashley Madison users; simply skip them if it works for you. Fake accounts alert.
The pricing might seem a little steep compared to Tinder and other online dating sites and time might be needed to understand how to purchase credits and choose the right subscription package; you will, though, notice that it's totally worth it.
You might come across accounts who are somewhat shy at first (ladies mostly) and are not sure how to start a conversation; give them a minute, break the ice and tell them what you are looking for.
Is Ashley Madison Worth it?
Ashley Madison is completely worth it, with certain things users can do for free, but you are very limited if you are male. Our female part of the team had so much fun reviewing the app, because they had free ways to access the site.
Males, not so much (we had to pay for some features, but it was fun and quite successful). Women can text messages for free, while men might need to put in a little more effort and potentially spend a couple of dollars on features to get noticed.
There are 3 different plans and they are based on the credit system.
So, basically, you'll have full control over how many credits to spend. We tested it for hours and didn't spend all the credits. You can manage your spending wisely, giving you more weight to the stuff that matters to you.
Unless you are a full-time married-person hunter, there will be enough credits to enjoy all the benefits of any plan subscribed to for a month.
Buying credits will simply increase credibility (women are more likely to talk to you, because scammers won't pay). This improves your success rate enormously.
So, is it worth it? A hookup within the first month of joining Ashley is very likely (that's what the site is practically designed for). Of course, a bit of charm won't hurt, but unless asking girls whether or not you can kiss them, you are good to go.
OFL Top Recommendations based on 100,000+ Survey

"Serious Relationships"
"Discreet Hookups"
"Best Course for Men"
"Quick Flings"
"Normal Hookups"
"Our Quiz"
Good for
Cheaters, adventurers, people looking for hookups
Short flings
For those looking for secured privacy
People with secrets
Only serious people who are willing to pay a bit for the app
Women (free)
Bad for
People not willing to spend a dime on the dating app
People who don't have time for a 20 minute sign up
Serious relationships
65+
Features Of Ashley Madison
Here are just some of the things that make this dating internet site our top choice as a site for adventurers, people that don't believe in monogamy, and gentlemen that just love women.
Ashley Madison account can be accessed via both Android and iOs mobile apps, or simply through a desktop browser.
Discover a large number of married people, both men, and women, who are looking for a new adventurous experience while keeping things private and discreet.
Don't worry about your privacy. The app ensures the most amazing experience without having to worry about information leaks or exposed to any third parties.
The community interacts a lot, and the users are frequently online, which ensures the possibility of finding the ideal match quickly and with ease.
The pricing is somewhat higher compared to other dating apps, but you will quickly notice that every penny spent will be worth meeting these new amazing people who are wanting the same.
The customer service is available 24/7 and can help resolve any kind of issues, no matter if it's a minor glitch or you simply experience trouble using some sections of the app.
The overall user interface is very pleasant, and even though it might seem like a lot of data at first, you will get the hang of it very quickly.
How Does It Compare To Other Dating Apps
One of the main details comparing other online dating sites that almost guarantee a happily ever after, is that this platform offers the possibility of the right match for a brief (or long-time, pardon the pun) fling.
People who are looking for a little something outside their wedding vows or even in open marriage preferences are encouraged to have a little fun now and then.
So, how does Ashley compare to other sites and is there actually competition in this space?
Well, Ashley is definitely unique when it comes to extramarital affairs. The closest that gets to Ashley are Heated Affairs, AdultFrientFinder (although not completely the same "niche"), and possibly BeNaughty.
Even so, these 3 are nowhere near pleasing the crowd popularity (for the target audience in mind) of Ashley Madison. Of course, comparing it to Match, or eHarmony won't be a proper comparison.
So, let's compare just one thing with its biggest competitor (Heated Affairs):
These are some stats for Heated Affairs: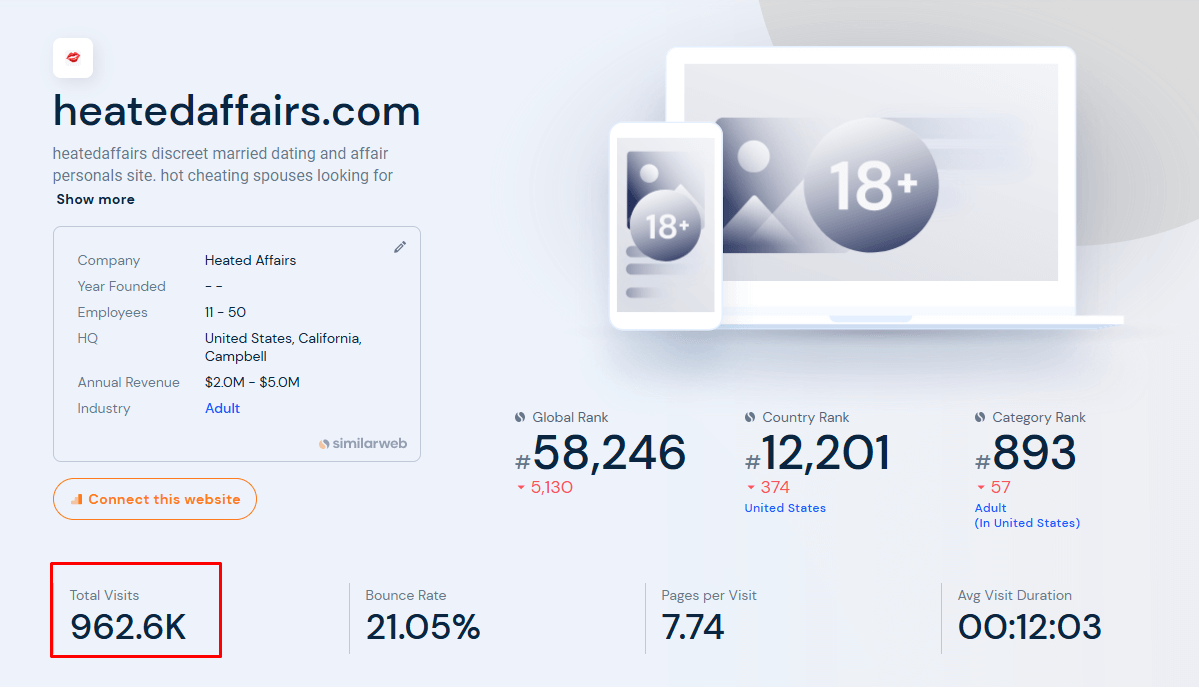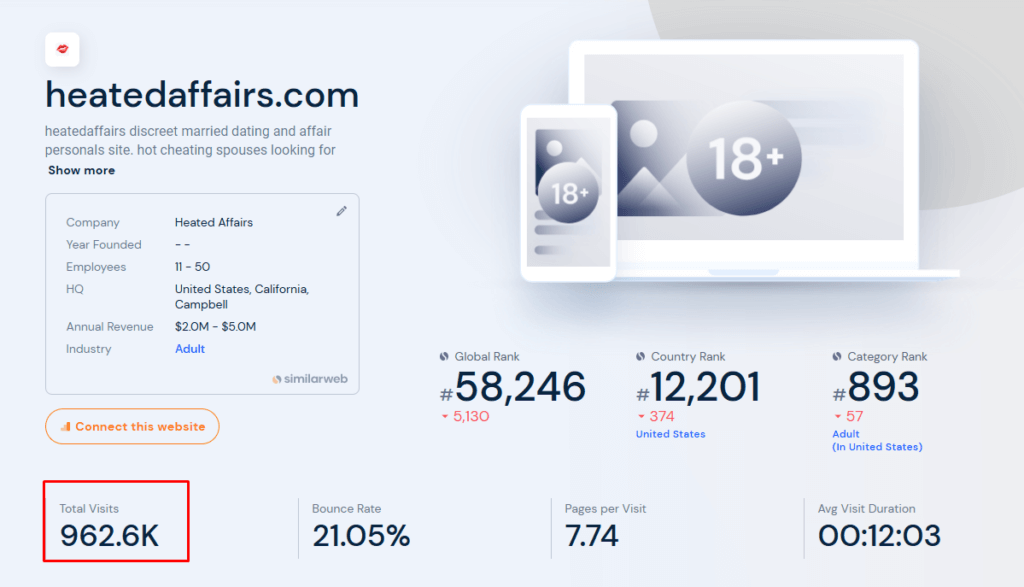 As seen, there are roughly 1 million monthly users .
The category rank isn't that great either (a good criteria indicator). On the other side though….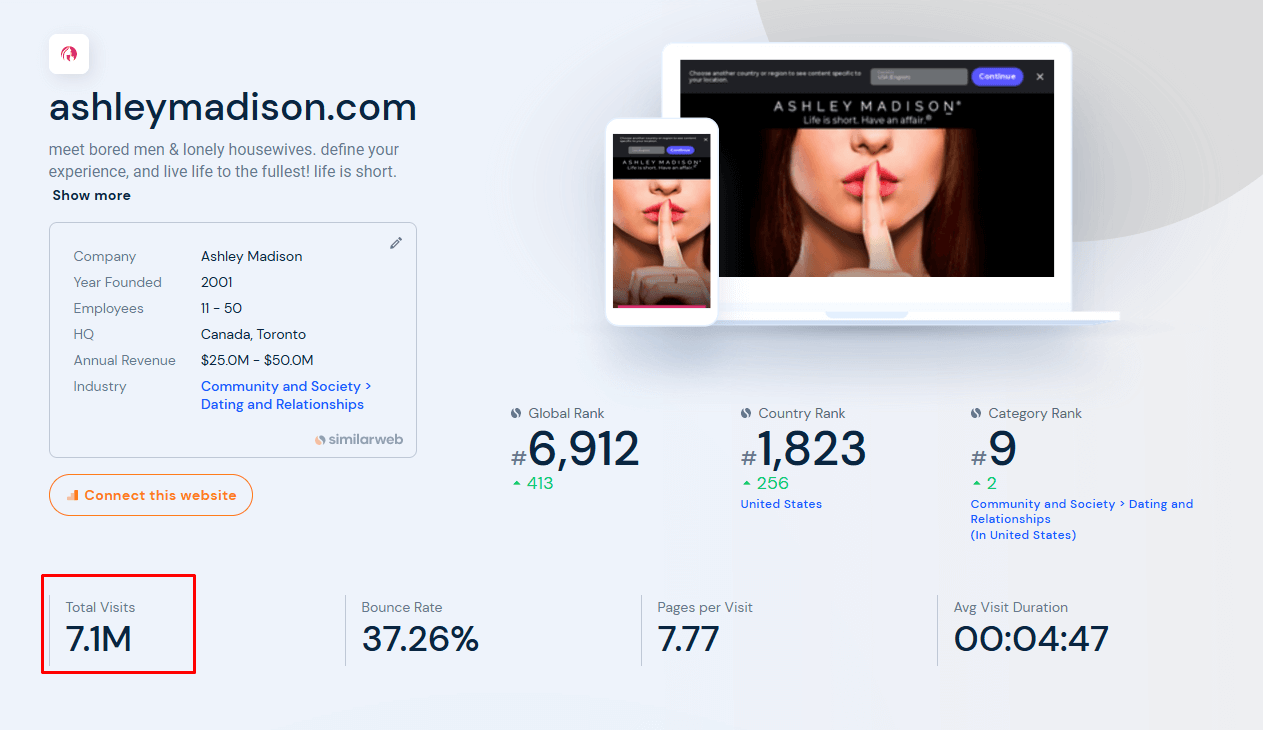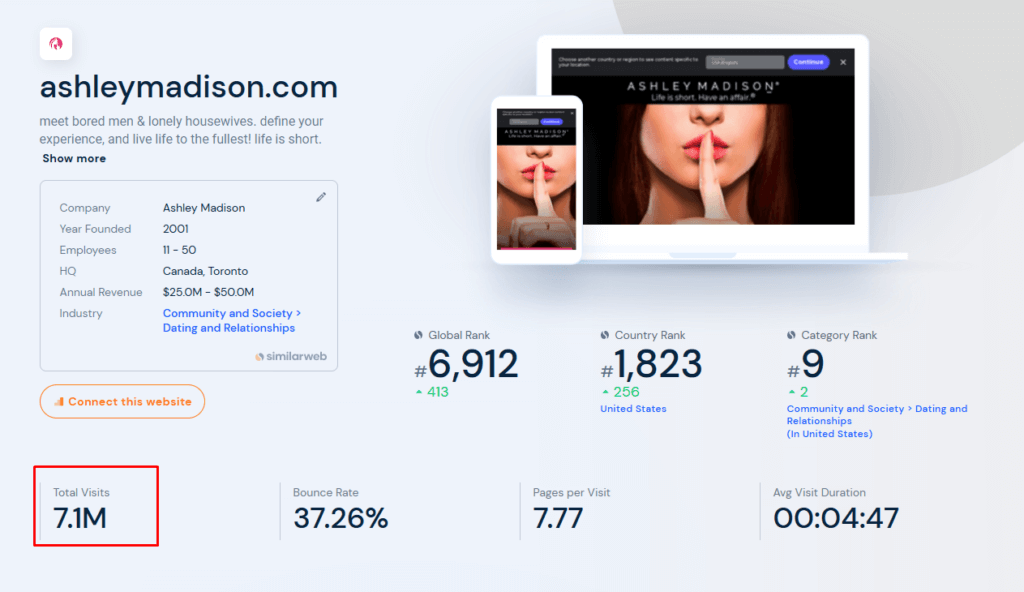 Boom. 7X more traffic, meaning there's plenty of options and a much better chance of finding the results you want!
And sure, AdultFriendFinder might have more people using the platform overall, but we have to consider the audience both platforms are targeting to make this a fair comparison.
So, with that in mind, Ashley is definitely the #1 affair dating site based on our personal reviews.
When it comes to price, registration is a bit pricier (but not by that much) than its competitors. Overall, it all comes down to success rate, which is much higher for this company, simply because it does a fantastic job of attracting customers looking for the same encounter (affairs).
The interface is impeccable for each of these sites, user-friendly dashboards and search filters make navigation easy and there's an endless sea of profiles available for "swiping" with the touch of the screen.
Membership Price Plans & Credit Feature
The initial sign-up process allows trying your Ashley Madison account for free without any payment.
At this point, you are allowed to insert your data and fill out some basic info about yourself, as well as use the adult friend finder, aka the search bar and browse through those who already have a membership.
The female user base is large, as women can currently use the entirety of the app completely free of charge. Guys, don't feel this isn't fair, because it increases the variety of women on the platform, and the idea is to improve the chances of a response and conversations with the females.
The men who use this online dating service will initially get to use it for free, but after some time, they will have the option to purchase credits in order to continue chatting with the female audience and see their information accounts that may include name, location, height, age and dating status.
Compared to traditional subscription models, the Ashley Madison billing for the use of the app is via credits. Men need to purchase credits. On the other hand, the great thing is, the more credits bought at once, the cheaper it gets!
There are three different credit payment plans:
Go for the Basic Plan, as this way, you can get 100 credits for the amount of $59, which equals $0.59 per credit.
Choose the Classic Plan, which gives you 500 credits for $169 or $0.34 per credit.
Opt for the Elite Plan, where you can get a whopping 1000 credits for $289 or $0.29 per single credit.
Please don't hesitate to choose between two payment methods: via credit card or PayPal.
Most interactions are paid for and will cost you credits. Regardless if you're initiating contact using winks or sending virtual gifts.
Location and user demographics are essential information to know when it comes to a dating site. There's nothing fun about being in the city while your potential match is 100 miles away!
It is especially important for Ashley Madison because it is intended for hookups, extra-marital affairs, one-night-stands, and other types of romping. In this case, being closer to each other works better, when in more serious commitments, people are more willing to sacrifice and travel longer distances.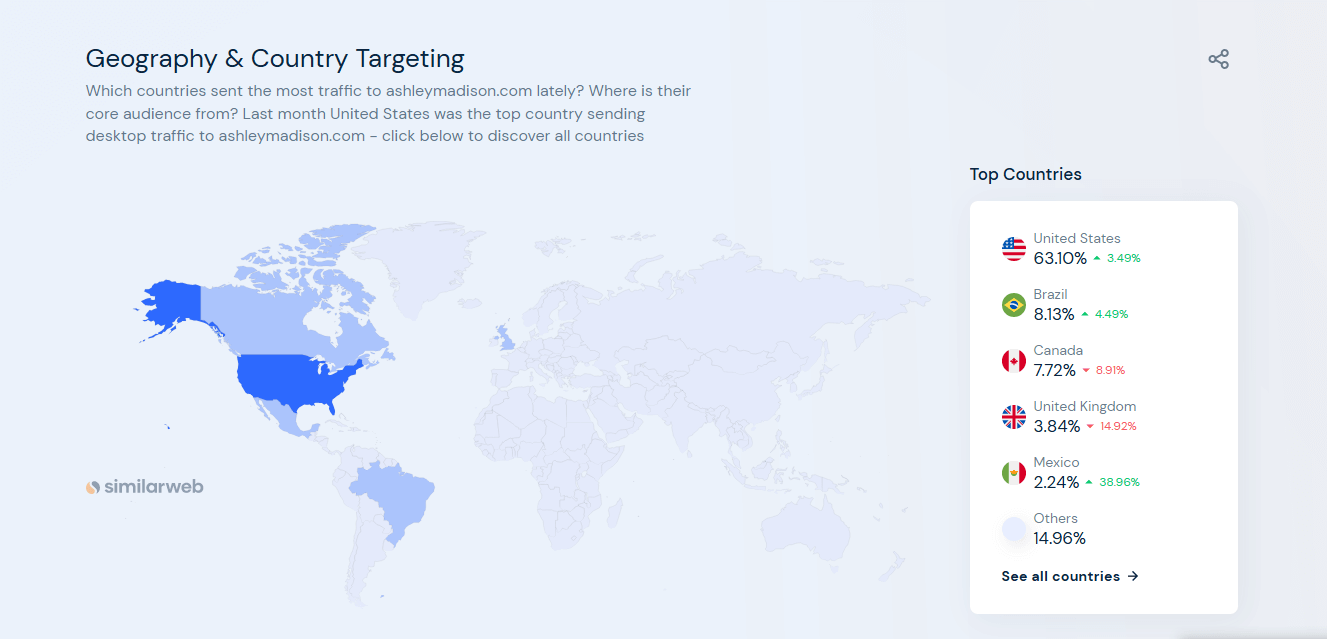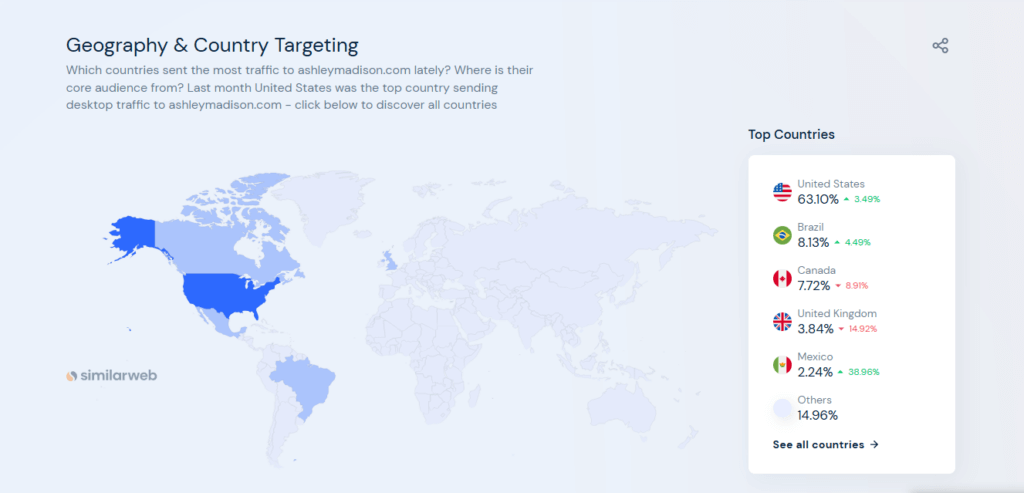 The information above is from similarweb.com, which tracks demographic data and ranks websites according to user analysis.
Audience Geography by Percentage of Users:
United States – 63.10%
Brazil – 8.13%
Canada – 7.72%
United Kingdom – 3.84%
Mexico – 2.24%
One great thing is that, even with the rarely possible creation of fake profiles, they can and will be removed as soon as they get reported.
The customer care service and the moderators are very responsive, and as soon as they get notified about the possible existence of scammers or bots, they react promptly and leave no time for a scam to occur.
The Ashley Madison app is a hookup site, with a lot of people joining the daily.
Married men and women can quickly meet real people who want to spice up their sex life through a short-term or long-term fling, and it's also possible for a sugar daddy to find a sugar baby partner there as well.
While browsing profiles on ashleymadison.com, you will notice users sharing private photos from their everyday life, which simply additionally makes Ashley Madison legit in yet another point of view.
We aren't necessarily saying to disclose too much information (unless you want to), but it's important to upload a profile picture (in fact, multiple photos are better) and provide an interesting bio to your profile. This is merely to show you are legit about your intentions and to get more people interested in you. Even consider a professional photo shoot!
The search filter settings can also be used to find specifically what you are looking for in a potential hookup.
A possible problem is that there's a majority of men found on Ashley, so there's a more than tiny imbalance with 75% being male and 25% being female. Also, if it's felt you aren't making use of your credits, it is not guaranteed you will get a refund. It will be a question of using up the ones you already have.
When it comes to age distribution, there's around 24% of people aged 25-34, and that's the biggest category. 18% of people aged 18-24 and about the same percentage for the group of 35-44.
The chart below shows exact percentages, so basically you are more than welcomed here, no matter the age (except under 18s of course).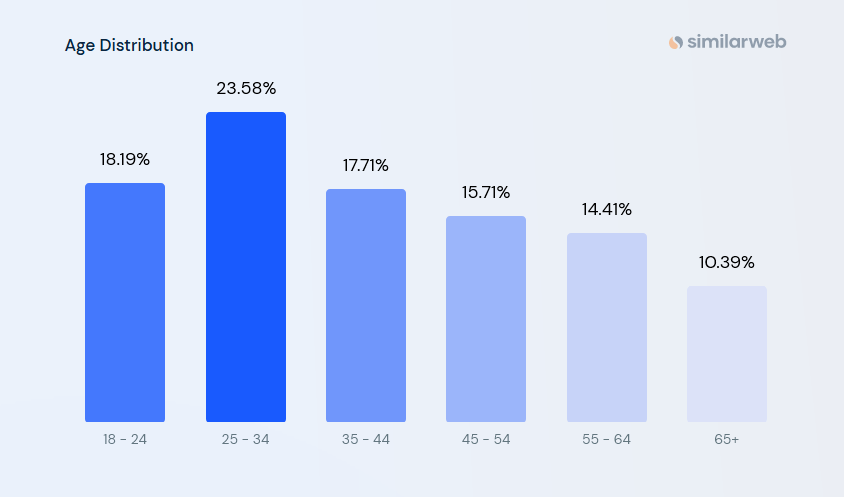 Ashley Madison's Security System: Is it Safe to Use?
Spoiler alert: Ashley Madison is super safe.
It's no secret that Ashley Madison, along with hundreds of other services in the online affairs dating scene, had a data leak breach almost a decade ago. Questions were asked about online dating and this site in particular, but the evidence shows it's still going strong and growing.
Ashley Madison spent a ton of money on experts and beefed up its security so a data breach like this could never happen again. After all, discretion and protecting sensitive information such as the username, phone number and name of a user is the backbone behind what Ashley Madison is all about.
8 years later, to this date, they haven't experienced any type of cyber-attack, and members' data remain safe. The rest of the negativity stems from what the site is all about. It promotes having an affair, or cheating, which rubs on many people the wrong way.
In fact, many argue that Ashley Madison got most of the limelight because it is the most popular platform and controversial.
Most of what is read about Ashley Madison is either fake or embellishment of some sort, honestly. People are just upset that it is a place to have an affair. But the site isn't just used for cheating on a significant other (well, mostly it is, but not just for that).
Ashley Madison provides that safe and discreet place to fulfil your needs.
The Ashley Madison experience varies for everyone, but it all depends on the purpose of using the site. Since we were aware of what the site should be best used for, we graded it according to the purpose.
So, to conclude, they had a breach, but they learned their lesson, invested a lot into making it never happen again, and we truly believe it won't. If it does, then we can't see it recovering, as it will send the wrong message about its security.
Privacy At Ashley Madison
Luckily for you, all of the users know how this site works and understand and value the concept of keeping relationships and flings discrete, and more to the point, expect others to do the same.
Something that is important to know is to be very upfront about communicating your needs and expectations. This type of communication will increase matching up with another party who has the same curiosity and wants to be included in similar endeavors while maintaining discretion.
Just like with any other dating app or real-life date situation, you should not set your expectations to figure everything out at once.
Bottom line, take your time in understanding what your interest is and what you personally really wish to find. Make an effort to set a goal to chat to a set number of people daily. This number should be manageable, and over time will accumulate. By doing this you'll increase your chats (and finding someone) but also get a sense of what you are truly looking for.
You don't necessarily have to get involved with the first person you interact with – the point is to have fun, enjoy the thrill, press the wink button, take action, embrace rejection and find your gift.
Overall Score of Ashley Madison
The Overall Score is 9.6. The Ashley Madison app can be recommended for people who prefer the specifics of this kind of dating app, and it is a great place to meet people who would like to experiment with things and spice up their sex life outside their marriage commitment.
Overall rating of Ashley Madison
Ashley Madison member user base: 9.8
Ashley Madison User Interface: 9.5
Ashley Madison Privacy: 9.9
Ashley Madison Customer Service: 9.4
Ashley Madison Overall Cost: 9.3
Finding the right kind of restaurant for a date night with your spouse is easy, but finding the appropriate kind of person for a side-fling can also go smoothly.
The Ashley Madison dating app is most definitely one of a kind and can help you find exactly what your eye is looking for.
Look through various Ashley Madison members and enjoy your fling. Make having fun a priority thanks to this platform. Happy hookup!
FAQ
Resources
How to stay safe online – https://www.getsafeonline.org/social-networking/online-dating/
Reference to data hack – https://www.networkworld.com/article/3011103/security/biggest-data-breaches-of-2015.html