Dating sites don't get more niche than this, that's for sure.
Military men and women around the world deserve someone at home waiting for them when they are on active duty.
And that's what Military Cupid hopes to provide.
So if you are in the military, or want to date someone who is, this all-inclusive review of Military Cupid is going to provide you the answers to the following:
OFL Top Recommendations based on 100,000+ Survey

"Serious Relationships"
"Discreet Hookups"
"Best Course for Men"
"Quick Flings"
"Normal Hookups"
"Our Quiz"
This is a review that's going to shed light on the niche world of military dating, that's for sure.
So let's start.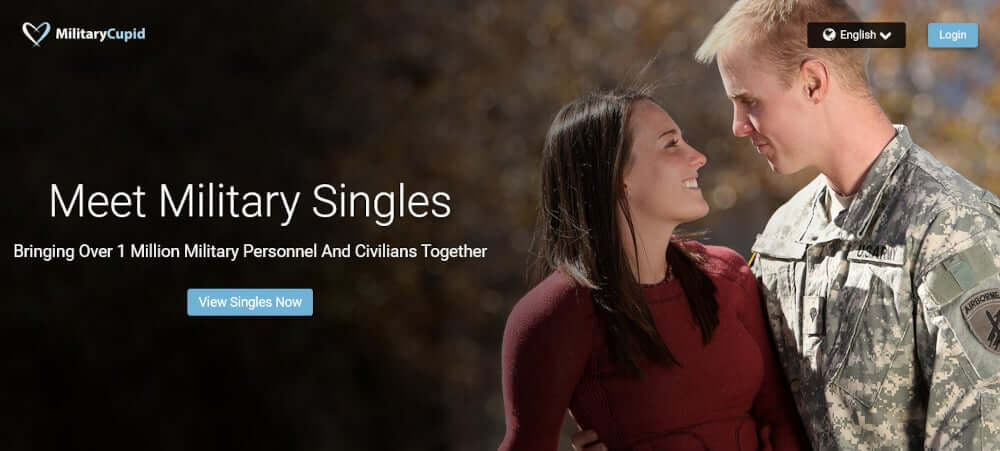 Is your dating app giving you the best chance for success?
Make sure to take our online dating site/app quiz to find out.
People who follow our dating site suggestions have on average 2 more dates per month.
Military Cupid Review in Video Form
Audio (podcast) form for those of you on the go
Effectiveness – 4/5
Ease of Use – 4/5
Features – 4/5
Pricing – 4/5
OFL Top Recommendations based on 100,000+ Survey

"Serious Relationships"
"Discreet Hookups"
"Best Course for Men"
"Quick Flings"
"Normal Hookups"
"Our Quiz"
Extensive search options available
Quick and easy to set up a profile
Plenty of free features
Easy to navigate the site
Not too many ads
Not the biggest user base but enough to work with
To communicate effectively, you will need to pay for membership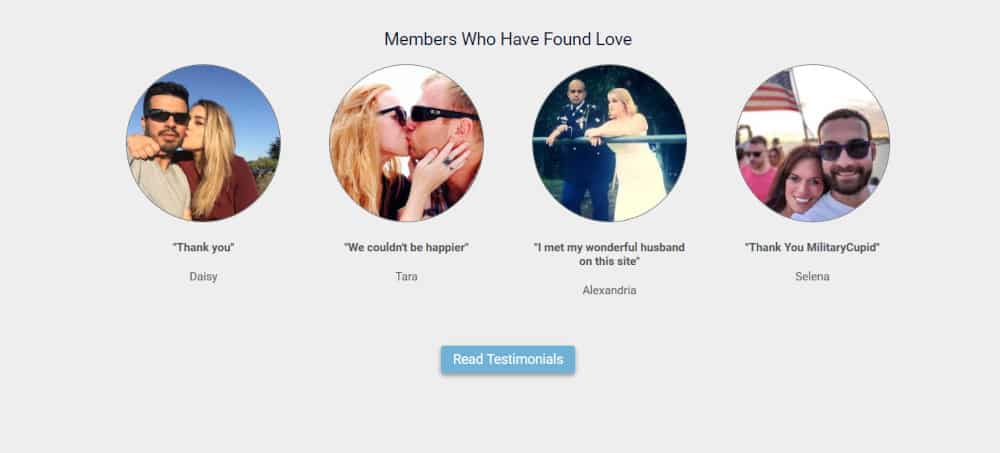 Who Is It For/Demographics?
First and foremost, this site is aimed at members of the military, both men and women looking for love.
This isn't your regular hookup site (like BeNaughty or Ashley Madison) or other dating sites (like eHarmony or Tinder)
That's pretty obvious, right?
But it's also aimed at singles that are not in the military but would like to get involved with someone who is.
Breaking down the numbers
While it's a fairly exclusive target audience that Military Cupid serves, the number of users on the site is actually quite impressive.
Cupid Media claims that over 600 000 people have profiles which isn't bad for a niche site like this.
Here are a few other numbers to think about.
450 000 of the users from Military Cupid are from the United States
Each week close to 4 000 new users join the site
That's 15 000 users a month signing up to date military singles or who are military singles
Gender split and age ranges
I am sure you can guess which of either male or female profiles are more prevalent on Military Cupid.
That's right, it's male profiles and the ratio is almost a little more than 2:1.
Around 70% of the profiles on Military Cupid are male while the remaining 30% are female.
In terms of age ranges, it's interesting to note that the 35-44-year-old age group provides the most users.
Here's a full breakdown, however.
35-44 years old
25-34 years old
45-54 years old
18-24 years old
55+ and older
It's easy to understand why the top two age ranges are what they are.
Those are people that have been in the military for a longer period and are now looking for someone to settle down with.
So the numbers are certainly there for military members or others who are looking for love.
But just how easy is the Military Cupid dating site to use in that quest?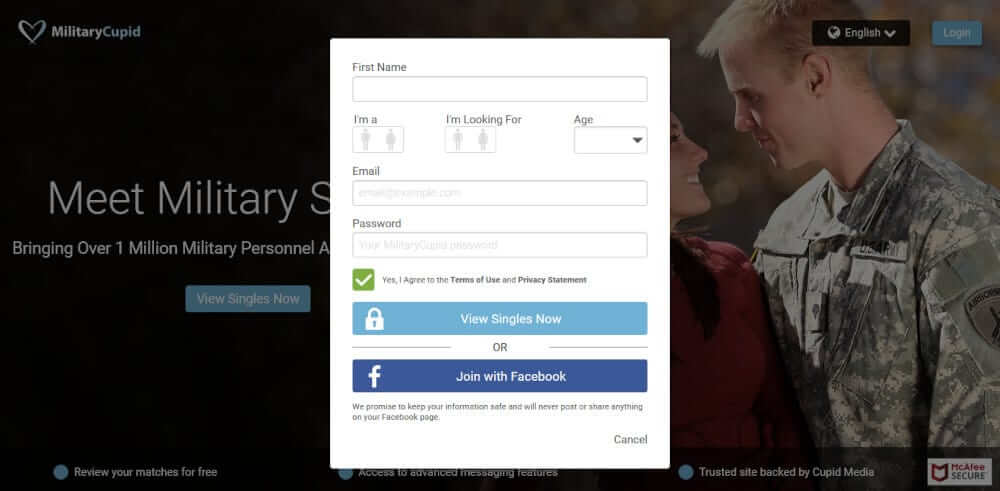 If you've ever used a Cupid Media site before, you will already know just how easy they make it to not only sign-up and get up and running, but also to find your way around the site.
Let's start with the signing up process.
You have two options to start off with.
Either you can download the app from the Google Play store and sign-up using that or you can head to the Military Cupid website and to start the process.
While I prefer browsing dating websites on my laptop, I downloaded the app and registered that way for Military Cupid.
And it was so simple.
Just a few steps and I was up and running.
I know from other Cupid Media sites that signing up through the website will have you online in less than two minutes.
Either use your Facebook account to sign in, which is even faster, or provide a username, password and email address.
You will get asked a few questions to help set up your first matchups, things like your gender, who you'd like to be matched with (male or female) and what your age is.
Once you are on the Military Cupid site, you will be asked to upload a photo.
It's easiest if you do it immediately because a photo is going to get you noticed.
When I am browsing sites like this, one of my search parameters is that the profiles have to have photos.
It only takes a few seconds of your time.
Military Cupid will then present you with your first matchups based on the information you gave earlier.
So you can start browsing straight away if you wish.
I wouldn't just yet.
Instead, get your profile as complete as possible.
There's a lot to fill in here so it will take around half an hour or so.
The more complete your profile, the better the chance of others viewing it to find out more about you.

Navigating around Military Cupid
I said earlier that Cupid Media makes their sites so easy to navigate.
And that's no different when it comes to Military Cupid.
Everything you need can be found across the top of the page.
First up, you will notice the navigation bars.
These are the easiest ways to get to the most critical parts of the site and they are:
Matches
Search
Messages
Activity
Matches include those matches Military Cupid has found for you as well as mutual and reverse matches, which is something we will get into later.
Search is where you can search for other matches using a set of specific parameters.
Messages are where you will find any messages you have sent or received.
Activity includes a host of sub-menus. Here you can see who you've favorited, liked or users whose profiles you've looked at.
You can also see who has done the same to your profile.
And that's the basics of the site.
If you'd like to change various settings or update your profile, the two buttons to do so are located on the right-hand side, at the top of the screen.
Military Cupid also provides a handy counter so you can see just how many members are online with you.
The overall design of the site is not only functional but it modern and slick as well.
So while it's easy to set up your profile and the site is simple to get around, just how effective is it in helping to find that all-important matchup?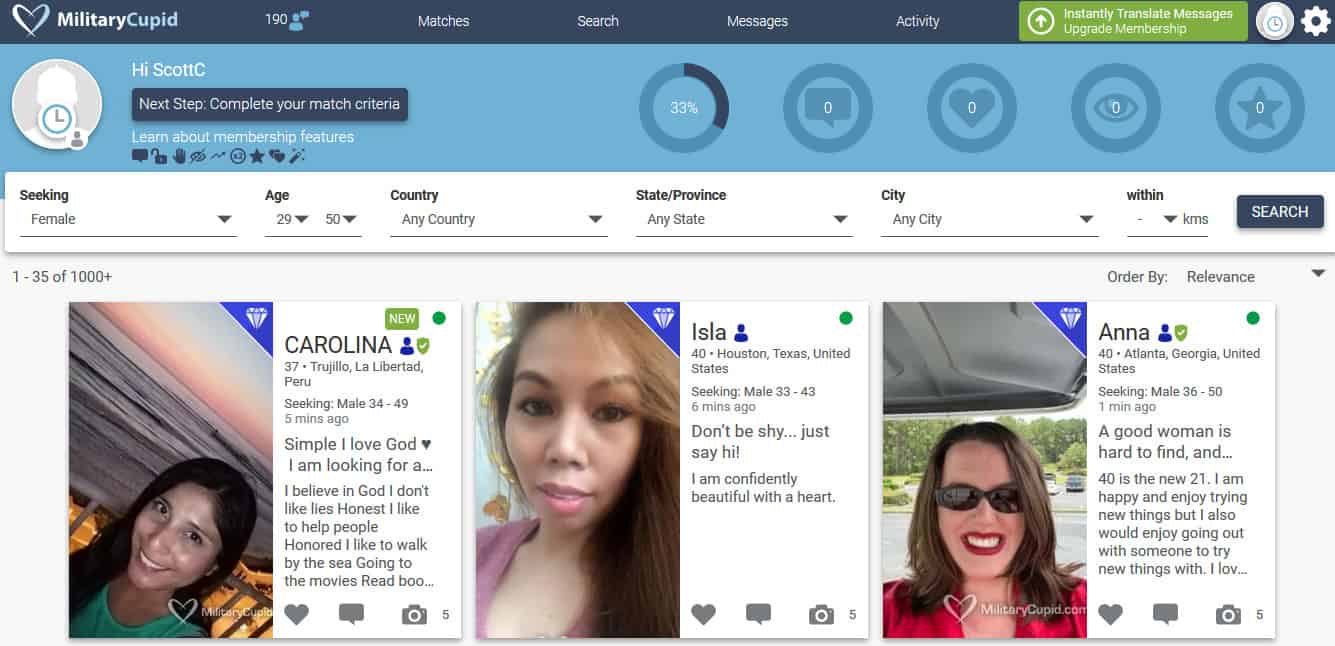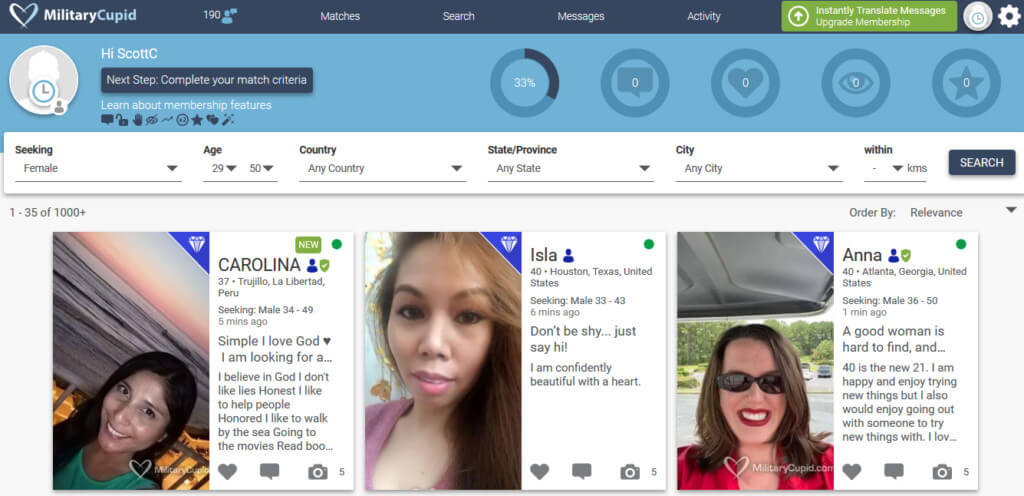 When it comes to searching for matchups, Military Cupid provides you with all the ammunition you need.
Even as a user who opts not to take out membership, finding a matchup shouldn't be too difficult.
And if you are a member, there are even more tools at your disposal.
I've already mentioned that the first thing Military Cupid does when you enter the site is to provide you with a list of matchups based on the three questions you answered when you signed up.
And while you might find a potential matchup there, I prefer to conduct my own searches.
It's here where Cupid Media websites excel.
There are so many search parameters that you can choose from.
That allows you to make the most refined searches you could possibly make,.
Or, you can simple lose many of those parameters and search far wider.
The choice is all yours.
As an example of those parameters, you can search for the bare basics such as:
Or add to those parameters with the following:
What they are looking for, for example, penpal, friendship, romance, long-term.
Appearance, including weight, height, body type, hair color, ethnicity, etc.
Their lifestyle including do they smoke or drink, are they willing to relocate, do they have children.
Do they have a profile picture or not.
Their last time online.
That's regular searching covered.
But there are other ways as well including:
Keyword searches
First name searches
Member number searches
Popular searches (where you can see what other users are searching for)
Cupid Tag searches
I just want to expand on Cupid Tags.
These can be added to your profile to help describe you.
Examples include:
Down to earth
Pretty
Shy
Loving
Romantic
Athletic
These offer a very different approach to searching for your matchup and they are fun to use.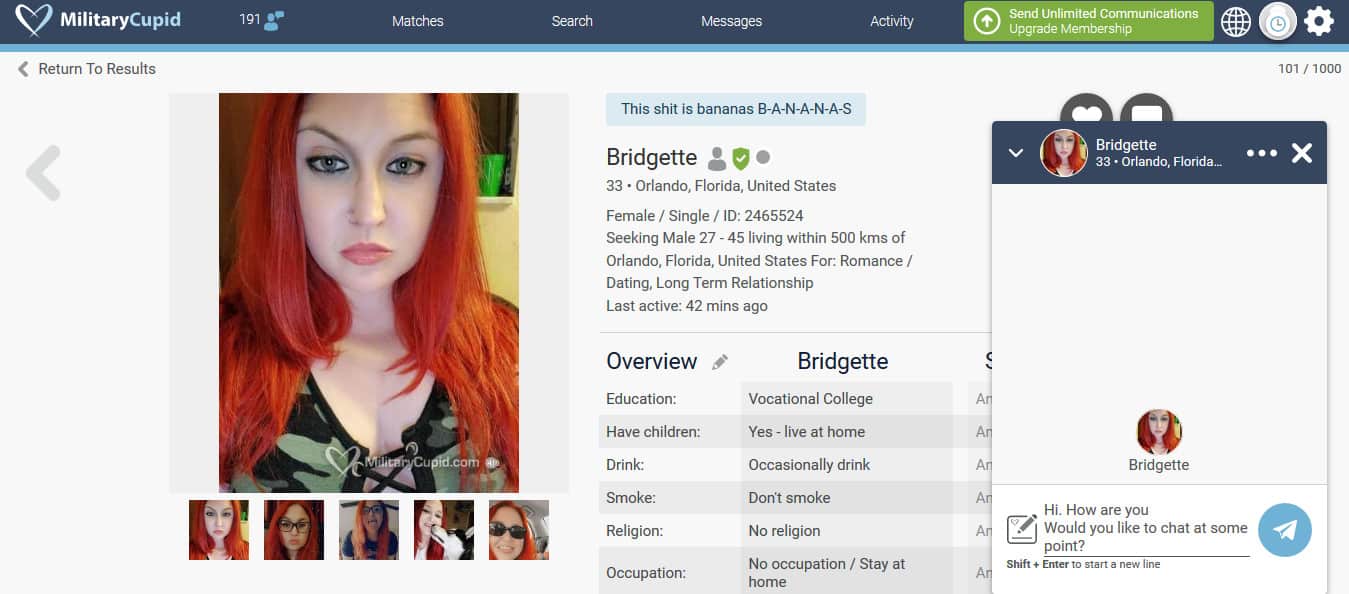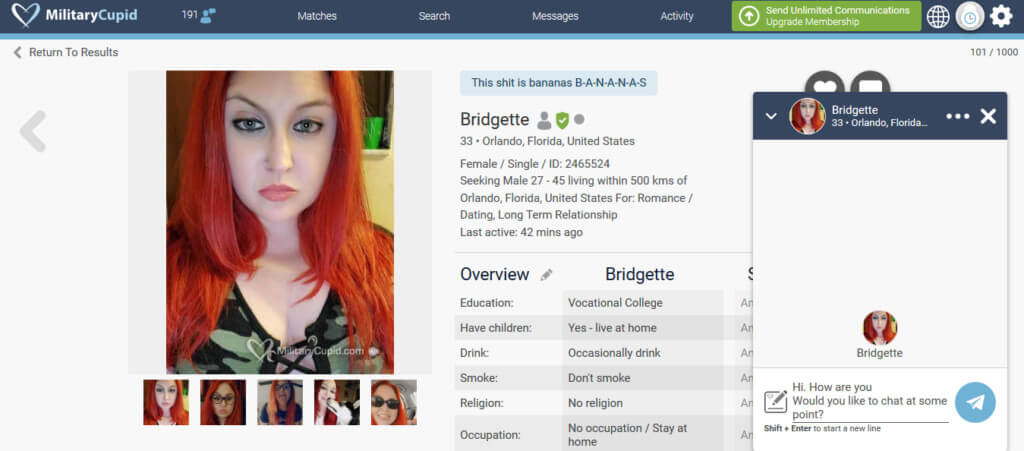 So with all of those search options at your disposal, finding a matchup or two shouldn't be that hard.
But how do you get into contact with them?
Military Cupid does offer messaging, but it's just like all other Cupid Media sites – limited.
It's limited in the fact that you can only send messages to members.
To make proper connections with each potential matchup, be they a member or regular user, you are probably going to have to consider taking out a membership of your own.
But it's not just Military Cupid that puts effective messaging behind a paywall, it's just about every dating site out there.
So if you are considering membership, these are the other key features you will receive as well.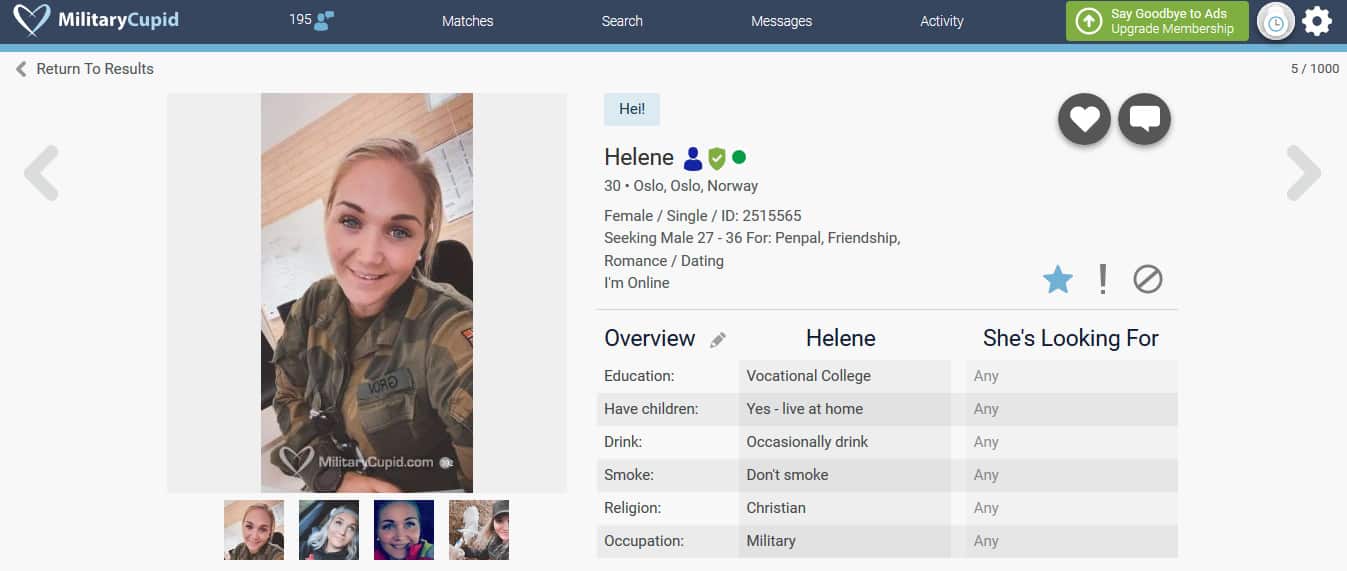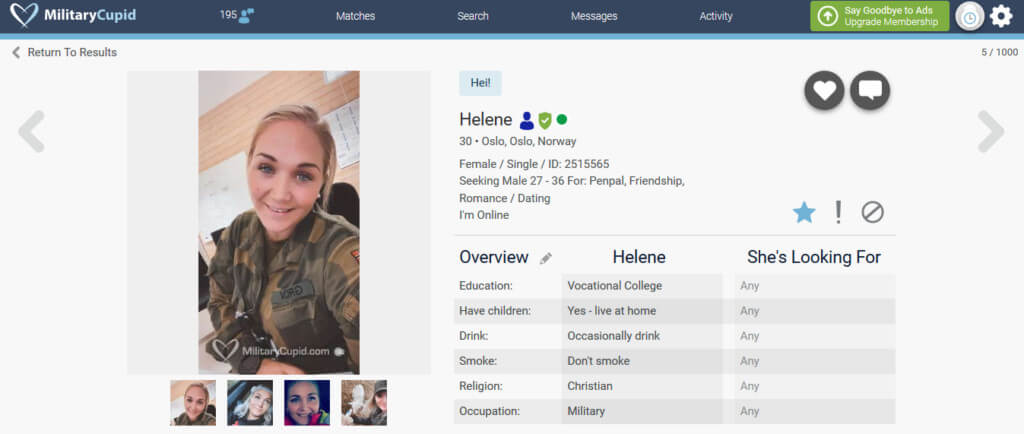 If you are someone that's willing to pay membership to Military Cupid, you will open a whole range of features that can help you in your quest to find the perfect matchup.
In reality, if you want to get into contact with anyone on the site, then membership is your only option realistically.
Yes, as a normal user, you can send messages to members of the site, but all your other communication options are restricted.
That's why so many other users opt to sign up.
Before we get into all the key features you will have at your fingertips on taking the step to become a member, let's just remind ourselves what a normal user on Military Cupid is allowed to do.
Limited message sending
Like other user profiles
Favorite other user profiles
See who has viewed, liked or favorited your profile
All of these are standard across the sites that Cupid Media offers so Military Cupid is no different.
If I am honest, that's a lot more than you can expect from their competition.
But with the limited messaging, communication with others remains difficult.
If you'd like to become a member to access the extra features on offer at Military Cupid, you have two membership options: Gold and Platinum.
We won't get into the pricing as of yet, but it's important to know about these options because while Platinum members get to use all the features, Gold members are restricted in a few areas which we will highlight below as we look through them.
1. Two types of unlimited messaging
As a user of a dating site, messaging is everything.
Without it, you simply can't properly get to know someone whose profile you've taken a liking to.
When you become a member of Military Cupid, you have two messaging systems at your disposal, a regular system, which is kind of like email and an instant messaging system.
This almost functions like a chat room for you and the person you are talking to.
Gold and Platinum members can access this instant chat.
2. Mutual and reverse matches
There are so many ways to search for matches on Military Cupid.
We've already discussed the traditional method as well as using Cupid Tags.
You could even use keywords if you wanted.
But if you are a Platinum member, you have two more matchup options: mutual and reverse.
Easily accessed under the "Matches" menu tab, these matchups work in the following way:
When both you and the criteria of another user match each other, then you are a mutual match.
When you match the criteria that another user is looking for in someone, then you are a reverse match.
If you have some mutual matches, you should really explore them thoroughly because as a pair, you should be ideal for each other (based on your profiles and the information entered of course).
With a reverse match, you are what someone else is looking for.
A word of warning, however, they might not be what you are looking for.
As a Gold and Platinum member, you can choose to browse other user profiles without showing them that you have.
That means that you won't pop up when they look at the option that shows them who has looked at their profile.
Not only that but you can choose not to have your profile come up in other user's searches.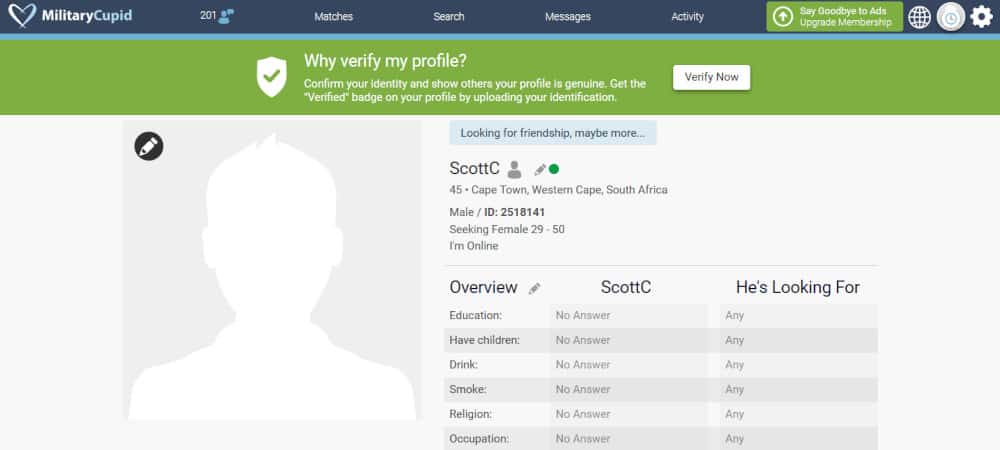 As a Platinum member, your profile is automatically boosted.
That means every time someone else conducts a search, your profile will appear with other Platinum members at the top of their returns.
That's a useful way of getting yourself out there, particularly if you want others to contact you to initiate a conversation.
While it's not a massive feature, as a Gold or Platinum member, you can comment on other people's photos.
So instead of firing off a message, perhaps you can rather comment on their photo to ease yourself in and go from there.
Those are some of the most important features you can expect while using Military Cupid.
By far the most impressive is the reverse and mutual matches for Platinum members and the ability to send messages to anyone, be it a fellow member or regular user.
But just how much can you expect to pay for those features?
Let's look at the pricing structure that Military Cupid offers.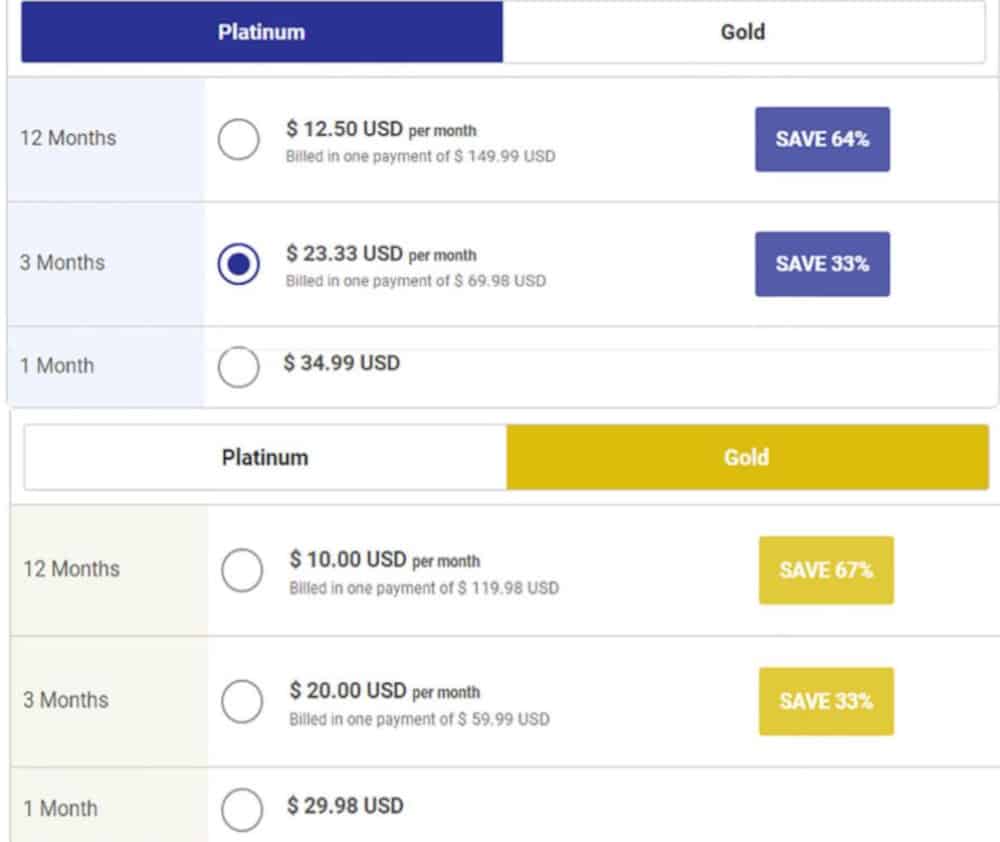 As you know, Military Cupid has both Gold and Platinum membership options.
Gold is the cheapest on offer but Platinum isn't that much more expensive.
It's up to you to decide which is going to benefit you more.
Luckily, Military Cupid, as with all other Cupid Media dating sites don't only offer one option when it comes to the length of a membership contract.
They have the standard one-month contract for both Gold and Platinum member of course, but also have three-month and six-month options.
These come with a hefty discount when compared to a per month contract, sometimes even as much as 50% or more.
But you have to make a full payment upfront to secure them.
So here's what the two membership options are going to cost you.
Gold membership:
1-month membership – $29.99
3-month membership – $59.99 ($20.00 per month)
12-month membership – $119.99 ($10.00 per month)
Platinum membership:
1-month membership – $34.99
3-month membership – $69.99 ($23.33 per month)
12-month membership – $149.99 ($12.50 per month)
For me, the difference between Gold and Platinum membership is not that huge.
And remember, Platinum membership unlocks those two incredible matchup options, reverse and mutual matching.
That's worth and extra $5 a month with ease!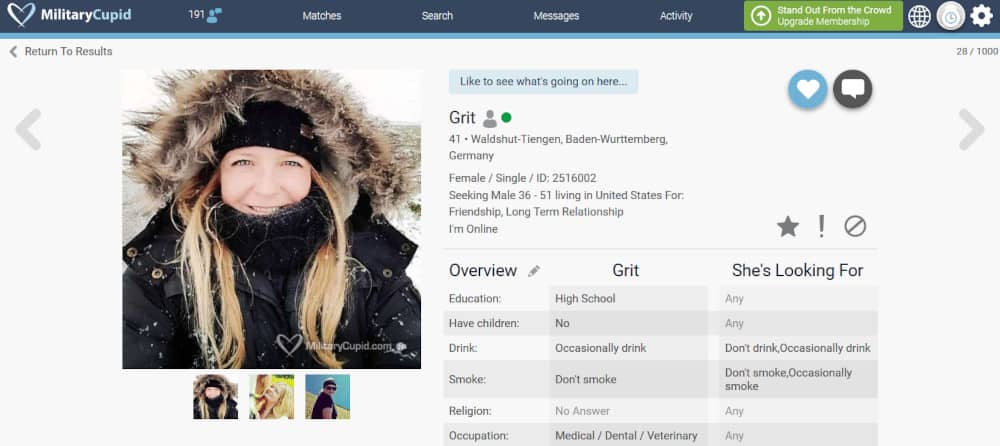 Conclusion and Overall Rating
Again, Cupid Media has hit the mark.
Military Cupid runs in exactly the same way as other Cupid sites.
And why not?
Why would they change a winning formula?
This is your go-to site if you are in the military and looking for love and hoping to find someone who will wait for you while you are deployed.
It's also the site for you if you'd prefer to be the one doing the waiting.
With a sign-up that's going to take a few minutes, you can be online and searching for military love.
With a simple design, easy to navigate website and tons of features, even if you aren't a member yet, Military Cupid makes browsing for love fun and not a chore, that's for sure.
Pricing might seem a little high but just remind yourself of the features you get for it.
And the site is busy enough to ensure you are going to find more than enough matchups and hopefully, Mr. or Mrs. Right.
So let's give Military Cupid a rating.
I think it's worth 4 out of 5.
So are you in the military?
Would this be the type of site you use to find a partner?
Or have you done so already?
Tell us below in the comments.
Frequently Asked Questions