Welcome.
Today, we are taking an extensive look at a dating site that's specifically aimed at a certain culture and those who want to date people from that culture.
And that site is Eligible Greeks.
It's not a new site and forms part of a large dating network.
OFL Top Recommendations based on 100,000+ Survey

"Serious Relationships"
"Discreet Hookups"
"Best Course for Men"
"Quick Flings"
"Normal Hookups"
"Our Quiz"
So it certainly has some dating pedigree, that's for sure.
In this review you will find out:
So if you are of Greek descent or perhaps want to date someone who is, take a few minutes to look through this review.
It will give you the answers you need as to whether this is the dating site you should be using or not.
Is your dating app giving you the best chance for success?
Make sure to take our online dating site/app quiz to find out.
It's a fact that people who follow our dating site suggestions have on average 2 extra dates per month.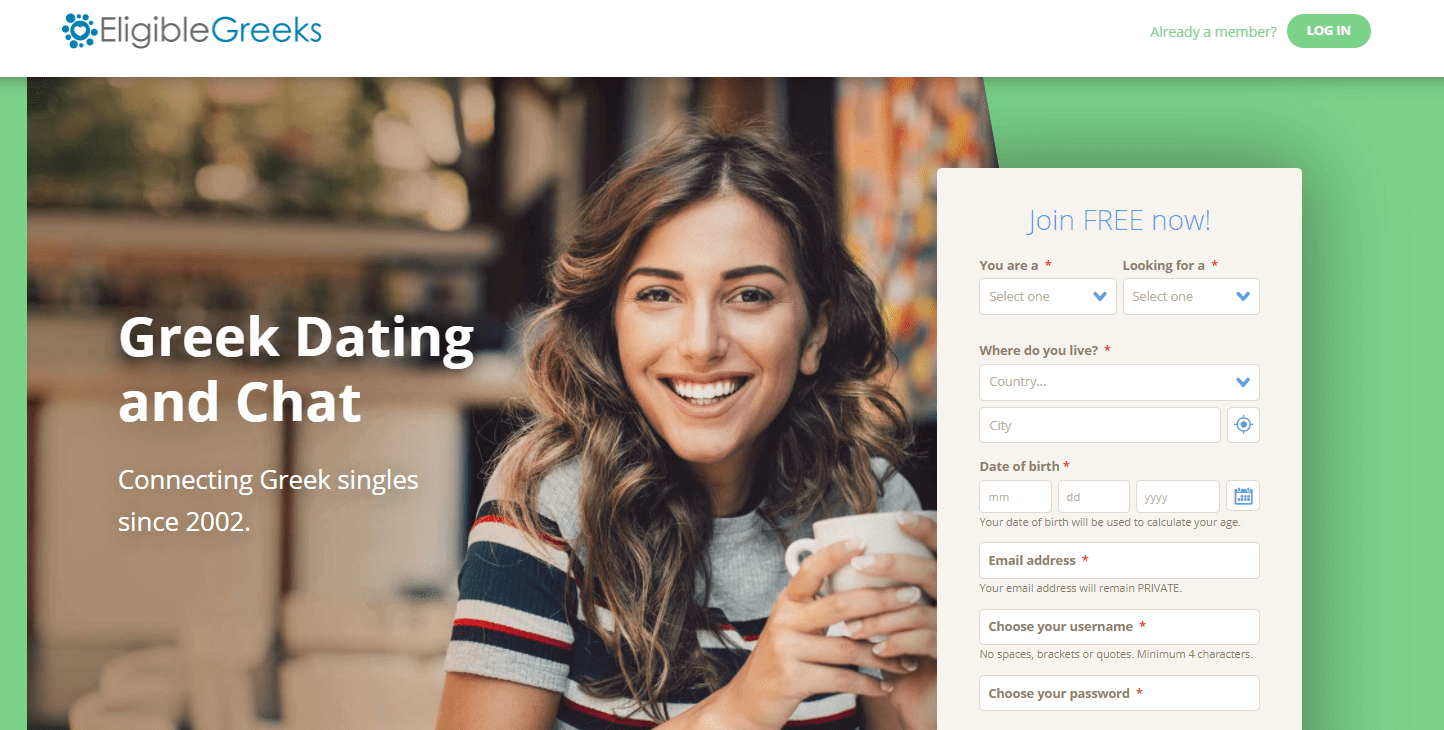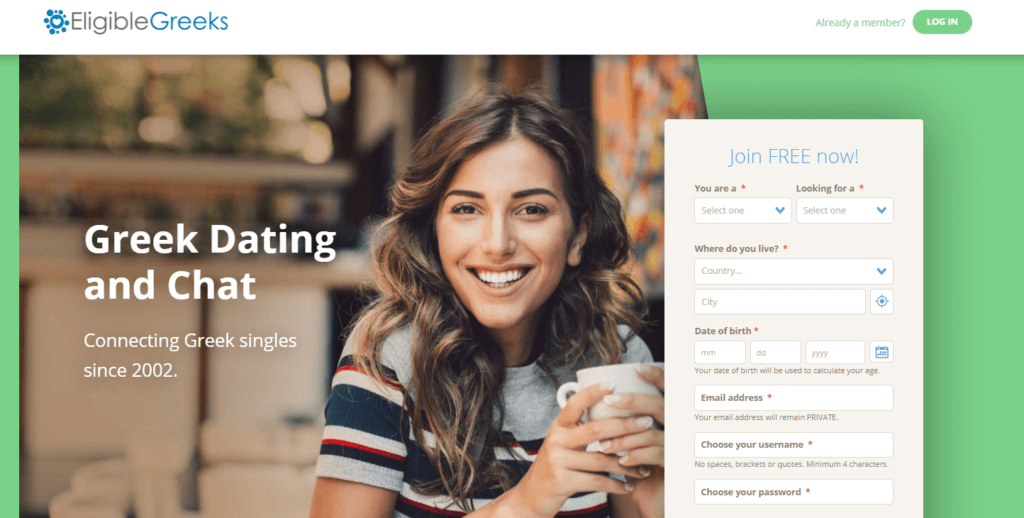 Ease of Use – 4/5
Effectiveness -3/5
Key Features – 3/5
Pricing – 3/5
Over 1 million users
Comprehensive profiles
It has an app for Google phones
One month membership is pricey
No messaging features for free users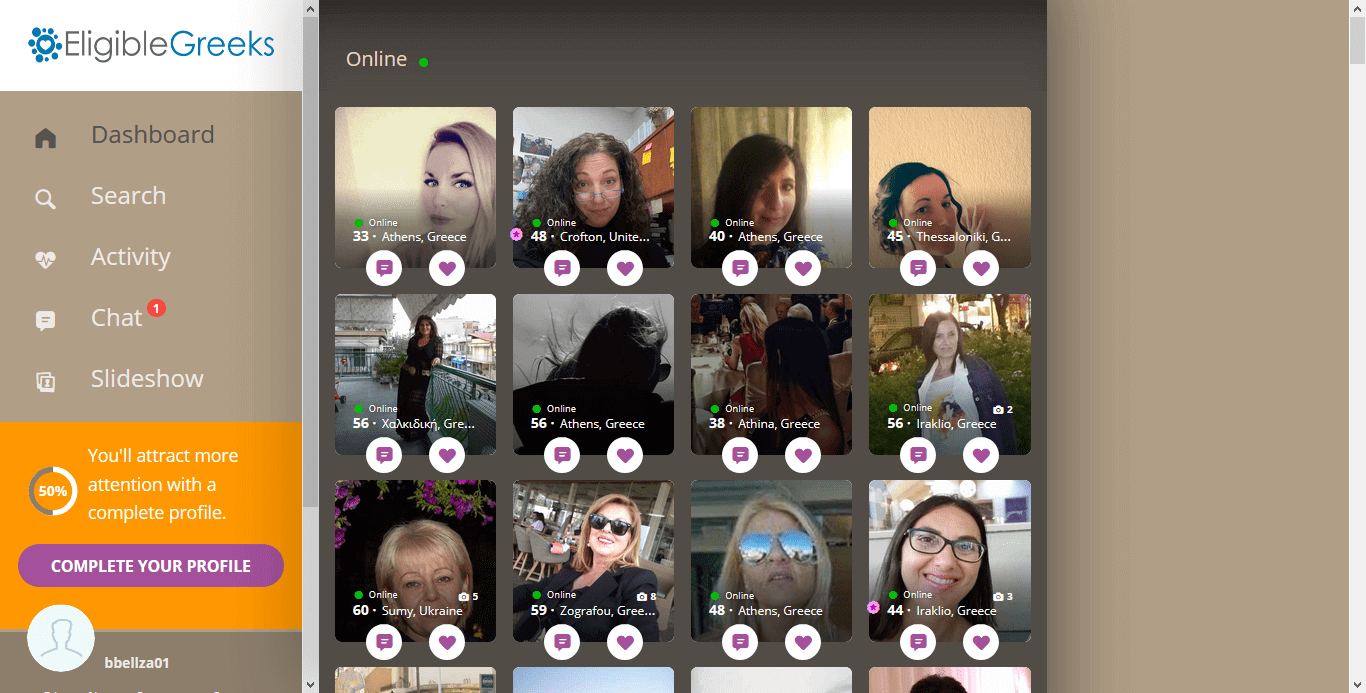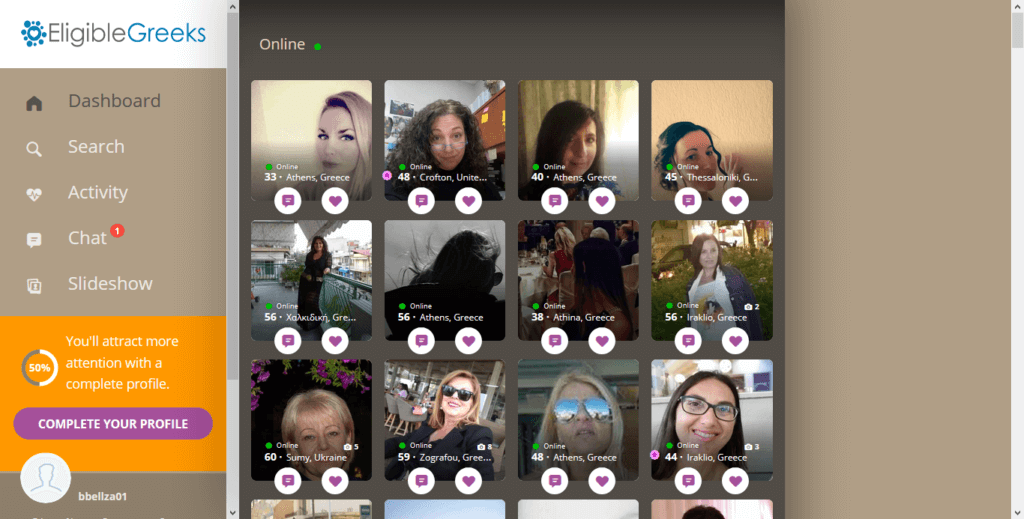 Who Is It For/Demographics?
Eligible Greeks forms part of a group of dating sites run by the World Singles Network.
It's not the only dating site they run that caters towards a certain national group either, so they certainly know what they are doing when it comes to niche dating sites like this.
And the site is not aimed at a specific country either.
OFL Top Recommendations based on 100,000+ Survey

"Serious Relationships"
"Discreet Hookups"
"Best Course for Men"
"Quick Flings"
"Normal Hookups"
"Our Quiz"
So it's not only for Greek people living in Greece.
No, it's for Greeks all over the globe, to date (like eHarmony or Tinder) or to hook up with (like BeNaughty or Ashley Madison).
Eligible Greeks User Numbers
Site demographics should always start with the number of users that have registered for a particular dating site.
The thing is, these aren't always that obvious so some research is needed to find the figure.
While that was the case with Eligible Greeks – because they don't have the figures on their website – find the approximate amount of users didn't prove too difficult.
Since its inception close to two decades ago, Eligible Greeks has built a solid user base.
In fact, it's over one million.
While users are found all over the world, the vast majority come from Greece.
No suprises there, right?
Here's a few more facts and figures about the site that you should find interesting:
300 000 users are from the United States
Around 30 000 users are active on the site each week
That means around 7 000 users are on-site each day
And over 100 000 users are online during a 30 day period
For a niche dating site with a particular nationality in mind, one million users is pretty impressive.
But what about who frequents the site more?
Is it male or female users?
Well, female users make up more of the registered profiles on the site than males.
62% of Eligible Greeks users are female
38% of Eligible Greeks users are male
It's close to a 2:1 ratio but not quite there yet.
And I don't see it change much in the future with a user base of over a million.
Lastly, demographics should also take in the age ranges on the site, especially those that contribute to the biggest groups of users.
For Eligible Greeks, that would 25-34 year-olds.
Around 25% of all users come from this group.
The smallest group of users on this dating portal when it comes to age are the 45-54-year-olds.
They contribute 16% of all users.
Here's a full-breakdown of user ager ranges.
It shows that all age groups are well represented across the board.
25-34 year-olds (25% of all users. 10% of this group are male and 15% are female)
35-44-year-olds (21% of all users. 8% of this group are male and 13% are female)
55 and older (20% of all users. 7% of this group are male and 13% are female)
18-24 year-olds (18% of all users. 7% of this group are male and 11% are female)
45-54 year-olds (16% of all users. 6% of this group are male and 10% are female)
It kind of makes sense to me that the groups between the ages of 25 to 44 years old makeup almost half of all the users on the site.
These are the ages where people are looking to find their significant other, settle down and start a family.
But then the next biggest group is 55 and older before the 45-54-year-olds.
That's probably an anomaly but what you can see from the figures above is that Eligible Greeks has users spread fairly evenly across all the age ranges.
That's always a good thing for a dating site, particularly one that's catering to a certain population group.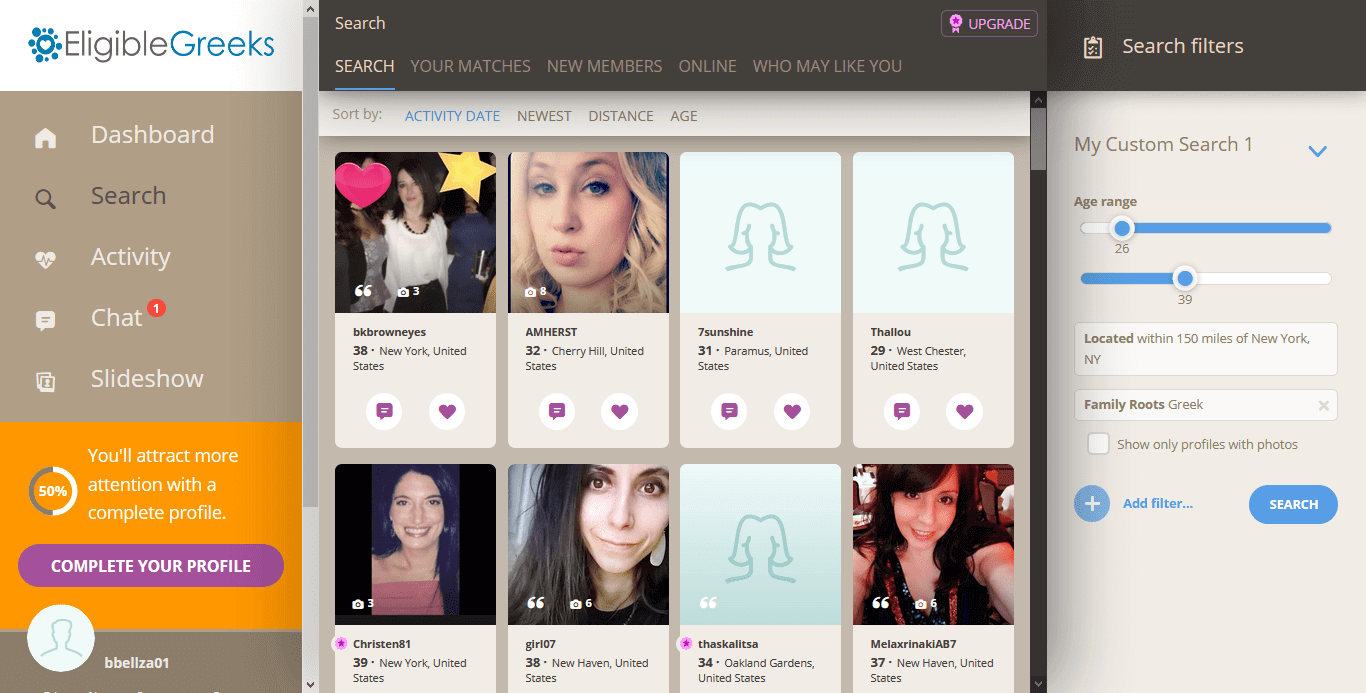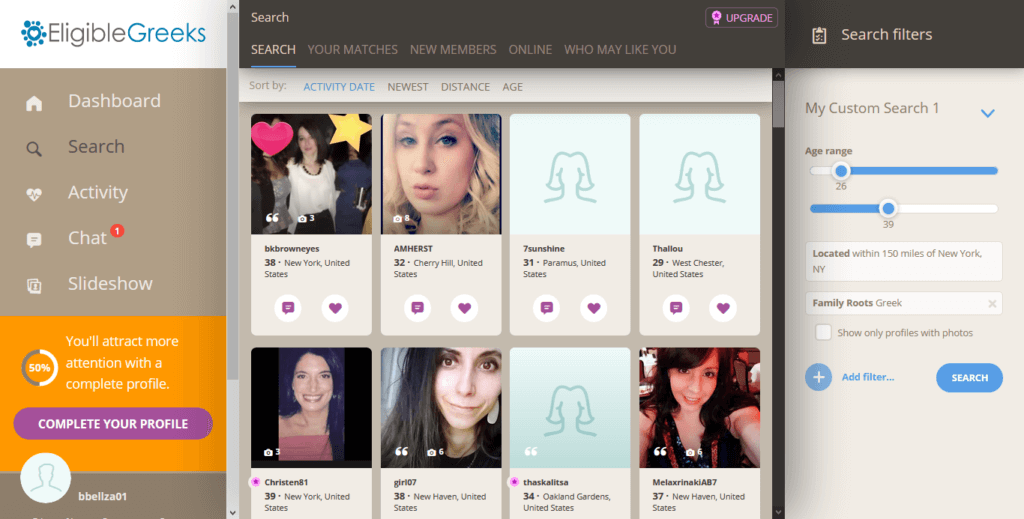 If you have your smartphone glued to your hand 24/7, the good news is that Eligible Greeks does include a handy app.
Well, that's if you are an Android user because, at this point, it's not optimized for Apple handsets.
You can find the app on the Google Play Store and it's a free download.
For the purpose of this review and because it seems many users choose to use the website over the app (it hasn't had that many downloads as of yet), I am going to take you through regular registration.
To start, point your browser at the Eligible Greeks landing page.
From the start, you can see this dating site is run by a company that's done this for a while.
It's just so slick and inviting.
The registration is pretty standard though and there is probably nothing that you wouldn't have seen here as a dating site veteran.
For newbies who have never used a dating site before, there's always some basic information that you have to provide first up to get the registration process underway.
This also helps the dating site know a bit more about you as many of them like to present potential matchups the moment you hit the site.
For Eligible Greeks, you will have to provide your gender, the gender you wish to date (the site is LGBT friendly), location and date of birth.
There are login credentials too, like a username, password and a valid email address.
You jump straight into the site once you've given those details and Eligible Greeks does things the right way straight off the bat.
That's because they have each user start to flesh out their profile, which is something I always prefer.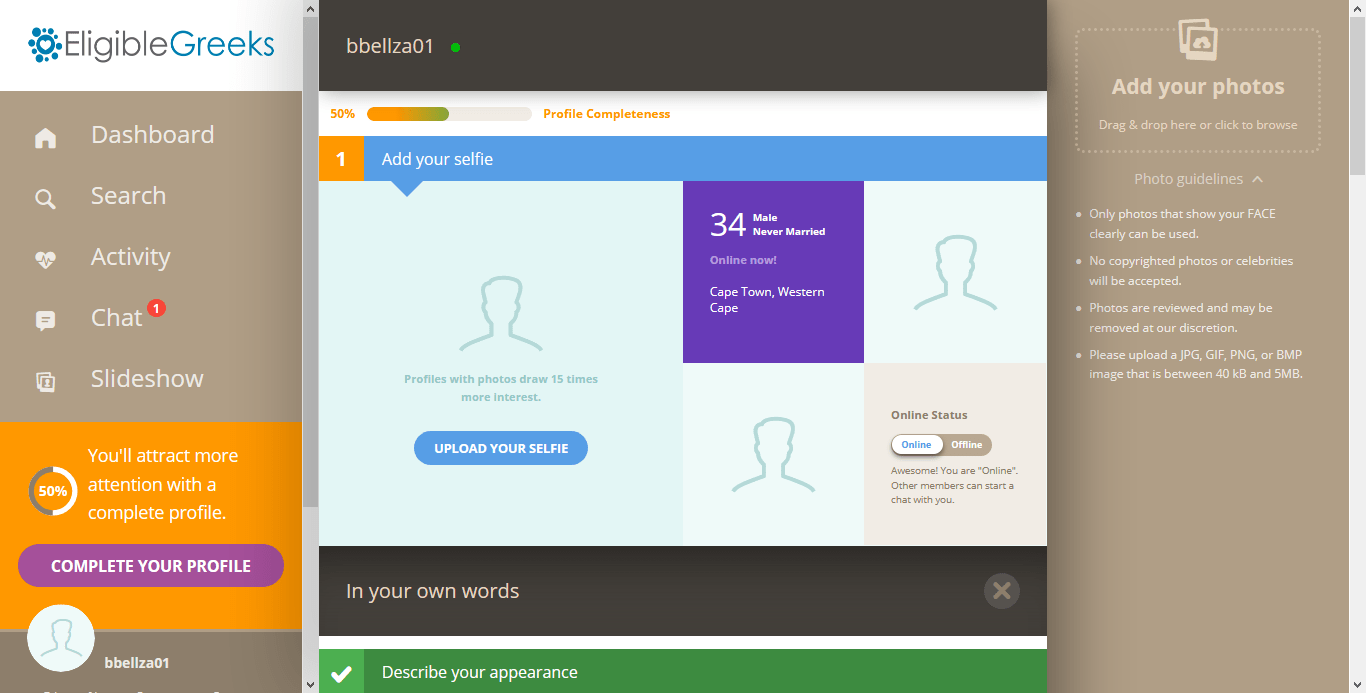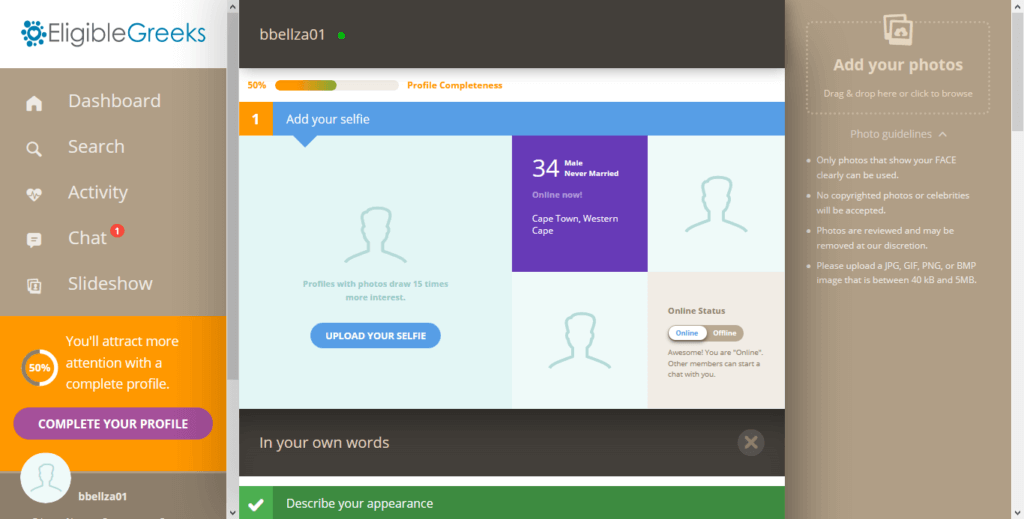 So here's the information that you need to provide as part of this process.
Body type
Height
Eye and hair color
Your occupation
Income
Education
If you drink
If you smoke
Marital status
Religion
Political standpoint
If you have kids and if you want to have kids
Your family roots (for example, Greek)
Your ethnicity
Languages you speak
The music you listen to
Some of these, like your political standpoint, are optional.
Following all that, you will have to validate your email address and log into the site for the first time.
Note, your profile isn't complete yet.
You still have to upload your profile picture, provide a profile headline, a self-summary and fill out sections about your favorites, interests, personality, lifestyle, insights and what you are looking for.
In fact, your profile is only 50% complete before you start all of these extras.
I'd advise you to do it as soon as possible.
It may seem a lot but it only took me 10 minutes to finish in total.
The overall look of Eligible Greeks
If you've ever used a site before that forms part of the World Singles Network, you will be familiar with the overall layout and look of Eligible Greeks.
It's pretty unique, simple and most importantly for me, uncluttered.
Here, user profiles are the most critical thing, as they should be on any dating site.
The site uses blue, white and various shades of gray as its main colors and while it's not the prettiest dating site I've ever seen, it's got its own unique charm.
While some dating sites have multiple menus which can make things very confusing, Eligible Greeks does things the other way around.
Here, you will only find five menus.
That's it!
I must say, I prefer dating sites like this where things aren't too complex.
The menus you will use on Eligible Greeks.
Dashboard: This takes you back to the homepage
Search: Here you can search for matchups
Activity: Here you can see who likes your profile, who viewed your profile as well as who you have viewed and liked.
Chat: Find all messages here
Slideshow: This is a roulette-style matchup game
See, I told you the site was simple but effective.
And it shows that dating sites don't need endless menus.
They just need the basics that allow users to search for potential matchups.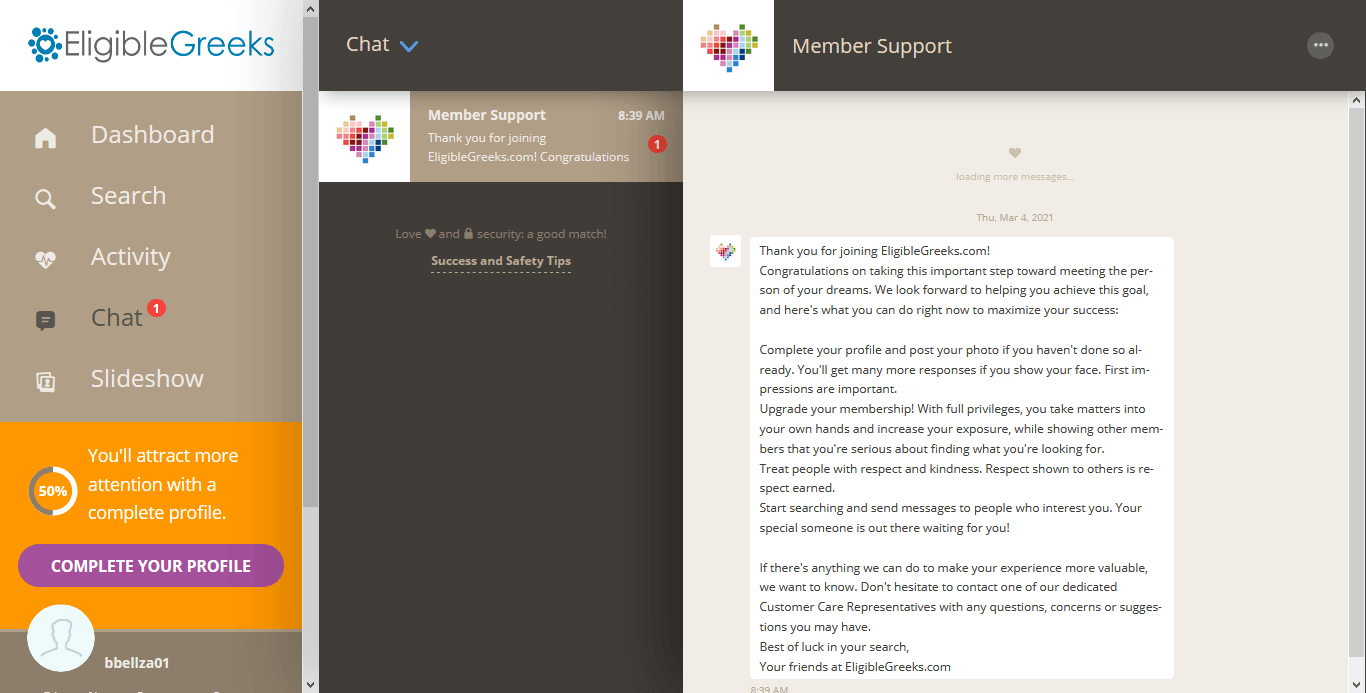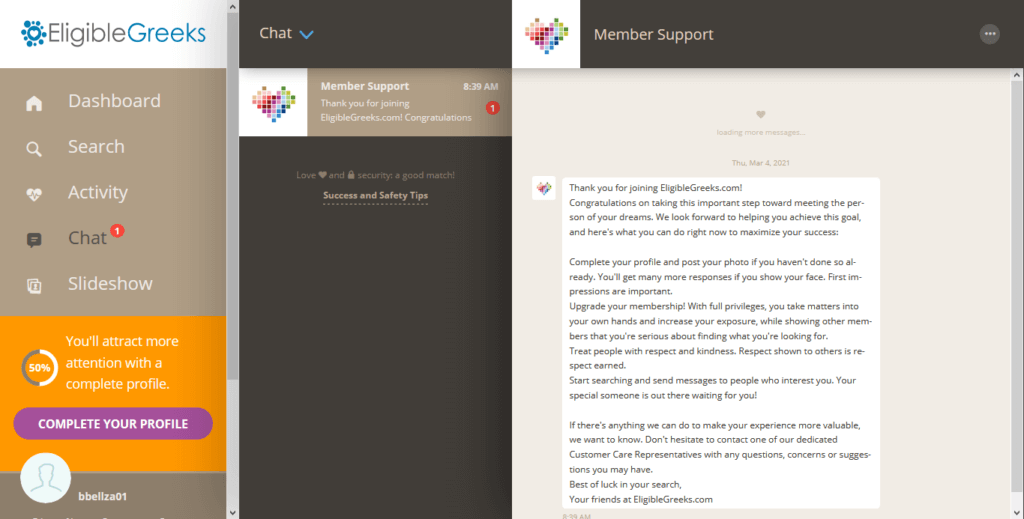 So now that we know a little more about the overall look of Eligible Greeks and how to find your way around the site, let's talk about using the tools provided to help you find a matchup.
I want to highlight three ways in which you can do that.
Some are going to be more effective than others but each of us will find a favorite and stick more to that.
Searching for love on Eligible Greeks
Ok, so the first way that you could use to find a potential matchup is by clicking on the Dashboard menu and see who is online.
These are people that you could instantly chat with, should you wish to.
The one problem with this is that they are not going to all be near your location.
If you just wanting to chat with someone, that won't be a problem, but I am sure you want to meet up too.
So scroll down a little and you will find matches that are near your location.
These won't be online, however.
If they were, they would appear under the online users we talked about a little earlier.
But of course, this is a great place to find potential matchups near you, so shouldn't be ignored.
If you scroll past these users, you will get users who the site says may like you.
This is all based on the matchup algorithm and yes, it can be worth your while looking through these users as well, although they might not all be near your location.
But what about launching your own searches?
That's something that you will do far more often than scrolling through the Dashboard matchups, right?
That's because you can control the search more precisely.
But the Search menu brings even more than that.
For example, you can see
Matches that Eligible Geeks finds for you
New members that have joined the site
And more
If you'd like to launch your own searches, the basic search engine has
Age range
Location (and you can change this to anywhere in the world)
If you'd like, regular users can add three other filters.
These are:
But of course, you know the profiles on Eligible Greeks are tons of information, so members of the site can add even more search parameters.
These include
Appearance parameters
Lifestyle parameters
Income
Education
Occupation
Children
Best attributes
And more
If you are someone that want's to search for a specific kind of matchup, then this search engine can certainly help you out.
The more parameters you add, however, the more you narrow down your search field, so always remember that.
On the whole, with a user base of over one million users and strong search tools, for those living in large metropolitan areas, Eligible Greeks should really turn up more than enough matchups for you to sink your teeth into, so to speak.
Contacting them is not that simple for a regular user.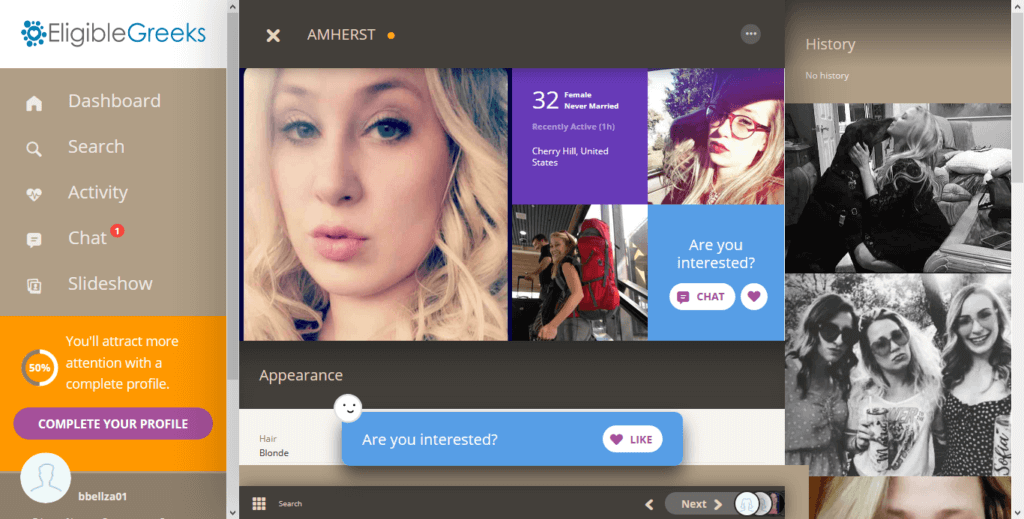 Reaching out on Eligible Geeks
While a regular user can view the full profiles of any user on the site, actually making contact with them just isn't going to happen.
Other than liking them by clicking on a heart found on their profile, you cannot message anyone at all.
You can read messages if they are sent to you by other members but that's about it.
If you'd like to send messages of your own, you will need to become a member yourself.
So then let's look at the key features that you can expect as a member who has signed up to Eligible Greeks.
A crucial part of any membership package on an online dating site, messaging means you can easily contact other users on Eligible Greeks.
While a user can read a message sent from a member, they cannot reply, so that means some users you send messages to won't reply at all.
Other than messaging, there is a chat feature for members as well.
Again, this isn't something regular users can try out.
2. Advanced search filters
Earlier in the review, I talked about the fact that members get access to advanced search filters.
These are all based on profile parameters and mean you can really fine-tune searches if you want to.
You can add as many or as few filters as you want and there are around 20 different ones to choose from based on appearance parameters, habits, lifestyle parameters, education, religion, occupation and more.
On-site advertising is a thing of the past if you are a member of Eligible Greeks.
While it's nice to do away with advertising, it's never really in your face as a regular user anyway.
Profile boosting is something that you will find as part of membership packages on many online dating sites.
It effectively gets your profile at the front of the queue so to speak and therefore exposes you to so many more users.
It's a good way of having people contact you instead of the other way around.
Members of Eligible Greeks get priority support if they have any issues.
And it's live and in real-time as well which is pretty useful should you have a query that needs solving quickly.
On the whole, that's pretty standard fare when it comes to extra key features for members.
So what's it going to cost to sign up to be a member then?
If you'd like to take out membership on the site, you are going to want to know the options you have at Eligible Greeks.
Well, there are three.
There is a one-month package, a three-month package and a sixth-month package.
Currently, there is no trial membership.
Here's a breakdown of what these packages are going to cost you:
1-month membership: $39.99
3-month membership: $89.97 ($29.99 per month)
6-month membership: $149.94 ($24.99 per month).
I don't think the extended packages are priced too badly but for what's on offer for members, the one-month membership, for me, is too expensive.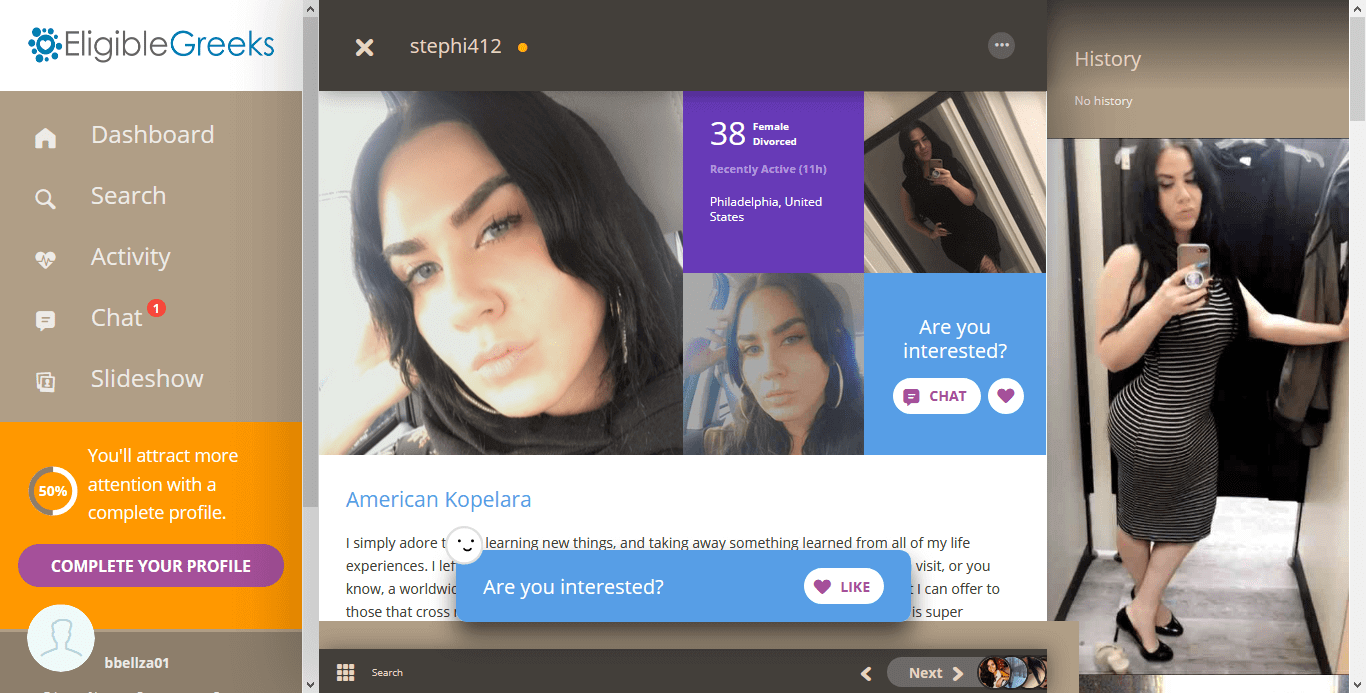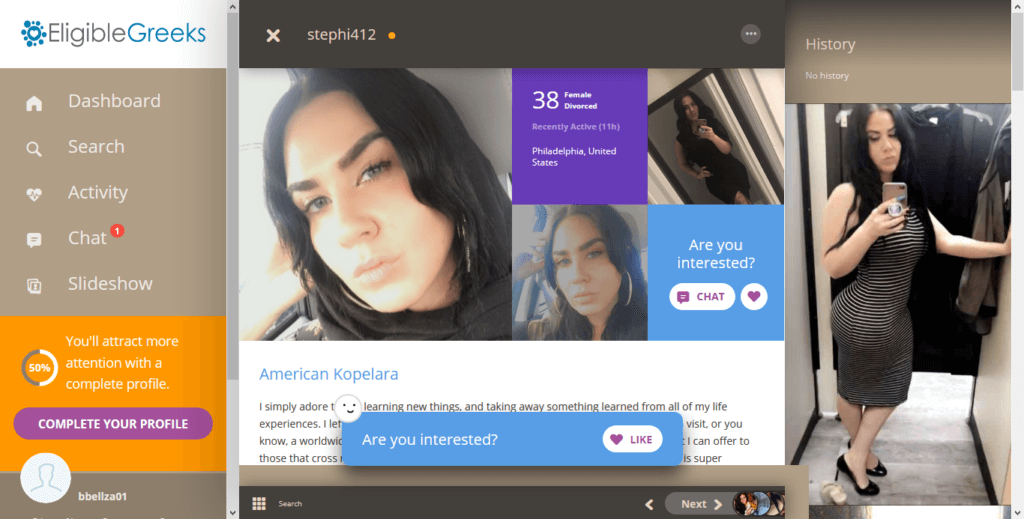 Conclusion And Overall Rating
If you are of a certain nationality and you are looking to date someone similar, it just makes total sense to use a dating site where the majority of users fit the bill.
That's even more true when it boasts a decent user base despite the fact that, at the end of the day, it's a niche dating site.
So if you are Greek and want to meet other Greeks, why wouldn't you at least give Eligible Greeks a try, right?
In my book, you have absolutely nothing to lose.
This site has a lot going for it.
First of all, registration and setting up your profile doesn't take hours.
Yes, you can be online in a matter of a few minutes.
Secondly, the site provides you with a number of ways to find a potential matchup.
From searching through online users to more refined methods such as providing you with matchups based on your set requirements, it's easy to begin your search.
You can also use the search engine provided by Eligible Greeks and even regular users get more than the basic tool here.
Of course, if you are a member, you can refine your searches using a host of profile parameters.
Want to rule out smokers in your matchup returns?
Simply click select a checkbox to do so.
Of course, it's not all plain sailing.
I would be lying if I said that Eligible Greeks was a cheap dating site.
It's not, especially if you want to use a month-to-month membership.
Of course, you can save on the three-month or six-month options and quite significantly, in fact.
Also, the key features that membership brings aren't exactly the best I've ever seen.
They not the worst either.
The thing about Eligible Greeks is that it does what it promises.
And that provides you with a decent user base of the Greek people to date.
It's nothing more and nothing less.
Sometimes, that's all you need, right?
So let's get onto a rating for Eligible Greeks.
It gets a very solid 3.25 out of 5.
If you are of Greek origin and looking for people just like you to date, you should at least check it out.
Thanks for taking the time to read our review of Eligible Greeks.
If you have any questions do not have any hesitation in asking them in the comments below.
We will get back to you as soon as we can.
Frequently Asked Questions