There are plenty of allegedly free dating websites – they allow free sign-up and browsing, but for contacting other members or trying any of the features you have to upgrade the account.
With BookofMatches, everything is transparent – this is an entirely free site for dating, so you won't have to spend a single penny.
Besides free online dating, what else does Book of Matches have to offer?
In this guide, we'll review:
OFL Top Recommendations based on 100,000+ Survey

"Serious Relationships"
"Discreet Hookups"
"Best Course for Men"
"Quick Flings"
"Normal Hookups"
"Our Quiz"
Let's start!
Is your dating app giving you the best chance for success?
Make sure to take our online dating site/app quiz to find out.
People who follow our dating site suggestions have on average 2 more dates per month.
Book of Matches Review in Video Form
Audio (podcast) form for those of you on the go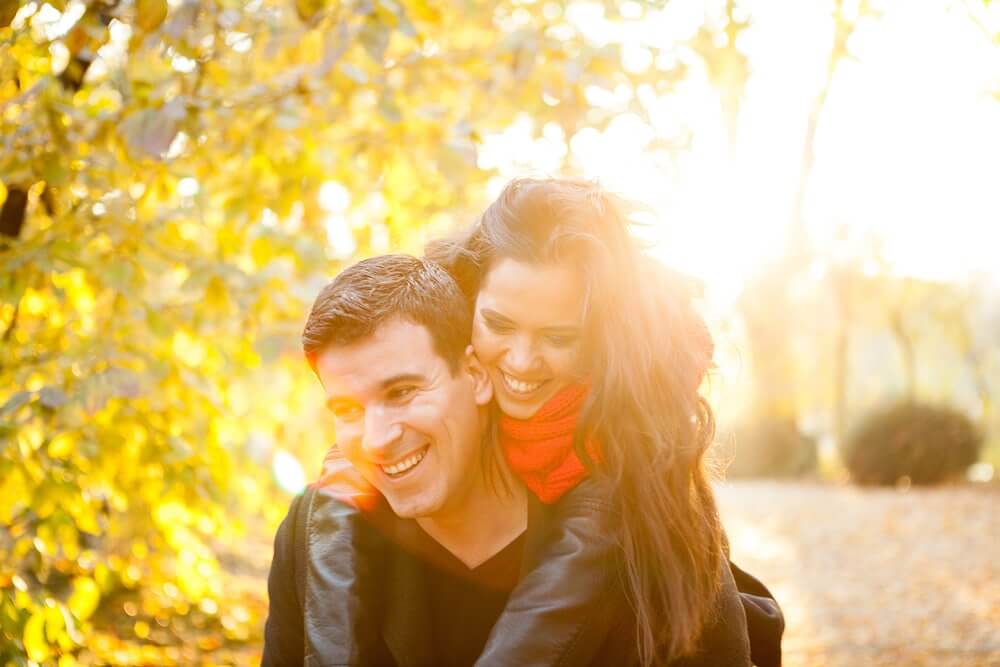 Effectiveness – 4/5
Features – 3.5/5
Ease of Use – 3/5
Price – 5/5
All of the features on the website are free-service
The website is user-friendly
The registration process is simple and profiles are detailed
It offers numerous search filters
The design of the website along with features is quite outdated
It doesn't feature a mobile app
The website is full of third-party ads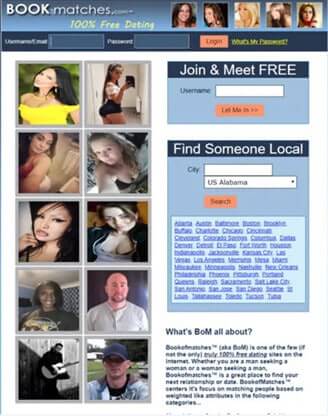 Who is it for/ Demographic makeup
Book Matches was established almost two decades ago – in 2002, it is part of the Internet Initiative Partners and currently counts over 500 thousand users.
This might not seem like a large audience at first, but around 70 thousand members are constantly present on the website, which means that you have a fair shot at meeting someone new.
The company was established in Illinois and as expected, the highest percentage of members are Americans.
Besides the USA, the Book of Matches is popular in the UK and Canada.
Furthermore, the number of male to female users is proportional – since around 45% of members are women and 55% are men, each gender has the same chances of finding love.
When it comes to age distribution, all age groups are present – because of the simple design, seniors find Book of Matches easy to use, while the younger audience enjoys a variety of free features.
Book of Matches was initially designed as a website for heterosexuals, but now it is welcoming everyone, so if you are gay, trans, or lesbian, you can test it out as well.
Most members are interested in just chatting, or casual dating (as with sites like BeNaughty or Ashley Madison), but these superficial connections often turn into long-term relationships (like you can get on eHarmony).
OFL Top Recommendations based on 100,000+ Survey

"Serious Relationships"
"Discreet Hookups"
"Best Course for Men"
"Quick Flings"
"Normal Hookups"
"Our Quiz"
Bookofmatches: Effectiveness
I will begin with the effectiveness or what can you expect from the site.
After reading the demographic makeup, you already have an idea about the website's audience.
In this part, I will cover in detail everything you need to know about the efficiency of the website for the target group, how you can contact members, and most importantly, is it all worth it.
Before I start, I should note that in the end, it is all up to you – since you plan on joining one of the free websites, you should test out all the features.
Let's get started!
How does it work for the target group?
So, on BookofMatches mostly young adults are present – people in the early twenties and thirties, and finding someone in this age bracket is the easiest.
Therefore, for this age group, the website works great.
People above 40 and even seniors can join as well, but it will take more time to meet someone with similar interests and the same age.
When it comes to homosexuals, their group has the lowest percentage of members – still, LGBTQ+ people are joining Book matches and connecting with similar members.
For gay dating, you can probably find better websites, but even this one has something to offer, and all you have to do is be patient.
Since BookofMatches doesn't have a specific target group and everyone is welcome, it is hard to estimate how well it works for specific people.
Typically, users that have been active and tried out most of the features were able to meet the most members and even go on a few dates.
The key to online dating on Bookofmatches is patience and persistence – keep browsing, texting, and eventually, you will stumble upon someone worth your time.
Wondering how to contact someone that caught your eye?
Keep reading!
Since the website doesn't offer a premium membership, the creators decided to keep the contact features quite simple.
The accessibility of communication tools impact the effectiveness of the website the most – if you can't contact members without paying the subscription, then it isn't effective enough.
Also, because of basic features, everyone can use the website – as said, seniors are using the website, so with their low-internet and computer knowledge, even they can communicate with other members without any difficulties.
Taking everything mentioned above into consideration, I find Bookofmatches highly effective.
Now, when scrolling, the easiest way to initiate a conversation is by sending a Wink or Flirt – the user will see who winked at them and then decide to either respond the same or start chatting.
If you are feeling bold, you can just add a person to your friend's list and start chatting.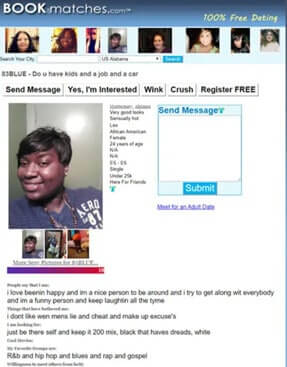 This is approach might not work as well as you expect it, but a good pick-up line will always get a reply.
Furthermore, Book Matches offers emails – the design is pretty standard and the communication doesn't run as smoothly as via messenger, but it is still useful.
So, you've been chatting with a few people for some time, should you expect something more?
Predicting the chances of success of any website is difficult because this does highly depend on your expectations.
Bookofmatches isn't strictly a hookup website or website for finding new partners, and determining where will the connection lead is hard.
If you are interested in casual dating, you can find someone easily, but even someone ready to settle down can find their match.
Many people are using the website just for chatting, so meeting offline is not an option.
You will have a great online dating experience if you are honest about what you want from the start – in this way, it is easiest to find someone that is looking for the same thing.
Many people are using the website just for chatting, so meeting offline is not an option.
This section of the Book of matches review will cover all of the website's key features that will help you meet more people and settle a date.
As said, this website has pretty standard features and I already talked about messages, winks (or flirts), and emails.
These are the most basic features and the most popular ones for initiating contacts.
Since all options are free-service, why not try others as well?
Lastly, when talking about features, the creators should add are a few matchmaking features – blog and forum are great communication tools, but not so good matchmaking tools.
Here is a list and description of key BookofMatches features:
If you are a naturally talented writer, a blog is a great place to share your creative stories and show your talent.
There are no limits and you can choose the topic of your stories.
If you aren't a talented writer, who cares – practice a writing skill or just enjoy reading posts from other members.
Not everyone is comfortable with sharing their work with thousands of members, so you can always restrict access to your stories.
This setting can be altered at any moment, so when you feel more comfortable, you can make your posts public.
Many people feel more comfortable in a group than when meeting someone one-on-one.
If you have been chatting with multiple accounts, you can create a group chat and they can meet each other as well.
Only invited members can join a group chat.
If this option isn't working, check whether you have a Flash Player – since it is based on flash-technologies, it should be enabled by your browser first.
Need some dating tips? Have a relationship question or want some sex tips?
Check out the forum on BookofMatch.
This is one of the interactive features that connects people with similar views and interests.
There are a few different categories and topics, so find the one that you need and join the discussion.
While chatting on the forum, you might just stumble upon someone with the same views.
So, how can you become a member of the Book of Matches?
Let's talk in detail about the registration process and the ease-of-use of the website.
The Book of Matches has a quite standard registration process.
All forms and the profile description can be written and completed in just a few minutes.
On their main page, you will find a sign-up button which will lead to the first form.
Every member has to come up with a username – it should be something basic such as your name, nickname, or combination of name and last name.
Also, make sure it is something appropriate and PG-13.
Then, you have to provide a password and a valid email, and once this is completed, you are automatically directed to the second form.
This form consists of general information such as date of birth, gender, city, and state.
There are a few questions regarding your looks (heights for example) and occupation.
You will also have to state your gender preference and what you are interested in: hooking up, chatting, or relationship.
The form ends with a short description – you have to write a few sentences about yourself, so make sure that this description is creative and show your positive sides.
Then just click on the submit button to complete the registration.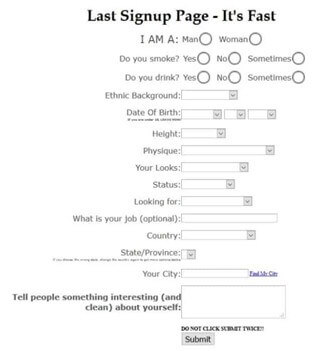 Many users have reported a few errors while signing up. If the website doesn't recognize your city, click on the "Find my city" button.
Not all cities are included on the list, so choose the one near you if you can't find yours.
Also, keep in mind that the Book of Matches is full of ads, and many of them are ads for adult websites.
During the sign-up process do not click on anything but fields that need to be filled or the submit button.
The registration process is concluded by uploading photos.
Only three pictures are allowed to be added, and they must be approved by the administrators.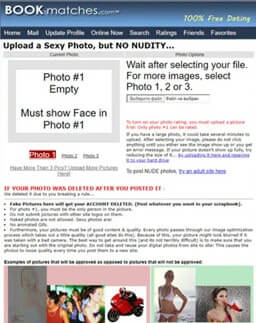 To make sure you pass this verification, only upload photos of your face and the ones in which you are posing solo.
Also, nudity is not allowed, so no topless photos or ones in bikinis or underwear.
Getting approval for photos will take between half an hour and a few days.
One of the major flaws of the website is design.
Do not get me wrong – BookofMatches is super easy to navigate, but the design is outdated and should be redone completely.
I get that old design suits the older generations, but young adults that are the largest audience of the website, probably do not find it so appealing.
The website has a blue and white theme and on the top of the screen, you will find all the tabs: home page, mail, profile, search, friends, and others, so it is well organized.
With just one click, you can switch between the tabs.
When it comes to browsing and search filters, creators are keeping them updated, and are working on adding new ones, to help members find more suitable matches.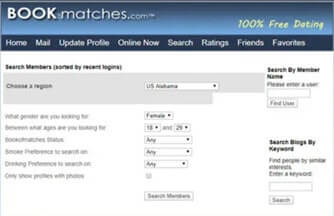 Once you apply a few filters and click on the search button, all chosen profiles will be displayed in a grid so you have a good overview of potential matches.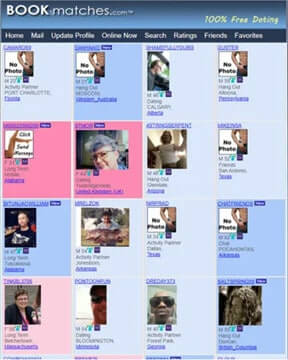 The profile quality is good but could be even better.
Some fields on the registration form are optional, and if a user decides to skip those fields, their profile won't be so informative.
Still, plenty of users do fill the forms entirely and so you have enough information to decide whether they could be a good match or not.
Besides just looking at whether the person meets your criteria, check their activity – it is displayed under their profile picture.
If you want to initiate contact, just click on the empty field placed on the right side of the screen.
Unfortunately, bookofmatches doesn't feature a mobile app.
If you want to use the website on the go, you can access it via a mobile browser.
The mobile version features the same options, but some users find it quite inconvenient.
The layout and theme are outdated and you need to zoom in to know which tab you are accessing because the icons aren't proportional to the screen.
Also, this version doesn't offer any notifications – while you are away from your computer, you can use the mobile browser, but don't expect any alerts on recent activities.
As I mentioned, the book of matches doesn't offer any subscription plans.
When the account is created, all of the features are automatically unlocked, so everything is accessible.
However, the ads can get pretty annoying and the website should consider adding a small fee for removing the ads.
Free or standard members can create the profile, use search filters, send messages, emails, or winks, post on the blog, or join discussions on the forum. Also, friends and favorites lists are free-service.
You do not have to worry about auto-renew of the subscription, canceling the membership, or refunds.
Overall Rating – 3.88/5
So, you've come to the end of the booksofmatches review.
Hopefully, now you know whether this website could help you find either a next hookup or partner.
Book of matches has plenty of advantages, and one of the biggest is the free service – on your path to finding love, you won't have to spend a dime.
Still, the outdated design is quite unappealing and if you are a young adult, you will probably be frustrated by not being able to use the website so much while on-the-go.
If you still haven't made up your mind, check out the FAQ section as well – some answers could help you with your decision.
Here I have answered some of the most common questions about BookofMatch.
All questions are placed in different categories and hopefully, you will find the answer to one of your questions.