ost dating websites are tailored towards singles who are searching for their soul mate. But not every person is on the lookout for a long-term mate. Some are eager to connect with random strangers without any expectations, which is why Chatib exists.
Chatib is a unique community that provides a platform for singles from all over the world who want to interact with each other in free chatrooms. Chatib is ideal for those looking to have a good time without having to worry about a long-term commitment or falling in love.
Most people on the site want to connect with others for a casual flirt and an overall good time. This Chatib review will provide a comprehensive overview of what you can expect when participating in their chatrooms.
Pros:
Chat with singles in your area for free
Does not require registration
Provides an easy to use platform to meet others
Available via mobile or desktop application
Offers a variety of themed chat rooms
User-friendly
Ideal for someone not looking for a long-term commitment
Cons:
You may not always know who you are chatting with
Could be challenging to establish a serious relationship
Website is fairly new and still being developed
Member Information
After extensive review, there is no member information that stored on the Chatib website that is viewable by other members. The only way to learn about members is by chatting with them in a chatroom or by participating in some of the online games that are also available on the site. This is great news if you want to remain anonymous or you do not want your personal information splashed across the web!
Sign Up Process
RATING
4.0/5
Signing up for Chatib free chat takes a matter of seconds as the information required to create an account is limited. Simply create a username and complete some demographic information. Once you have completed the registration form, you will need to check your email for a confirmation link and then you are all set!
Not feeling so keen on submitting your demographic information and email? You are in luck as it is possible to use Chatib without registering. Regardless of your registration status, Chatib makes it easy to hop online from your desktop computer or mobile device from anywhere to engage with other members.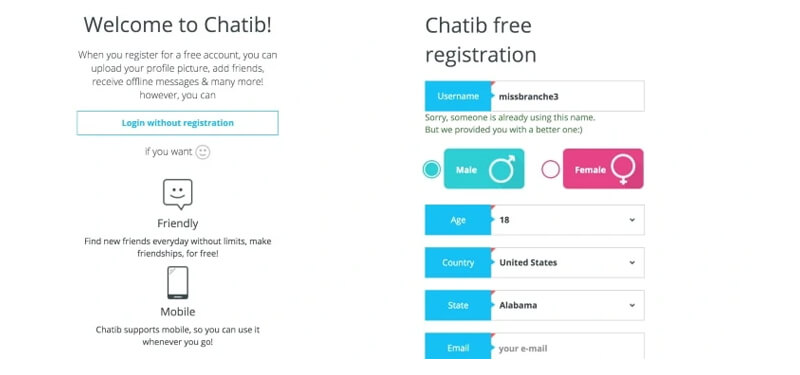 So, why do people spend the time registering for an account with Chatib? Registration will provide you with a username and will allow you to access a message inbox. The message inbox lets you receive messages from other registered users. It is important to keep in mind that those who do not have a registered account will not be able to access an inbox nor will they be able to message others privately through the messaging system.
It is important to stay alert to messages and avoid phishing scams or solicitation for money. As Chatib is an online community that is open, free of charge, and does not require a formal registration process, it is important to be vigilant about who you are talking to. It is best to stick to conversation in the chat rooms and avoid any kind of solicitation.
Contacting People
RATING
4.0/5
Contacting people on Chatib is easy and can be done from any mobile device or desktop computer that has access to internet. Chatib is straight forward and user-friendly, allowing you to be conversing with someone in a matter of seconds.
The way to contact someone on Chatib is as easy as clicking on their username and typing a message in the chatbox that pops up. If you are a registered user, you can also send a private message to another member's inbox. Once the member opens their inbox, they can respond to the message or contact your username directly to begin a chat.
Messages can enter your inbox at any time, so it is important to check it frequently so that you do not miss out on an opportunity to interact with someone special.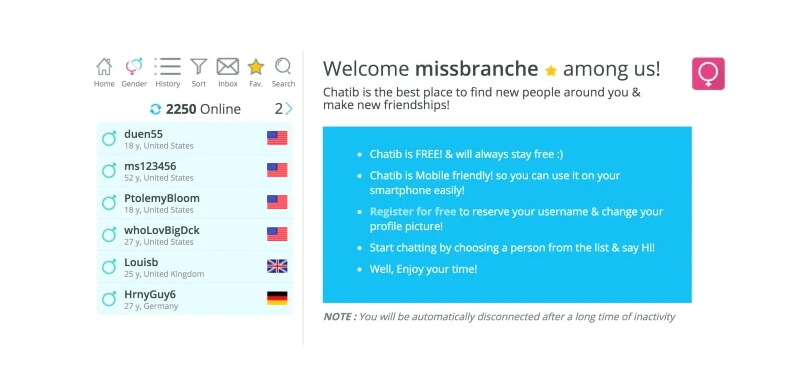 After your chat has ended and you have logged off, you may find yourself wanting to contact a member again. If you remember their username, you can send them a message through their inbox, or you can search for the member to find out if they are online.
If you forget a member's username, you can access the "history" feature that will highlight the members you have interacted with most recently. This feature is helpful, especially if you are a social butterfly and enjoy chatting with several people at once.
Profile
RATING
3.0/5
OFL Top Recommendations based on 100,000+ Survey

"Serious Relationships"
"Discreet Hookups"
"Best Course for Men"
"Quick Flings"
"Normal Hookups"
"Our Quiz"
With so little information collected upon registration, it is no wonder that the only "profile" information that is viewable from others is username, age, gender and location. No other information is provided up front. It is important to mention that when creating your username or conversing with others, adult or foul language is not permitted.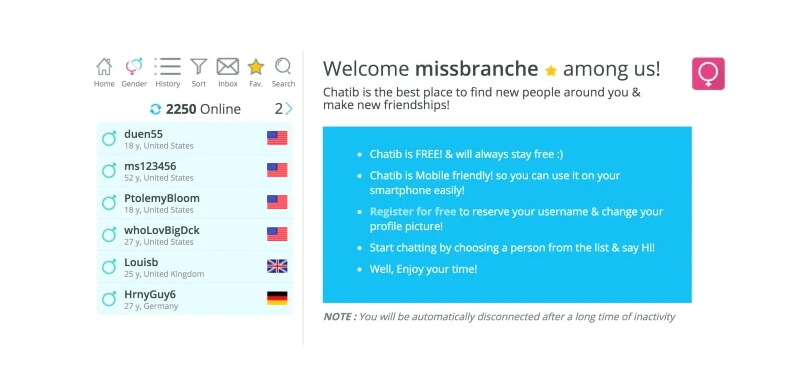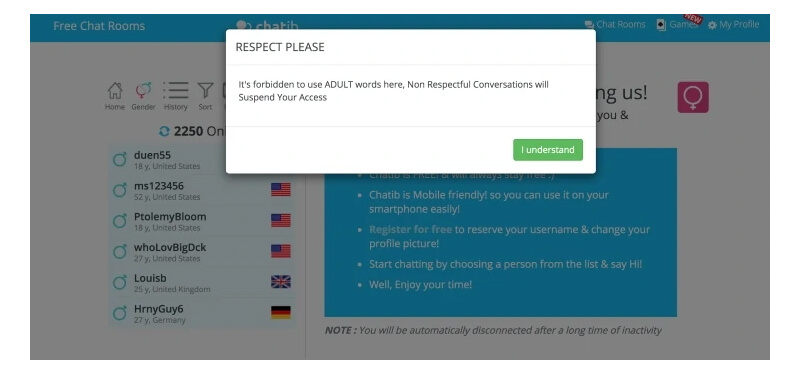 Mobile App
RATING
3.0/5
While Chatib advertises on their website that their chatrooms are mobile friendly, I could not find an existing app for iOS or Android.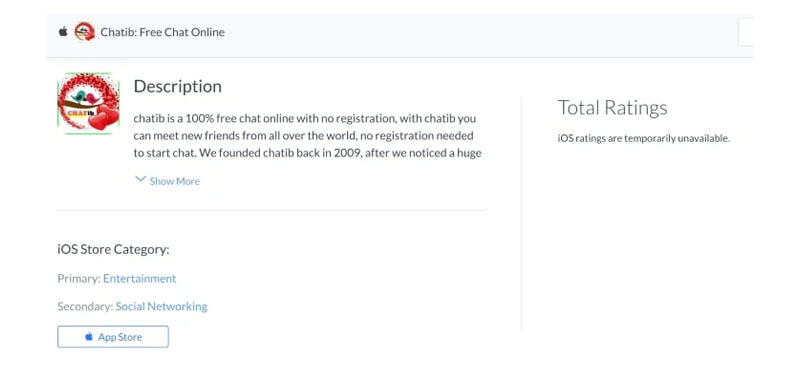 After finding the Chatib app for iPhones description on a third-party site, I attempted to find the app in the app store only to receive an error message. As you can see from the screenshot, "download Chatib app" was not a viable option which honestly left me disappointed.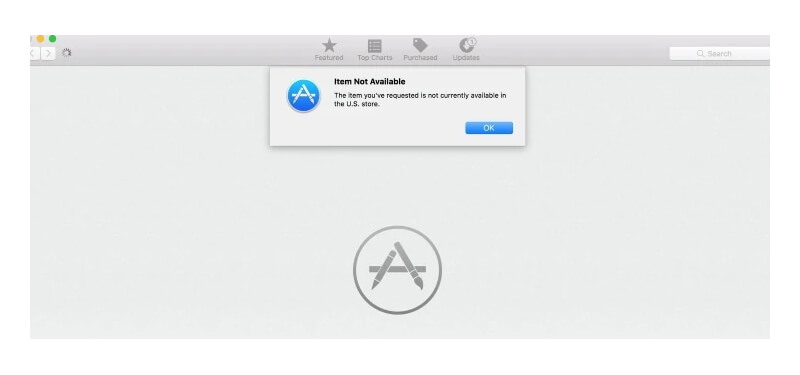 As a result, I drew the conclusion that there is not a mobile-friendly Chatib app available. However, the Chatib chatrooms can be launched on your mobile device via web browser which still allows you to interact with people from all over the world while you are on the go.
Membership Options
Unlike most chatrooms, Chatib without registration allows you the same level of access to chat as those who sign up for an account. The only membership option available on Chatib is free! At this time, there are no membership options that include enhanced features for a fee. Because the chatroom experience on Chatib is entirely free, you will notice that there are very limited features. One can conclude that in order to keep the price free for all users, the website and chatrooms are simple and lack enhanced features. Chatib does not include built-in safety measures, such as age verification, and there is very limited access to customer service assistance.
The Bottom Line
Chatib free chat has taken the world by storm and is a popular option for those seeking the ability to connect with others from all over the world in a non-committed capacity. This site is suited best for those who are not looking for a serious relationship or a long-term commitment. Whether you are looking for a quick chat with someone random, or you hope to connect by playing online games while chatting, Chatib is an open community that is worth trying out. The nice part is that everyone is welcome at Chatib!
Frequently Asked Questions
Is Chatib safe?
It is important to practice safe online habits when using any chatroom. There is a disclaimer on the Chatib website that mentions that due to the sheer volume of people interacting in the chatrooms, it is impossible to monitor every person and verify ages. Therefore, it may be a good idea to change your password often and to definitely avoid phishing scams and messages asking you for money.
What are the age requirements of Chatib?
As with all adult entertainment and dating websites, all members are required to be at least 18 years of age. The website does mention that verification of age is not possible at this time.
How do I contact Chatib customer service?
Chatib.us is managed by the Track Media Limited Company and all customer service inquiries should be emailed to [email protected]