In today's review, we are taking an in-depth look at BiggerCity.
This is an online dating website for gay men who identify themselves as chubs primarily or chasers who want to date them.
But you'll also find bears on this dating app too.
Our review of the Bigger City Gay dating service will help you to assess the site as we analyze everything about it.
OFL Top Recommendations based on 100,000+ Survey

"Serious Relationships"
"Discreet Hookups"
"Best Course for Men"
"Quick Flings"
"Normal Hookups"
"Our Quiz"
And if you've ever wondered if you should start a profile here, this article will help to confirm whether that's a good idea or not.
During our review, we will highlight everything you should know about the site but particularly:
So if you want to know the ins and outs of this site and the overall strengths and weaknesses, be sure to read on in this BiggerCity review.
Is your dating app giving you the best chance for success?
Make sure to take our online dating site/app quiz to find out.
It's a fact that people who follow our dating site suggestions have on average 2 extra dates per month.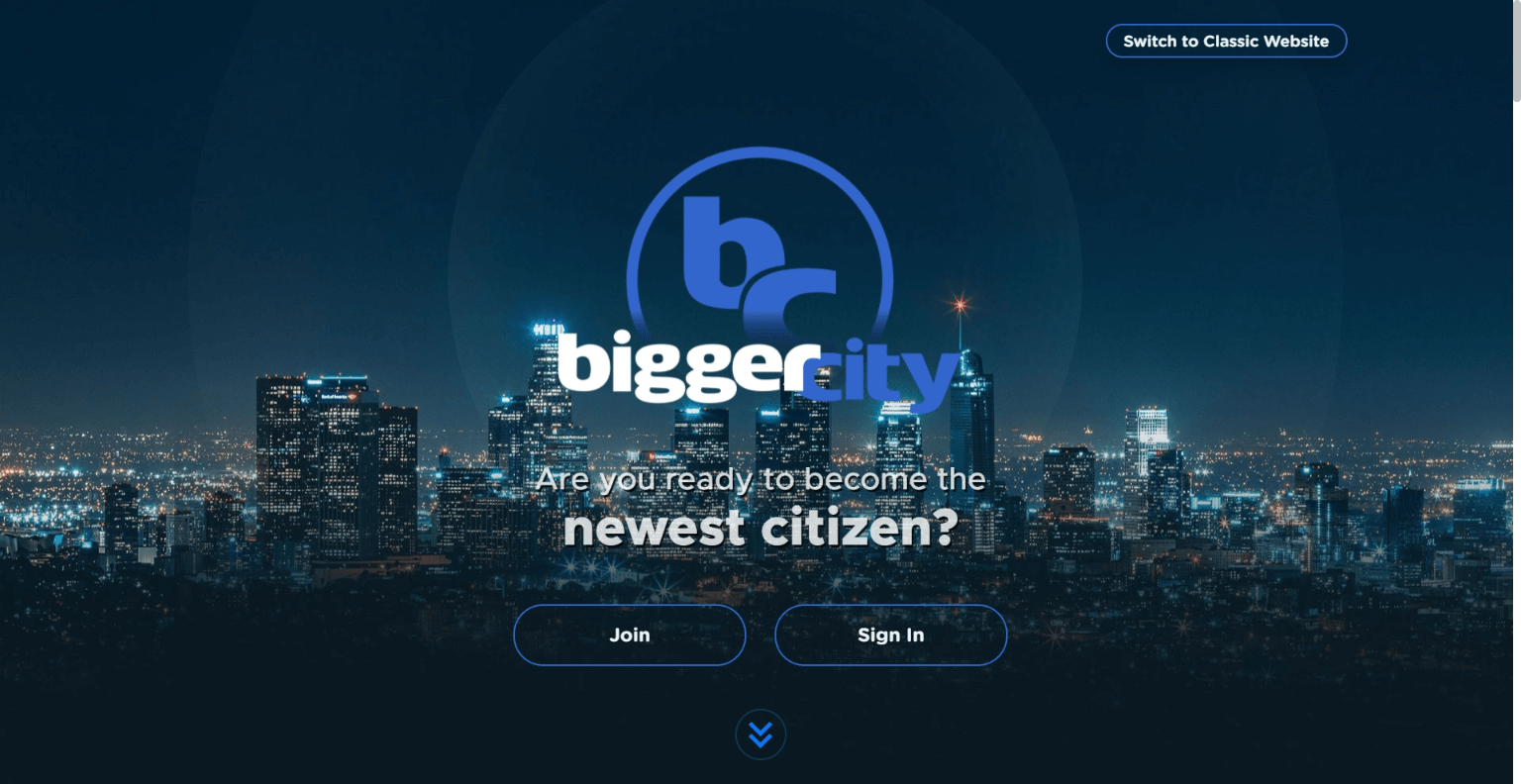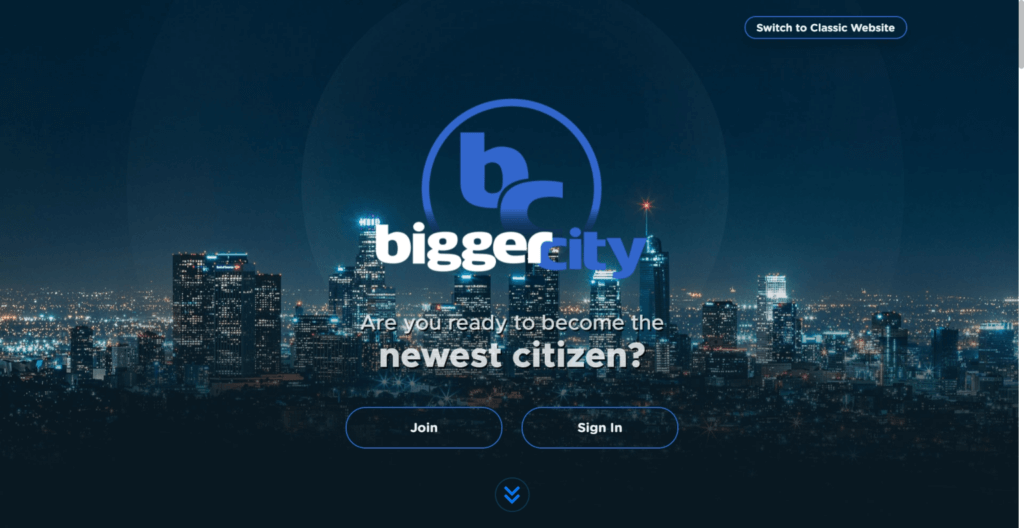 Ease of Use 4.5/5
Effectiveness – 3/5
Key Features – 4.5/5
Pricing – 5/5
Well-design, simple to use site for gay chubs, chasers and bears
Includes calling and video calling options
Limited free messaging
Tons of member features
Excellent pricing
Has a dating app
The user base could be bigger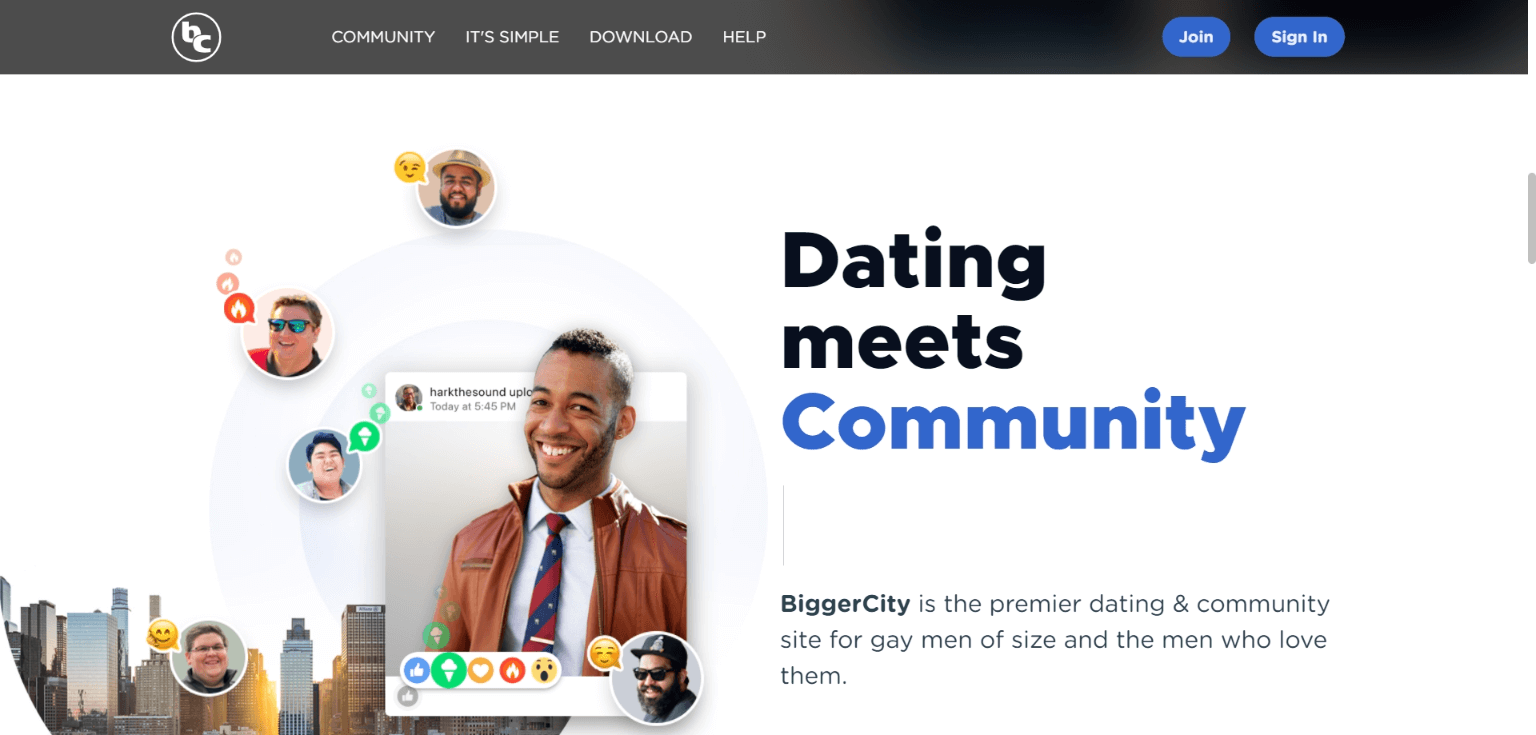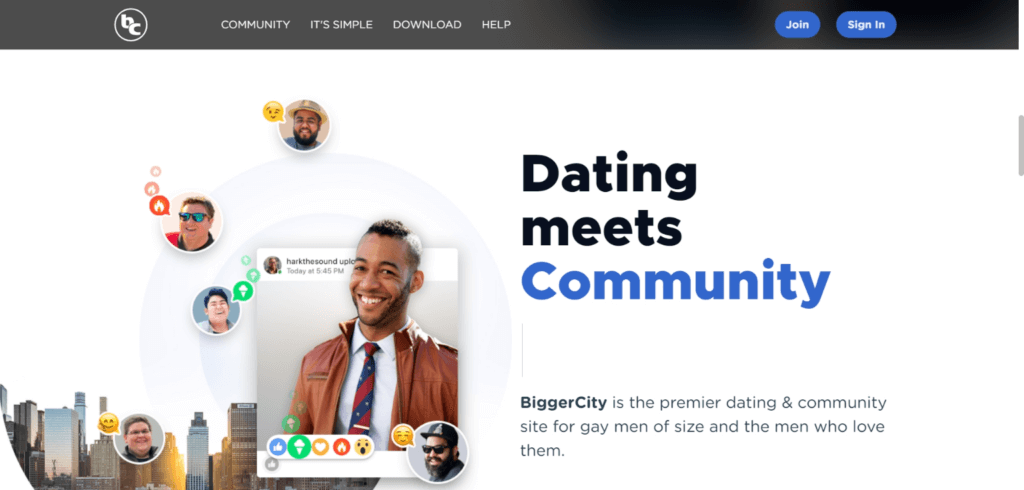 Who's It For/Demographics?
So to clarify, this is a dating site aimed at a particularly kink in gay dating.
It's filled primarily with chubs and those who want to date them (including other chubs of course but also chasers).
Just as in real life, you'll find those looking for long-term relationships (like eHarmony or Tinder), as well as those who just want to hook up for more casual dating (like BeNaughty or Ashley Madison).
But what about user numbers?
OFL Top Recommendations based on 100,000+ Survey

"Serious Relationships"
"Discreet Hookups"
"Best Course for Men"
"Quick Flings"
"Normal Hookups"
"Our Quiz"
Just how many people have signed up for profiles on BiggerCiti?
Well, the overall number of users wasn't forthcoming but the bigger user base is found in the United Kingdom and the United States.
I would guess that overall, this niche dating site has around 500000 users.
Here are some other stats and facts I found out about BiggerCity.
300000 are from the United States
Around 10000 are active on the site each day
That's 70000 a week and 300000 each month
The Bigger City app has been downloaded over 100000 for Android devices
It has a star rating of 4.5 on the App Store
In terms of a breakdown of user types, surveys done by Bigger City show that:
33% of users label themselves as chubs
28% of users label themselves as chasers
19% of users label themselves as bears
Assigning a label is not compulsory, however, but at least this indicates more or less who is using the BiggerCity app and website.
As for age range, well the site's popular age is 35 to 50 so yes, there is a fair range of middle-aged to older guys on the site.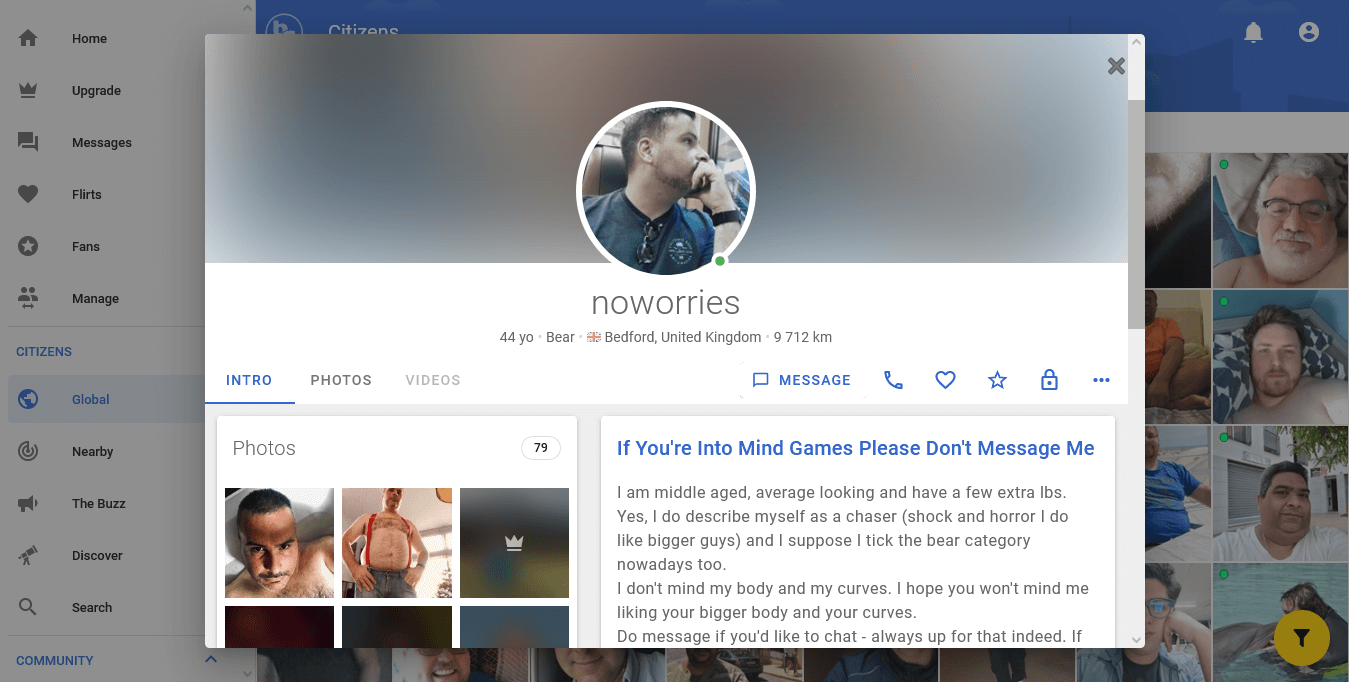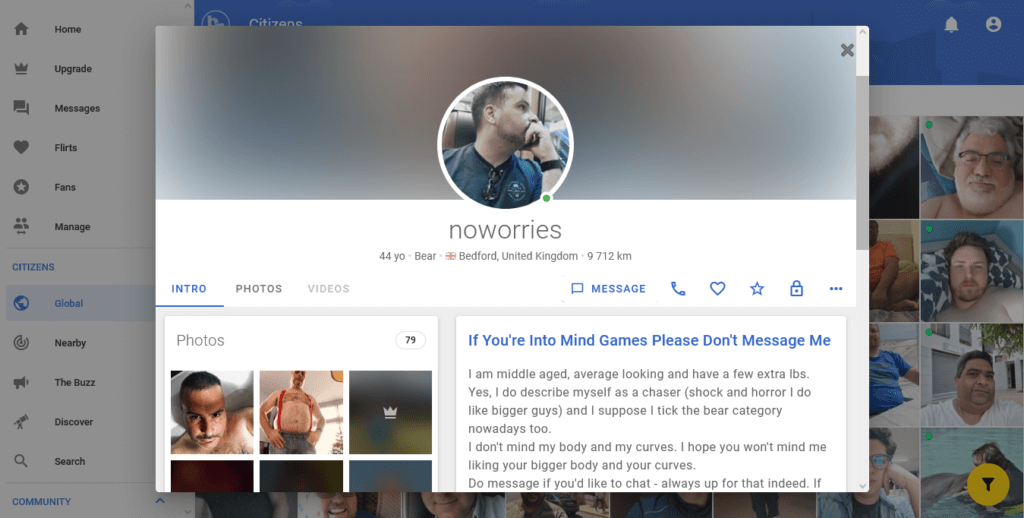 If you prefer to use a mobile application, BiggerCity has you covered on both Android and IOS devices, or you can start your journey through the website.
That has no social media login and the process itself is relatively simple.
This is the information you will need to provide:
Username
Password
Location
An optional community tag (your options are chub, chaser, chub4chub, bear or no tag)
Age
Height
Weight
A verified email address
Following this, you will need to input a code sent to your email address and finally complete a captcha check
Once you gain access to the site, you are immediately taken to your profile page.
Other than your user name, your age and location, nothing is complete here.
In fact, a profile completion indicator will show a big round 0% competition rate.
Obviously, those behind the site want users to get their profile out of the way as soon as possible, otherwise, you wouldn't have started here.
And while you can move away, I would suggest getting it done.
To behind, start with your profile picture and move on from there.
So what kind of information do you need to add to your profile?
Well, there are a few sections including:
About me: Let people know exactly what you are like and what you are looking for by filling in this section
Travel plan: Here you can add where you intend on traveling to in the next few months. This is a member-only feature.
Prefer contacts: Here you can list who you want to contact you, for example, only those near your location to anywhere in the world)
Personality: Here you can select various keywords that you would attribute to your personality. They include words like confident, easy-going, clean-cut, romantic and more
Interests: Again, these are keywords so you can give other users an idea about things you are into, for example, travel, sports, cooking and dancing.
About: This is not like the About Me section, instead it contains various other bits of information, for example, appearance parameters, your relationship status, what you are looking for, your preferred role and lifestyle habits.
And that's it although you can upload more photos and videos if you'd like to.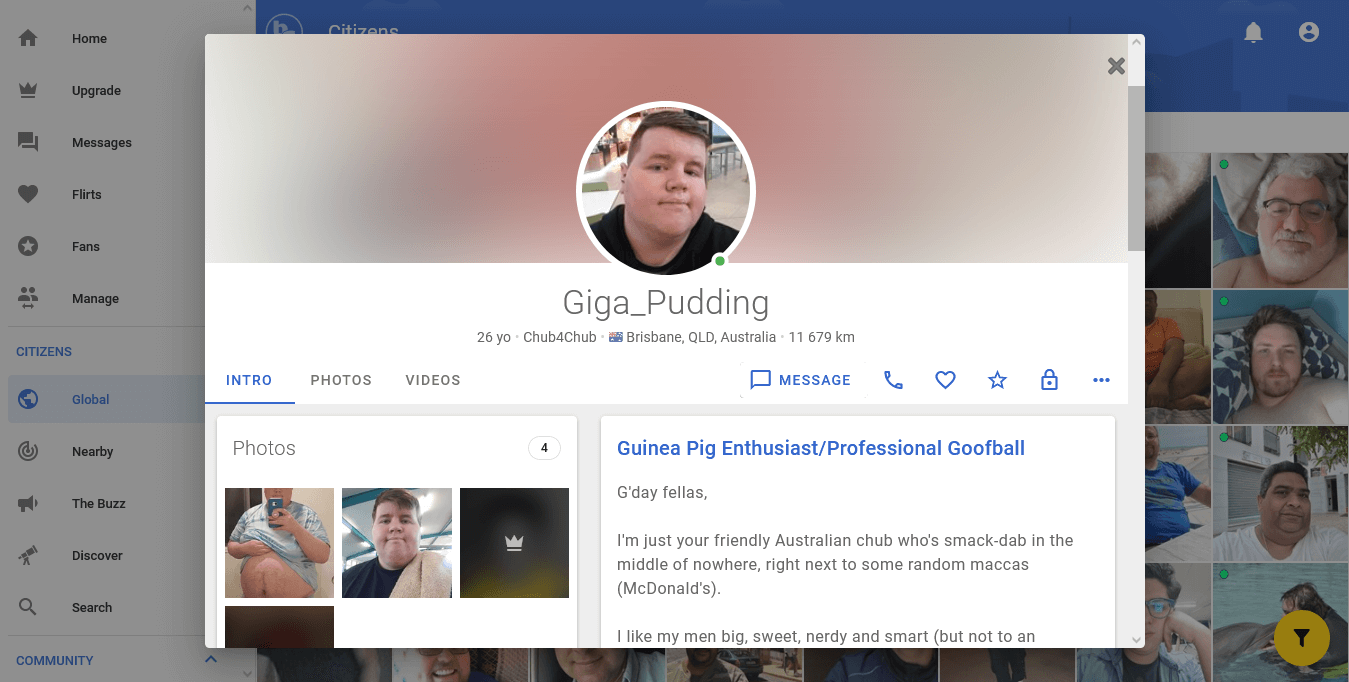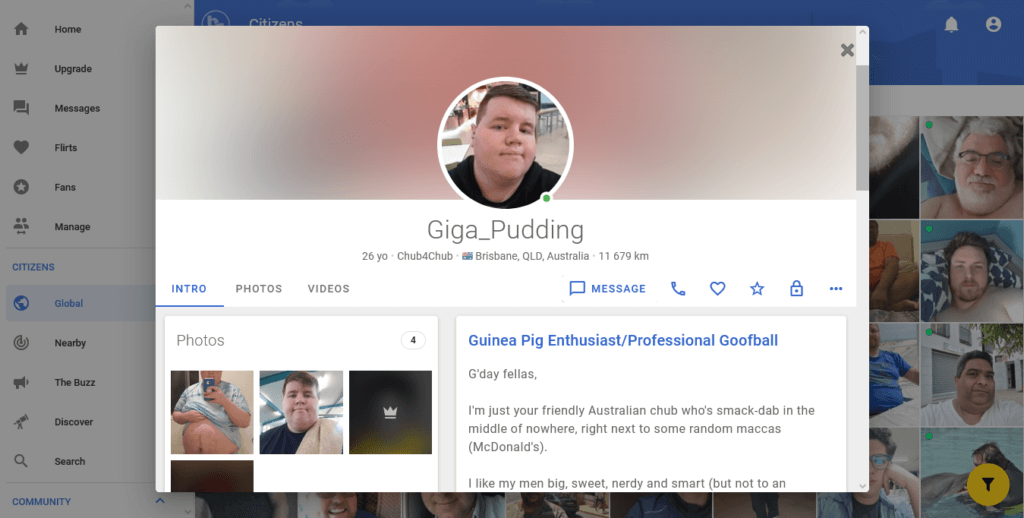 Finding your way around the site
BiggerCity has recently undergone a site design and the new one is fantastic.
It's a joy to navigate, that's for sure and the colors, mostly grey and blue just work so well.
You will notice two separate sections to the site.
On the left-hand side of the screen, you will find the menu system which takes up about a fifth in total.
The right-hand side of the screen acts as the viewing pane for the particular part of the site that you are on.
Let's quickly talk about the menu system as this is how you will navigate your way around the site:
Home: This is the home page of Bigger City. Here you can view matchups the site assigns to you based on your preferences. You can also see users nearby, new users near your location and around the globe as well as launching searches of your own. Finally, you can see if you have any fans, followers or likes.
Upgrade: Click here if you want to become a member of BiggerCity
Messages: Find all your message by clicking here
Flirts: Click here to see who has flirted with you
Fans: Click here to see who has viewed your profile, followed you, liked your profile or unlocked their profiles for you.
Manage: Click here to see who you have unlocked your profile for, your favorites and who you have blocked.
A few things about unlocked profiles.
All this means is that you have given someone access to your private photos or vice versa.
That's not the only menus, however.
There are more below that as well in the Citizen section.
These are:
Global: Here you can see users from all over the world
Nearby: Here you can see users near your location
The Buzz: This is a social networking side of the site. You can see when users have uploaded new photos or posted in the BiggerCity forums.
Discover: Here you have access to new users, those who are celebrating their birthdays, the most followed, those with the most likes and the most viewed.
And the menus don't end there because there is still the Community Features section:
These menus are:
Chat: Acces the chat rooms here
Events: Click here to find social gatherings organized by BiggerCity
Forums: A host of forums can be found here including travel and events, general discussions and health and well-being.
Galleries: In the galleries, you can see pictures of users from around the globe. Note this is adult content only. These are displayed as thumbnails and if you want to see more, simply click on them.
Polls: Take part in various polls posted by other users or post your own here
Settings: Change site settings here
While I am never a fan of sites with more menus than are necessary, the way the Bigger City has don't theirs does work and isn't to the detriment of navigation.
But that said, there still overlapping menus in each section which I don't think is necessary.
It's important to note that this is a bandwidth-heavy site, so take that into account if you have limited data.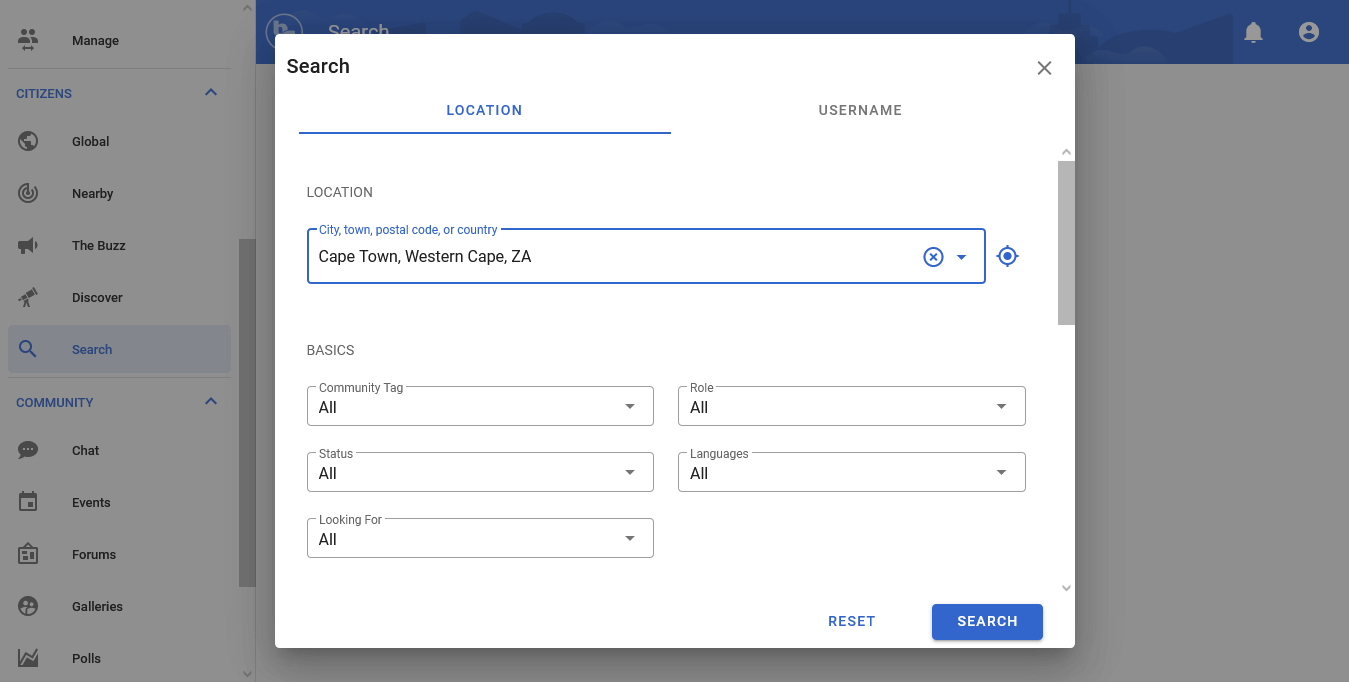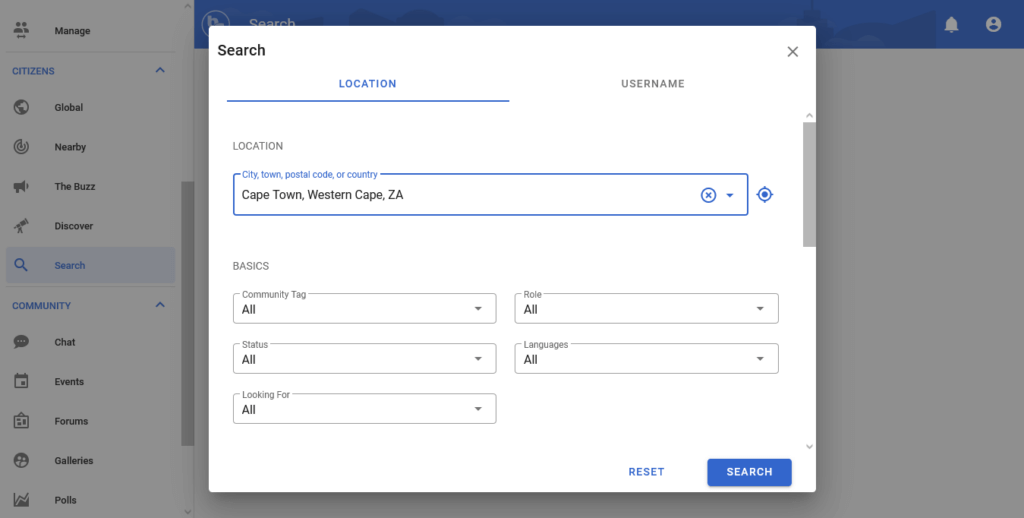 From my perspective, one of the strengths of BiggerCity is the sheer amount of options you have when looking for a potential matchup.
From matchups suggest by the site to the various search options to finding users on the forums that you'd like to get to know better, there is plenty of variety when you compare your options here to other sites.
I am going to take you through the two that you are going to use the most often.
Those are matchups the site suggests for you and those that you search for yourself.
The easiest way to see the matchups that the site suggests for you is by clicking on the homepage.
There will be users from around the world shown on the first screen you see so if you are into making new friends, this is a good place to start.
If you want to find a local person to date, you can click on the Online and Nearby or New and Nearby options.
Both of these pretty self-explanatory and will provide you with users that are near your location.
Searching for your own matchups
On the home page, you will also notice a Search option.
This gives you access to an excellent search engine with several parameters that you can change, even for a regular user.
So what parameters can you change?
Well, 16 in total and they are:
Location
Community tag (chub, chaser, chub4chub, bear or no tag)
Relationship status
Looking for
Role
Language
Physical and appearance stats (age, weight, height, build, ethnicity)
If the returned profiles should include a photo
If the returned profiles should include a video
Search for only new members
Search for only traveling members
Online status
As there are plenty of things you can change here, it's nice to see that the admin team of Biggercity has also given you the option to save your various searches.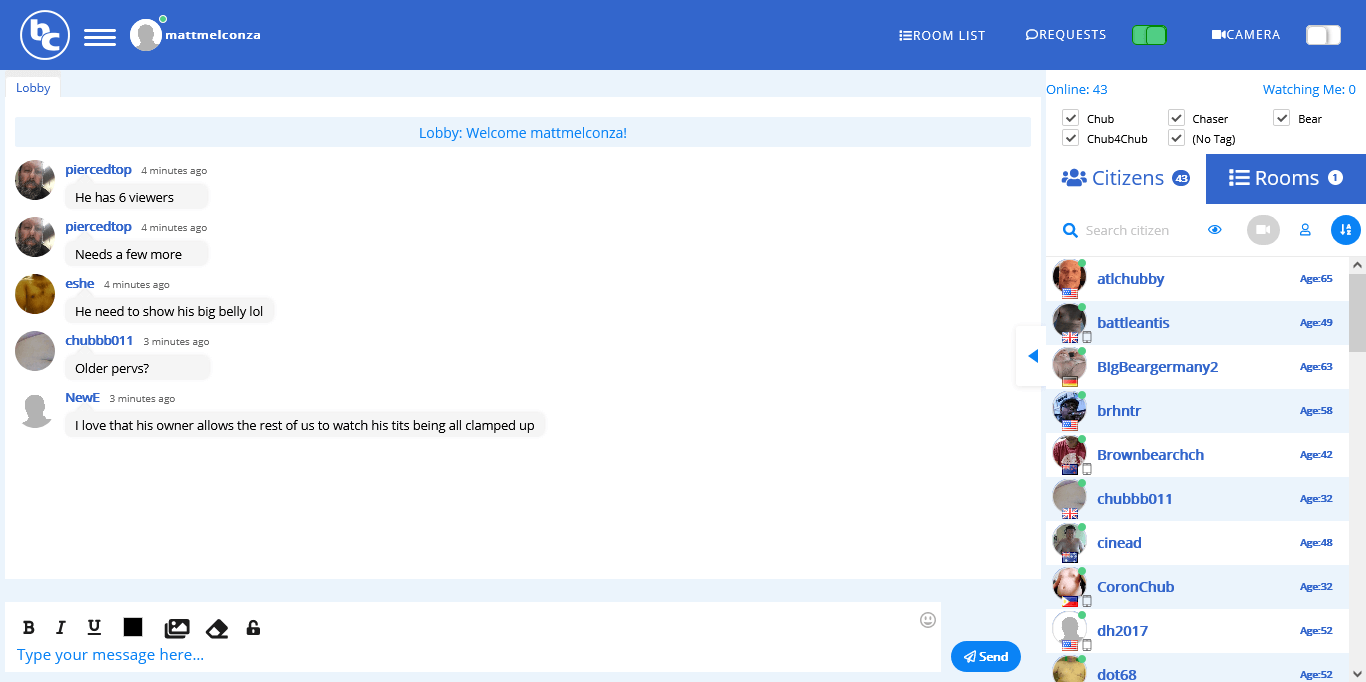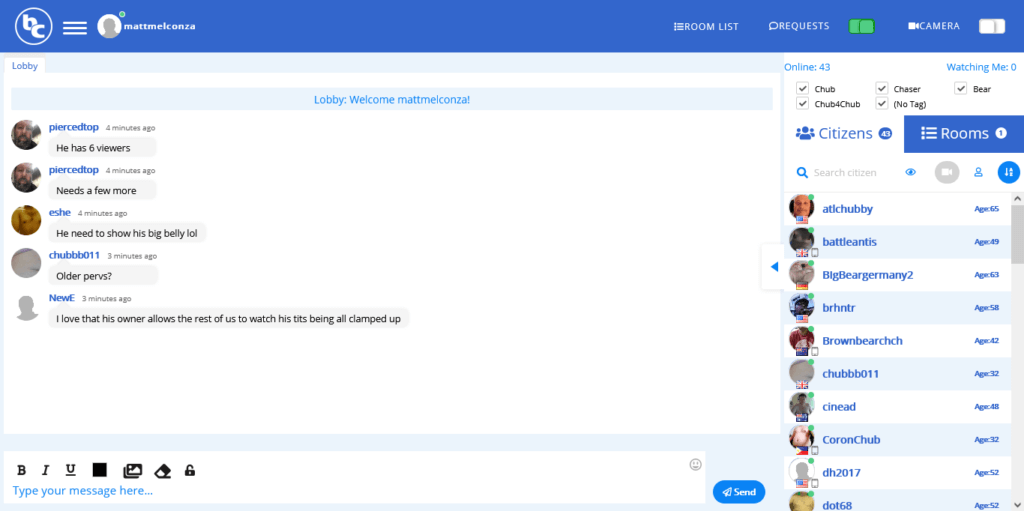 Reaching out to others on the site
The site really exceeded my expectations when it comes to ways to contact other users.
Yes, you can message them but you can also call or video call them as well using your webcam.
That won't be for all users, however, because a privacy setting on everyone's profile allows them to disallow video or regular calling if they'd prefer to.
You can also send a flirt to someone or add them as a favorite.
If you'd like to see their private photos, you will have to request that they unlock them for you.
Messaging for regular users is possible but limited.
Strangely enough, voice and video calls are not limited at all.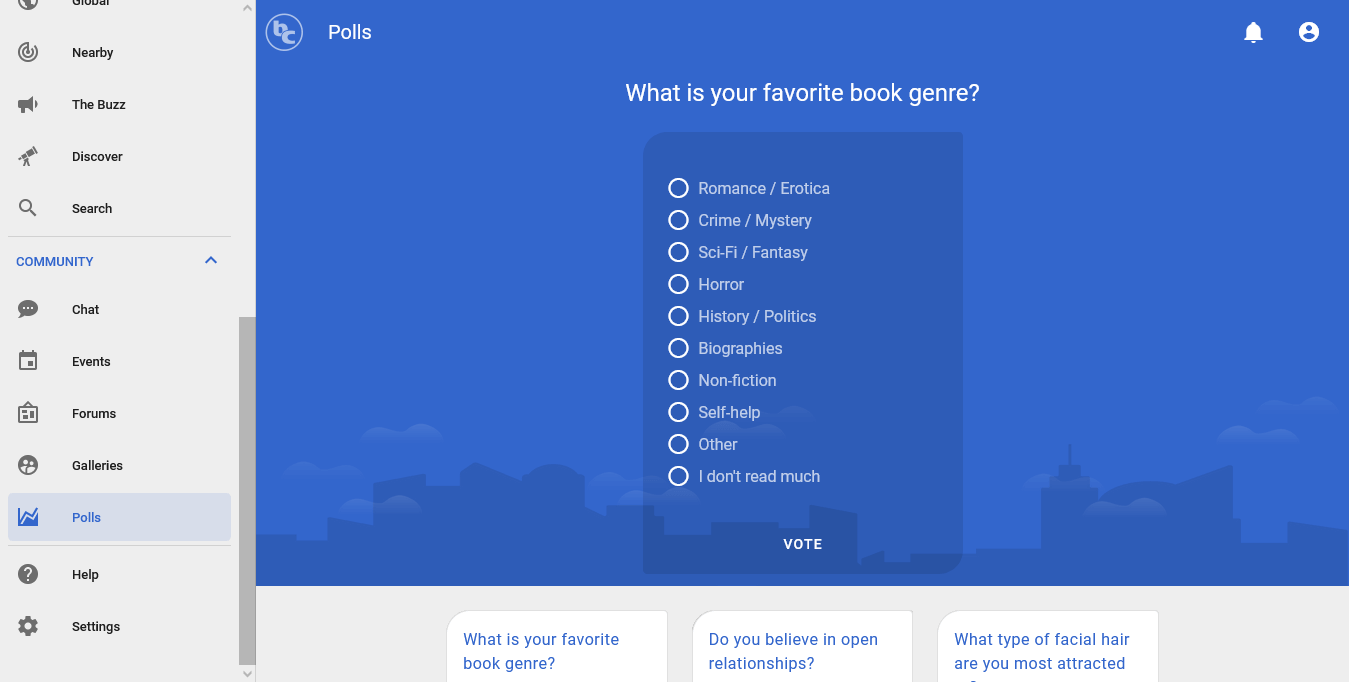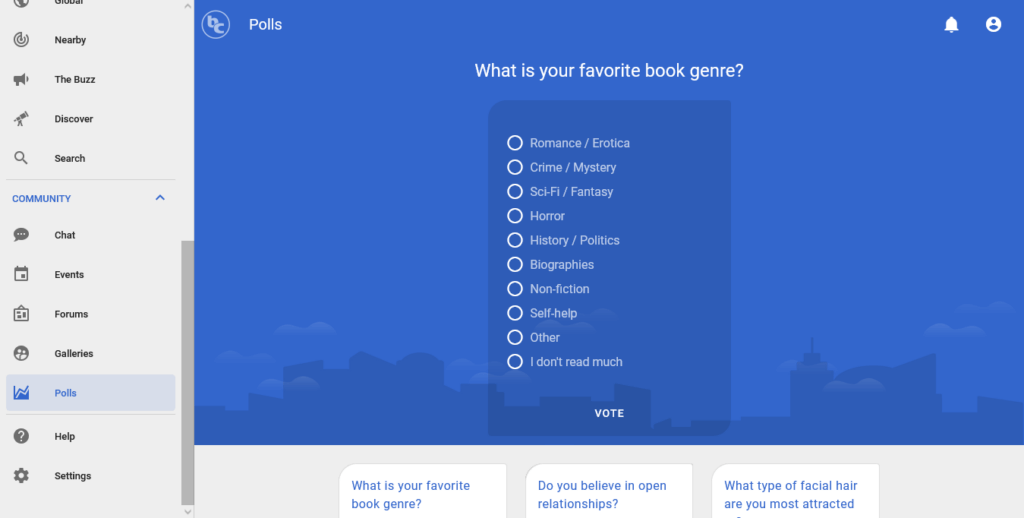 Without a doubt, as a free user of BiggerCity, there are many features that you can make use of on the site.
For example:
You can send limited messages
You can send flirts
You can call and video call others
You can use the chat rooms
You can view community events
You can take part in the on-site monthly raffle
​Read forum posts
And more
But what about those who pay for membership on the site?
Well, these are the extras that you can expect.
Yes, that's right.
Those with a paid membership can send as many messages as they like, there is no limit at all on this.
2. Extra pictures, videos, favorites, blocks and unlocks
Members can upload extra pictures and videos, add more favorites, block more users and also can unlock their profile for others more times than regular users.
3. More profiles per listing
Whenever premium members search or if you look for potential matchups, they will receive far more profiles per listing than a regular user.
And that can only be a good thing.
With extra privacy options, you can now hide the fact that you have been browsing other user profiles.
You can also set your profile to appear offline to others.
While regular users can view the forums, they cannot post any topics of their own or reply to those posted by other users.
Only those users with membership can do that.
Nothing is more annoying than sending a message to a user and not receiving a reply.
As a member, you can see if your messages are read, however, and if someone isn't responding, they probably not that into you then and you can move on.
That's just an example of some of the extra for members, there are even more relating to making polls, disabling flirts and seeing who has followed your profile, for example.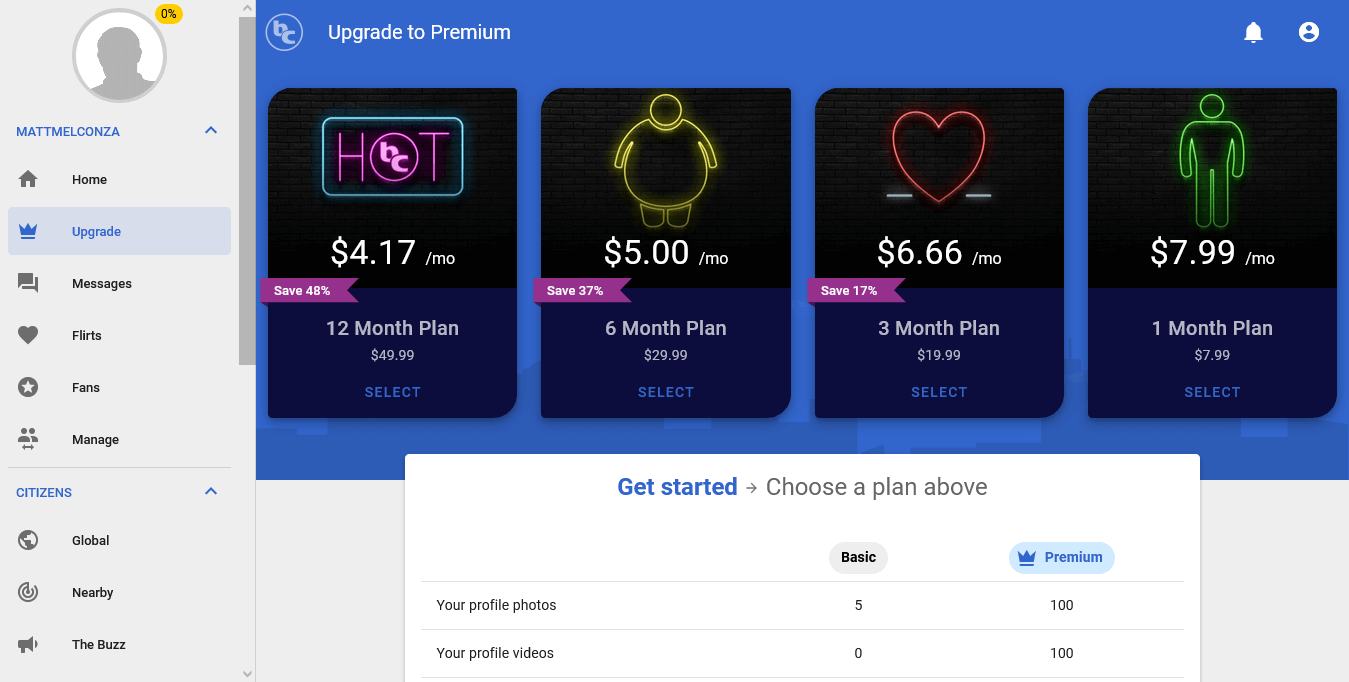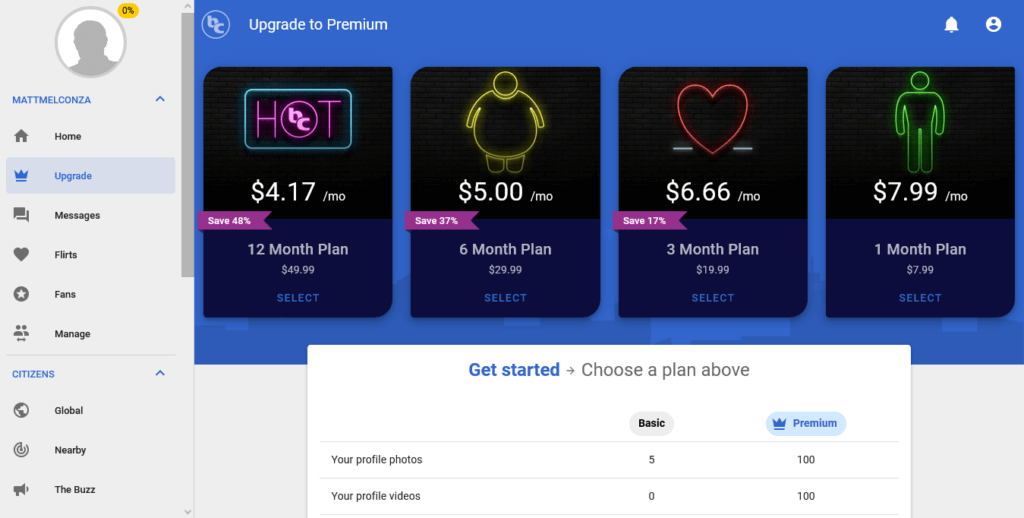 Now that we know that you know a little more about what those with premium accounts can do on the site, let's look at the cost.
I am not going to lie, I really thought that with so much offered in terms of key features to members, the price to become one was going to be extremely high.
But I can clarify that it only 7.99 USD per month to sign up.
How well priced is that, right?
Clearly, those behind the site understand that making prices so competitive means people will sign up for membership.
Many other dating sites could learn from that approach.
If you do sign up for membership, the easiest way to make payments with your credit card.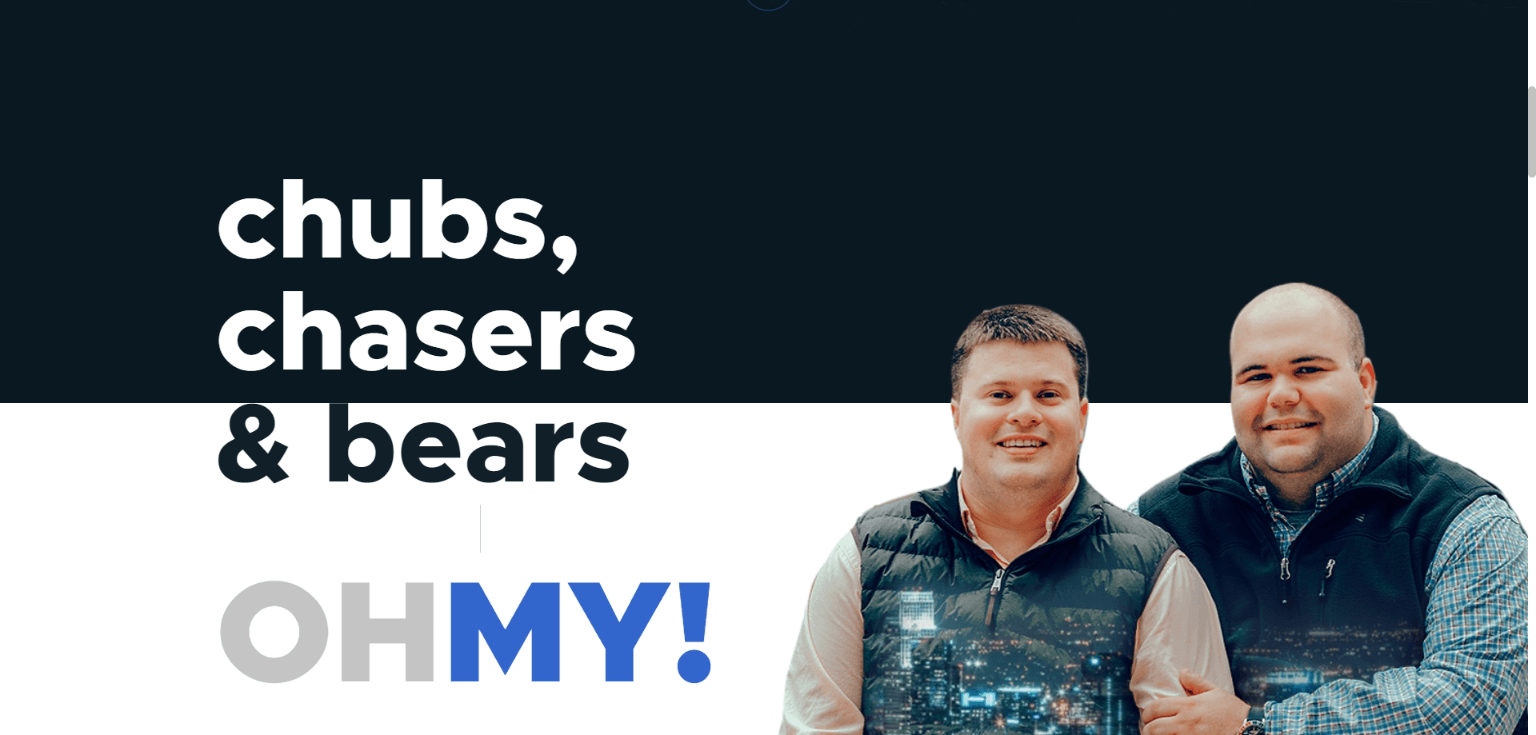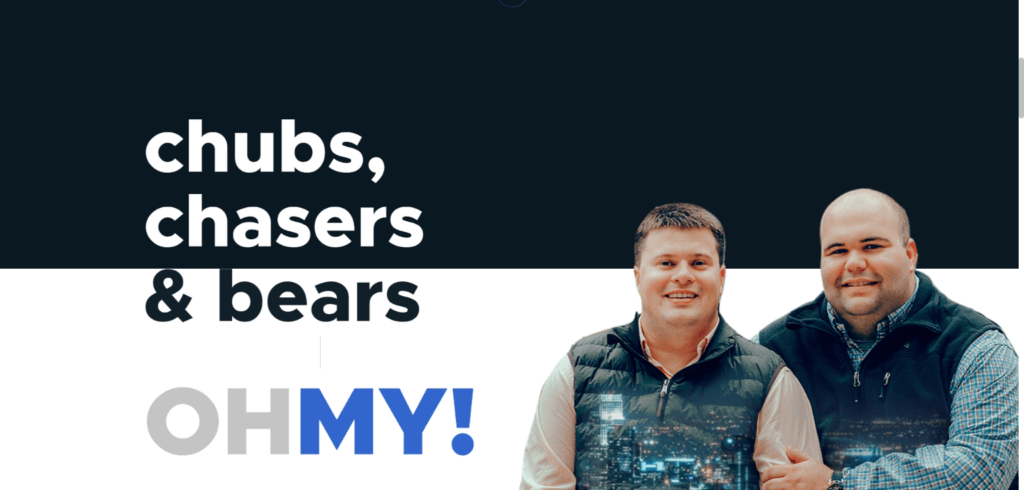 Conclusion and Overall Rating
That's it for our review of BiggerCity.com.
No doubt, this is an excellent site for chubs, chasers of chubs or chubs looking for chubs.
​And throw in bears as well into that mix.
It really has so many positives.
While I loved the overall design of the website and how easy it is to find your way around, for those who prefer dating apps, well BiggerCity has you covered in that regard as well.
And that's both for Android and IOS devices.
Another plus is the fact that BiggerCity gives you a range of options when it comes to finding matchups.
For me, the search engine is the best, however, because even for regular users, there are so many parameters that you can search for, including the type of relationship.
And for many, that's the most important parameter when it comes to finding what you want on a dating site.
The other great thing about this site is that you will find users looking for all kinds of relationships.
I would say the majority are looking for hookups but many are out to find love too.
As for a user base, well it's not like your more commercial gay dating sites but you have to remember, this is a niche within that dating community.
The biggest plus when it comes to BiggerCity, however, is the membership pricing.
It's not only cheap but gives one access to so many features, many more when you compare it to other sites, that's for sure.
But onto a rating for BiggerCity.
It gets a well-deserved 4.25 out of 5.
Our OnlineForLove dating expert registered for a profile on BiggerCity, making use of both the website and app for a period of a month.
This review is about their experience while using BiggerCity which includes providing a star rating via which we rank various dating sites.
This star rating is based on certain criteria through which we judge all datings sites and apps.
Those criteria include membership pricing, the effectiveness of matchmaking on the site, ease of use, key features and the number of users frequenting the site.