Welcome to today's online dating site review.
Today, we are looking at a dating service that's primarily aimed at black singles.
​It's one of many niche black dating sites that you will find online.
MyBlackPartner is a dating website where black men and black women can register a profile and meet like-minded people who could just be their soulmates.
OFL exclusive offers - Check all of them

"Serious Relationships"
"Discreet Hookups"
"Best Course"
"Quick Flings"
"Normal Hookups"
"Our Quiz"
​As we assess and evaluate the site, we will find out the following:
That's a ton of stuff to get through, so let's get this MyBlackPartner review underway.
Is your dating app giving you the best chance for success?
Make sure to take our online dating site/app quiz to find out.
It's a fact that people who follow our dating site suggestions have on average 2 extra dates per month.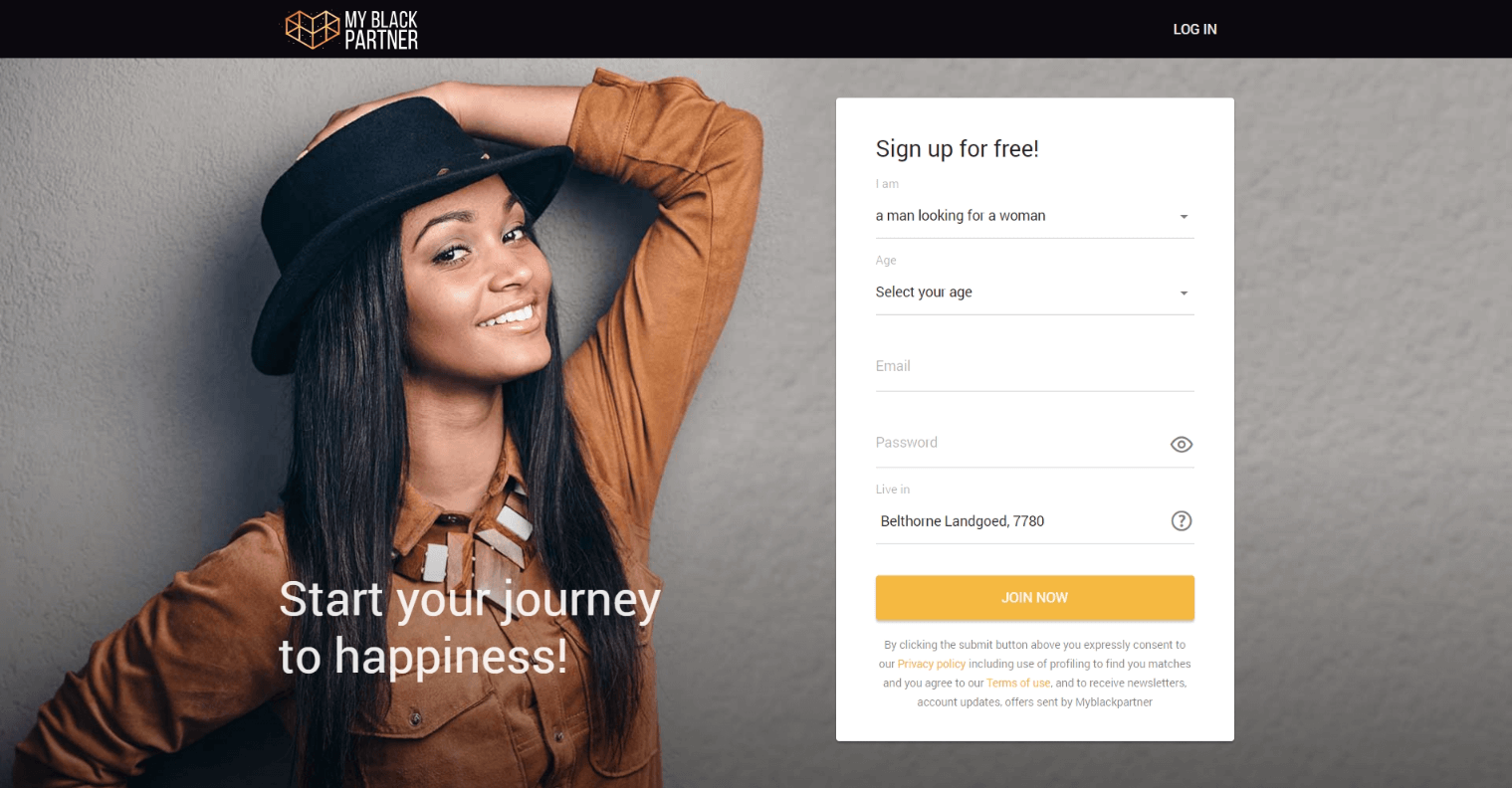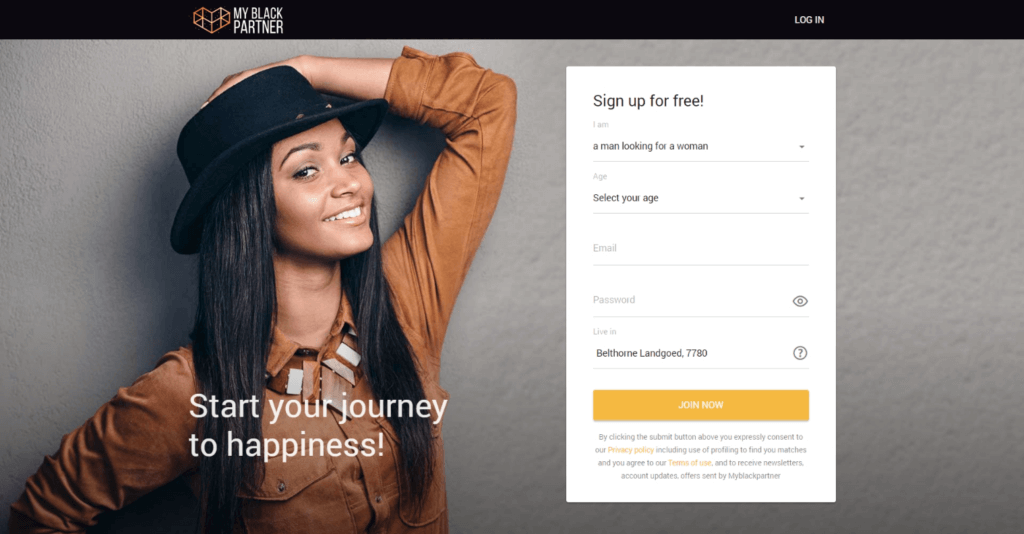 Ease of Use 4/5
Effectiveness 4/5
Key Features 4/5
Price 4/5
LGBTQ friendly
A niche dating site for black people mainly
Active user base
Well-priced membership
Tons of automated messages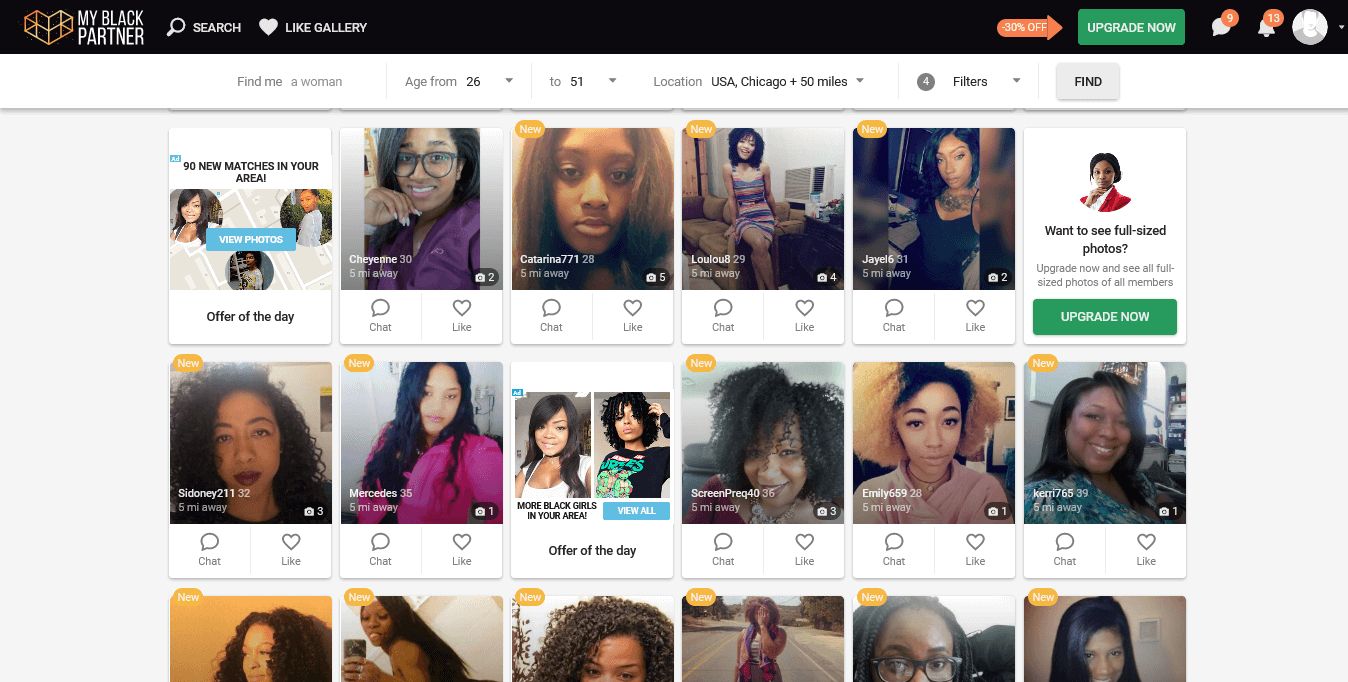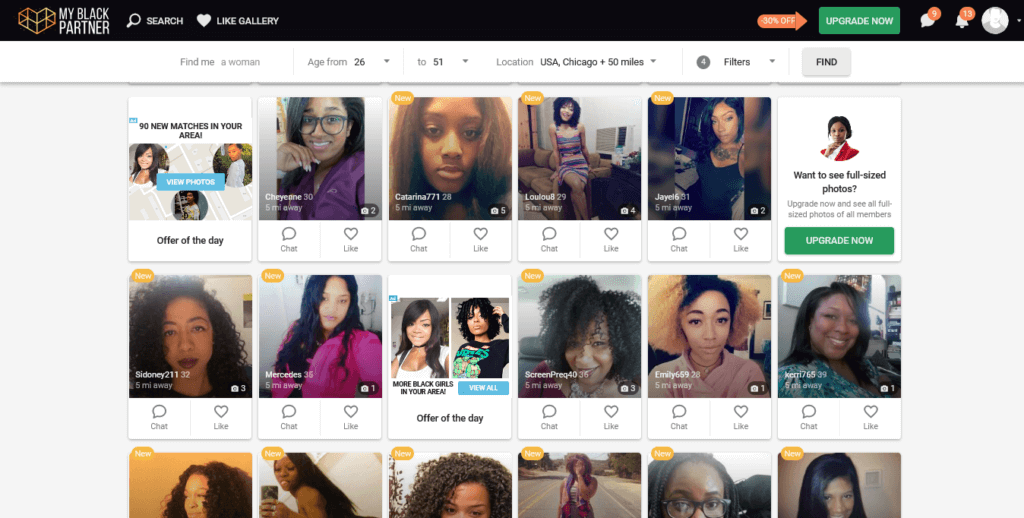 Who's It For/Demographics
Primarily, this is an online dating site for black people.
But it's not exclusively for them.
Anyone who wants to date a black person can sign up for a profile page here too.
Despite many hours of research and waiting for mails sent to the support team at the site, I wasn't able to determine user numbers at all.
From my experiences on the site, however, users are generally based in larger, metropolitan areas and if you are, finding potential matchups for relationships (like eHarmony or Tinder) or hookups (like BeNaughty or Ashley Madison) shouldn't be a problem.
Once using the site, however, I did see that around 2.2 million users had uploaded profile pictures.
This information is seen when you are asked to upload your own.
Is it fabricated by the site or real?
Well, your guess is as good as mine on that one.
In terms of age ranges, well I used the search engine to look through various age groups.
I can report that there are users here, both male and female from 18 years old to 55 and over.
As for gender ratio, from what I could tell during my time on the site, MyBlackPartner has more male users than female users.
Working out the ratio of these males to female users is simply impossible, however.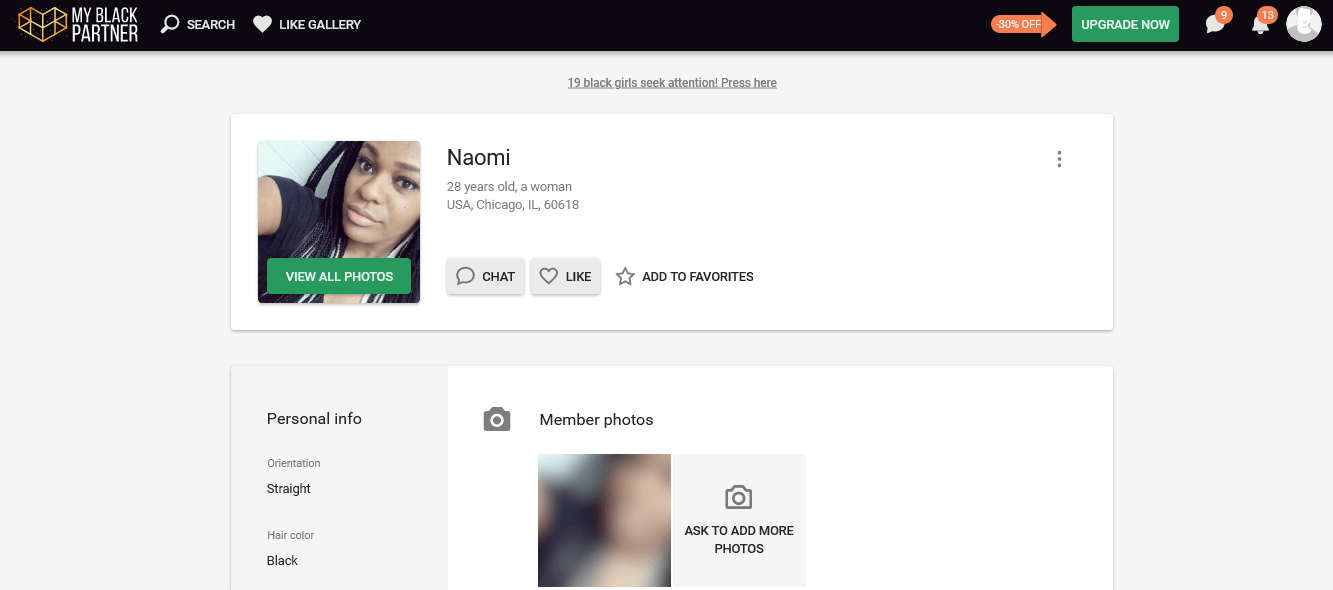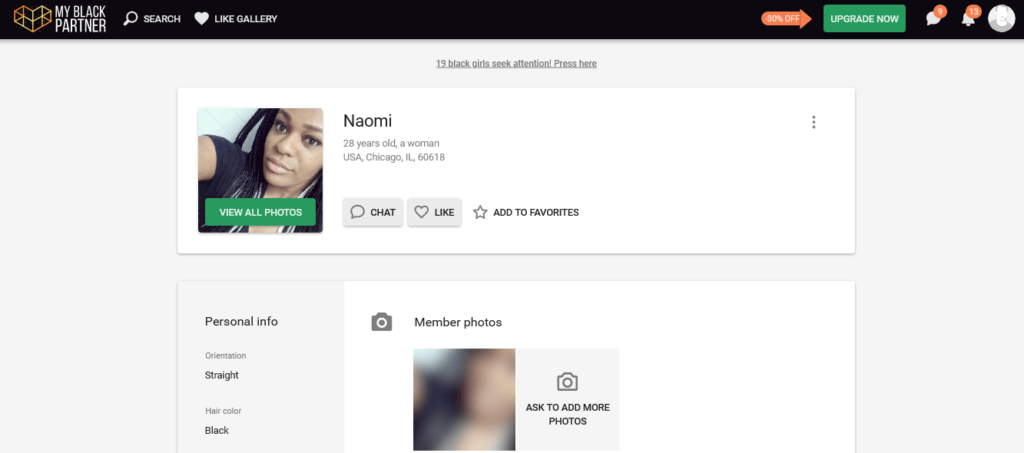 Not even some of the best dating sites on the planet have apps.
And neither does MyBlackPartner.
It can be used on your phone through a browser as it is set up for mobile view.
If you'd like, you can even register this way because the process itself doesn't take that long.
To start, you can provide your gender and that which you'd like to meet, your age, location, email address, and your password.
After confirming your email address by either clicking on a link sent to you or entering a code you will receive for the site, you will see a pop-up to complete your profile.
This is something you can complete now but profiles are packed with information on MyBlackPartner, so if you prefer, you can come back to it later.
That's what I did as I first aimed to get an overall feel for the site.
Finding your way around MyBlackPartner
MyBlackPartner uses an online dating site design template that's pretty popular.
During my time reviewing these sites, I have seen many of them use it.
It's easy to see why as well.
It's just super slick and efficient.
But let me tell you a bit more about it.
From the moment you are taken to the site, you will be presented with potential matchups near your current location.
Of course, you are going to click on a few that you like, right?
And why not.
It's the perfect way to get a look at what's on offer here.
Take some time to look at the menus that you will use to navigate your way around the site.
They are found at the top of the screen but split into two distinct sections.
Let's first talk about the icon menu you will find on the right-hand side:
Speech bubble: This is where you will find all your messages.
Bell: Click here to see any important notifications that you need to check out.
Profile picture: This brings down a menu with several options from allowing you to edit your profile to giving you access to various account settings.
On the left-hand side, you will notice two menus:
Search: If you click here, you are taken to the home page of MyBlackPartner. Here the site provides you with matchups and you can fine-tune your own parameter-based searches.
Like Gallery: Here you can access potential matchups one at a time. Either like them or pass on them to move onto the next person.
That's it for the menu system.
It's super simple and super-efficient, what more could you want.
I will get into some of these menus a little later in the review, but for now, let's get back to your profile if you haven't completed it already.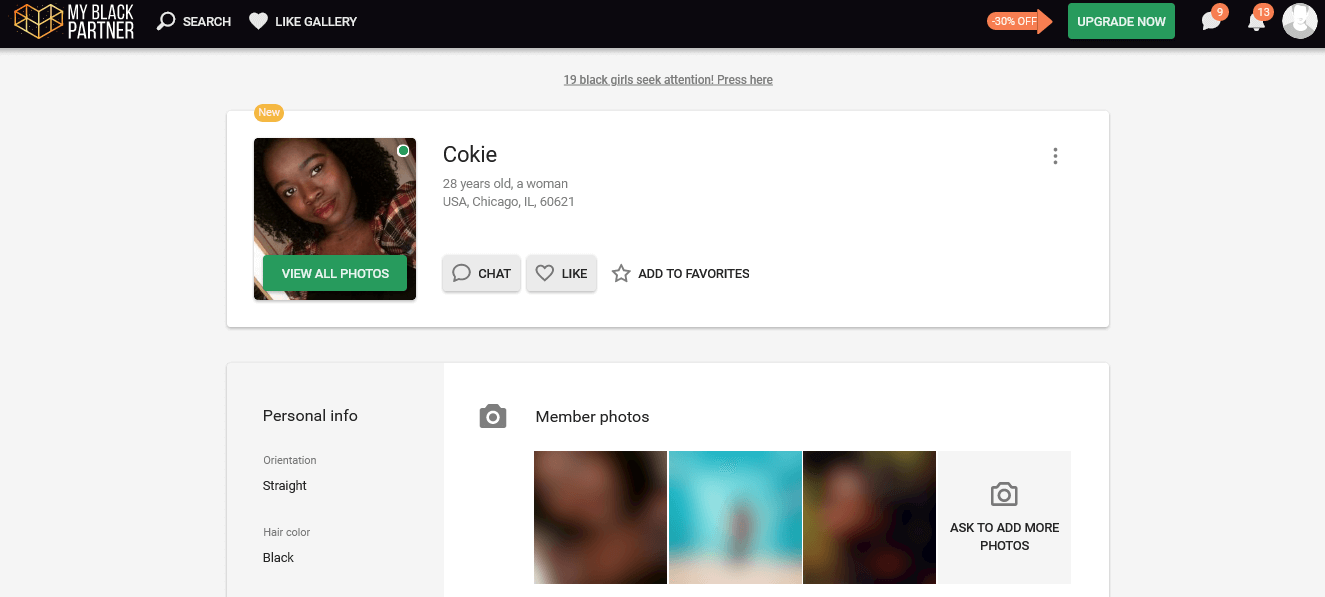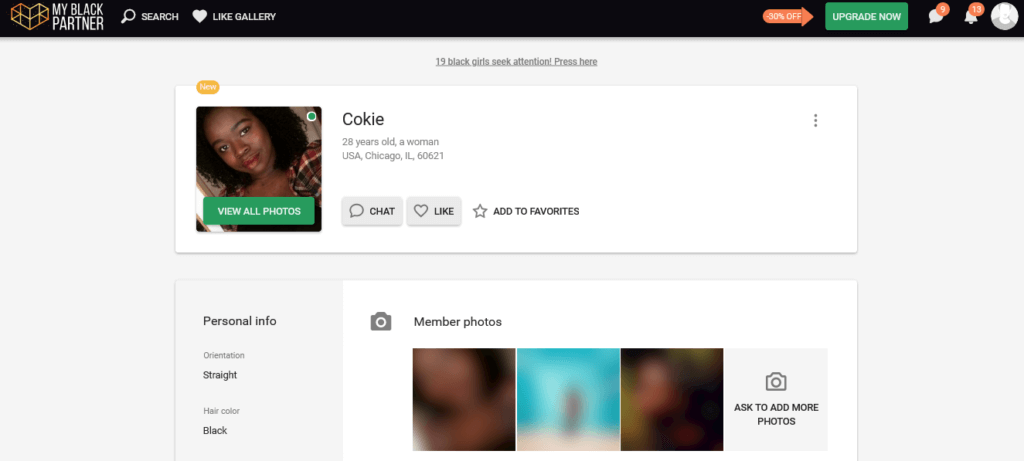 Your profile on MyBlackPartner
While it isn't packed with as much information as you will find on other dating sites, don't neglect your profile.
It really won't take much time to fill in either, around 10 minutes in fact.
There are two distinct sections to your profile: your personal information and additional information.
This is where a potential matchup will learn the most about you.
I want to quickly focus on these two sections.
Let's start with personal information.
This includes:
Your sexual orientation
Your ethnic origin
Your hair color
Your body type
The additional information section has the following:
Your religion
Living arrangements
If you have children
If you want children
Your height and weight
Your education
Your income range
Your personal habits
If you have tattoos
If you have piercings
Your eye color
I find it pretty strange that things like your eye color appear in one section and your hair color in another.
It just doesn't make that much sense.
Rather combine them, right?
You can also add the following to your profile:
More photos
A profile video
A status or profile header
You can also just what you are looking for in terms of gender, age range, and location.
This helps the site give you the right kind of matchups on the home page.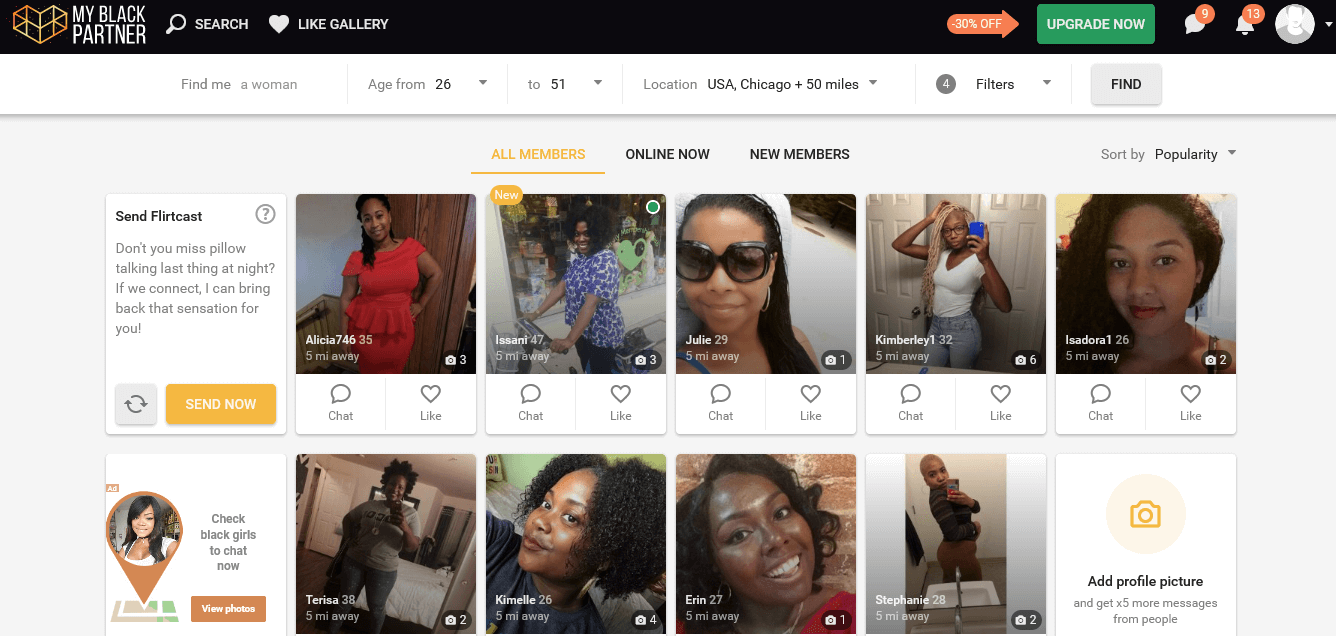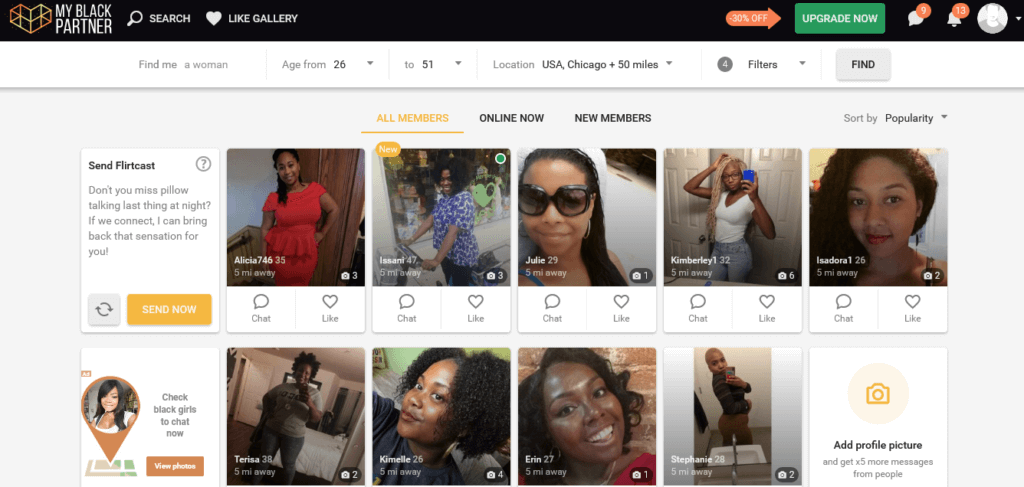 One thing that I found pretty interesting about the site was the fact that within five minutes of getting online – and even before I had assigned a profile picture – I was receiving messages.
Upon doing some research I notice that when you do sign up and get asked to upload your profile picture, there is a checkbox that is ticked automatically.
This allows the site to automatically reach out to other users, either liking their page or sending a pre-generated message from your account.
Let me just clarify that I am not a very big fan of this and although it is indicated that the site will do this unless you uncheck that box, it's rather annoying.
Luckily, if you missed this when you first registered, there is a way to turn it off.
Simply go to the My Settings menu (on the pull-down menu on the right-hand side of the screen) and click on messages.
Now click on the "Promo messages from Admin" box to stop messages from being sent.
Now let's jump straight into how effective MyBlackPartner is in giving you the types of matchups that you'd like to meet and how to find them?
No doubt that journey will begin on the home page where potential matchups are well presented in neat rows for you to scroll through.
I like how the profile pictures are still kept pretty large, despite the fact that there are 10 profiles on a page at any one time.
You can easily scroll down through these profiles until you see one that catches your eye.
There's more than a profile picture here as well.
You can see:
How many photos do they have on their profile
How far away they are
Their user name
You can also easily either chat with them or like their profile thanks to the quick links you will find under their profile picture.
You will also notice that these matchups can be ordered by clicking on the three menus above them.
These are:
All members
Online member
New members
I like to keep my options here set with the default of all members.
So even if the perfect matchup isn't online, they will still show up here.
Just think, you may have missed them if you keep it just to Online Now.
The new member's option is pretty useful too.
If you are seeing the same faces over and over again, you can click here to just see those who have recently joined up.
Before I get to searching for your own matchups, you may have noticed that no matter what you are searching through, new members, those that are online, or all of them, you can sort that further too.
To do this, click on the menu on the right to sort via:
Popularity
Last activity
Distance
Age
Out of these, the last activity and distance are the most useful.
Age you can set in your own search parameters while popularity is not important at all.
Why would you try to hook up with the most popular people?
That just more competition, right?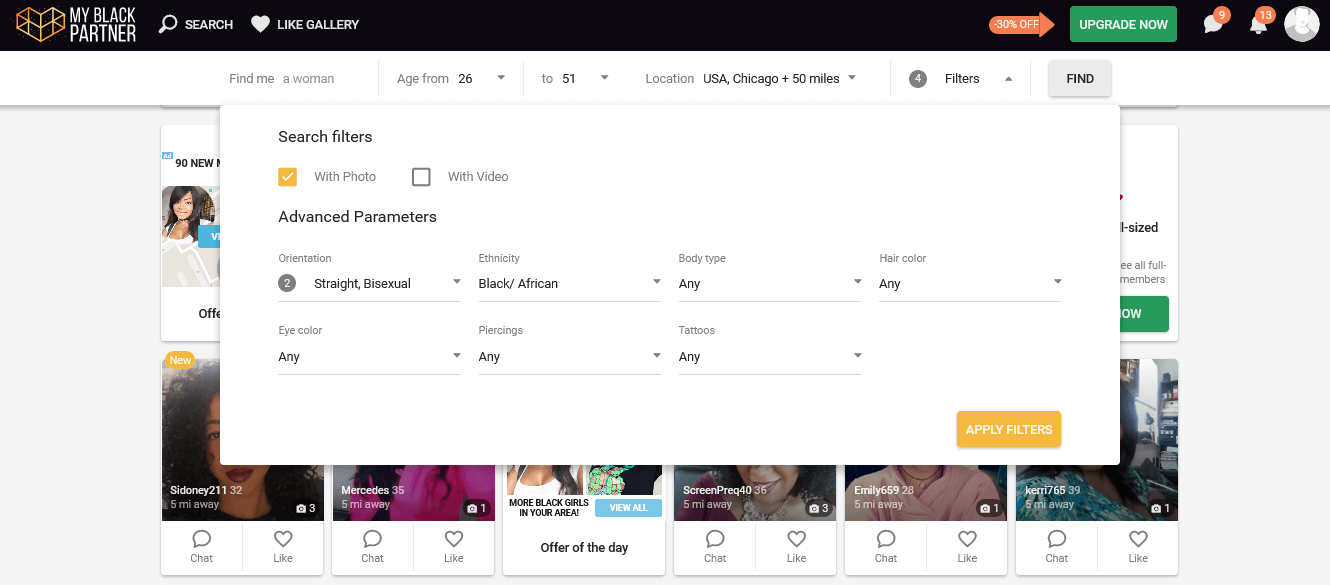 Using the MyBlackPartner search engine
If you are tired of going through the matchups presented to your by the site, you can search for your own.
This is more about fine-tuning what's already been presented to you, however.
To do this, you will use the search bar you find at the top of the screen, below the menu system.
The basic parameters that can be changed here are:
Age
Location (you can extend the range from your current location or change it entirely if you want)
There are other filters to add as well and these include:
Sexual orientation
Ethnicity
Appearance factors (body type, hair and eye color, piercings or tattoos)
If they have a profile video
If they have a profile picture.
Lastly, if you want something a little different, you can always try out the Like Gallery.
This will present matchups in a single format display and then you can either like them or pass on them.
It's something a little different but it's not something I would use.
Reaching out to other users
One thing you may have noticed while using the site is the option to send a Flirtcast.
But what is that?
Well, it's a broadcast message that all users can send and it will be received by those users that are near your location that fit in with your preferred parameters.
For me, this is the ideal way of announcing yourself to others, so to speak and I would use it as quickly as possible once I have joined the site.
But don't use it before you have filled out your profile information as it wouldn't make much sense to do it that way at all.
You don't want to send a flirt message and have someone come to view your profile afterward and there is no information about you for them to see in it, right?
What about you reaching out to others by sending them instant messages?
Well, as a non-paying member of the site, you can do that but you only have five messages that you can send.
Once that's done, you are going to have to think about becoming a member if you'd like to communicate further with others.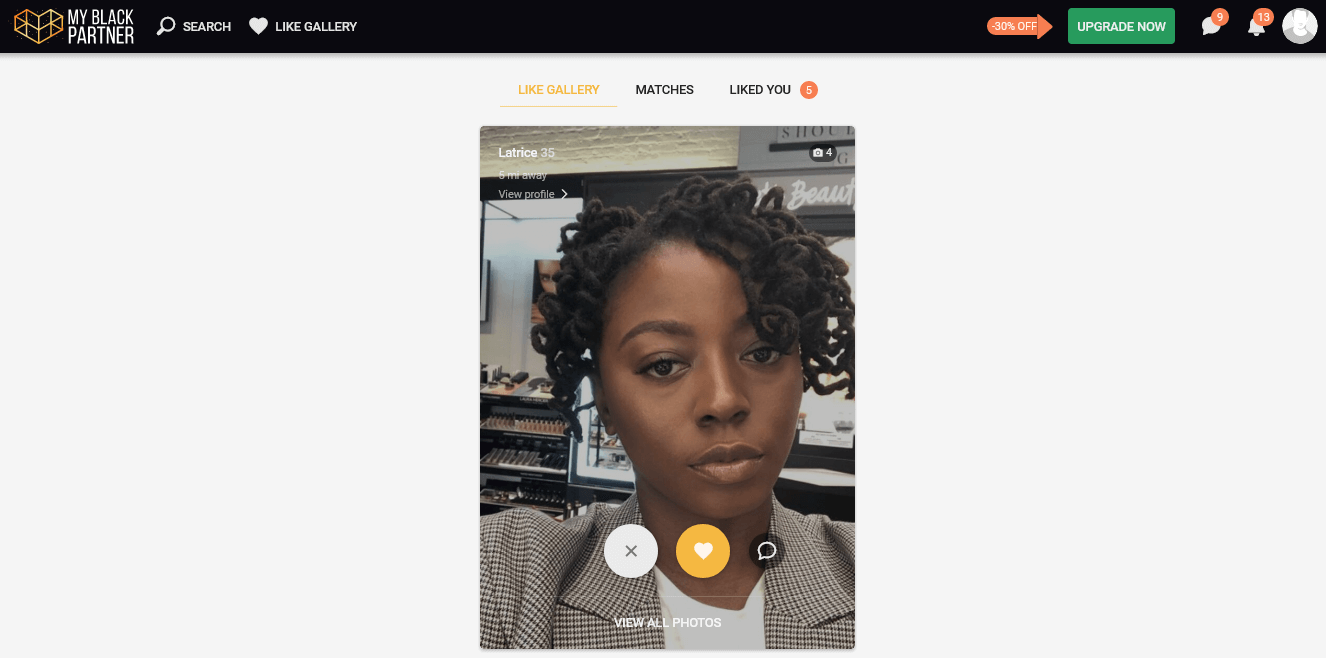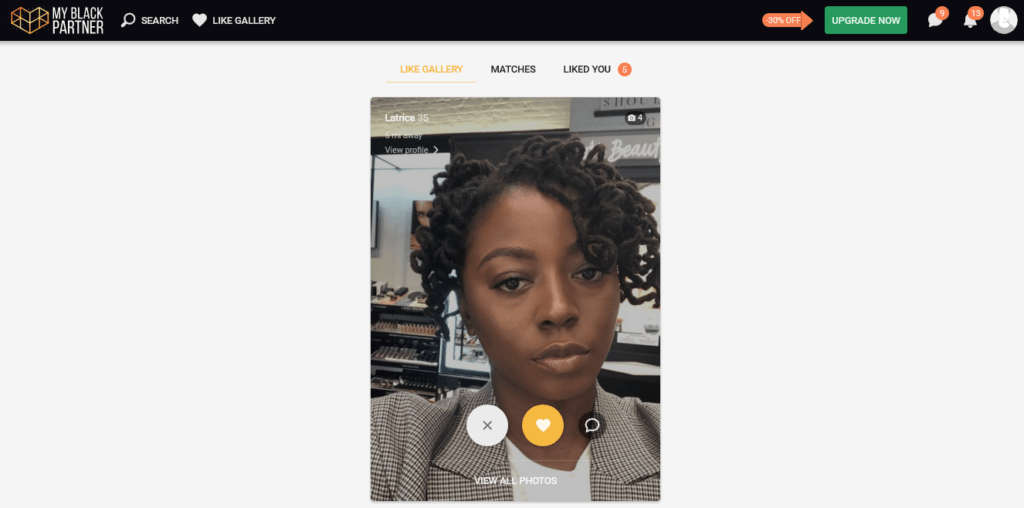 Paying membership to MyBlackPartner brings a few key features.
I'd like to highlight the best of them now.
As with any dating site, the ability to message other users is the lifeblood of communication.
Many dating sites have other fancy ways to reach out to others, but here, it's basically an instant messaging system that's quick and simple to use.
And if you are a member, you can send as many messages as you like and replay to as many too.
There is no limit to any form of messaging for membership.
This is something that many dating apps do.
As a normal user, you will only be provided with a certain amount of search returns based on your preferred parameters.
But if you opt for membership, you have access to everyone that meets those parameters and these will all then be shown on the search screen.
It might just lead you to the perfect matchup, you never know.
While using the site, you would have noticed that you cannot see other users' profile pictures in their full size.
That's only something that members get the privilege to see.
It's a useful addition as well.
4. Access all pictures and videos
Most users you come across on MyBlackPartner won't only have one profile picture but many more in galleries on their profile.
These, along with any extra videos they have posted cannot be viewed by regular users.
As a member, however, you are free to browse through all the galleries as well as view any picture you like.
If you'd like to send videos and pictures while chatting with another user on the site, you can.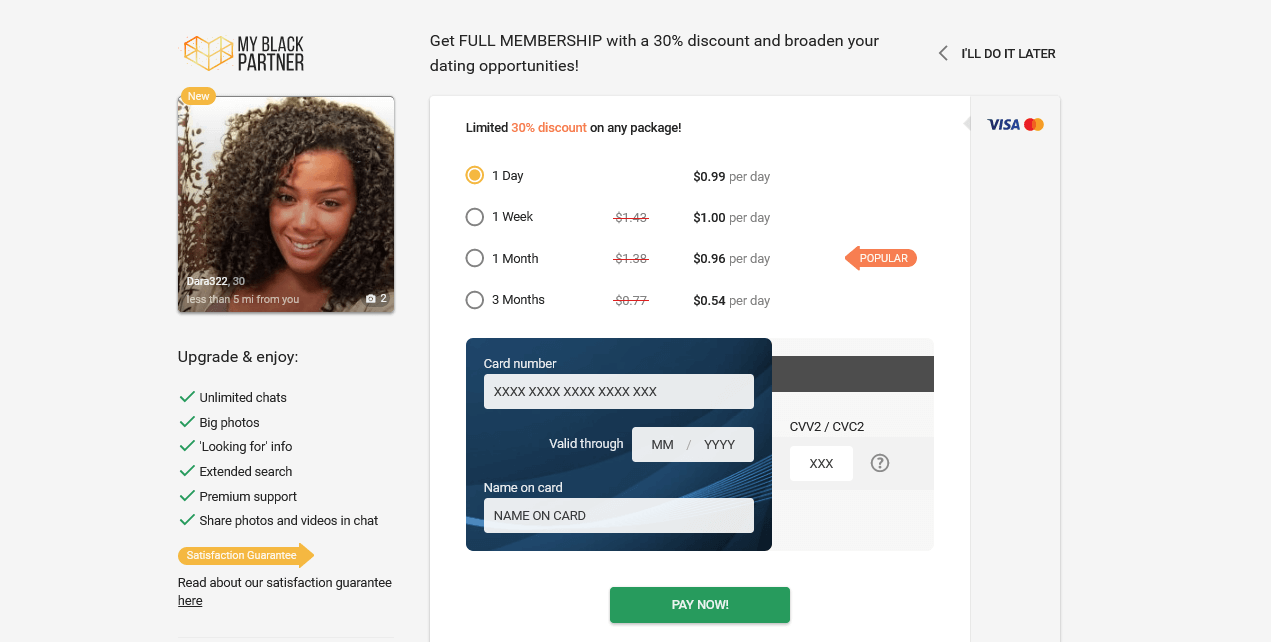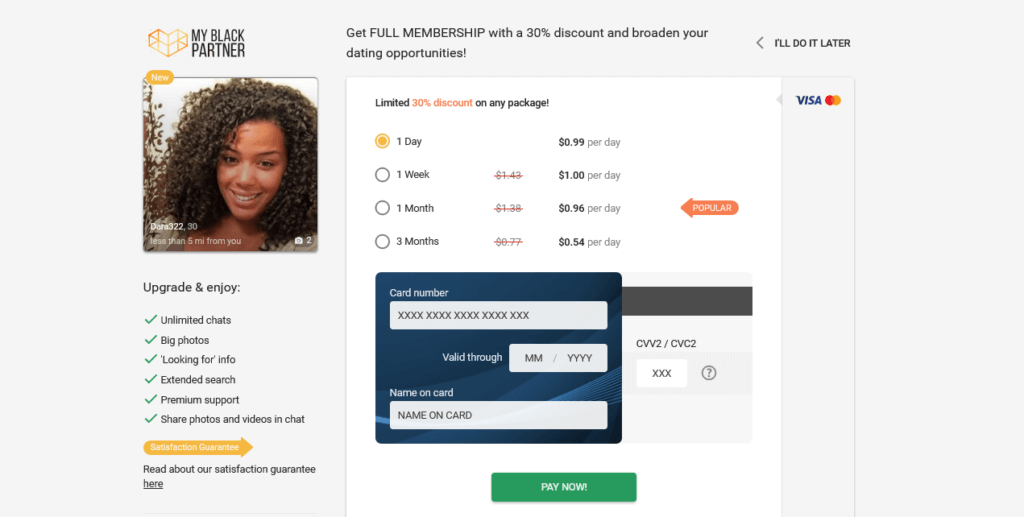 You will notice that while you are using the site, various promotions will pop up from time to time.
But here's the general pricing for the various membership packages that you will find on MyBlackPartner.
The goodness is that you can get 1-day membership to try out the site and there is a one-week option too.
Here's a full breakdown of all the packages:
1-day membership: $0.99 per day
1-week membership: $0.86 per day ($6)
1-month membership: $0.83 per day (around $26)
3-months membership: $0.54 per day (around $50)
Pricing for these packages are spot on in my book.
With niche datings sites like this, you will often pay well over $30 for a monthly membership.
Having said that, they were on special at the time, so they might be a bit more expensive from time to time.
Luckily, it looks like MyBlackPartner does run membership specials pretty often, so if you are interested, make sure you do get the best price possible.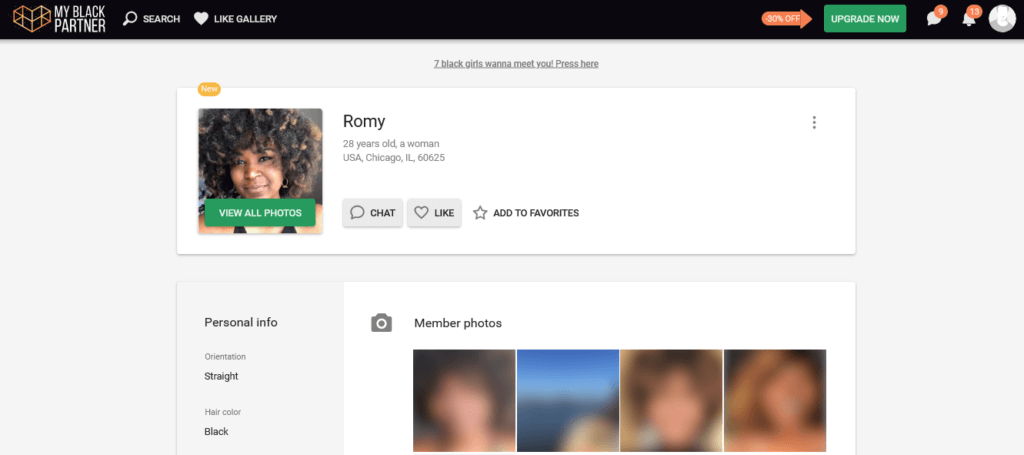 Conclusion and Overall Rating
We come to the end of our MyBlackPartner.com review.
To summarize, this is an excellent dating site for black men and women to meet.
But it's also for people of other races who want to date black people.
Indications are that in terms of the user base, more than two million people are using the site.
It certainly is busy and there were hundreds of matchups near my location for me to look through and interact with.
Despite the fact that you will need a membership to make full use of the site in terms of communication, packages aren't that expensive.
Also, there is a day package, so you can try the site out for under $1 and see how it might work for you before committing to something longer.
As for a rating, MyBlackPartner gets 4 out of 5.
If it fits in with the type of dating site you are looking for, it's worth checking out.
At Onlineforlove our dating review expert used, tested, and studied MyBlackPartner for a period of over a month
We then gave the site an overall star rating.
This rating and final evaluation were based on a range of criteria which included:
How many members the app has
How easy it is to use
How the matching algorithm works and how to reach matchups
What key feature it offers
The price of membership