In today's review, we take a look at Netacougar.com, a hookup site that's a little different from most.
That's because it's a cougar dating site where younger men and older women are the primary users because they don't want to date people their own age. 
No one here is looking for long-term relationships (like eHarmony or Tinder), that's for sure.
It's more in line with hookup sites like BeNaughty or Ashley Madison.
OFL Top Recommendations based on 100,000+ Survey

"Serious Relationships"
"Discreet Hookups"
"Best Course for Men"
"Quick Flings"
"Normal Hookups"
"Our Quiz"
So this in-depth review is going to take an all-encompassing look into critical parts of the site for example:
So let's get this Netacougar review started.
Cougarlife.com is running a deal right now, and we suggest that you don't miss out on this limited offer. It's the biggest Cougar/Cub site online.
Is your dating app giving you the best chance for success?
Make sure to take our online dating site/app quiz to find out.
It's a fact that people who follow our dating site suggestions have on average 2 extra dates per month.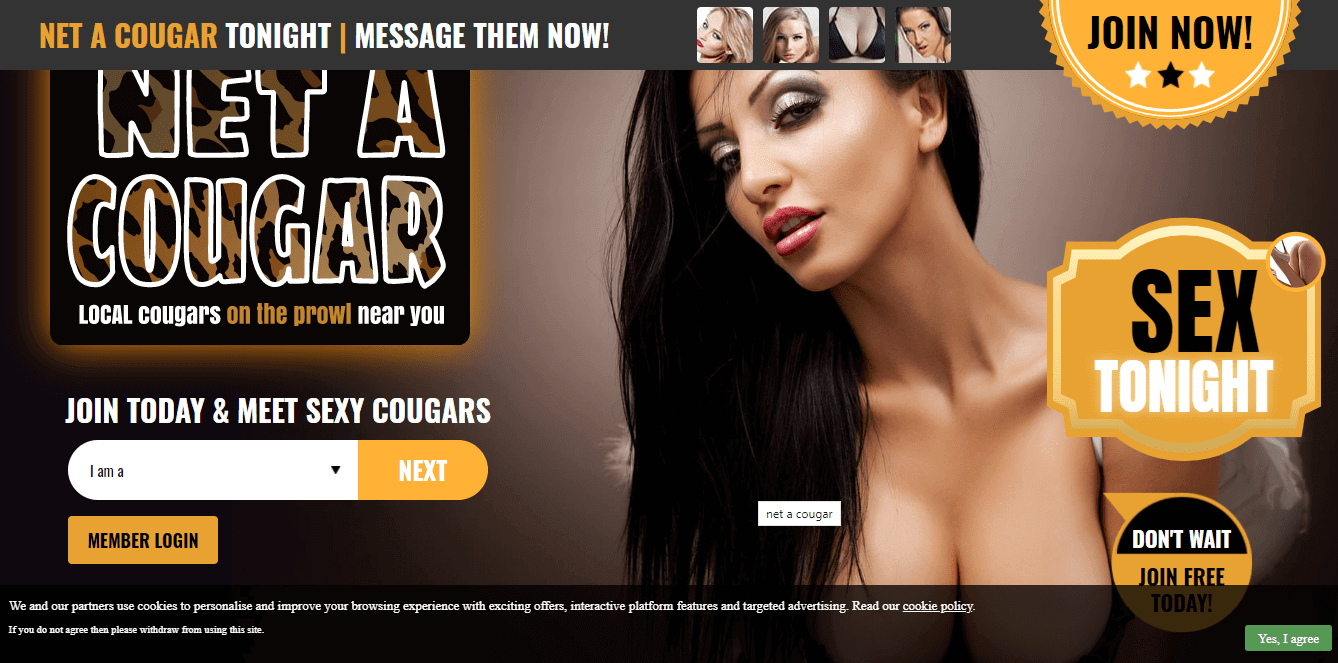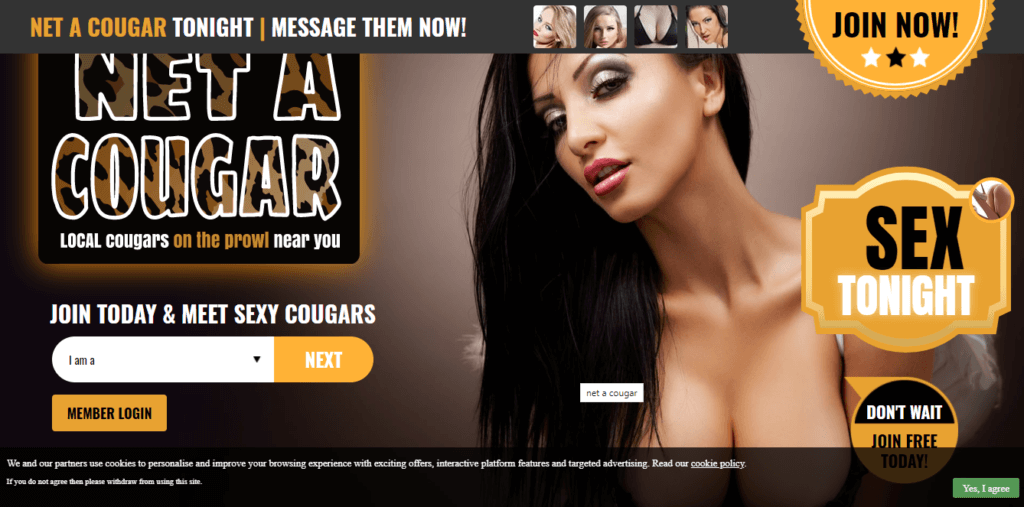 Ease of use – 3.5/5
Effectiveness – 3/5
Key features – 3/5
Pricing – 4/5
No bombardment of fake messages 
Simple registration process
Extremely cheap membership options
Annoying pop-up advertising
Some fake profiles

Who Is It For/Demographics?
I am sure you know what a cougar is?
Similar to a milf, a cougar is an older woman that wants to date young men.
So on this site, that's what plays out.
There are no profiles here that will feature younger women below 30, only younger guys and older women living the cougar life. 
This is a dating service where the main aim is to hookup for no-strings-attached sex.
If you head on over to the Netacougar registration page, you can see that effort has been made to ensure this will be classed with other similar quality sites. 
It's interesting that when you sign up, you will be asked where you are logging in from.
And there are a few options with the United States, United Kingdom and Canada among them.
OFL Top Recommendations based on 100,000+ Survey

"Serious Relationships"
"Discreet Hookups"
"Best Course for Men"
"Quick Flings"
"Normal Hookups"
"Our Quiz"
So yes, this is a global cougar dating site, that's for sure. 
This isn't a site that is a year old, so it's no flash in the pan.
In fact, it first started operating back in 2012.
In close to a decade, you can be sure that the user base is pretty significant with estimates suggesting that it's close to two million.
But there's another reason for this.
Netacougar is part of the Venntro Media Group Ltd, a legitimate company. 
They run a group of dating sites and users are shared across them.
So that means users into the millions is realistic.
Gender ratio and user age ranges
It was impossible to find an estimated male vs female gender ratio for the site.
If we go by other cougar dating reviews, often there are more males on these sites than females.
I would guess that's similar here.
It's not too difficult to work out the age ranges though.
The site certainly has the following characteristics: Women are older and men are younger.
That's a no-brainer, right?


From the moment you hit Netacougar.com, you will notice just how professional the landing page is setup.
There is no terrible design here.
It's slick, tells you what the site is all about and draws you in.
And while registering for your profile is free, if you'd like to use the site to meet a milf or a young man, this isn't a free cougar dating site.
To use it properly, you are going to have to pay.
But that's something we will get into later in this Netacougar review. 
Registering as a user on 

Netacougar
Once you've given your location you are free to start registering your profile.
Simply provide the following information to begin:
Your gender
The gender you want to hook up with
Your name
Date of birth
Your password
Accept the terms and conditions once you are finished and you are taken straight to the site.
You will still need to validate your account by clicking on the link in an email you will receive from the site.
But you are free to look around while you wait.
And it shouldn't take more than a few minutes to get to your inbox.

As the registration process is so short, no real information has been filled in on your profile.
It doesn't even have a picture yet.
And that's a necessity on a hookup site, so start there.
You can easily find your profile by clicking on the "Profile" menu.
Profiles on hookup sites don't have tons of information.
You can fill in the following:
An "About You" section
Your characteristics and interests (including various parameters)
A diary
Yes, Netacougar has a diary section where members can record their thoughts.
You can also upload more than one picture if you are a member.
And I would suggest uploading as many pictures as you can.
They might just be what you need to seal the deal when it comes to landing a milf or young man to hookup with.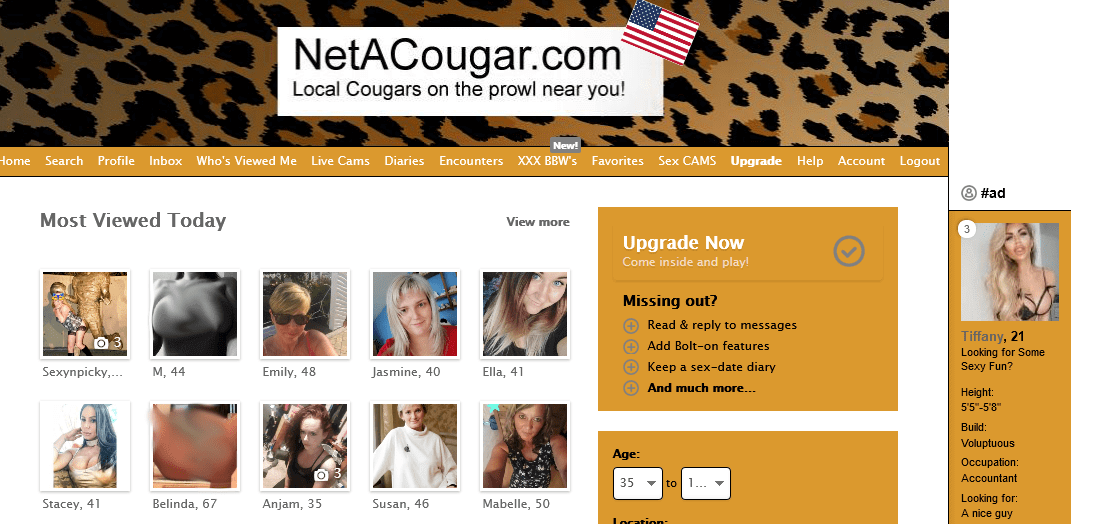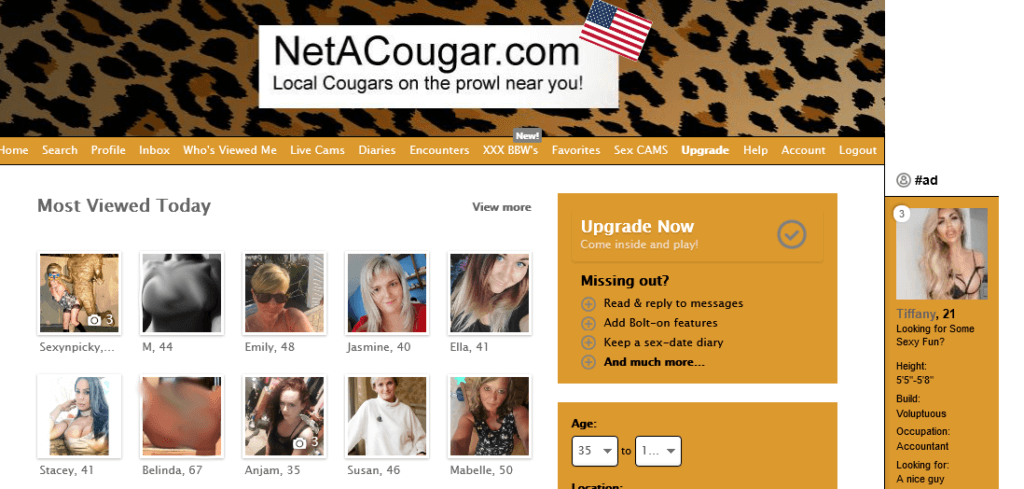 Netacougar 

site design and layout
Remember when I spoke about the Netacougar registration page and how slick it looks.
Well, that doesn't carry over to the website.
Not that it's a terrible design.
It's just a little boring, to be honest.
Also, the advertising gets very annoying, very quickly.
You'll not only find it on the site itself but every few minutes, ads will pop up as well.
And you have to physically close them before you can carry on with what you were doing.
Front and center in Netacougar's layout are user profiles.
On the home page, you are presented with the most viewed of the day.
But there's more to see below as well.
For example, you can view
The latest members to join up
See new photos posted by users
Read the latest sex diaries posted by members
There's also a roulette-style matchup game that provides you with users near you.
You can either like their profiles or pass on them.
The home page also includes a quick search tool and below that, a link to your profile.
To navigate around the site, there are two menu systems.
The first is found at the top of the page.
Menus here include:
Home: This returns you to the homepage
Search: Conduct your search for hookup here
Profile: This menu links to your profile
Inbox: Access sent and received messages here
Who's viewed me: Click here to see users who have checked you out
Live cams: Access off-site live cams here
Diaries: Read member diary entries
Encounters: Takes you to the roulette-style matchup game which also features on the home page
XXX BBW's: Click here to create an account on Netacougar's sister site
Favorites: Any profile you have favorited can be found here
Sex Cams: Access off-site sex cams here
Upgrade: Become a member here
Help: All help topics can be found here
Account: Find all your account settings here
That's plenty of menus.
Some are more important than others and we will look into those in greater detail.
One thing you will notice is that when you click on a menu, it opens a new browser window.
Your old browser window then goes to another dating site completely.
I'm not a fan of that at all.
The second menu system I was talking about is at the bottom of the screen.
These are just a few icons that give you access to:
The home page
The search menu
Messages
Who has winked at you
Who has favorited you
Who has viewed your profile.
Clicking on these does not open another page or dating site, so it's probably better to navigate using them.
One thing I will say while using the site I was not bombarded with fake messages as often happens with other dating sites.


Netacougar has both the user base and the tools for you to make a success of your time on the site.
Most of the potential matchups I can across seemed genuine and not likely fake. 
Yes, there was the occasional fake profile but that's dating websites for you.
So if the potential is there, how are you going to go about finding a hookup, be it an older woman a young man?
Searching for the right kind of 

hookup on Netacougar
So let's talk about the tools you use on this site to find a hookup.
Well, it's about making the search algorithm work for you.
Before talk about launching your own searches, Netacougar provides you profiles to look through.
These are all accessed from the home page and are:
The most viewed on the site over the last 24-hours
Profiles of users who have posted new photos
Yes, they are worth going through but searching is far more effective in my opinion.
You can do that from the quick search bar on the home page or from the search menu.
The quick-search bar only includes three parameters:
Age range
Location
If they have a photo
When you search from the menu option, you can add various parameters that can be found on users' profiles.
And this is all available for regular users so you can really fine-tune your search returns.
It seems that most users took their profiles pretty seriously.
I found very few blank profiles during my searches where no information was filled in.
Messaging

 other users on 

Netacougar 
So once you've used the search function it's time to get into contact with the matchups it turns up.
Messaging on Netacouger isn't free, however.
To get the best out of this site, you are going to have to become a member.
That allows you to both send and receive unlimited messages.
You can wink at other users and favorite them too.
An interesting thing happens when you wink, however.
You receive a message in your inbox back from the user.
Obviously, you cannot read it because you aren't a member.
So I tried a few winks with other members and those too returned messages within a couple of seconds.
I am pretty sure that these are fake messages to get you to sign up for membership.
That's just based on the fact that they took like two seconds to reply to my wink.
Sites like these use tricks to get you to sign up and the message is probably just pre-generated saying thank you for the wink.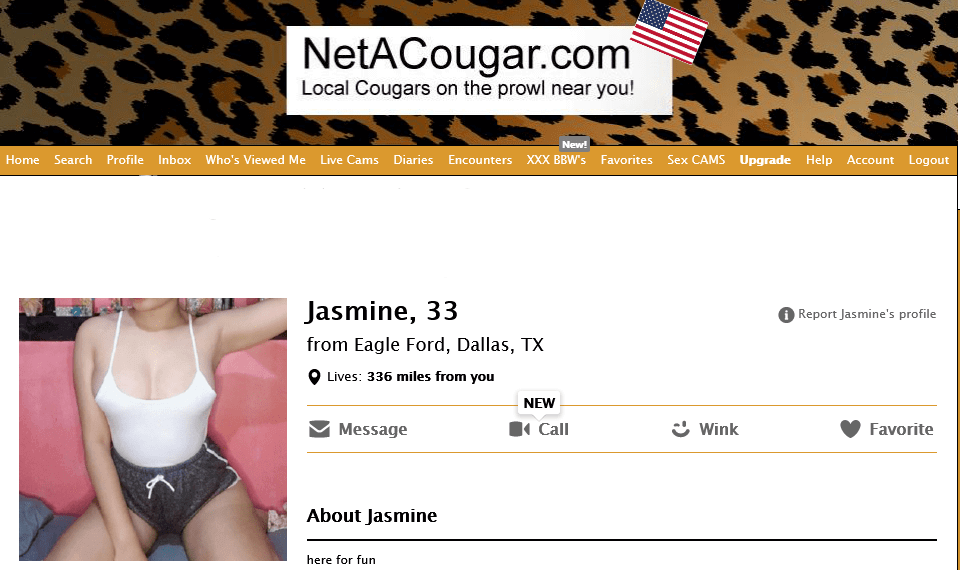 So far we've seen that as a regular user, you can:
Register a profile
Use the basic and advanced search engine
Wink at other users
Favorite their profiles
Membership, however, brings a few added extras.
The most critical feature that you need to make a success of Netacougar is messaging.
As a member, you don't have a limit on the amount you can send or read from other users.
So you are free to try and contact any potential hookup without worrying about a message count.
On other users' profiles, you will notice a video call button.
If you both have webcams, instead of messaging them, you can video call them.
This is perfect for a hookup site especially as you'd like to suss someone out before meeting them.
Of course, other users can video call you as well.
While it might not seem like something that's super important, seeing who has viewed your profile is often a member-only feature.
That's because it's a great tool in helping you find someone who might be wanting to hook up with you. 
If they haven't messaged you yet, then you should make the first move.
For me, this isn't a feature I would ever use.
And it doesn't really look like other users make users of their diaries either.
But it's there and it's an added feature.
And that's it.
Messaging is key, but if I had to pick one other feature that I think is worth it, it would be video calling.
I've seen other cougar dating sites with better features and I've also seen worse. 
Let's see how much you are expected to pay for them.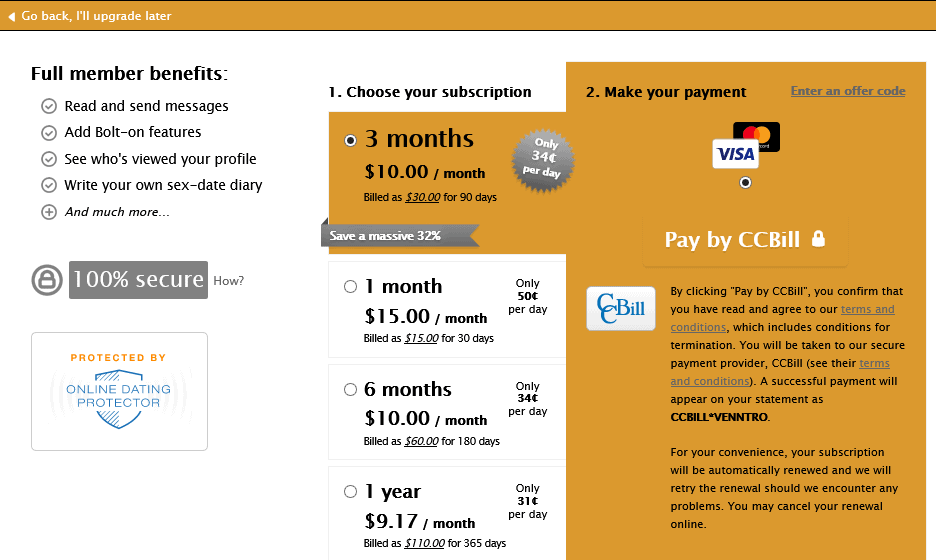 Even though the key features of Netacougar aren't that impressive, ultimately, we have to judge them on membership pricing.
And that's where this cougar dating site excels.
Membership is super cheap and you have plenty of options.
For example, there is a one-month, three-month, six-month and even one-year membership option.
And here's a full breakdown of what prices you can expect to pay.
1-month membership: $15
3-month membership: $30 ($10 per month)
6-month membership: $60 ($10 per month)
1-year membership: $110 ($9.17 per month)
Unlike other dating websites, the extended membership options don't offer much bigger discounts the longer the period of membership.
But I can understand why.
That's because the one-month membership is so cheap.
You'd be hard-pressed to find another cougar dating app or site that costs less.
Now while you will have to make your own decision as to which package you take, I would start with the 1-month option.
For just $15, you get 30 days to try the site out in full.
It's more than enough time to gauge just how effective Netacougar can be in helping you find those hookups.
If you like what you find and you can change to a three-month option which is just $15 more.
Or simply stick to the one-month option if it's something you can easily afford.
Conclusion and Overall Rating
Thanks for reading this review of Netacougar.
It's now time to wind up everything in our conclusion.
Sure, this is a site that has fake profiles, but all hookup dating sites do.
Is it a scam?
No, I don't think it is.
It's a typical hookup dating site where people are wanting to find partners for casual dating encounters.
Luckily, the search algorithm used on the site is effective in helping you do just that.
I found numerous other users near my location.
These were a range of older women who wanted a casual relationship
Of course, to reach out to them, membership to the site is necessary.
That brings me to perhaps my favorite thing about the site.
And that's the membership prices.
They are just so cheap.
Other hookup sites could really learn from Netacougar when it comes to charging the right price.
While the key features weren't that impressive, it doesn't really matter when pricing is spot on.
I was annoyed by all the advertising though, especially the pop-up adverts that have to be closed manually.
So let's give Netacougar a rating then.
It gets a solid 3.4 out of 5.
If you are looking for a hookup site to try out, Netacougar is worth a shot.
Have you used Netacougar.com?
If so, let us know in the comments below and tell us about your overall experience.
If you have any other questions, leave a comment.
We will get back to you and answer it as best we can.
Frequently Asked Questions