Edarling is a dating website that has been popular for quite some time now and it has managed to gather millions of loyal users throughout the whole world.
Even though it wasn't too popular when it first appeared on the market, it has managed to gain a loyal userbase and has helped millions of people find their soulmates and establish valuable relationships.
In case you are looking for a dating site that will help you to connect with like-minded people and find someone you can share the rest of your life with, then Edarling is definitely a great option and I recommend reading our review thoroughly!
We will check out:
OFL Top Recommendations based on 100,000+ Survey

"Serious Relationships"
"Discreet Hookups"
"Best Course for Men"
"Quick Flings"
"Normal Hookups"
"Our Quiz"
Is your dating app giving you the best chance for success?
Make sure to take our online dating site/app quiz to find out.
It's a fact that people who follow our dating site suggestions have on average 2 extra dates per month.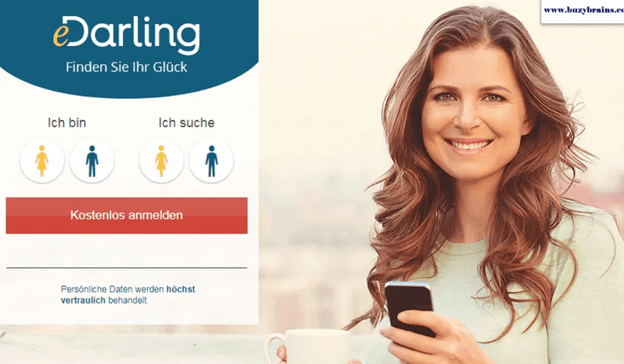 Effectiveness 4/5
Features 3/5
Ease of use 4/5
Pricing 2/5
Great personality tests
Available in more than 15 different languages
Plenty of free features
Also has a mobile app
Millions of users throughout the whole world
No fake profiles
Very expensive membership
Most features are available only to premium users
Focused on long-term relationships
Very hard to get a refund
Edarling has managed to gather more than 14 million users worldwide during the past 13 years and it records plenty of new members each day.
The website was created in Germany, and even though it was only available in this country for quite some time, it has managed to expand, and nowadays it is available to citizens of all countries on this planet.
Since its userbase is very diverse and has plenty of users from different European countries, Edarling allows you to use the website in many different languages like Norweigan, French, English, Spanish and Italian.
As you can see, the website has a pretty large userbase and the creators claim that more than 85% of registered users have a degree, which tells us that the audience is pretty mature and educated.
More than 90% of members are over 35 years old and almost everyone on this platform is looking for a serious long-term relationship (like eHarmony or Tinder).
​For that reason, if you don't really plan on engaging in a serious relationship and are looking for a hookup, I believe you should avoid this platform and give it a try to some other dating platforms (like BeNaughty or Ashley Madison).
On the other hand, there are also a lot of younger users who are also looking for serious relationships, so you shouldn't ignore them either.
OFL Top Recommendations based on 100,000+ Survey

"Serious Relationships"
"Discreet Hookups"
"Best Course for Men"
"Quick Flings"
"Normal Hookups"
"Our Quiz"
The number of male and female members is pretty much equal, so you definitely won't have a problem finding your significant other, but you should take in mind that there are people of different sexual orientations on this website.
You should also be aware that this online dating site is completely LGBT-free and welcomes people of all sexual orientations, so if you are a member of the community and are looking for a serious relationship, you can always try your luck here too.
The design of the website is very simple and since it was targeted at a bit older audience, it is very easy to navigate through it.
Even those who have never sued a dating service before will be able to create their profile and send a message successfully without spending too much time trying to figure the website out.
The whole sign-up process is also very easy and you will be able to find your perfect match by fulfilling some of the questionnaires and personality tests.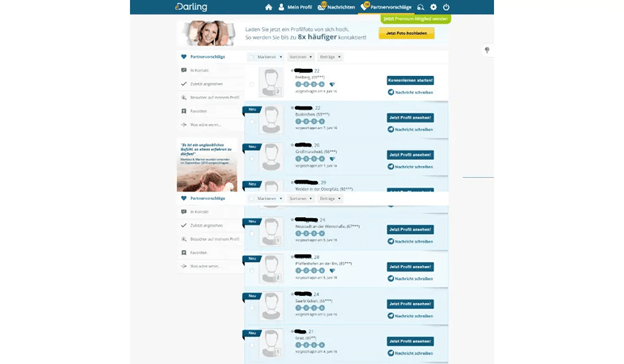 ​You don't have to worry about doing these because the app will require you to do them when you create an account so you won't miss out on any of these.
All Edarling websites, including Edarling.de and Edarling Sweden, are the same and you can also easily choose the language you want to use in the upper right corner.
The reply rate is somewhere around 90% which is a pretty good number for a dating app like this one.
Their mobile application is also very simple and it is designed in bright colors that will make navigating through the app a lot easier and provide you with much more success when meeting potential partners.
You also shouldn't worry about fake profiles because customer support works non-stop and makes sure all profiles with suspicious behavior are removed from the platform immediately.
Ease Of Use (Mobile and Desktop version)
As we have already mentioned, the Edarling website is very easy to use and you can navigate through it without any problems even if you are not a tech expert.
However, we will take you through all the steps of creating a profile and matchmaking with other users so you don't find yourself in an uncomfortable situation.
First things first, you will have to open the Edarling website and choose your preferred language.
After you have done this, you will click on the "Create profile" option and a new window will open up in your browser.
You will have to fill out all the gaps there are in order to create an account which means you will have to provide the app with your gender, preferred sexual orientation, email address, and an original password you will use to access the account.
After that, you will have to accept the Terms and conditions of the platform which I recommend skimming through because it also provides you with information about things that are not allowed on the platform and reasons you may get blocked or banned.
If you have done all of these steps, you will receive an email in your inbox where you will have to click on the "Confirm" button in order to confirm you are a real person and not a bot.
Now you can log into your profile and start personalizing it by uploading more information about yourself and doing several personality tests that will make connecting with other users a lot easier.
Even though you are not required to do these tests and quizzes, the platform recommends all of its users to them when they have enough free time because it will make connecting with like-minded people and potential partners a lot easier.
These personality tests and questionnaires cover different topics and parts of your life, from lifestyle preferences to random questions like your favorite book and your favorite song.
The signup process on Edarling is completely the same when it is done through the mobile app too.
When it comes to the quality of profiles on Edarling, this is something that can depend on one user from another.
Overall the profile quality is amazing if the user fulfills all the personality tests and quizzes and uploads as much information as they can to their dating profile.
People who do this have the highest chances of meeting a potential partner through the app and they will connect with much more people than those who have uploaded just the necessary information like their name, location, and age.
The platform advises you to put some energy into creating your profile and try to do your best when it comes to these tests and quizzes because a well-made profile can help you meet your soulmate in just one day.
What makes this dating platform one of the best on the market is the fact that it allows you to find out anything and everything about other users and that is the reason why most people choose to create a dating profile on this dating site.
​My advice is to really take some time and upload as much information as you can because it will definitely be worth it!
When using Edarling, the focus is not on search filters but rather on personality tests and the algorithm, but you will for sure be able to use some of these too.
You can use the search filters and look for people based on their location, age, ethnicity, and education.
When it comes to special features, those are definitely the test and questionnaires Edarling is known for and there are plenty of things available to premium members that can make the whole dating experience a lot more enjoyable and successful.
As we have already mentioned, these personality tests cover different aspects of your life and help the algorithm to connect you with like-minded people who gave the same answers to these questions.
Answering these questions will make finding your perfect match a lot easier and faster and it is also something that is accessible to free users too.
By using the scale feature you will see how attractive and popular your dating profile is and what are things you can do in order to make it look more interesting.
The platform will advise you with things you can add in order to become more popular among other users which I believe can be very useful if you struggle with meeting someone through this platform.
Everyone on the platform will get access to plenty of dating tips from several dating experts that can be useful both in online dating and in real life.
You can also send messages to these dating experts and try to figure out why some things keep happening in your love life and how can you prevent that.
All people who create a profile on Edarlign will get access to their own code and link they can send to their friends or share on social media.
If someone registers through your code or link you will receive money that will appear on your Edarling account and you can decide whether you want to spend it on membership on this website or transfer it to your bank account.
Like most popular dating services nowadays, Edarling both has a desktop and a mobile version.
The Edarling dating app is available both to Android and iOs users and you can download it from your App store for free.
Since it is very simple and beautifully designed and it also allows you to answer messages and connect with other users on the go, the app may be even more useful than the desktop version of the website.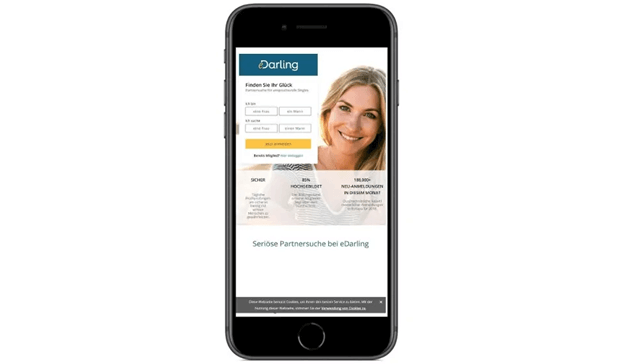 When you open the app, you will see 4 options or menus on your homepage – Members, Profile visitors, Messages, and Profile.
You can choose to turn on the push notifications that will inform you whenever you receive a message on your dating profile, and you can even connect it with your SmartWatch or Apple Watch and receive the notification on this device too.
All the features that are available on the website will be available to you through the app too so you definitely won't miss out on anything
When using Edarling you will be provided with two types of membership – free membership and premium membership.
Even though most of the dating profiles don't allow free members to use any of their features until they purchase a membership, things are completely different with Edarling and you will be able to enjoy some benefits as a free member too.
Free members will be allowed to:
Create their profile
Upload dozens of photos
Do personality tests and questionnaires
View other peoples profiles
Receive messages
Unfortunately, even though the free version of Edarling provides you with quite a few features, you are lacking the most important one – messaging.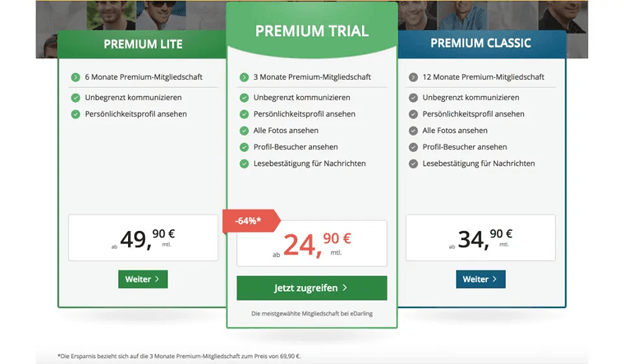 If you want to message someone you will have to purchase a membership, otherwise, you will be able just to look at other people and dream of relationships with them.
On the other hand, premium members are the ones who get access to all the things Edarling has to offer and they will get to:
Send and receive messages
See who has visited their profile
See users who added them to favorites
Use different search filters
As you can see, premium members are the ones who get access to everything and they will be able to reach out to all the people you find interesting.
Unfortunately, the Edarling membership is quite expensive, especially in comparison to other popular dating apps like Tinder.
When it comes to the price, Edarling is very similar to Elite Singles and you will have to spend 120 euros for a 3-month membership.
You can also choose to pay 180 euros for a 6-month membership or 408 for a yearly membership, which is still quite pricey.
Edarling users are not allowed to pay for a membership month by month and they have to decide whether they will be paying 3 or 6 months upfront when they are joining.
The cost of the membership is something that makes people stay away from this platform and choose cheaper options because it is definitely one of the most expensive dating services on the internet.
A membership as expensive as this one also manages to protect the users of the platform from a potential scam and different types of scammers that tend to target men and women on dating platforms.
Edarling is an amazing dating website for all people who are looking for long-term relationships and the best thing about it is the fact that it is available worldwide.
This great dating service is available in many different languages and it has an amazing algorithm that makes meeting your soulmate and potential partner way easier than it would be on other dating platforms.
Even though it is a very expensive dating service, I believe Edarling is really worth it, especially if you are an older guy or a woman that wants to find someone for a serious relationship and you plan on spending the rest of your life with that person.
We hope you have found all the information you needed and that you will consider joining the Edarling dating service today!
We sincerely hope you have enjoyed our Edarling review and that you have managed to find enough information about this dating platform in our article.
This really is an amazing dating website and we hope you will give it a try and start the search for your soulmate as soon as you can!