In today's dating site review, we are going to evaluate LoverWhirl, an online dating website where you can meet Asian women.
There's no doubt that countries like the Philippines, Thailand, China, Vietnam and others are filled with beautiful ladies.
And before the internet, this was a region where many Western men looked for mail-order brides.
Thankfully, modern technology and online dating sites just make things that much easier these days.
OFL Top Recommendations based on 100,000+ Survey

"Serious Relationships"
"Discreet Hookups"
"Best Course for Men"
"Quick Flings"
"Normal Hookups"
"Our Quiz"
With plenty of Asian ladies having profiles on this site, is it a place where you can meet your soul mate?
Well, that's one of the aspects we analyze during this review as we put it to the test.
As we explore this international dating site, we will also look at:
So let's explore what LoverWhirl offers and highlight everything you need to know before visiting this dating web page for the first time.
Is your dating app giving you the best chance for success?
Make sure to take our online dating site/app quiz to find out.
It's a fact that people who follow our dating site suggestions have on average 2 extra dates per month.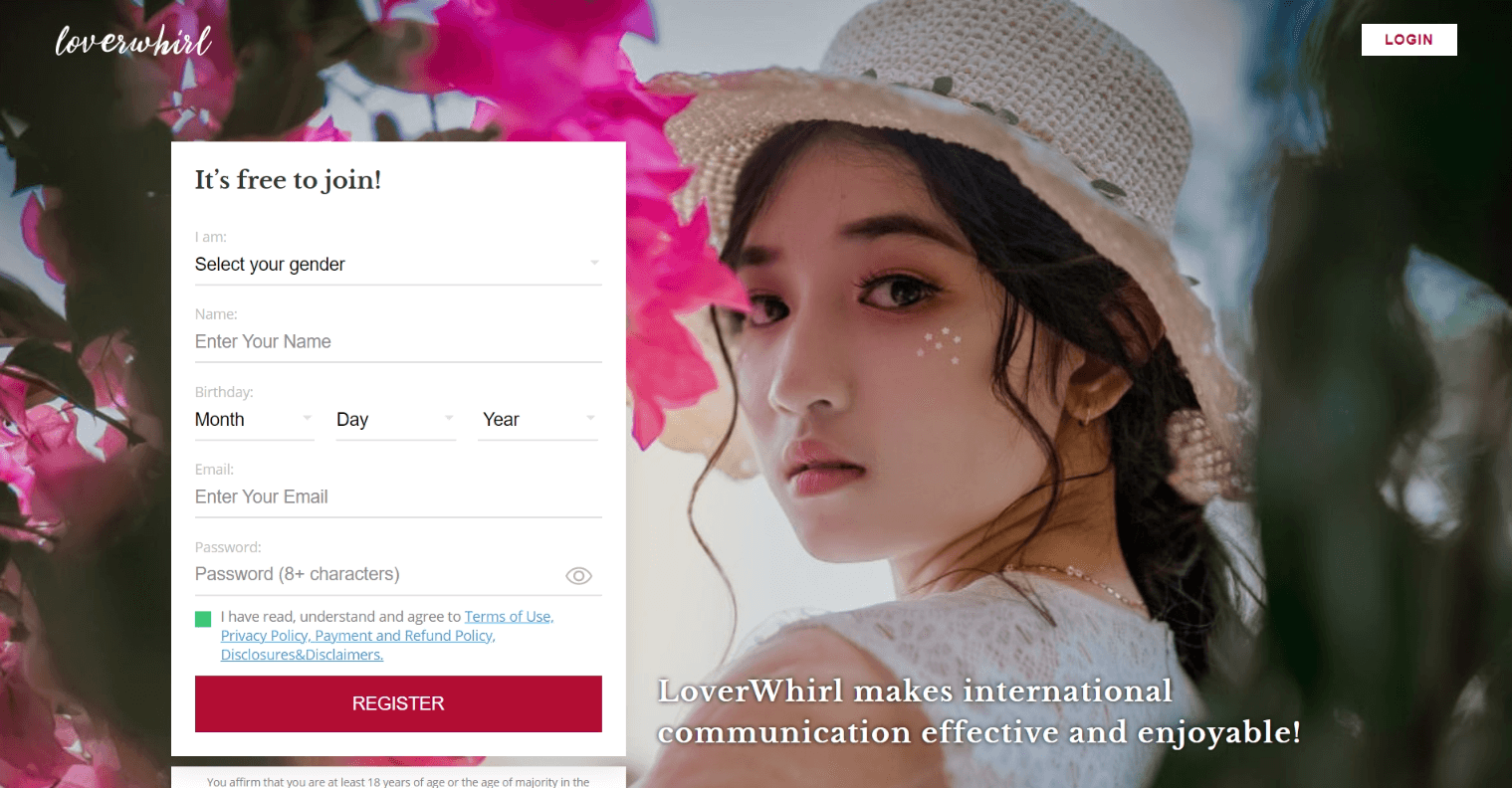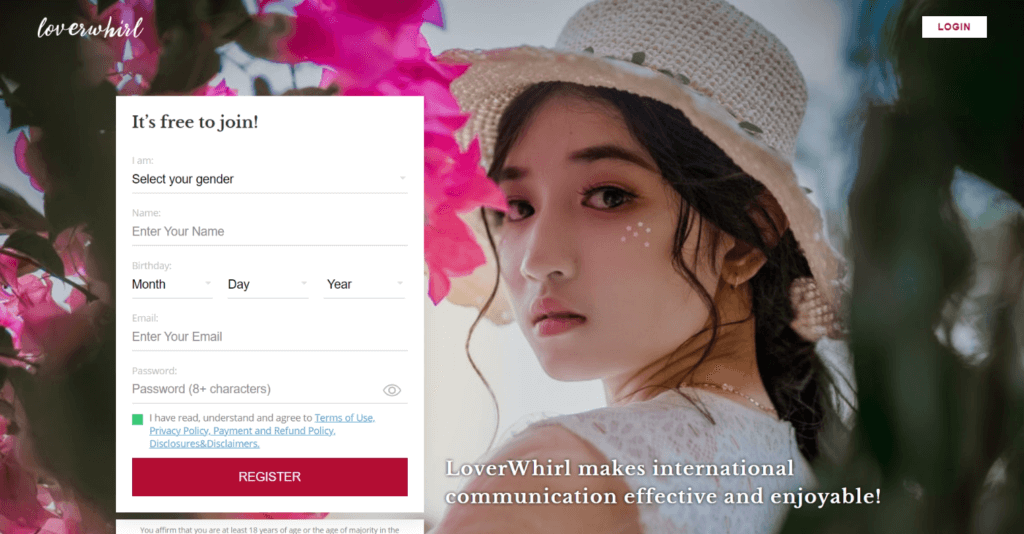 Ease of use – 5/5
Success rate – 2.5/5
Key features – 2.5/5
Price – 2/5
Beautifully designed and easy to use website
Registration questionnaire helps to provide accurate matchups
It's very expensive to communicate with other users
Other similar websites have far larger user bases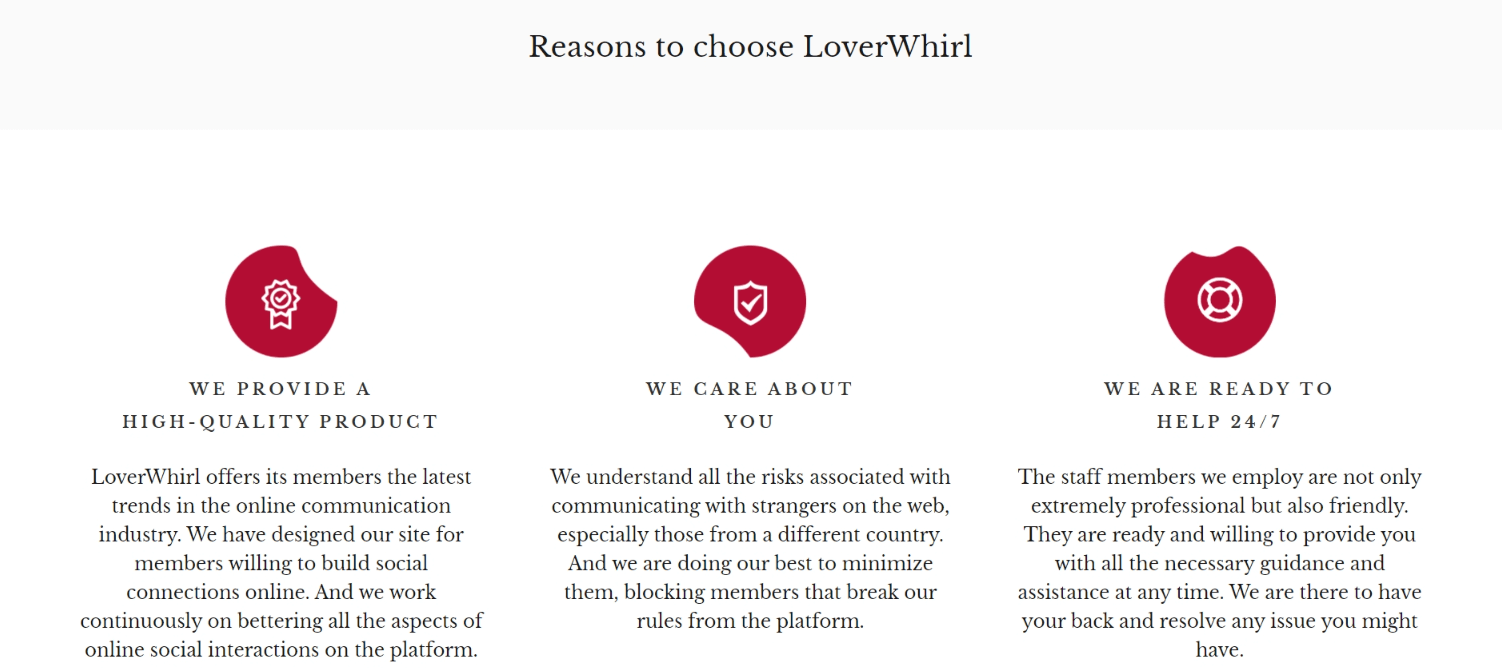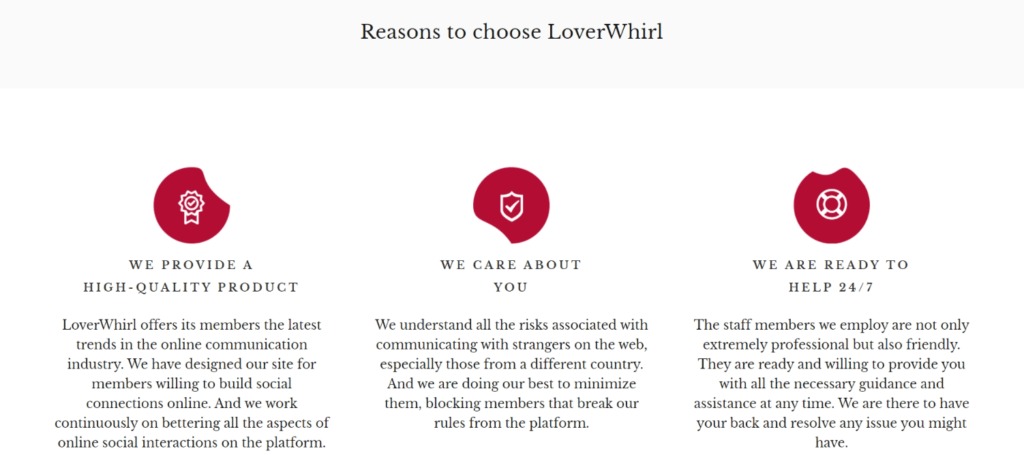 Who's It For/Demographics
LoverWhirl is similar to many other dating sites that provide a platform for men from all over the world to meet Asian females for long-term relationships (like eHarmony or Tinder). Most of these women are not interested in casual encounters (like BeNaughty or Ashley Madison).
As it says on the site's landing page, the site aims to encourage international communication between women from Asia and men from all over the world.
Collecting data regarding user numbers and other demographics wasn't easy but I was able to find out the following:
OFL Top Recommendations based on 100,000+ Survey

"Serious Relationships"
"Discreet Hookups"
"Best Course for Men"
"Quick Flings"
"Normal Hookups"
"Our Quiz"
The site has around 100000 users
Each day 1000 newbies sign up for a profile on the site
Each month over 200000 users visit LoverWhirl.com
The largest group of users found on the site are between 25 and 34 years old
Well over 80% of users have profile pictures
There are validated profile found on the site
Listen, there are bigger Asian dating sites out there, that's for sure so we are going to have to dig a little deeper to confirm if LoverWhirl is worth your time or not.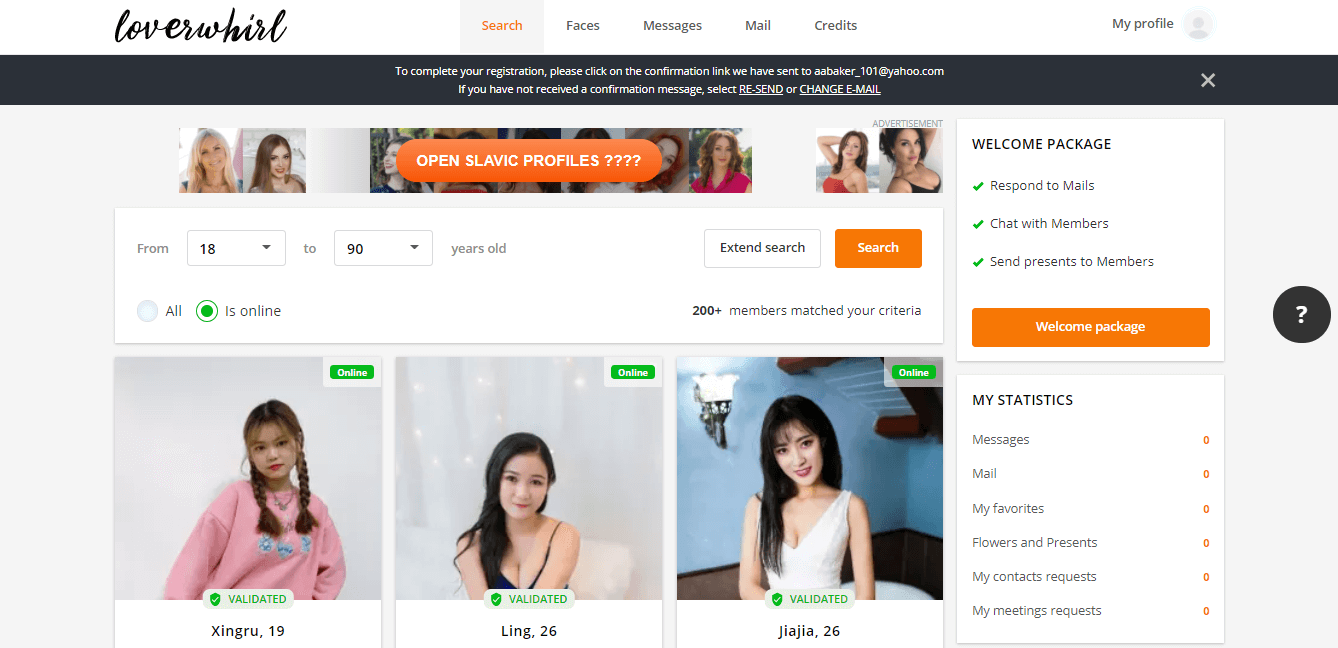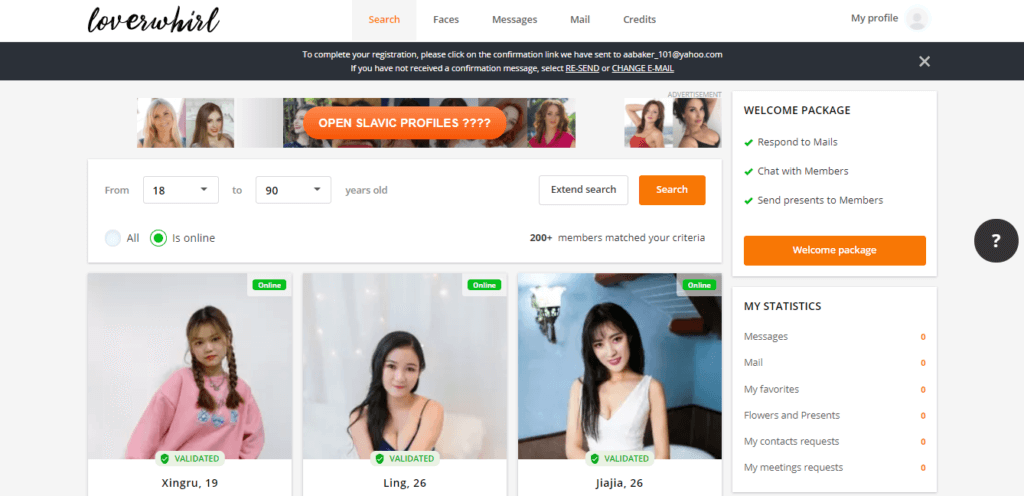 While the site is mobile-friendly, you'd probably understand that with a fairly small user base when compared to other similar sites, it's not worth it having a dating app just yet.
To begin your registration process, you will have to begin with the sign-up form that you will find on the LoverWhirl web page.
That's pretty much the same as on any dating site and you will need to provide information such as a username, gender, email address and password.
But be prepared for a fairly lengthy registration process of around 10 to 15 minutes.
That's because you will have to fill in a questionnaire that serves two purposes on LoverWhirl.
It extracts some information that will be used in your profile but more importantly, the questionnaire will find out what it is you are looking for in a matchup.
It does this through a series of specific questions to learn more about you and your likes and dislikes as well as all the regular questions, like your marital status, for instance.
I won't get into what these questions are but it's a clever way for the site to help the matching algorithm to provide you with potential matchups from the moment you get online.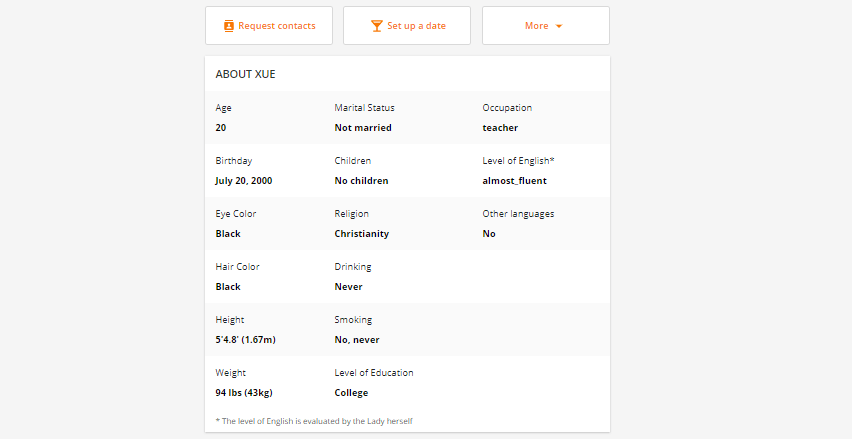 During the registration process, there are some important aspects to your profile that you would have provided information for.
But you haven't completed it yet.
I can tell you that the profile quality on this site is excellent as most users take them pretty seriously.
Almost all the women that appeared in my matchups had profile pictures and while scanning through these matches, 99.9% of them had completed their profile in full.
So I suggest you do the same.
Luckily, there isn't that much to do.
To start editing, click on My Profile at the top-right-hand corner of the screen.
While you should have uploaded a profile picture when you registered as a user on the site, you can add even more photos to your gallery.
So this is what you will need to add still:
Appearance parameters (height and body weight)
If you currently have children
Would you like to have children at some point
Your level of education
What religion you are
Lifestyle parameters (if you drink or smoke)
Your current occupation
It will take just five minutes to complete all of this.
LoverWhirl uses a tried and trusted dating site template that you may have seen before if you are a dating site regular.
It's popular because it is super easy to find your way around and uses an uncluttered modular design that makes navigating the website fun.
From the first time you access the site, you are presented with user profiles that LoverWhirl has matched to your profile.
These are showing in rows of three with large profile pictures so you can get a good look at each individual.
If you want to find out more, simply click on their picture to load up their profile.
You will also notice the Welcome Pack on the right-hand side of the screen.
Let me clarify what this is.
The site doesn't have a membership but instead works on credits.
And with the Welcome Pack, you will receive 20 free credits.
It's a great way to see how they work and get a feel for what they are used for.
Before we look into how you can go about using those credits, let's assess the menu system you will find on-site:
Search: Other than matchups the site gives you, you can access the search toolbar by clicking this menu.
Faces: Profiles that match your criteria are presented on by one when you click on this menu
Messages: All messages can be found here
Mail: Longer form messages, popular on sites like these, can be found here
Credits: You can see your credit balance here or buy new ones if you run out.
My profile: Access your profile by clicking on this menu tab
I did say the design was incredible, didn't I?
I really enjoyed my time navigating the site.
It's one that you will learn in next to no time thanks to the clever layout and simple menu system that provides you with everything that you need.


You have numerous ways that you can go about searching for matchups on LoverWhirl.
So let's demonstrate what they are.
The most obvious is the matchups the site presents to you from the start.
And that's why filling in the registration questionnaire accurately is critical.
Remember, to access these matchups, you need to click on the Search menu.
Launching searches of your own
That also gives you the option to launch your own searches as well.
There is a basic search engine as well as an advanced one.
Here you can adjust extra parameters that are from each users' profile.
These include:
Location (you can change the country they live in and narrow it down to a city as well)
If they have any children
If they are single or married
What religion they practice
Education level
Lifestyle habits (drinking and smoking)
On a site like this with a smaller user base than others, you don't want to add too many extra parameters.
That may just narrow down your returns too much, so be aware of that.
Lastly, don't forget to try out Faces from time to time.
That will present matchups that the algorithm has found for you one by one.
You can also click on their profile picture to see more information if you'd like.
Speaking of profiles, you can easily see critical information about each user even before you bring up their profile.
This includes their name, location, age, weight, and height.
You will also notice that some users have a green "Validated" sticker on their profiles.
This means they have been validated by the site and are who they say they are.
For users who are worried about being scammed, it makes sense then to deal with those who are validated only.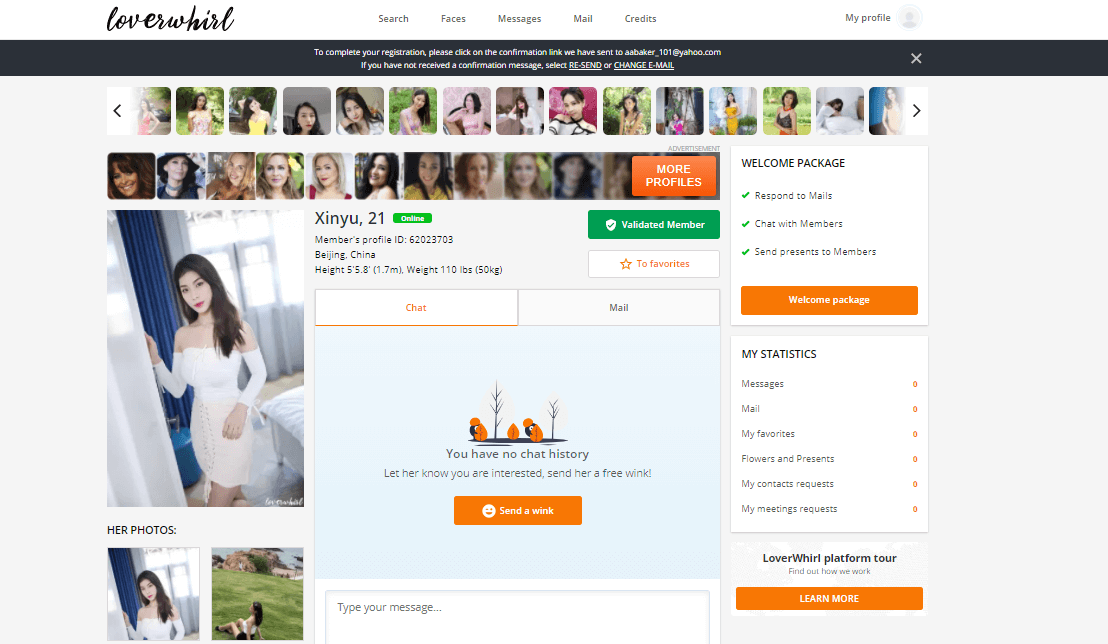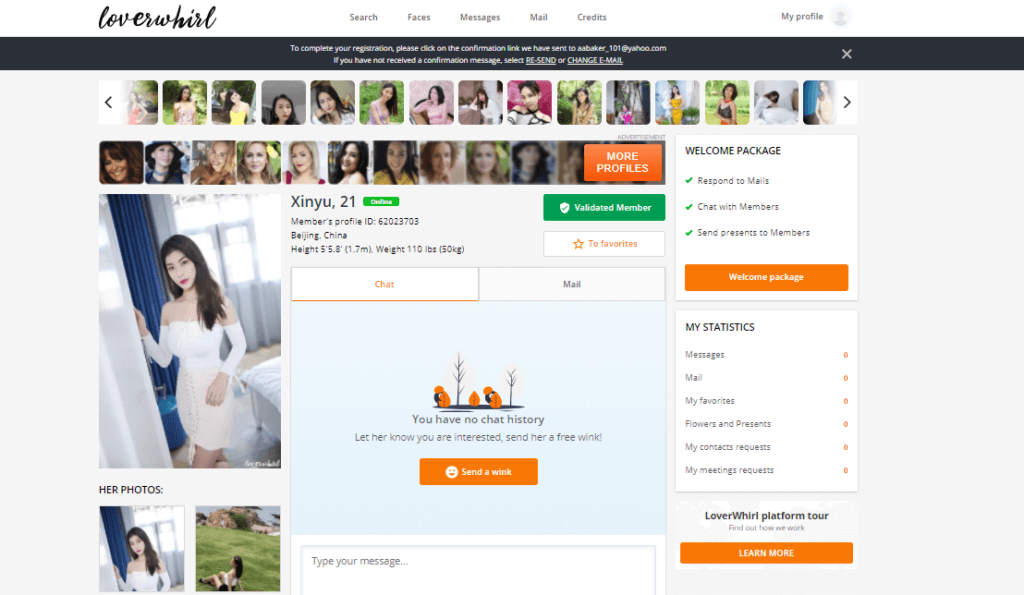 You need credits to message other users so that's why the 20 that come in the Welcome Pack will come in useful at this point.
A word of advice, however.
Credits get used up pretty quickly so don't waste them on sending stickers, for example.
If you launch an instant message/live chat with someone, you can talk for about 10 minutes with your 20 credits before you will need more.
You can do the following for free:
Like a profile
Add a user as your favorite
Send a Let's Talk message (these are basic questions)
These are useful but without credits, you aren't going to get anywhere.
Later on in this review, I will give a breakdown as to how much messaging and other features cost.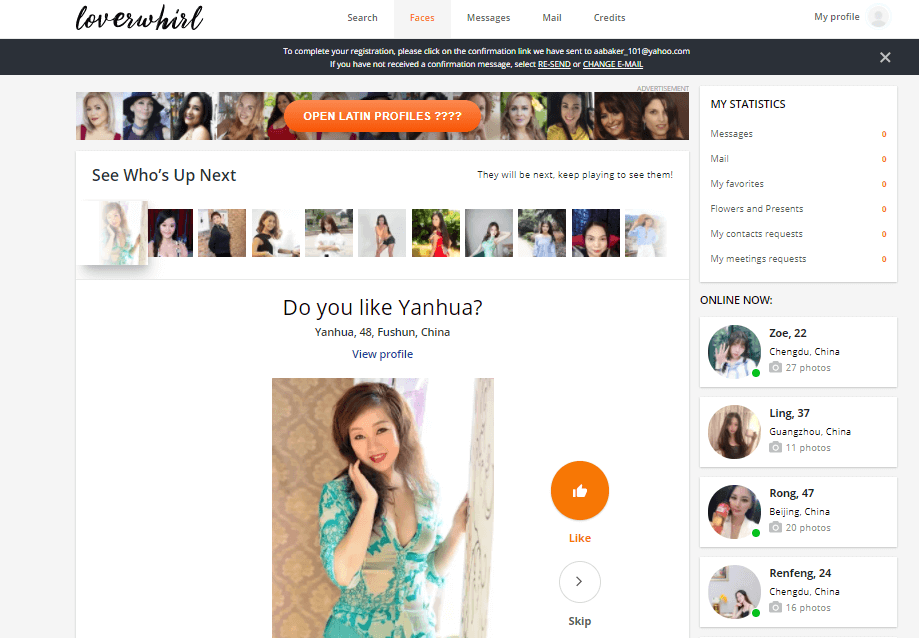 As I've mentioned, unlike many other dating services, there is no paid membership on LoverWhirl.
Here it credits that rule.
Generally, on sites that include a form of monthly membership, there will be some key features associated with that membership.
That's not what you will find on LoverWhirl.
I will cover just what your credits are going to be used for a little later in the review.
But there are a few things that I would consider to be features that as a user you should know about.
And here they are.
1. Roulette-style matchup system
We've already seen that during the registration process, you filled in a comprehensive questionnaire.
While that fleshed out some of your profile, it was mainly to help you find the right kind of matchups based on your tastes as well as your personality and that of the matchup.
These matchups are then presented to you on the home page and they are high-quality thanks to that questionnaire.
But if you'd prefer, you can view them in a roulette-style presentation.
I like to do that sometimes because when there are so many on the page at a time, it's easy to get overwhelmed as there are just too many visual stimuli.
So to view them, just click on the Faces menu at the top of the page.
Many dating sites present profiles in this manner but what LoverWhirl does is give you a few options.
While viewing profiles like this you can browse all their photos, send them a message, send them a wink, add them to your favorites, and even send them a present.
And if you'd like to know more about them, you can click on their picture to load their profile.
2. Real-life gifting services
I am not going to lie.
This is something I prefer to steer clear of on dating sites where real-life gifting is available.
Once a potential matchup starts asking for gifts, I get a little worried.
Especially when they are so expensive.
Gifts here could be anything from a bunch of roses to expensive perfume or even an iPhone.
And prices, well from a few 100 credits to over 10000.
I am sure that you'd prefer to take your conversations with a potential matchup offsite at the first opportunity you can.
Datings sites don't generally allow that because, at the end of the day, they are losing money.
LoverWhirl has a solution though.
If you spend enough credits communicating with an individual, you can get their personal contact details.
But when I say enough credits, you might just be taken aback by the number.
I will reveal all later in the review.
Many users, both male and female join dating sites like this to meet someone for a long-term relationship that might end up in marriage.
There is no secret about that at all.
But to facilitate these relationships LoverWhirl includes the option to fly out to the country where someone lives and to meet them in real life.
Of course, the flight ticket and accommodation are at your cost but you'd have to pay a fee in credits to arrange this meeting as well.
Again, we will cover the pricing of it later in this review.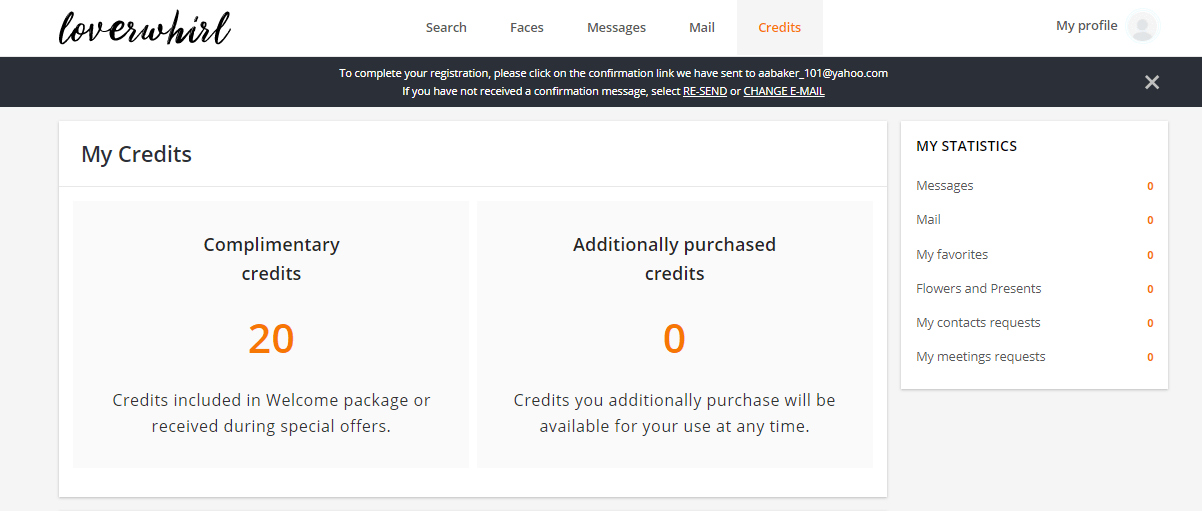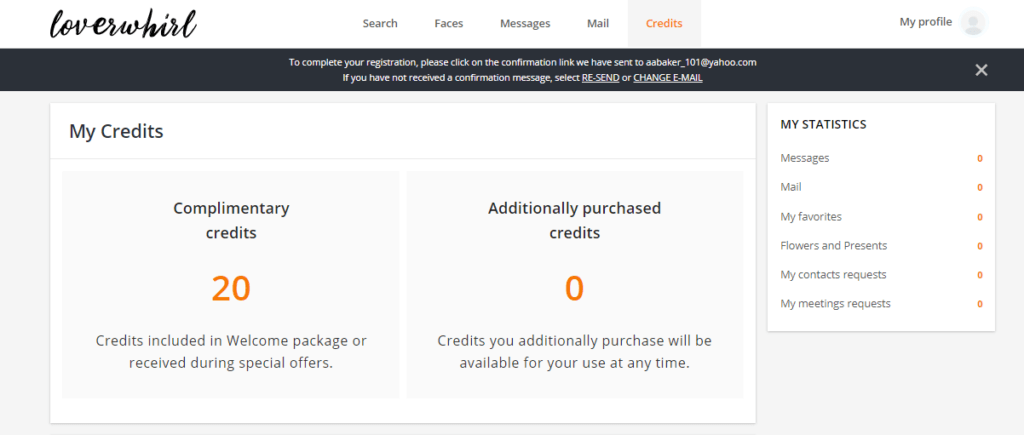 As I've mentioned earlier, this site only operates on credits.
But before we look into what they cost, here's a breakdown of the actions you can perform on the site and just how much they will cost.
Instant messaging/live chat – 2 credits per 60 seconds
Stickers sent in chat – 5 credits
Photos sent in chat – 10 credits
Videos sent in chat – 50 credits
Longer mail/letter messages – 10 credits for your first letter message and then 30 credits for each that follows in that particular conversation
Opening mails received – 10 credits
Viewing photos within a mail – 10 credits per photo
Viewing a video for the first time – 50 credits
Sending gifts – 100 credits for the admin fee and then add on the price of the gift
Requesting a meeting in person– 625 credits
To purchase more credits after you've used up your complimentary batch, you can use your Visa credit card or PayPal.
You initially will be allowed to buy 20 more credits at $2.99 but after that batch is finished, the real pricing comes into play.
From that point on, credits will cost you:
$9.99 – 20 credits
$19.99 – 50 credits
$44.99 – 125 credits
$69.99 – 250 credits
$149.99 – 750 credits
Super pricey, right?
My advice would be to stick to using the live chat/instant messaging system when using the site as that's certainly the cheapest form of communication.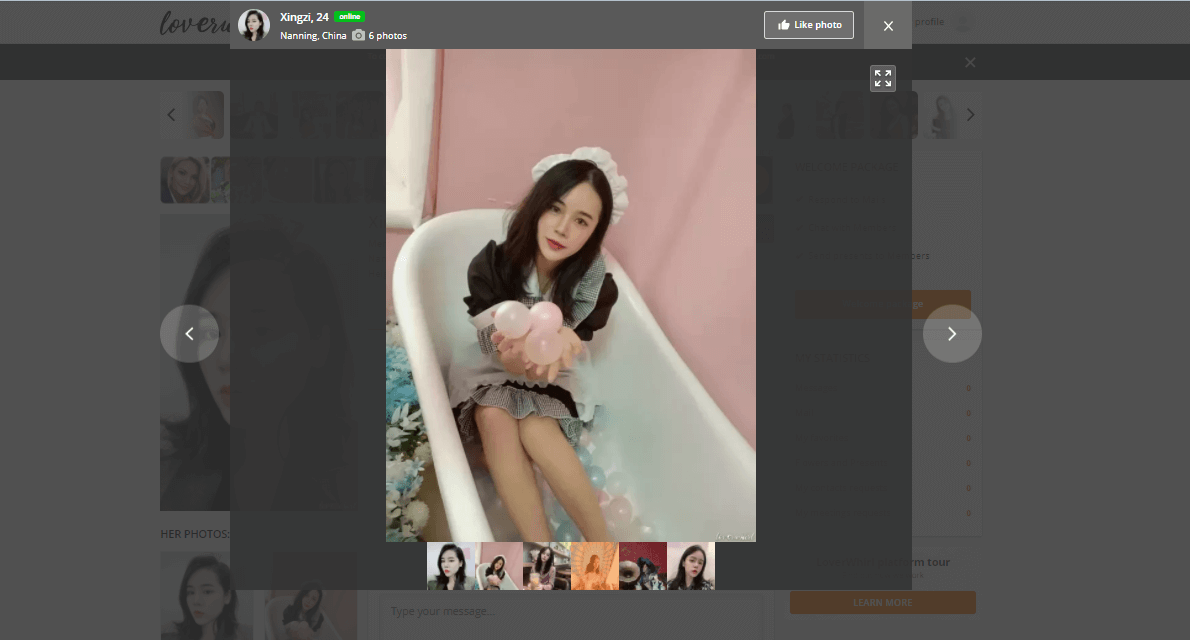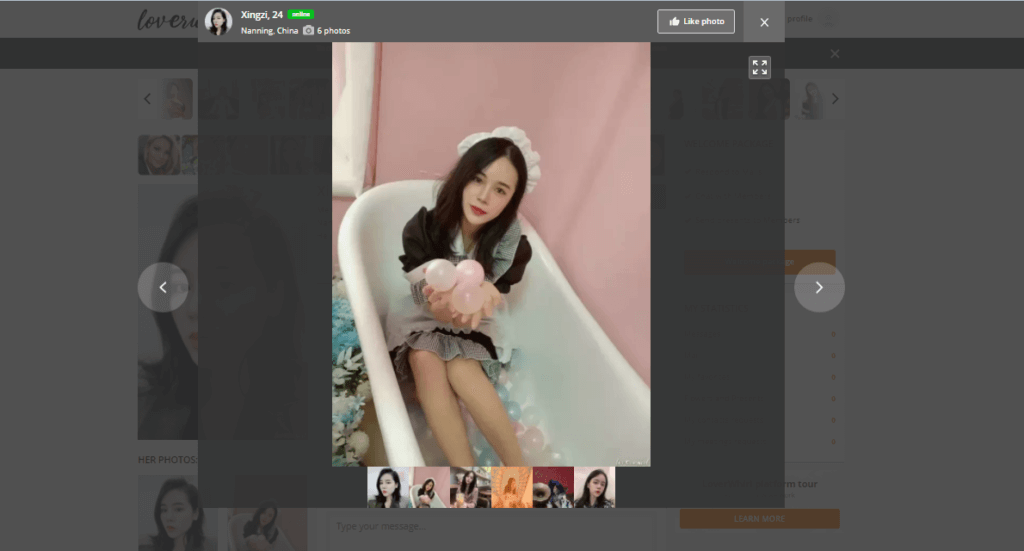 Conclusion and Overall Rating
And that's it for our LoverWhirl review.
While this site has everything you need to find a beautiful Asian woman to chat to and get to know better in terms of mechanics, it does lack in one area when compared to its rivals.
And that's the fact that the user base is so much smaller than other similar dating sites out there.
I think that's what really lets LoverWhirl down quite a lot at the end of the day.
Also, as you can see, in terms of pricing and the cost of credits, it's not that cheap either.
Perhaps if the cost of credits and the rate that you use them at were a little lower, that would encourage more people to try out the site and improve the size of the user base.
So let's get to the overall rating.
LoverWhirl gets 3 out of 5.
Over a review period of many weeks, the Onlineforlove team tried out LoverWhirl as a site to meet Asian women.
Our review approach saw our team give a star rating for critical aspects of the site as an online dating portal.
Our evaluation process took into account the following: the size of the userbase, key features offered, pricing, ease of use, and success rate.