Flirtwith is something a little different in the online dating scene.
It's a site where live streaming is very much at the forefront of how people interact.
While that's clearly an important part of what makes the site tick, Flirtwith also has more traditional communications methods that you would expect from an online dating site, including a messaging system.
But we are going to get into all of that in this wide-ranging Flirtwith Dating Site review.
OFL Top Recommendations based on 100,000+ Survey

"Serious Relationships"
"Discreet Hookups"
"Best Course for Men"
"Quick Flings"
"Normal Hookups"
"Our Quiz"
We will take a look at:
So let's jump straight in then.
FlirtWith Review in Video Form
Audio (podcast) form for those of you on the go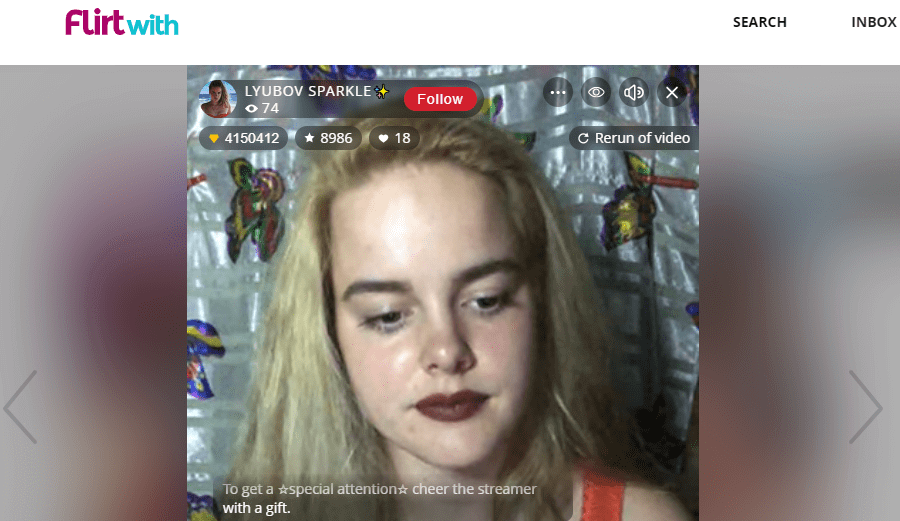 But first, check out the ratings.
Ease of Use 5/5
Effectiveness – 3.5/5
Key Features – 3/5
Pricing – 2/5
You can check the site with an anonymous profile before you register
Watch other users stream and stream yourself for free
An active site that continues to grow
You need "coins" to message others
"Coins" are very expensive to purchase


Who Is It For/Demographics?
So who is making use of Flirtwith?
Who does this kind of dating site appeal to, one where video streaming is such a critical tool?
OFL Top Recommendations based on 100,000+ Survey

"Serious Relationships"
"Discreet Hookups"
"Best Course for Men"
"Quick Flings"
"Normal Hookups"
"Our Quiz"
So for the most part, this is a site for the younger dating crowd.
It's also popular across the world with users from America, South Africa, countries in South America, such as Colombia and Bolivia, Mexico, the Philippines, and Turkey.
Based on the information that I was able to find out about the site, it's still growing with around 50 000 users coming from the United States, the biggest contributor to the user base.
Estimates put overall users numbers for FlirtWith at around 200 000 users
Over 40 000 are active on-site each week
That's over 5 000 per day and about 160 000 per week.
Those certainly are stellar numbers for a site that's clearly different and still growing well.
But what about gender ratios and age ranges, I hear you ask.
Well, it's not quite a 50/50 split when it comes to gender ratio.
More males tend to use the site.
In fact, they make up 60% of all users while the remaining 40% are female.
As for age ranges, well, I wasn't able to find a distinct breakdown in the different age groups but I can tell you that the majority of those using Flirtwith are between the ages of 20 and 30 years old.
Both the fact that males are more in the ascendency as users on the site than females and that users are mostly in the 20 to 30 age range doesn't surprise me.
In my experience, it's not often that you don't find a dating site where males dominate as users.
And the way this site operates means it's definitely aimed at young users and they are going to make the most of its video streaming, for example.
Even though, the use of live streaming makes Flirthwith a bit different from hookup sites (like BeNaughty or Ashley Madison) – It is a great place to connect with partners all over the world (like eHarmony).


While it's always awesome to find out just how a dating site operates, particularly as to how you can find a matchup that's worth following up on, you first need to register for your profile.
The good news is, and as you'd probably expect, FlirtWith not only allows you to make use of the site through a website but an app as well.
That makes total sense when you consider that the majority of the users on the site are aged between 20 and 30, right?
These are people who have grown up with smartphones and like to do everything, yes, even dating, using one.
One of the interesting things that I notice about Flirtwith is the fact that both the app as well as the website allow you to look around, so to speak.
Yes, you can actually click on other users that are streaming live.
And you can even run some searches of your own, with limited parameters but it's possible.
I'm not going to lie.
This fills me with a little unease.
That's because it means that just about anyone who logs on to the site has a chance of seeing your profile.
I guess, there are other sites that do the same but on the whole, I really would prefer for my profile to be private and if people are interested in the site, they can just sign up for their own.
But I digress.
Let me talk you through signing up for Flirtwirth.
Well, if you'd like to and if you have a Google Account, that can be used to speed up the process.
Otherwise, provide the following to start the process:
I used the one-click Google method and although it might be a little faster, there is still some information that you will need to provide for your profile.
This includes:
Your name
Your birthday
Your location
The gender you are hoping to flirt with
After that, you can start checking out the site.
It takes around two to three minutes to complete, that's all.
The site itself different from other dating sites.
The thing you will immediately notice is a wall of faces in front of you.
These are users that are streaming currently from all over the world and no, they won't necessarily be near your location at all.
It's fun seeing what they are streaming about, that's for sure and I spent my first half-an-hour on the site seeing what people were getting up to.


On the whole, the design of the site is very minimalist.
There's not a lot of menus here cluttering up everything.
On the home page itself, it's the streaming users that dominate the page but you will notice a few other things.
You can adjust what you see here by clicking on one of the three menus above the broadcasters.
These are:
Profile: Just see profiles of various users (this is based on your last search or people near your location)
Broadcasts: These are the people streaming on site currently (the number indicates the number of people streaming)
Feed: In your profile, you can update your status. This is where you can see other users' updates but many will be greyed out. More on that later.
The main menus for site are found above these menus and the are:
Search: Launch your searches for other users from here
Inbox: Find sent and received messages here
Upgrade account: Here you can become more than a regular user
So that's a basic rundown of the site.
I love the overall design, it's modern, fresh and it's fun to find your way around.
Before we move onto just how effective it is, let's look quickly into your profile.
I must say, I was a little taken aback by my profile.
There wasn't much information other than the description you can put in.
As you will see there are extra search parameters that can be used when looking for matches, for example, their appearance, habits and interests.
But I could find nowhere on my profile where I could fill in the information for this.


Let's talk about the search option a little because ultimately, that's one of the key parts of any dating site, right.
It has a few parameters that you can search with but also advance options if you'd like to add them.
For example, the basic search allows you to change:
The gender you want to search for
Age range
Location
If they want to video chat or not
You can expand on these parameters by clicking the advanced option.
Here you can add things like:
Interests
Education
Languages
The relationship they are after
If they have kids
If they drink or smoke
And appearance parameters
There's a lot for you to change as you see fit here and you don't have to pay to use the advanced features either.
You will notice, however, there's not a lot of information in other user profiles.
There is basically a bio and then areas you can unlock, including pictures by paying money.
Clicking on those unlockables gets full access sections of that users' content, alerts them to the fact that you have subscribed and allows you to follow unique posts they make.
It's an interesting way to sell aspects of the dating site, that's for sure.
But for me, it's a money grab.
Reaching out on Flirtwith
But how do you reach out to others?
While you can chat with streamers while they stream, I want to approach this from a dating site point of view.
And that's talking with someone in a one-on-one situation.
Just you and them.
That's going to cost you money, just like many other dating sites.
Other than using your credit card to unlock certain aspects of another user's profile, as I spoke about above, you will also need to purchase the currency used by Flirtwith.
These are called "coins".
They not only allow you to chat with others but to send virtual gifts to them as well.
Of course, these "coins" don't last that long and they certainly don't come cheap but we will cover the price later.
Here's an idea of just how many of these "coins" you might need.
For example:
Live chat users 100 coins per minute
Sending a message to a user that's offline is 100 coins
Sending an email is 1000 coins
It's exorbitant that's for sure.
But more on that in the pricing section of this review.
Let's now take a look at some of the key features that Flirtwith has to offer.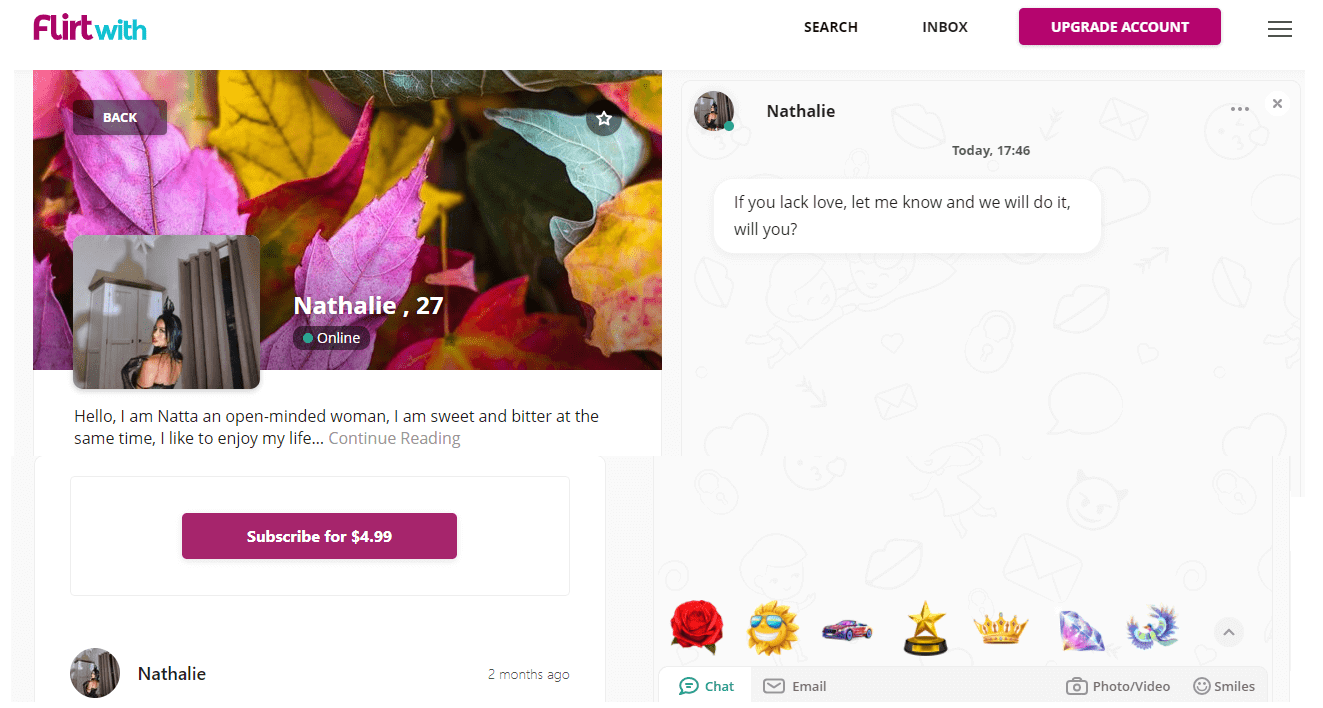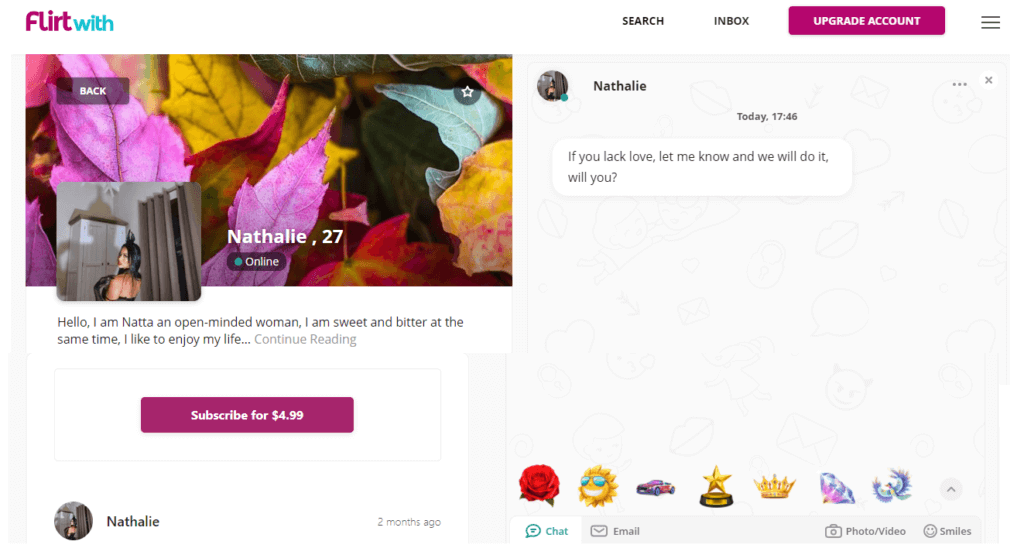 Because this site doesn't have a monthly membership option, for example, and only operates on "coins," it's very difficult to judge the key features.
What you do need to know is that you need "coins" to operate them.
But before we get into that, let's look at what it is that free users on the site can do.
You can stream
You can watch other user streams and chat with them and others
You can use advanced search parameters in your search for someone
That's not too bad actually.
Of course, the streaming is the fun part and sets the site apart from many of its competitors.
Plus the fact that you can use advanced search parameters in your searches just helps you to find the right kind of matchup, which is neat too.
But with "coins" you can do the following.
1. Send messages and emails
Even with a site that has a streaming element that includes communication, you will need to be able to send and read messages should you be wanting to use Flirtwith to find potential matchups.
You can directly message someone from their profile and if they message you, it appears in a panel on the right-hand side of the screen.
Click on these messages and reply to them.
Flirtwith is not the only website that makes use of virtual gifts and to be honest, I will never really understand the fascination with them.
Why would you send a virtual flower in a chat message to someone?
It means nothing at the end of the day and only costs you "coins".
There are many different virtual gifts to be found on Flirthwith from flowers to some kind of animated bird that costs 499 999 "coins".
And I am not kidding.
If you don't want to send virtual gifts, you could choose the real-life option if you want to really make an impression on someone.
Again, this is a paying feature and personally, it's not something that I would consider using at all.
As for key features, that's about it basically.
And yes, all of these mean that you need to have "coins" to use them.
For that reason, let's get onto the pricing of these "coins" as well as other ways that Flirtwith has you use your cash.

Before we get on "coins" and just how much they cost, I want to recap on something I spoke about earlier.
Remember I highlighted that certain aspects of other user profiles were locked and greyed out.
For example, the section where you can learn more about them, or perhaps a specific picture on their profile feed.
You can unlock these by paying cash, for example, $4.99 or $6.99.
I've even seen up to $9.99 for photographs.
Do you need to see these photos?
Probably not, but clearly, people must pay money to access them, otherwise this wouldn't be a thing, would it?
But what about "coins".
Well, let's recap on what you would need them for and how much each of these uses costs.
Live chat with others costs 100 coins per minute
Sending a message to a user that's offline is 100 coins
Sending an email is 1000 coins
But let's equate that into a monetary value.
Two minutes of live chatting is 200 "coins" which costs $2.99.
That's pretty steep, right?
Is that the only options for "coins" in terms of pricing?
No, there are two others but here is the full breakdown:
200 "coins" – $2.99
1 500 "coins" – $9.99
20 000 "coins" – $99.99
There is one saving grace, however.
Which each of these "coins" packages you get the following for free:
10 free chats
10 free emails
Free introduction messages
That's pretty awesome but it doesn't detract from the fact that "coins" are super expensive.
I would have preferred that, in general, the overall pricing point for "coins" would be far lower and that there would be more price plans when it comes to buying them, offering even more advantages if you bought in bulk.
But in saying that, if you are going to use the site a lot I would aim to buy the 20 000 "coins" option as there are significant savings to be made on this package compared to the other two.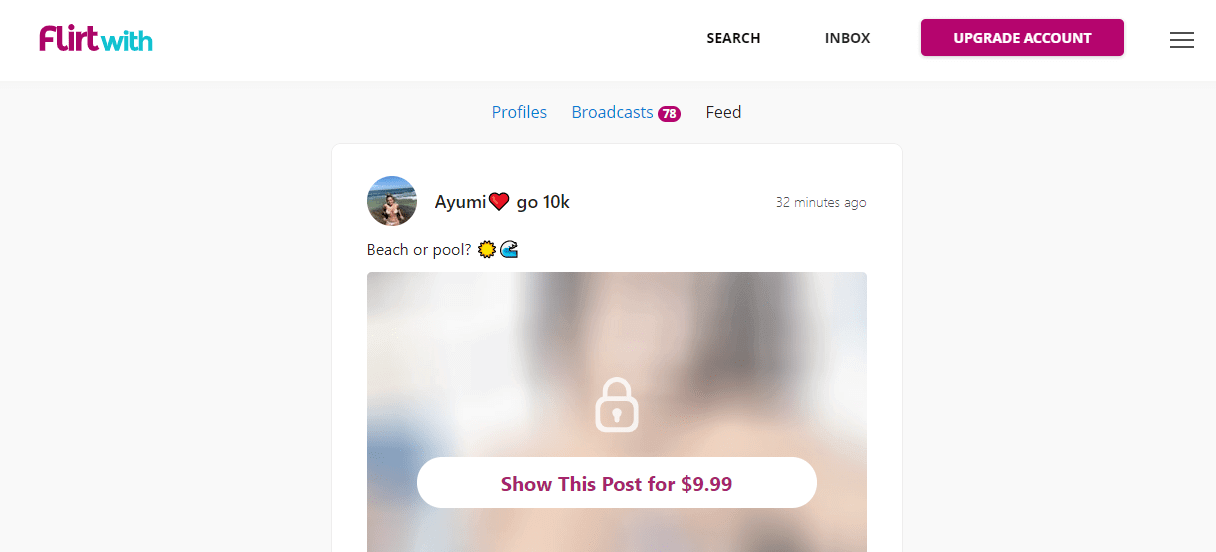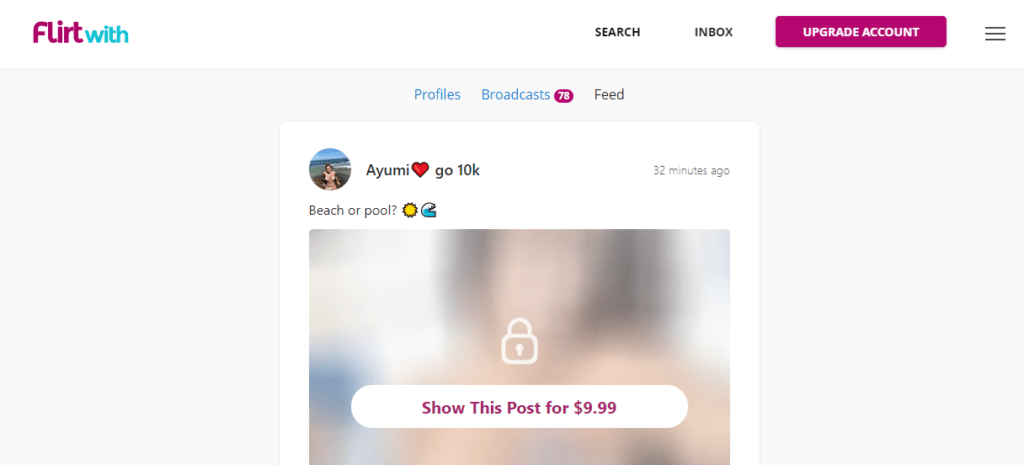 Conclusion and Overall Rating
We've come to the end of our review for Flirtwith and it's time to sum everything up into not only a conclusion but a final rating as well.
I must say, I really like Flirtwith.
It's pretty unique when compared with other dating sites and there are lots going for it.
If you are looking to become an active streamer on the site, it's possible to build yourself a large following, much like other users have.
Or you can just shoot the breeze and chill while watching other people's streams.
But for our purposes, we ultimately have to judge Flirtwith as a dating site.
And yes, that's what it is, just look at the name, right?
All the other additions, like streaming, for example, are just an extra add on that gives the site some social networking aspects in my view.
Does it have the tools you would need to help you find someone to flirt with, date, or perhaps even more?
The answer to that question is most definitely yes.
For one, Flirtwith has an excellent search engine that first lets you search by location (often the most important aspect for many users) and also lets you make advanced searches using a host of parameters.
When it comes to contacting a matchup, well you could send either and email or a message.
Both of these mean you need the site currency, "coins".
And here's where Flirtwith falls down a little in my opinion.
Why?
Well, firstly, "coins" don't go very far.
Secondly, "coins" are pretty costly.
Wait.. very costly.
And there is no option to buy a monthly membership.
I really think sites that use the currency model when it comes to messaging and other features are more about making money than anything else.
But I suppose it is what it is.
As a user, however, you've got to make sure you don't get carried away.
That means taking the time to find the right person, see if they respond to your messages and if they don't move on.
It's far too costly to fire off messages to just about anyone you come across on Flirtwith.
As for a rating, today Flirtwith gets 3.4 out of 5.
It has so much potential but I really feel that the pricing model holds it back somewhat.
If you have used the site or will consider using Flirtwith, let us know in the comments below.
Frequently Asked Questions