Online dating sites have become more and more popular.
Finding an online soul mate has never been easier, and there is a piece of cake for everyone in the online dating world.
Dating sites offer something for older people, for men, for women, for both, something for those who are divorced, and of course, there is an online dating place for nerds, too.
This geek2geek.co review is revealing to you everything you have to know about this geek online dating app.
OFL Top Recommendations based on 100,000+ Survey

"Serious Relationships"
"Discreet Hookups"
"Best Course for Men"
"Quick Flings"
"Normal Hookups"
"Our Quiz"
You'll know how to:
Let's begin!
Is your dating app giving you the best chance for success?
Make sure to take our online dating site/app quiz to find out.
People who follow our dating site suggestions have on average 2 more dates per month.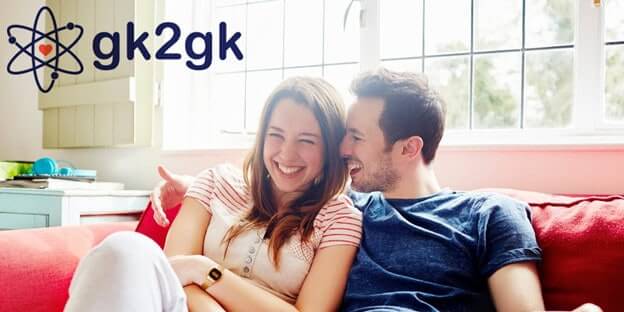 Geek 2 Geek Review in Video Form
Audio (podcast) form for those of you on the go
First, the ratings.
Effectiveness – 4/5
Features – 4/5
Ease-of-use – 4/5
Price – 5/5
Easy to use
The simple and quick registration process
Many available features
Modern design
Blocking feature
Connected with Facebook
LGBT friendly
Fake profiles
Unsubscribe problem
Who is it for/ Demographic make up
Gk2gk.com is one of the most popular free online dating sites for all those who are into tech, science, or for those who are simply the smarter guys in their entourage.
The site was specially made for those who are not estimated enough to take a part in the global online dating world.
Gk2gk was made by one of the nerds who were recovering from his divorce after many years of marriage.
This guy got an idea to make an online dating site for geeks who were not understood by their families, friends, and many other people.
OFL Top Recommendations based on 100,000+ Survey

"Serious Relationships"
"Discreet Hookups"
"Best Course for Men"
"Quick Flings"
"Normal Hookups"
"Our Quiz"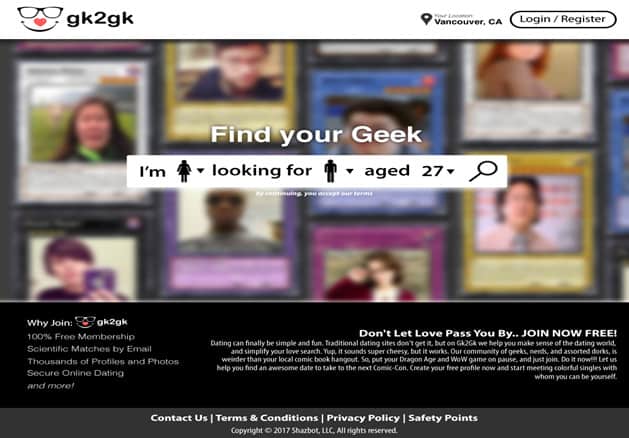 Many geek to geek dating reviews guarantee you that this is an online dating site for every kind of relationships.
If you are looking for occasional fun, a serious relationship (like eHarmony boasts of), a one-night stand (like BeNaughty or Ashley Madison are known for), or even a marriage, then, you are in the right place.
Geek people and all the people who are feeling like the Big Bang theory nerd characters are very welcomed to join this online dating site.
The age limit isn't determinate. Men and women can join it for free, too.
Although there are more men than women who join this site daily, there is a nice percentage of female users who are nerds themselves, or they are into nerds.
However, it would be nice to have more female active users.
Many reviews define effectiveness by the number of members on an online dating site.
When are speaking about the Gk2gk online dating site, there is no right number of its users.
However, the quantity isn't always the quality of a dating site.
That's why we are asking the question below.
At the end of the day, effectiveness is a subjective thing.
How well geek2geek dating works for the target group?
Don't forget that each dating site has its target group.
In this case, we are talking about the geek target group.
No doubt, the people you can find on this dating site are very different than people on the other dating sites.
They are intelligent, funny, creative, and definitely remarkable people who are pretty open to online dating experiences.
Geek2geek geeky geeks are interested in Physics, Maths, and science generally.
They are interested in sci-fi TV shows, movies, documentaries, and books.
Female users are not ''nerds nerds''.
They are more into guys who look like Ryan Reynolds.
Their Ryan wears cute Harry Potter glasses style, but he is as smart as Sheldon Cooper is.
They are also seeking higher standards, and that is the reason why Gk2gk online dating platforms have survived for many years.
How to initiate gk 2 gk contact?
If you want to meet someone as a geek to geek, when you sign up to the site, you will see the filters that you can use before you start searching for your perfect match.
Filters are there in case you want to search for a member who has the same interests as you do.
When a member's profile appears, you can send a short message or a wink, and you can start a conversation with your perfect nerd.
Nerds have always had problems with starting a simple conversation.
They've always needed extra help.
Well, my little geeks, the Gk2gk online dating site makes a relaxed conversation and less stressful.
There are many features that my geek friends can use to start the right conversation.
More about those features you can read in the section below.
Besides basic features like messaging, chatting, and special links that guide you to the other members' blog, some key features can help you to improve your geek to geek online dating.
The best thing about these features is that members can use them for free.
Extra features give you the opportunity to upgrade your profile and place it on the top of the searching field.
They also give you the opportunity to use unlimited chat options, to send unlimited numbers of messages, and extra emoticons for your online chatting.
Check out the list of the most used features that the online dating site Gk2Gk offers.
You can use the display name option if you want to add a pinch of intrigue identity.
It is a sort of description that can attire more users to your profile.
Your display name isn't supposed to have anything in common with your name, family name, or nickname.
It can be a sentence, a simple description that reveals your personality and its strength or weakness.
It can be composed of letters, numbers, or other characters.
It mustn't be offensive to other users or call for violence.
That is a great option for a shy geek without self-confidence.
If you want to make the first move, but you don't know how, use these short messages to confess to other users that you like their profiles.
The Flirt button is on profile pictures.
If you like someone's profile, a simple tap on the picture will show it.
If the other user responds to your flirt, that can be a sign to send a longer message.
The Flirt option is available for everyone, free, and paid members.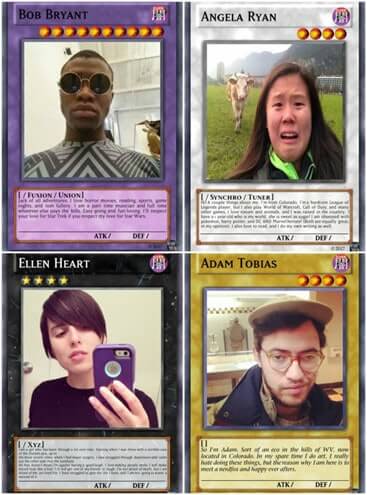 While you are scrolling down and searching the right match for you, there are often profiles that you would like to check quickly.
That's why the Quick Peek option is there.
Taping on it, a new window is opening, and you can see the full profile you are interested in.
If you want to exist, you close the window by tapping the x sign.
Other users can't see if you peek at them, so you can do peek at them as much as you want.
One of the reasons why people love Gk2gk online dating site is because it has many interactive features.
People actually amuse using them.
One of those features is Mingle.
The mingle option is like the ''or… or'' game.
Mingle options give you two profiles to choose from.
The goal is to choose the profiles that you like more.
The profile you don't like will disappear from your list, and the new one will reveal.
The interesting thing is that you don't choose one of the profiles just by the profile picture, but you have to answer the question that the game demands you.
For example, ''who would you go on a weekend trip with?'', or ''who would you rather go out with?''
It is a very amusing feature, and you can even play it in a group.
Some members find it awkward, but an online dating site doesn't have to just a place where you must find your perfect match.
It can be a place where you can have fun.
This online dating platform is well organized.
Its design is very modern and attractive to all age users.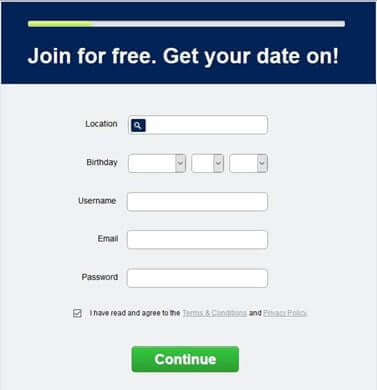 Gk2gk desktop version is friendly to use, and all its members can use it without any costs.
Plus, it is really easy to use.
That's why members of all ages are extremely satisfied ''geeking'' it.
Accept an attractive and modern design that Gk2gk has arranged for its users, many sections are well marked, even for those members who aren't trained enough to use technology, if there is someone who can't use it at all.
Navigate through the Gk2gk platform is so simple that you will feel like a fish in the water while looking for a perfect geek date.
Main features, words, and options are bold or underlined, which makes your research easier than ever.
After reading just one of the geek2geek reviews, you will be able to start geeking as a pro, and the results will come as fast as lightning.
How can you start with Gk2gk dating?
The first thing you should is to sign up on this dating site.
After signing up, it's time for your profile personalization.
To be more attractive to other users on this online dating site, fill in the gaps about your personal details and interests.
Make sure that the picture you chose represents you physically, but also it has to show your personality.
Don't try to be more geek on your profile picture, just be yourself.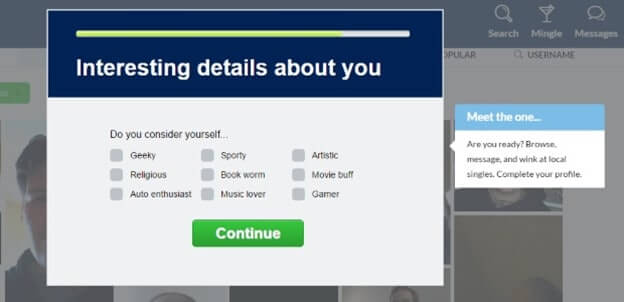 Your interests and hobbies fields are very important.
Add your hobbies, interests, movies, music, pets, education, and what are you looking for in other members.
These facts the Gk2gk algorithm will use to match you with a perfect stranger, but they will make that other person can become more interested in you, which will automatically guide you to the top of the list of the most wanted users.
In the end, the advice is to use wisely ''About me'' section because that is what the other members are waiting for.
That is also the section where you can have the most interactions with people.
It works as a game, and we all know that nerds like playing games, especially the smart ones.
You can make very amusing and funny questions such as ''Have you ever…?'', or ''If you were a crazy scientist, who would you be?'' and that kind of stuff.
And, that's how, unconsciously, you've already started with Gk2gk dating, and that's the best part of it.
How to become a member of Gk2gk?
Becoming a Gk2gk ultimate member is easy, and it lasts for ten minutes.
When you go to the online dating site gk2gk.com, several different windows will open one by one.
In the first window, you have to write down your location, date of birth, username, and password.
In the second window, you have to add your appearance description.
The third window cannot be skipped, and you have to add in it some interesting details about yourself.
The final window will ask you to add your profile picture, but this is the step you can skip, and you can upload your profile picture additionally.
There is no email verification, and that opens the subject about the safety and security that this online dating site offers or not.
After a few years of silence, the Gk2gk online dating app finally released its mobile app that you can use via your IOS or Android devices.
It's geekalicious!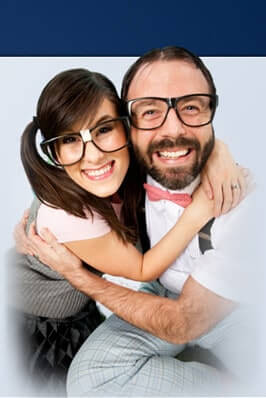 How to add Geek2Geek.com to IOS devices?
The first step is to enter your geek account by using your device.
To enter your account, you have to use the Safari browser.
The next step is to use the Share button.
Find the adding option, and confirm the operation Add to Home Screen.
As a final step, type the app name and add it.
Voila! Now you are ready to use the Gk2gk app.
How to add Geek2Geek.com to Android devices?
The process is the same as for the IOS devices.
The only step you don't have to follow is typing the app name.
Just choose the Add button, and the app will be on your Android device.
Once you start using this interesting online dating site, you will be able to use some of its most important features for free.
As a free user, you can send messages, respond to them, read, and see all the messages someone sends you.
Unfortunately, there is a message limitation because you can send up to twelve messages as a free member.
However, if you want to upgrade your profile, place it on the top of the list, and become the most wanted nerd, you can always become a premium user at a very low price.
The period of your premium membership will define the price you have to pay.
The most expensive one month package will cost you 9.95 USD.
If you decide to buy a three months package, you will get a reduction, and the price for it will be 6.65 USD.
For a four months package, the costs are 4.99 USD.
The cheapest package is a whole year package, and with a discount, it can cost you 3.33 USD.
You have to admit that this is more than a decent offer you can have, and it is definitely worth trying.
The extra features you can get as a paid user are unlimited messages, a cherry on the top profile, some extra emoticons, and much more.
This gk2gk review proudly represents two more things that might convince you that this online dating site is the best choice for you nerds.
The site offers a user-friendly desktop version, and it offers you a PayPal payment option which isn't one of the options that you can find on every online dating site.
Gk2gk online dating site is one of the first dating sites for nerds.
Nerds or geeks are people who aren't different from other people.
They are simply more interested in different, sometimes unusual things than others are.
Besides their special interests, they are smart but funny at the same time.
Gk2gk online dating site is their love place, and they are the hosts in it.
Overall Rating – 4,2/5