I will give you one guess as to the type of niche SaucyDates fits into when it comes to online dating.
That's right, this is a hook-up site.
This in-depth review of the site will take you through the registration process, how to use the site effectively, and tell you all the key features on offer to members.
Specifically, we'll be reviewing the site's
OFL Top Recommendations based on 100,000+ Survey

"Serious Relationships"
"Discreet Hookups"
"Best Course for Men"
"Quick Flings"
"Normal Hookups"
"Our Quiz"
Is your dating app giving you the best chance for success?
Make sure to take our online dating site/app quiz to find out.
It's a fact that people who follow our dating site suggestions have on average 2 extra dates per month.
First, let's start with some overall ratings first.


SaucyDates Dating Site Review
Ease of Use 4/5
Effectiveness – 3/5
Key Features – 3/5
Pricing – 4/5
Over 1 million members
Caters for all genders and sexual orientations
Simple, yet effective design
Very cheap membership
Only an app for apple handsets
Sending messages is for members only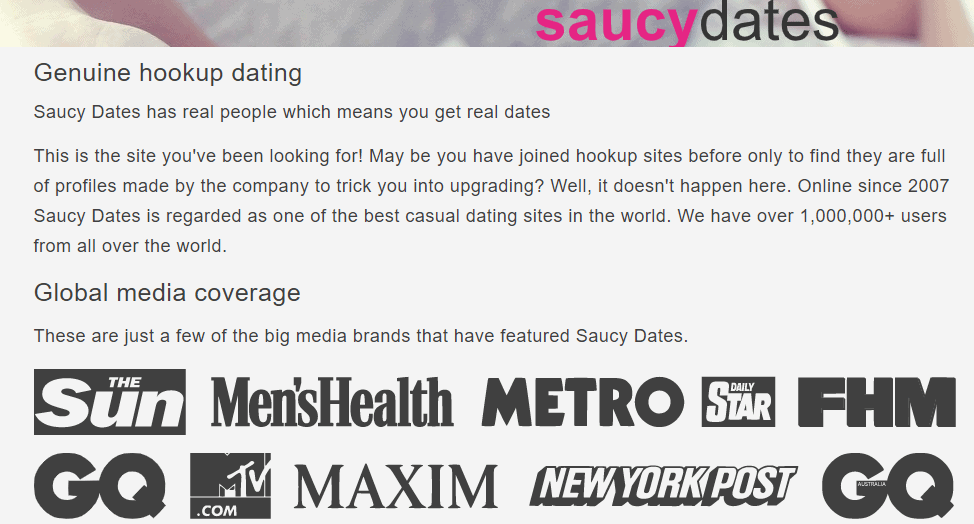 Who Is It For/Demographics?
SaucyDates is not only for singles, however.
OFL Top Recommendations based on 100,000+ Survey

"Serious Relationships"
"Discreet Hookups"
"Best Course for Men"
"Quick Flings"
"Normal Hookups"
"Our Quiz"
Couples are welcome to sign up and join in the fun as well and the site is open to everyone in the LBGT community as well.
In other words, it is situated nicely between sites for casual hook ups, no-strings-attached sex, and sometimes, even quick, online sessions like BeNaughty or Ashley Madison, and those ones frequented by people looking for long term relationships like Tinder or eHarmony.
It's no secret that many people the world over love nothing more than meeting someone new for a casual fling.
There's no emotional attachment, just a physical fun.
It might be a once-off or it might last for a couple of months.
There are no rules when it comes to hook ups, right?
Finding people to hook up with, however, isn't always that easy.
Sure you can hang around in a club or a bar and see what comes out of that, but online dating sites, those with hook ups in mind, have proved a popular way for these like-minded people to find each other.
And that's what SaucyDates brings to the party.
This is not a site where people will sign up looking for someone to date for a long period of time.
Neither is it a site where users are signing up to hopefully find their life partner.
SaucyDates is all about the physical aspect of relationships.
Clearly, lots of people have turned to the site to help them find those relationships too.
That's because SaucyDates has over 1 million users all around the world.
Let's break down those user numbers a little more:
Around 200 000 users on SaucyDates are based in the United States
Around 20 000 people join the site each month
SaucyDates gender ratio and user age ranges
When reviewing hook up dating sites, it's generally male users that are far more prevalent than female users.
But what's the situation with SaucyDates, is it any different?
No, it's not.
There are more male users on the site than female users.
But it's a lot closer than many other hook up sites.
60% of the users on the site are male
40% of the users on the site are female
In other dating sites, it's often 70% to 75% of users are male.
As for the user age ranges, well, again with most hook up sites, although there is a spread of users across all age ranges, generally, it's the mid-20s to early 30s age group that are more prevalent.
SaucyDates is just the same.
Here the 25-34 year-olds account for 32% or almost a third of all users.
Interestingly, however, there is actually a pretty good split across all the age-groups.
For instance, 55 and over accounts for 19% of the total users on SaucyDates.
Here's a full breakdown for you with the gender split included.
25-34 year-olds (32% of all users of which 19% are males and 13% are females)
35-44 year-olds (22% of all users of which 13% are male and 9% are females)
55+ (19% of all users of which 11% are male and 8% are female)
45-54 year-olds (17% of all users of which 10% are male and 7% are females)
18-24 year-olds (10% of all users of which 7% are male and 3% are female)
That's it for the demographics when it comes to SaucyDates.
Let's look into starting your own profile on the site and what that entails.
In the introduction to this review, I mentioned that SaucyDates is for everyone.
Not all hook up sites cater for more than males or females.
That's not something that you have to worry about here.
In fact, Saucy Dates has 21 gender types to choose from.
This covers all of the LBGT options as well.
So that's a huge advantage for members of that community who are looking for a hook up site that can serve their needs.
But the site doesn't stop there either.
That's because, in terms of sexuality, you have nine options to choose from.
This really is an all-inclusive dating site, that's for sure.
Once you've filled in all the necessary information, you will receive a link from SaucyDates which is sent to your email address.
Click that to log in for the first time.
The rest of the registration process includes providing information to fill out your profile, including who you are hoping to hook up with on the site.
It's very different from your regular dating site registration and asks lots of pretty personal questions.
You even get the chance to formulate a 500 character flirt message which you send out to a select group of users.
SaucyDates wants you to sign up for a membership from the get-go but you can skip it and I suggest that you do.
You want to see what the site has to offer before you commit, right?
Saucy Dates | Finding your way around
Once you've completed the necessary parts of the registration process, which takes around 10 minutes in total, you can access the site for the first time.
SaucyDates has a unique design.
It's not stellar by any means but it does what it needs to in terms of providing a platform for you to look for potential matchups.
The main colors on the site are pink, grey, white and black and on the whole, it's not too bad to look at.
Yes, there is advertising, like there often is on sites like this, but it's mostly towards the bottom of the page so not intrusive at all.
All the site's navigational menus are found on the left-hand side of the screen.
They are:
Search: Launch all your searches here
VIP: You can take out membership on SaucyDates here
Me: This links to your profile (don't forget to upload a profile pic)
Chat/Alerts: All your messages will be found here
Chat on cam: Click here to access live webcam models
Swap app: Access other dating sites you may be interested in here
SaucyDates only has an app for Apple handsets.
You can easily download it from the App Store.
For Android users, at this point no app is available but if you'd like to view the site on your mobile phone, navigate to the bottom of any page and click on the "mobile view" tab.
Now that you know a little more about how the site looks and operates, let's just see how effective it is.
I'm not going to deny it.
In terms of users available in the small city in my country, I was more than impressed with SaucyDates.
I have numerous profiles near me that were worth following up on.
I even had someone contact me within the first hour I was using the site.
But what about searching for matchups of your own.
Searching for hook ups on SaucyDates
While it's always nice when someone reaches out to you on a dating site, for the most part, you are going to be searching for matchups of your own and getting into contact with them.
While we will talk a little more about messaging someone later on in this review, let's first look at the search engine that SaucyDates offers you in your search for that perfect matchup.
The site doesn't provide you with matchups at all, so searching is your best bet to find matchups that might prove worthwhile contacting.
And that's easily done by clicking on the search menu on the left-hand side of the screen.
There isn't an advanced search engine for you to use but you can change the following:
Gender
Sexuality
Age range
Distance from you
Location (here you can change countries)
You can then filter any returns by their last activity, distance and lastly, if they have a picture or not.
It's easy to see if someone is online currently as they will have a green dot in their profile picture.
An orange dot means they have not been online for a bit, while a red dot means they haven't been online for a very long period of time.
It's nice to have these indicators to help you decide who might be worth checking out.
Of course, there is nothing wrong with trying to message someone who maybe hasn't been online in a while.
Your message might just get them back online, right?
In terms of someone's profile.
There's a lot of information that you can learn about them by reading through it including what type of relationship they want and what they would be into if you were to meet up.
There's also a basic idea of their appearance, body type and more.
Reaching out to someone on Saucy Dates
So you've found someone that you'd really like to reach out to.
How would you go about it?
Well, you can click on the "Send Hot" which informs them that you are interested in them.
It's interesting because when you do this, it says "Sending hot message" but you don't have the opportunity to type in anything.
I didn't receive any of these during my time on the site but I suspect it's more like a "Flirt" notification that you see on other dating sites.
You will also notice on the profile the "Message" button.
If you are a member, you can click this and send other users a message.
This isn't an option for regular users, however.
The only way you can contact anyone as a regular user is with your one and only flirt message that you can send when you first join up.
Also, as a regular user, you will see messages in your inbox from other users, if they message you.
They will be blurred, however, and you won't be able to read them.
All dating sites hide their messaging behind a paywall so, in that regard, SaucyDates is no different.
Let's look at all the features that you can expect, should you choose to sign up for membership in your pursuit of potential hook ups.
No matter what cool features membership to a dating site brings, nothing will ever top the ability to message another user.
That's due to one simple fact.
Without messaging, you just don't have any chance of communicating with someone and getting to know them better.
Or eventually sorting out all the details for your first meeting.
As a member of SaucyDates, you can send messages to other users and should they reach out to you first, their messages will no longer be blurred.
Also, you can send messages to anyone on the site, not only users in your own country.
Other than membership fees, datings sites sell advertising space on their platforms as well.
While advertising on SaucyDates isn't at all bad, as a member, it will all be removed.
That just cleans up the site a little more.
Members of Saucy Dates will get a VIP badge added to their profile.
4. Priority profile listings
Other than the VIP badge highlighting you as a paying member of SaucyDates, you also will receive priority profile listings.
That means that your profile, along with those of other paying members will appear at the top of other users' searches.
That's never a bad thing in having other users contact you instead of you doing all the searching.
Those are the key features on the site.
They aren't that spectacular but some are more than useful.
Ultimately, you have to judge them what membership is going to cost you.
Well, I was pleasantly surprised to find just how much SaucyDates charges for its membership.
In fact, all those key features are inexpensive when you see what that price is.
Other dating sites often charge far more and even for fewer features in some cases.
SaucyDates has four options when it comes to membership packages: one-month, three-months, six-months and 12-months.
Here's the breakdown of what these will cost you:
1-month membership: $12.95
3-month membership: $35.85 ($11.95 per month)
6-month membership: $65.70 ($10.95 per month)
12-month membership: $107.40 ($8.95)
That monthly price is cheap!
And interestingly, there are no really significant savings to be had for the extended membership options other than maybe the 12-month one.
But that's a pretty big outlay to secure it.
My advice then, if you are interested in using the site, is to simply go with the month-to-month option.
Again, the pricing is very clever and certainly will play a part in converting someone from a regular user into a paying one.
Conclusion and Overall Rating
In my research for this review, I found lots of mentions of fake profiles on SaucyDates.
I must say, that in my time on the site, I can't say I say one at all.
Often, if a site has fake profiles or bots, you will notice immediately when people that look like supermodels start messaging you incessantly.
That didn't happen here.
The one message I did receive was from a regular-looking person and they used the same colloquialisms that I would expect to hear from my country.
This is a site that is perfect for hook ups, there is no doubt about it.
Not only does it cater to everyone, including the LBGT community but it has a strong global user base of over 1 million users.
And if you live in a smaller city like me, that gives you a fighting chance of finding matchups near you.
I certainly did.
While it's not the prettiest dating site out there, it's super effective in what it does.
It's so easy to launch searches and to move on from there in your quest to find a hook up.
And then there is the pricing.
It's just so cheap.
So onto a rating then.
SaucyDates gets a solid 3.5 out of 5.
It really is a hook up site that you could try out for a couple of days and see if it would work out for you or not.
What do you think of SaucyDates?
Does it offer the kinds of user base and features that you are looking for in a hook up site?
Would you try it out?
Let us know in the comments below or ask any questions that you might have about the site and we will try our best to answer them.
Frequently Asked Questions
Is any dating site safe?
Ultimately, if you are going to meet up with someone you've come across on the site, you shouldn't be doing it after a day or two.
Try to get to know them a little better and perhaps if you do meet up, go for a drink first.
Always trust your instincts too.
If it doesn't feel right, then move on.
In terms of the safety of your data, yes, SaucyDates keeps all your personal details as well as the banking details of their members safe and secure behind the necessary security features that all online dating sites are expected to have.
No commercial dating site is free.
SaucyDates is no different.
While there is no trial membership for the site, it's so cheap that you can sign up for a month and try it out.
That will cost you just $12.95.
Of course, it is.
It's owned by a company based in the United Kingdom, DM Cubed, Ltd.
SaucyDates is a global dating site with over 1 million users.
It's for all kinds of people, no matter their gender or sexuality.
SaucyDates is primarily a hook up site.
You can join up through the SaucyDates app if you'd prefer.
That's only for Apple handsets, however.
Otherwise, you will need to head on over to the SaucyDates registration page and sign up from there.
It takes about 10 minutes but you will have to click on an email from the site to verify your registration.
It's a little hidden away but you can delete your SaucyDates account if you'd like.
Click on your profile and scroll down until you find the settings button.
Click on that and then "Delete Account" and follow the instructions.
You can change a whole range of settings here as well.
Either send an email to [email protected] or phone +44 1244671295.
Remember, the company behind SaucyDates is based in the United Kingdom.
It's not that involved really.
You can set a few parameters that you'd like to search for.
These include gender, age ranges, distance from you and a few more.
Should you wish to block someone on SaucyDates, the process can only be done from that users' profile.
Click on it and find the "report" button.
Now click on that and follow the necessary instructions.
There are no options to block users which is a bit strange.
But I suppose if they harassing you, reporting them will see action taken.