Welcome and thanks for taking the time out today to read this review of Agematch.com.
It's a dating site that's part of a particular niche in online dating.
That niche is an age gap dating and that's something I will explain further in the review.
We are going to take a comprehensive look at the site to determine first and foremost if it's the real deal or a scam.
OFL Top Recommendations based on 100,000+ Survey

"Serious Relationships"
"Discreet Hookups"
"Best Course for Men"
"Quick Flings"
"Normal Hookups"
"Our Quiz"
But that's not all we look at.
By the time you've read through this Agematch review, you will know if it's the type of dating site where you can find your soulmate and also:
So let's begin and guide you towards your ideal match.
Is your dating app giving you the best chance for success?
Make sure to take our online dating site/app quiz to find out.
It's a fact that people who follow our dating site suggestions have on average 2 extra dates per month.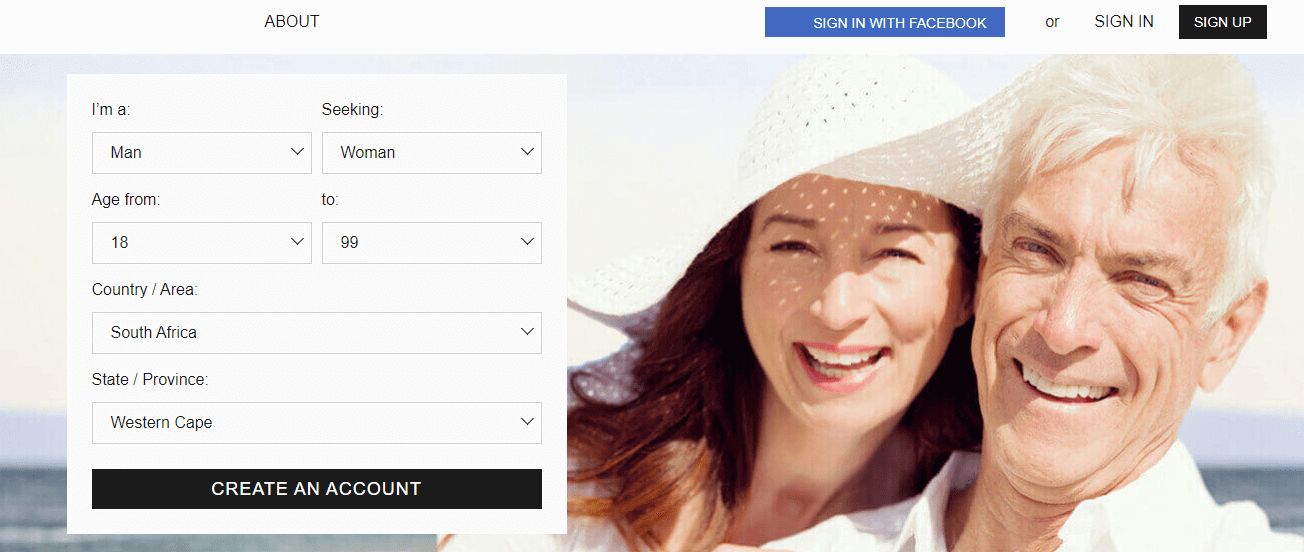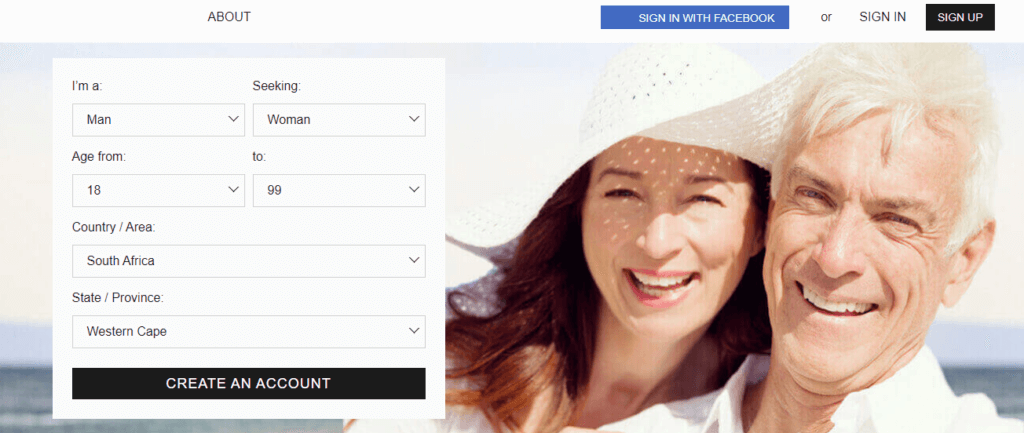 Ease of use – 4/5
Effectiveness – 4/5
Key features – 4.5/5
Pricing – 4.5/5
Includes an app for Android and Apple devices
Users are looking for long-term relationships
Over 1 million users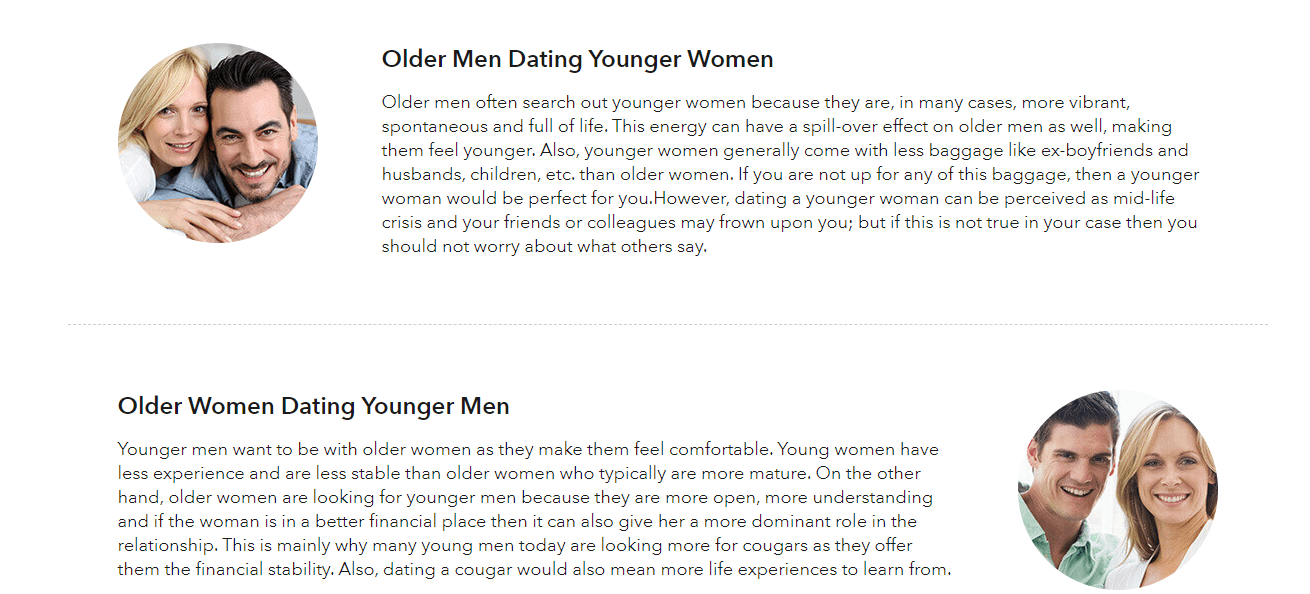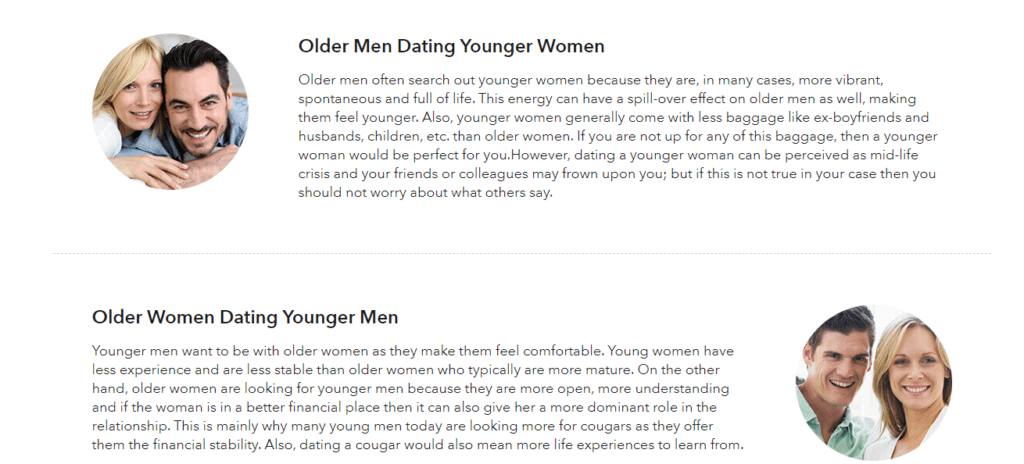 Who Is It For/Demographics?
So what is age gap dating?
Well, it's pretty much dating where older people look to dating those younger than themselves. Most people are looking for a serious relationship (like Tinder or eHarmony), but you can find a casual hookup, too (like BeNaughty or Ashley Madison).
It could be older men dating younger women or older women who want to date younger men.
All those who register for online dating sites like Agematch don't care when it comes to age differences either.
OFL Top Recommendations based on 100,000+ Survey

"Serious Relationships"
"Discreet Hookups"
"Best Course for Men"
"Quick Flings"
"Normal Hookups"
"Our Quiz"
Back in 2001, Agematch was one of the first dating sites to explore this particular niche.
To date, it has helped young women and men as well as their older counterparts help find love across the age gap.
That's right, most of the people using age match are in it for serious relationships.
A look behind the numbers of

Agematch
As for the user base, well although this is a niche dating site, because it is now two decades old, you'd think that it would be extensive.
And it is.
In fact, around 1 million users have registered for Agematch profiles over the years.
Let's look at some more interesting figures related to the site:
Over 800 000 users are from the United States
Around 350 000 are active on the site each month
That's around 10 000 per day
The Android version of the Agematch dating app has been downloaded over 100 000 times
Yes, this is one busy site, that's for sure.
Talking about demographics would not be complete if we didn't look into a gender breakdown for this dating website, right?
It's quite interesting that both men and women are fairly close in terms of user numbers they contribute to the site.
While men are in the ascendency, it's nothing like some other dating websites you find online.
So here is the breakdown:
60% of profiles on the site are males
40% of the profiles on the site are females
On niche dating sites, sometimes this can be closer to 70/30 and in extreme cases 80/20.
So yes, no matter if younger men are looking for older women or older men for younger women, the chances of finding matchups are high.
What is the

age difference

between a man and a woman on

Agematch.com

?
All age ranges are represented as well.
Interestingly, in the 25-34-year-old group, it's the women that contribute more users than men.
Of the 28% of the total users this group makes up, they make up 15%.
That's complemented by the 55 and older group who contribute 21% of the total users.
17% of this group are male.
Here are the various user age groups in full:
18-24 year-olds (12% of all users of which 9% are male and 3% female)
25-34 year-olds (28% of all users of which 13% are male and 15% female)
35-44 year-olds (21% of all users of which 15% are male and 6% female)
45-54 year-olds (18% of all users of which 12% are male and 6% female)
55 and older (21% of all users of which 17% are male and 4% female)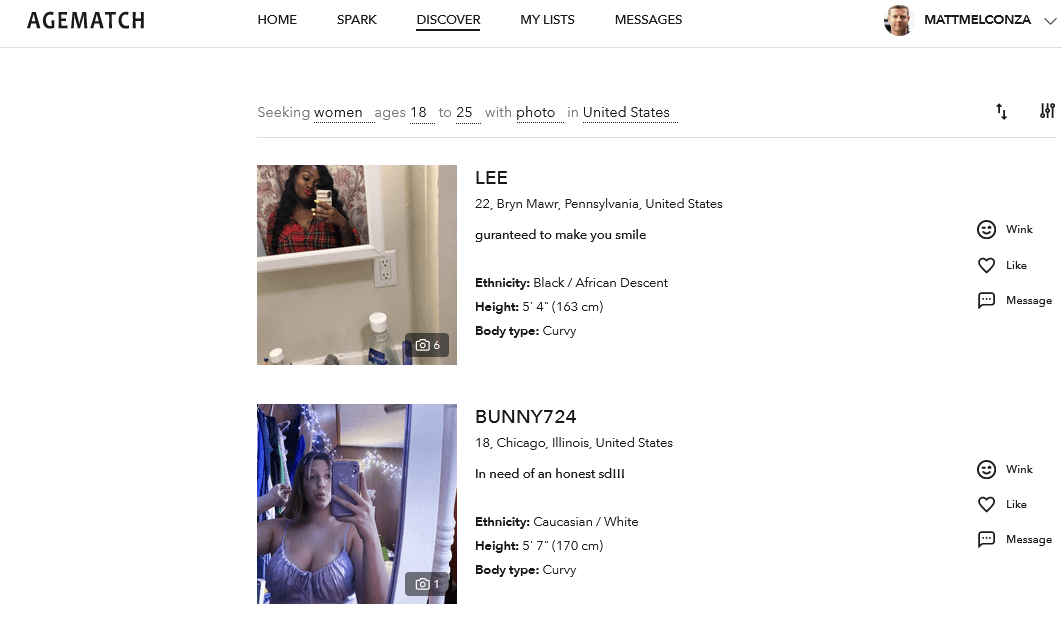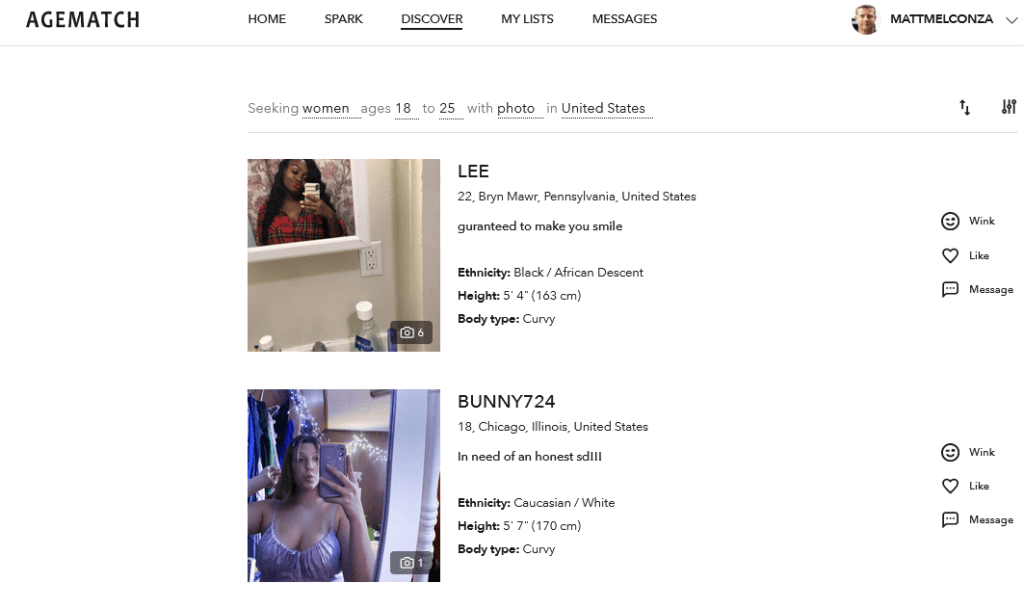 Agematch certainly goes the extra mile in helping new users sign up for a profile on the site.
If you are always near your smartphone and prefer swiping, then yes, you can download both an Android or Apple version of the Agematch app.
If you prefer to register using your computer and the desktop version of the site, you can do so too.
You can even speed this up by using your Facebook account if you'd prefer.
A regular Agematch login via the website is the route I chose because I think this is the way most people go about signing up for dating sites.
Note, however, there are no background checks carried out on any users who register for the site.
Registration starts with:
Your gender
The gender you want to date
An age range that matchups should be
Your email address (you will be sent a verification code that you must enter on the site)
Once you've given that, bizarrely you will have to give your gender as well as your matchups again.
Just to mention, Agematch is gay and lesbian-friendly and if you'd prefer you can register as and search for couples too.
Once you get past filling in your gender (twice) you must provide the following information:
Secure password (of at least 6 characters)
Your location (country, state, city
Your date of birth
A username
That's the initial part of the registration process.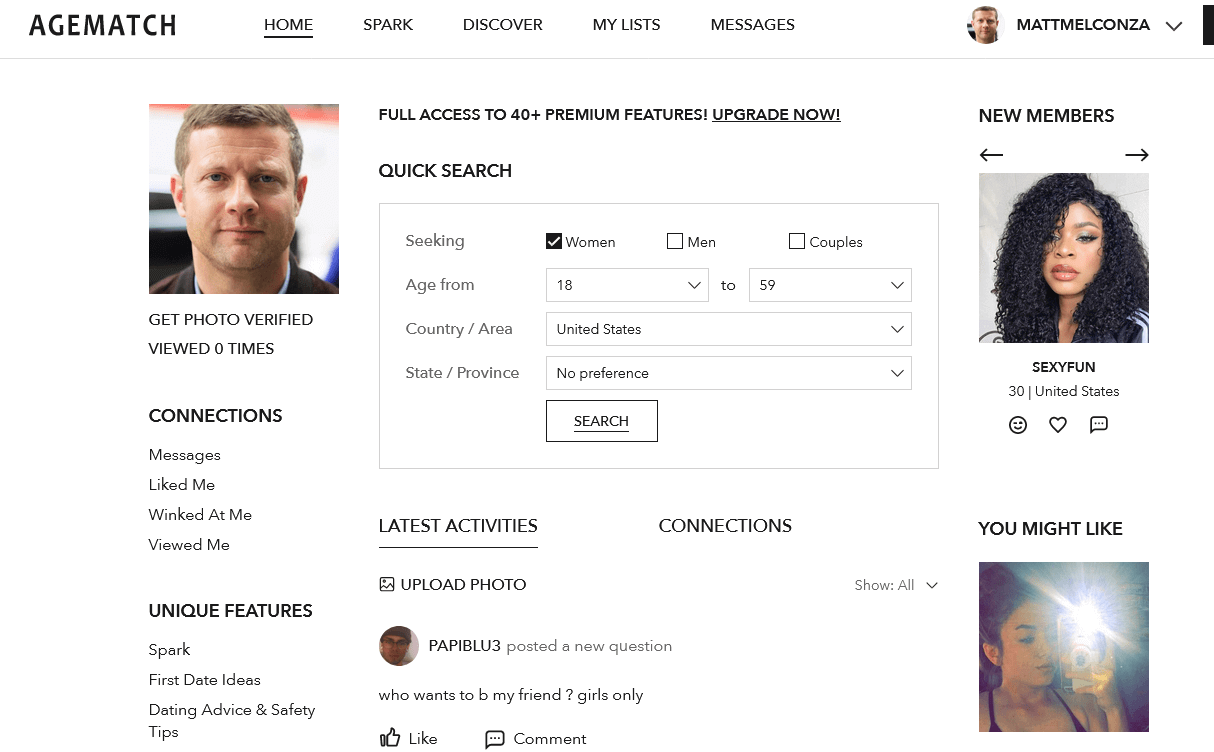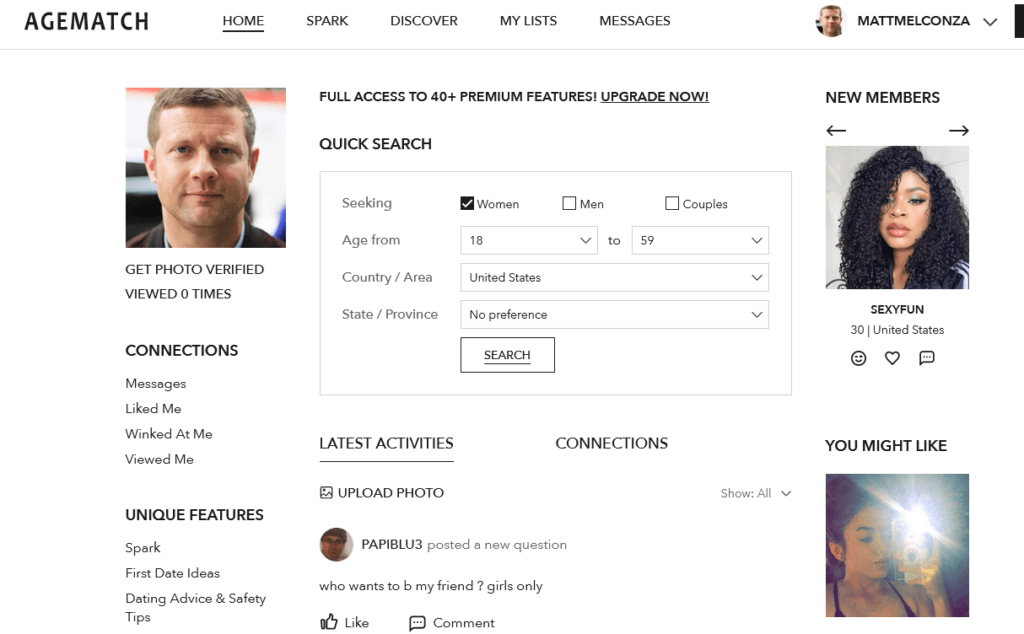 The registration process on Agematch includes parts of your profile that need to be filled in.
It's all pretty self-explanatory, even if you are a dating site newbie.
So you will have to give:
Your height
Your ethnicity
Your relationship status
Your profile headline
An about yourself section
Following that and after validating your profile, you can start using the site.
Your profile isn't close to complete yet, however, so I suggest you fill it out in full.
There are tons of parameters here and when members make advanced searches, they might set some that will bring them straight to you.
So it certainly is worthwhile.
Your profile consists of three sections:
Summary (which includes appearance parameters and personal information)
More about me (filling this in helps get you more accurate matches on the site)
Moments (a social media style status update that gets displayed on the main screen newsfeed)
How to navigate your way around

Agematch
Before I get into the ins and outs of finding your way around the I want to talk a little about the site design.
Now this should never be determining factor as to whether you use a dating site or not.
Because how it looks doesn't play a part in how it operates.
But Agematch is pretty boring and bland, that's for sure.
It's basically black and white in terms of a color scheme.
The only splashes of color that you do see are from the profile pictures of users.
Finding your way around isn't difficult.
Most of the activity on the site takes place on the homepage.
And you will see that it is split into three distinct sections.
The first contains a link to your profile as well as other menus.
The second includes a quick search bar as well as a social media style feed where you can see what other users are doing.
The third gives you access to the new members who have joined the site as well as other profiles of users you might be interested in.
Navigating the site is via the main menu system at the top of the screen.
These include:
Home: Want to return to the home page? Click here.
Spark: This is a roulette-style match-making game where you could potentially find someone to take on a first date.
Discover: The search engine on Agematch can be found by clicking this link.
My lists: See who has liked, viewed or favorited you. Find your mutual matches or see who you have liked by clicking here.
Message: Access your messages by clicking here.
I spoke about the secondary menu system on the left-hand side of the screen.
It doubles up on some of the information you can find under the main menus I've listed but you may use it from time to time.
Under that, you will find some unique features the site has to offer.
That includes Spark which we talked about earlier, first date ideas as well as dating advice and some dating safety tips, for example, don't give out your phone number at the first opportunity.
The first date ideas are fun to look through and you can add your own as well.
In total there is over 100 000 split into various categories.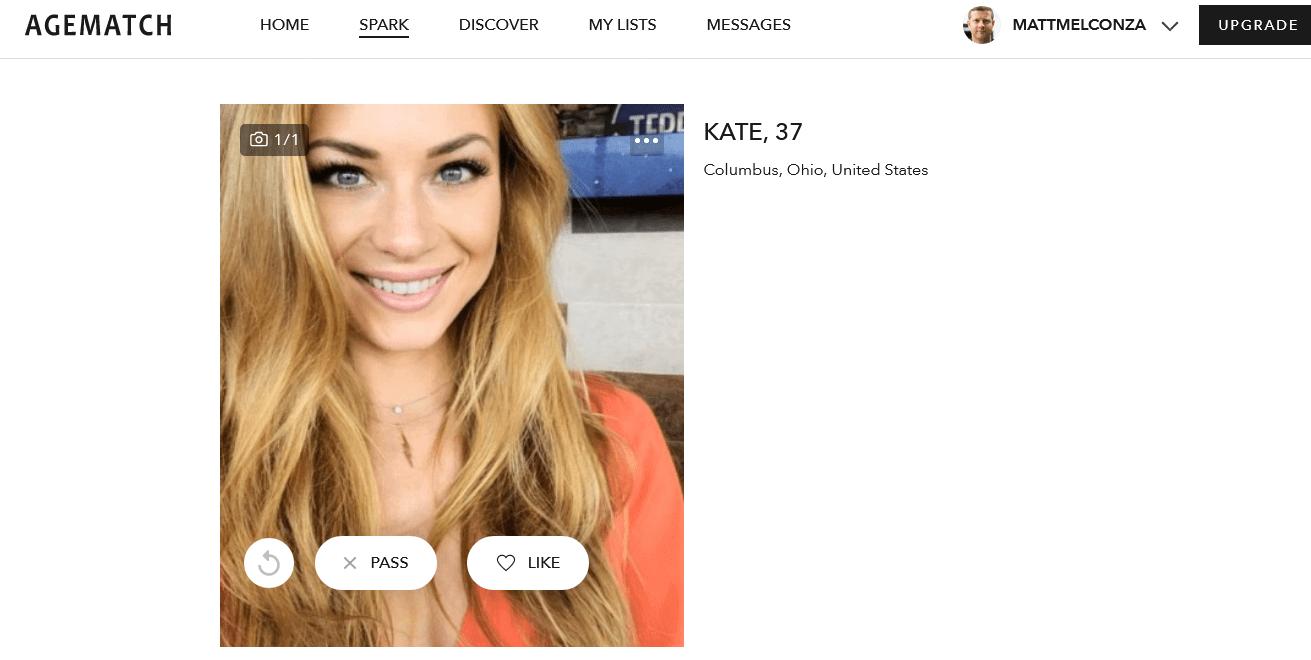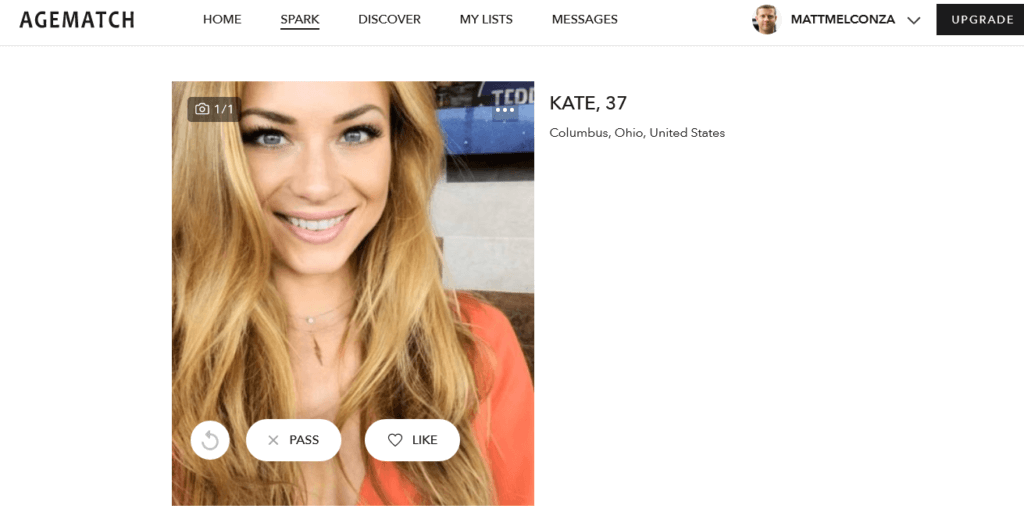 Now that you know just how this age gap dating site works, it's time to ask the question: Is Agematch worth the shot?
Well, to answer that, we are going to have to put it through its paces.
The best way to see just how effective a dating site is going to be is to test the two most critical aspects of it.
And those are how the search engine works and how you can contact people that it finds for you.
Using the search tools on

Agematch
Searching on Agematch is easy enough.
The homepage presents you with a simple search tool from where you can launch searches quickly.
There are only a few parameters here that you can change, however.
These are:
You can use the Discover menu if you'd like to make more of an advanced search.
By doing so, you can add the following parameters to those above.
Username
Ethnicity
Relationship status
Do they smoke or drink?
Do they have children?
That's all the options you have as a regular user.
Although that's impressive enough and more than many other dating websites give a regular user, if you are a premium member, you can still add more.
These parameters are taken from profile details and you can add or take away as many as you like during a search.
Reaching out to others on

Agematch
With search options covered, and they are pretty impressive, you are going to turn up matchups that you might want to get into contact with.
So how does the messaging system work on this age gap dating site?
Well, as a regular user, you cannot send them but you are allowed to reply if someone messages you.
That's just another reason to ensure you have the best possible profile picture and a completed profile to help attract others who might then message you.
Sending a message is for premium members only.
You can do this from someone's profile or right from the returns you get when launching your searches.
Regular users do have a limited form of communication.
That's thanks to the wink feature that Agematch offers.
Unlike other sites, it's not just a simple feature to let them know you are interested in them.
You can attach a message to your wink as well and get the chance to choose from six different options.
Wink dialogue includes "I'd like to get to know you better. Message me!" as well as "I like your profile. Look at mine."
Lastly, regular users can comment on other user-profiles and photos too.
So there is some form of communication as a regular user.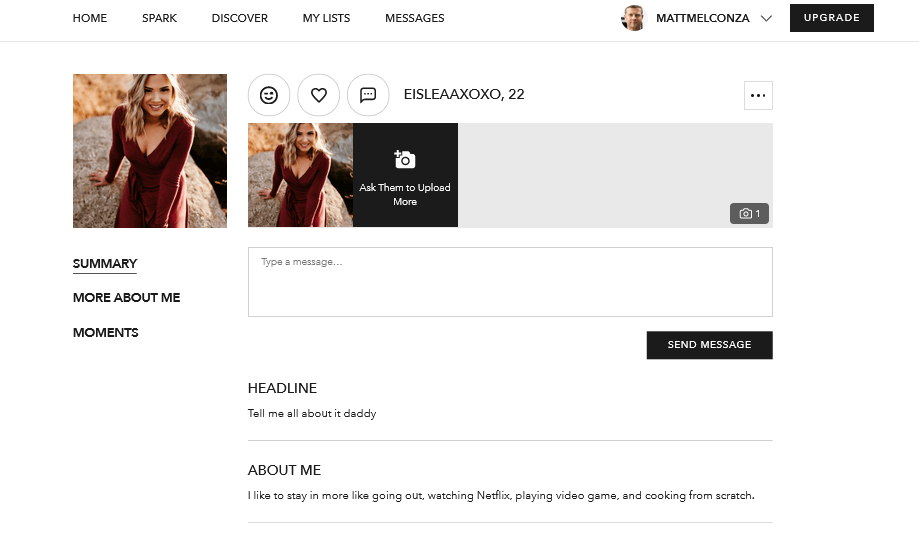 Let's just run a quick recap on what it is that a regular user can achieve on the site without messaging.
Register for a profile
Upload pictures
Use the search engine
Reply to messages they receive
Use the wink feature
"Like" other profiles
Comment on profiles and photos
And more
That's plenty considering you aren't paying to use the site, right?
Of course, premium membership adds a ton of key features, so let's look at those now.
The first awesome thing about membership is messaging.
You can fire off as many as you wish, there is no limit at all.
This is something that membership to all dating sites will provide you with because without communication, you cannot use the site constructively.
But Agematch offers something a little more that we touched on earlier.
And that's the fact that if you message a normal user, they can reply.
That means that you can interact with anyone on the site, which is pretty amazing.
2. See how often users read and reply to messages
A simple feature, but a super effective one.
By seeing how often they reply to their message, you can make sure you aren't messaging someone who hasn't used the site in months.
Also, if you do send a message to an active user and they read it and don't reply, it's probably not worth your time following up on them.
Search options for regular users are impressive, that's for sure but there is no harm in having more, right?
As a paying member, that's what you get.
For example, you can start searching for matchups with a particular physical feature you'd prefer like red hair maybe or perhaps they need to be a certain height.
4. Reply to other users'

first date ideas
First date ideas are a pretty big deal on this dating site.
As I mentioned earlier, there are over 100 000 of them.
As a member, you can comment on the ideas of others.
It's a potential icebreaker and could help establish a connection between you and another user.
Don't discount what a useful tool this can be.
5. See who viewed, liked or favorited your profile
As a member, should someone view, like or favorited your profile, you will be able to see who has.
It's another useful feature in helping you to find users to follow up on as potential matchups.
Members have extra privacy features where if they choose to, they can browse anonymously.
That means that they will leave no trace if they have visited someone's profile.
If you'd like to put your profile at the forefront of other users' search returns, you can do so by boosting your profile.
So if you meet the requirements of a particular users' search, your profile will appear near the top of their search returns.
Those are the key features I thought most important to highlight on the site but there are even more.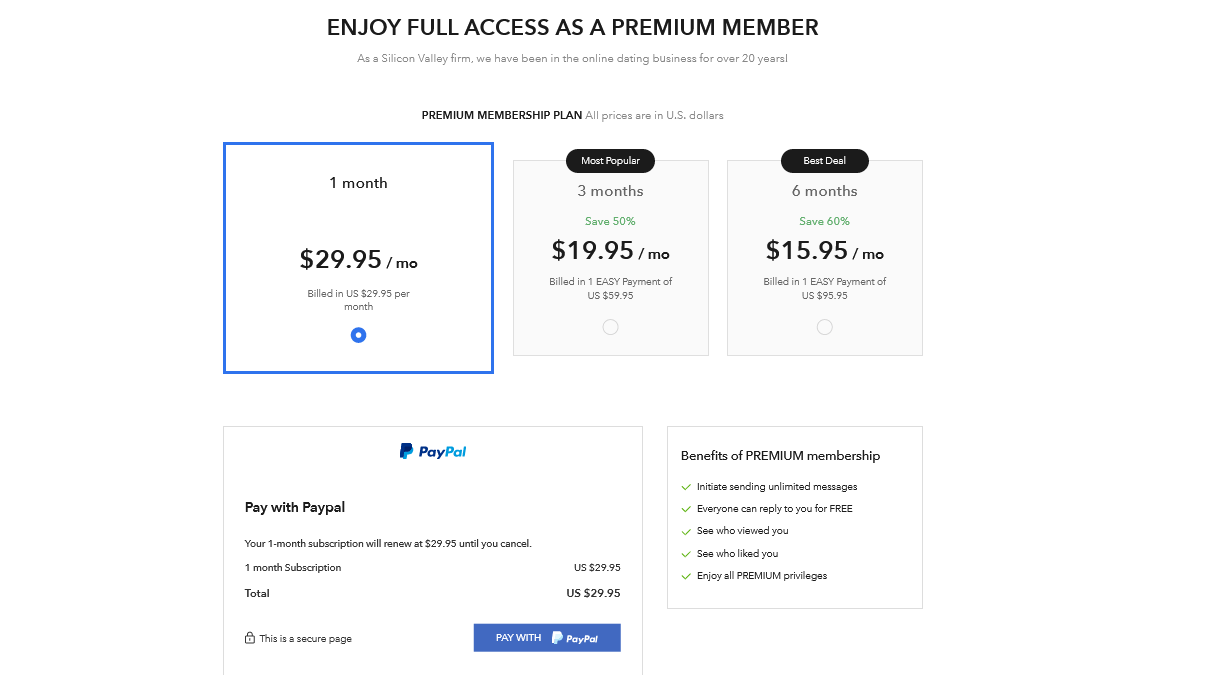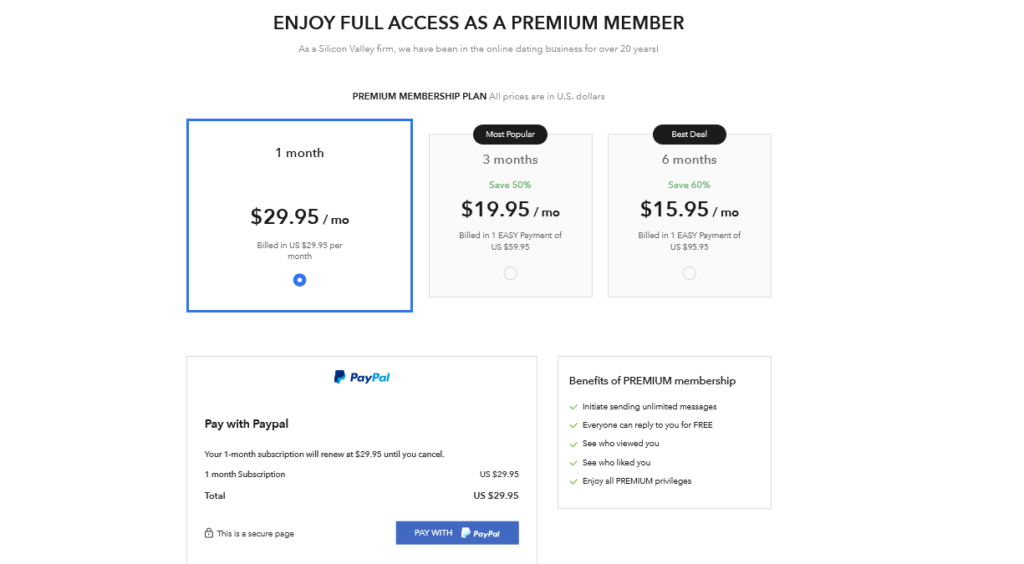 As we've already seen earlier, paid membership is more than useful on Agematch as it doesn't fall into a group along with free age gap dating sites.
As we have seen the site has some handy key features but just how much will that cost as a member?
And what type of membership options does the site offer?
Well, premium members can either select a one-month, three-month or six-month option when signing up.
1-month membership: $29.99
3-month membership: $59.95 ($19.98 per month)
6-month membership: $95.95 ($15.99 per month)
For all the features on offer, this pricing really hits the mark for me.
In fact, it's pretty unbelievable.
I would try the site out initially by signing up for a one-month membership
Should you find the kind of matchups that are worth looking into and you have some cash, consider the three month option which see you paying just $19.98 per month.
That's a bargain in anyone's language, that's for sure.
When signing up as a premium member you have three payment options.
These are: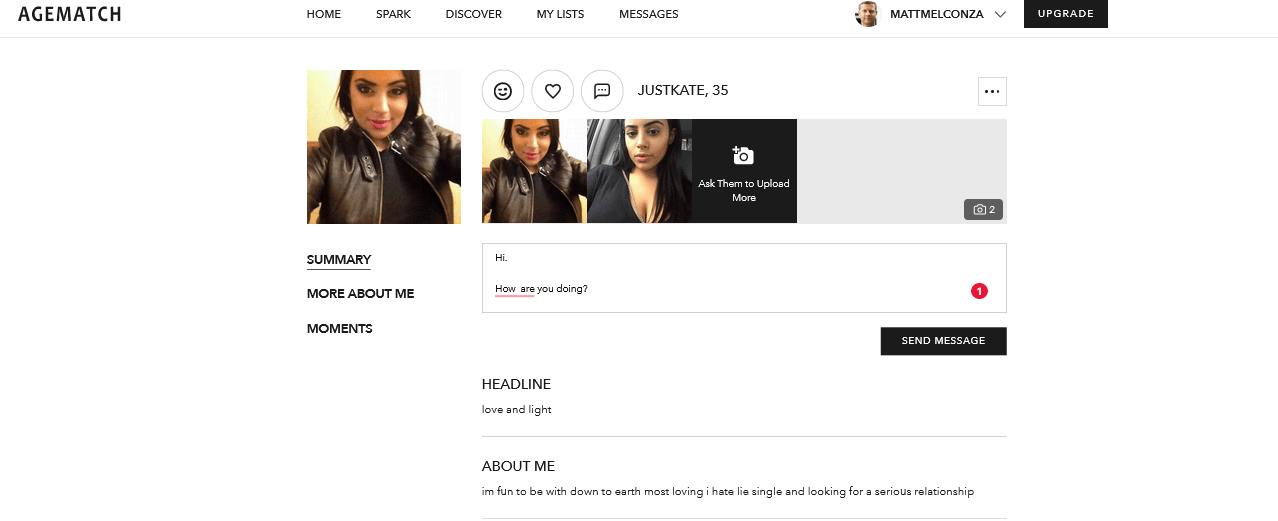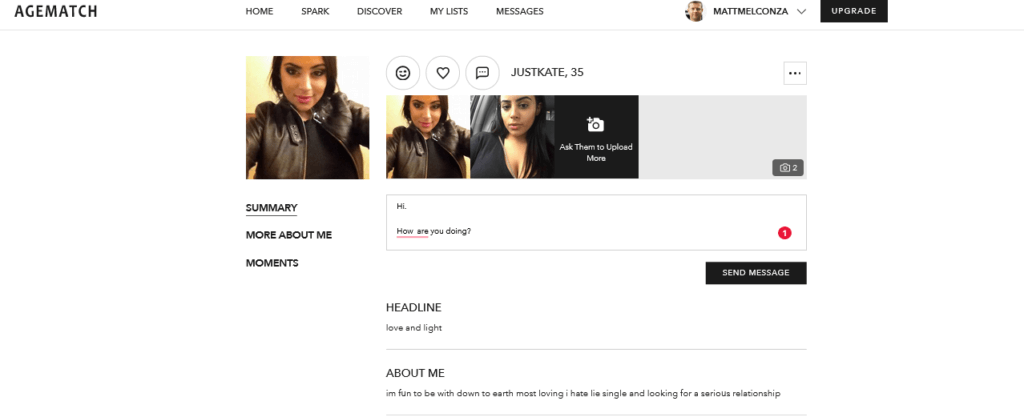 Conclusion And Overall Rating
Thanks for taking a look at our Agematch.com review.
It's an age gap dating site that other than being a little boring to look at, has all you need should you wish be meeting someone older or perhaps younger than you.
There is so much going for this site and I reckon it's one of the top dating sites in this particular niche.
What I love about it is that regular users can use several aspects of the site that you'd find as part of a membership package on other dating sites.
That can help you get a real feel of how the site could work for you and then you can always look into a membership.
Membership features are phenomenal too.
There's are some excellent tools at your disposal here.
They will not only help you find the right type of matchup but also help you get into contact with them simply and effectively.
And then there is the price.
For me, it's far cheaper than what I would have expected considering the site has such a strong user base and you have so many membership features.
Many other sites would be around $10 more for a monthly membership in most cases.
If age gap dating is your thing, I really think that Agematch is worth checking out.
Today, it gets an impressive and well-deserved 4.25 out of 5.
Frequently Asked Questions