Possibilities for online dating nowadays are many. You just need to find what is right for you.
Today, I am going to present to you one of the options and that is Xmatch. You will get a full Xmatch dating review and learn all about its good sides and drawbacks of this free sex website.
Out of many Xmatch dating reviews available, this is the one where you will find out is Xmatch dating good and whether it's worth your time and money.
Without further delay, let's get down to business and learn more from this Xmatch Review.
OFL Top Recommendations based on 100,000+ Survey

"Serious Relationships"
"Discreet Hookups"
"Best Course for Men"
"Quick Flings"
"Normal Hookups"
"Our Quiz"
Is your dating app giving you the best chance for success?
Make sure to take our online dating site/app quiz to find out.
People who follow our dating site suggestions have on average 2 more dates per month.
Xmatch Review in Video Form
Audio (podcast) form for those of you on the go
Ratings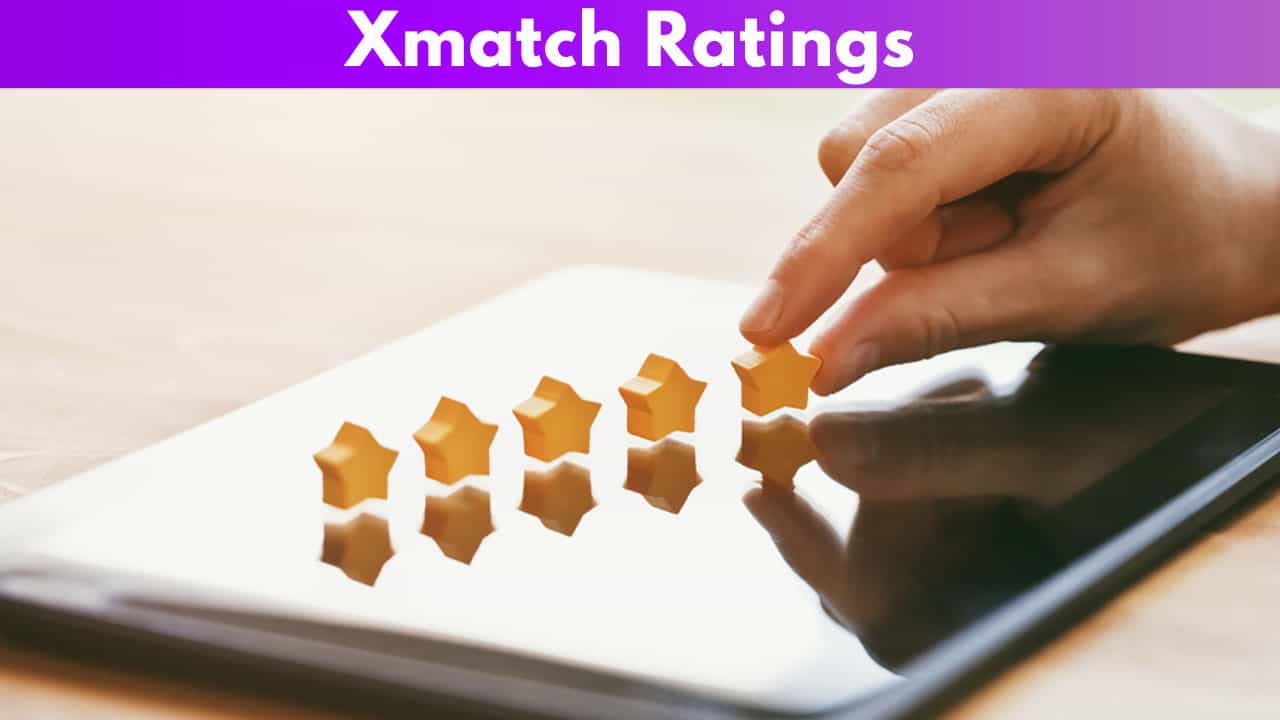 Effectiveness – 3/5
Features – 5/5
Ease-of-use – 4.5/5
Price – 3.5/4
Pros
All kinds of sex (even the kinky one)
Judgement free (nobody will make you feel ashamed for your sexual kinks and desires)
A variety of members to choose from
Sex Academy (more on that later)
Cons
Higher men-to-women ratio
Only paying member can view profiles and communicate with other members
Poor search options
Who is it For/Demographic Make-up?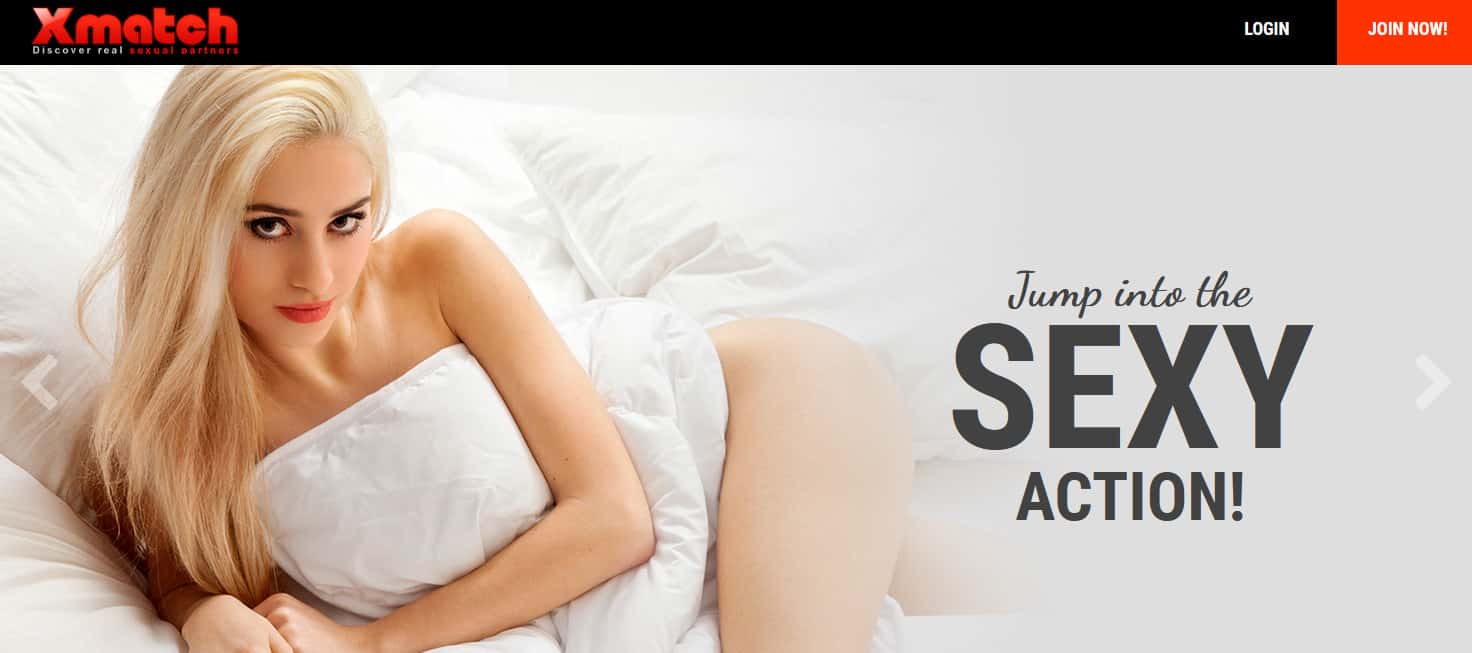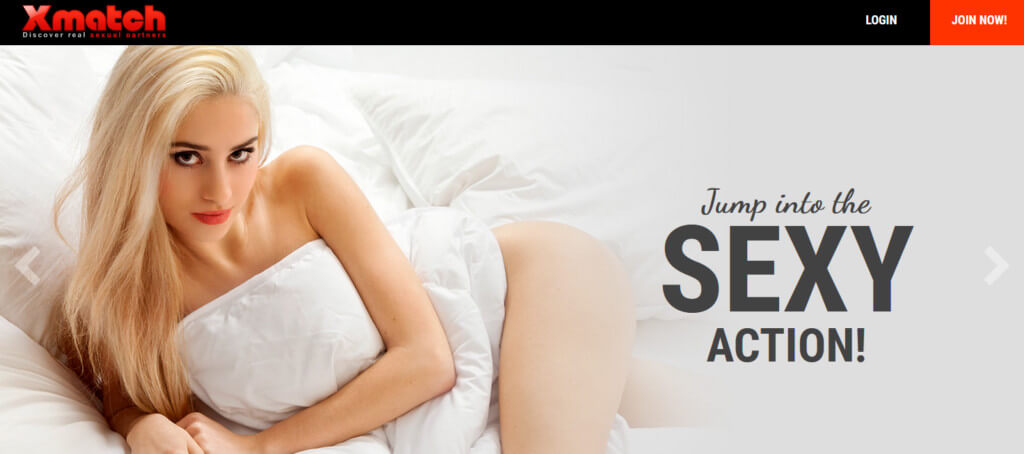 Definitely, one of the basics we typically pay attention to is who this site is for.
And, know that Xmatch dating is meant for everyone above 18 who wants to engage in some no-strings-attached kind of sexual experience and blow off the steam.
The majority of users come under the category of 24-35 years although you will find both younger and seniors too.
Overall, there are more than 96 million users registered from across the globe while almost half of this number (45 million) comes from the USA. Outside of the USA, the site is also quite popular in Europe, Brazil and Canada.
Additionally, their members base increases for over a million new users each month.
Anyhow, out of these 96 million users, on average, there are some 7,000 people active at each point which significantly raises your chances of success in finding a match through this site.
As for the men to women ration, there are more male users across all age groups. Just as an example, in your (most likely) target group, you will find 40% more men than women.
Effectiveness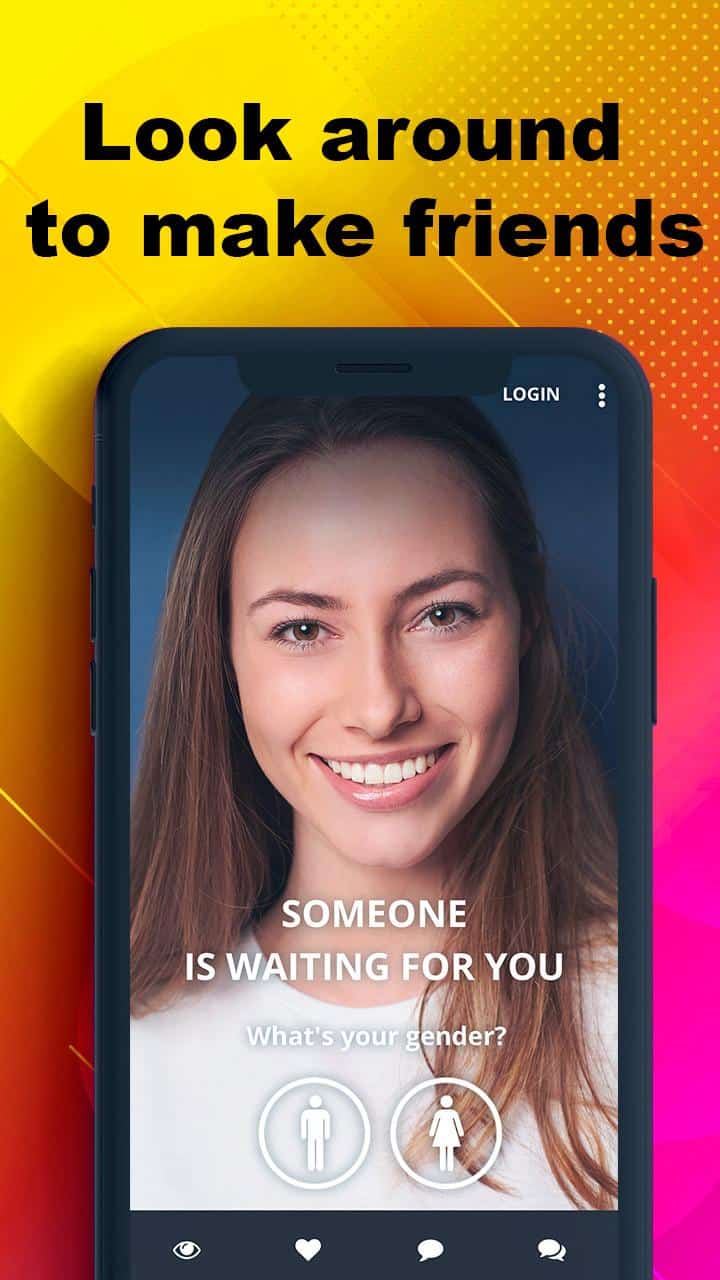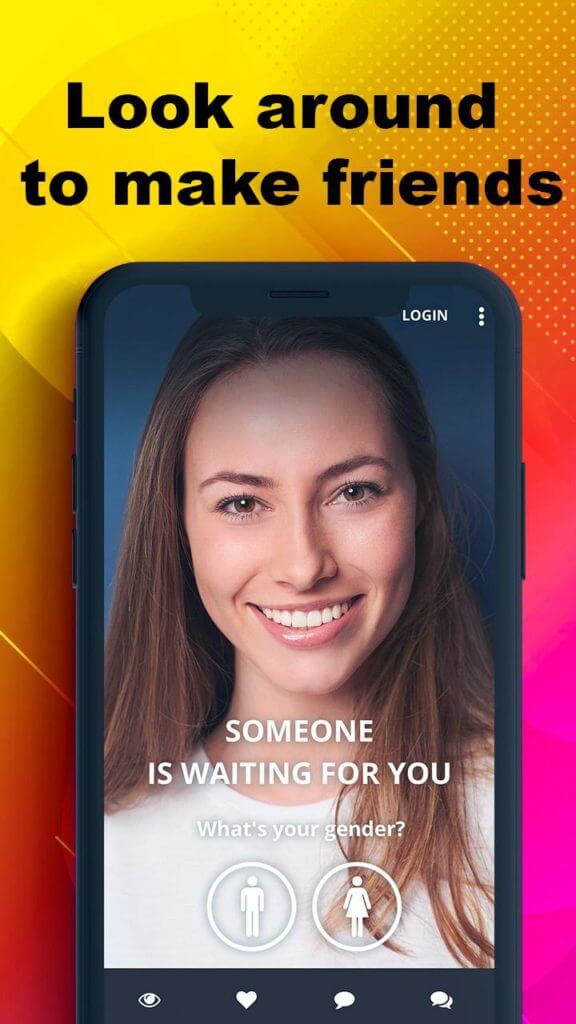 Effectiveness might still be one of the biggest reasons to go back to a certain product or service. As for Xmatch, these are some of the basics you should be aware of.
1. How does it work for your target group?
As will be demonstrated later, when you register, the site will immediately ask for your target age of matches.
OFL Top Recommendations based on 100,000+ Survey

"Serious Relationships"
"Discreet Hookups"
"Best Course for Men"
"Quick Flings"
"Normal Hookups"
"Our Quiz"
Besides, you can filter the search according to age, gender, kinks (more on that later), etc. and see what you get. Obviously, the search is not quite detailed, so you will get a variety of matches that you will then opt for based on whether you like what you see.
2. How to make contacts?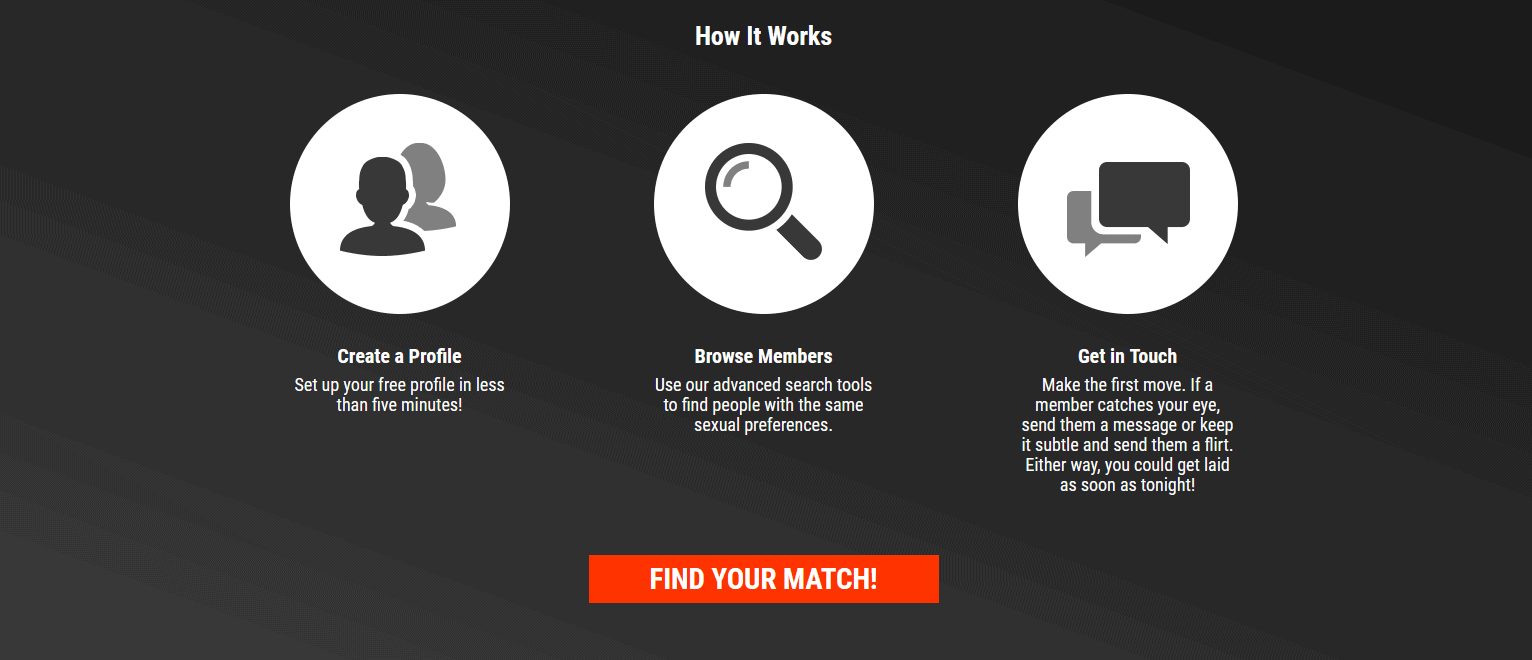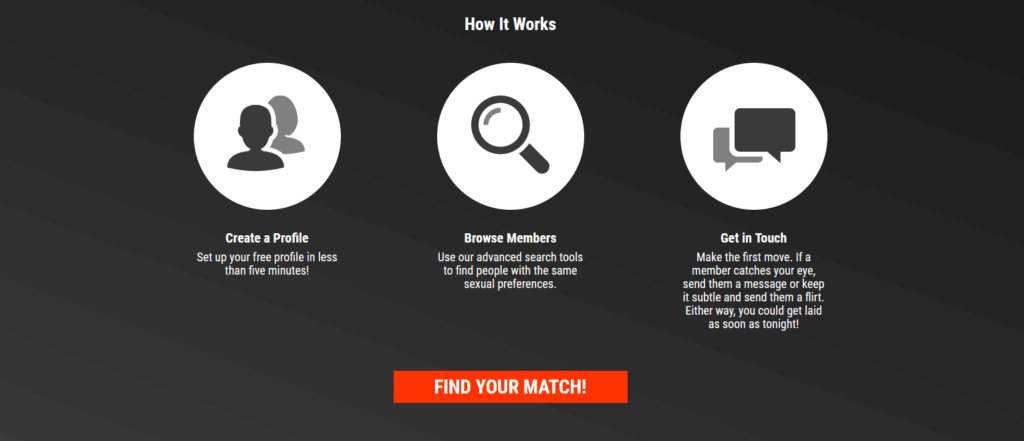 A brief reminder: What is Xmatch dating?
Meeting people through Xmatch platform and enjoying a quality sex exchange, real or virtual.
And for that, you need to contact with other people there.
Unfortunately, free members can't enjoy a (care)free sex experience. To make your registration worthwhile, you have to go for a paid option. Only then will you be able to communicate with other members.
As a free member, you can send virtual gifts or flirts, and add members as friends. But to properly communicate, you must go for the paid membership.
Then you will gain access to Instant Messaging that is a great tool to help you reach out to someone.
3. Chances of Success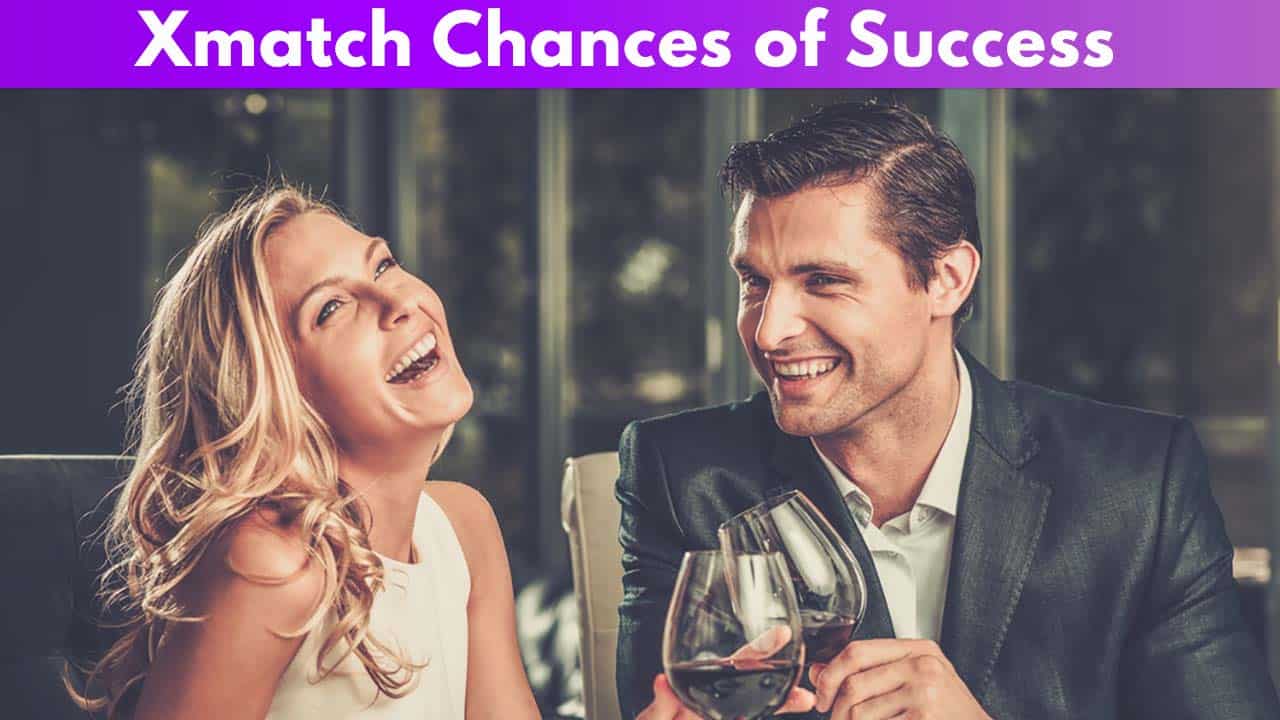 It is safe to say that chances of success are rather high here. Everyone comes here from one simple reason, and that is to have sex whether solo or with someone.
And by sex, we mean all kinds of sex practised by human beings.
Key Features
When it comes to deciding whether to keep using a dating site, key features are what makes you stay. These have to convince you that you are not wasting your time.
Let us now see what Xmatch dating features you have at your disposal. Of course, you will find those sections such as My Stuff and Search.
The first one is for all the contents you upload and/or are interested in while the second one will enable you to search for matches according to age, gender, orientation, or whether they are near you.
But, let us focus on these.
1. Live Action

This is the first feature thanks to which Xmatch can be rated as an adult (online dating) website.
The Live Action feature enables you to join chat rooms and take part in instant messaging or flash chats. Moreover, the live model and member webcams are game-changers here. In the first option, you will be a mere observer of somebody else's show while in the second you will be able to interact with the other party.
2. Community + Sex Academy
The Community section helps the site members do more than just sex. You can discuss it, see how to get better at it, and resolve any doubts you might have.
Their Sex Academy organized under the Community section is a highly useful sex training that will help you level up your sex game.
Moreover, you will receive a badge that is visible on your profile that will instantly give you higher rankings among the members.
3. What's Hot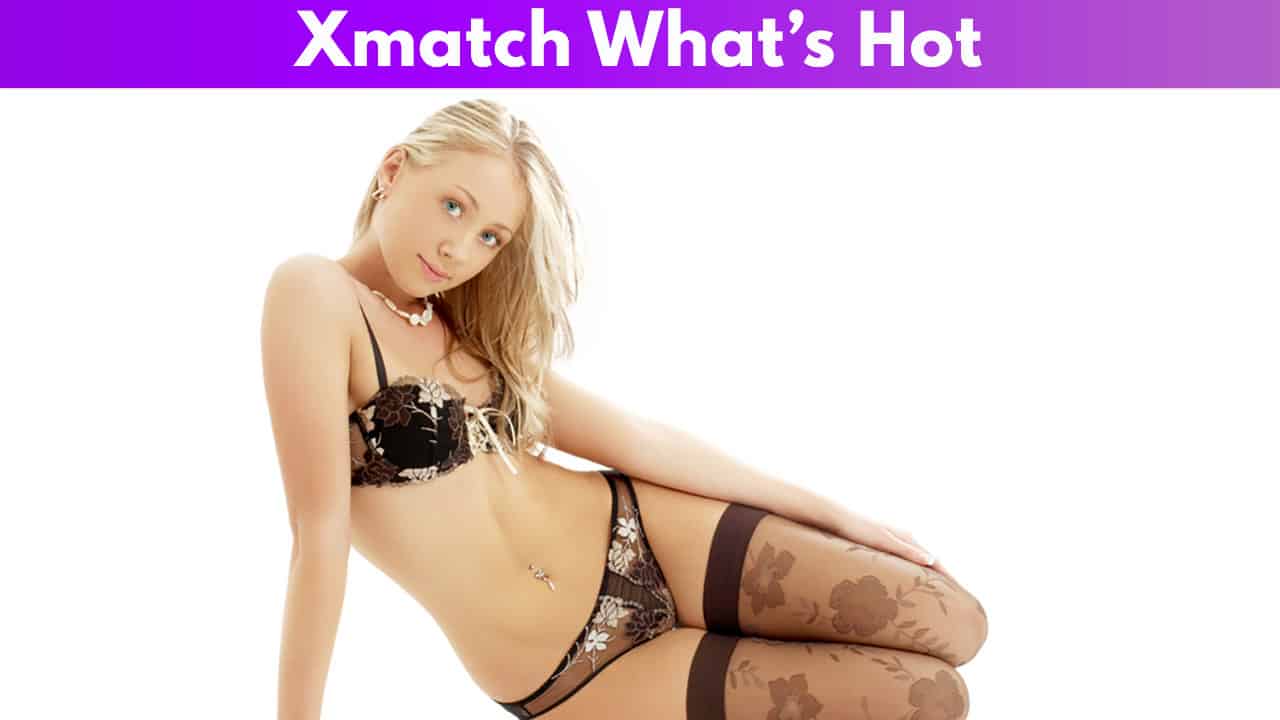 This is where you will feel like you are on a porn site.
Here you will gain access to adult movies so if you want to check how professionals do it, you don't have to resort to PornHub or Xvideos separately.
Besides adult movies, you will also find the "hottest" sections, such as hottest photos, videos, albums and members.
Finally, this feature incorporates the search option so you can look for anyone (race, sexual orientation, etc.) you feel like looking at.
4. Kink Section
Being kinky is nothing to be ashamed of. This is why Xmatch includes a whole section dedicated to all kinds of kinky stuff.
You start by filling out a questionnaire and the results will be displayed on your profile. There are 31 kinky categories ranging from mild to "extreme" fetishes.
This section also includes its own search so you can look for the like-minded kinky fellows independent of the regular sex quest.
Ease-of-Use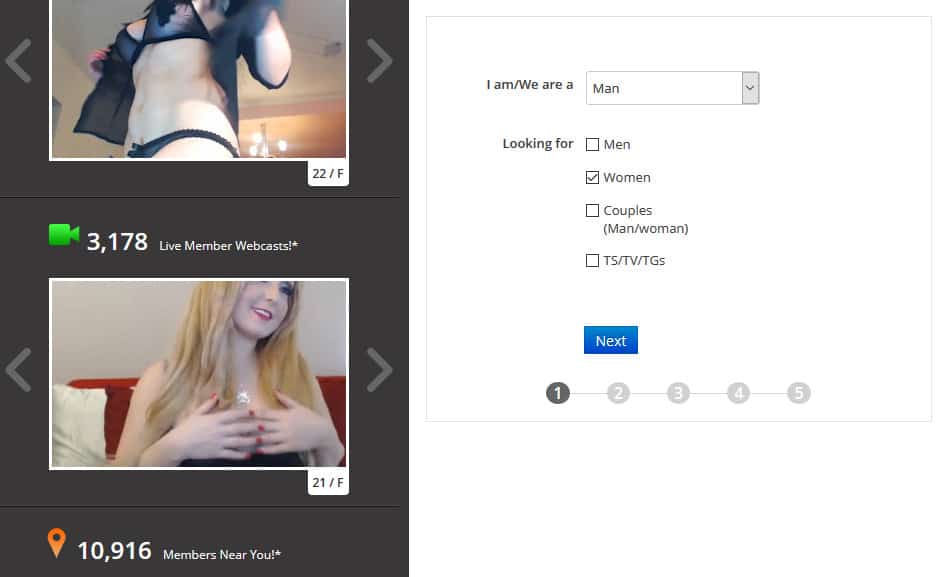 Now that you know it all about the cool stuff that Xmatch has to offer, it's time to see how much effort you need to invest in using it.
Becoming a Member
Since online dating is all about simplicity and speed, this is where Xmatch is up to the task. So, how to access Xmatch dating?
The ease of use starts with rather short sign-up and login processes. To do it successfully, just follow these easy steps.
1. Choose and Select
Open their website and on the right side on the screen, you will see a form that works by a simple choose and select principle. Or, you can click the "Create a free profile" button.
The latter will take you to a 5 step registration process.
The first step is to select who you are, who you are searching for in what age group (these are inclusive of anyone you are searching for, whether straight, gay, trans, etc.)
2. Basics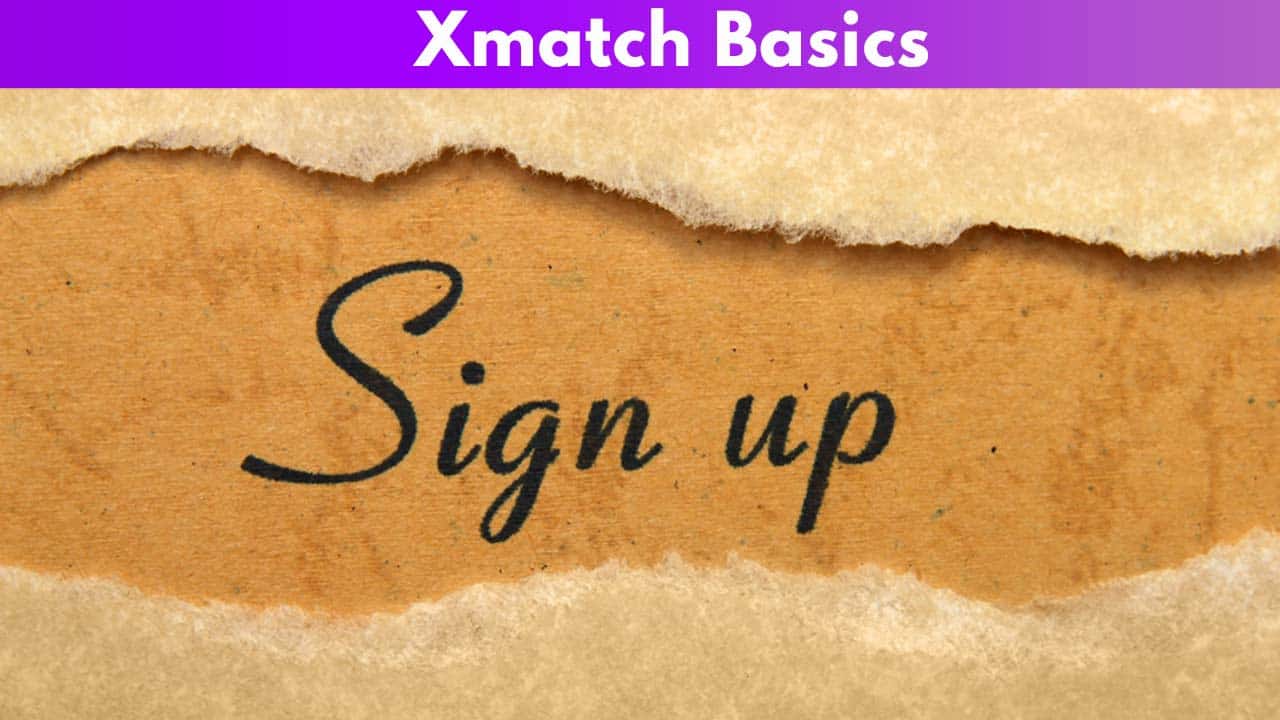 Having completed the first part of the form, move on to your personal details such as date of birth and address (country and zip code (just for the US members)).
3. Registration
All you need to do here is to provide e-mail, username and password.
Later on, you can use the username or e-mail address interchangeably. So, if you forget your username you can always resort to your e-mail.
4. Some more personal details
In this step, you need to give away a bit more about yourself. Namely, the site will ask you to provide info such as your marital status, race, body type, short intro line and a bio.
5. E-mail verification
The last step in your sign-up process is the e-mail verification that you need to go through in order to verify the credibility of your details.
Once you go through this, you're all set to look for your new sex encounters.
Site Navigation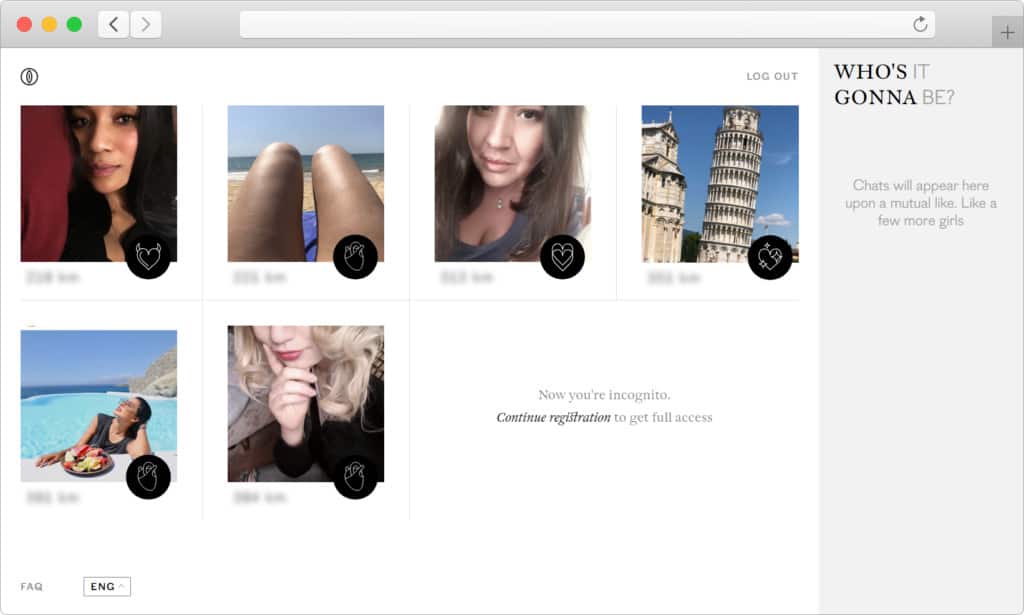 Again, simplicity is key here. Once your profile is all ready, you will see a home page organized so neatly that you will find everything you need at a single glance.
The topmost bar will display the webcam you can access to stream and upload contents for the like-minded people to see.
Immediately underneath, another bar shows your homepage button, messages, chat, notification and all the relevant sections such as My Stuff, Search, Live Action, Community and What's Hot.
The next section displays your matches with their most relevant details, including photo, age and bio so at all times you'll know who is who.
Their real-time news feed is what makes your site navigation experience all the more enjoyable. At any given point you can see what's going on and the people who upload contents are really there ready to interact.
From the left, you will see all the relevant parameters concerning your own profile and the activities you want to engage in while on the right you can check out live models.
Xmatch App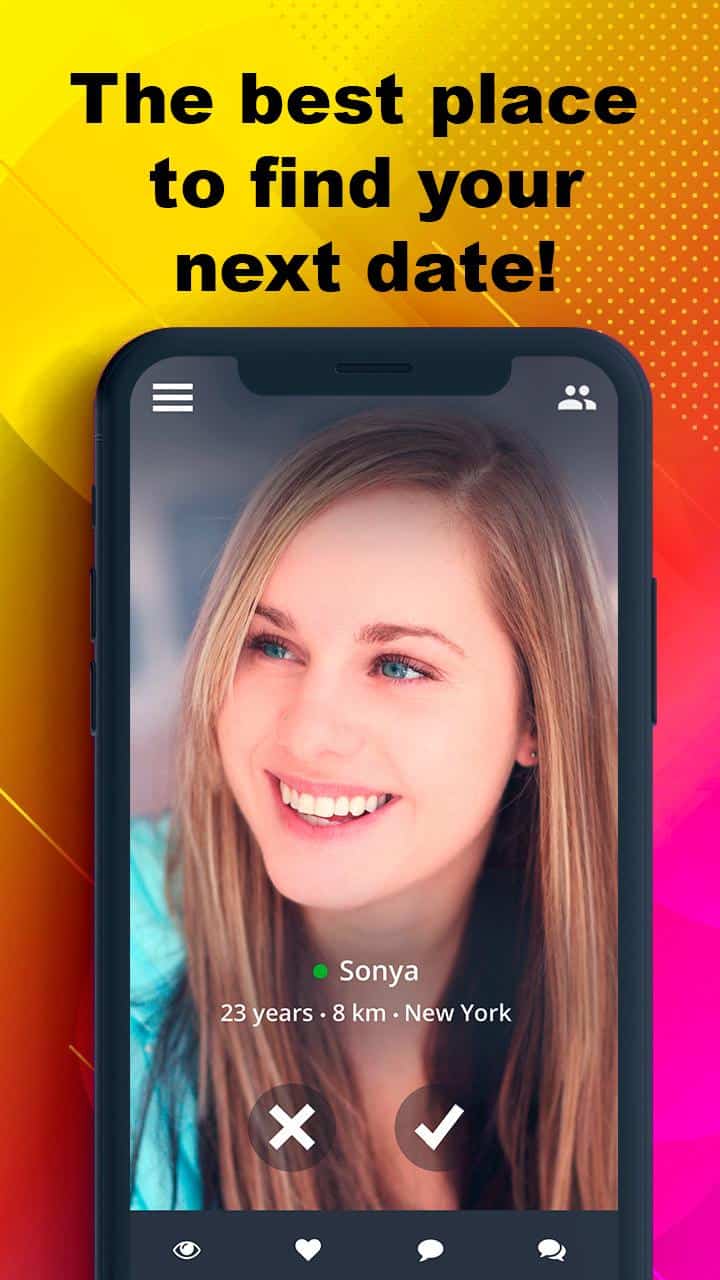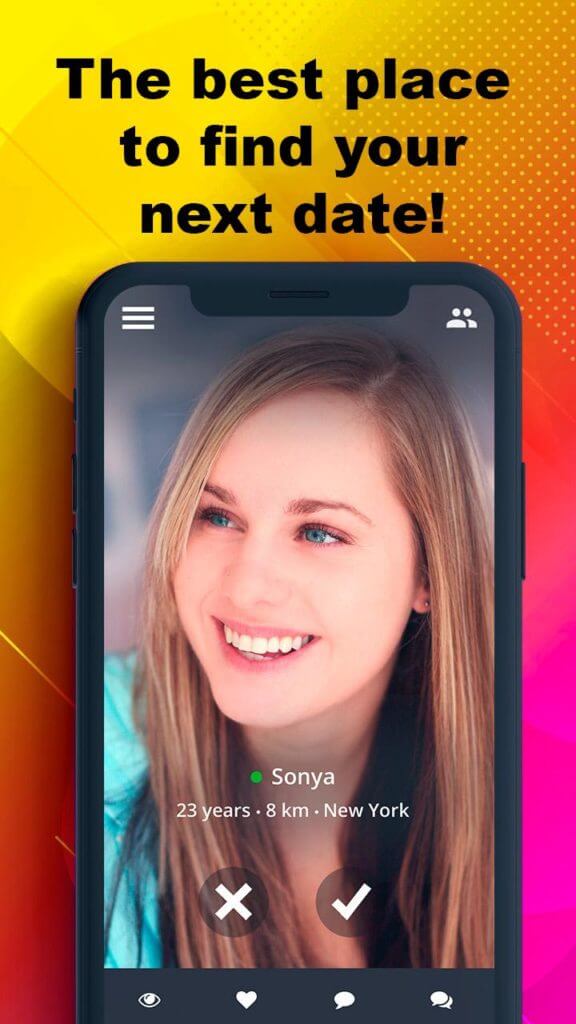 Sadly, there is no Xmatch mobile app. You can only access the website directly from your PC or your phone.
However, what they do offer is the mobile version of the website that looks a bit unsightly before you log in. Almost seems a big turn off.
But, don't be fooled by appearances. Once you log in via your phone, you will see that all the features are there, just adapted to your phone screen appropriately.
And, this answers your question of how does Xmatch dating work.
Pricing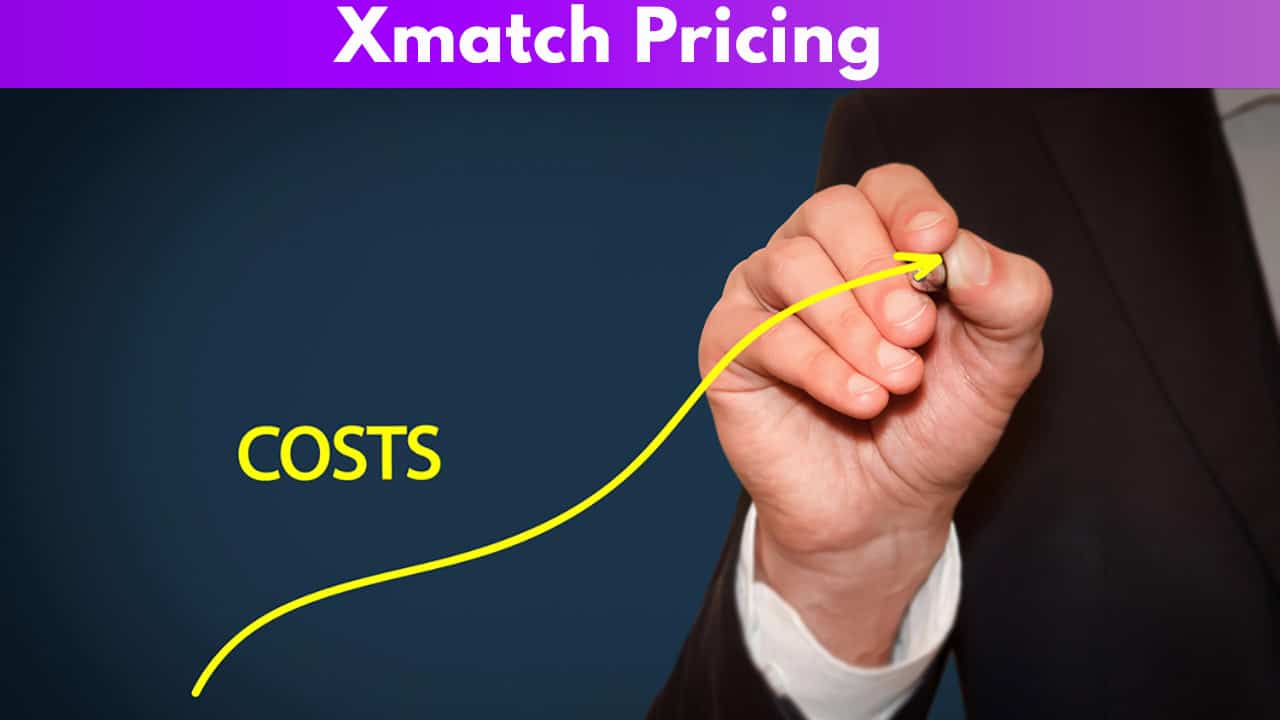 Price is definitely a relevant factor whenever we are discussing if something is worth purchasing.
As we have established that only a paying member is able to communicate with other users of Xmatch, let's see how much money you will need to fully enjoy the overall contents made available by Xmatch.
Before we get to the prices breakdown, you need to be aware that Xmatch offers two paid upgrades and both of these allocated for the special duration.
Let's see!
1. Standard Contacts
1 Month 19.95 USD/Month
3 Months 11.95 USD/Month
12 Months 8.95 USD/Month
2. Gold Membership
1 Month 39.95 USD/Month
3 Months 26.95 USD/Month
12 Months 19.95 USD/Month
As you can see, the prices are nothing different from the prices you can typically find for such websites, so it's safe to say that their price level is average.
Conclusion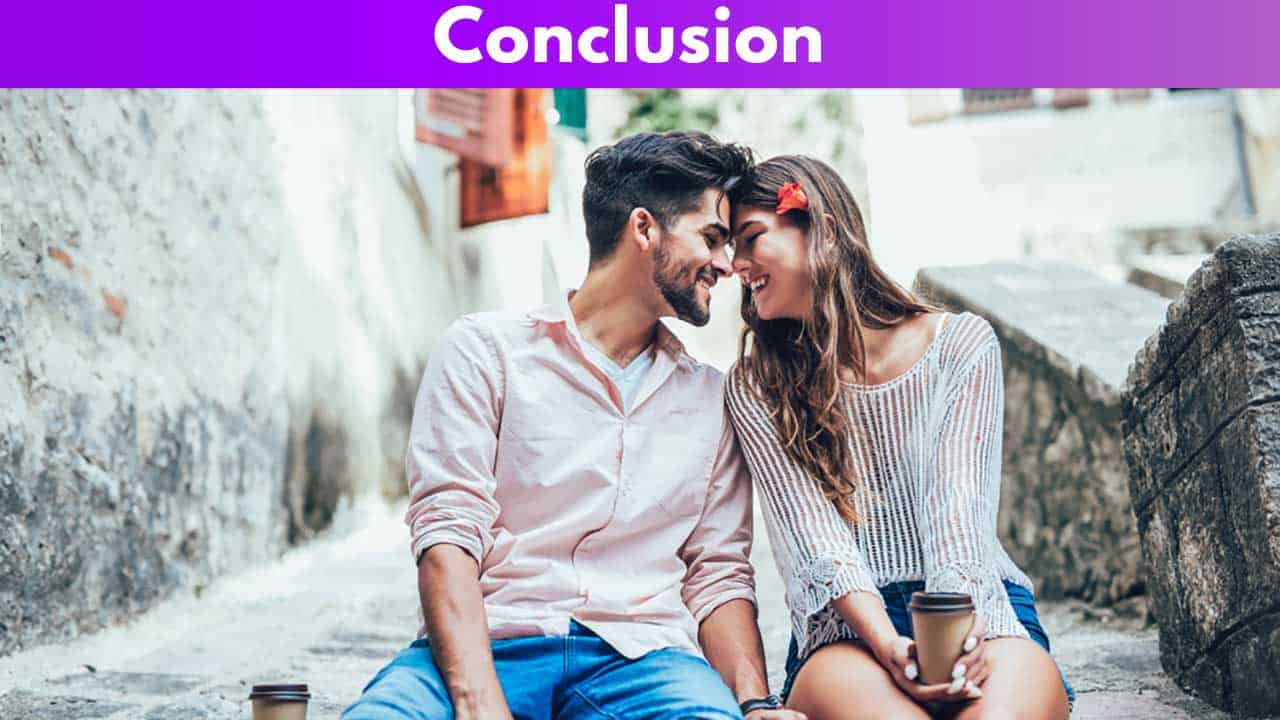 If you are into casual sex and entertainment with a pinch of kinky, this is a website for you. It will offer you a good chance to explore your sexuality with the like-minded people who are not stigmatized in this sense.
In case you decide to give it a try after reading this Xmatch dating review, let us know your experiences in the comments!
Frequently Asked Questions
It is only natural to have questions about the new stuff you want to try or you tried them but are still not sure how all of it works.
Here are some of the usual questions people ask concerning Xmatch, grouped under different categories.