It takes all kinds of online dating sites to make the world go round.
Sometimes, people don't want a vanilla relationship but instead one where that's just a little different.
Fetishes, Kink, BDSM… you name it, Fet Life covers it, that's for sure.
But this is more than a kinky dating site, it's a community of like-minded people from all over the globe, almost like a kinkster social network, if you will.
OFL Top Recommendations based on 100,000+ Survey

"Serious Relationships"
"Discreet Hookups"
"Best Course for Men"
"Quick Flings"
"Normal Hookups"
"Our Quiz"
It's a place for pros and newbies to explore their sexual fantasies and certainly very different from more traditional dating sites like Tinder and others like that.
Our Fet Life review will assess the site in-depth, evaluating everything that it offers its users.
This includes:
Yes, this review will analyze all of this and much more.
Once you've done reading it, you can safely compare Fetlife against other similar sites to see which is going to be best for your specific sexual desires and needs.
Is your dating app giving you the best chance for success?
Make sure to take our online dating site/app quiz to find out.
It's a fact that people who follow our dating site suggestions have on average 2 extra dates per month.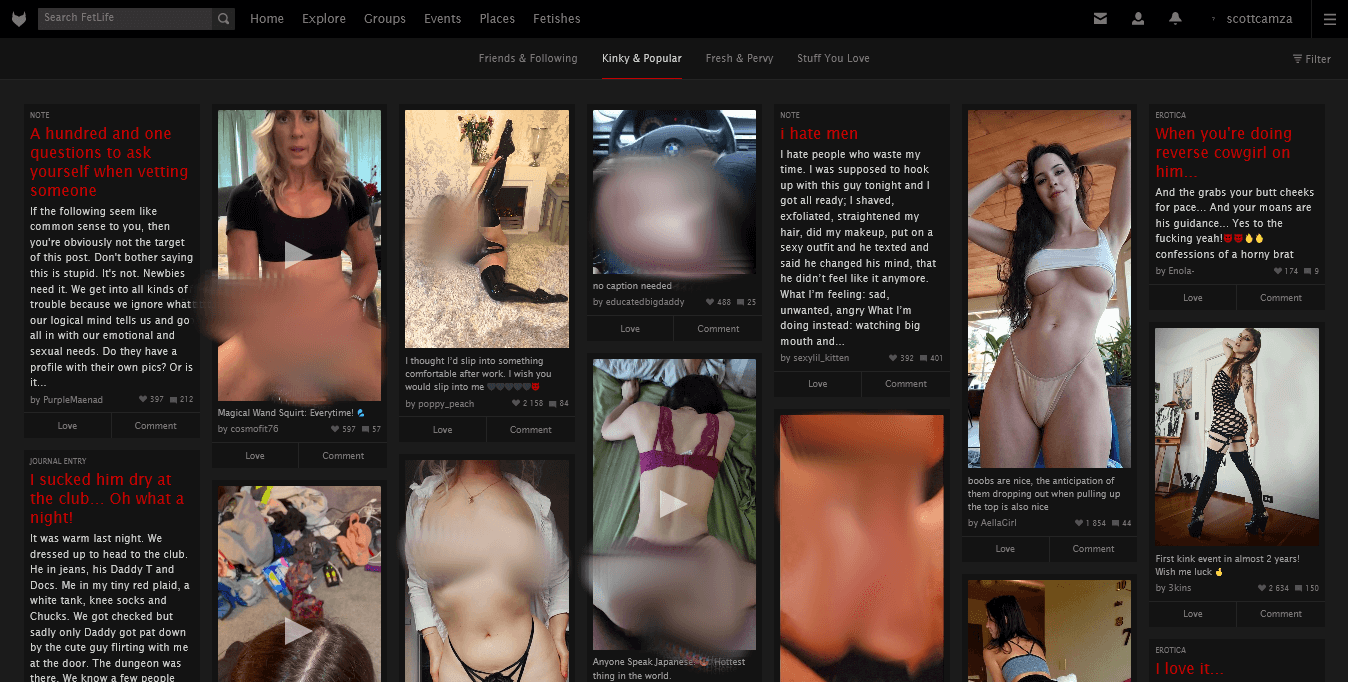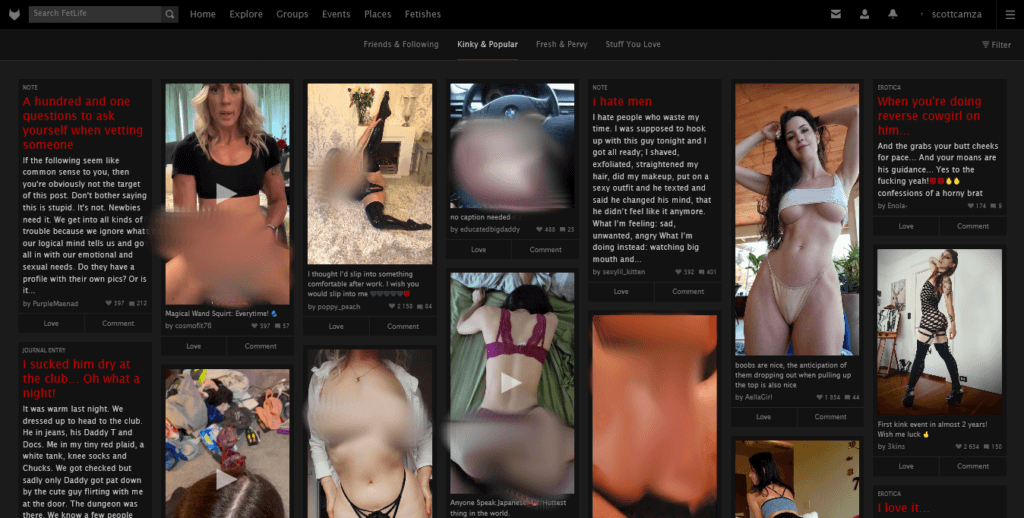 Ease of use – 4.5/5
Effectiveness – 4/5
Key features – 2.5/5
Price – 5/5
10 million users
FetLIfe covers just about every kink you can think of
Cheap membership
No official app, only an APK download for Android Phones
The site takes some getting used to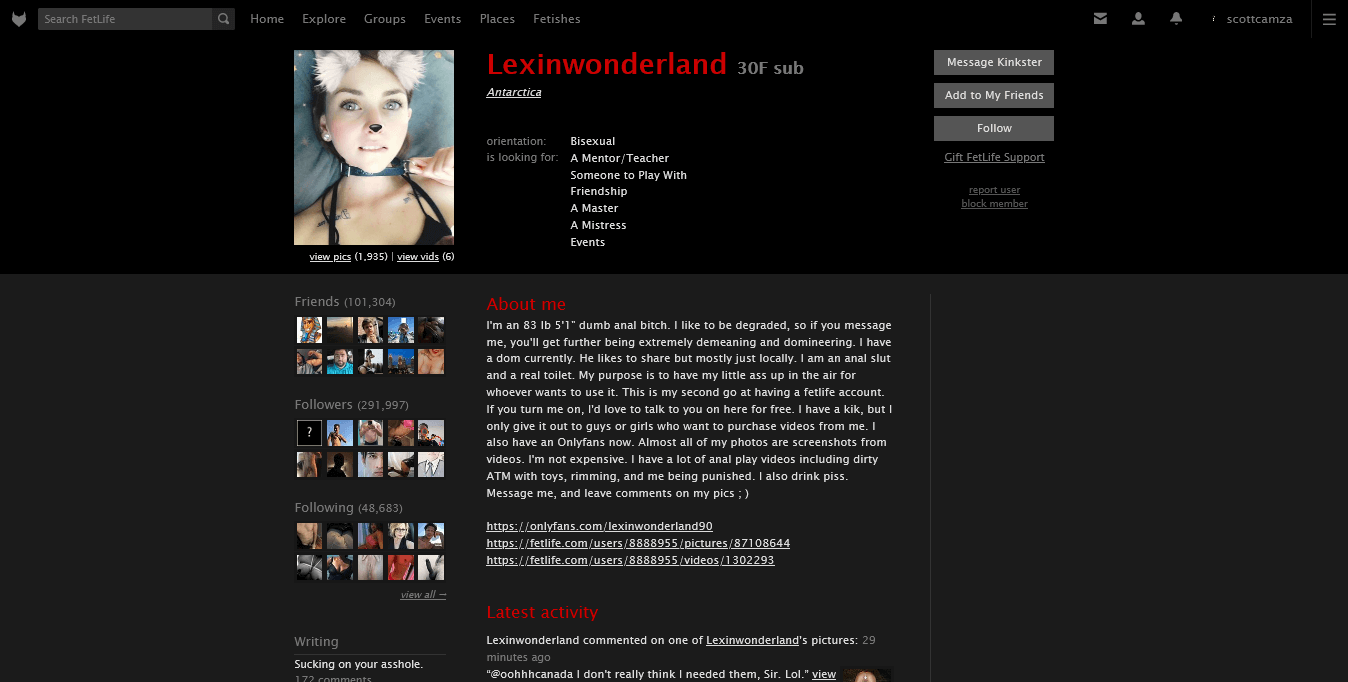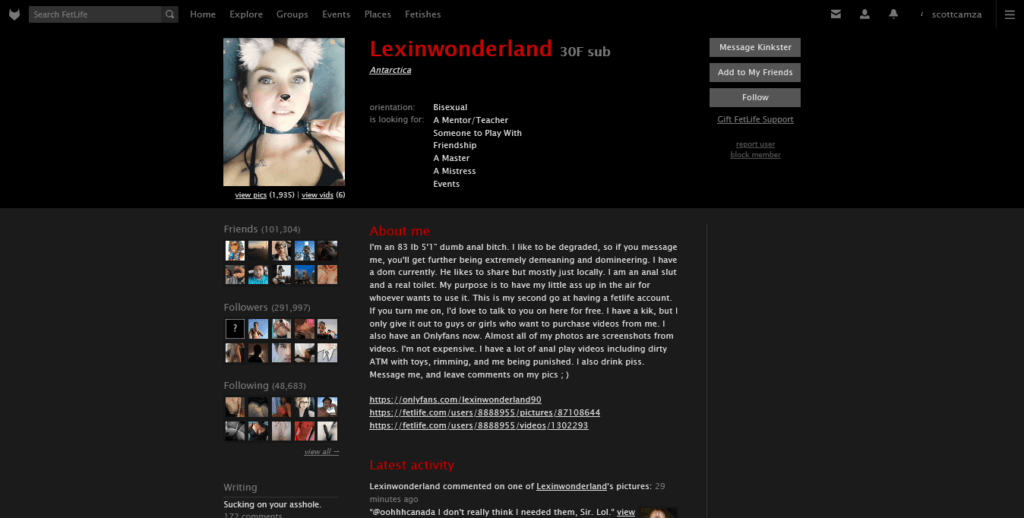 Who's It For/Demographics
FetLife caters to people that are looking for something a little different when it comes to their sexual preferences.
Here you will find people into various kinks, BDSM, and just about any other fetishes, you can think of.
OFL Top Recommendations based on 100,000+ Survey

"Serious Relationships"
"Discreet Hookups"
"Best Course for Men"
"Quick Flings"
"Normal Hookups"
"Our Quiz"
And there are millions of them.
10 million, in fact.
Well, that's what FetLife claims when you visit their landing page for the first time as you start your registration process.
Sometimes these numbers have some "artistic license" but there is no denying that this is a busy alternative dating site.
​Here are a few more figures and facts about Fetlife:
Over half the user base is American (around 5 million users). Many also come from Canada.
Each day 3000 new users sign up for FetLife
FetLife users have made over 4.5 million blog posts
There are over 900000 upcoming events advertised on the site
FetLife has around 147000 different groups on the platform
These numbers are simply staggering, that's for sure.
Gender ratio and age range
Looking at the gender ratio on the site.
While FetLife is different, most people aren't using it for long-term relationships (like eHarmony or Tinder), but more for hookups (like BeNaughty or Ashley Madison).
And with hookup sites, it's often males who dominate as users.
That's the case here as well.
In fact, 75% of users are male and 25% are female.
As for the most popular age range, well that's from 25-34 years old.
That's followed by the 18-24-year-olds.
Interestingly, 55 and older are the third biggest group.
Here's a full breakdown:
25-34-year-old users: They make up 28% of all users with 7% of these users female and 21% male.
18-24-year-old users: They make up 24% of all users with 6% of these users female and 18% male. 24% of all users.
55 and older: They make up 18% of all users with 5% of these users female and 13% male. 18% of all users.
35-44-year-old users: They make up 16% of all users with 5% of these users female and 11% male.
44-54-year-old users: They make up 14% of all users with 4% of these users female and 10% male.
The excellent thing about a website with a massive user base like FetLife has is that even if you take the smallest user group, you are talking of around 1.4 million users in total at that age range.
In other words, if you are looking to hook up with someone young, middle-aged, or older, FetLife can provide you with potential matchups in those age ranges without too much difficulty.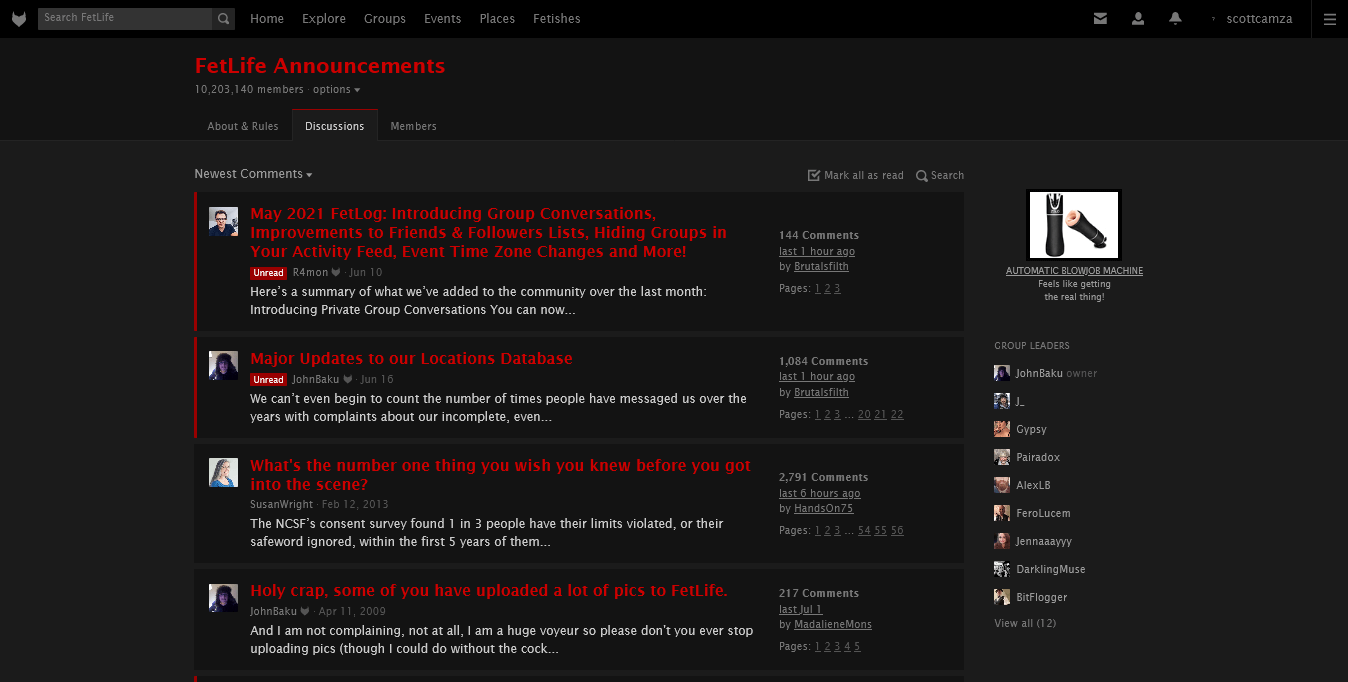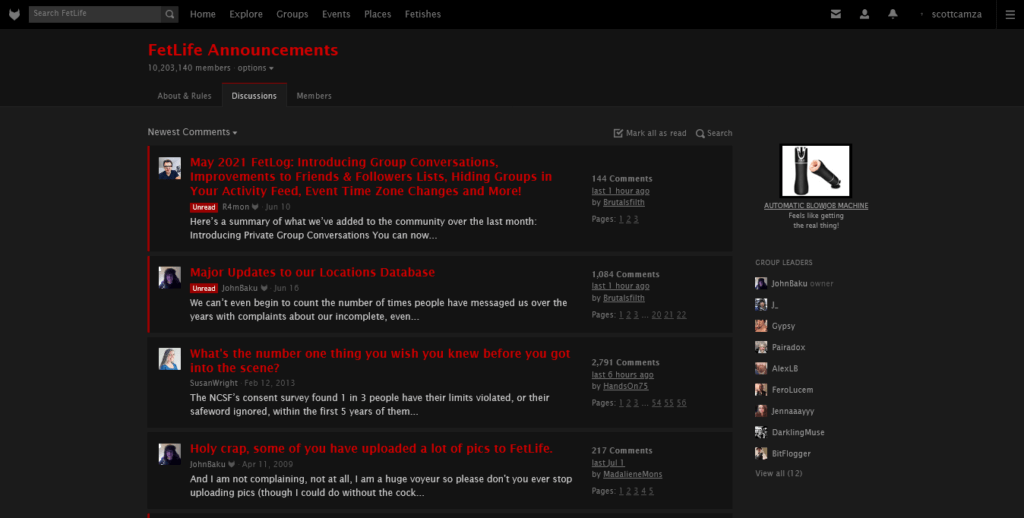 You've got a choice when you sign up as a user on FetLife.
Either you do so through the website, to via the FetLife app.
There is no IOS version so only Android users can but it's not available on the Google Play store, only as an APK.
You can find the link to that on the FetLife homepage.
When apps aren't official, I tend to steer clear of them and use the website as my dating platform of choice.
Unlike many other commercial dating sites, you won't be able to sign up with a social media account on FetLife.
​No, you will have to provide various pieces of information to get the ball rolling.
Despite that, the registration process isn't too difficult.
I can confirm that this is the information expected from you during the process:
Username
Gender (Fet Life is LGBTQ friendly)
Sexual orientation
Your preferred role
Date of birth
Email address
Password
The country and location where you live
Profile picture
Your email address will need to be valid as FetLife will send you a link to confirm your account.
Unlike some websites, you won't need to worry about providing a phone number as your email will suffice.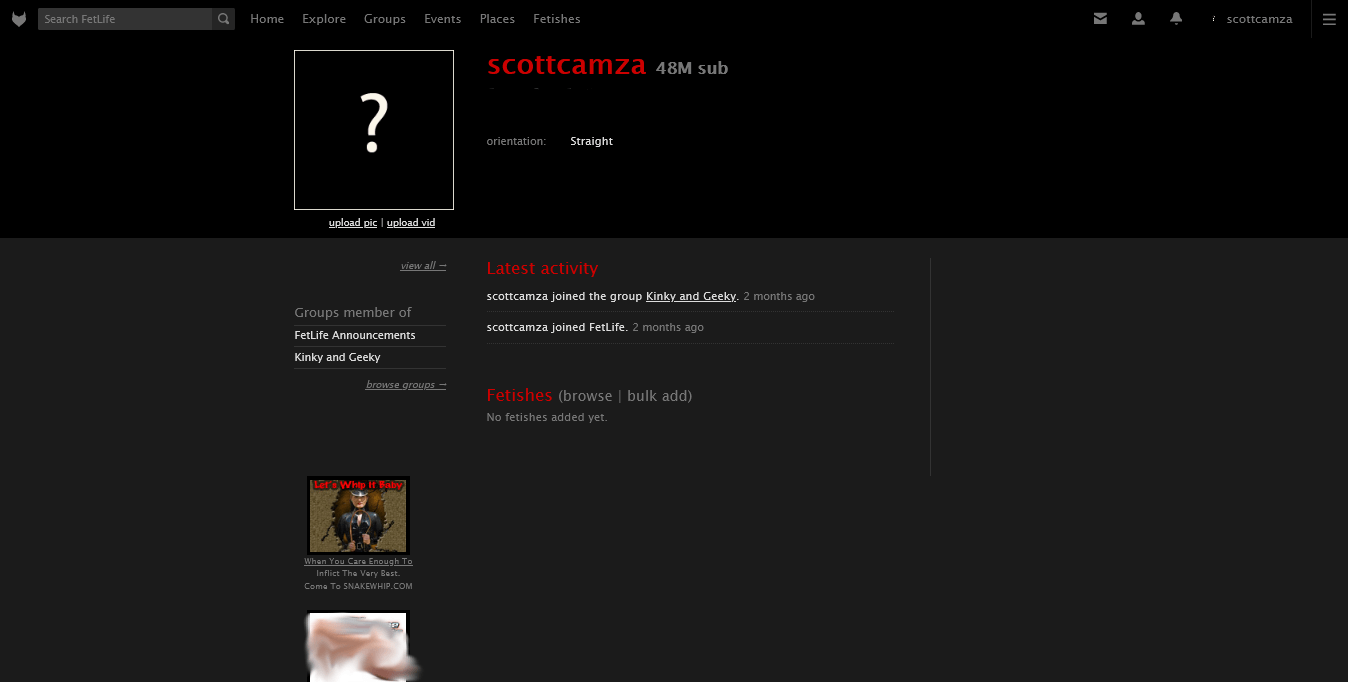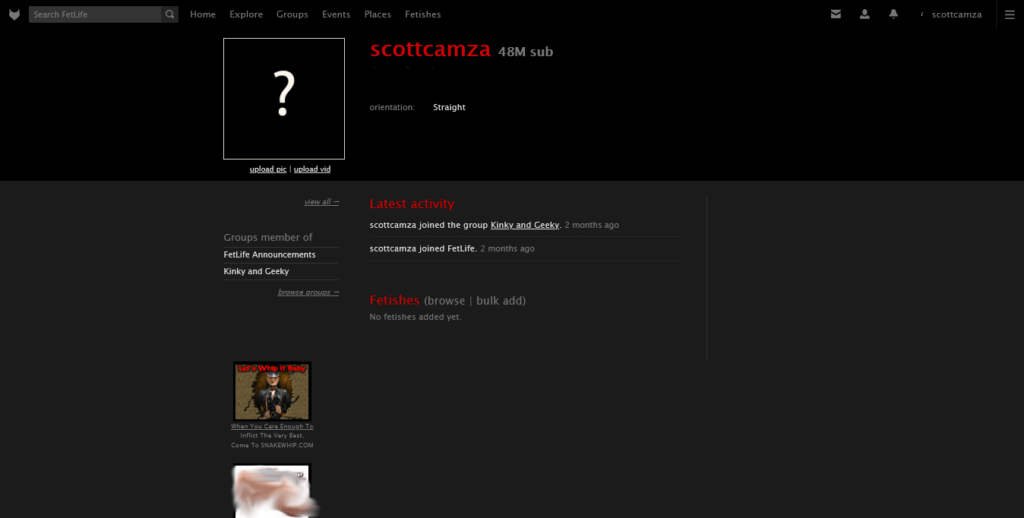 First up, I want to talk about your profile on FetLife.
During the registration process, you provide very little information to flesh it.
While you may want to see what the site has to offer, if you want other users to reach out to you as well, it's probably best to get your profile completed as quickly as possible.
To edit your profile, click on the three horizontal stripes that you will find on the right-hand side of the screen.
From there, select the Edit Profile option.
This really is something they should fix on the site because most people would click on their name which is next to the three stripes.
That does take you to your profile but doesn't give you the option to edit it.
Only the way that I have described above does.
So here what you can add:
What you are looking for on the site
How active you are in your alternative lifestyle (for example, you live it to just now and again)
An About Me section
If you are in a relationship (regular) as well as if you are in a D/s relationship
The fetishes you into to or interested in (there are so many to choose from)
That's it.
It really isn't much to add but it gives other users some critical information about you and what you are looking for.
That's why completing your profile is necessary.
While browsing through other users' profiles, it seems like many have taken the 10 minutes to complete there but you will find profiles that don't have any extra information.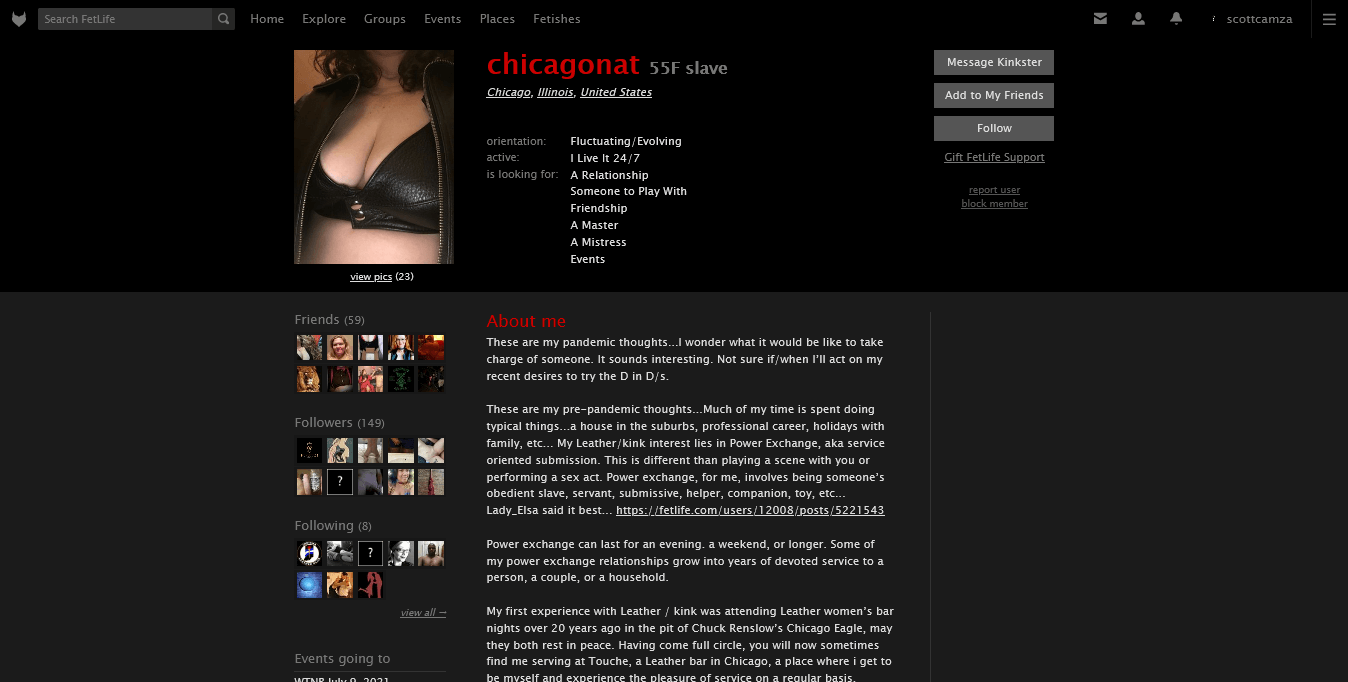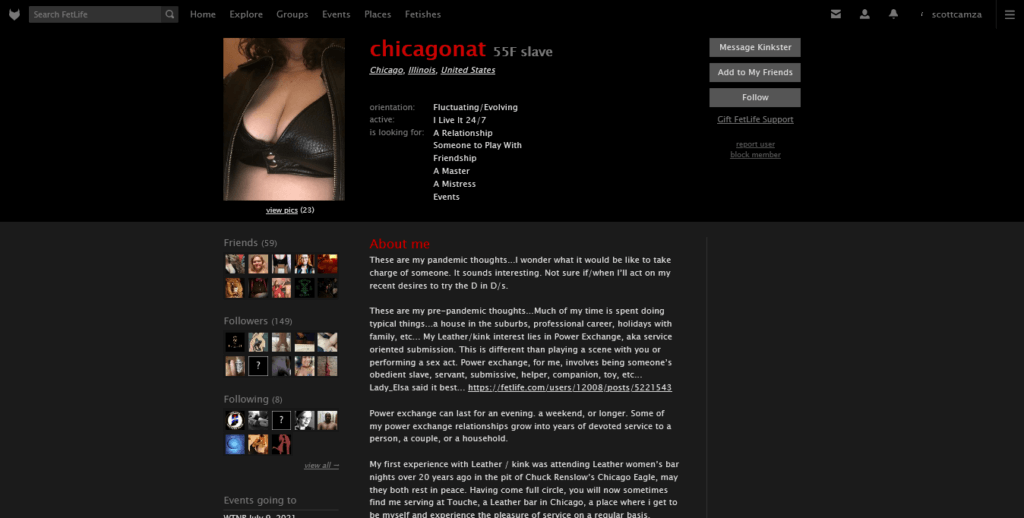 I am not going to lie.
Initially, I was not much of a fan of FetLife at all.
It's very different from other dating sites and therefore takes a bit of getting used to.
The secret here is taking the time to look around the site clicking menus and find out what they do.
The most critical thing that you should know about FetLife is how important groups are on the site.
They are the core of what FetLife is.
To get the most out of the site, users must look for the groups that will appeal to them.
And from the moment you land on the site for the first time, you are encouraged to join up with a few groups.
Before you start looking for specifics, for example, people into BDSM in your city, maybe join some of the more popular groups on the site.
From the page you start on, you will find a link to them.
I will speak more about groups a little later in the review.
But for now, let's see how to navigate the site.
Finding your way around FetLife is achieve using two menus.
The first menu you will find at the top of the screen and includes the following:
Home: The home page will show you all the latest updates from within the groups you have joined. You can also find more groups to join here.
Explore: Click here to find popular kinks and pervs on the site. Your friends and others you follow will also appear here. These are posts and videos that you can view, but most of them are for FetLife members only.
Groups: If you want to find more groups to join, click here.
Events: There are hundreds of events held by FetLife users all over the world. Click here to find some or even host your own.
Places: Want to find kinksters near you. Click here and find your location.
Fetishes: FetLife has fetishes that I've never heard of. There are so many of them. Click here to find users that like the same fetishes you do or discover new ones.
Messages: Any messages you send or receive will be found here
Friend request: All friend request from other users will be found here
Notifications: FetLife will notify you of important messages here
There's a second menu too that you will find on the left-hand side of the screen.
This deals more with the social networking aspect of the site.
These menus are:
Latest activity: If you have friends on the site, you can see their latest activity here
Group activity: If you've joined any groups, check out new posts here
Status updates: This will display any status updates made by your Fet Life friends.
Writings: If people you follow publish any new blogs, they will appear here
Pictures: If people you follow publish any new pictures, they will appear here
Videos: If people you follow publish any new videos, they will appear here
While I am not generally a fan of too many menus on a dating site, in this case, it's justified as the secondary menus system is all about the social networking side of things.
As mentioned, the only app available for FetLife is an APK file for Android.
If you'd like to try it out, you can find a link to download it on the site itself.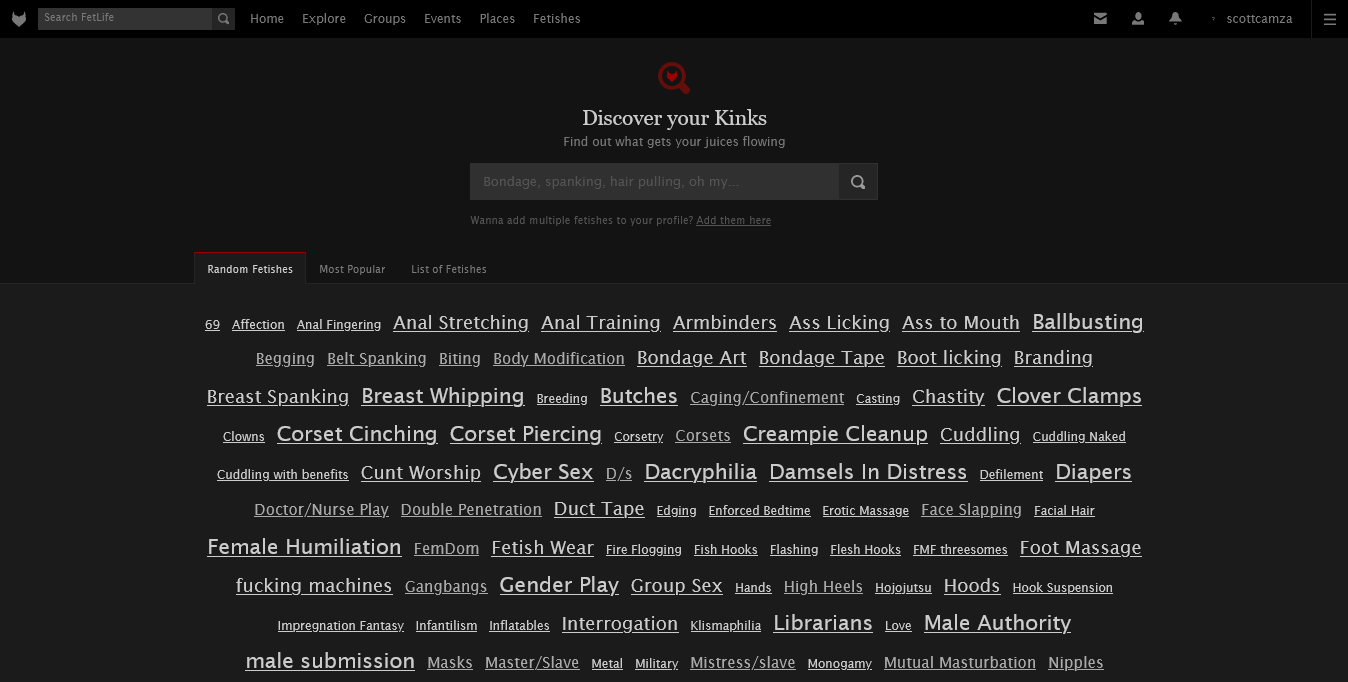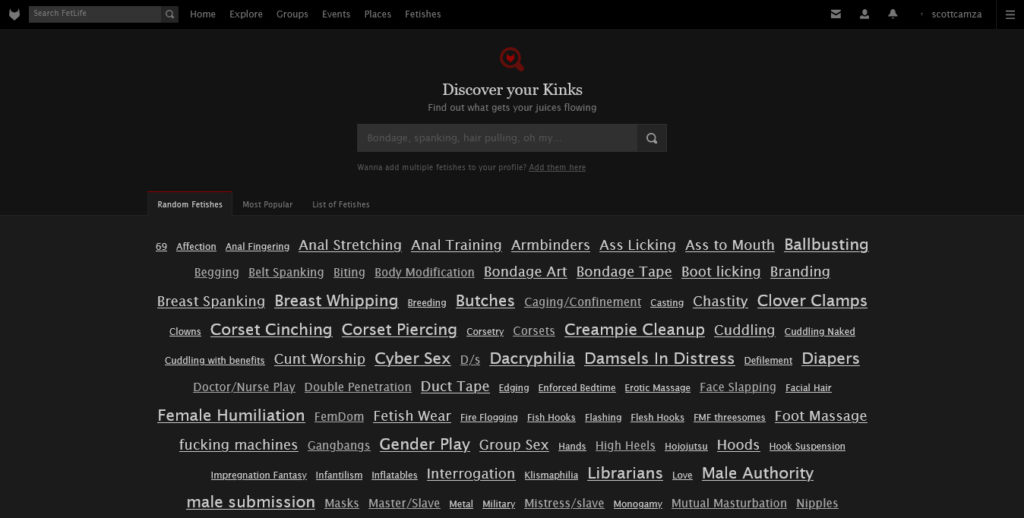 So that's the in's and out's of FetLife from an operational point of view.
But now, it's time to put that to the test and see just how it works for users.
And as we are testing it as a dating site, that means finding out how you would go about trying to use Fetlife to find a potential matchup, for example.
While other dating sites, even those like FetLife often provide you with potential matches in the city you stay in, that's not the case here.
You are going to have to do your searching yourself.
And groups are one of the areas of the site that play a big role in helping you to find what you are looking for.
Searching for matchups using groups
One of the best ways to find people near your locations is by using the groups.
Click on the Groups menu and then the search option.
Now type in the name of your city and see what comes up.
For example, if you type in Chicago, a range of Groups are returned, including Chicago Area Hookups, Chicago Classifieds, and more.
You can scan through these various and find ones that appeal to you.
But you will also notice in the search returns other menus to look through.
For example, you can see:
Kinksters in the location you've searched
Pictures
Videos
Discussions
Events
Fetishes
All of these help you to find potential matchups, especially the kinksters menu.
At any time, you can also search via the search bar that you will see at the top of the screen.
For example, enter Los Angeles to bring up the groups, kinksters, and more from that area.
Once you've found someone you'd like to reach out to, you can add them as a friend and start to see their updates as they make them.
If you want to reach out to them, however, there is good news.
Messaging on FetLife is free.
Messaging isn't in an instant chat format or real-time messaging like some other sites.
Instead, the site has a system that's similar to sending emails.
It's slow but effective.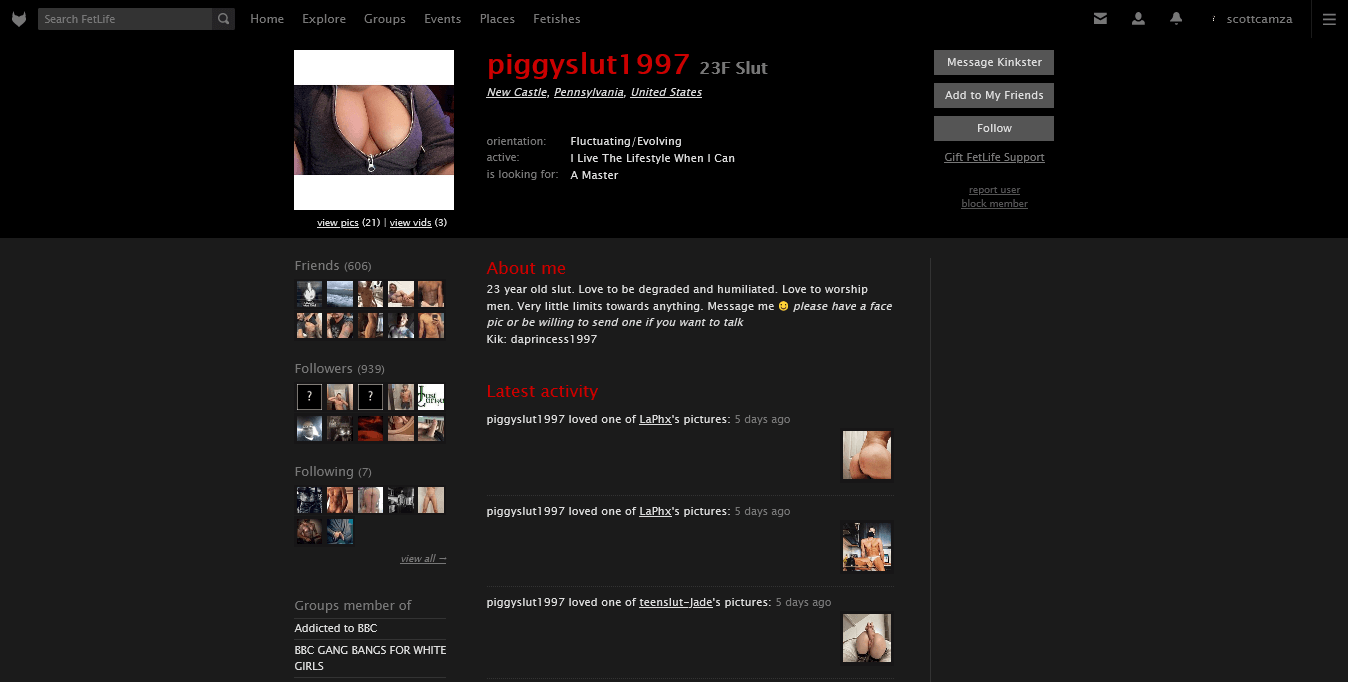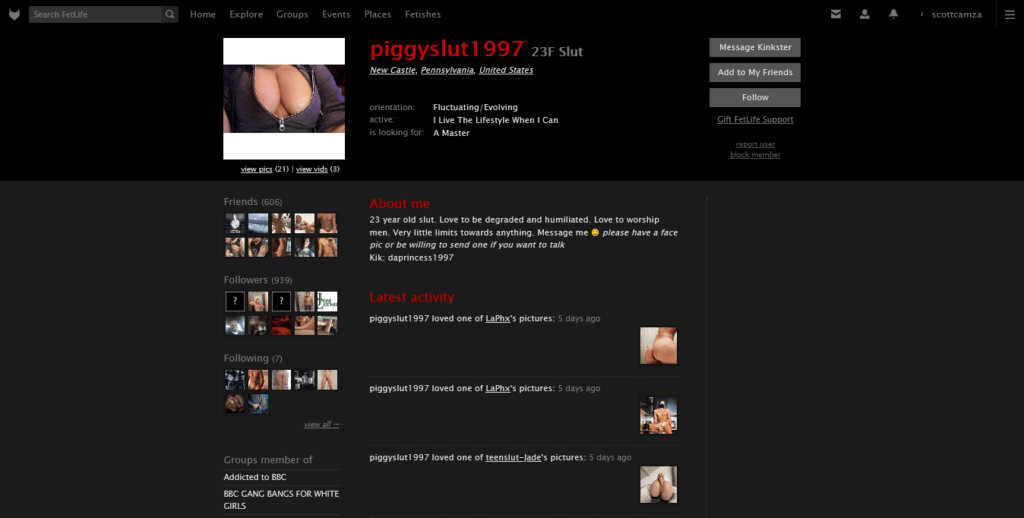 So if messaging is free, what kind of features can someone who signs up for FetLife membership expect?
Well, those behind the site see membership as more of a way for people to help support the site.
For that reason, there aren't that many extras that membership brings.
Here are three things you can expect:
As a supporter of FetLife, you will receive a special badge that goes on your profile that says "I Support FetLife"
It's nothing special but does show others that you are fully behind the site and have contributed to the upkeep thereof.
2. See all videos and pictures
If you love kinky videos posted by others and pictures, you will want to become a FetLife contributor, that's for sure.
All the videos of other users that feature under the discover menu will be available for you to watch as well as pictures that you can see.
And there are literally millions of them.
You will also get access to the popular pictures and videos of the day.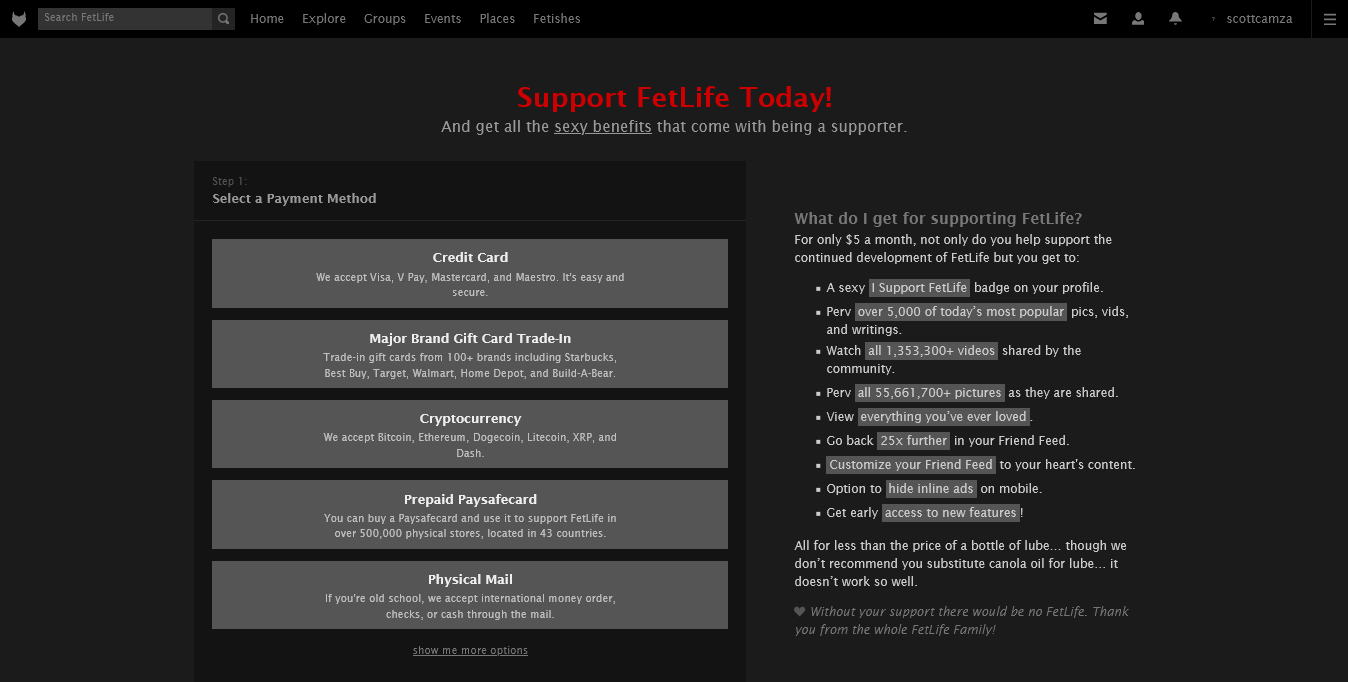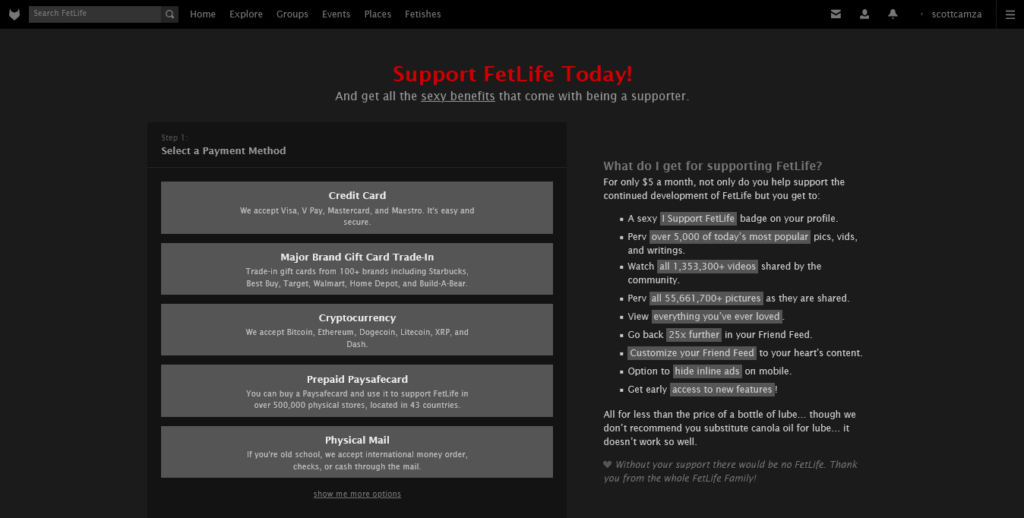 So because it's more of a contribution to keep the site running than a membership fee, you'd be right in thinking that the price for FetLife isn't going to be that expensive.
And it's not.
In fact, there is only one payment option and that's $5 per month.
Incredible, right?
The other massive advantage that FetLife presents to those who want to contribute is that they give so many ways to pay, even with cryptocurrency.
Here are your options: credit card, debit card, Paysafecard, Giropay, and Bitcoin.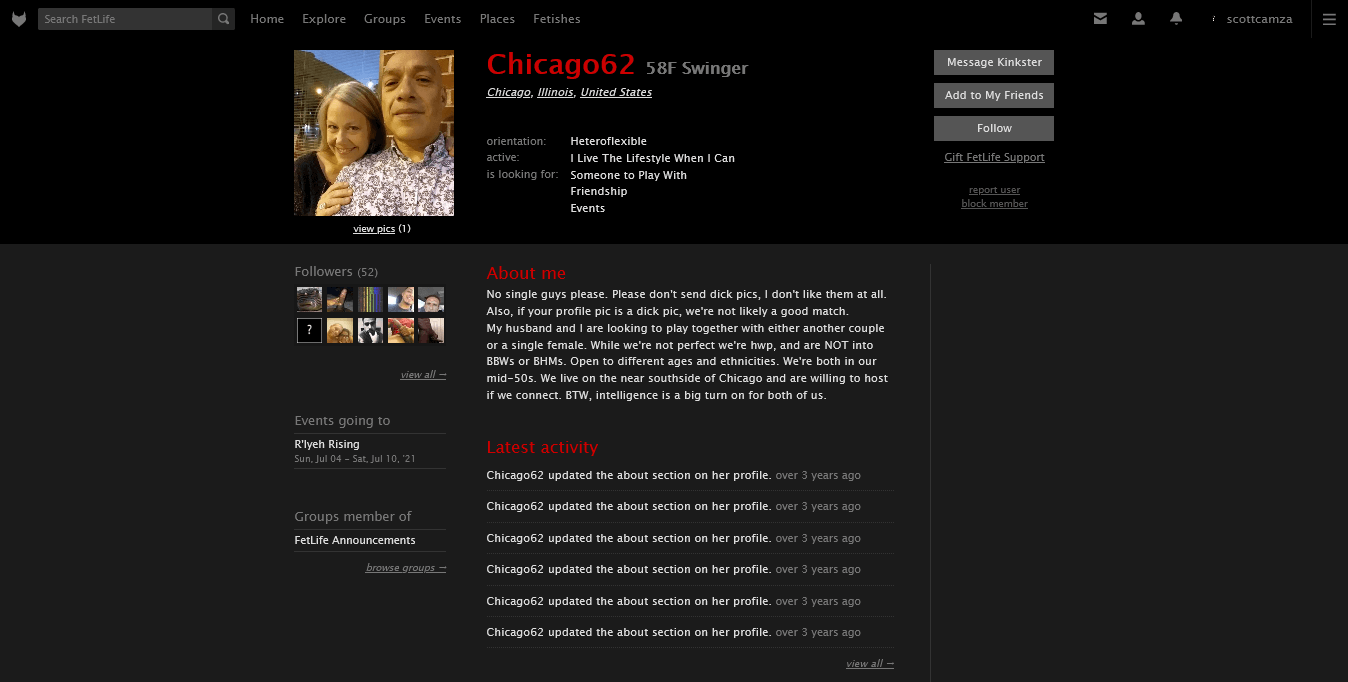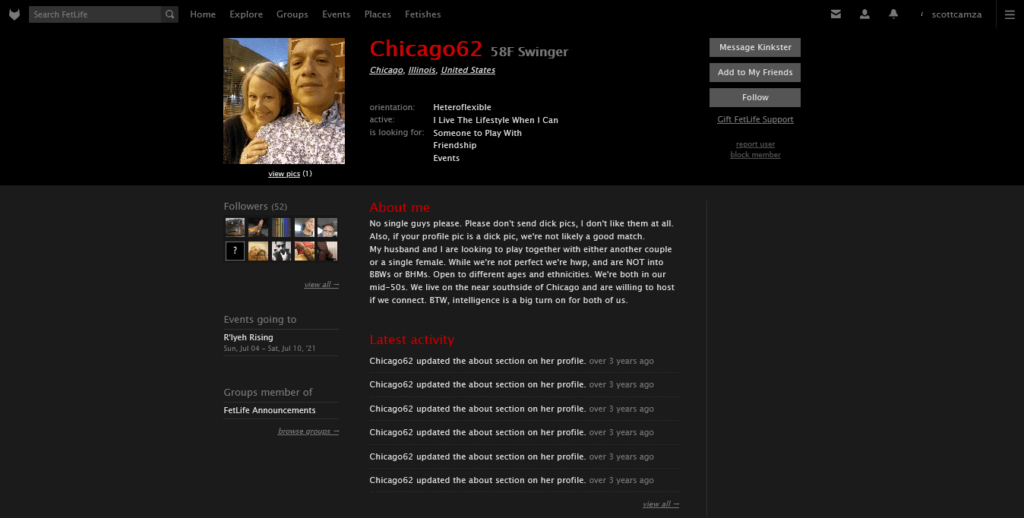 Conclusion and Overall Rating
And that's it for our FetLife.com review.
No matter your sexual orientation, if you are looking for a site where you can meet up with others that share your particular sexual interests and fetishism's in real life, it's an excellent place to start.
And it costs just $5 per month for membership although you don't really need that at all as messaging other users is free.
Fetlife is quite different from its competitors and other dating sites out there.
That's because it's definitely one massive community with groups, events, and more.
The other massive advantage it has is the sheer number of people who have signed up for profiles on the site.
Currently, it's at 10 million users and you can find these all over the world.
Those numbers are growing substantially each month as well.
Finally, let's get to a rating for FetLife.
Today, it scores 4 out of 5.