Afroromance is a great website for men and women with a preference for interracial relationships. Specifically, it is geared towards single black people interested in single white people, and vice-versa.
On the platform, they are being matched with each other, and it provides more than just functionality for them.
Most importantly, Afroromance proclaims itself to be a platform that creates a safe space for people who take interest in dating other races, an environment in which they can meet, and hopefully, thrive as an interracial couple.
Now it's time to see exactly what details you should know before joining Afroromance!
OFL Top Recommendations based on 100,000+ Survey

"Serious Relationships"
"Discreet Hookups"
"Best Course for Men"
"Quick Flings"
"Normal Hookups"
"Our Quiz"
Naturally, the first thing to be checked is:
Is your dating app giving you the best chance for success?
Make sure to take our online dating site/app quiz to find out.
It's a fact that people who follow our dating site suggestions have on average 2 extra dates per month.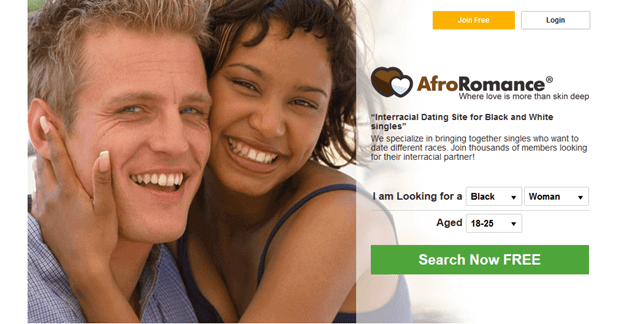 Signing Up – 2/5
Making Contact – 3/5
Profile Quality- 3/5
Real Life Review – 4/5
Well laid out website
Works for a niche audience
Sign up process is pretty straightforward
Doesn't have many ads even for free users
Money-back guarantee
Doesn't have a mobile app version
Poor engagement
The majority of the users come from the United States, even though it is open for most countries
Messaging is not free
Who is it for/ Demographic makeup?
Afroromance is a dating site primarily geared towards people who are interested in having an interracial relationship.
Upon signing up, you have the option to choose that you are looking only for friendship, but the site is obviously heavily marketed towards people in search of a romantic relationship.
There are no strict age groups for which the site is made, except of course you must be over 18 to sign up.
There are also no boundaries when it comes to nationalities, as it's available for a large number of countries worldwide, but the majority of users come from the United States.
To be precise, among 80000 worldwide users, 25000 are located in the U.S. with 600000 monthly page visits and activity coming from there.
Even though it's mainly centered around heterosexual couples, you can choose to be, for example, a woman looking for women, or a man looking for men, so it essentially has possibilities for all orientations and interests.
Contrary to the stereotype that most dating platforms have around them – that they usually bring people in search of short term fun or hookups (like BeNaughty or Ashley Madison) – Afroromance focuses on gathering people who are ready for a committed, serious, and hopefully long term relationship (like Tinder or Harmony).
That can be easily figured out by their brand's slogan "Where love is more than skin deep".
OFL Top Recommendations based on 100,000+ Survey

"Serious Relationships"
"Discreet Hookups"
"Best Course for Men"
"Quick Flings"
"Normal Hookups"
"Our Quiz"

Since this website is, as it was said, centered around heterosexual relationships, the fact that the gender distribution of users is 50% males and 50% females isn't a surprise.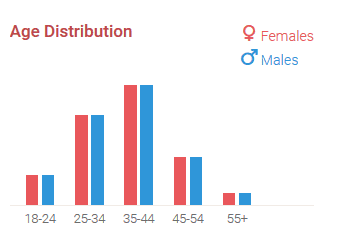 When it comes to age distribution, the vast majority of users are between the ages of 35 to 44, making up 40% of the complete number of users.
A little after that falls the age group of people between 25 and 34, who make up 30% of the users.
Afroromance is used the least by people who are older than 55, with only 4% of users being in this age group.
There's 10% of users who are younger than 25 and 16% of people aged 45 to 54. This sage distribution is somewhat expected, with the site being geared towards people looking for a serious relationship.
So, does this site really work as it presents itself it does? Can you really be just one step away from your perfect interracial relationship and even marriage?
Let's dive further and find out what are the chances for you to become one of their celebrated success stories.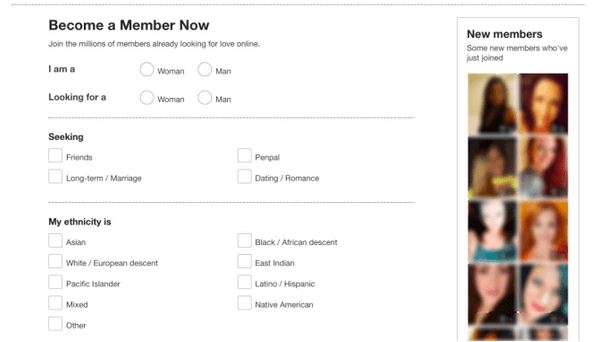 And, of course, the more you know about the site and the more you put yourself out there, the chances of that happening will probably increase as well.
How does it work for the target group?
The target groups are single men and women, most of the black or white race, and the way it works is upon signing up you are asked to check your gender, which gender you're interested in pursuing a relationship with, and what kind of relationship you're looking for.
The layout of the website is pretty straightforward, you can immediately see a variety of users and you can search people based on your preferences through search filters.
Filters that help your search are dividing people by their race, activity, or popularity, and the search is customized by the preferences you put in when signing up.
So, for example, if you are a woman searching for men, you will be shown men that are searching for women.
The first obstacle is that messaging people isn't available in the free membership, but if someone messages you, it's free for you to reply.
Also, when you are searching for people the first people that show up are the ones that are close to you.
Making contact on Afroromance
Searching for people on Afroromance is completely free, and you can do it with a variety of filters made to help your search.
You can search through to see the most popular users, most recently active users, new members, users whose birthday is coming up soon, users who have recently updated their profiles, and members who are online at the moment.
Besides that, the search can be filtered by choosing the race you are interested in looking at – so if you are looking for women, you can filter your search by choosing to see only black, white, Latino, or Asian women.
Advanced search tools include the possibility of searching by a nickname or by a keyword.
All search tools are free to use, and you can also save your search tool settings, so it can be handy when you search again.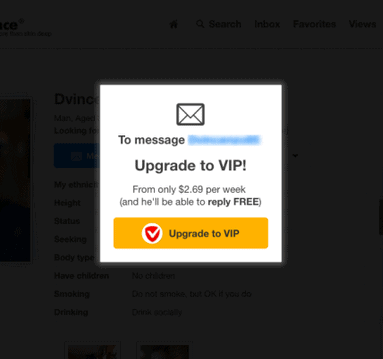 What is important to have in mind is that you will only be shown users who live in the same country that you live in, or at least the same country that you stated as your residence.
The first people who come up will be the ones living in your city or area.
There are a few ways for contacting other users, and they are all simple and straightforward.
Firstly, you can send a "flirt" by clicking on the heart button that is available through the search results.
Another way to initiate contact with the users you like is by sending a sticker, which is done by clicking the flirt button that can be found on other members' profiles.
When you have gone through the phase of starting conversations, all your favorite contacts can be saved on a favorites list.
Also, Afroromance gives you the ability to keep track of all the flirts you sent and the profiles you visited.
If you are lucky to get a message from another user, you can reply to them for free, if it happens to be someone who piques your interest.
These services are all a part of being a free member, but of course, some upgrades are available once you decide to become a premium member.
With the premium membership comes the ability to send messages to other people first.
Some other benefits are the option to see who has been checking out your profile, and you can even find out who put you on their favorites list.
When you first go to the Afroromance website, you can see how much they pride themselves on an apparently very high number of success stories of happy interracial couples.
When you sign up, you can actually see and read numerous stories of interracial couples whose happily ever after started on Afroromance.
Having all that in mind, you can say that finding a perfect long term partner is more than possible on this platform.
But, something to think about is of course what are your wishes and possibilities, how much patience you have and are the services provided by Afroromance something that suits your personality.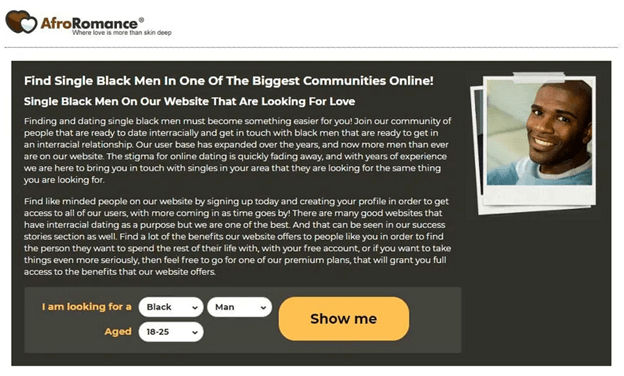 Basically, if having a partner of a different race is how you imagine your future, and if you are at that phase where you are looking for something more serious, there is a high possibility that this is your chance.
If you are very serious about your intentions to find a partner and you don't mind paying for such a service, your chances will be even higher.
Also, if we take a look at the age distributions of the users, if you are between the ages of 35 and 44, and are interested in people around the same age, Afroromance seems to be just the right place.
And if you're searching for someone more young or old, then your chances might not be as high, because the circle from which you choose from narrows.
If you are generally a fan of online dating, the current world situation might also increase the chances of success, as the lack of possibilities for real-life meetings has led a lot of people to look into online dating.
Of course, if your goal is to find someone to hook up with, or only have casual dates, Afroromance isn't the most saturated place for that type of thing.
One of the downsides, which probably has an impact on success, is the fact that there is no version of a mobile app for this website.
In this day and age, most people have moved to those types of dating platforms, and with good reason.
When the app is right there in your pocket is way more convenient to communicate.
And also, if you aren't willing to pay for a service like this in order to have the full experience, then your experience might be underwhelming.
Both of these downsides seem like things that can hugely affect your motivation.
Flirts are a feature that can really ease you in a conversation, if you're not sure or confident enough to shoot your shot with your best pickup line – or if you're simply not willing to become a premium member (yet).
Sending a flirt might incite a conversation and lead you to a journey for which you signed up to start with, but if it gets ignored, it's no big deal.
At least you didn't spend money to send a message that ended up being ignored.
Same as flirting in real life, this gives you the ability to just suggest what you're open for, without any commitment.
And of course, if you're sent a flirt from someone who really isn't your type – you have the freedom to just politely ignore them.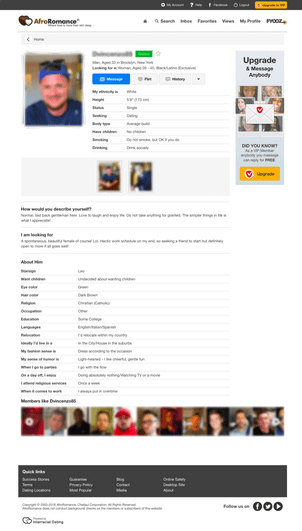 The main way you communicate with the people you find interesting is through messaging.
As it was said, the big downside here is that in order to send messages you first must become a premium member, and maybe not everyone will be willing to respond to only a flirt.
As for the whole site and its interface, the messaging service is pretty simple and straightforward, you have your inbox and you navigate it.
The way messaging works is highly on brand for Afroromance in a way, because having to pay in order to make the big first step shows that this platform is primarily centered around serious users.
After you've gone through all the descriptions of the average Afroromance experience, you might be wondering about some practical things, especially if you're interested in joining in on this interracial treasure search.
Here's everything you need to know about the practicalities.
How can I become an Afroromance member?
As it's become a common practice among different platforms, on Afroromance there are multiple ways of how you can sign up to be a member.
Firstly, there's your typical practice of signing up through an email.
But, a probably more convenient way to sign up is to do it through either your Google account or your Facebook account.
If you choose this, a new browser window will pop up so you can choose the account through which you want to be signed up with.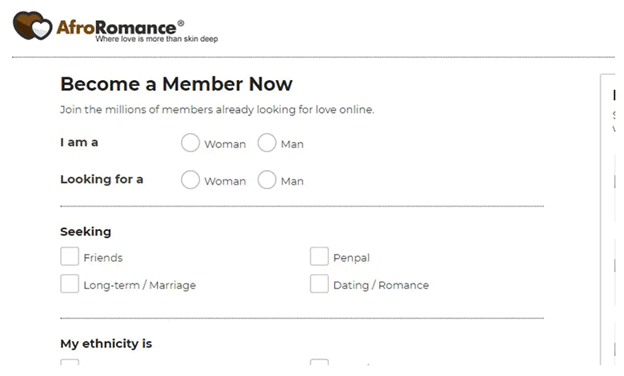 So, firstly you are required to put in your gender, age, ethnicity, and sexuality, not explicitly your sexuality though, but rather if you're a woman or a man, looking for women or men.
Then you are asked to put up a profile picture, but you can skip this step if you wish to.
After that, you should put in which country, region, and town you're from, pick which type of relationship you're looking for, give yourself a nickname and give a description of yourself of a minimum of 20 words.
The time you will need for signing up completely depends on you, mostly on how much time you'll need to find the right photo and come up with a good description of yourself.
Speaking of the description, you probably don't want to go too broad and leave something to itch the imagination, but still writing it in a way it would inspire conversation.
Be creative!
Afroromance website navigation
The first impression you get when you go to the website is that while it definitely is really simple and straightforward, design-vise it is a bit outdated.
But, having in mind the main demographic of Afroromance being people between 35 and 44, maybe exactly that is the charm of this website.
Most importantly, the website is very user-friendly.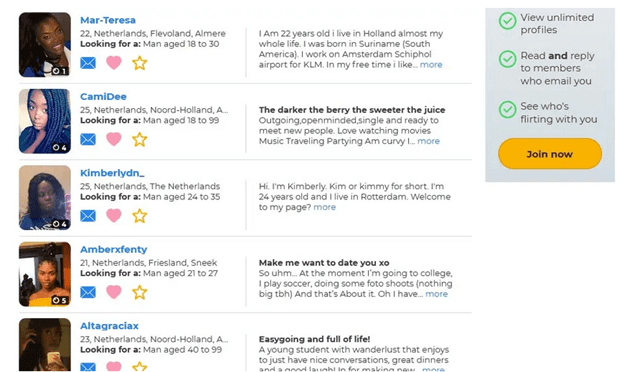 All of the services and tools are nicely laid out, and you can find your way around very easily, even if it might be your first time using a dating site.
On top of the screen you can see your inbox, your favorites list, the search bar, and on the right side there are a few articles written by people who found "the one" on Afroromance.
On the bottom half of the page is where you can see some profiles recommended for you.
The website is available only in English, which is maybe understood with the majority of users being from the United States, but on the other hand, when a platform's main thing is diversity in ethnicities, it could be an inconvenience, since the U.S. isn't the only country with a diverse nation.
So, while a lot of the features are completely free, the main feature you probably signed up for – messaging is available only after you've become a premium member.
There are three possibilities for payment:
One month membership costs 23.96 USD / Month, making that a total of 23.96 USD;
Three-month membership costs 12.12 USD / Month, making that a total of 36.36 USD;
Six-month membership costs 10.76 USD / Month, making that a total of 64.56 USD.
When it comes to price range, and compared to other similar sites, Afroromance is in the upper midfield.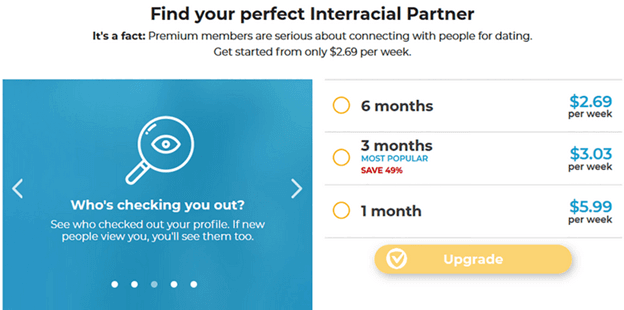 Conclusion and Overall Rating
Afroromance seems like a good platform for a very specific group of people, and since the market is pretty saturated, that seems like a good thing.
If you read all the details and the description of the main demographic, and you found yourself while reading, then there's a chance that it'll work for you.
And while the idea behind this platform is good and useful, what the site lacks is diversity in its appearance, because no matter the idea behind it, when you see it you are immediately reminded of every other dating site you came across.
The main downside which needs improving is absolutely the lack of a mobile app, which will make this platform more accessible, and in turn probably more popular.
If there's potential for such a step, then it would be a win-win situation.