Hello and welcome to another dating site review.
Today, we are looking at Cougar69.com, a site where older women hook up with younger men (like BeNaughty or Ashley Madison).
It's all about the cougar life, right?
But is it one of the best cougar dating sites or hookup sites out there?
OFL Top Recommendations based on 100,000+ Survey

"Serious Relationships"
"Discreet Hookups"
"Best Course for Men"
"Quick Flings"
"Normal Hookups"
"Our Quiz"
Or is it a scam, filled with fake profiles?
And will you find real people here?
Well, other than that, we will also give a review of the site looking into:
Cougarlife.com is running a deal right now, and we suggest that you don't miss out on this limited offer. It's the biggest Cougar/Cub site online.
Is your dating app giving you the best chance for success?
Make sure to take our online dating site/app quiz to find out.
It's a fact that people who follow our dating site suggestions have on average 2 extra dates per month.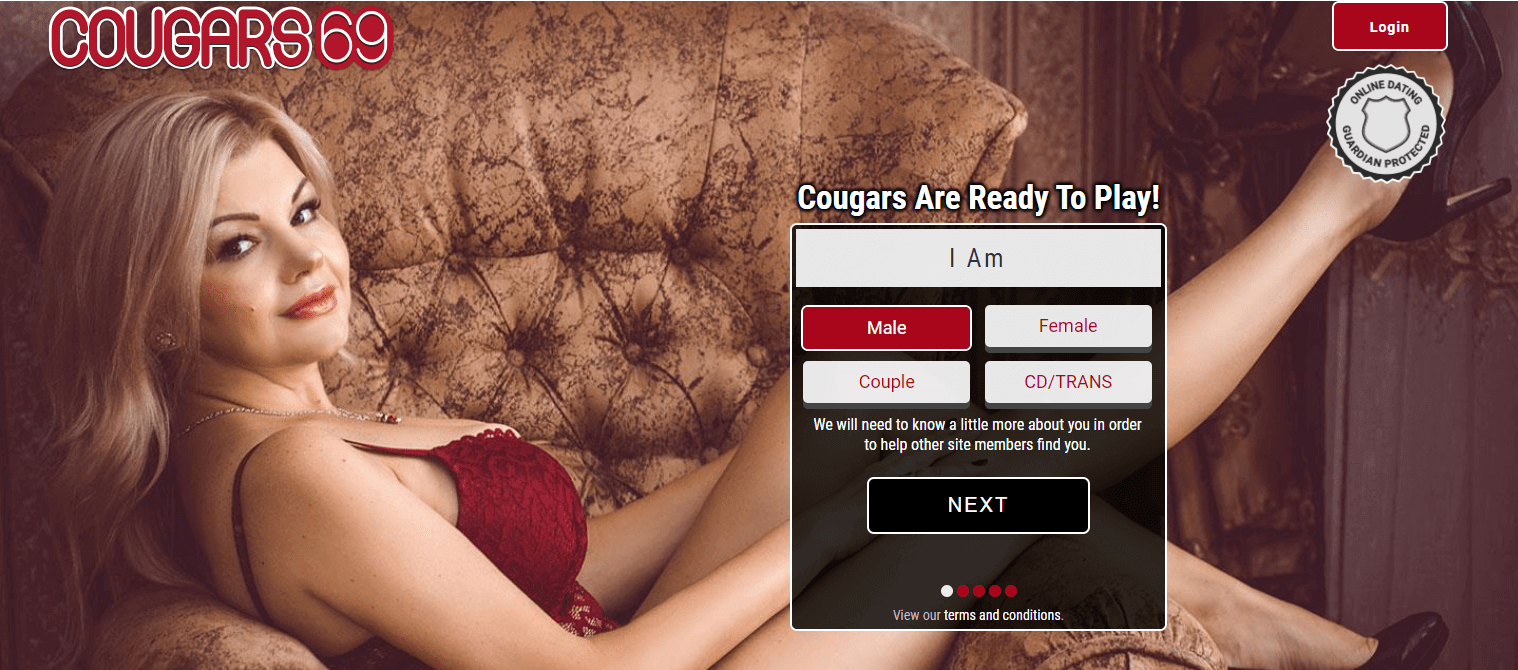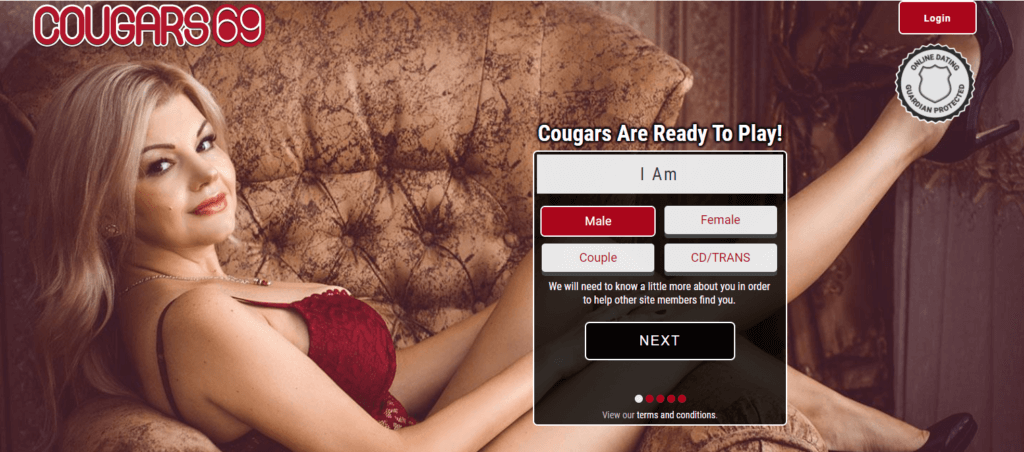 Ease of use – 3/5
Effectiveness – 3/5
Key features – 2/5
Pricing – 2/5
Unique design
Easy registration
Large user base
Mixed reviews on Trustpilot
The site is fairly slow
Annoying pop-ups
Some fake profiles and scammers

Who Is It For/Demographics?
From the moment you see the Cougars69.com website, there is no doubt as to who the target audience is.
First and foremost, it's for older ladies who would consider themselves cougars or milfs.
But for the site to work, there's another critical target audience.
And that's younger men who want to date those cougars.
Without either of these, the site simply won't work effectively.
Luckily, it seems that both target audiences are adequately covered on Cougars69 and you can rest assured that not many of them are looking for long-term relationships (like on eHarmony or Tinder).
During my research into user numbers, I've seen suggestions that up to three million users frequent the site.
I would suggest, however, that these numbers are inflated.
OFL Top Recommendations based on 100,000+ Survey

"Serious Relationships"
"Discreet Hookups"
"Best Course for Men"
"Quick Flings"
"Normal Hookups"
"Our Quiz"
And why I say that is because Cougars69 is one of a group of five online dating sites operated by Cintilet Limited.
Looking into the terms and conditions of the site, it says that your profile may be used on other appropriate sites.
So the same is happening for people who registered on those sites, right?
Their profiles could be appearing on Cougars69 as well.
Cougar69

gender ratio and age range breakdown
On some dating sites, information like this is easy to find while on others it's more difficult.
You can be sure that more young men have signed up for profiles on this site than cougars.
That's the general rule of thumb for hook-up cougar dating sites like this.
I couldn't find the exact ratio, however, but I would guess at least over 60% young men to 40% older women, possibly even higher.
As for age ranges, well that's easy enough.
Most of the males on site will be under 25 and most of the females on-site over 35.
Of course, you will find some in between those ages as well.

The only way you are going to register your profile on the site is via the webpage.
Currently, there is no app for Cougars69 although it is mobile friendly so if you prefer using your smartphone, that is an option.
Other than registering as a male or female user, you can also start a profile couple or as a CD/Trans user.
Registration takes place in five steps where you provide your:
Your gender
The gender you'd like to match up with (you can choose multiple options)
Your DOB
Email address
Password
After you are taken to the site, you still have to provide more information about yourself.
For example, you must:
Say what you identify as (Cougar, puma, toyboy, milf and more)
The age range of people you want to meet
What turns you on
What get you horny
Confirm your location
Come up with a username
Write a profile headline
Write about yourself and what you offer
Add a profile picture
You will also have to check your email for a validation code that you will need to input.
​Site design and navigating your way around

Cougars69
As some that's reviewed many dating sites, I can't say I've ever seen one that shares a similar design to Cougars69.
While it is very contemporary, it's a little too busy for my liking.
There always seems to be something going on, be it a flashing advert or a message to tell you Jane Doe has uploaded a new photo.
But it is unique, that's for sure.
Without a doubt, there is a social media influence on the site in the fact you can see on the home page when people upload new photos.
Also, if you go to your profile, you can see updates from other users as well which can be commented on or like.
Cougars69 has two menu systems.
The main menus are in the form of icons across the top of the page.
These are:
House icon (home page): Click here if you want to return to Cougards69's main page
Magnifying glass icon (search): Click here if you want to search for matchups
Man icon (your profile): Click here to return to your profile
Heart icon (favorites): Click here to see your favorites
Circle with ! (Notifications): Notifications you receive will appear here
Envelope (Messaging): All your messages, both sent and receive can be found here
Stars icon (Messageboard) Click here to read messages of others or post your own
The secondary menu system is more community-based.
For example, here you will find:
Articles
Blogs
Forums
Events
Galleries
There is also a user online counter (often over 40 000 when I was using the site), a link to your friends and a chat room which is for members only.
I am kind of torn if I like the overall design or not.
It's different, I will give it that.
I really don't like the constant pop-ups that have to be closed manually when someone uploads a picture.
Who thought that was a good idea?
It's just very annoying.
And as I said earlier, the site is very cluttered.
That might not bother other people but I won't lie, it really bothered me.
For example, the home page itself.
It includes a link to your profile, suggested matchups, featured members, top photos, top videos, members online now, VIP benefits (if you haven't signed up and advertising), site poles, events and parties, a hot or not roulette-style matchup game and more.
That's just so much information.
I would remove the profile link as it can be accessed from the menu system also, click on the videos and you will be whisked away to a payment screen.
I just think that everything, in general, can be cleaned up a bit
There really isn't that much to speak of when it comes to your profile.
During the registration process, you filled in all the information that you needed to.
There is nothing else you can add.
That means, no appearance or lifestyle parameters or anything like that at all.
I guess this is a hookup site after all.
So that means your profile picture is going to have to do all the selling for you, right?
You will notice that our profile has a rating system too.
This is true for all users' profiles.
If you want to rate someone click on it to put their rating up or down and more.


In terms of finding that milf, cougar or younger man, what tools does Cougars69 provide to users to do so?
Well, from the moment you join the site, it will provide you with matches that are mostly based on location and age ranges.
I guess with profiles that don't have tons of information, to begin with, it's impossible to base it on anything else, right!.
Those matches appear slapdash in the middle of the home page.
It's a great starting point for you because as I said, they are location-based, so there should be people that are relatively near you.
The problem here is that this is styled as a roulette-style matchup game.
But if you want to know more about someone before you rate them, you can click on their name to be taken to their profile.
Also on the home page, you can see users by:
Recent photos
Recent activity
Feature members
Again, from time to time, these are worth looking for.
Just remember, location-wise, they all might be close to you.
But what about searches?
​Using the

Cougars69

search engine
The search engine options at Cougar69 are impressive indeed.
You have four search options:
Quick search
Advanced search
By username
Users that are online now
The quick search option has four basic parameters which are gender, what you are looking for, if the returns should have photos or videos and how far away from you they should be.
Most users (yes, even those who haven't signed up for membership) will make use of the advanced search engine.
This includes the first four parameters as well as
Sexuality
Ethnicity
Build
Age range
If they drink or smoke
Their level of verification
Their languages
I found it interesting that you could include habits, ethnicity and build because I still cannot find where you would input that on my own profile.
But it's pretty awesome that anybody can use this advanced search engine, that's for sure.
So as a regular user, there is no way to message others on the site but you can read messages if you get sent them.
You can like other users' pictures, add them as a friend (they have to approve) or give them a rating.
Only members can send messages or leave a comment on photos, however.
That means the only way to use this site in a way that's going to be meaningful and help you meet up with others is to buy into the membership options that it has.
But they don't only give you the ability to message but a range of other key features too.
Let's look into what Cougars69 has for you in that regard.


Members of Cougars69 can do the following:
1. Unlimited messaging and commenting
You can send as many messages as you want to as many users as you want.
While regular users cannot message back, they can read your messages at least.
Don't overlook commenting either.
This seems to be a pretty big deal on the site because of the social networking aspect of it.
Lots of people make friends with others and then comment on their photos and it seems like posting photos is a pretty big deal.
2. See all user photos and videos
As a user, you have the choice to post photos of yourself.
You can make these for all to see or you can make them private.
This counts for videos as well.
All members, however, can see any photos and videos that someone has posted.
And with photos been a big part of this site (everybody seems to post them), this is an added extra that's pretty useful.
3. Priority search listings
Those who sign up for a membership on the site move to the top of the class so to speak when it comes to search returns.
Yes, if you are a match for someone your profile will be at the top of their search returns.
That's just another way to ensure you get yourself out there without you having to do all the work in finding a potential matchup.
​​​​A great way to meet up with new people on a dating site is via a chat room.
Cougars69 has one for members only which you can access from the secondary menu at the top of the screen.
5. Blogs, vlogs, articles and forums
While this is not a member-only feature, all of these for me are key features on the site and add to the uniqueness of it.
You can post a blog, frequent the forums, read interesting articles (many of them on internet dating safety) and even start a vlog if you want.
Ok, so that's not a lot of key features at all.
Messaging is crucial and the ability to see all photos of other users is fun too.
But I would have like to see more.
What are these features going to cost?
That's the critical question.
Also, what payment options are on offer on this dating site?
Well, we've tracked that all down for you and you do have some choice.
For a start, just like many other dating sites, you get a one-month and three-month membership plan.
Instead of a six-month option, Cougars69 has a 12-month plan.
I will be honest, I am not a big fan of a 12-month plan.
Although they do offer the best savings when you compare them month-to-month with the others, who wants to commit for a year to a dating site?
Here a breakdown of the prices:
1-month: $39.95
3-month membership: $94.95 ($31.65 per month)
12-month membership: $229.95 ($17.25 per month)
I bet you'd agree that those prices are pretty steep but that's what you will have to pay if you want to use the site effectively.
I would love to see them drop a little, however.
Sometimes they do as there are specials held from time to time to make sure you lookout for those.
Conclusion and Overall Rating
Thanks for taking time out to read our Cougars69 review.
Is this a good cougar dating site?
Well, I am in two minds about it.
I don't think it is a scam site at all but I do think there are fake profiles and scammers on the site.
But that can be said for most dating sites, that's for sure.
For me, there is lots of potential with this site and if you think the pricing isn't too expensive, then why wouldn't you try it out?
I would like to see that pricing cheaper, however, because the features on offer just aren't worth what you have to pay.
When it comes to a user base, this is a busy site so that is a positive and I had plenty of matchups just a few miles from my location.
I am just not sure everyone appearing on the site signed up for it specifically or one of its sister sites.
But at the end of the day, only you can decide if making a profile on Cougars69 is worth it.
But let's get to an overall rating, then.
Cougars69 get a less than spectacular 2.5 out of 5.
Frequently Asked Questions