In this article, Tinder and Match.com will go head-to-head.
Let's finally settle this decade-long debate and see who the winner is!
I'll be comparing them on three of the most crucial criteria:
OFL Top Recommendations based on 100,000+ Survey

"Serious Relationships"
"Discreet Hookups"
"Best Course for Men"
"Quick Flings"
"Normal Hookups"
"Our Quiz"
Who will come out tops? Let's dig in to find out, shall we?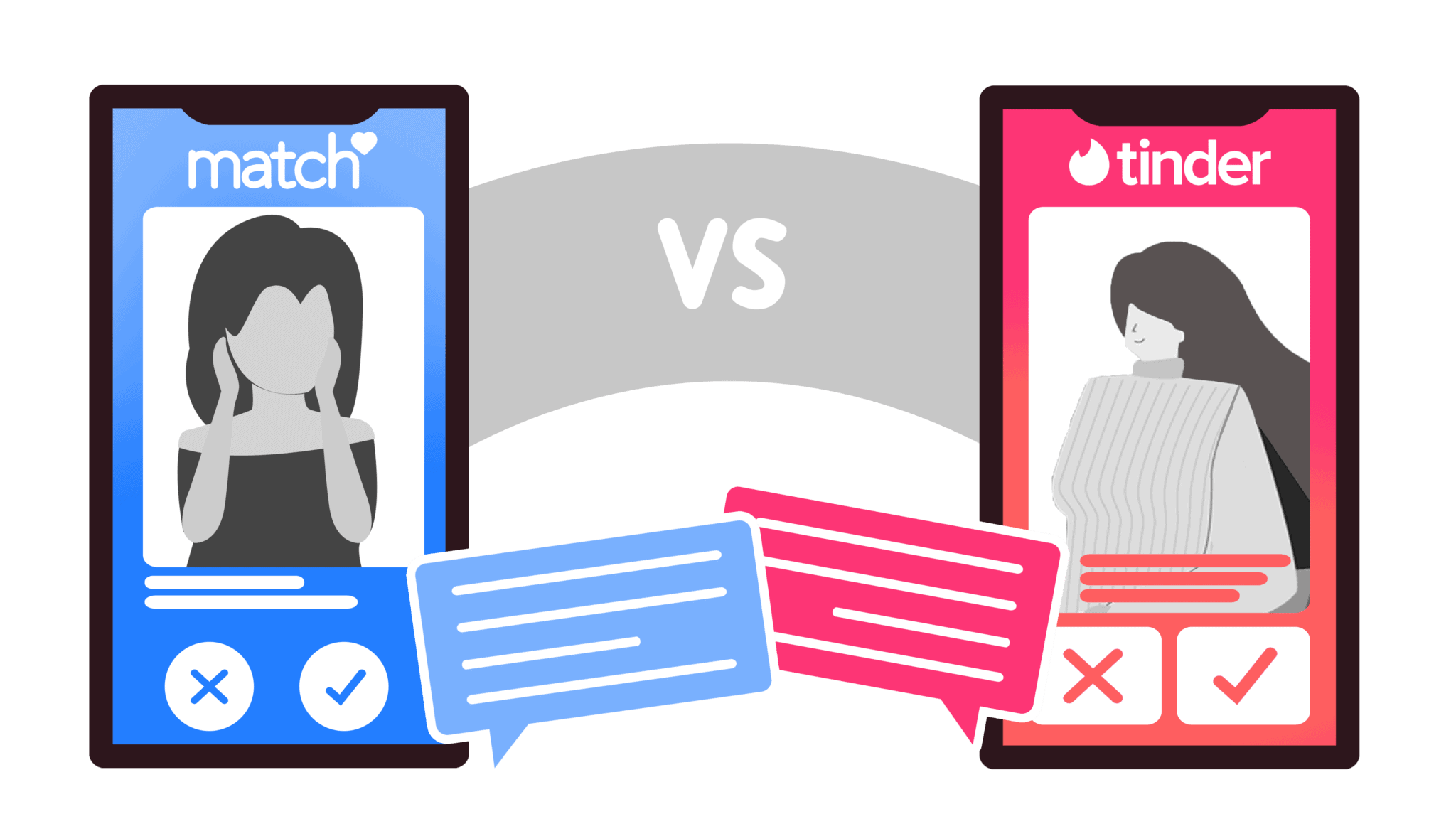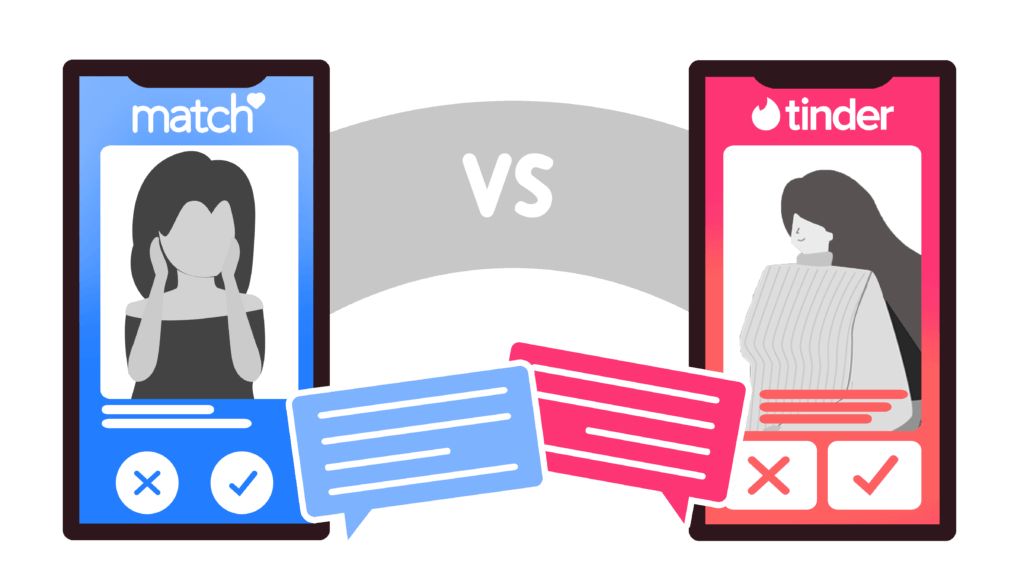 Tinder has the majority of its users on its mobile app which can be downloaded on google play whereas about half of match.com users use the match.com app in half browse on their computer.
Tinder is based on a "hot or not" matchmaking matching algorithm while match.com uses more search and filter capabilities in order to connect people from its user base.
Both Match and Tinder have comparable features for a dating website overall.
Match approximately $15.99 per month for a 12-month subscription, whereas Tinder will cost approximately $9.99 per month or $19.99 per month (at the cheapest) depending on if you get the plus or gold membership and how many months you purchase for.
Tinder and Match.com are great for a myriad of things and suit a wide variety of needs like flirting, hooking up, and getting into a serious relationship when compared to similar apps largely known for one thing only.
For instance, BeNaughty or Ashley madison is known more for hookups, while eHarmony is the place for serious relationships.
What are the users looking for?


While Tinder has long been proclaimed as the King of all hookup applications, it has recently been accepted as a general dating application in the dating industry.
Although overall it is still the most popular application for young adults and is still very popular with people just looking for something casual.
OFL Top Recommendations based on 100,000+ Survey

"Serious Relationships"
"Discreet Hookups"
"Best Course for Men"
"Quick Flings"
"Normal Hookups"
"Our Quiz"
The overall demographic for Tinder is late teens until the early 30s for the most part.
You will find all walks of life on the Tinder online dating site because there are over a million users on it.
Make sure to read people's profiles to get an idea of what they are looking for (also lots of people are not honest).
Also, let people know what you are looking for in the application in your profile biography.
Be on the lookout for those dishonest ones by knowing the words they use, if you are a woman so you can stay away from such people.
Check out this article to see if the Tinder dating app is fully worth it for you.


Match.com, on the other hand, is more geared towards people that are looking for something serious.
It has a slightly older crowd than that of Tinder with the average age being in the 30s all the way up to 50s.
Although the person on match.com's online dating site is generally looking for some serious stuff, there are plenty of people looking for casual relationships as well.
Due to the fact that both websites have millions of users, you will find every type of person on them.
Check out this article to see if match.com is worth it for you.
Features and capabilities
Tinder is an application in which you choose whether or not you are a guy looking for a girl, a girl looking for a guy, or looking for the same sex since it accommodates people with diverse sexual orientations.
Everyone deserves to love and be loved you know?
Then you are allowed to choose how full of a radius you are looking for from your current location especially if you are interested in people in your area as well as the age range that you are interested in to find people.
Using such settings in the features, Tinder will then compile a list of people that meet your criteria.
You will be shown these potential matches one by one. If you are interested in what you see on the profile image of your potential match, you can swipe right to say that you are interested or swipe left.
Swiping left means that you are not interested and you will not match with a person.
When both you and your potential match swipe right on each other, it's a match, and you can begin talking on the platform as you can send and receive messages.
Super likes
The super-like function is available both on Tinder plus and Tinder.
It is a feature where you can give somebody what is called a "super like".
To get a "super like" you need to work on your bio and use your irresistible pictures.
This will notify the person through the application that you have super liked them and will make your profile easier to find from the daily matches from the tinder match.
This feature is great because there are so many users on Tinder that there's a good chance you will never be seen by the girl or guy that you like.
This super-like feature puts you at the top of the list and is one of the most reliable features for actually getting the potential match that you would like.
The premium version of tinder gives you five super likes a day and is by far the best feature of the application.
In the free version, you only get one super like a day.
Rewind
The rewind feature is only a feature for premium Tinder users.
It lets you rewind a bad swipe.
Swiping the wrong way on somebody happens all the time, and this feature lets you undo that bad decision which can make you lose out on meeting people who might end up being the right one and that is a bang for your buck.
Teleport locations
Teleport locations are also a premium feature on Tinder.
This lets you swipe in any location you would like to around the world.
Since Tinder is a very popular application all around the world, it can be helpful right before a business trip or vacation to meet somebody in that location.
I thought this is a very cool feature and have teleported myself all around the world to see what type of people are out there!
Tinder provides you with the option of trying out a long-distance relationship and this is exciting.
The information on your enchanting profile helps you to get the "swipe right" you deserve.
Match.com works in a completely different way than Tinder.
Overall it has many more functions and features compared to the popular application.
Profiles are much more in-depth and let you know a lot more about the individual compared to Tinder.
Below are some match.com tips to help you get better matches.
Mutual match
The mutual match feature is one of match.com's strongest selling points.
The first thing you need to do is develop a strong profile picture with your likes, dislikes, and what you are looking for.
Match.com quick search will assign you compatible individuals and rate them on how compatible they are.
A complete match would be a 100% match which means that they meet all of the criteria you have mentioned.
The match features on match.com make it easy to find matches based on personal preferences.
Reverse match
The reverse match is almost the opposite of a mutual match.
It means that you fit all of the criteria of somebody else but not necessarily that they fit all of your criteria.
Communities
Communities help bring people together that have common interests such as sports, politics, and religion.
This is a good way to start meeting a lot of people before getting the right match.
Daily matches
The daily matches feature lets you get approximately ten matches a day based on some specific things that you are looking for.
It is similar to the mutual match feature of match.com, but these profiles only are shown to you for 24 hours before you receive the new 10.
This is a fun thing to check on a daily basis.
Search and filter
There are tons of search and filter features on match.com.
This is something that you cannot do on Tinder.
With Tinder, you are simply shown a stack of people to go through one by one, but you cannot search or filter by things like age, height, eye color, or interests.
The match.com quick search can be incredibly thrilling, and you can find some great matches this way as well!
Match.com is responsible for more dates, relationships, and marriages, which is a big deal in online dating sites.
There is a free version of tinder, but it limits you to how many people you can swipe on daily.
The premium version of tinder costs differently depending on how old you are.
For individuals under 28 years of age, the price for tinder plus is $9.99 a month for a one-month subscription.
Unfortunately, if you are over 28 years old (like me) you will have to pay the full price of $19.99 a month for a one-month plan.
If you buy a more extended subscription plan the price per month decreases.
With match.com there is also a free version of the site, but it is useless without buying a subscription plan.
You can also search on match com without logging in.
But, you are only allowed to view other people's profiles, you are cut off from all forms of communication with the free version.
That being said there are multiple different subscription options on match.com full site.
The most expensive option is the one-month subscription plan which costs $35.99 as of the time of this writing.
The three-month subscription drops the price down to $19.99.
The six-month subscription drops the price down to $17.99.
The cheapest option is the 12-month option which drops the price down to $15.99 per month.
Remember that you will be paying all the months upfront for whichever subscription you choose.
Prices constantly fluctuate so make sure to check the website for the most current match.com price.
Check out my article on how much does match.com cost to get the full breakdown of the prices for the UK site as well as the United States/Canada site.
Check here to see the current prices of the match.com dating site.
Also, if you would like to try it before paying, I have a special match.com 3 day free trial for you guys!
You will discover how to communicate on match.com without paying a dime.
Well, that's about it, ladies and gentlemen for my complete Tinder vs Match.com reviews article.
After seeing all the features, user demographics, and pricing structure comparisons, which one is right for you?
Remember that Tinder overall is for younger people that are not looking for a super-serious relationship.
That doesn't mean that you should see them out altogether because there are plenty of people that are looking for something serious.
Check out my article on how match.com works here to learn more.
Match.com is more for people looking for something serious and long-term overall.
It is more for serious-minded people, get familiar with what makes men tick and the way to work around them.
As a man too, there are things you should abstain from doing if you are willing to keep a woman with the hope of meeting her someday to start something serious.
It has tons of features and lets you meet people in all different types of ways compared to Tinder.
Something else that you should note when it comes to Tinder or Match.
Match.com is one of the oldest and best online dating sites and was initially only for the desktop computer.
Although they have created an application, there are still more features available to you on the desktop version.
The desktop version is also more polished in my opinion.
Tinder is pretty straightforward and the exact opposite.
It started out as a phone application and has just recently moved to a browser option for the desktop as well.
With Tinder, you can get more one-night stands and something casual so you need to step up your flirting games if you are female and be more erotic in your conversation if you are a man.
The application is more polished and easier to use in my opinion compared to the new browser option.
It is just something to think about depending on device preference.
Let me know what you guys thought about my article in the comments down below!
Check out the solid guides to creating an amazing online dating profile for success on dating websites.
You get this whole value absolutely free!
Frequently Asked Questions