If you are a man who is looking for an Asian beauty, then the PinaLove dating site is the perfect choice for you.
On the PinaLove dating app, you will find everything you have always been searching for: a Filipina woman, a transgender community, and an open-minded dating site.
In this PinaLove review, we'll cover the following aspects of the dating site.
OFL Top Recommendations based on 100,000+ Survey

"Serious Relationships"
"Discreet Hookups"
"Best Course for Men"
"Quick Flings"
"Normal Hookups"
"Our Quiz"
To have no more doubts about it, check out this PinaLove review.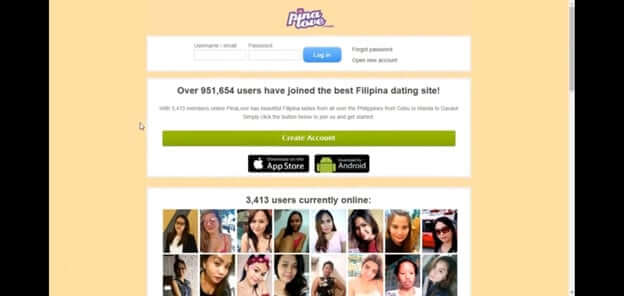 Is your dating app giving you the best chance for success?
Make sure to take our online dating site/app quiz to find out.
People who follow our dating site suggestions have on average 2 more dates per month.
PinaLove Review in Video Form
Audio (podcast) form for those of you on the go
Effectiveness: 3/5
Features: 3/5
Ease of Use: 3/5
Price: 3/5
Free registration and free profiles
Quick and easy registration
An available mobile app
Simple interface
Many fake profiles
Just for men and transgender
Live chat is available for paid members only
Too many photos
The Filipina love dating site is there for men who are seeking a serious relationship, a hookup night in a town or occasional sex meet up with Filipina girls, single or already taken.
Users on the platform are men between 24 and 34 years old who want to find an exotic beauty from the Philippines.
Girls on the site are women from 18 to 30 years old.
They are young, beautiful, exotic, and very attractive, and will blow your mind away. It has to be Pinalove.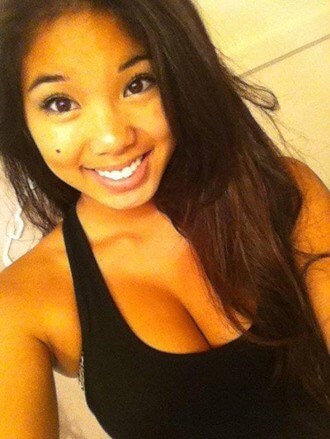 Some of the girls are looking for a better life.
PinaLove is not only for hookups (like BeNaughty or Ashley Madison) or only for serious relationships (like eHarmony).
OFL Top Recommendations based on 100,000+ Survey

"Serious Relationships"
"Discreet Hookups"
"Best Course for Men"
"Quick Flings"
"Normal Hookups"
"Our Quiz"
More like Tinder, some people want to get married and have a serious relationship, while others are just offering you a one night stand during your visit to their town.
One of the most interesting things is that on this online dating site, you can find many transgender people who are available for my kind of relationship.
There are no boundaries.
The most frequented transgender population is between 35 and 45 years old.
Many real-life experiences on PinaLove confirm the success of this online dating site that is constantly spreading worldwide.
The PinaLove online dating app isn't definitely for single women unless they don't have the same appetite as the men described above.
Filipina women on the PinaLove dating site usually come from Davao, Cebu, or Manila.
Their age is from 18 to 24.
They can be educated, or not.
They can be single, or not.
They can have kids, or not, depending on users' necessities.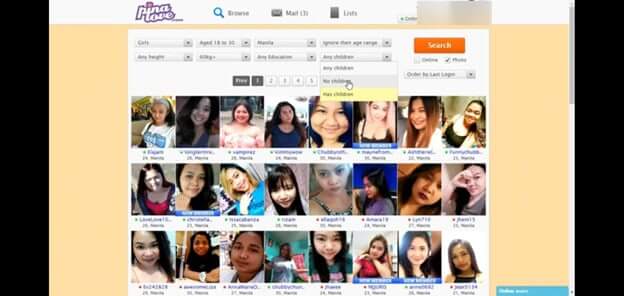 Users who visit daily this site are men. 70% are men, to be more precise.
The users are from the UK, States, Canada, Australia, and Germany.
Their age range is from 25 to 35 years old.
There are more than 3 thousand daily loggings, and 20% of them are those who belong to the transgender population.
The transgender population is very common on sites like these because there is no judge or prejudges.
An open-minded concept is what they are looking for.
PinaLove online dating site offers different free features to use.
PinaLove dating free app is one of the best Filipina women dating sites, and many men use it every day.
Even its price is lower than other dating sites offer, so it is becoming more and more the app number one in this sphere of dating.
Even you decide to use the PinaLove online dating app as a free user, it offers you many key features that are very good to find what are you looking for at the moment.
As a free member, you can see Filipina girls' full profiles, and start a conversation with them.
Besides checking regularly girls' profiles, you can send those girls messages every ten minutes.
Sending messages is limited to ten minutes period, and many users find it okay in the beginning.
When you check girls' profiles as a free member, you can see just their basic information, while paid members can find out more about them.
Premium members can see their weight, height, and personal interests.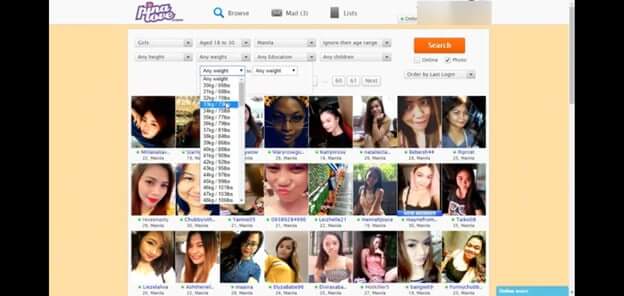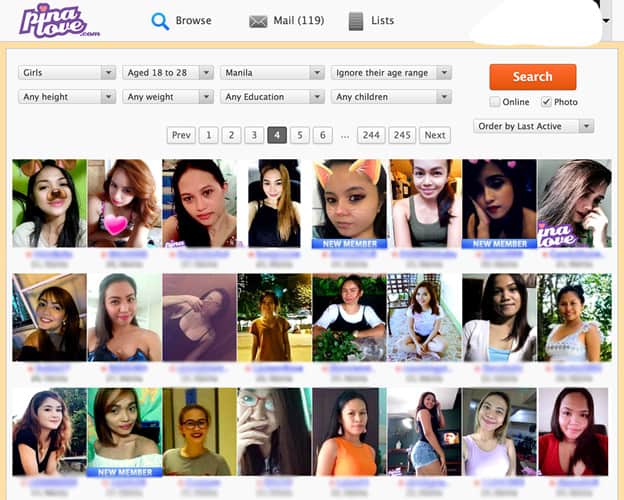 As a free member you are also allowed to like girls' profiles, and favor them, by tapping a heart or a star on their pictures.
What is limited is the fact that you don't have feature options like Visited me, Favorited me, and you cannot use live chat.
The registration process and making contacts are allowed with key features, but as time passes by, you are looking for better features that offer you many possibilities to upgrade your profile and be more successful in your researches.
The interface is very simple, and the app is very easy to use, which can be an advantage in the online dating world.
Girls' profiles are arranged, and they offer you detailed information that can help you with your choice.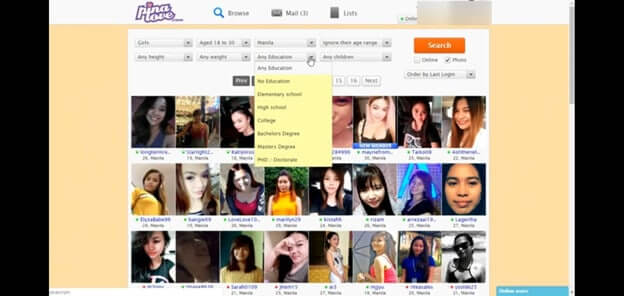 The only problem that shows from time to time is that some users are not sure if girls that they are talking to have real or fake profiles.
They can chat with girls by sending messages, or likes and stars, and that would be it.
Once in a while, men need a live word from the girls, so they can be sure the PinaLove online dating app is the right app for them.
Many special features that PinaLove offers to its male users can make online virtual dating with Filipina women more amusing than it has ever been before.
Let's learn more about them together.
This feature allows you to save all the photos you like. It can help you to make the right decision which one of the girls you want to contact in the future, and which one you don't.
This feature represents a type of your love journal where you can note everything you find interesting and cute about the girl you like.
You can write down all you find useful for your further relationship, and save it for later.
This feature helps you to memorize by the list which one of the Filipina girls is the most attractive and for what reason.
The list of your favorite ones can be unlimited, and you can add as many girls as you want.
You favorite someone with a star sign.
This feature option is similar to the previous one.
On your interests list, you can add the members you are the most interested in, and you can spice it by adding girls' characteristics, disadvantages, and advantages.
The PinaLove works for you.
You interest someone with a heart sign.
As a paid member, this option allows you to see who favors you at any time.
Filipina women can favorite you by giving you a star. It means that you are high on their list, and you are their favorite one.
6. Interested in me feature
This feature is almost the same as the previous one.
It means that you can see who really likes you. You will always know who likes you because girls will mark you with a heart.
Maybe it's time to follow your heart and try to conquest someone's heart, too.
This feature is one of the most wanted features because you can see who visits your profile.
By checking your profile, women let you know that they are attracted to you, and that gives you the opportunity to start a conversation with them without being too aggressive.
The live chat option is definitely one of the main reasons why people decide to become premium members.
This option is like a cherry on the top because men who want to meet Filipina girls are from different countries, and it is very important to meet them live.
Live video chat allows you to see if the women you are interested in are the right choice for you, and in that way, you can continue the conversation with them or not.
Thanks to its simple interface and not too many features, the PinaLove love site is easy to use and operate with.
Instructions and steps are clear and logical, so it is a pure pleasure to use them.
You don't need more than a few minutes for the registration process.
You can sign up using your Facebook account, which is the easiest way to access the PinaLove, or you can go to the PinaLove official website and fill in the registration process.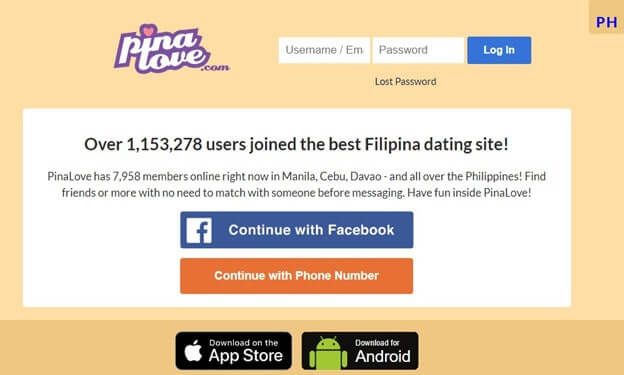 To access to PinaLove account, you have to write a username, a password, an email address, and a mobile phone.
You will receive an SMS with the code. You use that code to confirm your registration.
Once you log in, the site will automatically memorize your username and password.
You can choose if you want to upload your profile picture or don't.
The advice is certainly to upload two or three profile pictures at a minimum because you want to leave a good impression on your Filipina lover.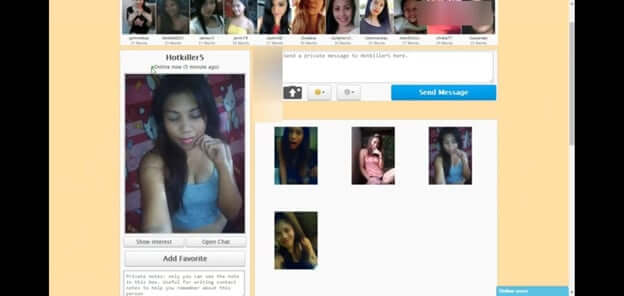 Choose photos where you feel happy, confident, and friendly. The first appearance always matters.
During the registration process, you have to fill in the gaps with some basic profile information such as your gender, interests, birthday date, height, weight, the country you come from, etc.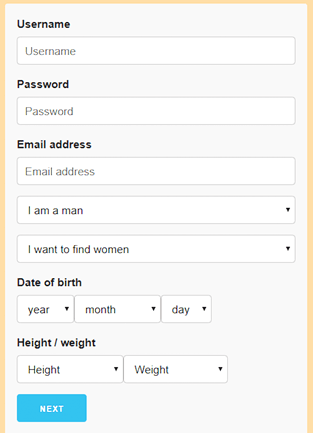 People, who can sing using their Facebook account, don't have to add profile information because the PinaLove system will automatically take it from the Facebook account.
When you write a short bio on online dating sites, try to write down just information that would be interesting to other people.
Apart from all those things that Filipina women can read about you on your profile, add what you like doing in your free time, where you like going on holidays, why you would like to meet a Filipina woman, and more about your future plans.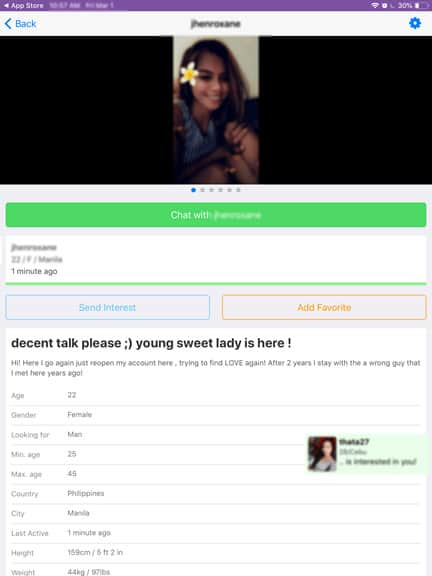 Men with short bios usually have more Filipina women who are interested in them because girls think men are making an effort to meet them.
A second after opening an account on the PinaLove dating app, the list of Filipina girls will be widely shown in front of your eyes, right in the middle of the screen.
Many similar Filipina girls' photos can confuse you, but if you are interested in some of them, you can click on their profile pictures and check their profiles immediately.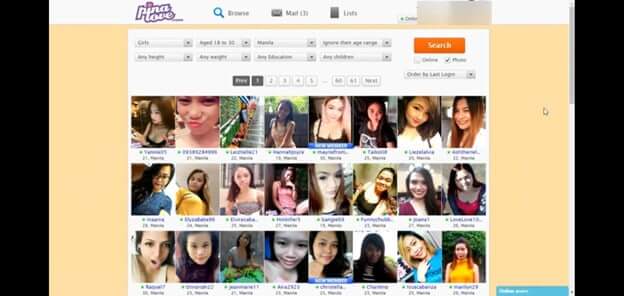 On the top of the PinaLove account, you can notice the Browse option and many filters you can use to determine your research.
You can type desirable weight, height, family status, education, age range, and many other things to look for the perfect Filipina for you.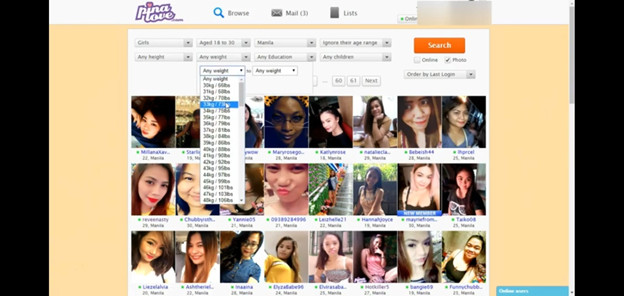 When you find it, you can make the first move as a gentleman.
Making contacts on PinaLove online dating app
In the right corner, you can find a free space that is for sending messages.
If you are free members, then, you can send one message every ten minutes.
It is not limited by the number of messages, but it is limited by time.
You are not limited either by the number of Filipina women you can send those messages.
You start a conversation by tapping on a profile picture.
You can like someone by tapping the heart icon, or you can favor someone by tapping the star icon.
Favor is more meaningful in the PinaLove online dating world than simply like someone.
Look out for many fake profiles that are there just for asking you for some money.
Many women open their profiles just to try to take you out some money.
If you are smart enough, you can report that kind of users by clicking on the report button next to the messages box.
In case you want to upgrade your profile and having better communication with your Filipina beauty, you can get many features that can help you with that.
As a premium member, you can share movies, music, pictures, and videos with your favorite girl.
The PinaLove mobile app is free to download, and it is as simple to use it as its site is.
However, the design is better and more attractive to younger men, which is not the thing when you use the PinaLove site.
Some extra features exist just on the mobile app, such as you hide the profiles you don't want to see again.
In the mobile PinaLove app store, there are many amusing stickers, emoticons, and gifs you can use to start a conversation with some Filipina girl.
The only problem with PinaLove mobile app is that this mobile app is the most upgraded, and it is the most wanted in the Apple store, while for Android users it is difficult to find it in most of the European countries.
The best option is to use it on your desktop version if you come from the European countries where this mobile app is not spread well.
On the other side, men from the USA, the UK or Canada won't have any difficulties to use it.
Without paying a single dollar for using it, the PinaLove online dating site shares many useful free features that can help you to find what you've always been searching for.
The free version offers you to view users' profiles, send messages, manage your profile, and arrange it at any time.
What offers you a paid version of this site can make you a God.
It offers unlimited messages, contact with the most famous users, it puts your profile above many other profiles, and the most important things of all, it gives you live chat.
With a two-week policy, the site refunds you, you can accomplish your emotional goals by paying monthly or annually.
However, if you don't find it appropriate to pay for a short or a long time, you can also be a paid member for three to six months.
Costs go from 24.95 USD to 99.95 USD.
This PinaLove review led us to a very simple and honest conclusion.
It is very easy to use the PinaLove online dating site and its use can be very useful depending on what are you looking for.
Men can find a Filipina woman to start an interesting relationship different from all relationships men have ever been in.
Even the paid users can have the advantage of using it.
Overall Rating based on the PinaLove Dating Review
The overall rating of the PinaLove online dating app can be considered as an average one because its design is a simple and basic one.
The PinaLove online dating app is originally there for users in the countries such as the USA, the UK, and Canada, and such as it isn't very popular or well spread in European countries, though.
Frequently Asked Questions