There are many men the world over that have small penises and in the wonderful world of online dating, there's a new dating site that's just for you.
It's a place where penis size doesn't matter at all, which certainly is good news for those of us that struggle with our body image.
DinkyOne.com was started by founder David Minns, a 28-year-old that wanted to help men that have a micropenis to find dates.
But it also provides a platform for women to find men with smaller penises for a variety of reasons.
OFL Top Recommendations based on 100,000+ Survey

"Serious Relationships"
"Discreet Hookups"
"Best Course for Men"
"Quick Flings"
"Normal Hookups"
"Our Quiz"
You see, not every woman wants to be with well-endowed men.
And it's open to all including the full spectrum of the LGBTQ community.
In this Dinky One review, we will:
And if you are self-conscious, you can rest assured that the people using this online dating site won't worry about your smaller penis.
So let's get going then as we analyze everything that the dating site Dinky One has to offer and whether you can find a sexual partner here.
Is your dating app giving you the best chance for success?
Make sure to take our online dating site/app quiz to find out.
It's a fact that people who follow our dating site suggestions have on average 2 extra dates per month.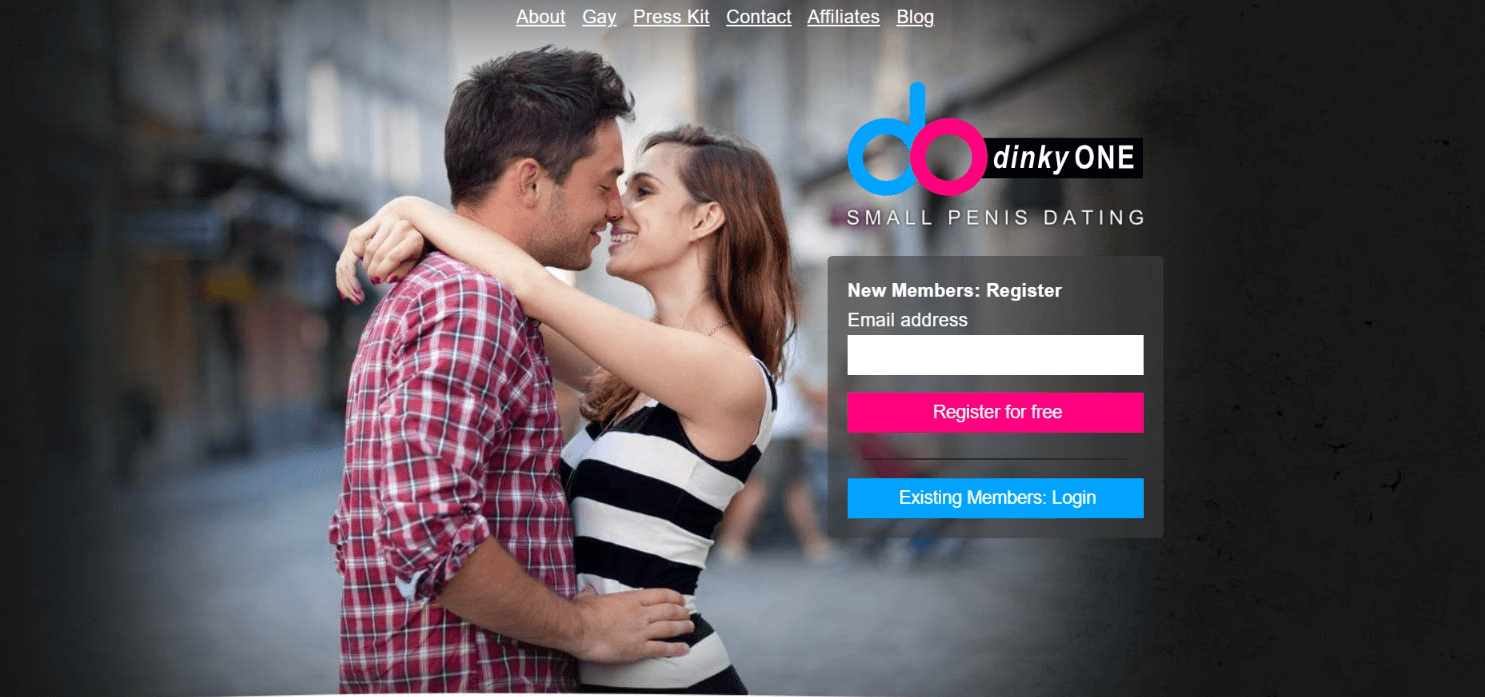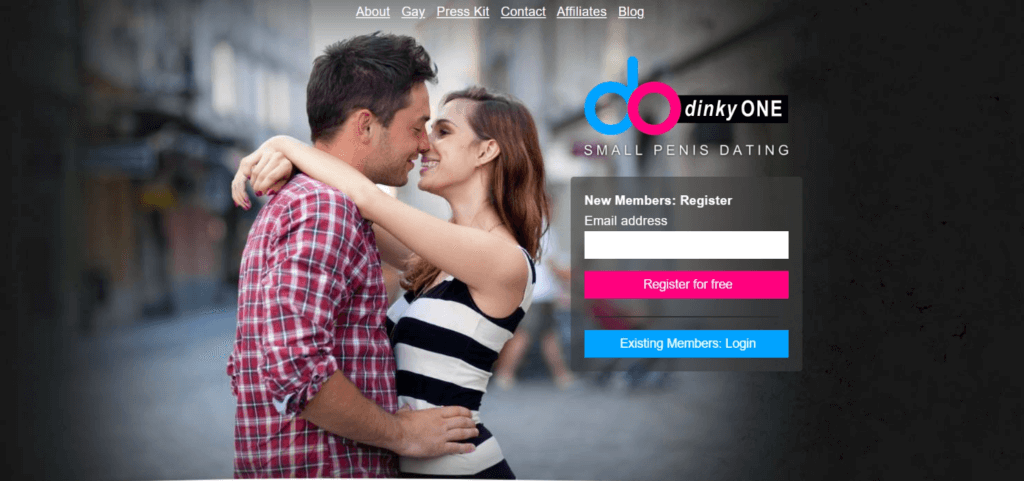 Ease of use – 3/5
Effectiveness – 2.5/5
Key features – 2.5/5
Price – 4/5
A dedicated user base
Ease to register and start a profile
Competitive pricing on membership packages
No mobile app
Annoying advertising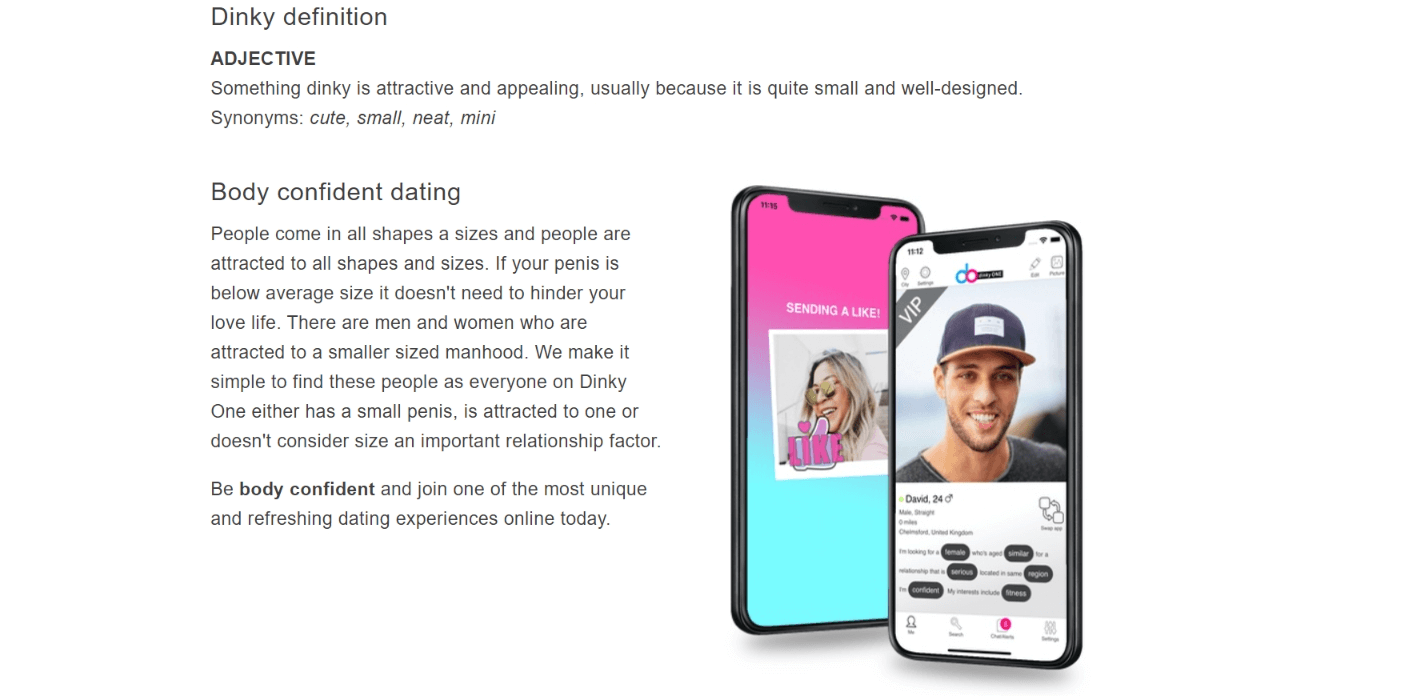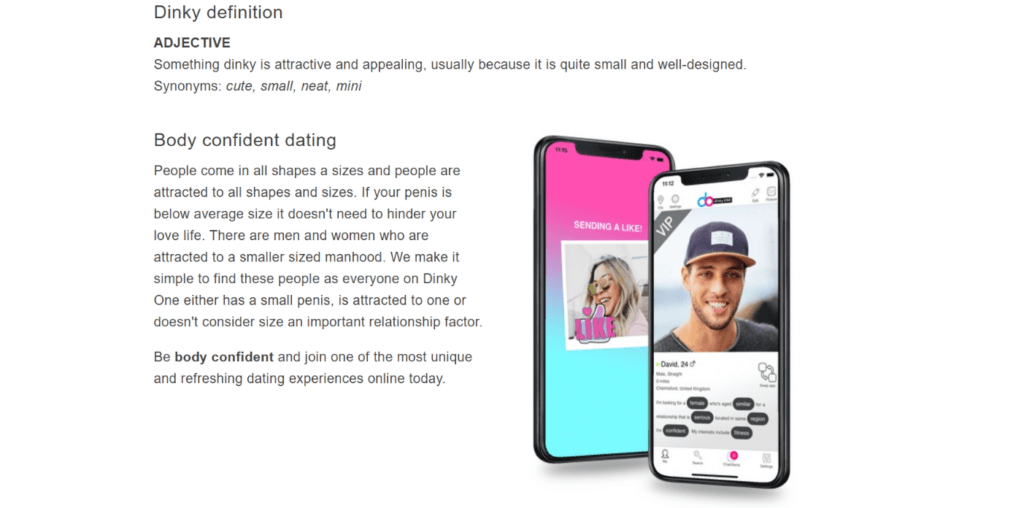 Who's It For/Demographics?
The adult entertainment industry has been selling lies for years.
Not every woman in the world is beautiful enough to win a Miss Universe crown and not every member of the male population has an erect penis that's scarily huge.
OFL Top Recommendations based on 100,000+ Survey

"Serious Relationships"
"Discreet Hookups"
"Best Course for Men"
"Quick Flings"
"Normal Hookups"
"Our Quiz"
Dinky One founder David Minns was clearly clever enough to work out that a smaller penis dating site was something that's needed in the world of online dating.
That's especially true considering that 50% of the male population has a smaller than average penis size.
As we've already got a good feel for what this small dick dating site is all about, let's try and dig a little deeper into the demographics behind the site.
Dinky One is a very new site so one would understand that the user base is going to be small.
And yes, it is but it's growing at an exceptional rate considering that it is a couple of years old.
Within two days of its opening, the site had over 30000 users.
By the end of 2020, that had grown to 60000 users and now, estimates put the user base at close to 100000 users.
Currently, around 74% of these users are male, 24% are female and 2% are transgender.
These figures show that a site where users are dating someone with a small penis or themselves has one certainly was needed in the world of online dating.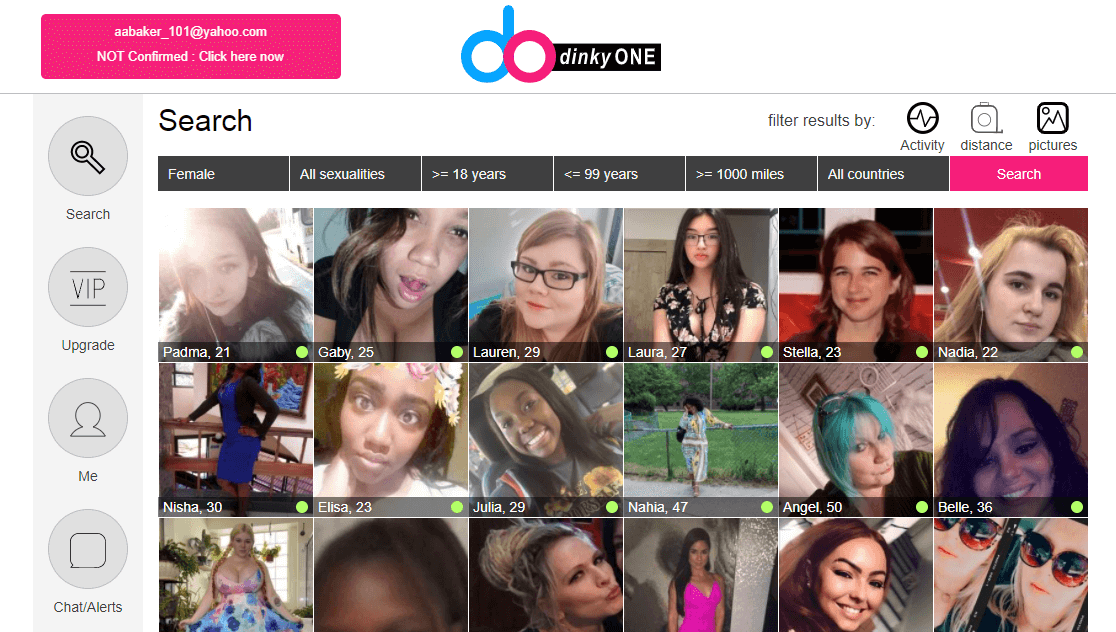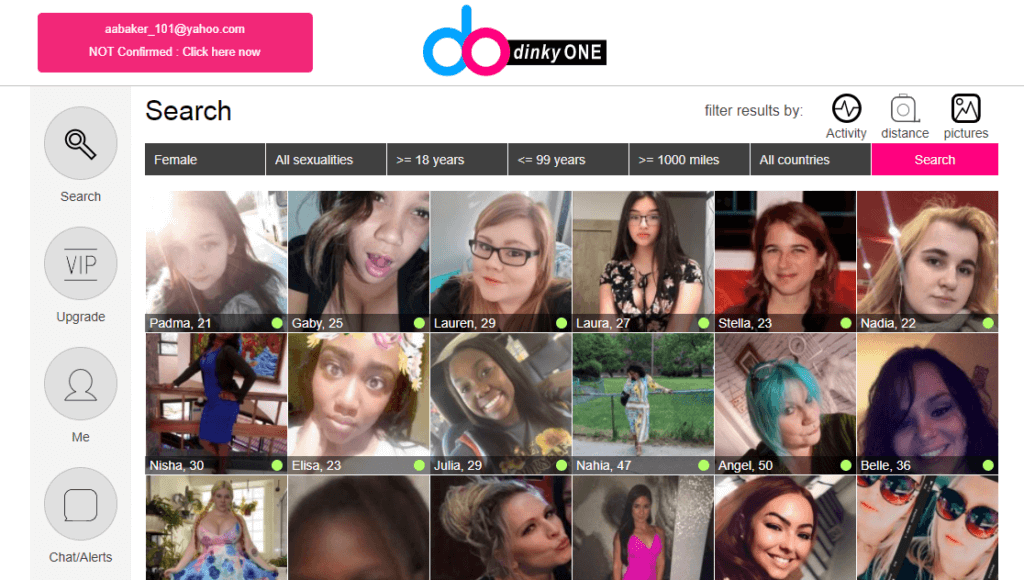 With no dating app, signing up for a profile on DinkyOne means using the website.
There is no social media login either to speed up the process which will see you fully complete your profile as well.
Don't worry, it doesn't take too much time and you will soon be online looking for a hookup (like BeNaughty or Ashley Madison), or perhaps even a long-term relationship(like eHarmony or Tinder).
To register, you will have to provide the following information:
A valid email address
Your gender (the site includes 22 transgender options over and above the male and female)
Your sexuality (nine different options)
Your age
This small penis website will now have you confirm your email address before you can proceed to fill in your profile.
It's not really a very comprehensive profile at all and will require the following information:
First name
The gender you'd like to date
Their age range (options are any, younger, similar to me, older)
The type of relationship you are looking for (options are serious, casual, friendship, marriage)
Where your matchups should be located (options are the city, region, country, continent, world)
Keywords to describe yourself of which there are 22 in total (for example, kind, slim, BBW, funny, retired, tall, etc)
Your interests of which there are 25 in total (for example, fitness, cooking, travel, gaming music cars, 25 in total)
Finally, DinkyOne gives all new users a free flirty message to send out.
This is a 500 character message that will be sent to all users of the site matching your preferred criteria as indicated in your profile.
And that's it.
You've done everything needed and are now free to use the site to find what I like to call a small penis encounter.
That's what you looking for, whether you are a male, female or transgender, right?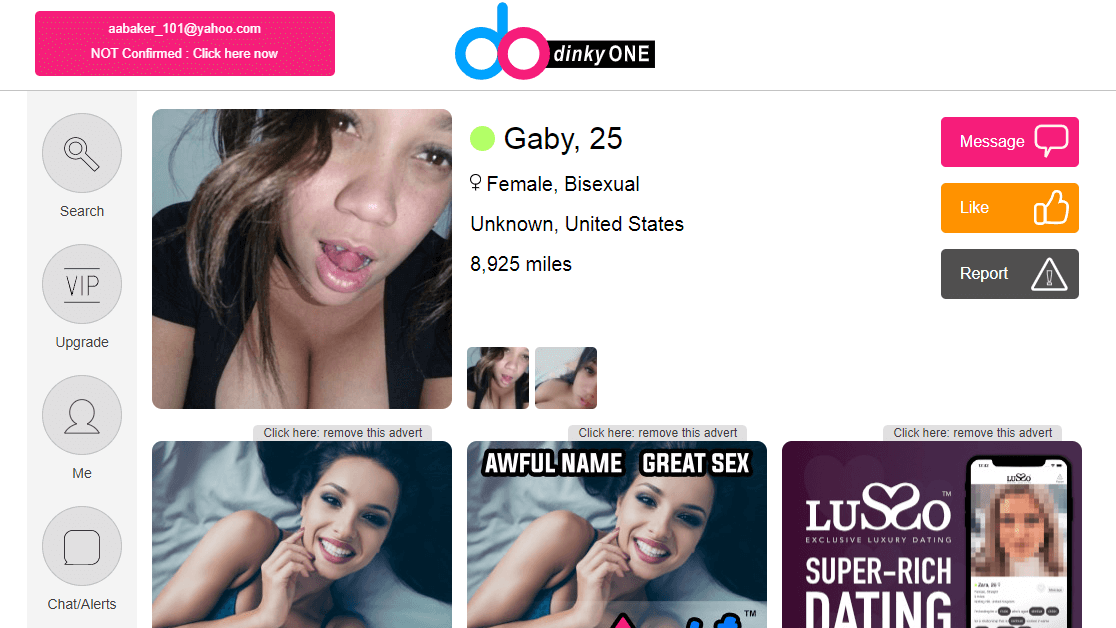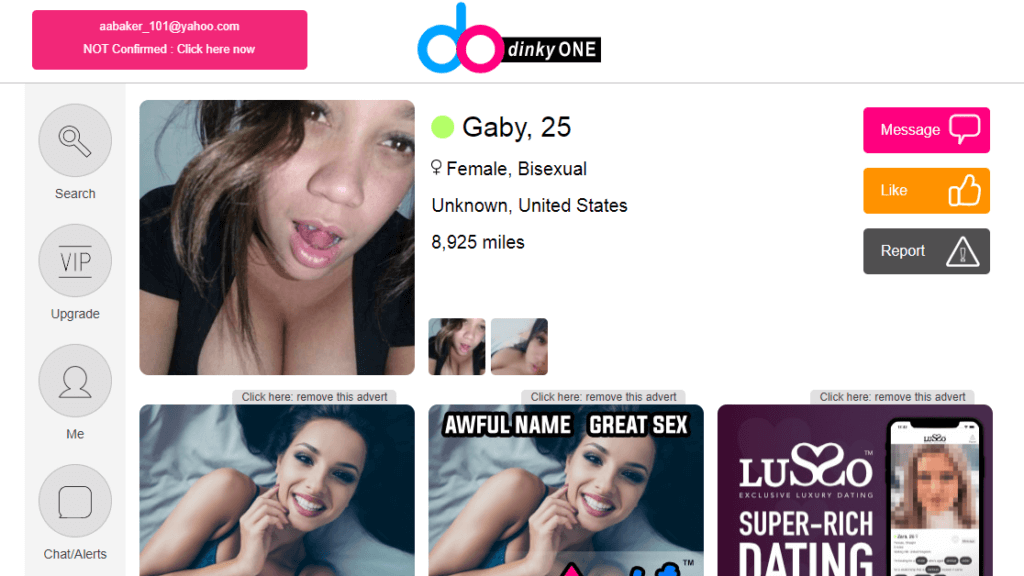 Finding your way around DinkyOne
Look, there are no TikTok or other fancy dating site levels of design here.
This website doesn't have a very modern look at all.
But that said, this is a very unique dating site.
It remains a little underwhelming from an overall look's point of view, however.
I think the word that springs to mind when I look at the site would be unrefined.
Ultimately, however, I guess some dating websites look good but perform poorly.
So let's see how DinkyOne performs.
And to do that, let's gather the all-important information regarding how you would find your way around.
Well, DinkyOne uses a menu system that runs down the left-hand side of the screen.
So let me quickly clarify what they are and what it is these menus do:
Search: Launch all your searches from here
VIP: If you'd like to become a member of DinkyOne, you can sign up here
Me: This is the menu you will click on to access your profile and make changes if you'd like. You can also upload pictures and change your location.
Chat/Alerts: If someone likes your profile, it will appear here along with any messages other users might send you.
Swap app: I find this pretty interesting. Click here to find another 10 dating sites that you can join in a single click. These include dating sites for gamers, fetishes, cybersex and more.
Before we test the overall effectiveness of the site in running up potential matchups, I would like to highlight one that became a major critique for me in the time I used the site.
And that's the advertising.
I understand that dating sites have to sell advertising to supplement membership fees, especially when they are new and the user base is small.
And while the advertising on this site is pretty annoying – you'll often see the same advert in three different spaces on the same page – it is placed out of the way but it is still there.
Lastly, the site does include a mobile view.
You can quickly access that at the bottom right of the main page if you prefer to use your phone to search through matchups.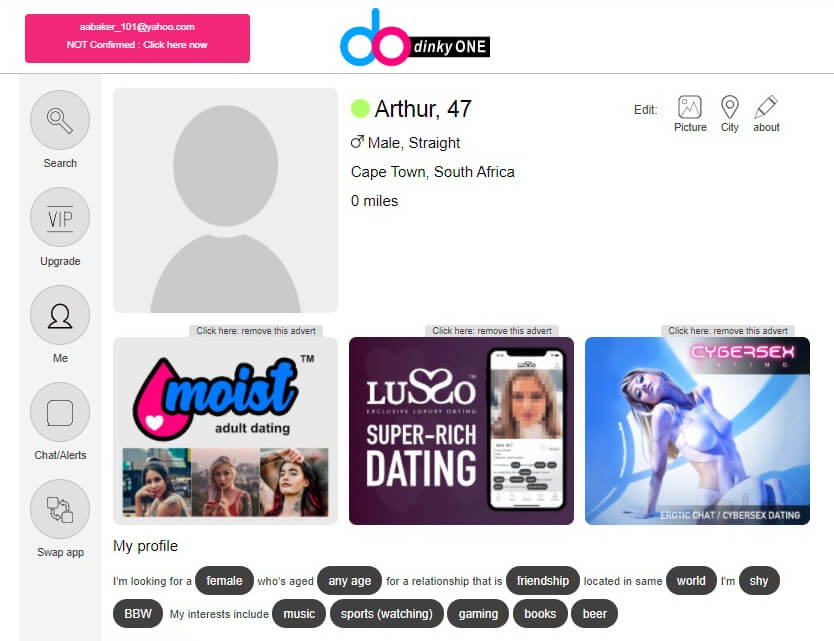 So that's the basics about how the site will run.
Now it's time to demonstrate how users can go about finding potential matchups while using it.
Well, from the start, it's important to note that while other dating sites often provide you with a page where you can find matchups, that's not the case on DinkyOne.
Instead, it relies on a trusty search engine where you as a user can change various parameters as to the kind of matchups you'd like to find.
Using the DinkyOne search engine
The search engine is easily accessed from the first of the menus you will see on the left-hand side of the screen.
From the start, this search engine will include profiles that adhere to some of the parameters you would have filled in during your registration.
These of these are your preferred gender and sexual orientation, age range, location.
There are changeable search parameters as well.
You are allowed to adjust them to perform a new search just as you see fit to.
While these are fun to play around with, I cannot deny that I would love a few more to use.
But there isn't really an opportunity.
And that's because, at the end of the day, the profiles on DinkyOne are not that detailed.
If there was one thing they could add from those profiles, however, it would be to use the interests or keywords that each user associates with themselves.
So if you wanted to meet someone that's BBW, you could add that as a keyword and turn up profiles that it appears in.
Your profile also includes the kind of relationship you are looking for.
Surely that could have been a search parameter as well?
This is one of the areas of the site that can be improved massively, even with profiles that aren't actually that detailed.
The matchups returned were pretty promising for my city but it's a large metropolitan area, so that's to be expected.
If you live in a smaller town away from the bright lights and big city, I am not sure that you would have the same success.
But that's totally understandable seeing that this site is pretty much still in its infancy.
One last thing about searching, you can filter your search results using the following:
Activity (when the user was last online)
Distance (their distance from your location)
Pictures (if they have a picture or not)
Whenever I filter search results and there is an Activity filter, I always use that first up.
I just prefer to try to reach out to other users that are active and not only logging into the site once every couple of months.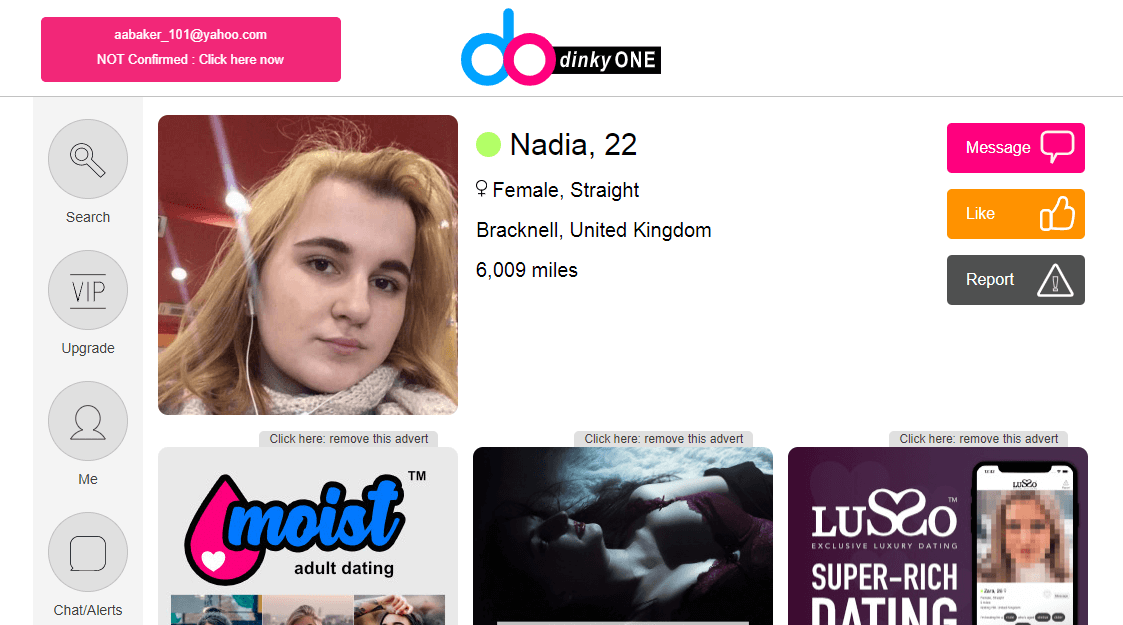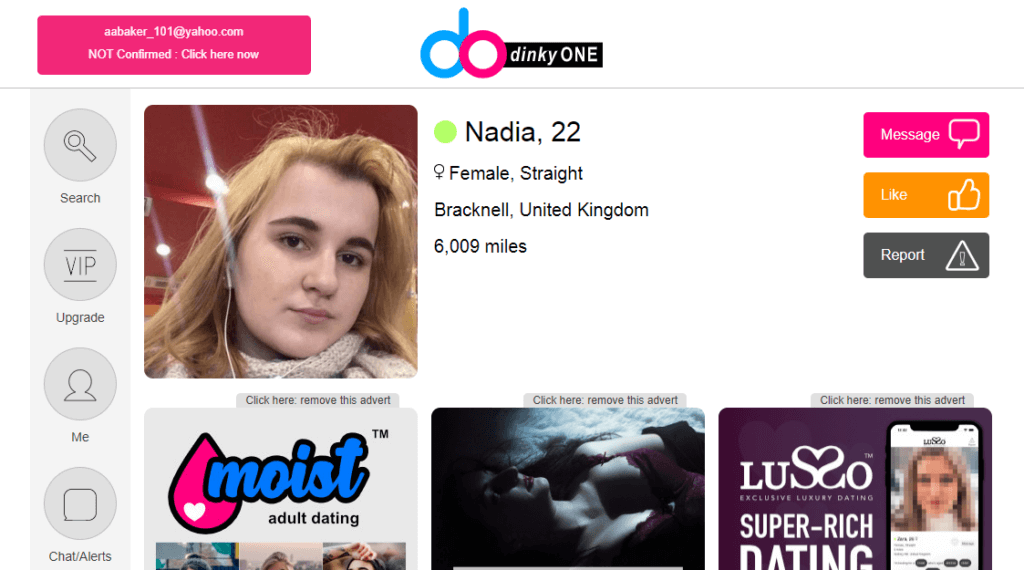 So how does messaging on the site work?
Well, if you remember back when we spoke about the flirt message during the registration process?
Well, that's the initial way to announce yourself to others.
I can't say if it's a bit of a gimmick or something the site really offers, although, within the first 10 minutes of using the site, at least five people had liked my profile already.
So yes, I would say it is legit.
Messaging itself can only be done from the users' profile.
So find someone you'd like to contact and fire off that message.
To do so, click on the message button.
Well, only if you are a VIP member.
That's right, messaging on this site, like so many others, is behind a paywall.
The only thing you can do as a free user to indicate to someone that you are interested is to send them a virtual "like".
Other dating sites also include the ability to favorite profiles to keep those you see as having potential all in one place.
But that's not yet an option on this site.
Perhaps they will add it in the future.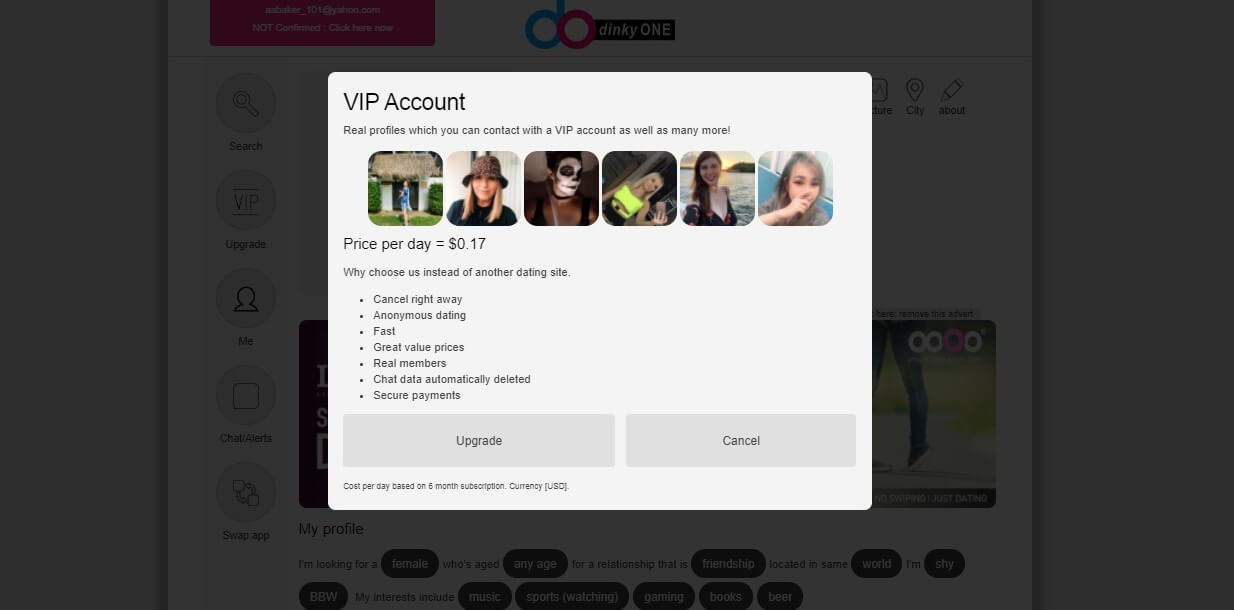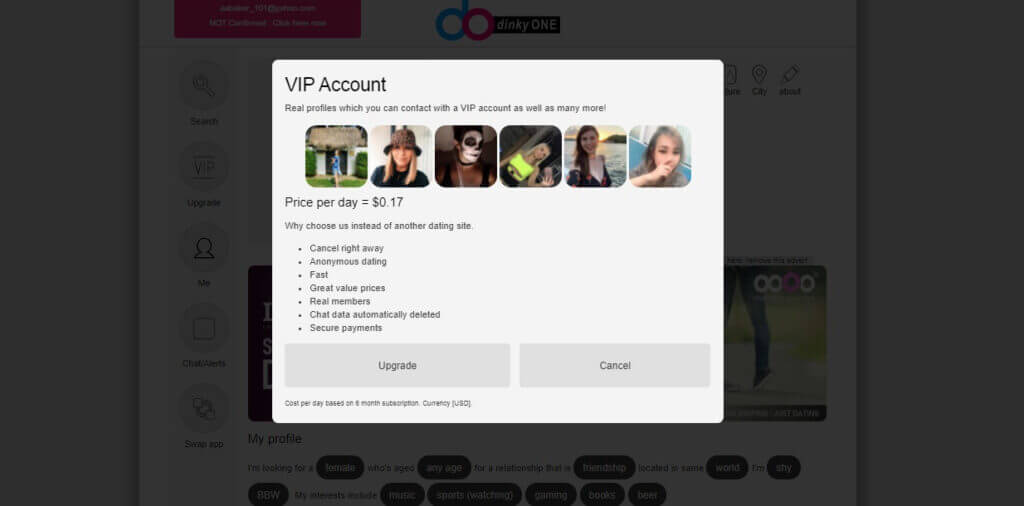 Should you choose to sign up for a VIP membership on DinkyOne, the smaller penis dating site, you get a few key features that I'd like to highlight here.
No matter how many key features a dating site has, messaging always comes out at the top of the pile for me.
Without it, there's just no other way to effectively converse with other potential matchups.
If you take out VIP membership, you can send as many messages as you want.
There is no limit at all.
Nothing major in terms of functionality but to help you stand out from the crowd, all those who sign up for a membership on the site will receive a VIP badge on their profile.
If your profile meets the various parameters of other users' searches on DinkyOne, it will appear right at the top of their search returns.
That's because VIP members are always assured that their profiles are ranked first above regular users.
The real advantage in this is that by having your profile rank high other users' search returns are that now other users are more likely to reach out to you as well as you looking for your own matchups.
4. No on-site advertising
Yes, all that annoying advertising will be a thing of the past for members.
This is only available on the sixth-month member package, DinkyOne says that if you haven't found a date by the end of the period, they will give you two months of membership free.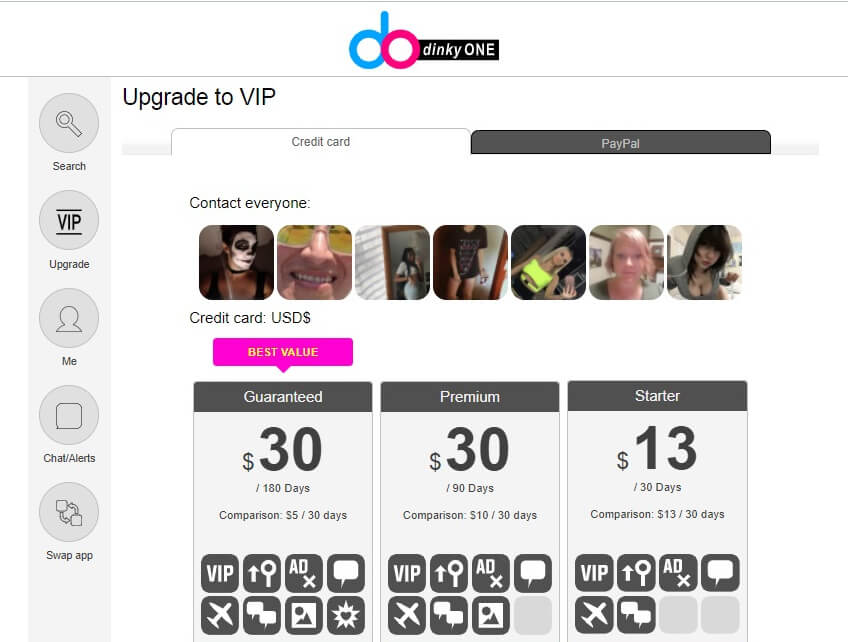 There are features above that are useful and those that are a little underwhelming.
But how much will you pay for them and what kind of packages are on offer when it comes to duration?
Well, although I am a fan of a short trial membership or even a week-to-week offering, sadly, there is none of that to be found on DinkyOne.
The three options you do have are one month, three months, and six months.
The costs these are:
1-month: $13
3-months: $30 ($10 per month)
6-months: $30 ($5 per month)
Pricing is very competitive.
And remember that the six-month package comes with a date guarantee or another two months free.
That's the package that I would go for straight from start.
It will only set you back $30 which is often the price of a one-month package on other dating sites.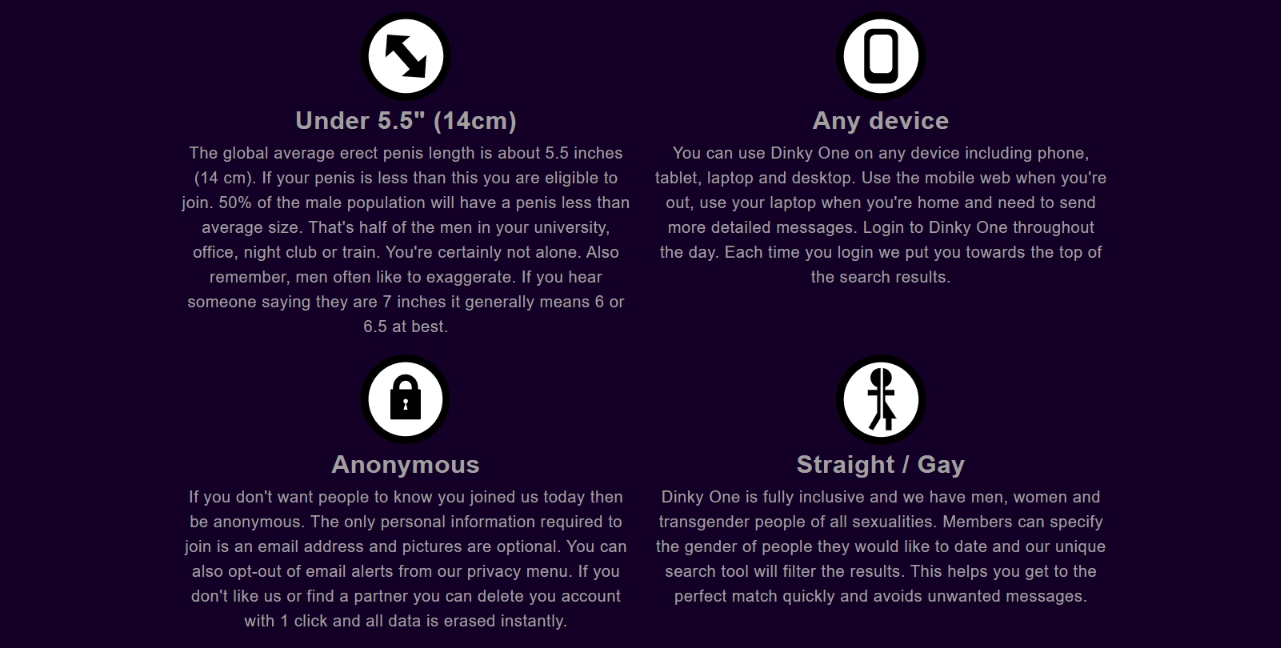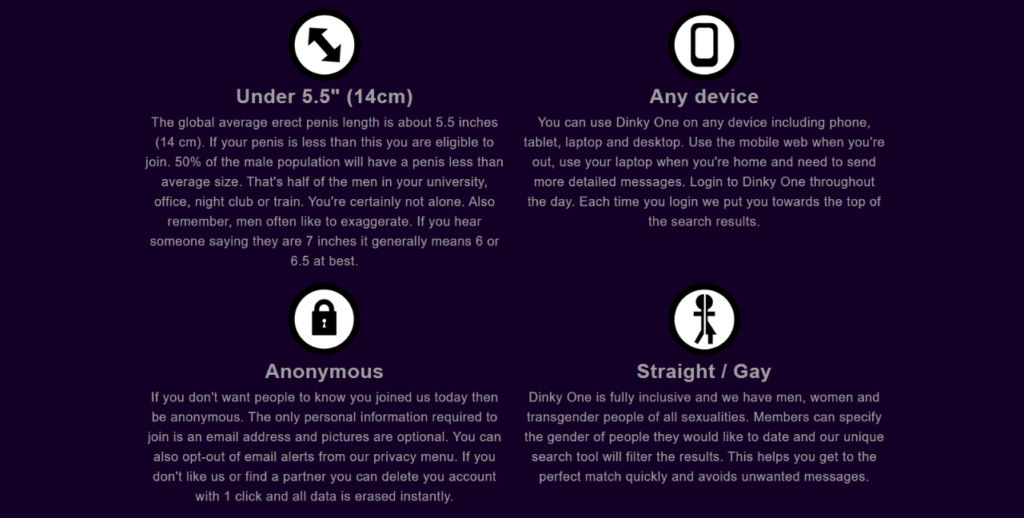 Conclusion and Overall Rating
That's it for our review of DinkyOne, one of the only small penis dating sites that are available in the online dating world.
It's the perfect place for men who feel conscious about their penis size to date outside their immediate circle of friends.
Because we know that gossip spreads when dating within them and people start talking outside of the bedroom.
Now, at least there is a place where you can meet others that are looking for what you have, so to speak.
While DinkyOne is not the most polished dating site you are ever going to come across, it does have the necessary tools and puts them at your disposal.
For me, the obvious problem here is the small user base but that's only because the site is pretty new.
It's shown some excellent growth figures and that's probably going to continue as more people across the globe become aware of the site.
Dinky One isn't perfect, however.
The overall design is a little underwhelming and it doesn't look like much thought went into it, the advertising can be super annoying and there is no mobile app.
But these are things that can be overlooked as the site is functional and all the tools are in place to help you.
The thing, when it comes to small penis sites for dating, for now, Dinky One has no real competition, so this is the obvious choice to try out then.
As for a score overall, it gets 3 out of 5.
The team at Onlineforlove examined and tested Dinky One over a long period of time.
They then assigned the website an overall star rating at the end of the review period.
This rating and final evaluation of Dinky One was based on these criteria:
The size of the user base
Overall ease of use
How the matching algorithm works and what tools help users find potential matchups
The cost of membership
What key features it brings